Speedy Tuesday – "From The Moon To Mars" Numbered Edition Is Gaining Popularity
Just over 5 years ago, we covered the Omega Speedmaster From The Moon To Mars edition from one of our readers from Singapore. At the time, you could pick these watches up for €2600 on the pre-owned market. Today, full sets are being offered for just under €5000. Literally all Speedmaster watches (new, pre-owned and vintage) went up in price in the last five years, but I did not expect the From the Moon to Mars edition to almost double in price.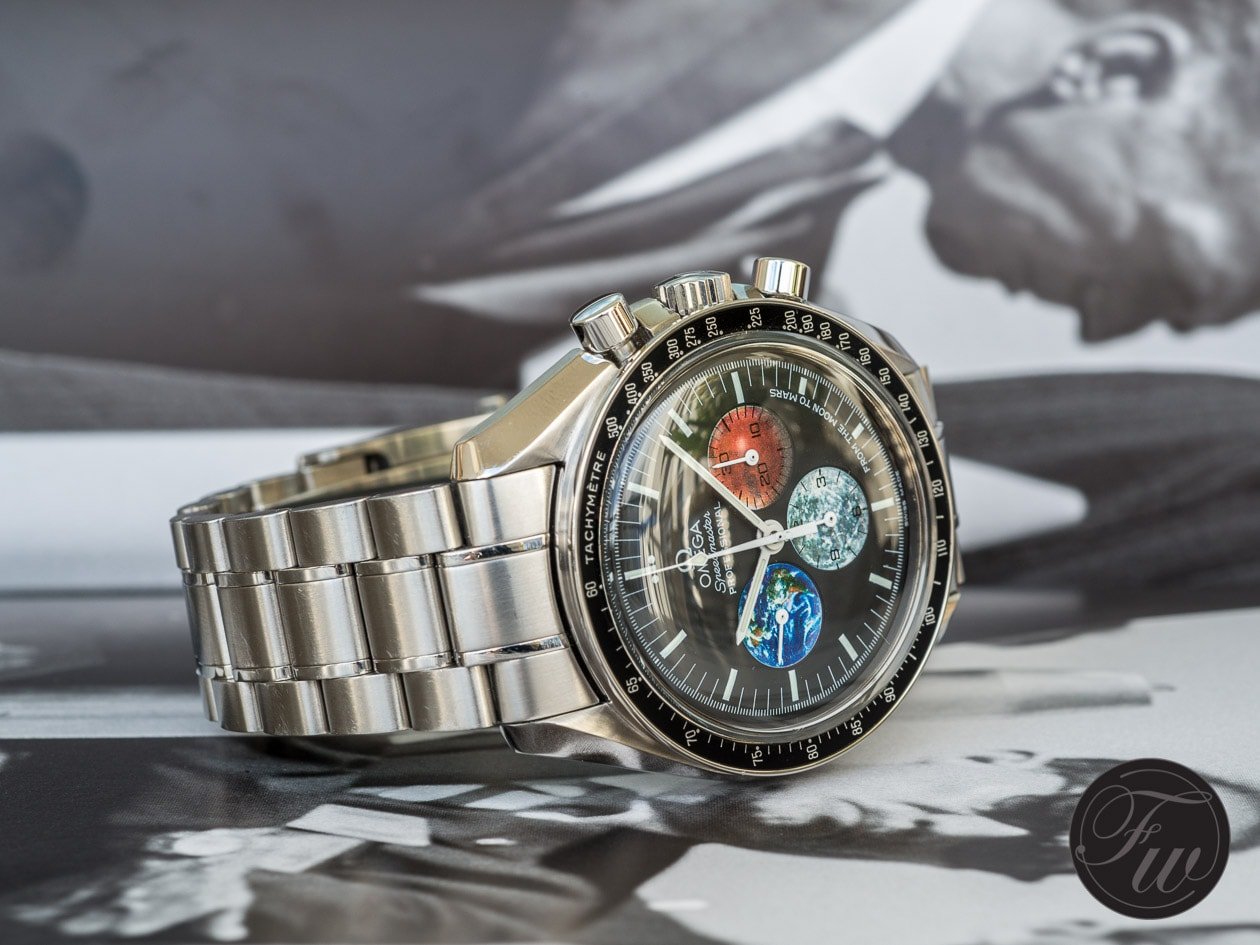 From the Moon to Mars
I write this with a bit of astonishment, as the Speedmaster From the Moon to Mars, reference 3577.50, did not seem to be a big hit to me at the time. This has a couple of reasons, but mainly because I felt there was no real story to this watch. Sure, the next thing will be Mars (after we left the Moon in 1972) and the new SpaceX Falcon Heavy launch was a good example that space exploration is – luckily – a topic today. However, in 2004, when the Speedmaster From the Moon to Mars was introduced during BaselWorld, there were no such plans. I don't mind a new Speedmaster, limited edition or numbered edition, but at least for me there needs to be a little story to it. The story on the From the Moon to Mars is very thin, but apparently enough at the time to introduce this watch.
During the introduction, on April 17th 2004, 11:00 in the morning, there was a special press conference with astronaut Gene Cernan (on the far right), Stephen Urquhart (2nd one from left, then CEO of Omega), Nick Hayek (center), Nicolas Hayek (2nd one from right). We can't recall who is on the far left of the photo below, so if you know this, please let us know.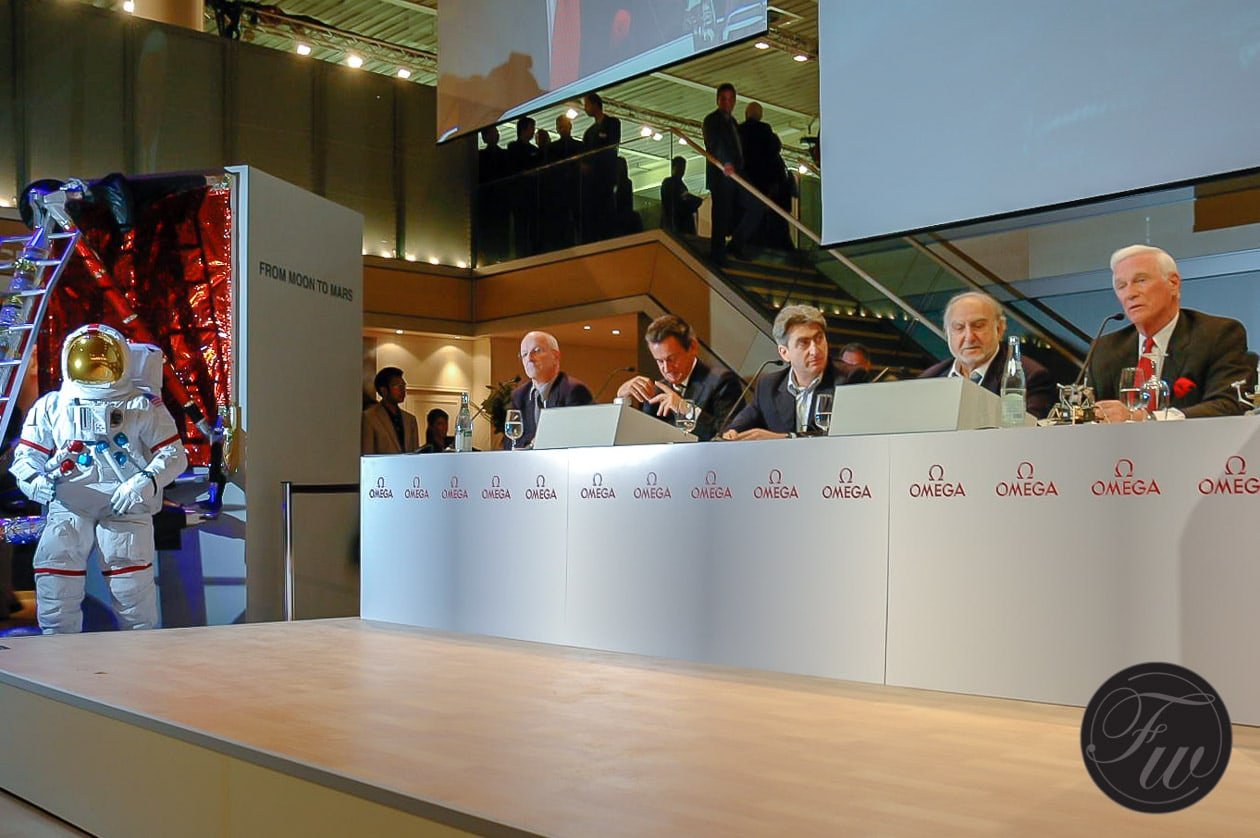 Special Dial and Caseback
Going back to the From the Moon to Mars watch. Aside from the dial and a modified engraving on the case back, there was no real difference with the regular Speedmaster Professional 'Moonwatch' reference 3570.50. Same movement (caliber 1861) and bracelet (1998/849) for example.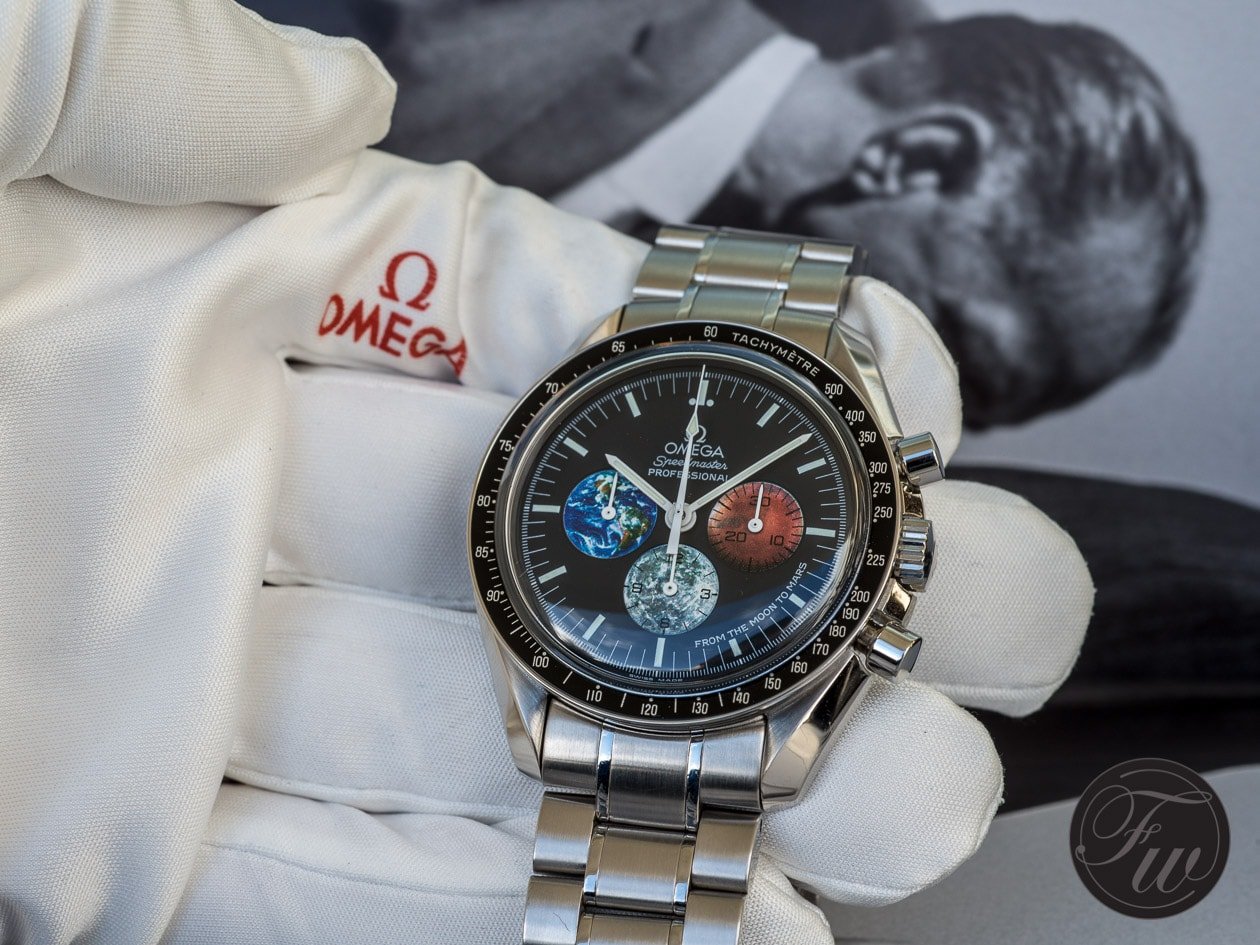 Also the box and papers were equal to those that you'd get with the regular 'Moonwatch'. No special box, booklets or papers, like Omega did with other numbered and limited editions. This was also in a different time of course, it seems that especially during the last few years, Omega makes sure you will get a nice complete package when it concerns a limited or numbered edition. Even the 2013 Speedmaster Tintin didn't come in a special package and has normal paper work. Since 2014, when the Apollo XI 45th anniversary edition was introduced and the regular Speedmaster Professional 'Moonwatch' received an updated box (with an extra strap, loupe etc), the special boxes started to become 'the standard'.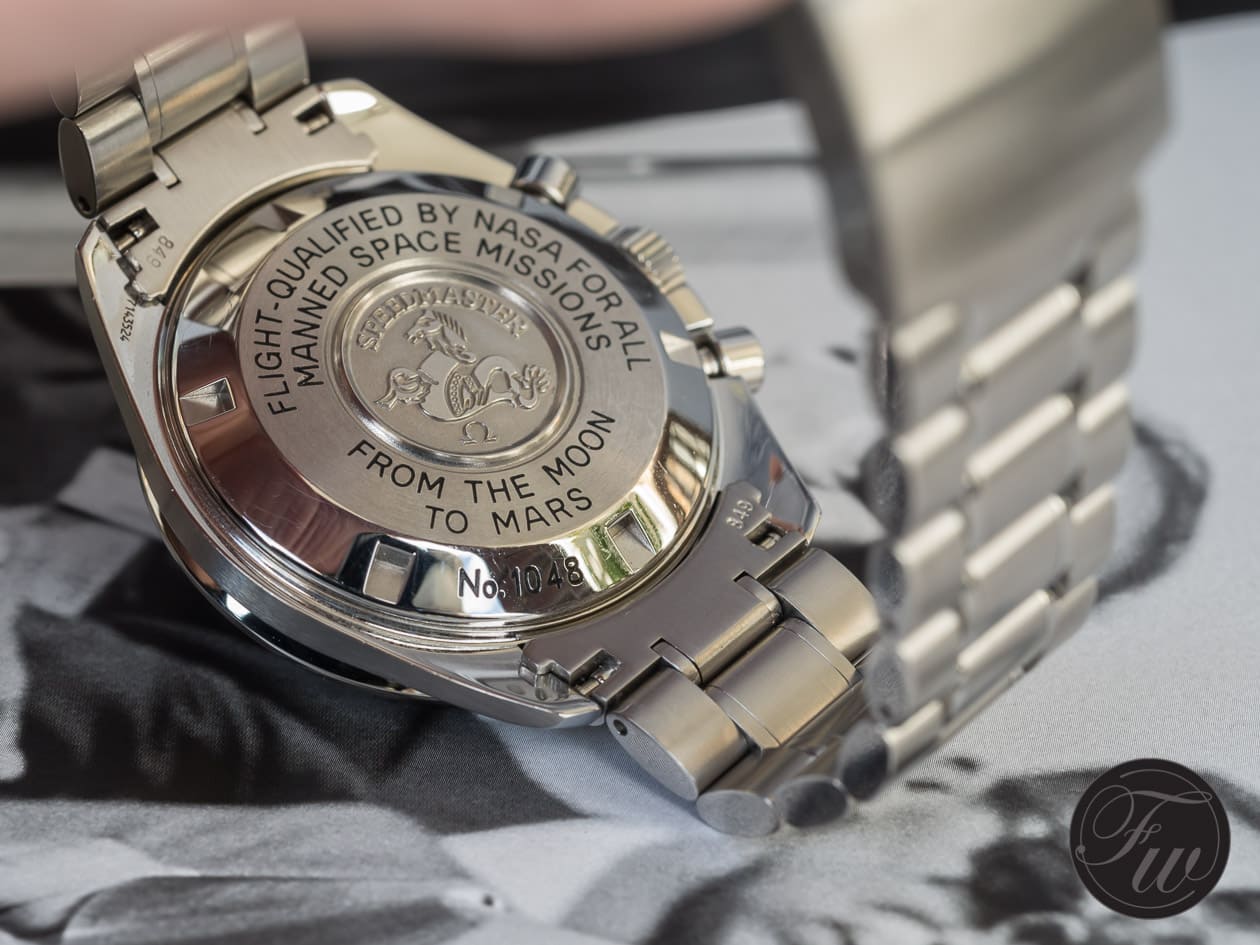 Faded Dials
Interesting to note is that some of the Speedmaster From Moon to Mars editions out there, have different dials. This means, the dials are the same, but some show faded (or washed out) sub dials. Originally, and according to the original image from the press kit (see below), the planets on the dial are Earth (mainly blue), Moon (mainly grey) and Mars (mainly red).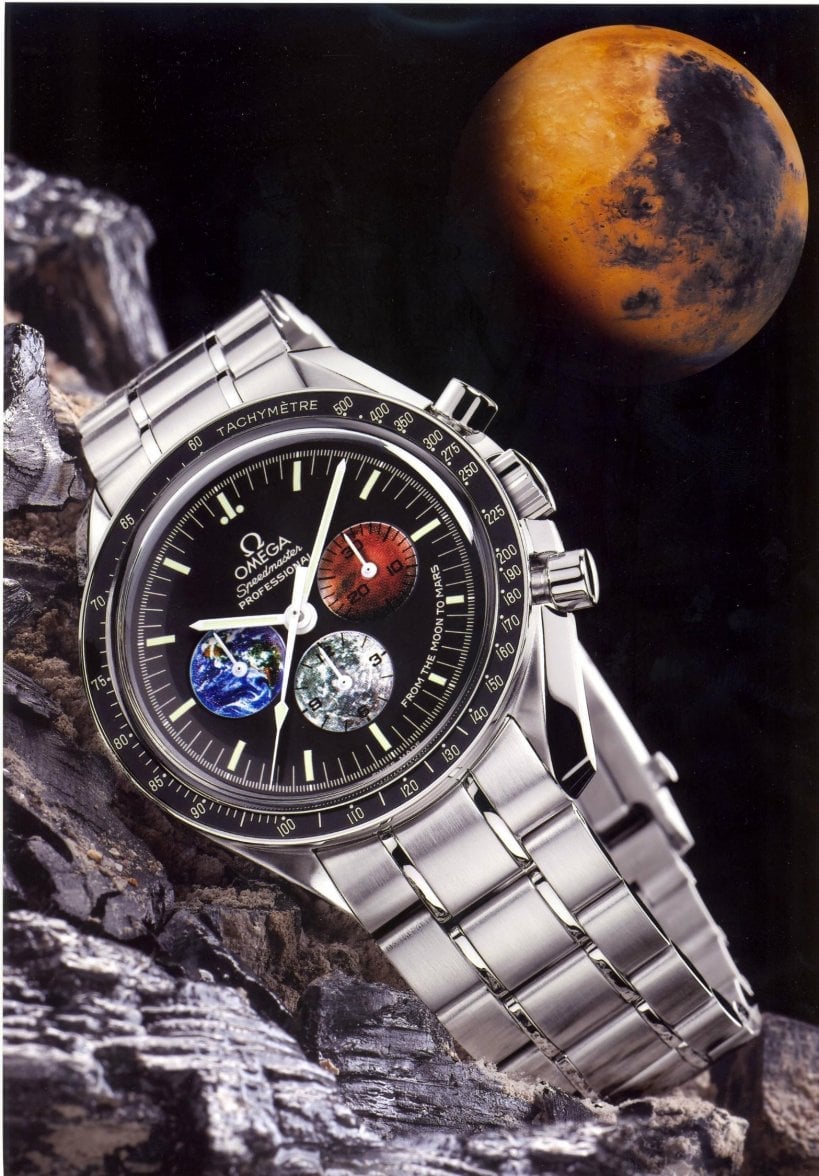 On the press picture and on the real one you see in this article, the colors are all original and far from washed out. Based on the various 'dials' we've seen out there, it seems that they are quite vulnerable for sun light. Speedmaster From the Moon to Mars watches that have been in displays for a longer time, or actually worn a lot,  seem to be affected more than those who were either in safes or boxes. A quick search on the internet, especially on OmegaForums, taught me that some dials are completely discolored. A green/yellow planet Mars and a blue/green Moon. Earth stays mainly blue, but loses the other colors and the intensity of the blue tends to go down. Here is an interesting discussion on the dial variations of this watch. The fun thing is that you can search for one that is either all good, or one that has a nice looking (faded) color scheme that you like. The bad thing is that there are probably some 'masterminds' out there who believe to think that these should be über expensive. Oh wait, there already are some people out there charging almost 7K Euro for one with 'unique' color changed dials. If this is worth it to you, more power to you (and money for the seller), but I would advice you to keep it sane. Either the quality of the paint wasn't good enough or they have been exposed to a lot of Sun (which also shouldn't cause a good dial to discolor). In any case, it can be a big deal of fun searching for the right one. Omega produced over 6000 pieces is the general consensus (as they have the unique number engraved in the caseback), so there should be quite a few pieces out there.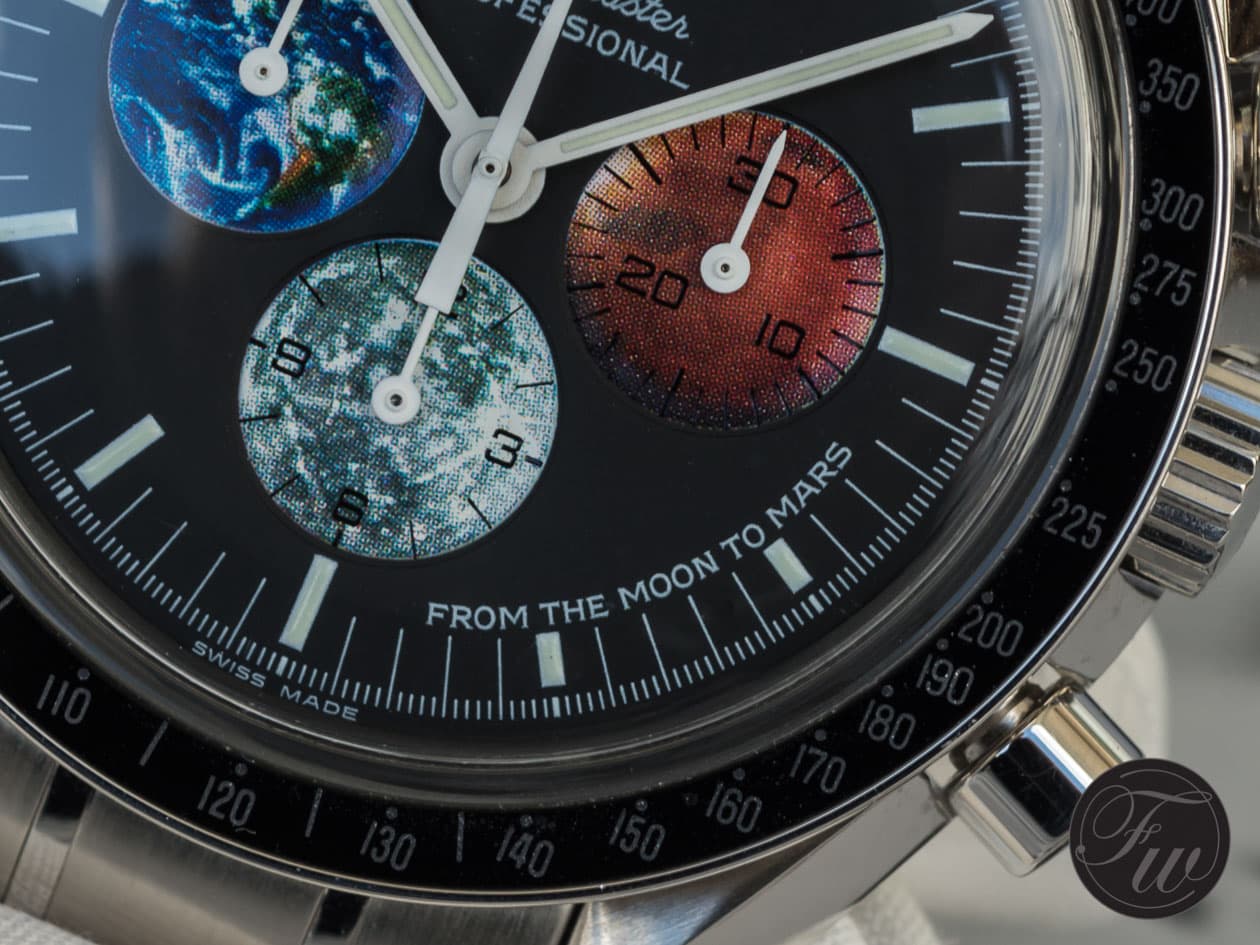 Availability and Popularity
The Speedmaster From Moon to Mars has never been my favorite edition. Not only because of the lack of a better story (others suffer from that as well), but also due to the three planets on the dial. The 'photo realistic' planets have quite a grainy resolution, as shown in the image above. It is also a bit too much for me, one printed beagle or mission patch I can handle, but three printed sub dials – with different colors and patterns – is a different story.
That said, once one the wrist the watch actually looks neat and the distance from your eyes to the watch is enough to ignore the grainy print and different patterns. In fact, you will only notice the different colors and a slightly different structure of the planet's surface. Also, as a Speedmaster collector I know that a certain time will come that I regret not buying this watch. I had that with the 2003 Snoopy Award, the 2013 Tintin and the 2014 Apollo XI. At least getting the Snoopy 10 years later wasn't a cheap solution. I had luck with finding a NOS Tintin in Japan but I gave up on the Apollo XI from 2014.
In the meanwhile, prices have gone up drastically on this watch as well as on most Speedmasters. Where you could get a pre-owned From the Moon to Mars for around €2600 5 years ago, and a BNIB watch for €3500, you now have to pay about €5000 for a pre-owned Speedmaster From the Moon to Mars with box and papers. These might be speculators prices of course, but only around 13 for sale on Chrono24 at the time of this writing and all priced 'solid' makes me doubt that these will go down much. It seems there are also people who are really into this watch.
Omega's Speedmaster From The Moon to Mars ref.3577.50 was in production from 2004 and discontinued around 2012/2013. An exact number of the total production is unknown, Omega rarely communicates on these numbers (unless these are Limited Editions). The original product sheet of the From the Moon to Mars watch can be found here.