Speedy Tuesday – The Speedmasters I Bought In 2017
As we are approaching the end of the year, I looked back at the watches I've bought and sold and I realized that I bought more than I had planned. Actually, when the year started I didn't plan to buy much anyway, except for an extra Speedmaster Speedy Tuesday.  But in the end, I bought a couple of Speedmasters this year. Unplanned.
Let me tell you first that I not only buy Speedmasters, some times it might seem so. I have my share of other watches, also from other brands. But I find myself explaining to people that with those, I buy what I like and what I will wear. With Speedmasters, it is a bit different, as I collect them. However, I am a bit of a 'soft' collector, as I just buy what I like here as well, I am not really focused on specific vintage references or details. Not because I don't like them, but because I feel that when you go for certain vintage references (2998 for example, and then one with a specific designator, like 2998-1) you make it really expensive for yourself. At this moment, I simply don't have that kind of money to put in just one of these watches. I prefer to have a variation of Speedmasters  that I actually will wear over one or two 'grails'. I do appreciate these beautiful vintage beauties though, so I admire them from distance whenever I see one posted on Instagram for example.
By Surprise
The Speedmaster Speedy Tuesday was quite a project of course, so I knew that this was coming a few months before its introduction last January. No money was involved in this project, but I did ask Omega for Speedmaster Speedy Tuesday watches for the team of course. Next week, we will finally all have ours and the extras we ordered. But the other Speedmasters I bought this year were totally unplanned for. Some caught me by surprise and were too good to let go, another one was ordered as soon as I first saw it. The extra Speedmaster Speedy Tuesday that I bought is for my wife to wear actually. Since I get some emails and questions about the Speedmasters I purchased, I thought it would be nice to show you the Speedmasters I bought in 2017 and why I did so. And whether I like them or not.
Speedmaster X-33 Gen.1 1998
I bought my first X-33 in 2013, just after our first 'official' Speedy Tuesday gathering we hosted together with Omega in the Space Center of the European Space Agency (ESA) in Noordwijk, near Amsterdam. A photo report on this event can be found here. Then, in 2016, I bought another one simply because the price was simply very attractive and from the first owner (as well). This year, I purchased my third X-33. All three were Generation 1 watches, so no real difference there. I wrote a review on the X-33 1st Gen here.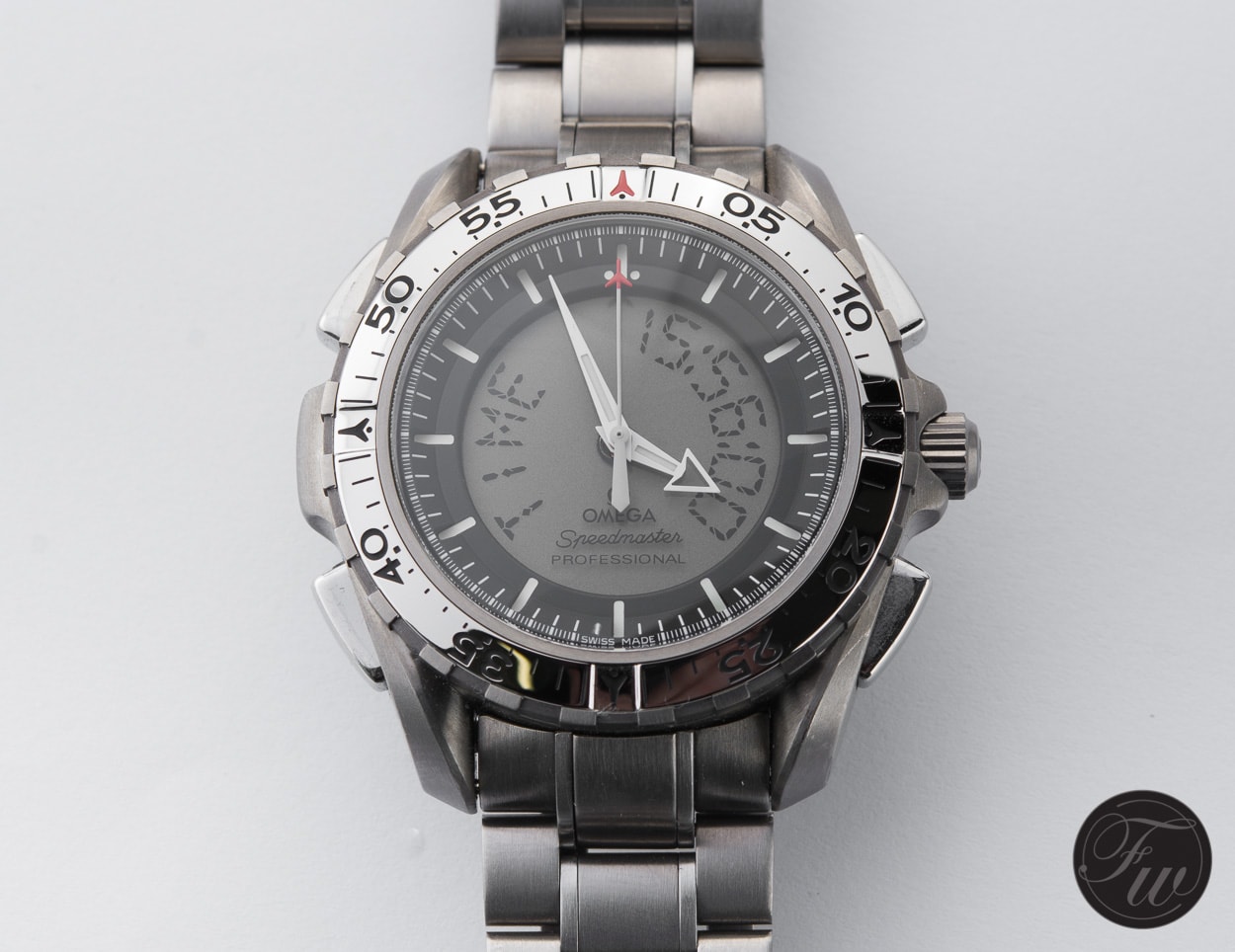 The Speedmaster X-33 reference 3290.50 I bought this year, didn't even come with boxes and papers and I think I paid more for this one than any of the other two. It has a special story to it, at least for me, as I was given the opportunity to buy it from a friend who received it from his father. His father was an astronaut (Space Shuttle) and one of my childhood heroes. I remember his mission vividly, as there was a lot of coverage on it when I was a young boy. On television, in the newspaper, in magazines and even in school the teachers taught us about this space mission. When the X-33 was introduced in 1998, Omega did so in different places of course. One of them was the NASA Johnson Space Center in Houston, another location was the Space Center of the ESA in Noordwijk, in The Netherlands. You probably guessed it by now already, but the Speedmaster X-33 I have here is the first one to be handed over to the astronaut I talked about. He received it as a gift that day from Omega. So I bought it nearly 18 years later from his son, who was willing to part with it. It is one of the pieces that means a crazy lot to me and will probably never leave the collection. A Speedmaster with a story, just how I like them.
Although the X-33 is a bit of an ugly watch, I like it very much. The functions are neat and it was really designed being a tool watch. The 2nd version was already a bit nicer, with its brushed bezel and pushers, but the case shape remained the same. The 3rd and current version is quite different, and developed (and qualified by) together with ESA. We did an extensive report on that watch and its functions as well, click here. A little tip from my side: Omega made a small mistake with the X-33 Skywalker (3rd Gen) and released a batch of those into the market. It is only a small difference, but for collector's it might be an important one. As you know, there is an often made mistake that the Speedmaster watches have been qualified by NASA (and ESA, regarding the X-33 3rd Gen) and not certified. With the first batch of the Speedmaster X-33 3rd Generation, you will find that 'Tested and Certified by ESA' has been engraved and not 'Tested and Qualified by ESA'. If you are on the market for an X-33, try to get the one with the wrong engraving. There actually are one or two of those on Chrono24 right now.
Speedmaster Professional Tintin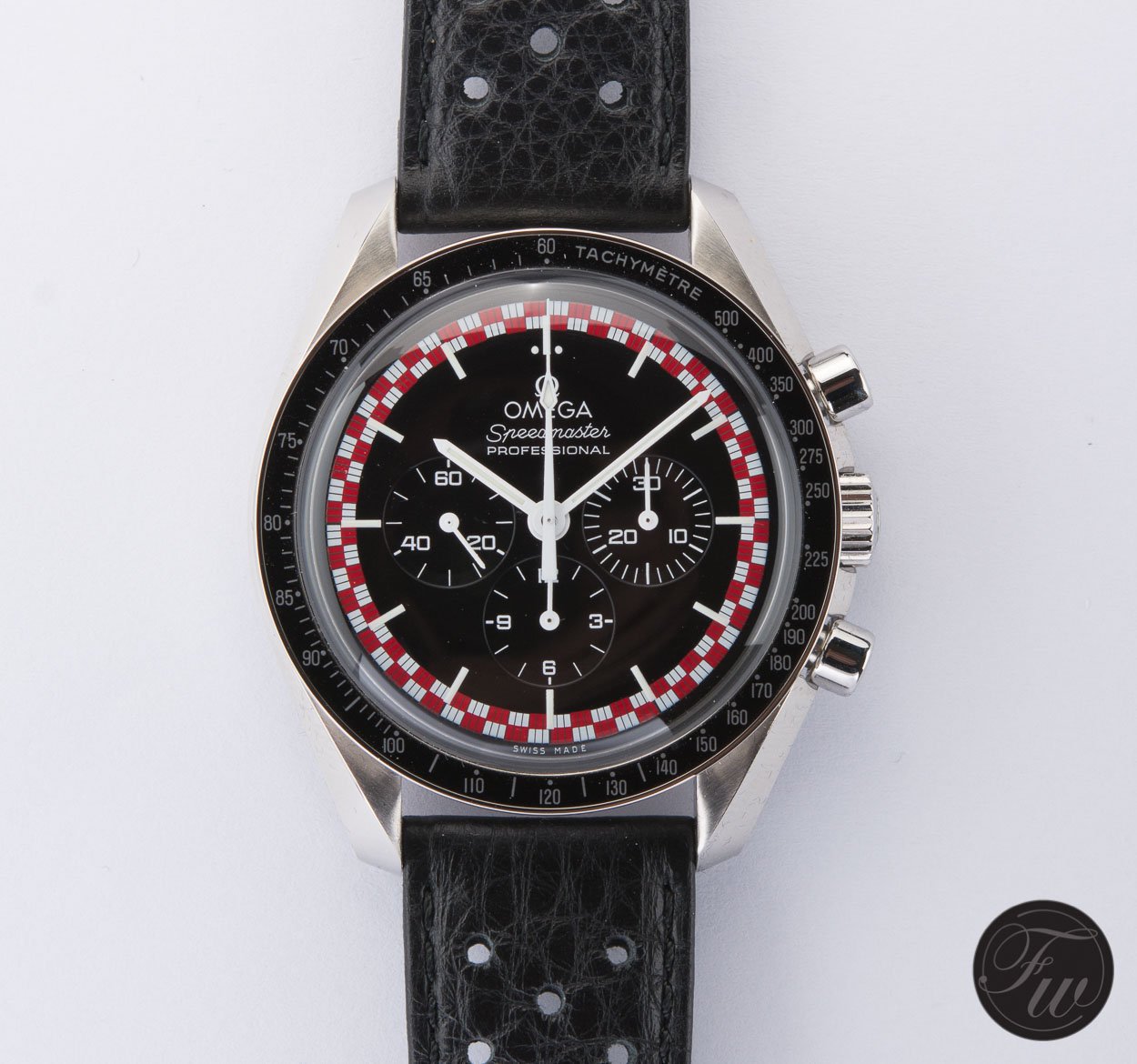 During my visit in Japan, for our reader's trip to Grand Seiko (report here), I also had some free time to spend in Tokyo. I've been there before, during a 2015 media trip with Seiko (report here), so I knew a couple of places I wanted to visit. One of them was the BIC Camera shop near Ginza. Together with Patrick, one of our readers who joined us on the trip, we were browsing some of the watches they had on sale. Although we were mainly interested in the Grand Seiko displays, as the prices over there are so much better than here in Europe, my eyes were drawn to this Omega display that said 'Sale'. There, between a number of unwanted models, was the Speedmaster Professional Tintin. I asked the sales person about it and he referred to it as the Speedmaster 'Schumacher' – whatevs – and handed it over to me. The price tag was so low I thought it was just wrong, but it really was on the correct label (with Speedmaster Professional Tintin reference number). The sales person added, that when I would buy it, I would get even more discount when I would pay with credit card. Weird, but OK. So in the end I found myself paying about 2350 Euro for the Speedmaster Tintin. A watch that fetches quite a bit more here in Europe.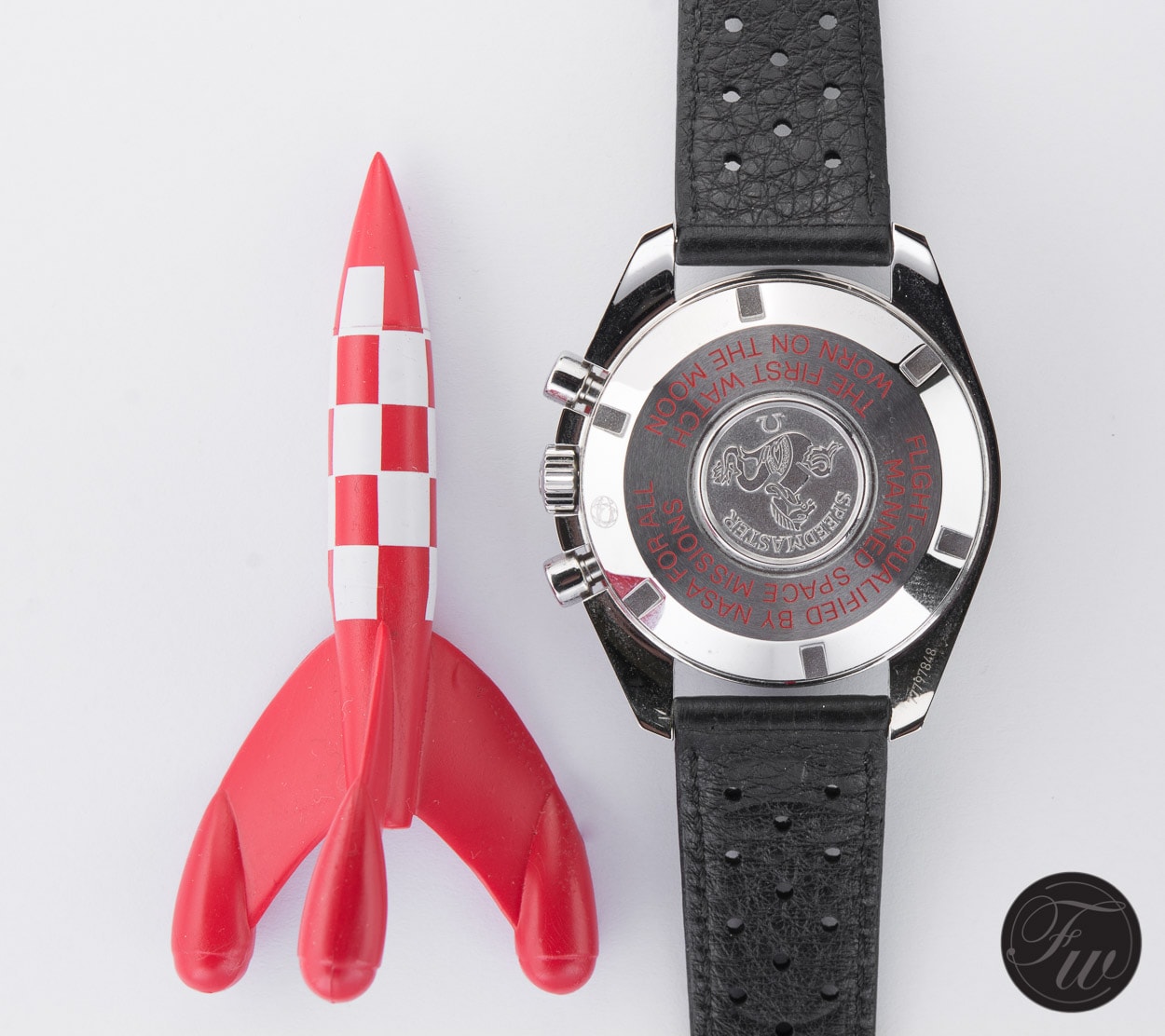 Rumour is that only about 3000 pieces of this Speedmaster have been made. Back in 2013, we were the first to publish about this watch and tell you about the connection with Tintin (here). It was even here where the nick name Tintin started. That publication even got me an official warning from the lawyers from Moulinsart, the company that protects the Hergé heritage. They wanted me to remove the cover of the Tintin Explorers on the Moon comic book. In my opinion, they were quite foolish to reject the Speedmaster Professional with this design as a commemorate piece for Tintin, on the other hand I wonder how the market would have responded to a watch that commemorates a comic (other than Snoopy). Perhaps the fact that Hergé (or Moulinsart) refused it is one of the things that makes it mystical. In the meanwhile I also saw the original prototype that was meant to be the official watch, it looks beautiful. Whatever the reason was for their refusal, the Speedmaster Professional 'Tintin' was marketed as a 'Racing' watch officially, but now that the story got out, basically everyone refers to this watch as 'Tintin'.
So, although I admired the watch and the story, I never got to buy one before. I think they listed for around 4000 Euro at the time, but my interests were elsewhere at the time. I promised myself to buy one when I could source one for less than that, and I did. The reason why they were discounted in Japan puzzles me a bit to be honest. Perhaps the Tintin has no ground or meaning over there, like the Galaxy Express 999 model has little meaning here in Europe. Anyway, I put the Speedmaster Professional Tintin on a racing strap and it is has become a very nice daily wearer.
Speedmaster 60th Anniversary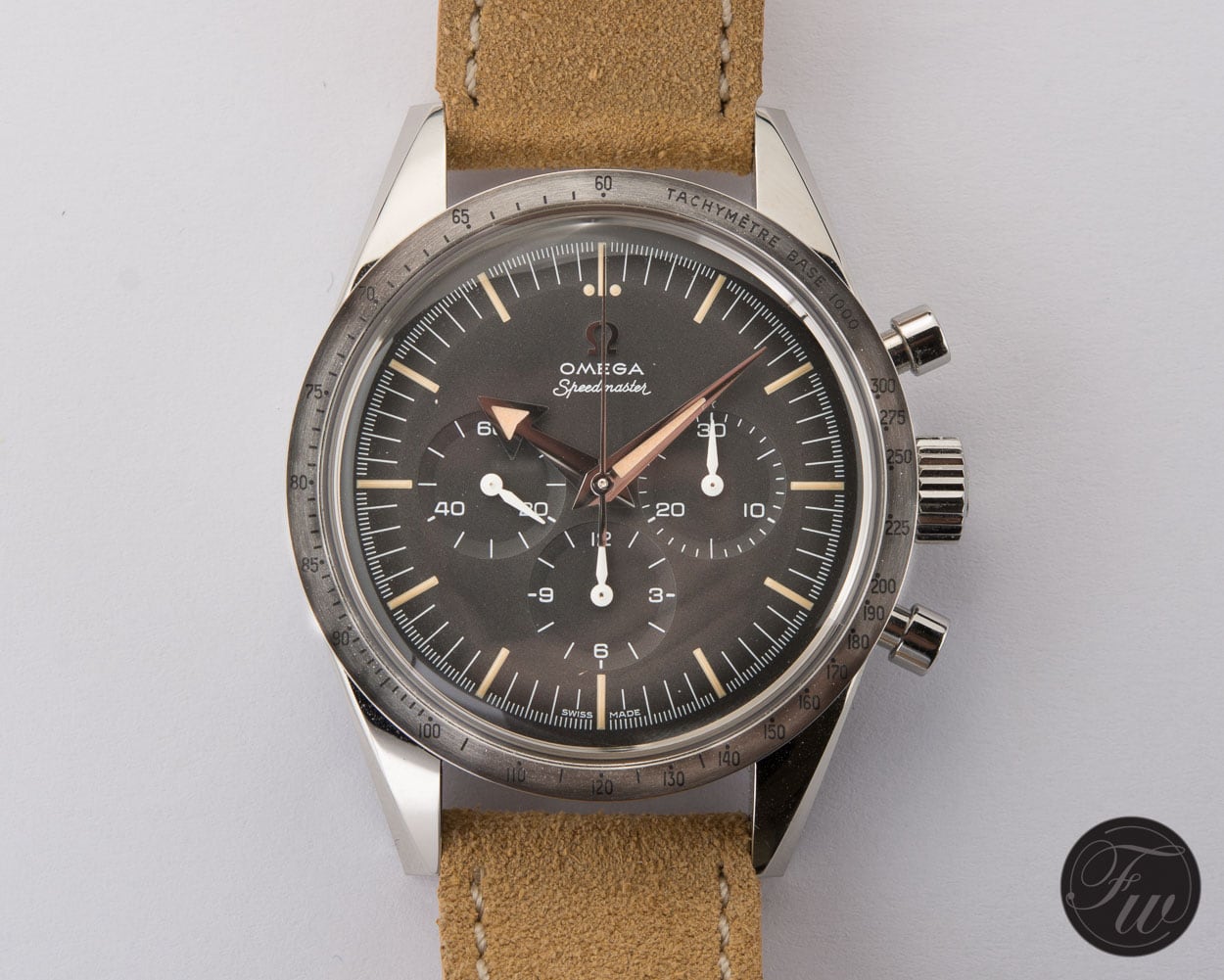 Less spontaneous as I just ordered this watch, but the surprise when I first saw it was nevertheless big. I wrote an article on the Omega 60th anniversary trilogy ('The Master Trinity') for Omega's Lifetime magazine, issue 18. The images I received were simply stunning and for a moment I thought I was looking at the original CK2915. So, needless to say I ordered one (so did Fratello members Michael and Gerard) and just two weeks ago I picked it up. In the meanwhile, I also had one for review for this article but that isn't the same as really owning it. My opinion on the watch has not changed, but I didn't swap the original bracelet from the review piece I had. Now I've put mine on a beautiful beige suede strap from StrapsbyFleur that matches the vintage looking lume on the indexes and hands. It is a truly awesome watch and the size of just 38.6mm makes it a really comfortable wearer. Having it on a strap, makes it a bit smaller than when wearing it on the bracelet. The bracelet looks great and is really comfortable, but the clasp didn't and doesn't really convince me. It is a bit too bulky and the entire bracelet is a bit on the heavy side. I do feel that the looks are great though and really remind me of the vintage 7077 bracelet.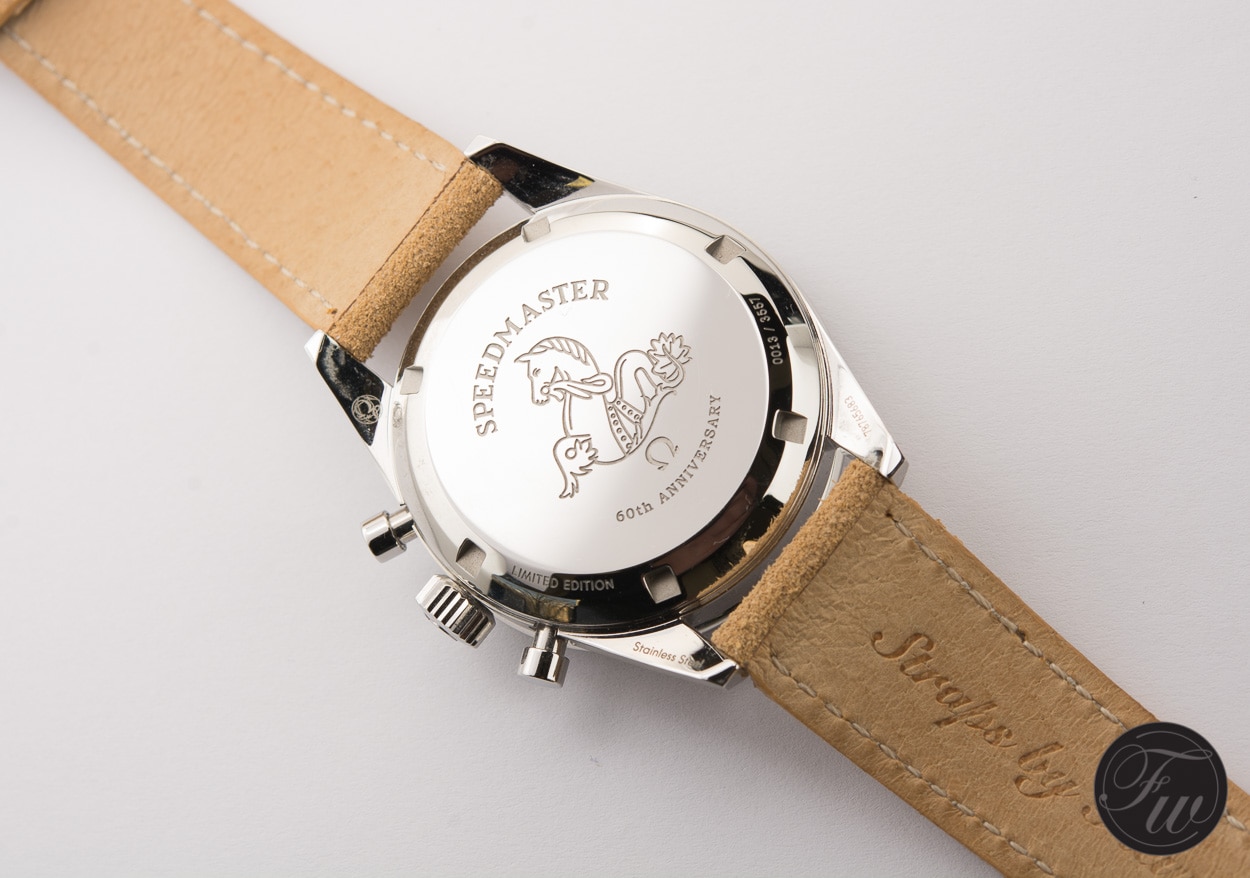 I love the looks on this watch, while the original CK2915 was never my grail piece to be honest. I would rather much prefer the CK2998 because of the black bezel (I know the CK2915-3 also had a black bezel). This 60th anniversary edition actually made me change my mind about that. The CK2915 would be amazing to own, but for the prices it fetches today there is no chance to ever add one to my collection. Is the Speedmaster 60th anniversary a surrogate then? Not really, as it really is and feels like a modern watch. With the right strap you can make it look and feel more like a original CK2915, but the fact is that is of course has the later hand-wound caliber 1861 movement and not he caliber 321 with column-wheel. However, compared to the former '57 re-edition (click here) from the late 1990's or the 2012 First Omega in Space (CK2998 inspired model), Omega did an awesome job in getting the details right this time. No sapphire, no large bas relief Seahorse on the case back etc. Hesalite crystal, a two-step bevelled case back and a very subtle engraved referral to being a limited edition. The case dimensions are also perfect and from what I've been told, they really used advanced tools to measure the dimensions of the original CK2915 so it is not the same case as the FOiS.
With a retail price of 6800 Euro this watch doesn't come cheap (the regular 'Moonwatch' retails for 4300 Euro), but I feel that it isn't exaggerated either. The watch is very nicely done, in a limited number and comes with an impressive box with ditto contents. Two extra straps, a tool to change the straps, a leather watch pouch etc. The large box is done in the same spirit as the original boxes that were used in 1957, but a lot bigger to fit all the extras. Limited to 3557 pieces as a separate watch and the trilogy set that contains the Speedmaster, Seamaster 300 and Railmaster is limited to 557 pieces. I find myself wearing this watch almost non-stop. I know it might be the honeymoon weeks, but remember I had it for review earlier on and also then it was constantly on my wrist.
Speedmaster Speedy Tuesday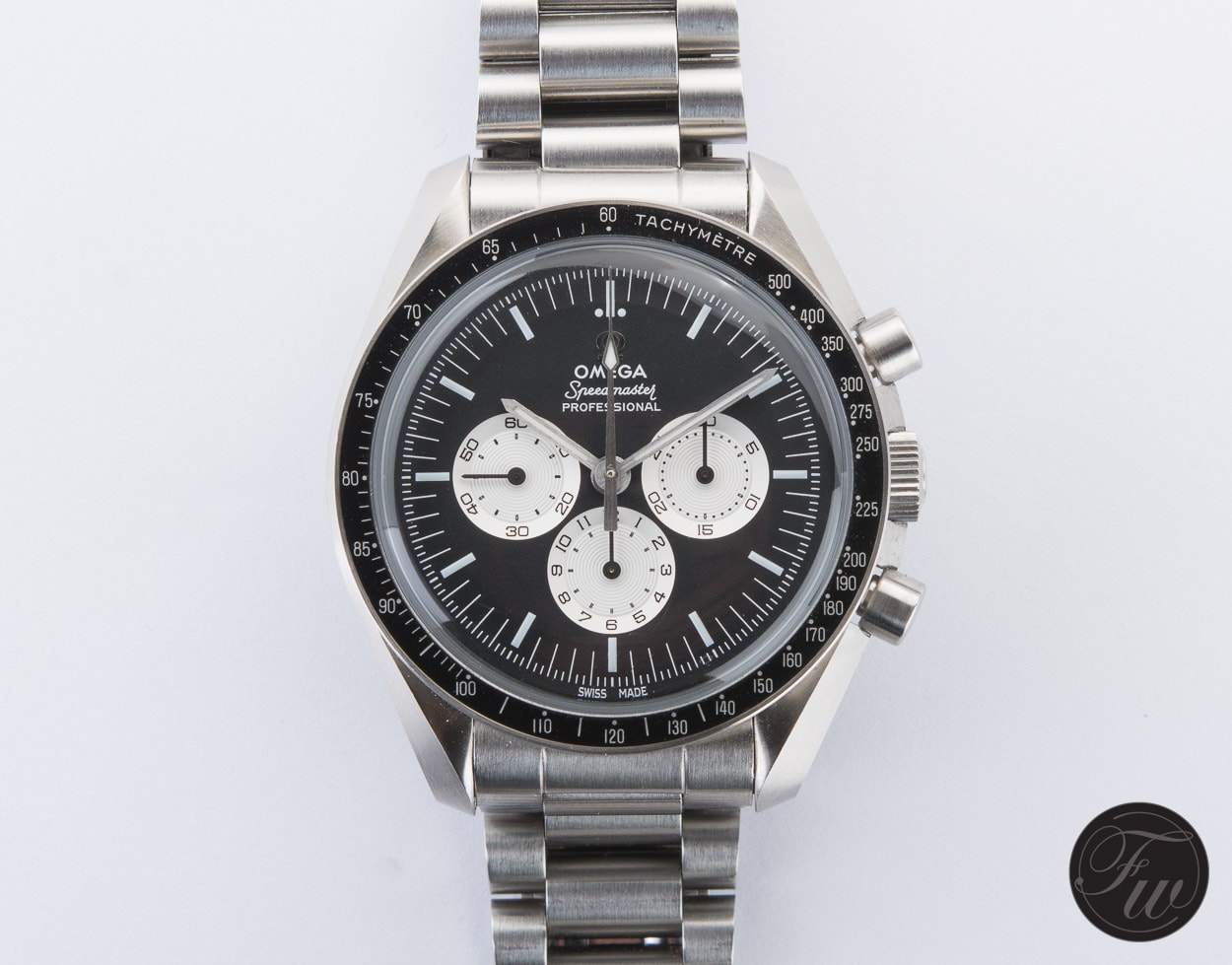 Last but not least, the Speedmaster Speedy Tuesday. Already early on, I was lucky to receive my personal watch (#13) as it was in the first batch to be manufactured. That, and the fact that I wore the prototype I received already December 2016 makes it a watch that probably got most wrist time this year. I will not repeat all that has been said about the watch, as we already covered it a lot and expressed our thoughts about it in various interviews, on forums and the special #SpeedyTuesday Facebook group. We are also not performing a review of the watch as that would feel a bit corny. To me, this watch represents something special. Not only does it celebrate Speedy Tuesday that I started in 2012, it is also a watch that really came from our team's input. Omega listened to us, came up with a couple of iterations but the final version is really how we imagined things to be. It was the first time for Omega to sell a watch on-line, but more important – for me – is that there are a couple of other things about this watch that Omega did for the first time. One of them is the production of the (radial) dial, that caused some issues as you've probably heard or read about in the meanwhile, which has been done according to new techniques and processes for Omega. It was quite a challenge from what I've heard and seen. Then there's the brushed case and other parts such as the bezel and pushers. 2012 watches found their way (or are still on its way) to the final customers, but the last ones should be finished very soon. As you can see in the picture, mine is currently on a bracelet (discontinued Omega ref. 1450/808).
Besides the #13 that I received because of this special project, I bought some extras. One of them will be for my wife to wear, and perhaps later for my daughter when she is old enough. The fact that some of my (close) friends and my dad got one as well, makes me extra proud. Nice story about my father is that he has been wearing his Omega Geneve from 1969 on a daily basis for about 30 years. He always liked the Moonwatch (and he was the one that told me about it when I was young), but it never really happened. When I showed him the Speedmaster Speedy Tuesday he was smitten by it and decided he wanted one as well. We fetched his together with my Speedmaster 60th a few weeks ago (warranty cards stamped on the same date) and made it a really nice father and son trip. A visit to the museum and to the new Omega manufacture was all part of it. It seems he is not entirely comfortable wearing it all day, as he is afraid of scratching it, but at some point I hope he will be. He told me last week that he puts it on his wrist as soon as he gets home from work.
I wear them!
As I've wrote in the introduction of today's Speedy Tuesday article, I buy watches that I will actually wear. And I do. Even the quirky looking Speedmaster X-33 can be found on my wrist some times, despite being very valuable to me. Watches are for wearing, and when I find myself not wearing a watch at all, I sell or trade it for something else that I will give some wear. The watch that I wore most of the time this year is without a doubt the Speedmaster Speedy Tuesday. The Tintin and 60th anniversary watches are pieces I have been wearing a lot as well, but they haven't been that long in my collection yet. For next year, I would love to find and add the Speedmaster Professional Apollo XI 45th anniversary edition at some point, with the titanium case and Sedna bezel. I am afraid the prices have increased quite a bit over time, but let's hope for the best. Another Speedmaster I am still after is one from my year of birth. Somehow 1977 wasn't a productive Speedmaster year, as I keep on finding 145.022-76 models with either 1976 and 1978 as production year.
Wear your Speedmasters!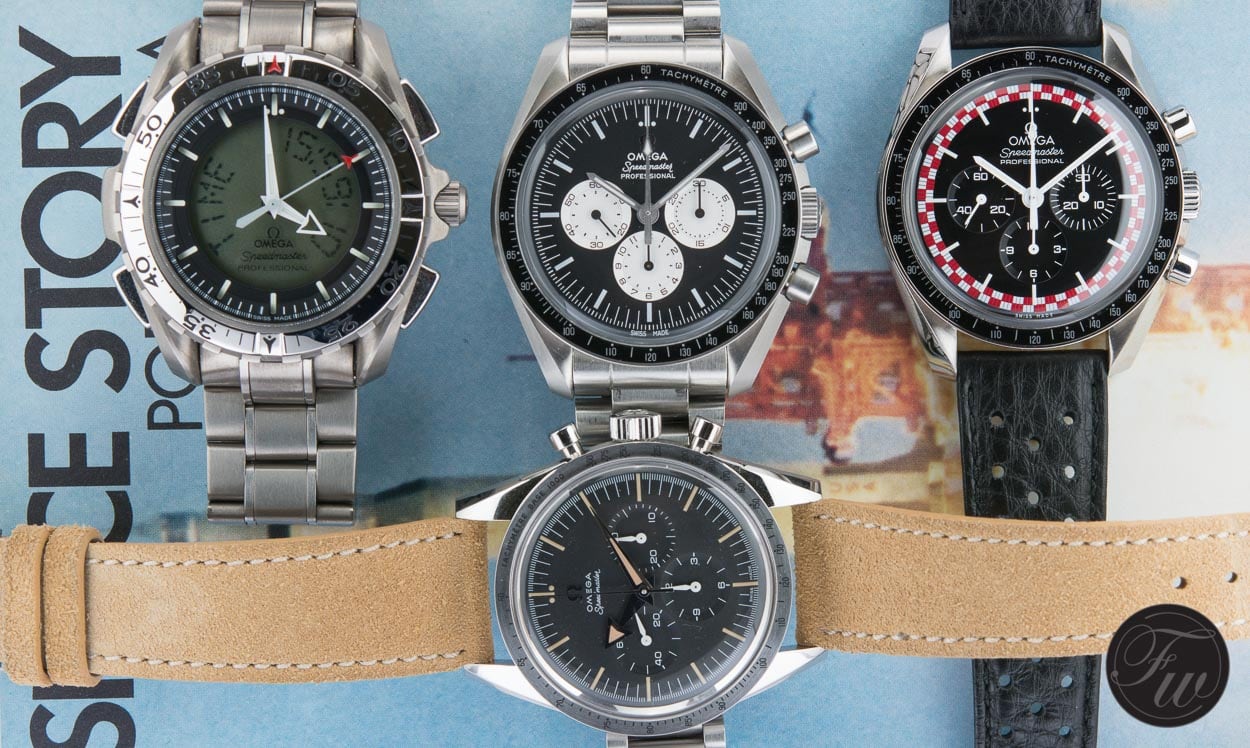 p.s. You'll see some smudge (inner lug of the Speedmaster 60th for example), finger prints and dust on some of the watches. It is because I wear them and didn't take the time to properly clean them for these pictures.