Preview of Geneva May 2017 Auctions: Christie's
The Christie's Geneva watch department has maintained a great reputation and stayed coherent while adapting quickly to market demand. We see almost no modern watches left in their recent catalogs and the quality of vintage watches being offered is excellent.
Christie's Geneva
This auction house has a rich history and continues to overshadow its British competitor Sotheby's in the watch category. I say 'British' because they were both founded in London, but, yes, ownership has changed since.
The watch department remains a small portion of this auction giant's business, with art being a much larger earner of course. Just to put things in perspective: let us estimate that, in a year, Christie's sells approximately $ 50 million in watches, about $ 500 million in jewels and a whopping $ 5 billion in art. When we put it that way, even when watch aficionados go nuts over some recent results at auction, the watch auction scene clearly remains a niche segment with lots of room to grow.
Thomas Perazzi, Christie's Geneva Head of Watches Department, hosted us (my brother and I) at their office in Geneva and helped us go through the catalog together. We felt at home at Christie's, maybe because we're neighbors, and thoroughly enjoyed the diverse selection of the upcoming auction. After they received several collections including a large array of Rolex watches, they decided to dedicate the second half of the catalog to this brand only and are calling it 'A Rolex Afternoon' and rightly so. All different eras and styles including some very important watches in this portion of the catalog and should make for an electrifying afternoon.
In the past year, we have seen a larger than ever before divergence in pricing and sales of vintage watches. The premium vintage has been selling at ultra-premium prices, meanwhile the 'rough stuff' is almost impossible to get rid of these days. Collectors and aficionados are paying more and more attention to details and especially condition and originality. With a ton of quality information making its way to the surface, a lot of myths have been debunked and lot of the weathered collectors are noticing some past mistakes and trying to rectify them. This also explains the spare part market going up almost tenfold in the past few years for certain key items. Results at auction can almost always be directly linked to condition. The overall impression in the market is that if something sells for cheap, with so many eyes watching, something must have been wrong with the watch and vice versa.
RARE WATCHES AND A ROLEX AFTERNOON
The Christie's watch auction, which takes place on Monday May 15th in Geneva, is comprised of 282 lots in the catalog, which is 44 less pieces than in November, but on par with last May. The general goal for Christie's is more focused catalogs targeting high-end watches (or higher average price per lot). The total estimate value of the catalog is CHF 10 to 15 million. According to our study of the catalog and their past performance, we estimate, conservatively, that they will sell over 85% of lots and reach about CHF 15-16 million at this this sale versus the CHF 18.3 million from last May, but it's not possible to have a record setting Breguet pocket watch at every sale. This time, it may be a record-setting Patek. These are just calculations, but auctions are unpredictable and we find them exhilarating whether selling, buying or just watching! We will look back on this after May 15th with an in-depth analysis of the results.
The last addition to the catalog came as a wonderful surprise: the Patek Philippe 2497 Black Military Style Dial having belonged to "Emperor Selaisse" of Ethiopia. You may remember in November 2015, when this cover page lot was pulled from Christie's at the last minute to everyone great surprise and disappointment. We found out soon afterwards that there was an ownership dispute and our sources inside the company said they would make sure this watch would be back, but it would take a while. A year and a half later, its back! Lot 166 is going to be one to watch for sure. Especially, with all the work it took to get back on the front cover of this catalog.
Here are some of the interesting wristwatches we are particularly fond of and decided to share:
LOT #29
Heuer Autavia 2446 H Mark 3 "Jochen Rindt"
The vintage Heuer market has been growing stronger and prices keep flooring many of us. Others have told us it's been a long time coming and, privately, prices have been strong for years. One thing is sure, the early manual-wind Autavias are the most sought-after among models today. In fact, Tag Heuer is paying close attention and a re-edition of this exact Autavia Mark 3 Hours Bezel configuration was just launched at Baselworld. In addition, earlier this year, the sale of a first generation Autavia in the 200K range made headlines. This will also surely be adding a bit of hype to this reference/configuration as well. This example is particularly stunning and we expect it will likely surpass its high estimate.
Estimate CHF 20,000 – 30,000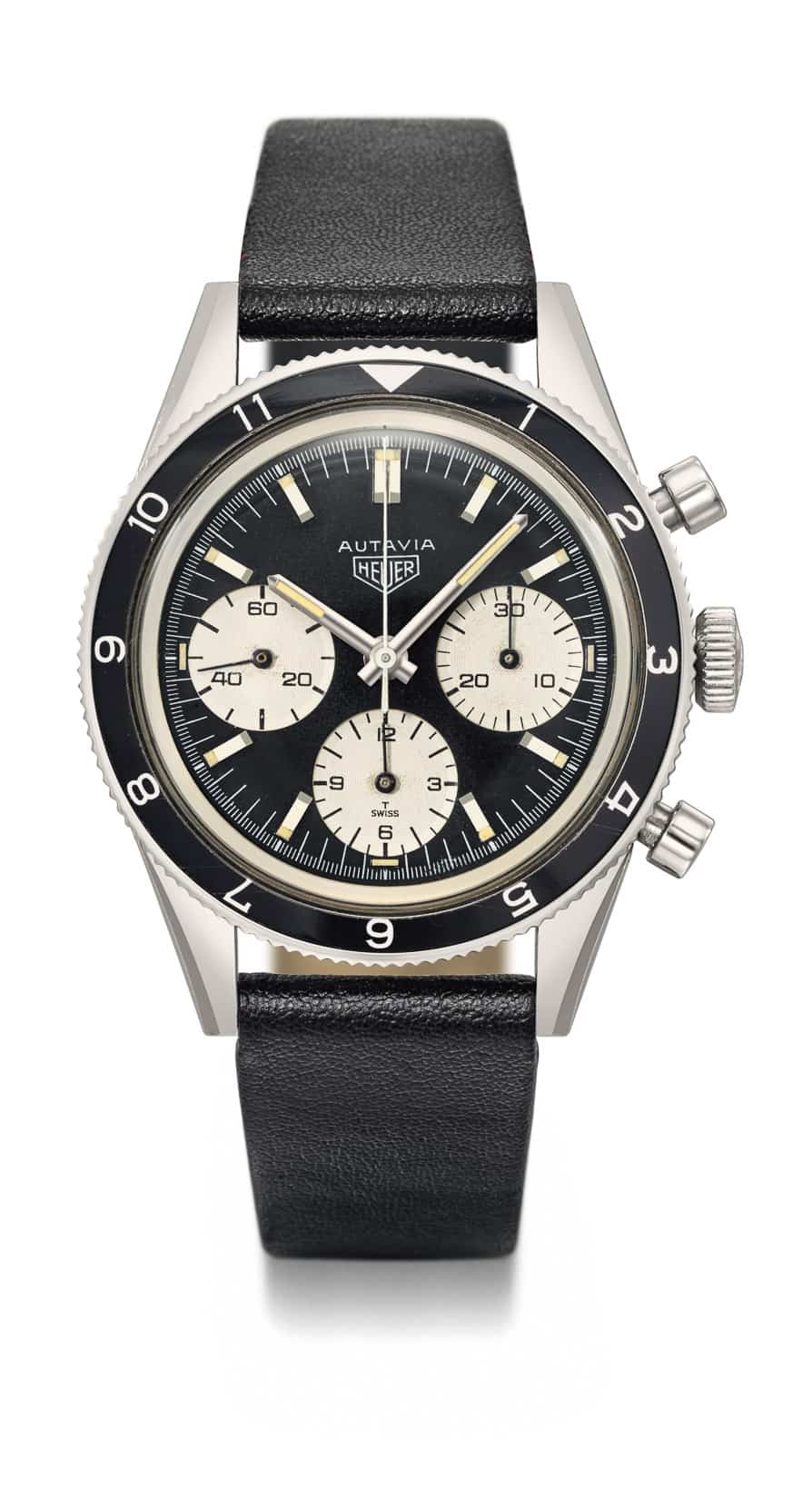 LOT #31
Heuer Autavia 111.603 Olive Green PVD
Very few Autavia PVD have surfaced and even less so in this olive green PVD version. The condition of this lot is simply breathtaking.
Considering that the black PVD IDF version reached CHF 62,500 in their last auction, we wouldn't be surprised if this civilian olive green PVD gets the bidders pumping and hits CHF 30K. One of the nicest examples of this rare variant that we have observed, this would be the ideal example for any serious collector. Also, it looks so bad ass!
Estimate CHF 12,000 – 22,000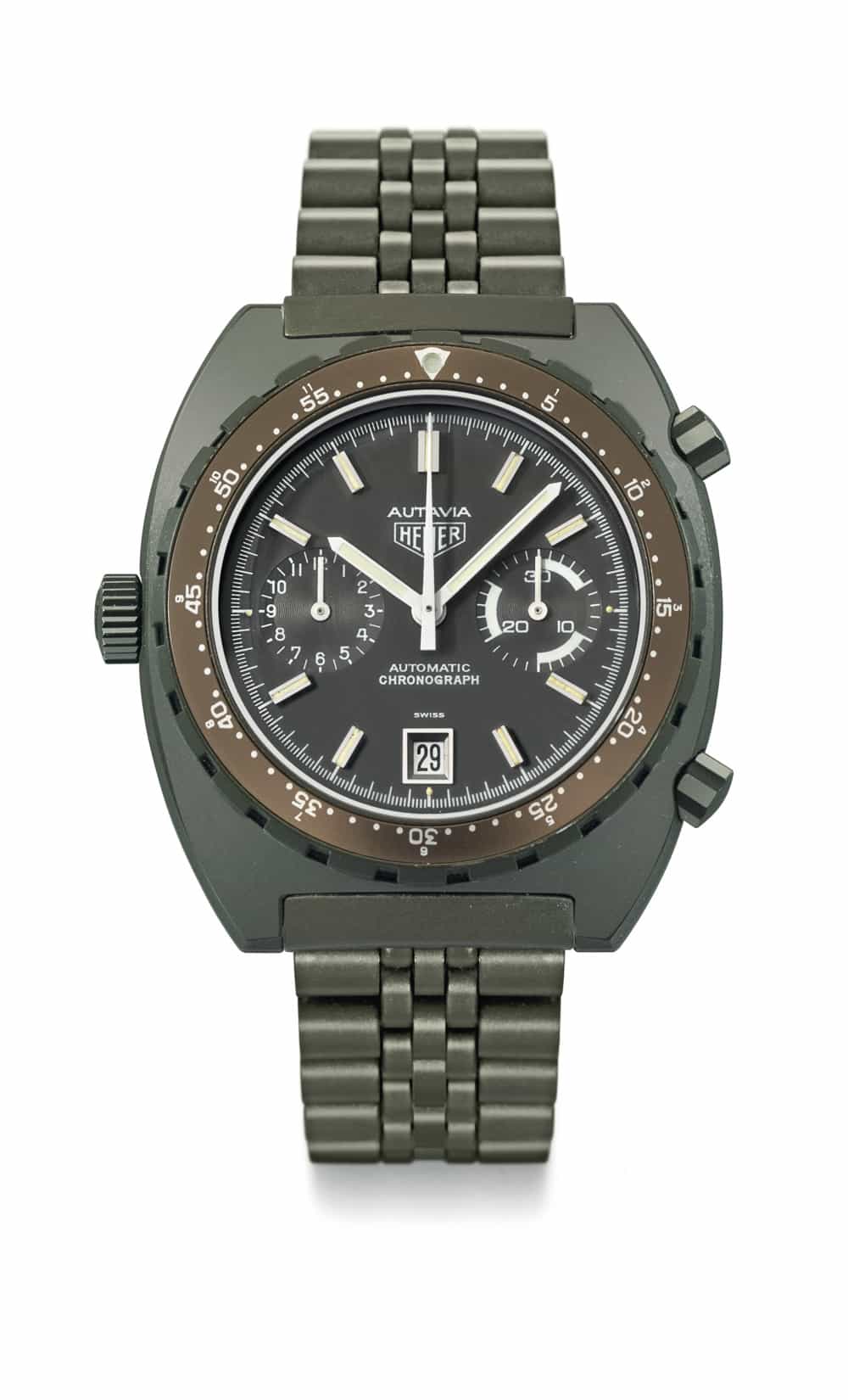 LOT #61
Universal Genève 24h Split-Seconds Chronograph A. Cairelli
Although the A. Cairelli orders for the Italian military have mostly been tied to the Zenith CP-2, some rare Universal Geneve are quiet appealing as well. As I mentioned in previous articles, historically, demand for military use of wristwatches encouraged greatly the development of robust stainless steel chronographs. The 24-hour dial or military time was the standard for military pilots and the large 44.5mm size was meant for legibility. This model is fitted with a Valjoux 55 base split-seconds chronograph movement, which was also a useful complication.  In addition, the dial is signed A. Cairelli, which was a Rome based Italian retailer who specially developed, ordered and supplied the Italian Air Force with wristwatches. The case back is not engraved, which most likely means it was not issued and considered 'civilian', although the more likely scenario is that it was delivered to Cairelli and not purchased by the military. This retailer signature was much like the history of Panerai, also an Italian retailer, but based in Florence, which had developed and patented the Radiomir and supplied the Royal Italian Navy.
Estimate CHF 45,000 – 65,000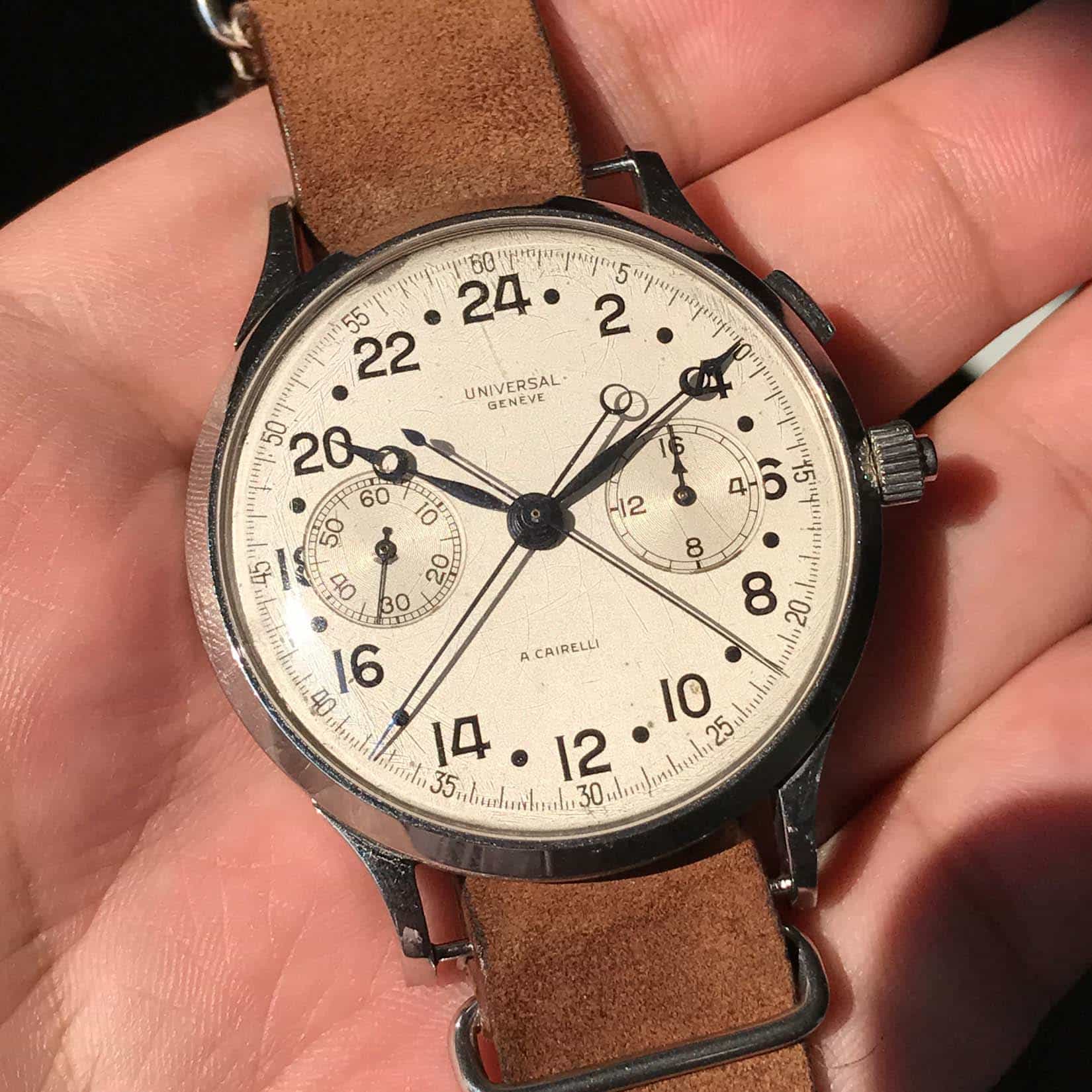 LOT #87
Zenith CP-2 A. Cairelli M.M.
Speak of the devil….
When we look at an ideal lot to bid on at auction we consider several factors after identifying a watch which we find attractive. First, the condition and originality here are impeccable. Second, rarity and provenance. This is an Italian military issued Zenith chronograph with the military engraving on the back, so it covers that category. Then, we look at market value versus estimate. A conservative estimate tends to generate more interest and encourage bidders to enter the action. We anticipate a fairly high result.
Estimate CHF 10,000 – 15,000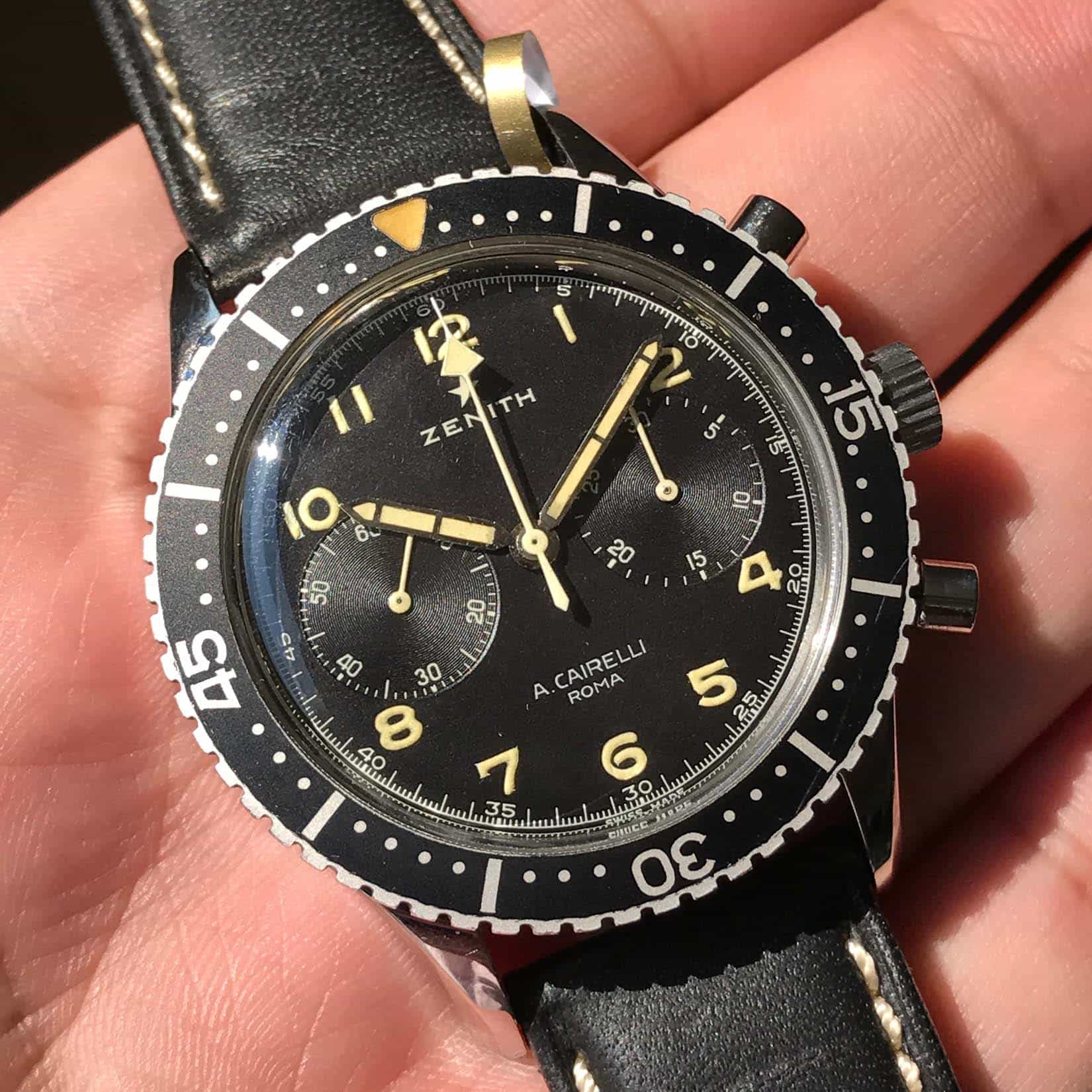 LOT #147
Patek Philippe Nautilus "Jumbo" 3700/11 "Gübelin"
The already highly coveted Patek Nautilus was in the spotlight last year for its 40th anniversary and got a pretty generous price bump in the vintage market as well as during the four thematic auctions by Christie's. The Nautilus 3700/1 was launched in 1976 by Patek Philippe and in 1981 the new reference 3700/11 came to replace it. This new reference 3700/11 was essentially the same watch as the reference 3700/1 but was given the new sub-reference number /11 to denote the in-house manufactured cases made in Patek Philippe's workshops. Formerly the cases were sourced from a Neuchâtel case maker called Favre-Perret. Only about 1,500 pieces of 3700/11 were produced.
The Gübelin signature on the dial indicates, the watch was retailed by the Swiss retailer based in Lucerne and these double signed dials are exceedingly rare as well.
Lastly, we come to the very peculiar serial numbers. Not only is the case number on this 3700/11 the earliest known for this reference, but the movement was manufactured in 1973, which predates the Nautilus model by 3 years. We just had this discussion with our friend @mstanga.one, a very thorough scholar on the Nautilus, and agreed that these movements were likely delivered during the development of the Nautilus, but it is questionable to call this a 'prototype'. As a reminder, the base of the Caliber 28-255 C came from the Jaeger LeCoultre Caliber 920. In 1981, this movement was most likely refurbished from the prototype department and used in the regular production. Patek wouldn't let a perfectly good movement go to waste, especially in the early 80's.
Estimate CHF 45,000 – 80,000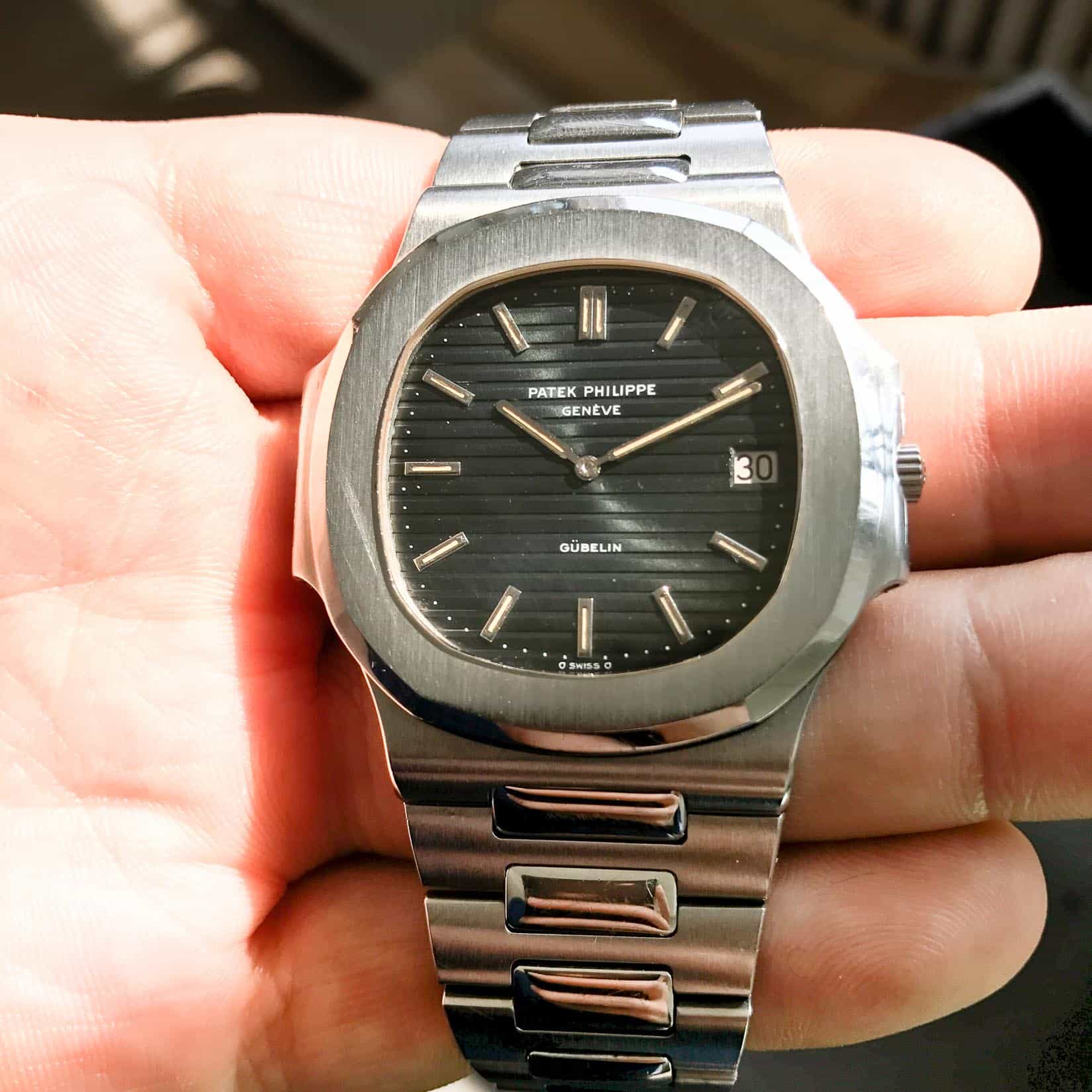 LOT #166
Patek Philippe 2497 yellow gold, formerly the property of His Majesty, King of Kings, Emperor Haile Selassie I of Ethiopia
As I mentioned earlier, this watch had everyone buzzing back in November 2015. It is now ready for auction and we are thrilled. According to research, this watch was originally commissioned by Federico Bazzi and was presented as a gift to Ethiopian Emperor Haile Selassie. Mr. Bazzi was an entrepreneur and pilot based in Asmara, Eritrea (a former Italian colony, which formed a federation with Ethiopia in 1952 after a decision of the UNO, and was fully annexed to Ethiopia in 1961 by Imperial Decree). Mr. Bazzi was involved in aviation in Eritrea and presided over the National Royal Aeronautic Union.
He presented the watch to Haile Selassie on his official visit to Switzerland in November 1954, a month after the confirmed delivery of the watch by Patek Philippe. Years later, the Emperor himself presented the timepiece as a gift to an eminent African personality, whose descendant has now consigned it for sale.
This Patek 2497 perpetual calendar has never otherwise been observed with this configuration of dial and hands and is possibly unique. The military style luminous dial as well as the dauphine luminous hands would make perfect sense for a special order by an aviator such as Mr. Bazzi. The caseback has the monogram of His Majesty Haile Selassie and the Extract from the Archives confirms it was executed based on a drawing provided by the client: therefore Mr. Bazzi purchased this timepiece with the specific intention of presenting it to the Emperor.
It is with great excitement that we will be present at the auction when this watch will be stirring up a heated battle among bidders in May. This will be the last lot of the regular collection before taking a break and beginning the 'A Rolex Afternoon' begins.
Estimate CHF 500,000 – 1,000,000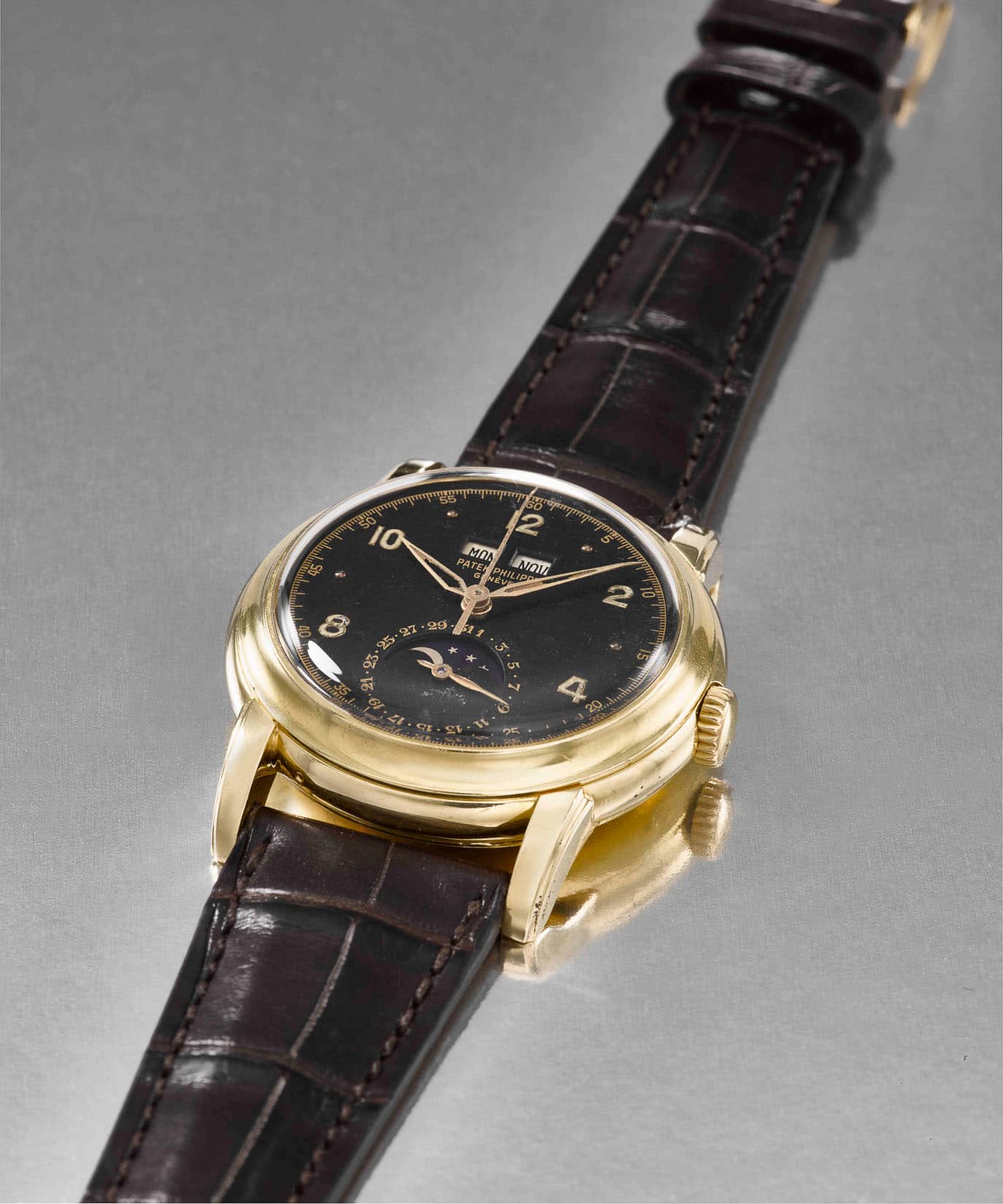 A ROLEX AFTERNOON
As I discussed before, the second portion of the catalog is dedicated only to Rolex and Christie's has dubbed it 'A Rolex Afternoon'. This portion of the catalog, which is the entire afternoon session, is comprised of 116 lots covering 55 different references. Here are a few pieces that stood out to us:
LOT #200
Rolex Milgauss 6543
We are most familiar with the 6541 Milgauss reference from the 50's, but this rare 6543 reference has a different case construction. The anti-magnetic caseback is integrated while there is a separate soft metal cover found in the 6541.
Also, it is commonly seen with a Submariner style diving bezel insert versus the red triangle and 1 to 5 bezel insert we usually see on the 6541.
The honeycomb dial is the same, however, this reference did not have the lightning seconds hand, which is a signature detail of the early 6541.
Lastly, a question arose a while back when discussing this reference with a friend: "Have you ever seen a 6543 on a steel bracelet?". It is an interesting detail to note that the lug width is slightly narrower on the 6543 versus the 20mm on the 6541 and would explain why there is no Oyster bracelet on these and that this reference was delivered on a leather strap.
Estimate CHF 150,000 – 250,000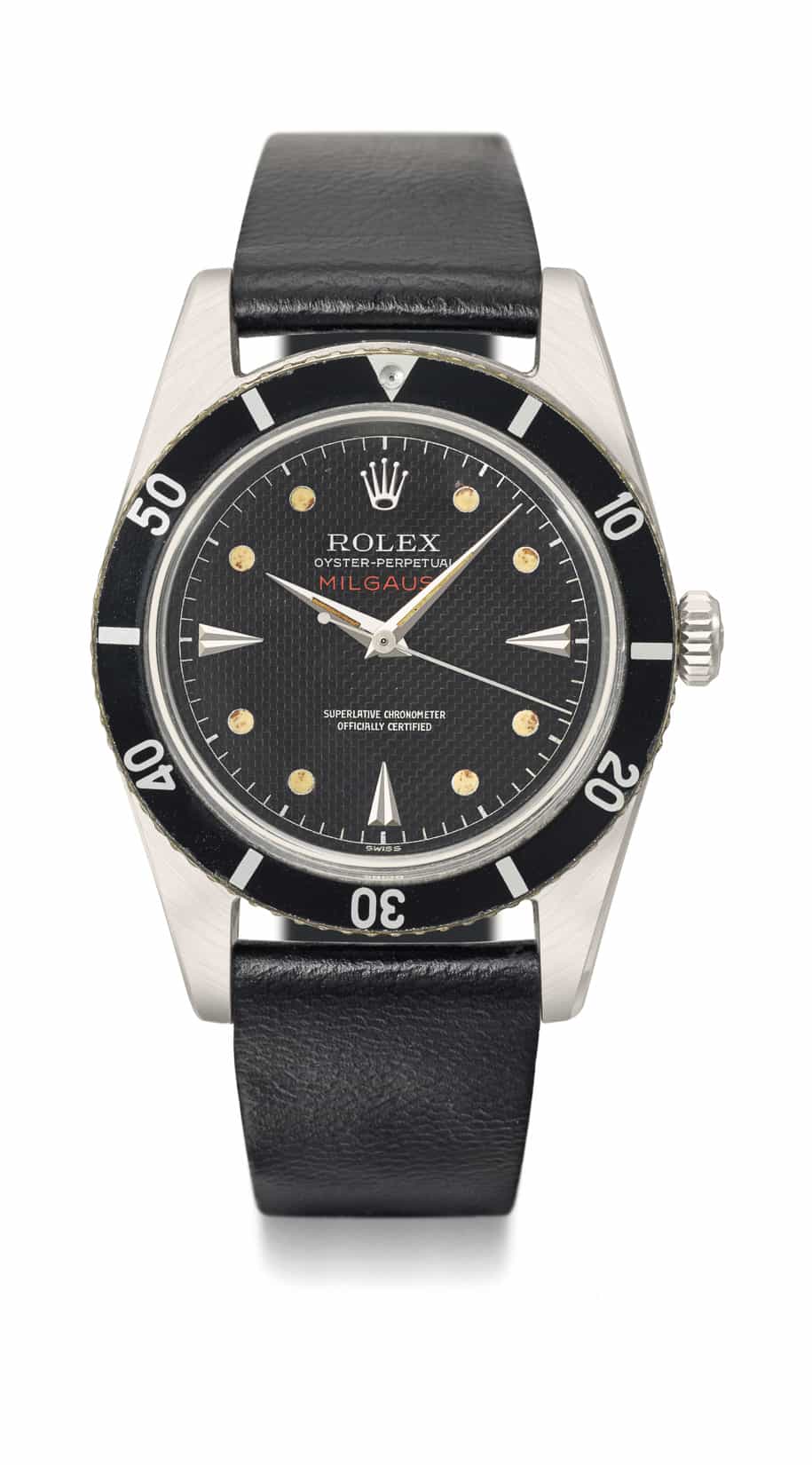 LOT #216
Rolex Daytona 6241, 14K yellow gold, "John Player Special Paul Newman" dial
As I mentioned earlier, the king of all criteria when looking at vintage watches, especially sports models, is the condition. Rare is a relative term when discussing industrially made watches. Rare today means that a vintage sports model is in excellent condition survived the harsh conditions of being tossed around for decades. Apparently, this Daytona was barely ever worn early on and retained its case-back sticker. The patina on the case indicates this watch has been sitting in a safe for a very long time.
The reason this watch has a double nickname including "John Player Special" comes from the Formula One racing sponsorship of the Lotus race cars. In 1980's, the series of Lotus 87 through the 98T all carried the famous black & gold colors of long-time team sponsor John Player Special. The 97T and 98T, were the last to carry this color scheme and sponsor and were famously driven by racer Ayrton Senna. These black and gold colors, found on the gold Daytona "Paul Newman" were then nicknamed the "John Player Special" due to the resembling color schemes and, undoubtedly, the link to racing history.
Estimate CHF 200,000 – 400,000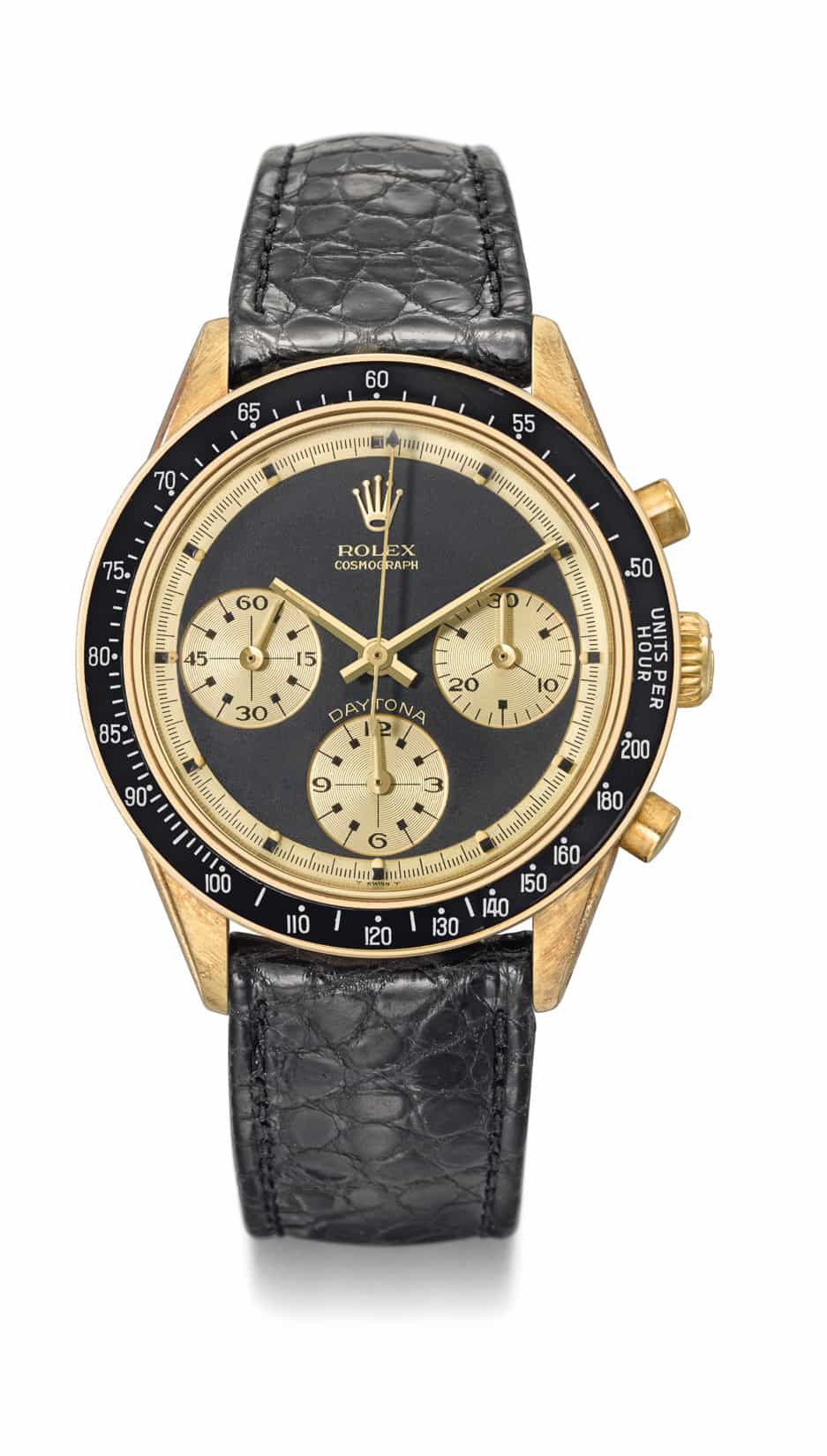 LOT #282
Rolex Daytona 6263, Khanjar
This is the last lot of the catalog and an interesting one to study in detail. This particular 6263 was gifted from the Sultan of Oman to the BOAC (now British Airways) airplane pilot in 1974. It is apparently an earlier serial number (3.04 million versus 3.4 million) than what has been observed previously and there is no Asprey signature on the back of the case. What makes this story interesting is that the pilot kept everything. He received this watch from the Sultan on a flight from Muscat to Rome and then flew to London where, upon arrival, he declared the watch and paid the customs duties of 10 pounds, big lol. He kept the declaration and receipt, eyes bulging out emoji. This rare specimen, in fact, has just about everything including the hangtag, box, outer box, previously mentioned import documents and original blank paperwork. The Sultan was not in the habit of stamping his Rolex warranties. Not to make light of such an epic watch, set and well documented provenance, but it is pretty mind blowing that the pilot kept all these things and looking forward to seeing this one at auction.
Estimate CHF 320,000 – 420,000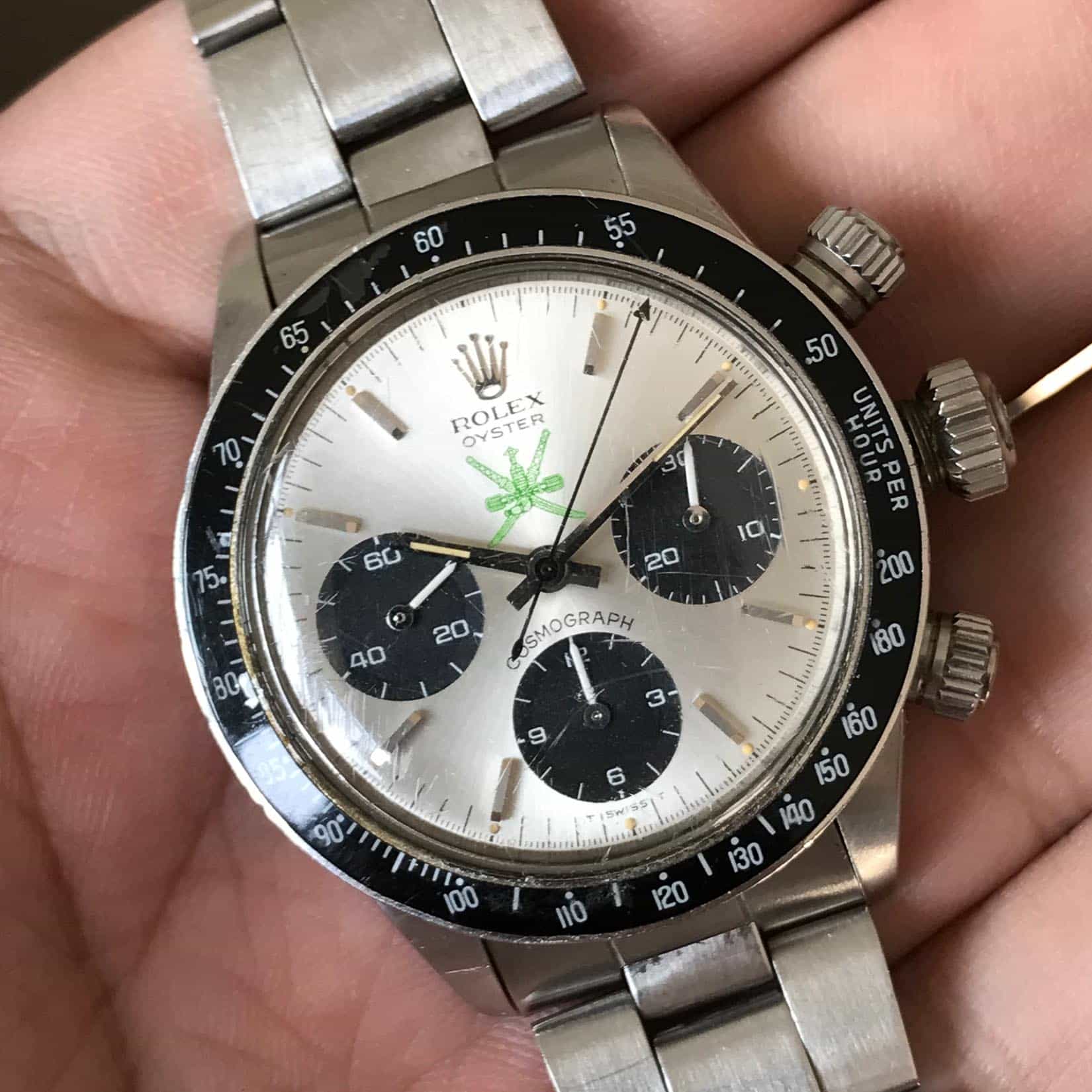 More information via Christie's website.
Below, more images of the auction.
Lot 216 – Rolex Daytona 6241, 14K yellow gold video