The Glashütte Original × Fratello × Tourbillon Event
Join us in Baden-Baden!
Join us on Saturday, June 16th for the Glashütte Original event that we host together with the Tourbillon Boutique in Baden-Baden, Germany.
Glashütte Original will bring their Baselworld 2018 novelties, some vintage pieces from their archives and a dial-maker who will demonstrate how they achieve to create these fabulous dials. This is something not to be missed.
Held in the Tourbillon Boutique in Baden-Baden, a wonderful spa-town in South-Western Germany and on the border of the black forest. We will have only a limited availability for this event, so if you want to join us make sure to fill out the form below.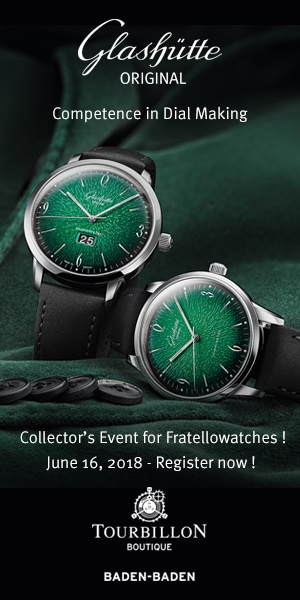 The Glashütte Original event will take place on Saturday 16th, starting at 11:00AM. You will be able to admire and handle all Baselworld 2018 novelties by Glashütte Original, including the new Senator Cosmopolite and Sixties watches with special dials. Meet other watch enthusiasts as well, discuss watches, bring your watches and enjoy the snacks and drinks that will be served that day while you will be exposed to some serious German watchmaking.
Fill out the form below to join and click 'Send':
Form removed. Fully booked! Thank you.
Within a few days after submitting your information, you will receive a confirmation/update. You will also a more detailed program for June 16th later on.