Hands-On: A Casual Affair With The Glashütte Original Senator Observer And Senator Excellence
Tool watch-like function meets German high horology, giving the Swiss a run for their money
The more I see them, touch them, and wear them, the more I like the Glashütte Original Senator Observer and Senator Excellence watches. Both watches have a familiar look, but with the right amount of (Glashütte) original details to catch the eye. It's the shape of the hands and the "GO" logo that functions as a counterweight on the central seconds of the Senator Excellence. It's the "Ab" and "Auf" on the Senator Observer, and the words "Glashütte I/SA" which help lure you in. One thing's for sure: they helped me take the bait.
Not that long ago, I tried on the Senator Chronograph Panorama that came on a new strap — a nylon strap in a delightful and subtle sand-like color, outfitted with a high-end deployant clasp. It was like pairing premium sneakers with something you already had hanging in your closet for a long time; it revived the whole outfit and made you want to wear it again and way more often. The same strap now appears on the Senator Excellence (1-36-01-03-02-36) and, I'm happy to say, it works just as well. This time, the earthy tones of the strap are combined with the black dial of the Senator Excellence. It brings out the beautifully shaped and colored Arabic numerals even better. It also adds a bit of lightness to a sturdy, functional, and even stern-looking watch, although that makes sense since functionality and readability reign supreme in this creation.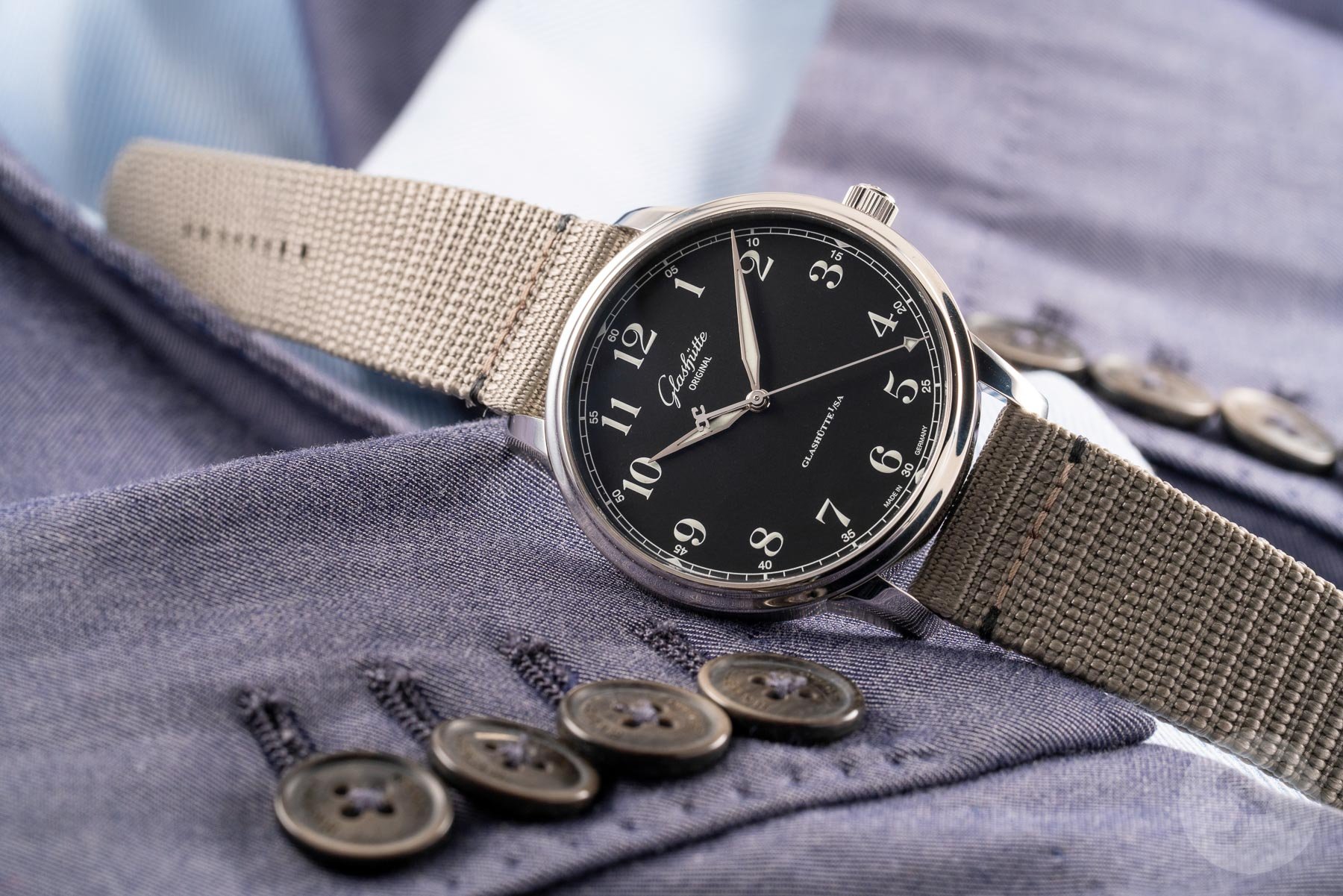 Glashütte Original Senator Observer and Senator Excellence — underdogs with a distinct bark and bite
The attraction of the Glashütte Original Senator Excellence starts with the case — measuring 40 × 10mm in polished/satin-brushed case in steel — as well as the crown with the double-G logo. You're looking at the perfect proportions here, and I kinda dig the double-G logo. Maybe it's my soft spot for vintage Gucci clothes. Next up is the matte black lacquered dial. It's sober, no-nonsense, but it's also perfect in the sense that there's nothing to distract you from reading the time. Moreover, the sword-shaped hands and finely curved Arabic numerals have received a generous amount of Super-LumiNova.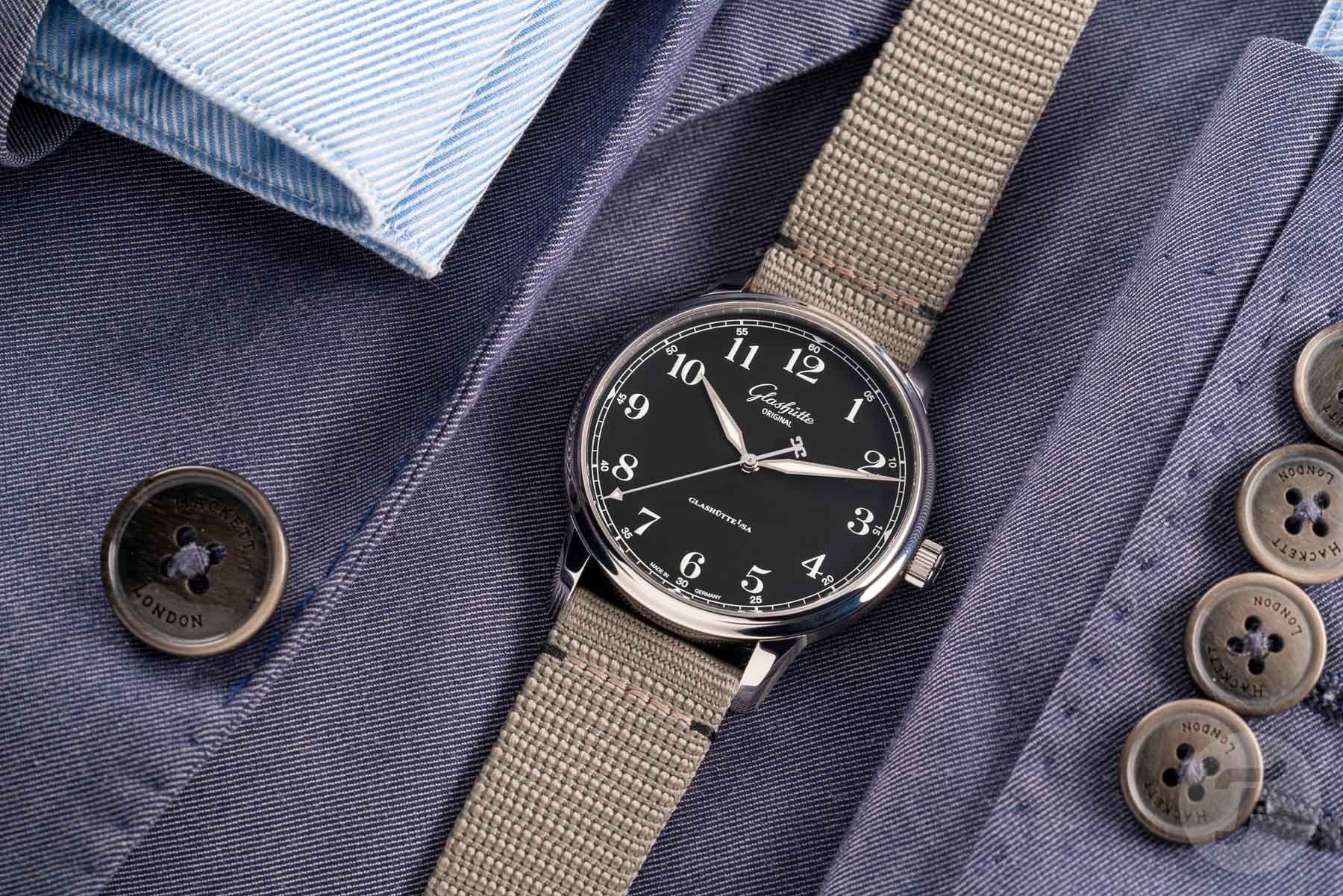 The only frivolities are the white railroad chapter ring and 5-minute markers, but even these features are in place to ensure the exact reading of time. This 50-meter water-resistant watch has the looks of a small Flieger — a pilot that doesn't have to wear gloves in the cockpit, that is.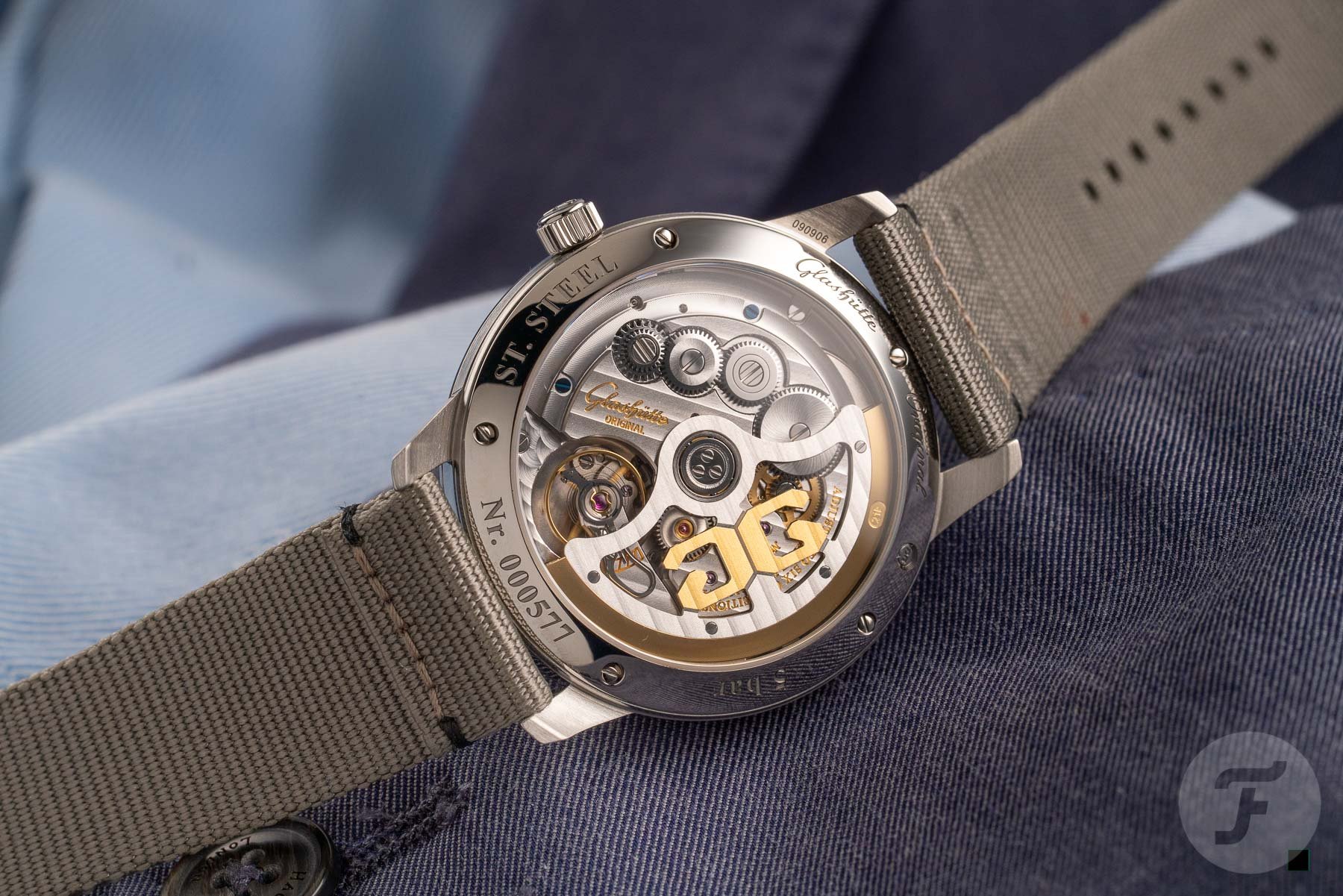 A movement typical of Glashütte
Inside the case beats an in-house caliber 36-01. This 4Hz automatic movement has a power reserve of a very practical 100 hours, and its looks are unmistakably German. The traditionally finished movement shows polished components, beveled edges, perlage, and blued screws. The skeletonized rotor features the double-G symbol and a weighty 21K gold rim for winding efficiency. But what says "Glashütte" like nothing else is a three-quarter plate with its striped finish. There's also a regulator-free fine adjustment and a high-tech silicon balance spring.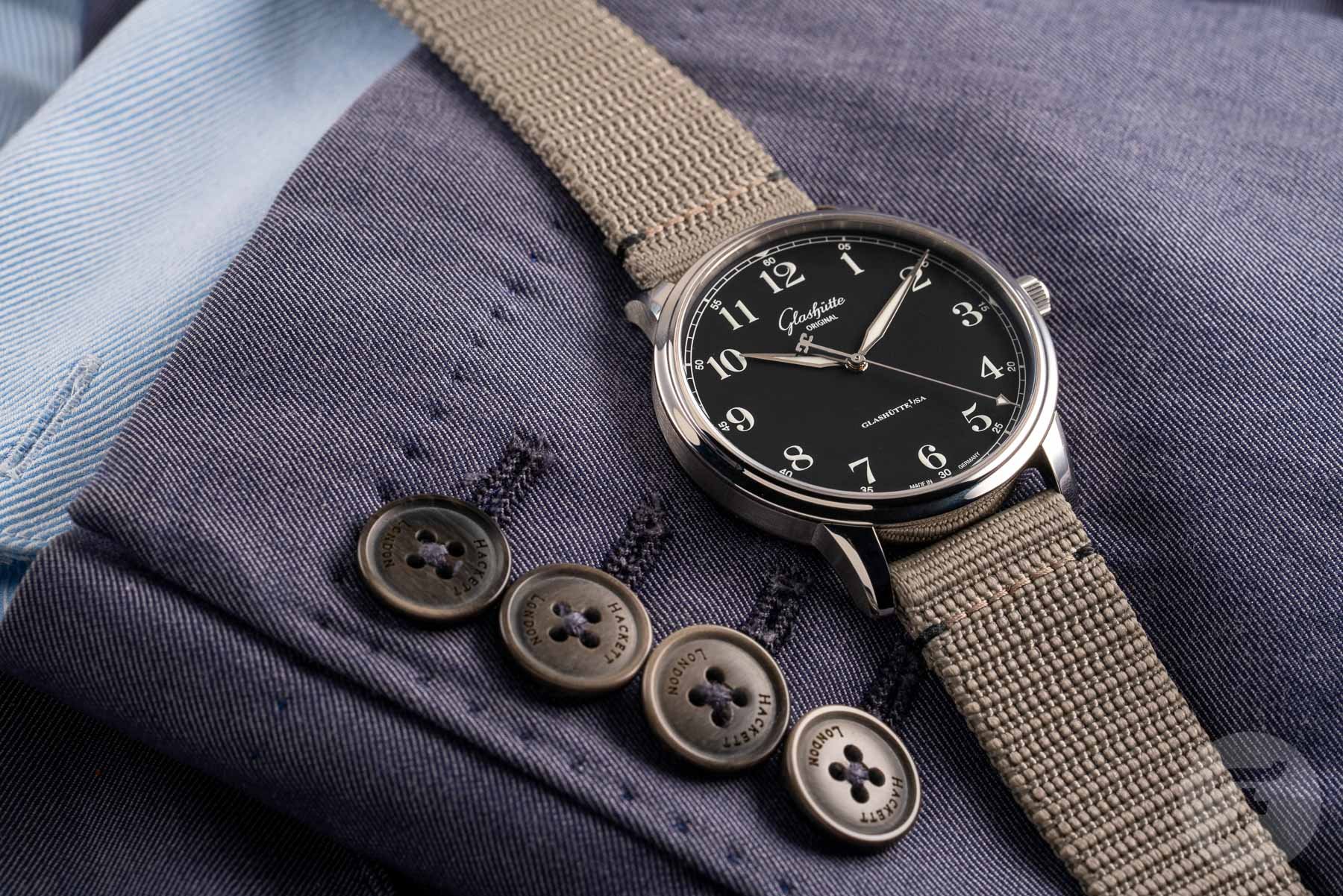 To pin or to fold? That is the question
The nylon strap that sits between the 20mm lugs is a joy on the wrist. Do I like the combination of a sporty fabric strap with a folding clasp instead of a more straight-forward pin buckle? I'd have to say yes if it wears and feels like this one. In the case of the Senator Excellence, it adds luxury. The looks and ways of this watch may be all about instrumentality, but the finishing, materials, and details provide a high-end watch experience. And with a price of €9,000, it strikes the fine balance between price and product. The Senator Excellence is a worthy adversary of similar-looking watches made by the Swiss competition.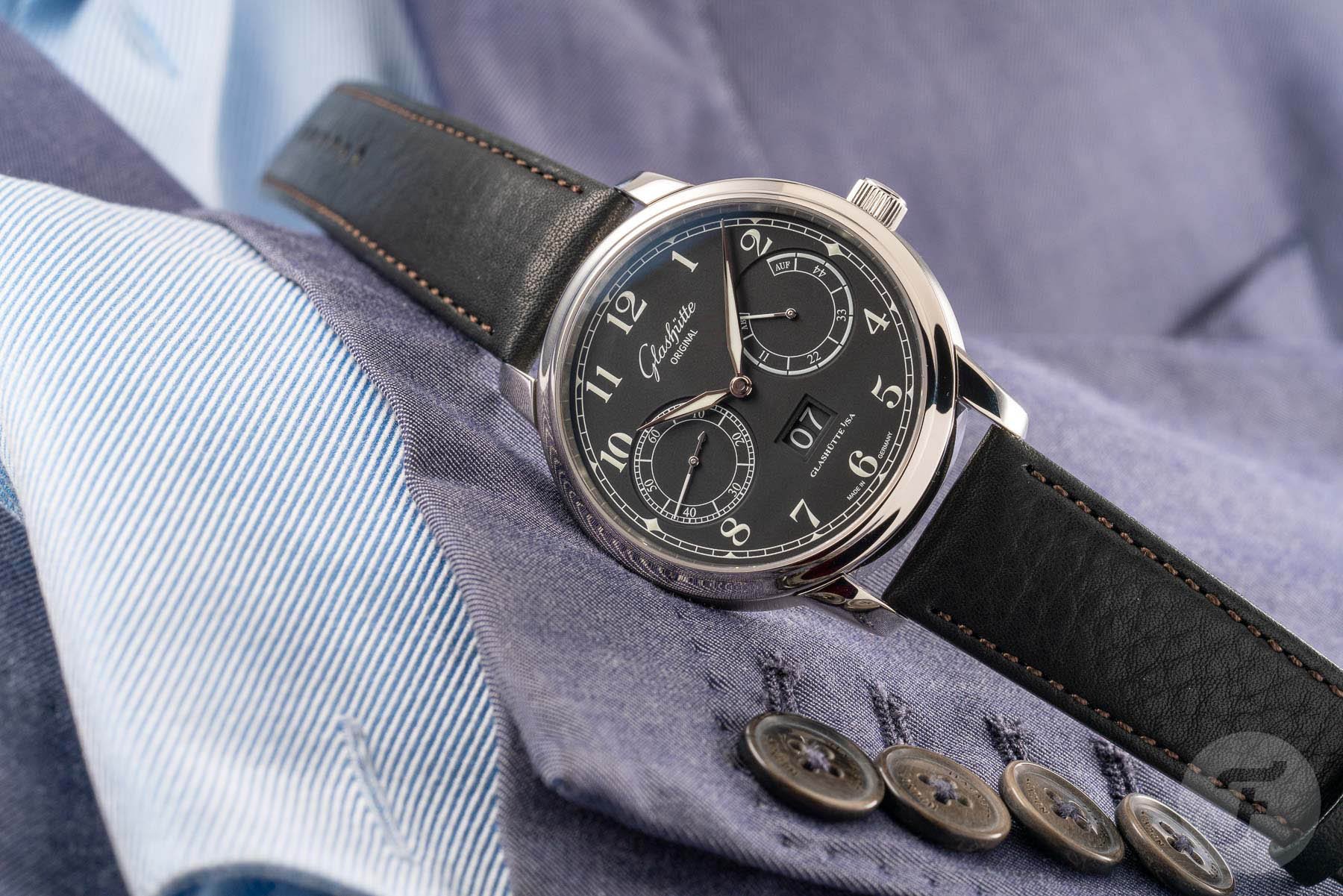 Now have a look at the Glashütte Original Senator Observer
The Glashütte Original Senator Observer (100-14-07-02-30) shares an instrumental and functional approach to timekeeping with the Senator Excellence, but it expresses it in a very different way. This watch is inspired by "observation watches," late-19th-century timepieces from Glashütte. These watches developed a formidable reputation, becoming essential navigational tools for naval officers and pilots. They were even used by explorers such as Roald Amundsen — please email my Norwegian colleague Thor for a full bio of his countryman who was the first man to reach the South Pole. Perfect legibility is a must in a blizzard, and that's why all the displays are clearly arranged. That goes for the power reserve, small seconds, and the characteristic Panorama Date. The large Arabic numerals on the finely finished, matte black dial also aid greatly in this noble endeavor.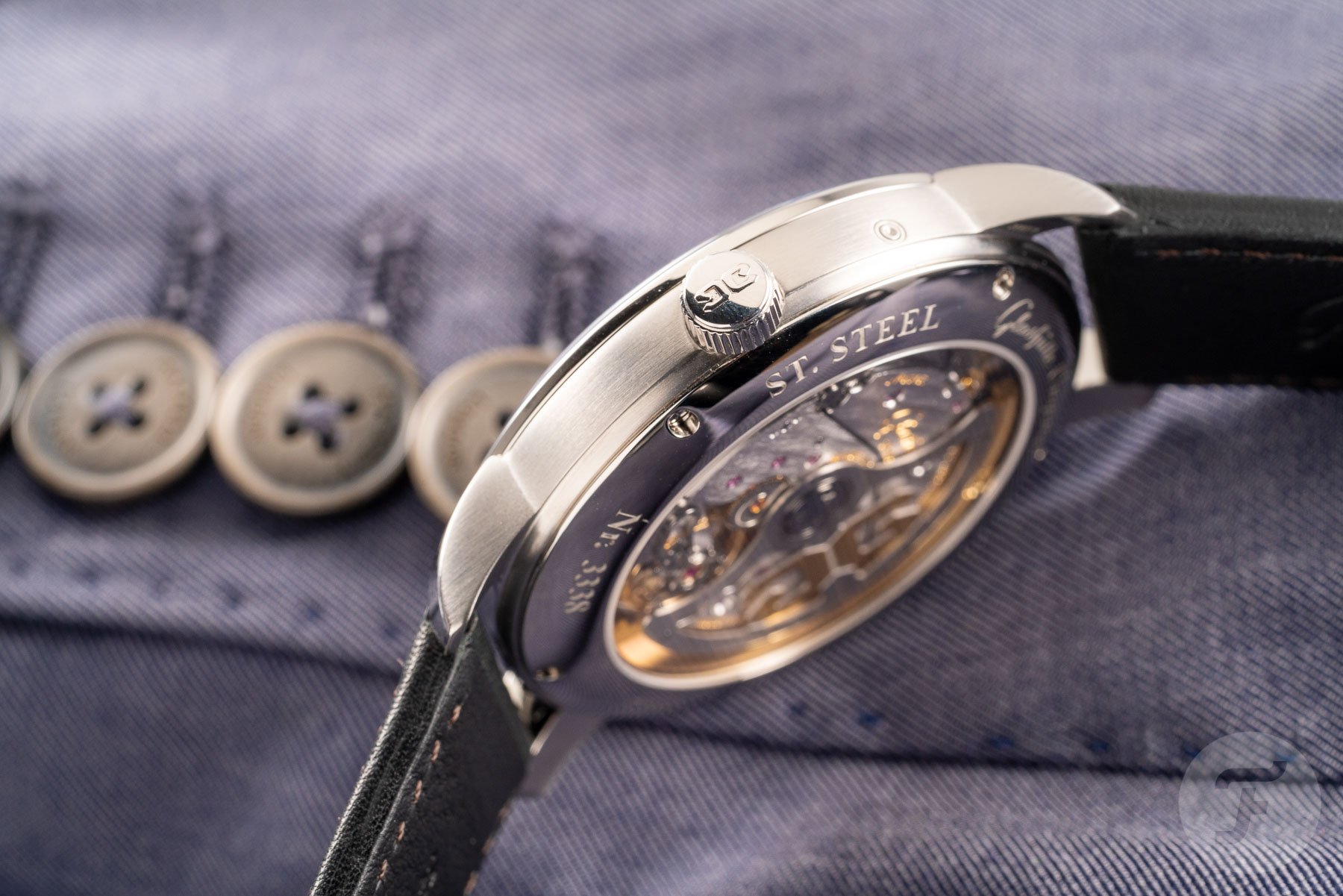 Large but not ostentatious
The Senator Observer is considerably larger than the Senator Excellence — 44 × 12mm to be exact. It's a big watch, but it's not a tall watch, meaning that it's still quite easy to wear. Yes, it will slip under the cuff of your shirt, as long as you don't wear your cuff too tight. But even if it doesn't, the Senator Observer doesn't stand out, unlike a white gold Rolex GMT-Master II with a meteorite dial, for example.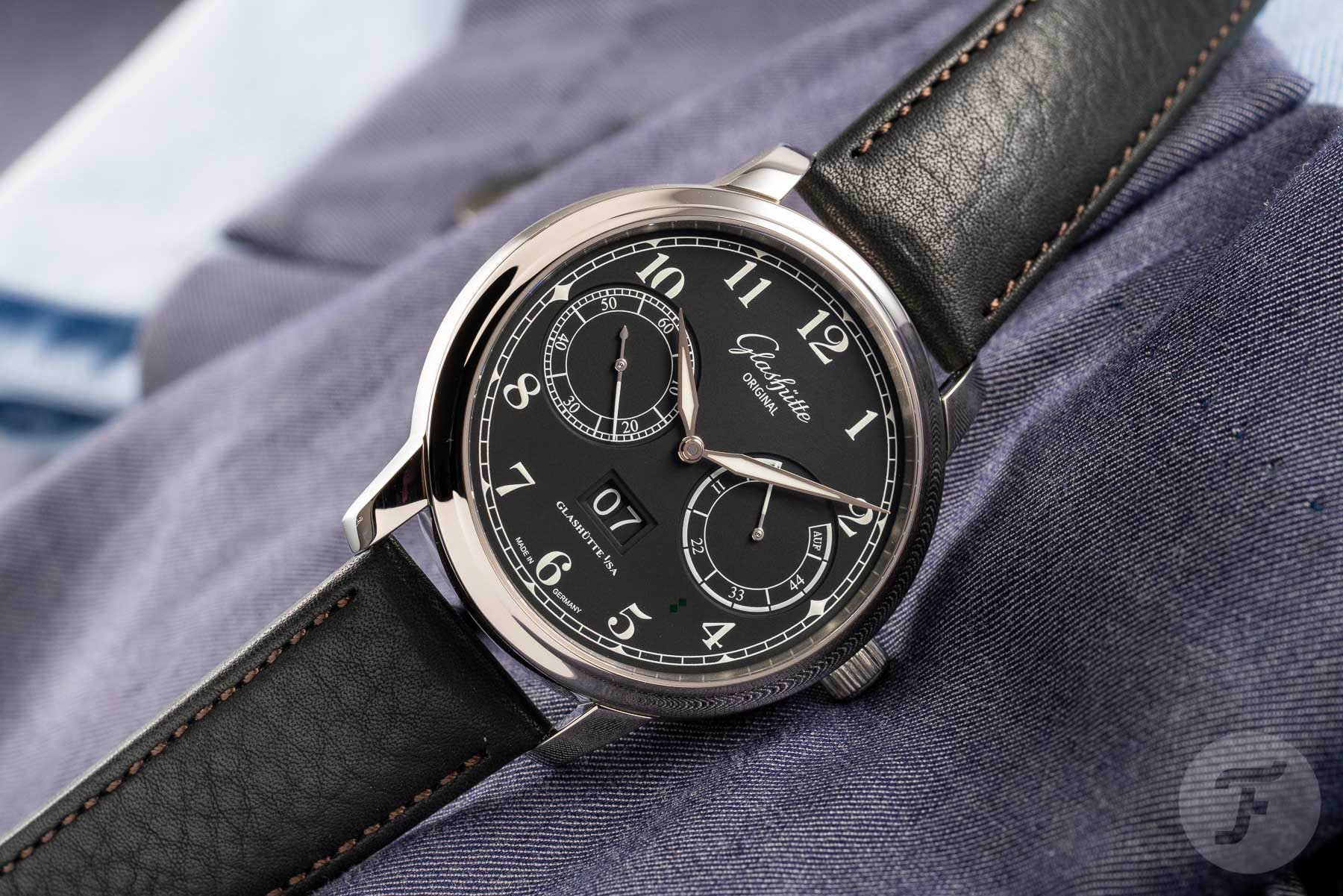 Just above or below a magical boundary
Inside the 50-meter water-resistant case beats the in-house caliber 100-14. This automatic 4Hz movement also shows the typical construction and finishing from Glashütte. Noteworthy points are the winding wheels, which feature double sunburst decoration (otherwise known as snailing) and the presence of a delicate swan-neck fine adjustment. It's a movement befitting a €10,100 watch that comes on a black calfskin strap with a folding buckle. If you don't want to, or can't get across the magical 10K boundary, you can opt for the version with a less luxurious pin buckle (1-00-14-07-02-07). In that configuration, the Glashütte Original Senator Observer has a price of €9,800.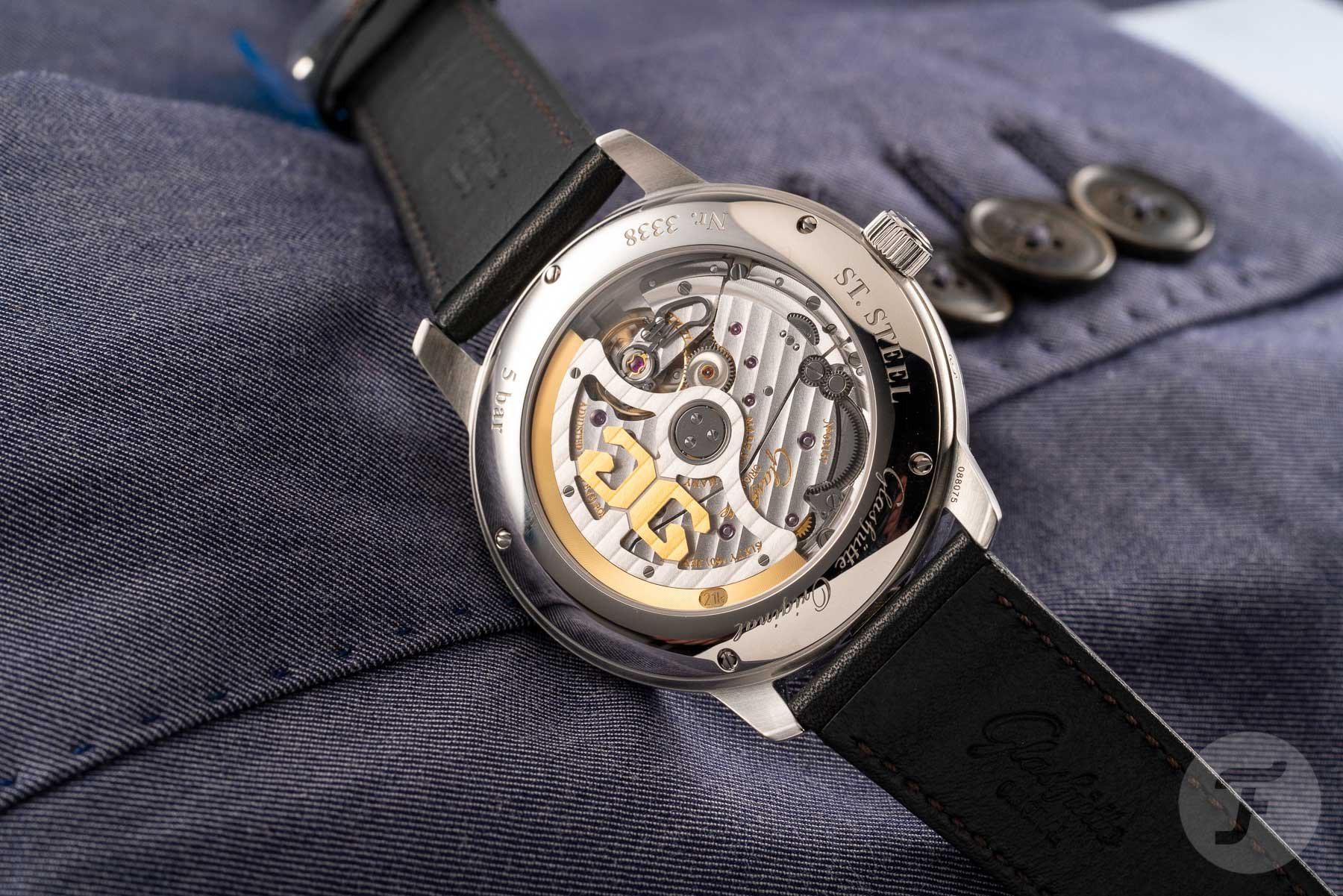 Glashütte Original Senator Observer and Senator Excellence – worthy alternatives indeed
With both the 44mm Senator Observer and the 40mm Senator Excellence, Glashütte Original offers you a chance to wear two functional timepieces with a completely different look. The Senator Excellence has the most familiar look. Yet it still offers some nice details that set it apart from its Swiss competitors. The fabric straps that GO now offers showcase the casual side of the brand from Saxony in a most surprising way. If we're being honest, GO was never very "hip," but these straps kind of have a "hipster" vibe — please note that I use that terminology in the most positive way.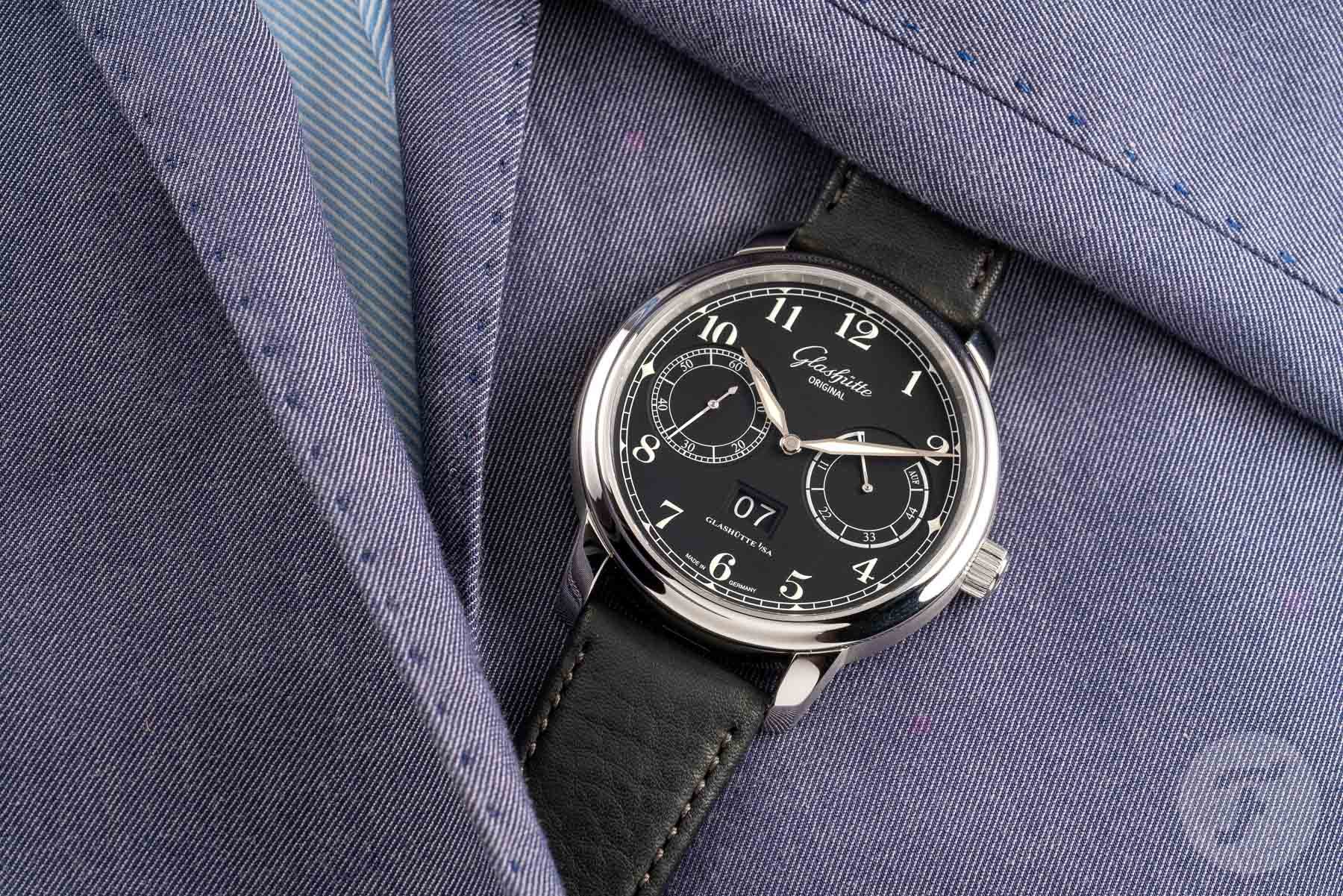 The Senator Observer has an even more characteristic look, and you've got to love that big date that GO does so well. I like that it looks like a big and practical pilot's watch. But it also brings a lot of sophistication to the table — or the cockpit, or the deck of your arctic exploration vessel.
For more information, please visit the Glashütte Original website.
Please follow me at Lex Stolk • Instagram