Hands-On With The Gorilla Bandit And Gorilla Mirage
Two former designers of Audemars Piguet started their own brand Gorilla in 2016. Affordable watches with a unique design and an interesting choice for materials. We covered them before a few times, so I don't want to get into detail too much regarding the story about the brand Gorilla. At some point you have to stop doing this I guess. This time it is solely about two of their new watches, the Bandit and the Mirage.
Fastback GT Bandit and Mirage
Part of Gorilla's Fastback GT collection are this new Bandit and Mirage watches. Inspired by cars and watches, Gorilla took their inspiration from the 1977 Firebird Bandit for the Bandit watch and the Ford GT 40 for the Mirage watch. The Ford GT 40 is famous for its victorious moment at the Le Mans of 1968. The Mirage is limited to 250 pieces only, the Bandit is regular production in the Gorilla collection.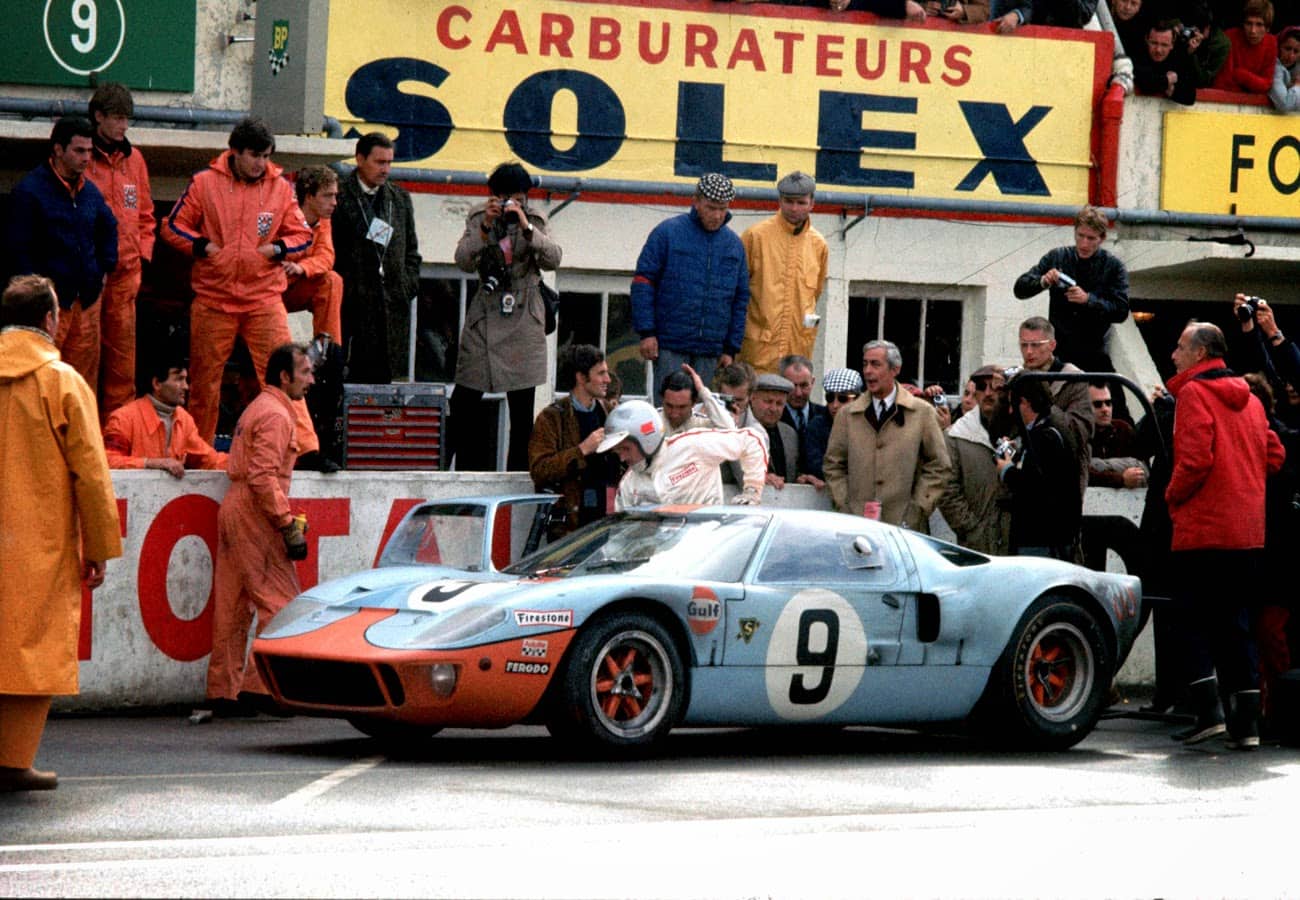 Gorilla Bandit
And to start with the non-limited version, this watch was probably aimed to be less popular by the creators of Gorilla, but the recent passing of Burt Reynolds might have caused a slight boom in sales, I don't know but it is just a guess.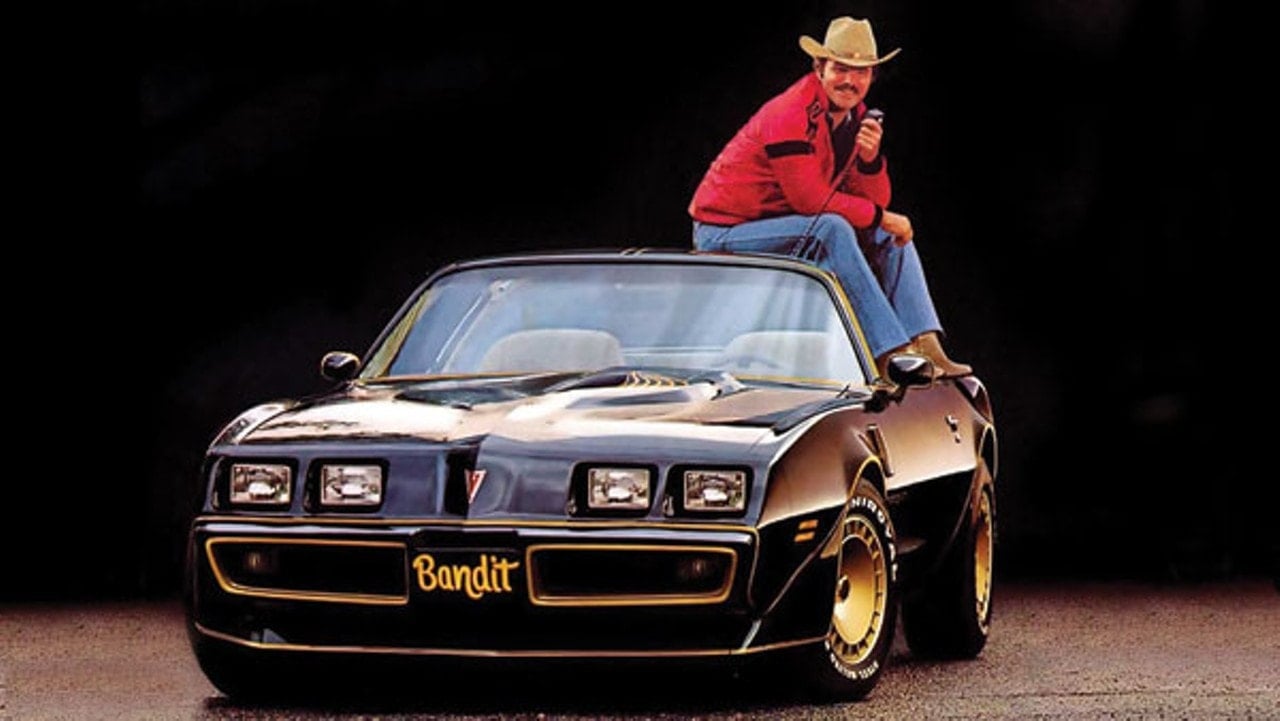 The Firebird Bandit probably became most famous worldwide because of its appearance in Smokey and the Bandit. One of the promo cars (never used in the movie itself) was auctioned in 2016 by Barret and Jackson for a whopping $550,000.00USD. A few years before, Burt Reynolds auctioned his personal Firebird Bandit for $490,000.00USD, it was gifted to him by the production company but it never appeared in the movie but he owned and drove it afterwards. Later on, he bought another, had it restored and auctioned it again (for $181,900.00USD) but this car was only in his possession for about a year. One thing is sure, he loved that Firebird Bandit. The 1977 Pontiac Trans-Am was probably a poster in many kid's bedrooms back then and if you can't afford the car, this Gorilla Bandit might be a great and affordable alternative.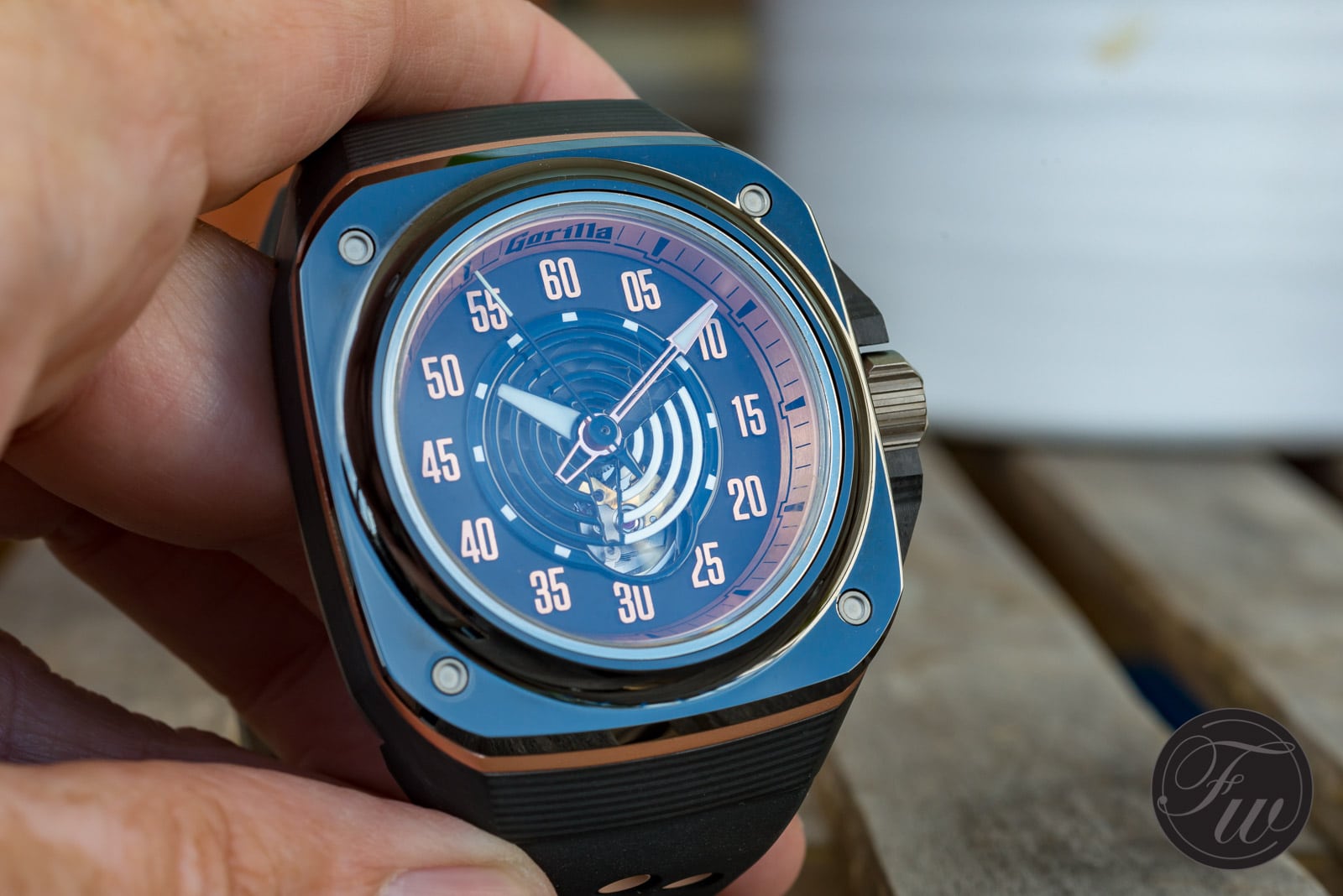 With colours that are definitely a nod to the 1977 Firebird Bandit, the watch itself is the typical Gorilla Fastback design. A large case that consists of multiple layers of forged carbon, a rose gold tinted anodized aluminium pinstripe, a ceramic bezel and a titanium case back. A bold mix of materials, that have – in principle – little to do with the Pontiac Trans-Am Firebird. At 5.30 on the dial, you can witness the balance wheel of the Miyota 90S5 movement. Although the layered-dial might appeared quite busy at first, the watch is very readable. On the dial you will also find the Firebird Bandit colour scheme: black, white and rose gold.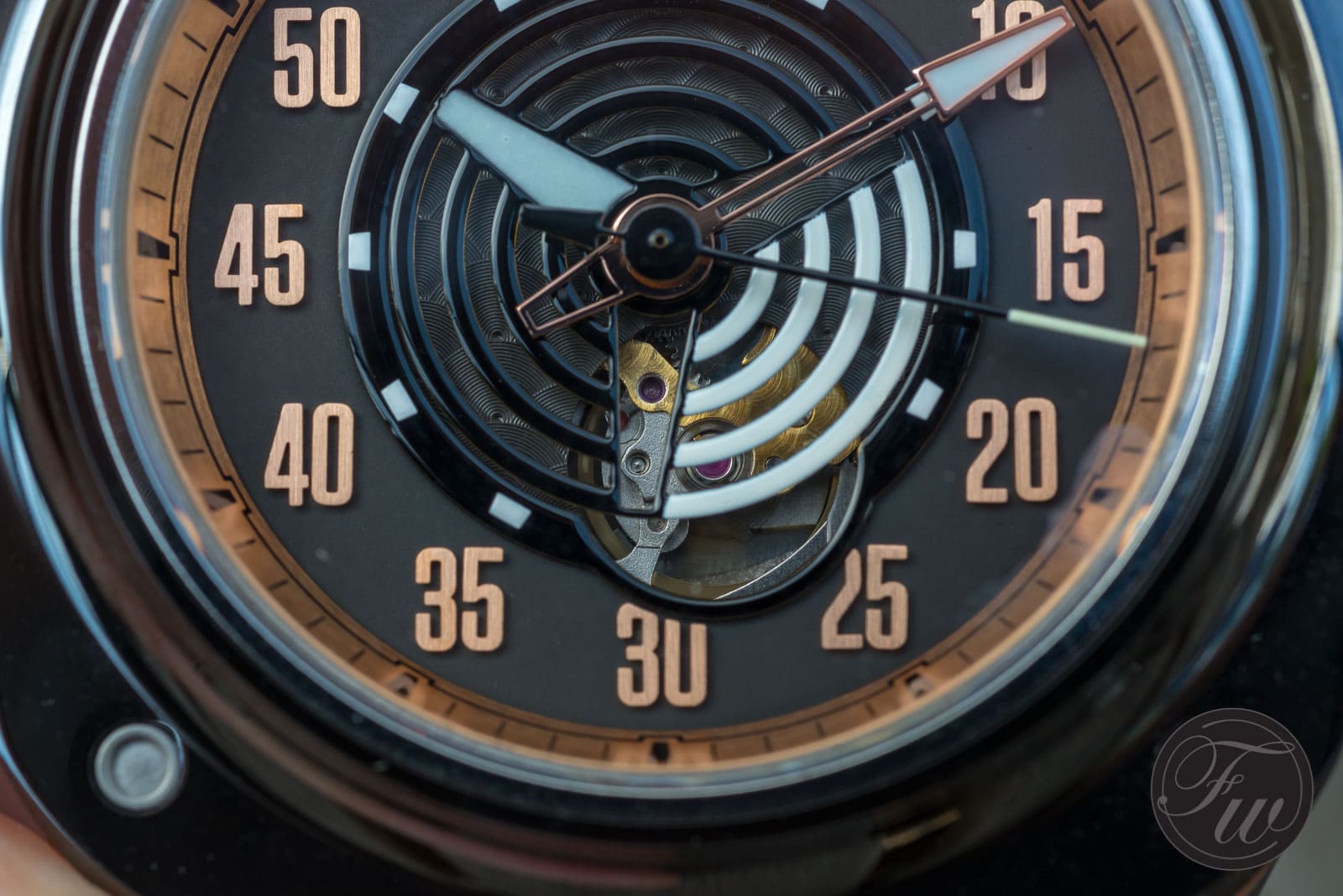 The hour indication is not a hand, but a disc, which basically creates another 'moving' layer on the dial. Or animation. The Arabic numerals are in rose gold colour, giving a nice contrast with the black background. A large rose gold rehaut with blacking printing of indexes and the Gorilla logo creates a bit of extra depth. The minute hand is also in rose gold and matches the numerals and rehaut perfectly. You will also see that the white tip of the seconds hand almost touches the rehaut, very nicely done.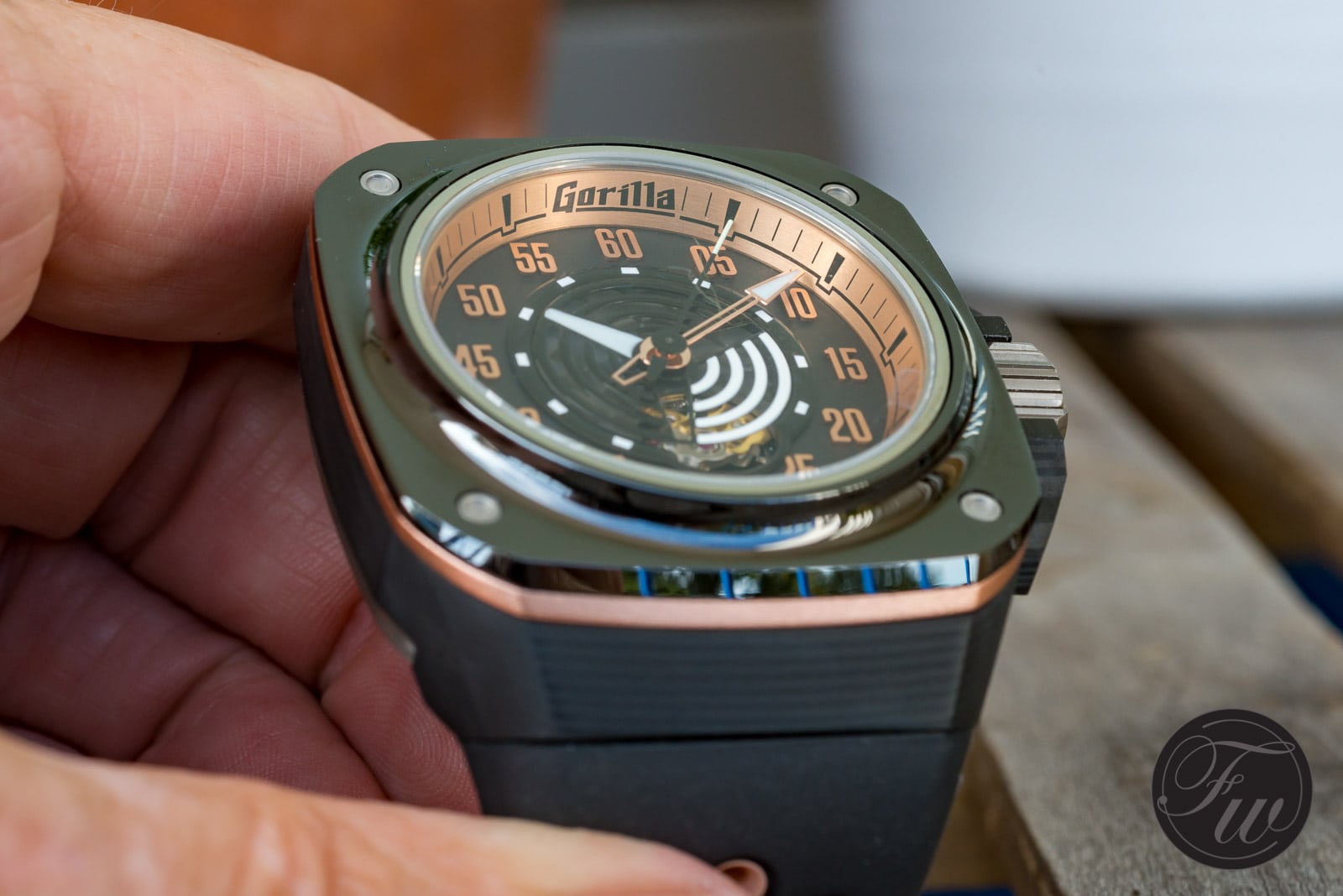 According to the specifications, the case diameter is 44mm, but don't be fooled by this. 44mm is actually the size from left to right of this square shaped watch. When you measure from the upper left corner of the bezel to the lower right corner, it is approx. 53mm. From left to right, including crown-guard, it measures 48.5mm. Lug-to-Lug would be 56mm. But in the end, it is about how it looks on the wrist. It is still big, but let me quickly add that the Gorilla Bandit is a very (very) comfortable watch to wear. Like all other Gorilla watches, that is. The rubber strap is sort of integrated with the case, meaning that it is pre-shaped and falls perfectly 'over' my wrist. I can imagine that if you have small wrists, the watch is not sitting correctly all the time. Personally, that would annoy me, but since I don't have small wrists I don't know how it actually would wear. I have 18cm wrists and it looks like it was made for me. Now, normally I would say that you need to try out a watch like this before you buy it, but in this case, that's going to be tough. Gorilla is only available in a limited selection of stores, and not in Europe or the United States so you'll have to purchase one online. In any case, I would ensure myself that you are fine with wearing a large watch if you have small(er) wrists. If you have large wrists, it really is no issue.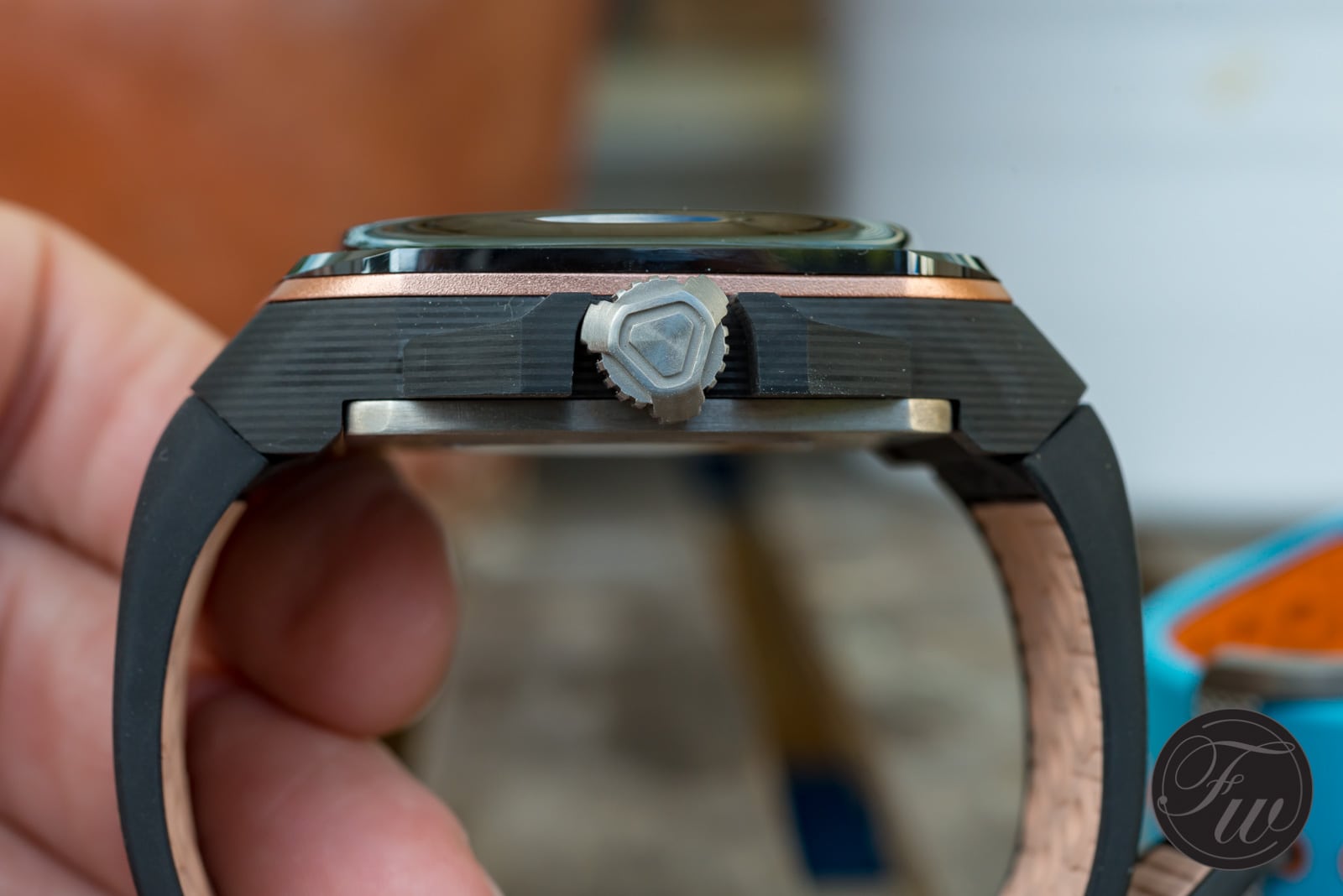 Although I haven't come to it yet, I favour the Gorilla Bandit over the Gorilla Mirage. The Ford GT40 colour scheme is neat, but I feel it is a bit too flashy for me. Although I have a polo shirt in the exact same colour of the watch, that wouldn't be a reason for me to wear it. Perhaps it would be the reason for me NOT to wear it in combination with that shirt in all honesty. I am not the type of guy that has a range of different glasses just to match my outfit, matching up shoes and belt is as far as I go when it comes to accessories. The Gorilla Bandit is a bit more versatile in my opinion, due to the black and rose gold. Even the black rubber strap has a beige lining so it matches the rose gold a bit. A titanium pin buckle can be found on both versions, although I wouldn't have mind a rose gold PVD buckle on the Gorilla Bandit.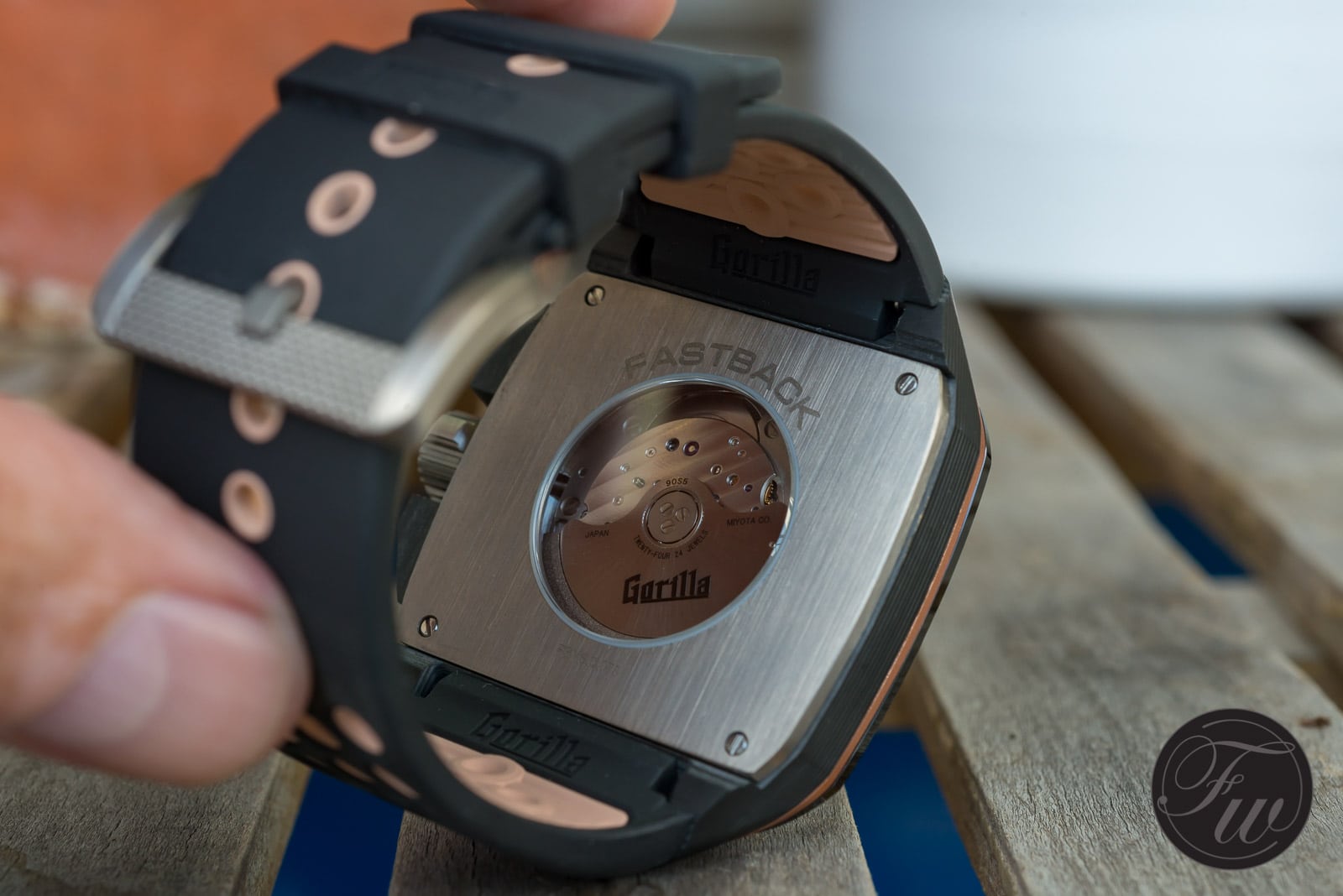 Gorilla Mirage
Now that I am mentioning it anyway, the Gorilla Mirage is the other watch that Gorilla founder Octavio Garcia shipped to us for this review. Blue and orange, the typical Ford GT 40 colours play the main role regarding this watch. The specifications and pricing are exactly the same as the Gorilla Bandit watch. It is all just a matter of preference. You will find a woven pattern on the forged carbon part of the case, which is new for the Gorilla watch. Both watches also have a sapphire case back, where you can view the automatic Miyota 90S5 movement. The Gorilla Mirage has a special engraving on the case back though, indicating that it is a limited edition and the unique number of the watch (xxx/250). Perhaps interesting to mention is also the hacking function of the movement, that many people seem to appreciate.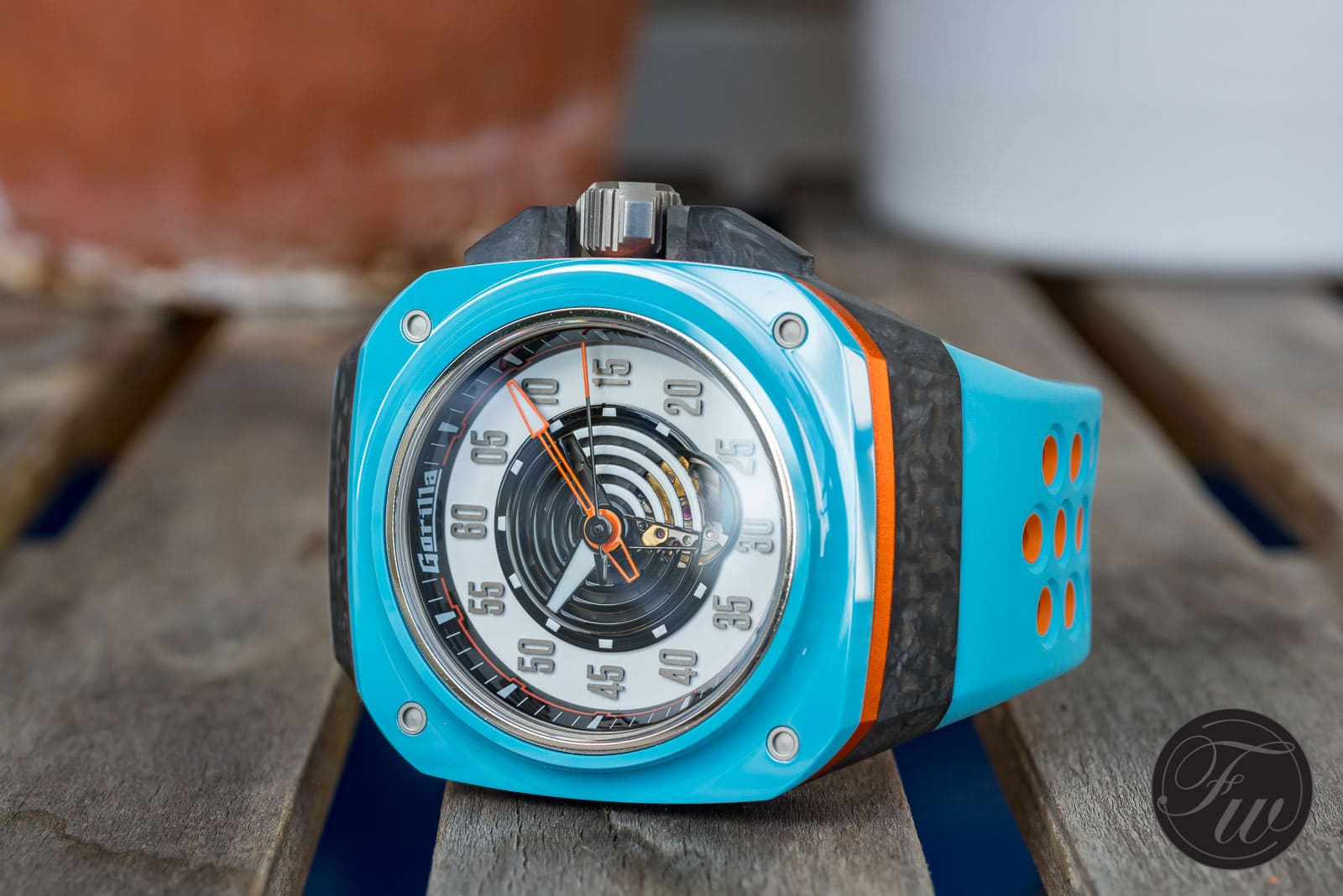 According to Gorilla, these watches weight 110 grams. Putting them on my kitchen scale, they are more about 119 grams. In comparison, my Royal Oak 'Extra-Thin' weighs 105 grams and the 47mm Officine Panerai PAM00424 on leather is 130 grams (these watches were on my desk). I am not sure what this means or should say though, I can only feel that the AP Royal Oak is lighter when I hold them in my hands, the rest feels more or less the same to me. They feel right, not too heavy (which I don't like) but certainly not as light as a full titanium watch (which I don't like). Perhaps I am a bit weird with this, but I really don't care for weight specs when it comes to watches.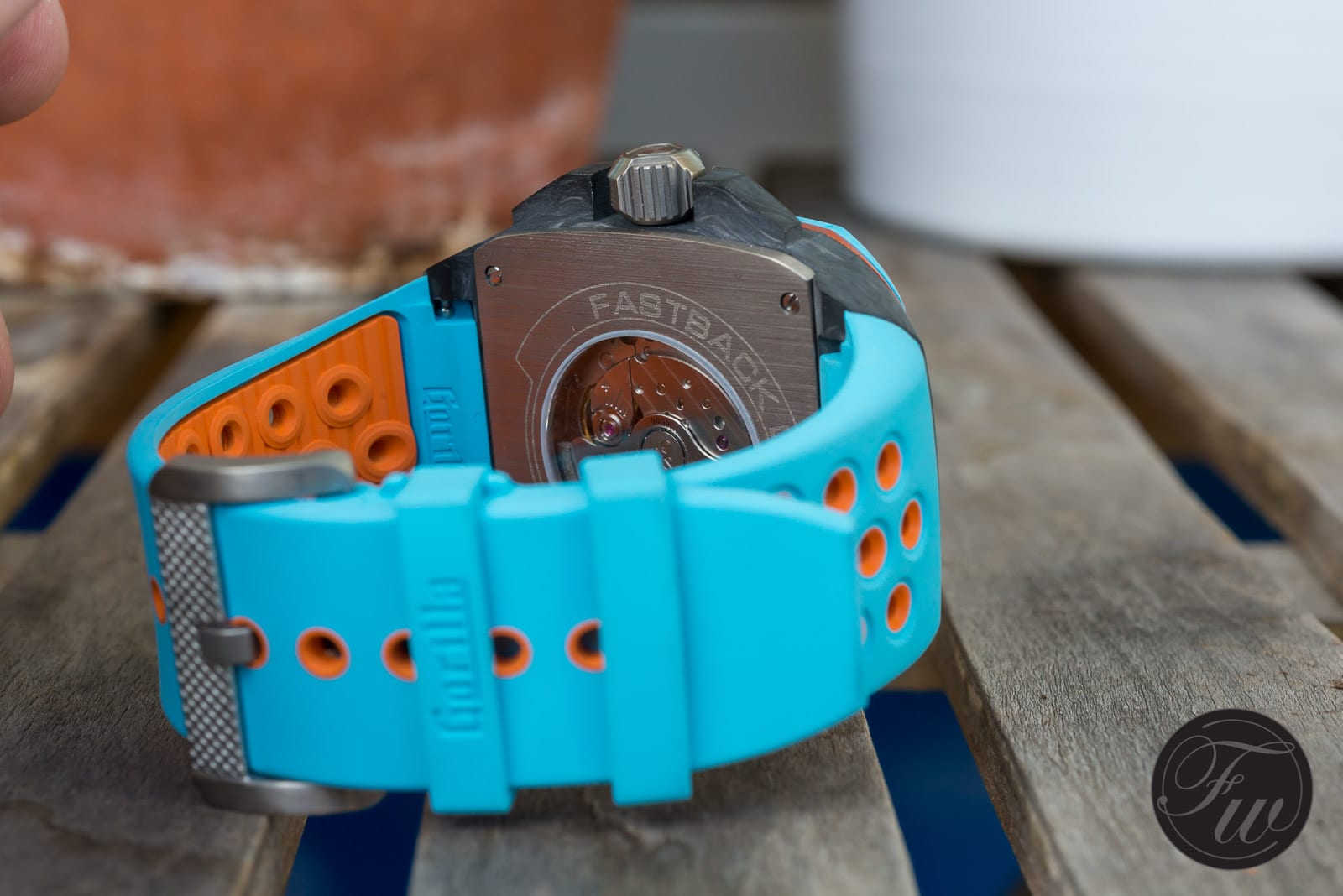 Accessories
The fun thing with these watches is that you can order spare straps for the Gorilla pieces, for 80 Euro excl taxes you can mix and match with different available colours. Not sure if it would fit a the Gorilla Mirage for example, as that watch needs to be in blue (and orange). But that is entirely up to you. The strap is mounted with spring bars so these are easy to swap.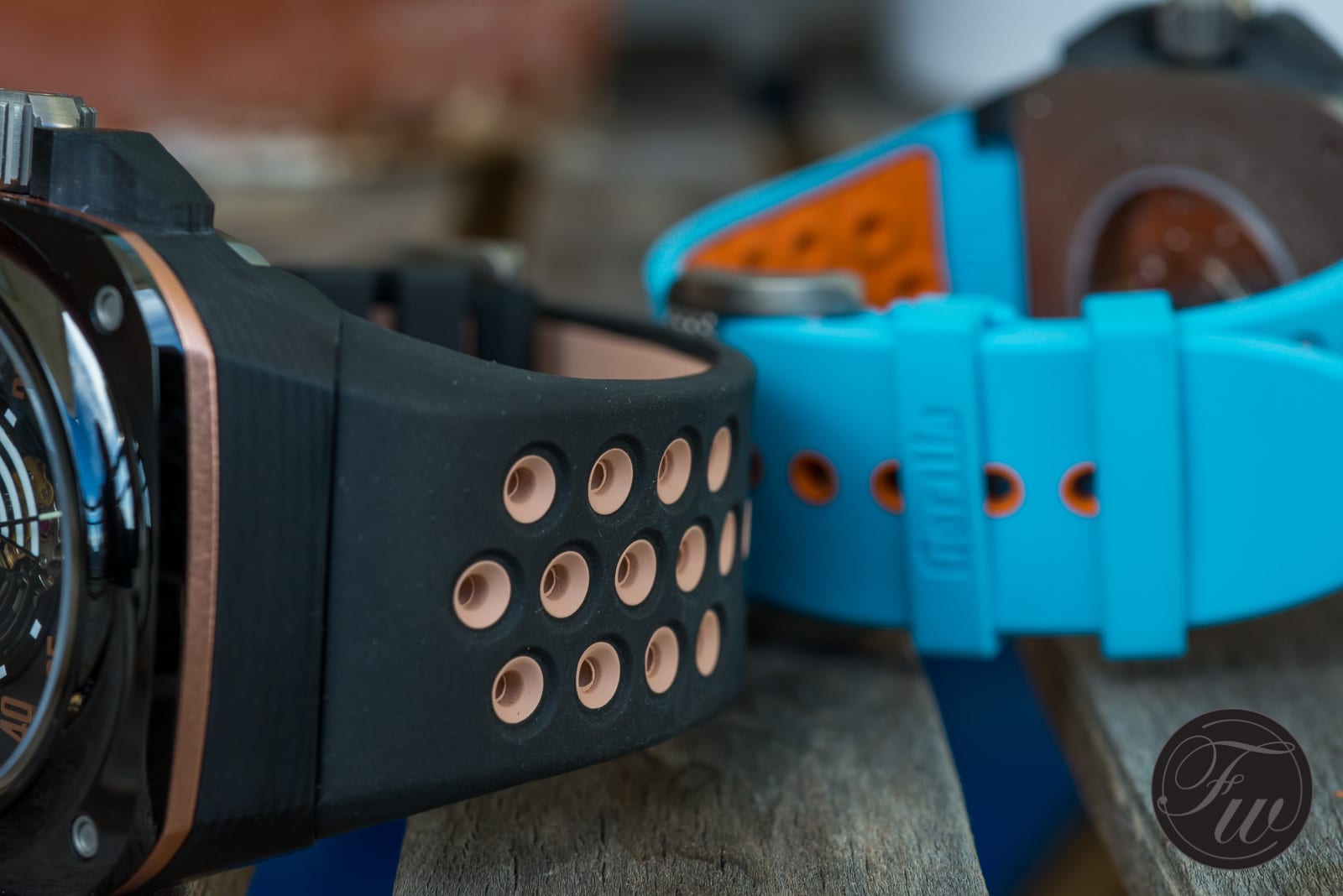 Both the Gorilla Bandit and Mirage have a screw-down crown to prevent water from entering the case when you use it in or near the water. These watches have a water resistance of 100 metres (~10ATM) which allows you to actually swim with it. The rubber strap is also perfectly suited for this of course.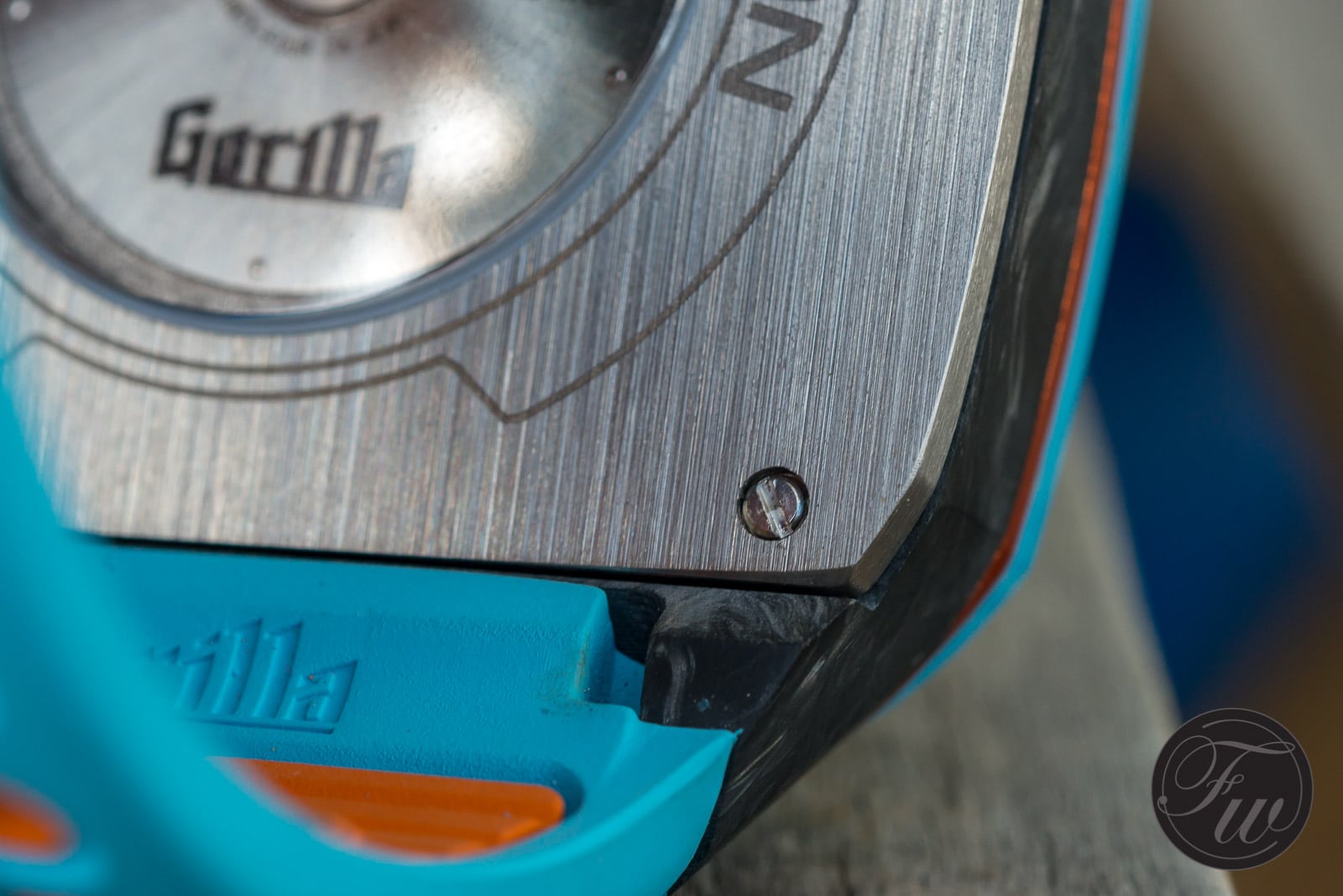 Is there anything I don't like about these watches? Well, the shape is very particular and you have to like it. So that's very personal. Besides the aesthetics, the only thing I can think of that I am not particularly fond of it the noise of the rotor. I think this is because the movement doesn't wind bi-directional. This means, just like the ETA/Valjoux 7750 for example, that the rotor only winds the mainspring when it rotates in one specific direction. The other direction is a free-spin which causes the noise. In case of the 7750, you will also notice a wobble when the rotor gets in the free-spinning mode. But the Miyota 90S5 luckily doesn't have this.
The Gorilla Mirage and Gorilla Bandit are priced at 960 Euro, excluding taxes. More information on Gorilla and ordering here.
*Wristshot by Gerard Nijenbrinks, who has smaller wrists than me.