Gorilla Fastback – A First Look
A letter from someone I know
A couple of years ago, 2012 to be precise, I traveled to Paris together with Bert and Gerard to witness the 40th anniversary exhibition of the Royal Oak. Being a big fan of the Royal Oak, we decided to drive down there and have a look. A friend, who was working at AP at the time, arranged an interview with designer Octavio Garcia for me. So we sat down and since I am a huge fan of the Royal Oak, I didn't have to prepare much and just fired away. You can read about that visit (and interview) here. However, Garcia left AP a while ago and it became a bit silent. Now, not too long ago I received an e-mail from him. I was honored already when I noticed it wasn't just a press release, but a rather personal one.
Gorilla
A quick exchange of e-mails learnt me he started his own brand, Gorilla. Not much later, a personal letter together with a little black box was delivered to our Fratello Watches HQ in The Hague. The most important message in that letter to me was "…getting your impressions of the piece…". So that will be exactly what you will read in this article on Fratello today. Together with another former AP designer (by the name of Lukas Gopp), they are onto some – and I quote from one of his e-mails – "badass automotive inspired horology". Oh, in the black box, needless to say, was the first functional prototype of the Gorilla Fastback collection.
Gorilla Fastback – Thoughts
Before moving on to take a closer look at the actual Gorilla Fastback watch, I think it might be interesting to zoom in on the Gorilla concept. Based on their former professional lives at this haute horlogerie brand, working in an almost corporate environment, the founders decided to combine their passion for both cars and watches and start a new adventure. The idea is to create timepieces that are – and I quote once more – "exploring the fine line between far enough and too far". Now, I know that some brands might think that of themselves while I am actually looking at a timepiece with conservative design, that's not the case with this Gorilla Fastback.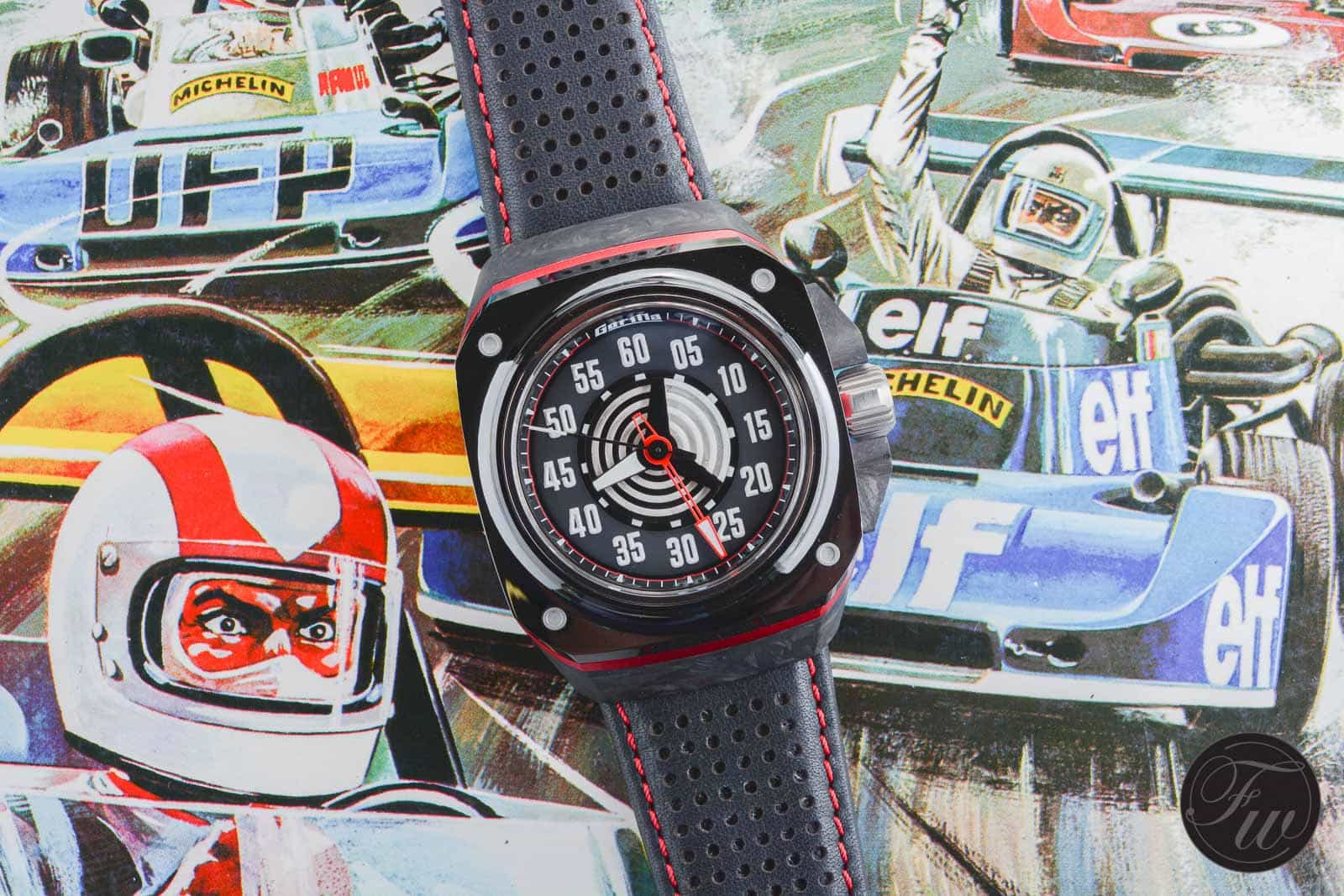 Cars and Watches
Don't read this in a wrong way. Gorilla or the Gorilla Fastback is not linked to any type of car brand or model. But its design is seriously influenced by elements of car designs. Not only by design, but also by the use of materials. It is a very 'engineered' watch, perhaps a bit 'over-engineered', but materials such as carbon, ceramic, aluminium and titanium already have a track record in (high) watchmaking. People love that stuff. A clever move by Gorilla.
Carbon, Titanium and Aluminium Case
When I lifted the watch from its small black box, I couldn't believe how light-weight it was. The fact that the rectangular – but still octagonal – case was made of carbon was clear to me. So was the titanium caseback. The caseback also indicated the use of aluminium (Al). The red pinstripe on the watch is anodized aluminium. It follows the same lines as the carbon and ceramic (bezel), in an octagonal shape. This, combined with a trapezium shape. It is definitely not your average watch design. Do I like it? To be honest, I took me a few hours of actual wearing before I got used to it. I am a traditional guy I think, but once I noticed the octagonal shape I was able to adjust my mindset a bit. But yeah, I like it. It is a large case, 44mm, which I can handle quite well.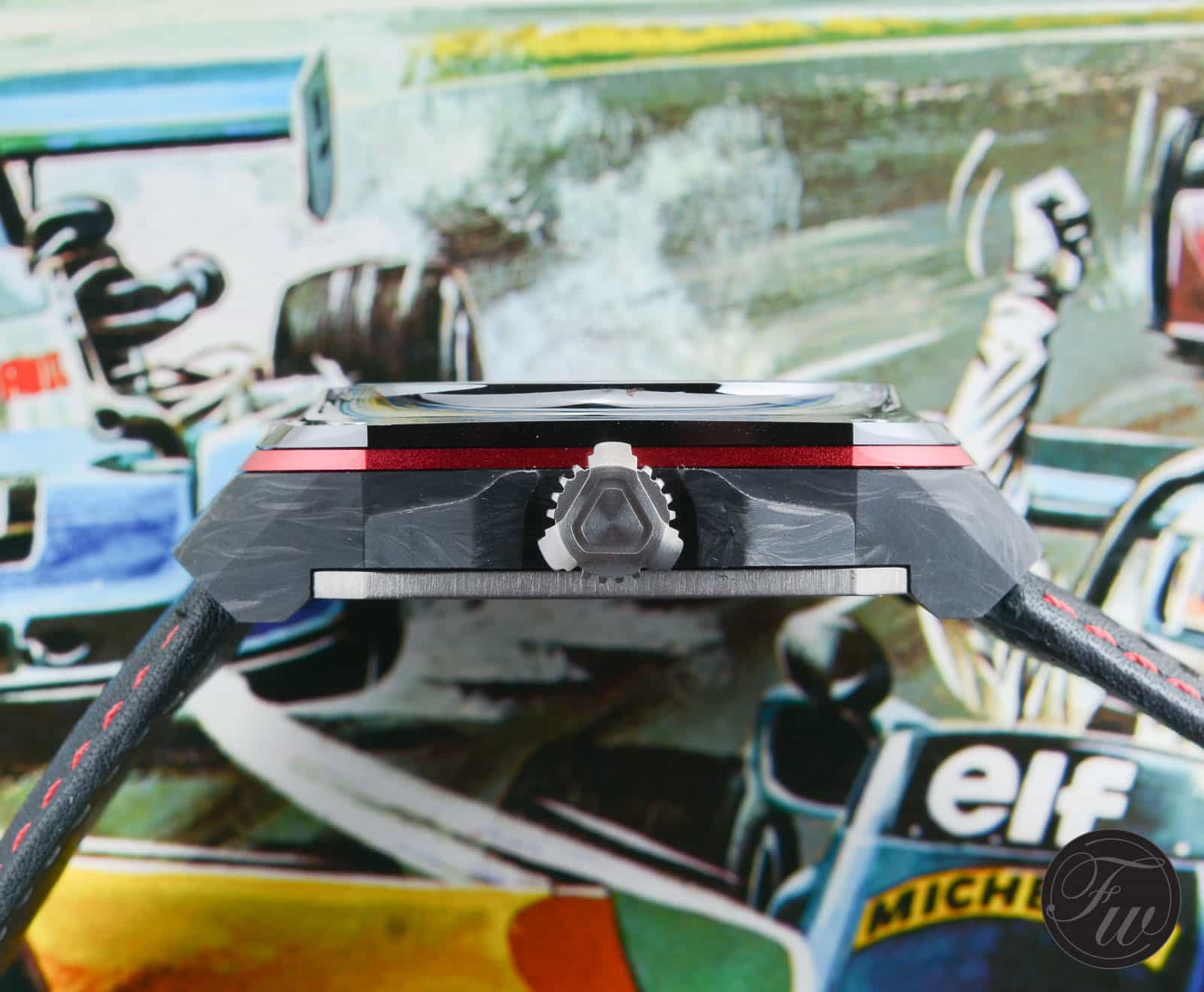 Caseback
On the back of the case, we find a screwed-down titanium plate. It has has an engraved image of a gorilla (hence the name) and the model name 'Fastback'. It carries the number of the watch, but only for the first 500. Furthermore, as I wrote already, the materials that this Gorilla Fastback uses are engraved there as well. C, Ti, Al, ceramic, sapphire crystal. The engraving is nicely done and I rather see something cool like this than a sapphire caseback with a pretty standard movement inside.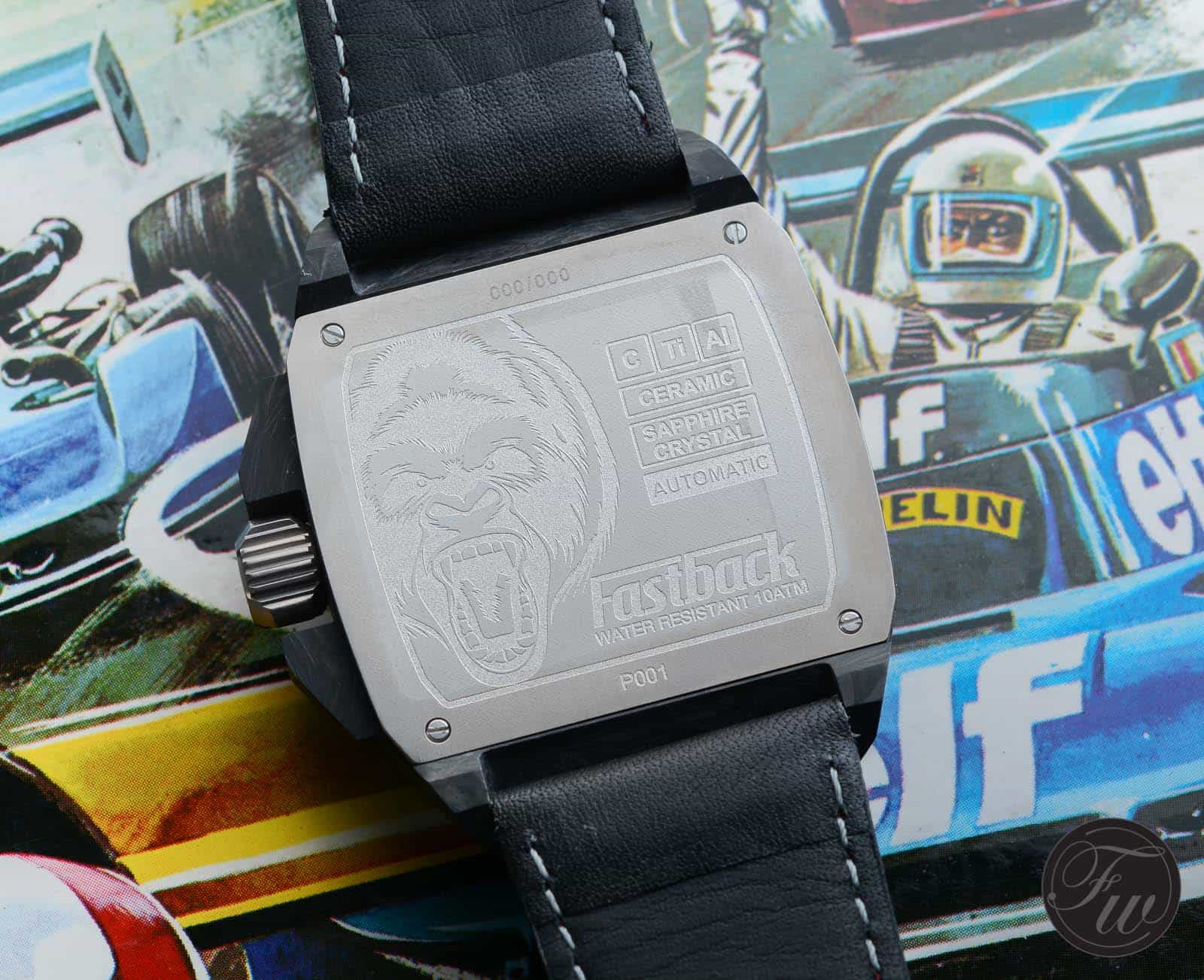 Movement
Talking about the movement. The Gorilla Fastback is powered by the Miyota 8215. This movement, made in Japan, is used for some other (micro)brands as well. It is a solid performer, nothing to worry about, but certainly not spectacular. So Gorilla at least made me happy by using a nicely engraved titanium caseback on this watch.
Dial and Hands
The dial clearly reminds us of a speedometer of a car. The hands are a tad bit confusing at first, as the minute hand is the red skeleton one with the trapezium shaped tip and the hour hand is part of this revolving kind of Mercedes-Benz logo (the ring around the hour hand doesn't move though) in black. The actual hour indicator is in white. The minute markers are Arabic numerals, nicely printed and in a very nice typography. They are quite thick as well, if you look closely under a certain angle, you see that they have a nice relief. The Gorilla logo, in a comic kind of typography, is printed on the rehaut at 12 o'clock. The hour hand keeps confusing me a bit due to the other two connected 'black' hands. I assume however that this is a matter of getting used to it, and design-wise it does look nice.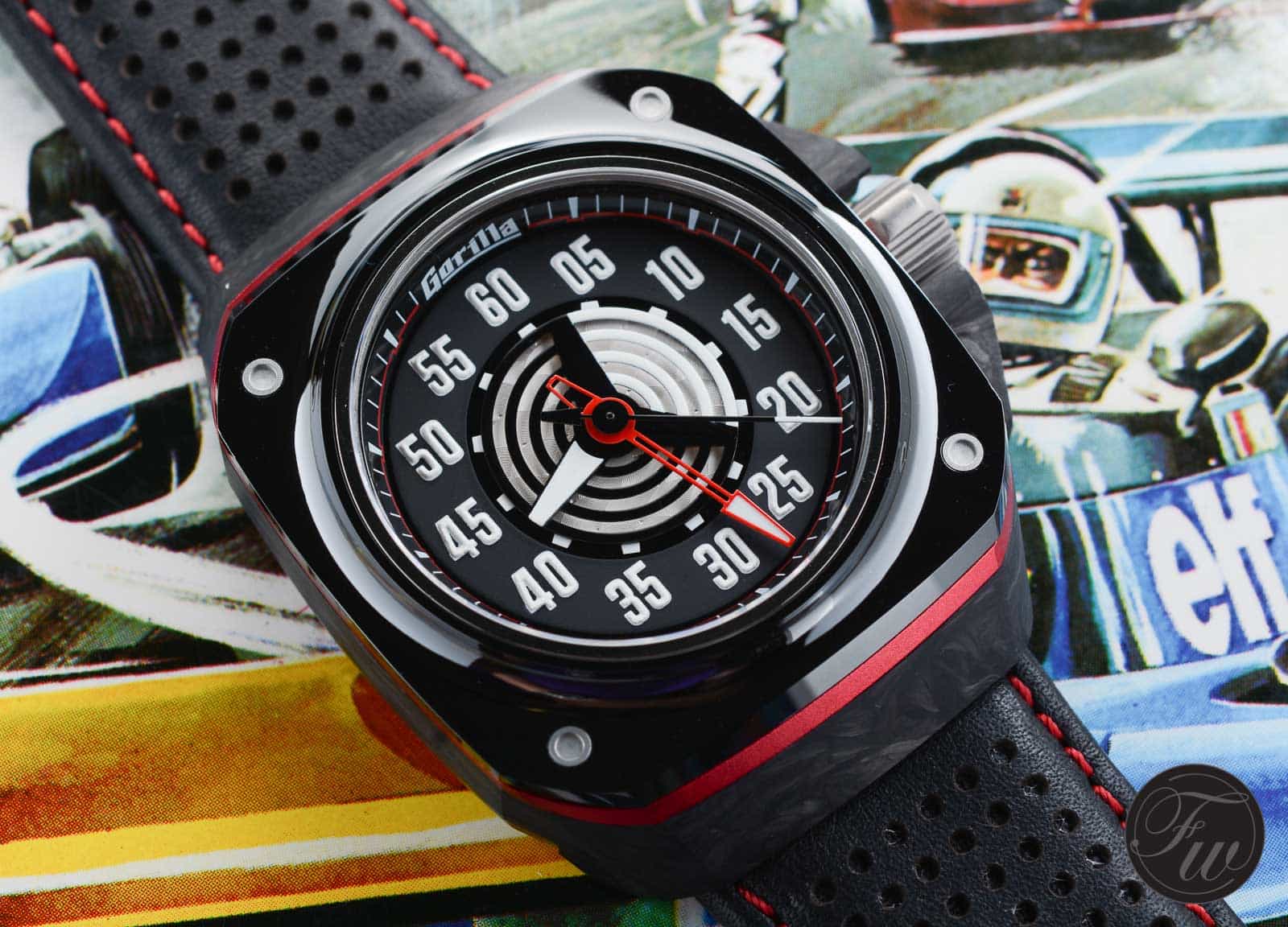 Strap
To complete the influence of the founders' passion for cars, the Gorilla Fastback will be delivered on a racing strap. The black perforated strap wears very soft and comfortable. It has red stitching that matches nicely with the minute hand and the red anodized aluminium pinstripe of the case. The buckle is made of titanium and has this hobnail pattern. It resembles the pedal of a car.
Price
I saved the price for last. After you read all of the above (I hope). Garcia wrote me that the price will be at least under $1000 USD for this Gorilla Fastback. Based on the watch itself, without the story behind it, I think that is great value for money. It is the price range where SevenFriday was very successful and where people are also willing to spend money on a watch that has a somewhat awkward (but cool!) appearance. The use of these materials and coming up with this particular 'engineered' design, almost make me think a price under $1000 USD is not possible.
The Name
Gorilla is a name that make sense in many ways, and has a cool logo and typography. However, and I am not sure in how many countries this is applicable, but Gorilla also kinda reminded me of Gorilla Wear. It was – perhaps – still is a brand that made clothes for bodybuilding and fitness purposes. But only by name, as the watch and its logo has nothing to do with that of course. However, "I am wearing (a) Gorilla" could sound a bit awkward.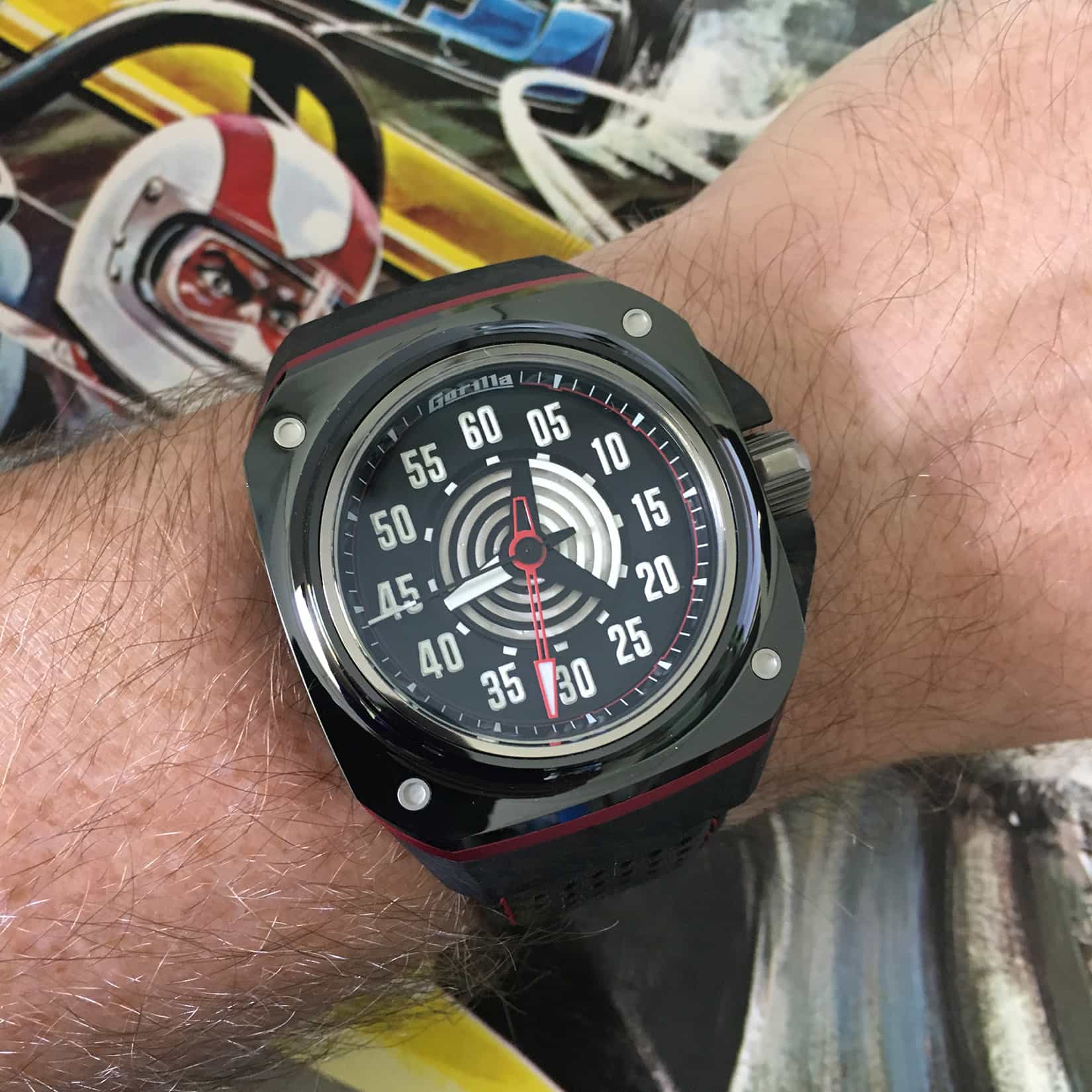 End of September
By the end of September, the Gorilla website will go live and the first 500 watches will be sold exclusively through their webshop. The watch will not be limited to 500, but everything above 500 will just not be numbered on the caseback. As written above, the watch will be priced under $1000 USD. If you want to keep track of Gorilla and the release of the first 500 Gorilla Fastback watches, make sure to subscribe to their newsletter for a full product reveal when the time is there. You can subscribe via gorillawatches.ch.