Grand Seiko Professional Diver's 600M Watch SLGA001
Housing a new generation Spring Drive caliber.
As one of the novelties introduced for the brand's 60th anniversary, Grand Seiko gave the SLGA001 Limited Edition 600M Professional Diver's the honor of presenting its all-new Spring Drive caliber. The 9RA5 caliber is slimmer, more precise, and has a greater power reserve than its predecessor.
Grand Seiko Professional Diver's 600M Spring Drive
In my first article on the Spring Drive principle — I think it was early 2006 — I said Spring Drive was a solution to a problem that didn't exist. That proved to be only partly true. The problem didn't exist indeed, but Spring Drive wasn't meant to be a solution. It became clear that it was an innovation. It was (and still is) an entirely new way of regulating a mechanical movement. Since its debut, it has stood alone. It is something new — something that sits apart from the rest of the industry.
As such, I've grown to love the Spring Drive movement family. I'm a big fan and have a lot of respect for the Spring Drive system. If you want to learn more about the construction of Spring Drive and how it exactly works, I can recommend Grand Seiko's dedicated Spring Drive website and one of our Sunday Morning Showdown articles in which Rob uses the way the Spring Drive works as the cornerstone of his argument for the "Skyflake" over Rolex's Sky-Dweller.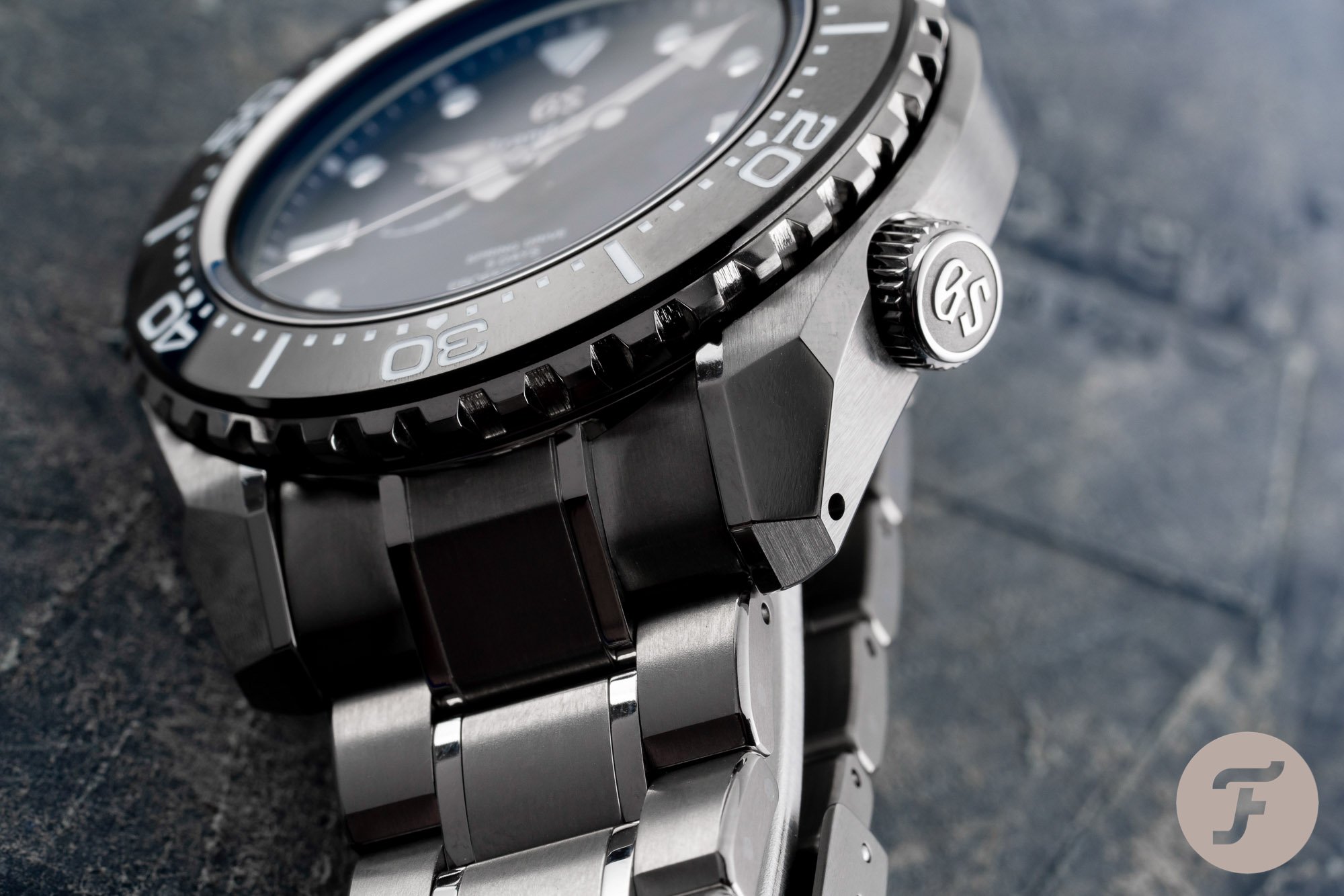 Improvements to the standard Spring Drive caliber
From 2005 onwards, Grand Seiko used caliber 9R65 for most of their regular Spring Drive models. This — now over 16-years old — was mainly aimed at reliability and sturdiness. As a result, it wasn't one of the sleekest movements around.
…thickness 5.0mm
Thanks to the new gear train, moved towards the center of the movement with a central bridge that holds the wheels together, the new caliber didn't lose its reliability and sturdiness. However, thanks to this new layout, the thickness of the new caliber 9RA5 has been decreased substantially.
…power reserve 5 days
Even with the new thickness of 5.0 mm — which is pretty much average for three-hand automatic calibers — Grand Seiko managed to improve the power reserve. By the use of two — differently sized — main-spring barrels, it increased from 3 to 5 days or 72 to 120 hours. A dial-side power reserve indicator remained available for the new 9RA5 caliber. It shows at the left side in the dial but rises slightly above the center while formerly it was positioned below. We're getting to the watch in a minute, but for me, a power reserve indicator could have been omitted in a professional divers watch.
…accuracy +/- 10 seconds/month
Last but not least. Not only the power reserve increases but the accuracy as well. Now equipped with a temperature-compensated quartz crystal, the accuracy of the new 9RA5 caliber exceeds plus or minus 10 seconds a month.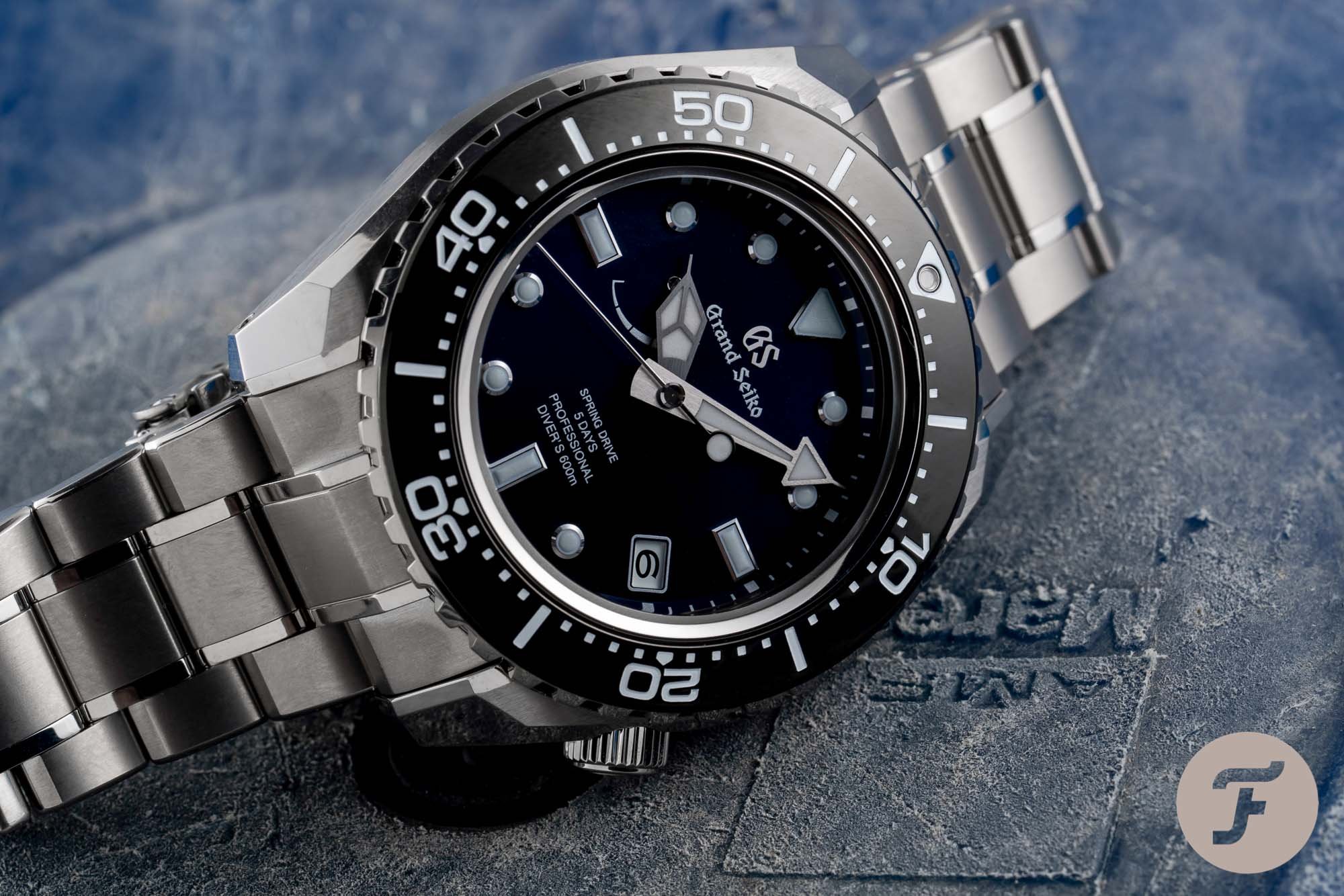 SLGA001, a Limited Edition Professional Diver's Watch
As you probably know, the new SLGA001 Professional 600M Diver's Watch isn't Grand Seiko's first diver's watch with a Spring Drive movement. We've seen the SBGA229 (which we reviewed here) and even a titanium counterpart of that watch, the SBGA231. However, the depth rating of these two models was 200 meters. That's adequate as a recreational diver's watch and sufficient to comply with the ISO 6425 diving standard.
The now-introduced SLGA001 is a "Professional Diver". At Grand Seiko, this not only means a higher depth rating. It also means that this watch is suitable for saturation diving. For saturation purposes, a dive watch needs a different construction. It's necessary to seal the watch in a way preventing not only water to enter the casing under high pressure, but helium gas as well. To learn more about the weird, dangerous, isolated life of a saturation diver, I'd suggest you visit this page.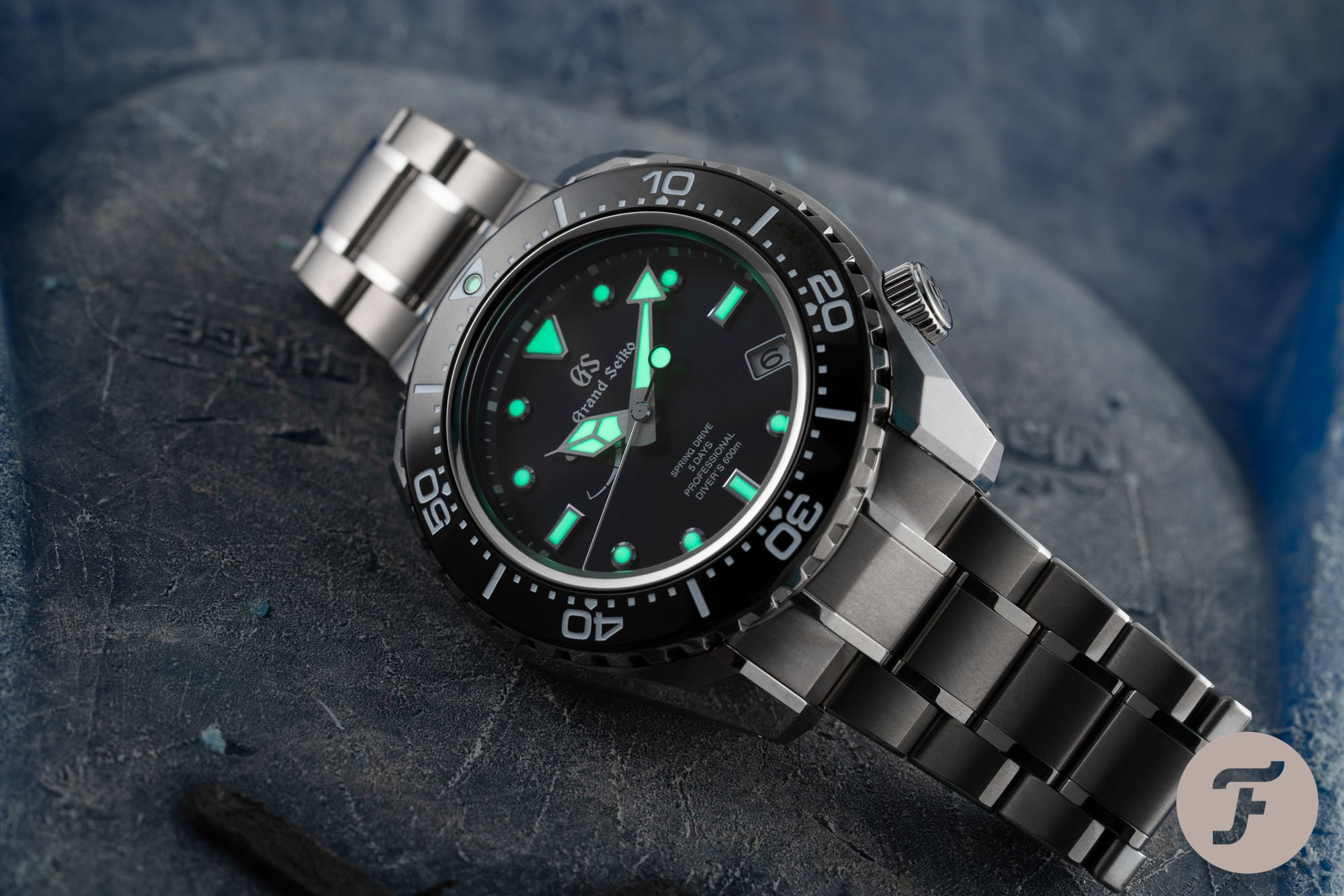 Smaller movement, larger case
Contrary to the new Spring Drive caliber, the SLGA001 watch, as such, didn't decrease in size. Compared to the Spring Drive models mentioned earlier, it even gained 2.7 mm in diameter and 2 mm in height. The reason for this is the increased depth rating and the ability to be used for saturation diving.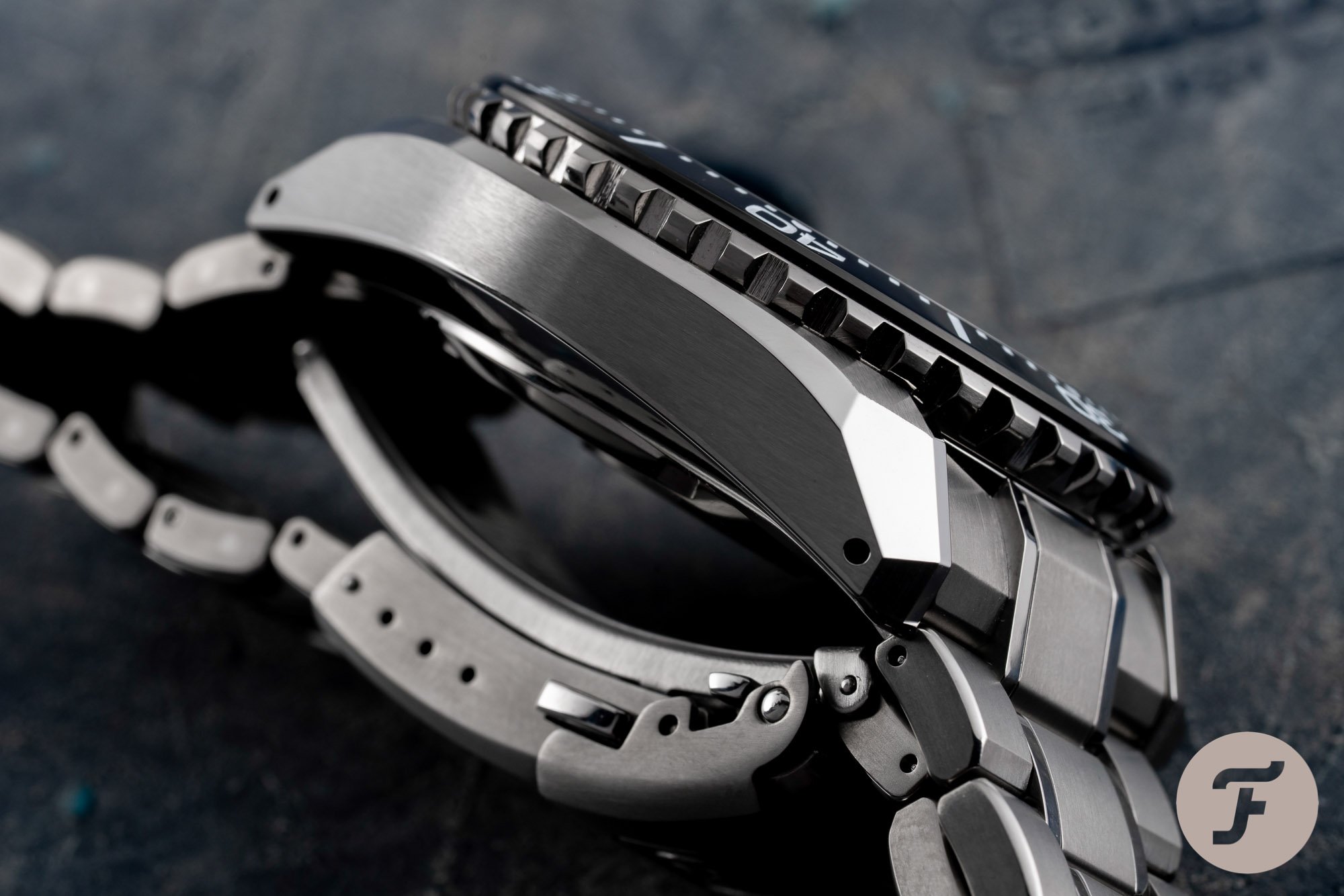 I don't think that a diameter of almost 47 mm should be considered too big for a professional divers watch. Grand Seiko's other 600-meter-rated Professional Diver, the SBGH255 with caliber 9S85 hi-beat movement, sports the same diameter. But it leaves me a bit puzzled why exactly Grand Seiko chose the SLGA001 to present a new slimmer Spring Drive caliber.
…home-grown titanium
To keep the weight of such a large watch within the bounds of reason, Grand Seiko made the case in High-Intensity Titanium. This home-grown material is 40% lighter than steel and is more resistant to scratches.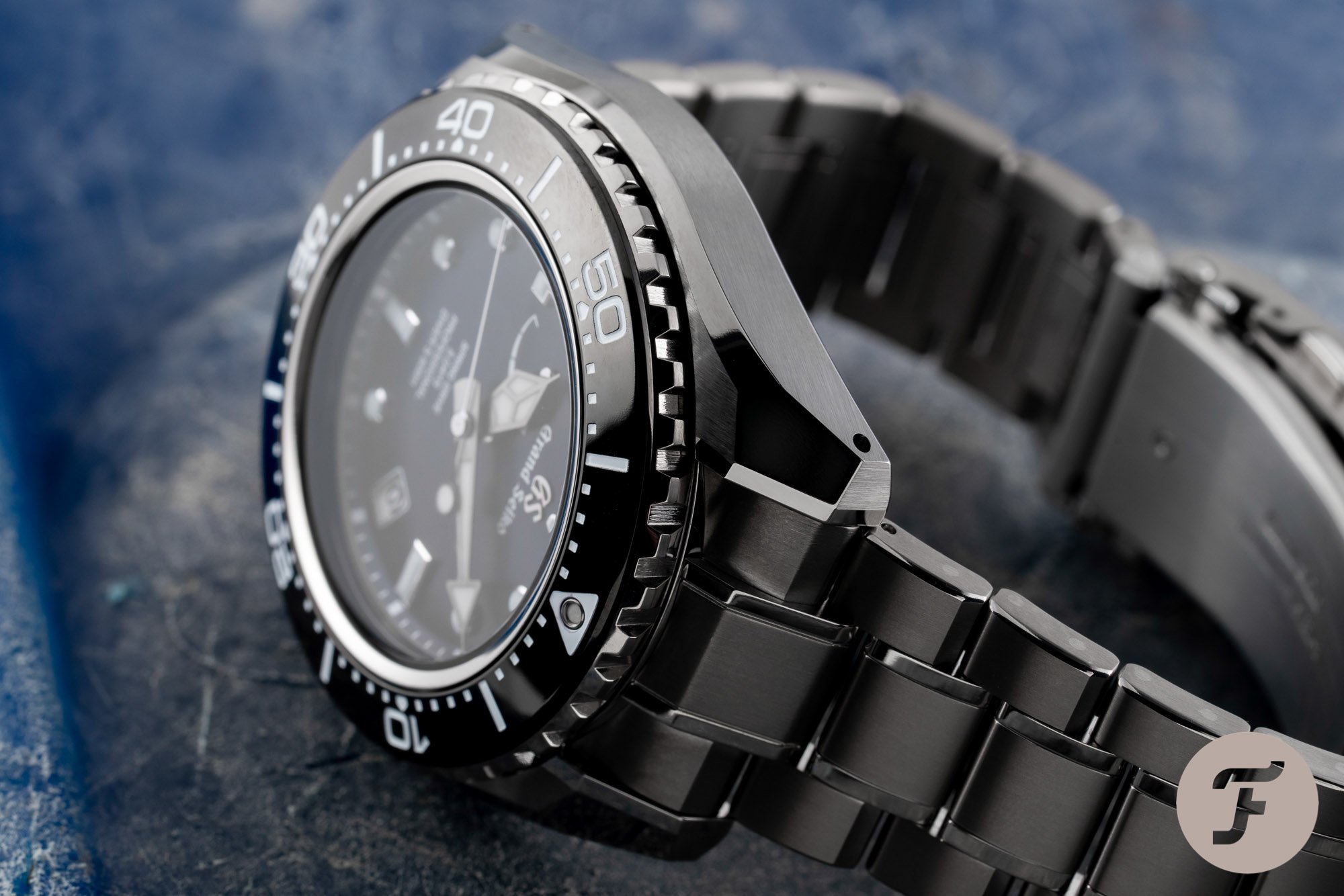 On top of the titanium casing, we find a "high-definition" sapphire crystal and a uni-directional high-intensity titanium rotating bezel. The case and crystal are designed for easy and safe disassembly for maintenance that a professional diver demands.
Bracelet and clasp
The bracelet, and certainly its finish, perfectly reflects the high-quality level of the SLGA001. But, although the three-fold clasp is fully up to the task, it can't entirely convince me. Again, with a push-button release, secure lock, and extender, it's perfectly functional. But I'm missing the extra mile which a clasp in this league deserves.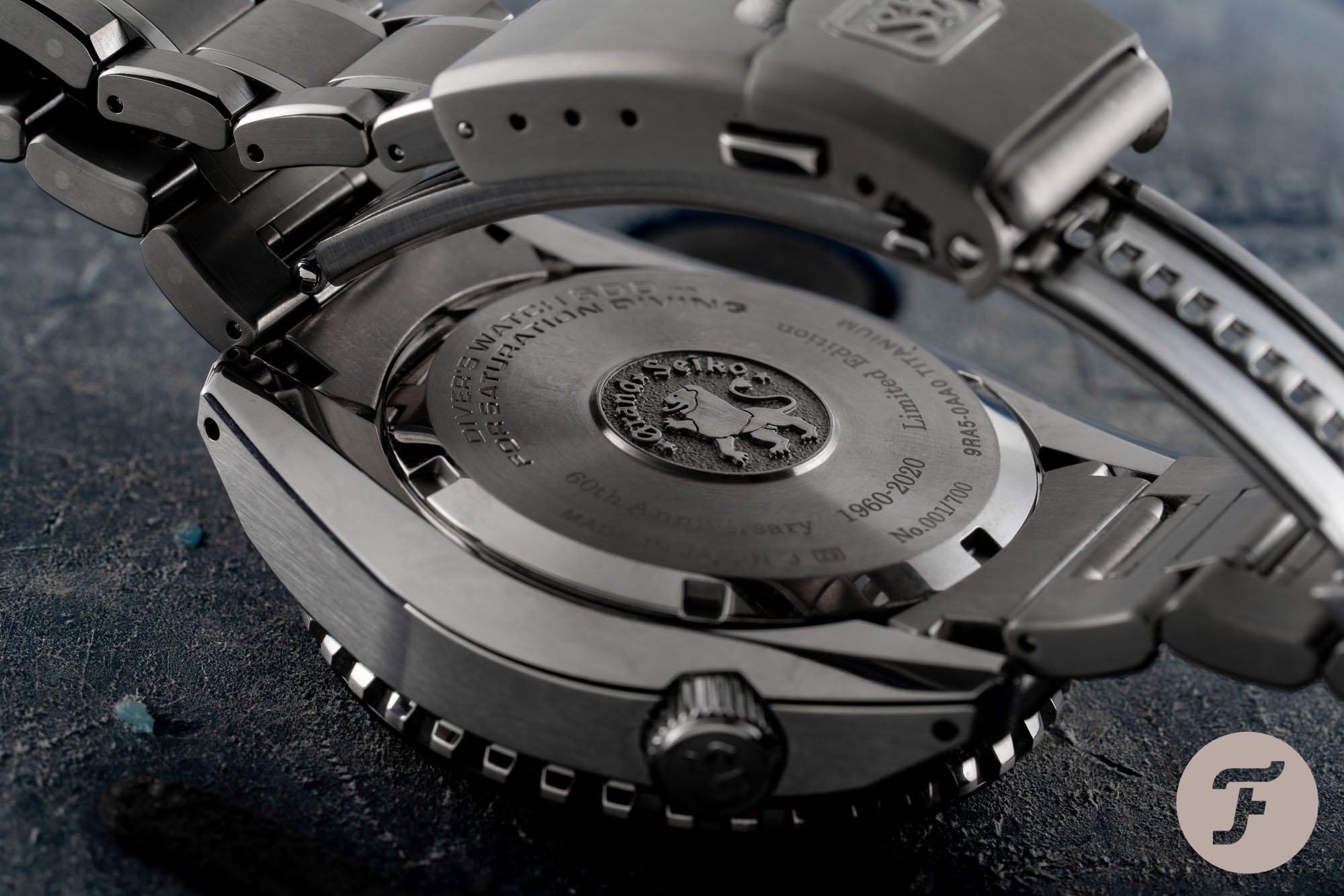 Availability and price
Last but not least, Grand Seiko produces only a limited amount of this 60th-anniversary watch. There will be 700 pieces available for worldwide delivery. I won't say "only" 700 pieces. The SLGA001 seems a niche-product to me. It's size, usability, but as well its price, mean that this isn't a watch for everyone. The happy few have to part with €11,500 to make themselves owners of this extraordinary timepiece.
To find out even more about the Limited Edition, reference SLGA001, Grand Seiko Professional Diver's 600M, please visit the Grand Seiko website.
Please leave your thought on this Grand Seiko below in the comments. For personal messages, you'll find me on Instagram @gerardnijenbrinks
This is a preferred position post. Learn more.
Watch specifications
Model
600M Professional Diver's Watch
Case Material
Home-grown High-Intensity Titanium
Case Dimensions
46.9 x 16 mm
Crystal
High-definition sapphire
Case Back
Solid titanium, screw-in type
Movement
Spring Drive, caliber 9RA5, 30 jewels, 5 days power reserve
Water Resistance
600 meters
Strap
Titanium with 3-fold clasp, push-button release, secure lock, and extender. Plus a blue silicone strap
Functions
Time, date, power reserve
Special Note(s)
Limited Edition of 700 pieces