Why I Bought The IWC Aquatimer Bronze Dive Watch
Guest post by Patrick Stachel
During 2020, my watch rotation was different than a typical year. One of the significant factors was remote working from home, but also other reasons seeped in. Due to the combination of these situations, one watch became my predominant wrist companion and even accompanied me on my limited but worthwhile vacation time over the past year. That watch was the IWC Aquatimer Chronograph Edition "Expedition Charles Darwin."
But why this IWC in particular? And what led me to it? Let's dive in and find out.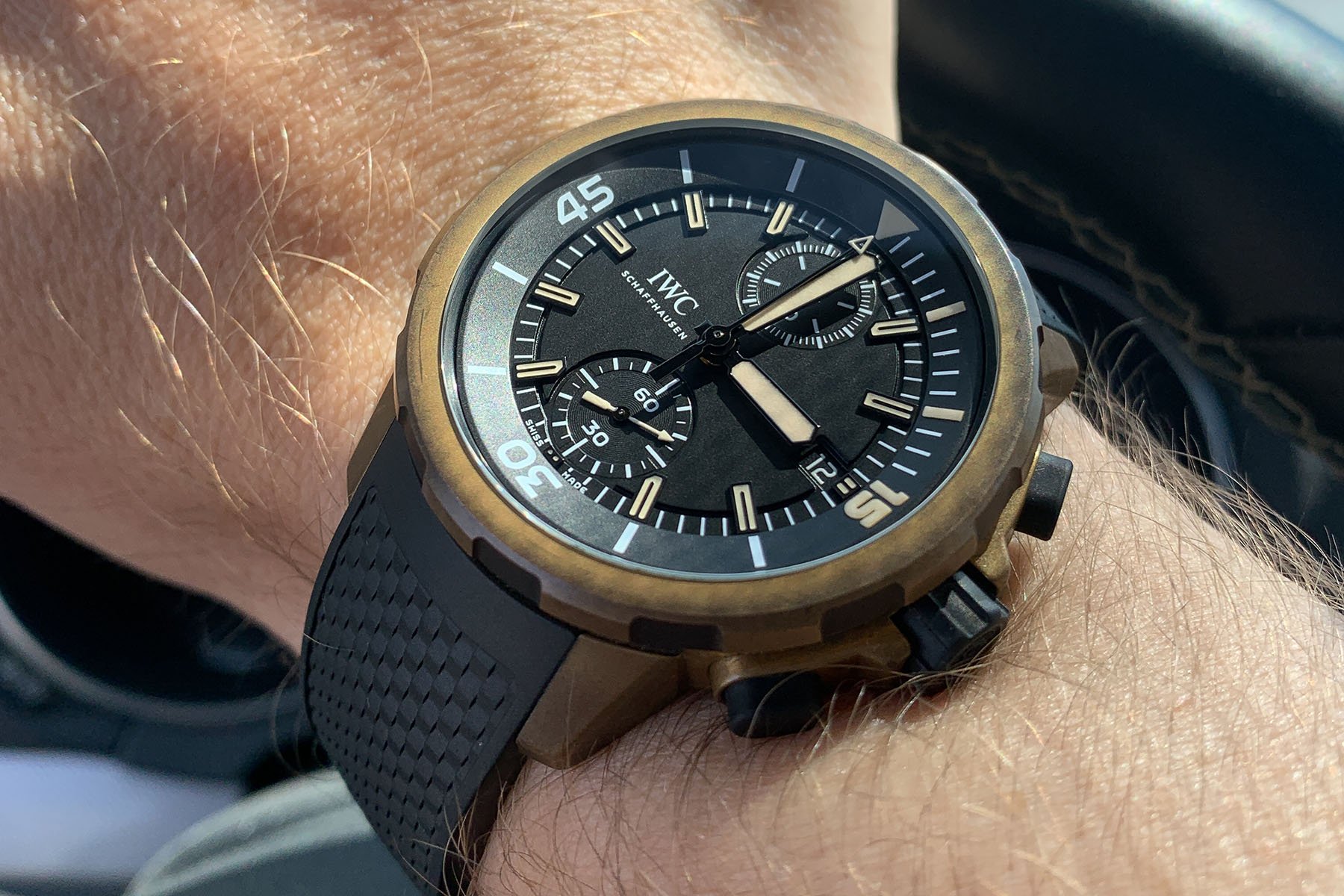 The hunt for bronze treasure
In 2014, IWC presented the overhauled Aquatimer collection during SIHH. At the time, then-CEO Georges Kern had a preference for renewing single model lines each year. Among the new Aquatimer range was IWC's first-ever model encased in bronze, the Aquatimer Expedition Charles Darwin.
Before this Aquatimer, most watch enthusiasts would associate bronze dive watches with Panerai. The Panerai PAM382 came out in 2011 with a drab green dial, swiftly followed by the PAM507 in 2013, which added a power reserve indicator. I was always a fan of bronze dive watches and was desperate to add one as a daily wearer. Both Panerai references were on my radar, but each release sold out in a flash and now command hefty premiums on the resale market. Hot on the bronze trend's heels were two special edition pieces from Tudor and Oris — the Tudor Black Bay Bronze and Oris Divers Sixty-Five Carl Brashear, respectively. However, both options felt too small for my wrist.
At this point, I should make clear that I am a tall guy with large wrists. Watches under 44mm (generally) get a little lost on my wrist, at least in my view. Alongside the diameter criteria, the bronze diver I was seeking had to have an in-house movement. Also, I noticed how the Panerai's bronze alloy turned a bright green and, in some cases, quite crusty from exposure to saltwater. From then, I knew the patina development I was after should turn to a darker hue and not develop unsightly surface growths.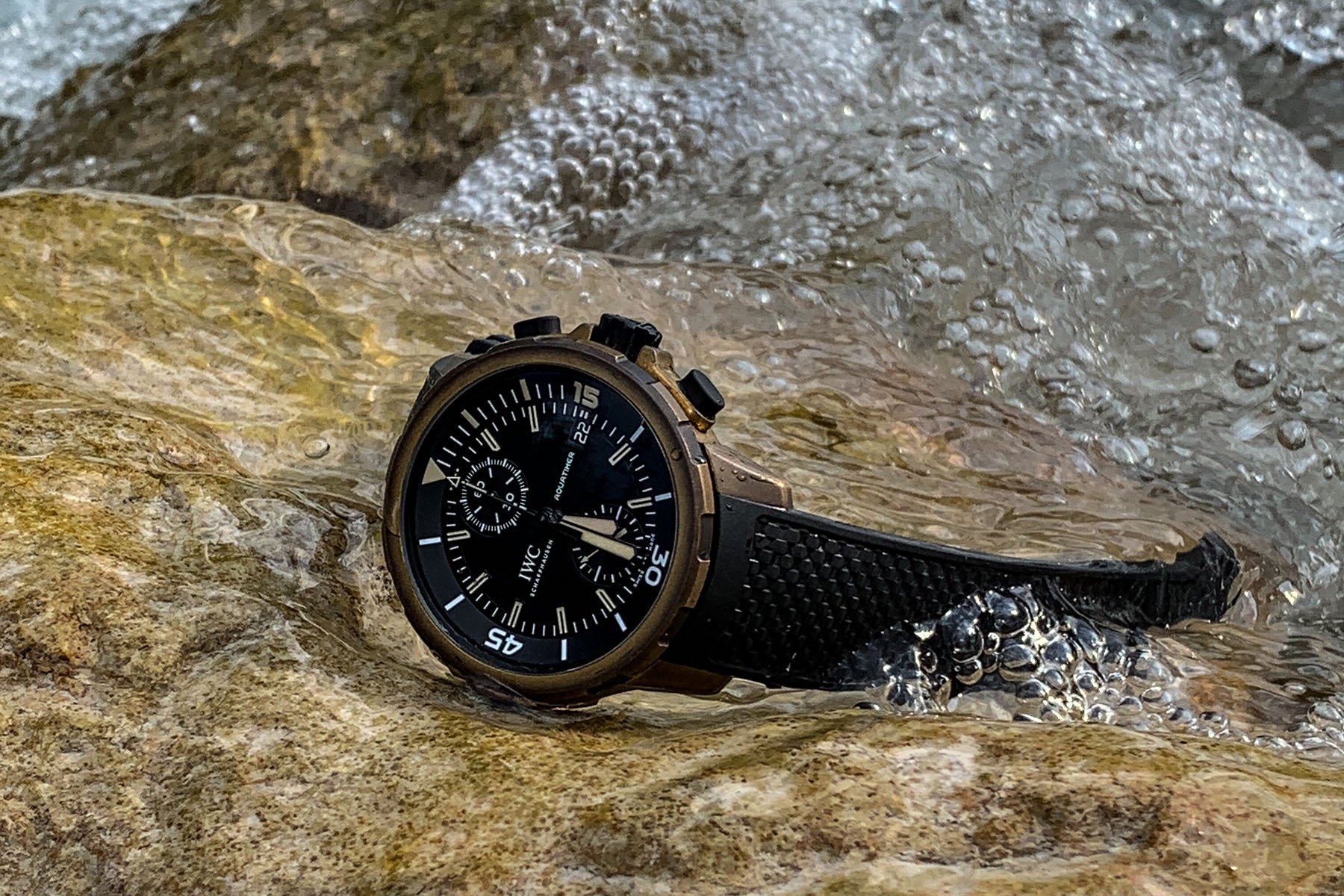 The IWC Aquatimer Expedition Charles Darwin
The IWC Aquatimer Expedition Charles Darwin answered all my prayers: 44mm, bronze with an alloy that only darkens with time and the in-house caliber 89365 movement. It was some time before the right offer came along. The wait became five years, but in 2019 I finally pulled the trigger on it. I also have a special affection for IWC and its clean lines and clear designs. However, the flyback chronograph function was not precisely a box I was looking to tick off on my pre-requisites. A time and date version would have sufficed as I wondered if I needed a flyback elapsed timing function for diving or other activities.
It turns out that I found the flyback feature highly usable for resetting exercise periods in the climbing gym. The caliber 89365 inside was pretty robust for use during climbing and didn't let me down as I was dangling from the edge. However, it did receive a substantial knock when I accidentally dropped it from approximately 160cm onto kitchen tiles. This did stop the movement, but a quick service brought it back up and running again. That seems to be the advantage of mechanical watches: ADs and boutiques are keen on getting your timepieces ticking again. You couldn't say the same about electronics stores when you drop off your touch-screen smartphone for a bit of TLC.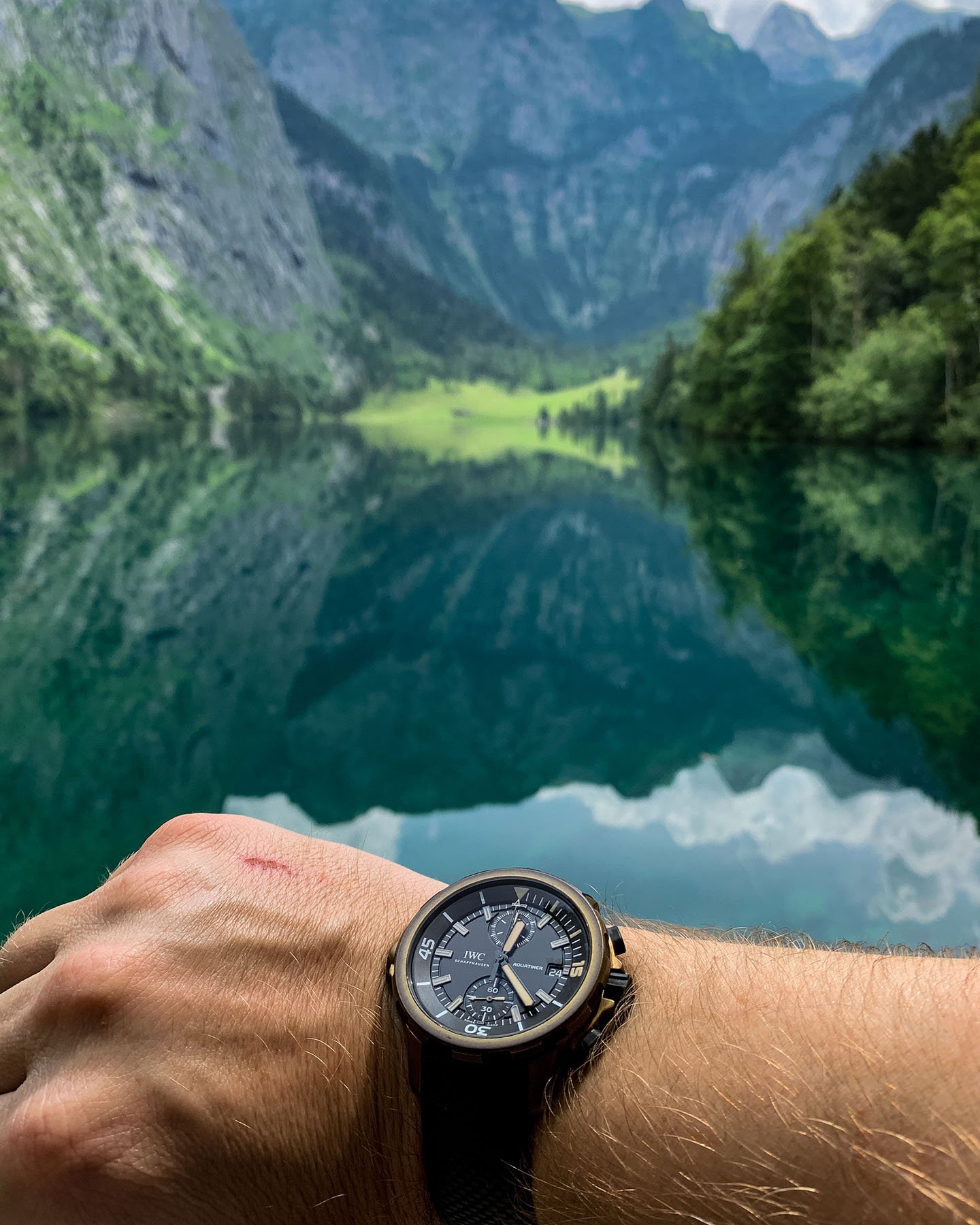 Travel companion
No doubt, the Aquatimer has considerable presence on my wrist with an impressive height of 16.9mm. But, as we see with dark gray or black watches, there's a phenomenon that they appear smaller than the specs suggest. It's the same for this bronze Aquatimer where the case patinas to a darker color. It ends up feeling substantial without overburdening my wrist, at least visually. The Aquatimer gradually became my vacation watch as each trip altered the appearance of the bronze case. It was like bringing home a souvenir that isn't thrown away two weeks later.
Another feature that made it the perfect travel companion is the quick-change strap system. Quickly releasing the strap makes it easy to clean after swimming or diving in saltwater or even after a sweaty hike in the mountains.
Last year, traveling was fairly restricted from March onwards, and international travel was out of the window. I adjusted my travel plans accordingly and stayed within Germany for some much-needed vacation time. As a climber and lover of the great outdoors, I visited the area of Berchtesgaden twice. On both occasions, the Aquatimer Chronograph Edition Expedition Charles Darwin was in tow, as well as on a short trip to the well-known climbing destination of Frankonia.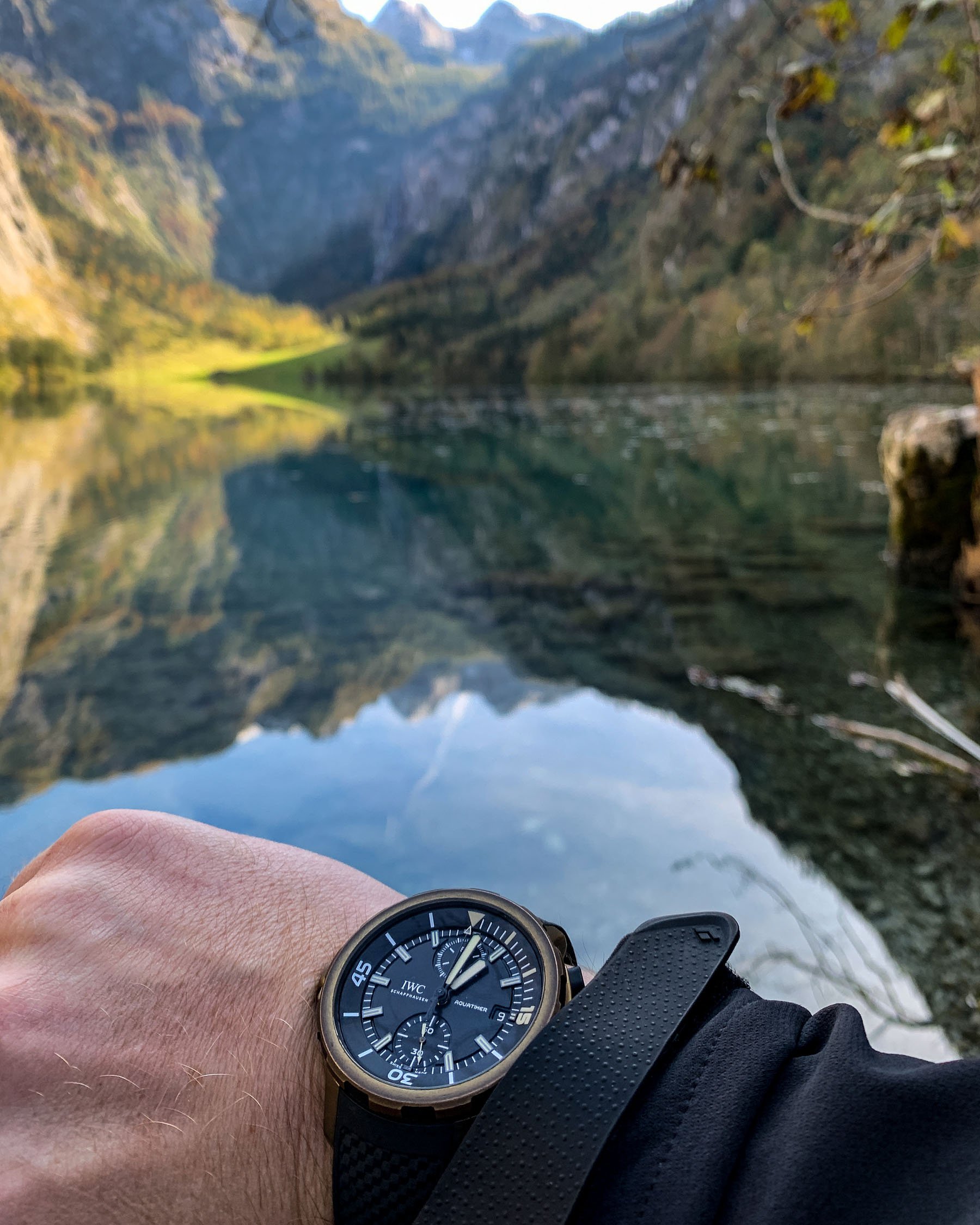 Selecting my hiking watch
Beforehand, I thought about which watch from my collection would best suit the beautiful alps of Berchtesgaden for three weeks. The Aquatimer was my typical go-to, but the size and the mass had me thinking. Especially as I would be spending most of my time hiking and generally being active outside and not necessarily in the water. But as I was spending the whole time with my five-year-old son, his preference of seeing the Aquatimer on my wrist made the answer simple. He's always saying, "take the golden watch." I haven't yet had the heart to correct him…
To my surprise, the 44mm Aquatimer did not negatively impact any of the excursions we went on. That may possibly have been because my backpack was the greatest annoyance and completely stole the show in that regard. But still, the watch felt effortless to wear for long durations. The real plus was that the quick-change strap system allowed me to remove the strap to clean the watch head easily. In the blazing temperatures, a perspiration-heavy hike made daily cleaning of the watch a necessity.
I did use the rotating bezel, but mostly to quickly check the wait time for food and beer at the local alpine huts. Perhaps I should have used the flyback chronograph for this, but I just enjoyed the bezel's tactile feel — it's a great stand-in fidget spinner enabling overgrown kids to appear vaguely adult in polite company. Beneath the sunshine and bright blue skies of our trip, the best thing about the watch was being able to enjoy how the colors and depth react to the light. Sometimes, that is all a watch needs to do to bring a smile to my face.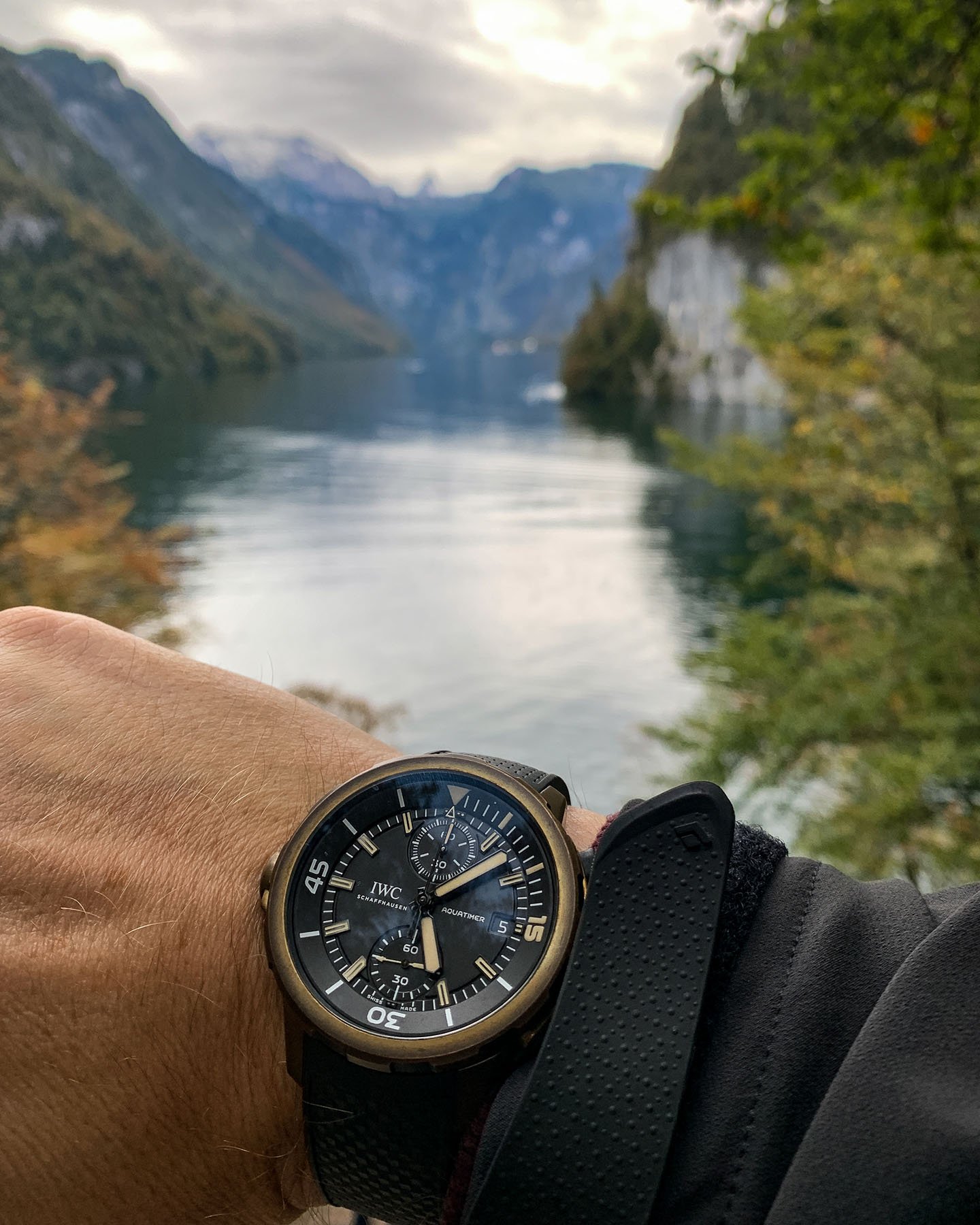 Final thoughts
The IWC Aquatimer Chronograph Edition Expedition Charles Darwin is a fantastic watch and, for me, symbolized familiarity in uncertain times. In my view, the IWC Aquatimer is an underrated dive watch — especially this bronze version. That doesn't matter too much to me as the personal connection I share with this watch and my son is the most important thing.
Follow me on Instagram @patrickthesting to see more of my adventures.
All photos by Patrick Stachel. Read more about IWC here.