My Guilty-Pleasure Watch: The TAG Heuer Formula 1 WA1211
A quirky 34mm diver with plenty of charm
A few weeks ago when we first discussed the idea of sharing our guilty-pleasure watches, I knew exactly the watch I'd be writing about. Nobody else did, as I hadn't even shared with them that I owned this watch. In fact, to this day I haven't even shared a picture of it on my Instagram. It's not that I'm ashamed of this watch — I wear it from time to time and really enjoy it. But like a true guilty pleasure, my guilty-pleasure watch was one that remained a secret… until now. You've read the title, and you already know that the watch in question is my TAG Heuer Formula 1. Specifically, it's the 34mm plastic-bezeled, lume-dialed reference WA1211. It seems that, without knowing that I would be writing this today, I put my money where my mouth is, and actually made this guilty pleasure my own.
That's right. Unlike some of my Fratello teammates, I actually bought a watch that though I genuinely enjoy, I didn't want to brag about. Was I afraid to be judged or subjected to the question, "Why on earth would you buy that ridiculous watch?" The truth is, I had two reasons for hiding the fact I owned this watch. The first was that I hadn't made up my own mind on how I felt about it. I was curious about the watch, and have Mike Stockton to thank for that. One of the first articles I edited for Fratello was about some of the editors' first watches. Mike's was this very same TAG Heuer. I had never owned a watch with a fully lumed dial, and I liked the idea of a low-maintenance quartz movement. Finding one for less than €200 was enough to make me go for it.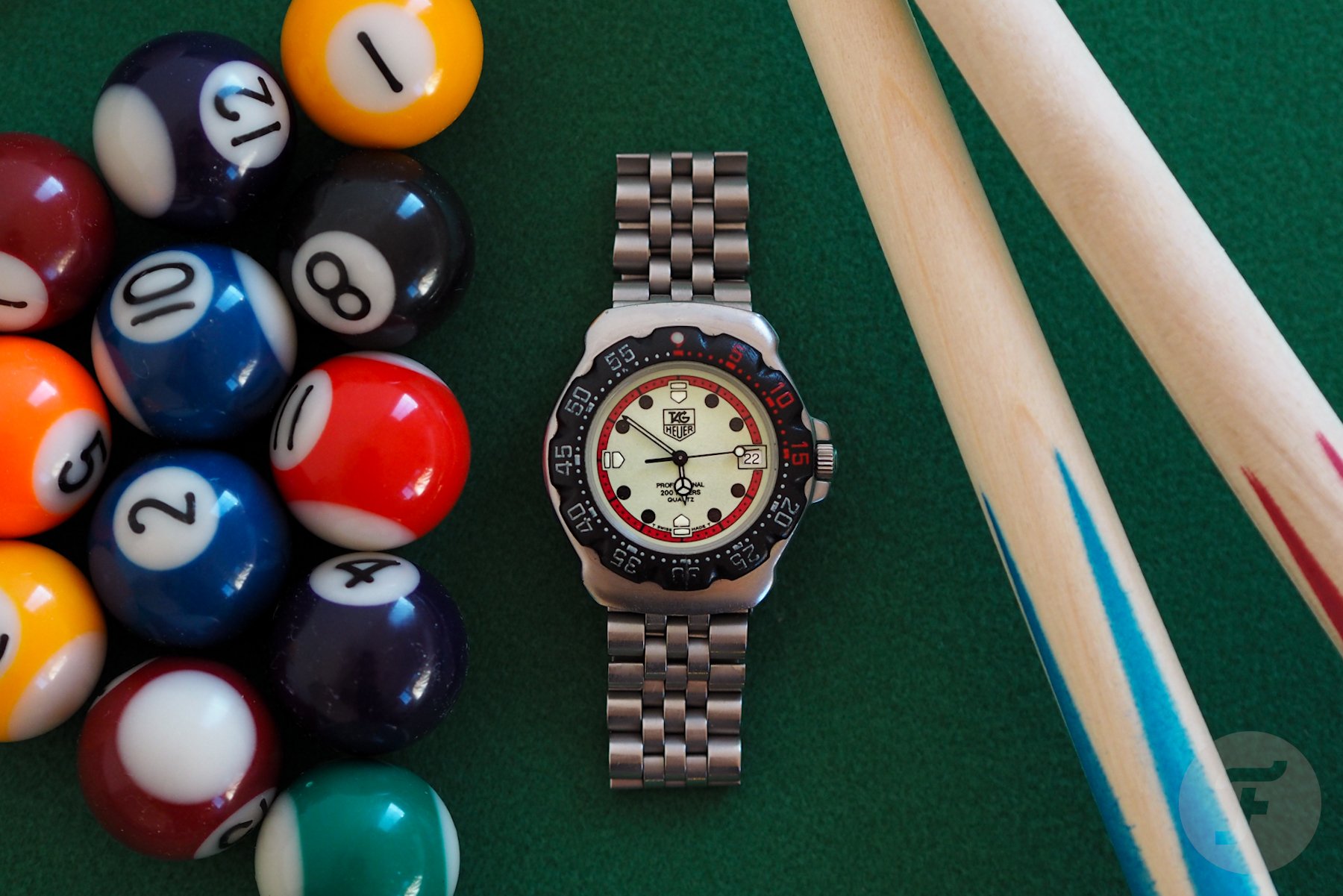 Guilty as charged — TAG Heuer Formula 1 WA1211
That was the first reason why I didn't tell anyone about it. The second was the fact that this 34mm diver is just ever so slightly absolutely ridiculous. It's small, bold, awkward, cool, rattly as can be, and yet somehow charming in spite of its many idiosyncrasies. I would go so far as to say that when it comes to this watch, my opinion of it remains split down the middle. Part of me wants to hide it in the back of the watch box and forget it exists. Another part of me wants to embrace it, wear it loud and proud, and try my best to make these weird little divers cool once again. When I say "once again," I mean it. These were hot-ticket items back in the day. Having been born in the early '90s, no, I wasn't there to see it. But I have it on good authority that these were highly regarded back then.
In fact, some would even say that the early versions of these watches — in their fiberglass cases with steel cores and matching rubber bracelets — are the watches that saved the TAG Heuer brand. Whether they did or not, if you ask me, it's still a pretty fun watch, with plenty of cool to justify its weirdness. It's also a rather capable 200m dive watch, with an extremely accurate quartz movement inside and a uni-directional rotating bezel. It's a perfect grab-and-go option for when you don't have time to wind and set your watch, but you still want a watch on your wrist. And though the color palette offers a lot of choices, I think the fully lumed-dial version is the one to go for. Ideally, it will come on the matching jubilee bracelet with a diver's extension and a signed clasp.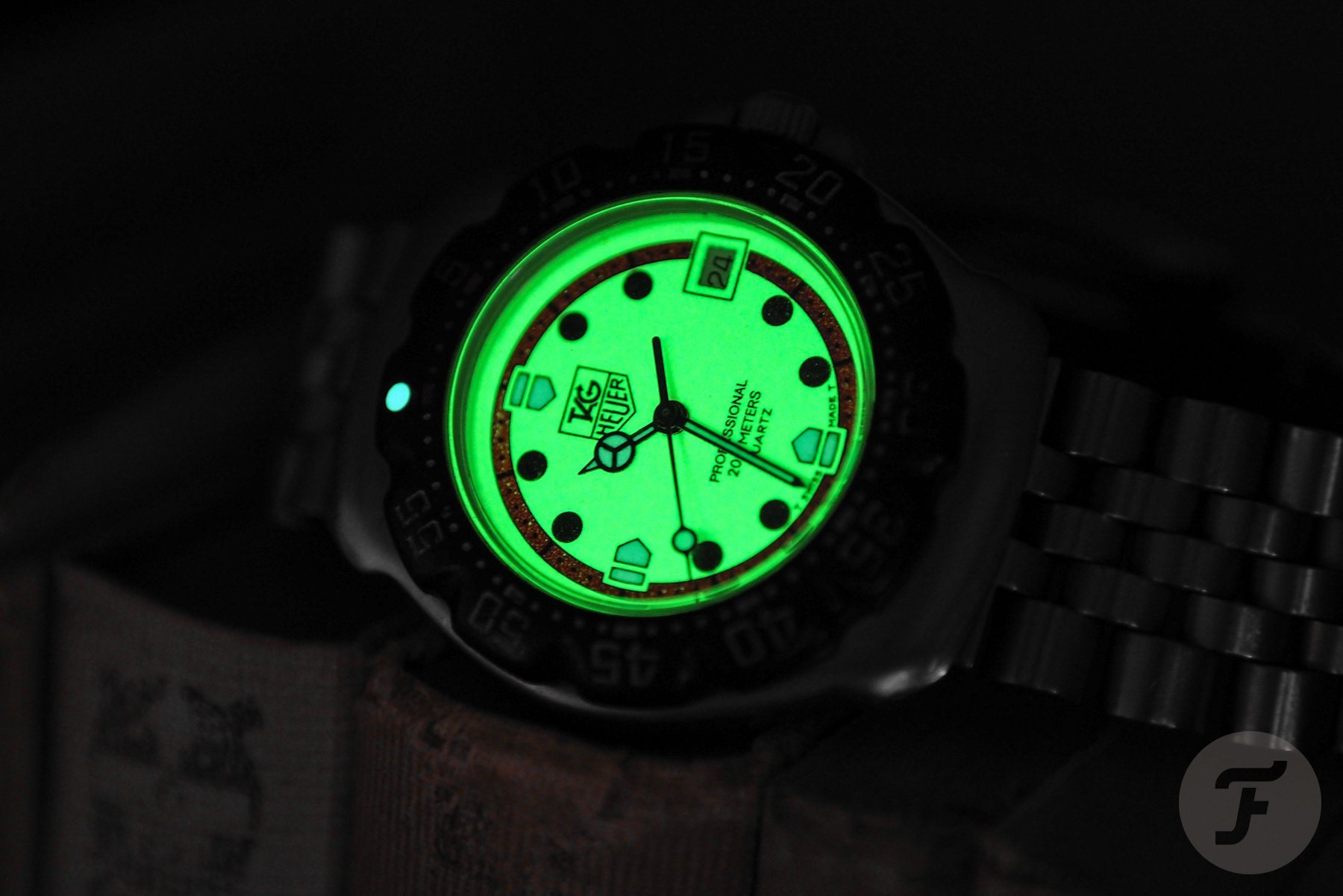 Final Thoughts
Though this watch is a bit of a guilty pleasure for me, I hope you'll agree that I'm not insane for genuinely enjoying it. And should you require a little more convincing, especially when it comes to the 34mm size, let me say this. Because of the strange case construction and hooded lugs, the watch wears bigger than 34mm. In fact, including the crown and crown guards, the dimension across is 37mm, and the lug-to-lug length is close to 40mm. Thanks to those dimensions, and the small dial-to-bezel ratio, I feel the watch wears much more like a 36mm watch. It's definitely one that you should try on and judge only after you have seen it in the metal.
Other than that, details like the oversized, old-style TAG Heuer logo on the dial, the red minute track, inverted hour markers, Heuer-signed crown, Mercedes hands, and the special lumed markers at 6, 9, and 12 o'clock with the TAG Heuer logo shape make this one cool watch. Call me crazy or agree with me; either way, I'm glad that the secret is out! And speaking of secret, these are actually out there and can be had for well under €500, sometimes even as low as €200! So if you're looking to pick one up, keep your eyes on Chrono24 and the like, and snag yourself a great deal on a fantastic little watch.
Let me know what you think of the TAG Heuer Formula 1! Is it a dud? Or is it a low-key classic?
Follow me on Instagram @ncgwatches