The Gyre SeaCleaner Watch Tells A Recycling Story On Your Wrist
From discarded net to sustainable watch — a mission powered by passion and the sun
Cleaning up the oceans one watch at a time. That could take a while, but since sarcasm is the lowest form of wit and has never contributed to anything good, I will change my tone. I will serve you an English proverb that says, "Even the smallest things are helpful when towards a goal," instead. That's the spirit! It sure is Bernard Werk's spirit, one of two founders of Dutch watch brand Gyre. Werk, a long-time watch journalist and industry veteran, materializes his concern about polluted seas with something he loves deeply and knows a lot about — a watch, made from recycled plastic and powered by light. The Gyre SeaCleaner watch tells a recycling story on your wrist in a most pleasing style.
The Gyre SeaCleaner, the world's first sports watch made from recycled plastic, was launched in March 2020. But while COVID-19 had a negative effect on almost everything in the world, it couldn't stand in the way of a watch that is here to help. The SeaCleaner helps clean the oceans one watch at a time and helps make people aware that we need to do something about the mess we made.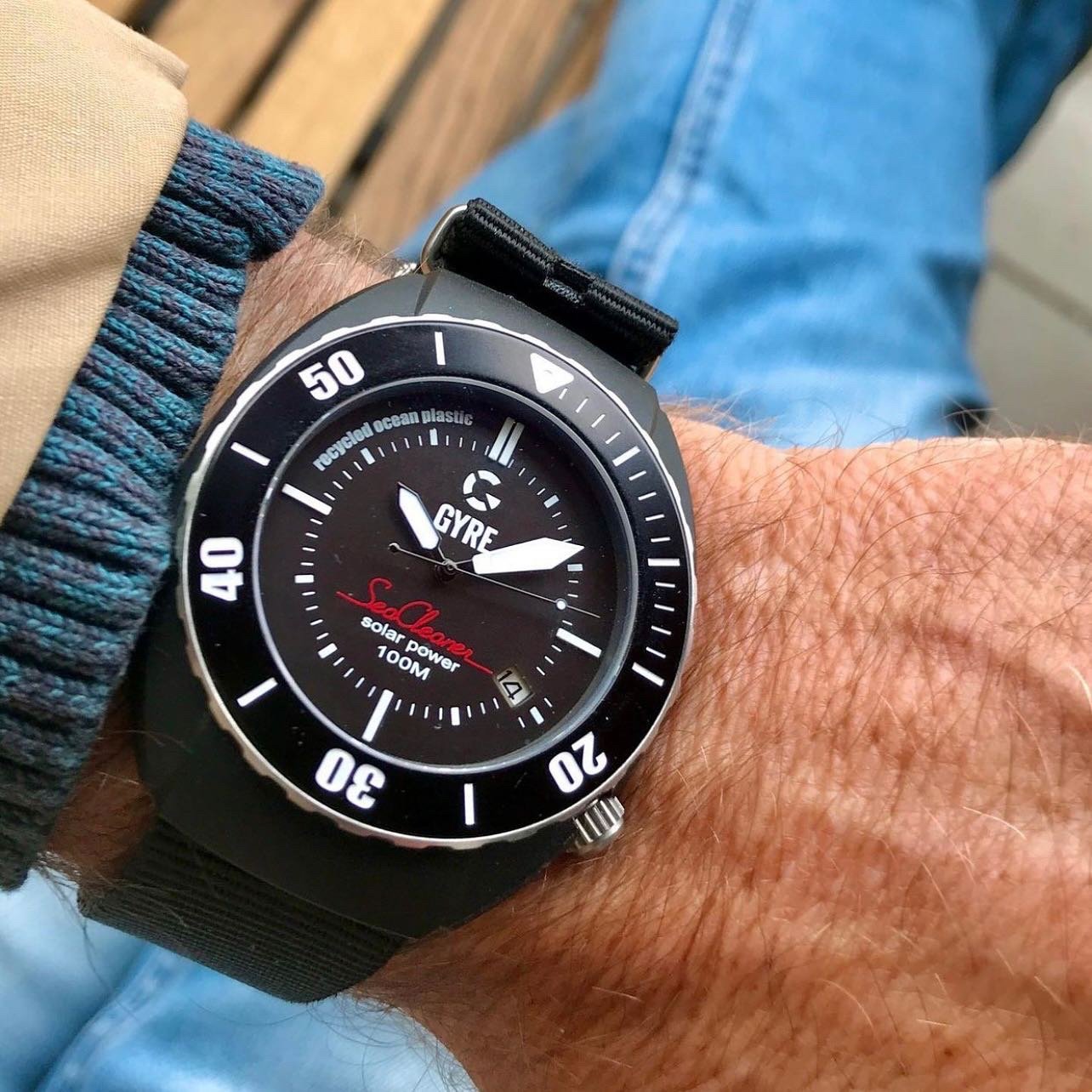 The Gyre SeaCleaner watch — From fishing net to timepiece
"It all started when I saw Boyan Slat, founder of a foundation called The Ocean Cleanup, on a talk show on Dutch television," says Bernard Werk. "He was talking about the 640,000 tons of fishing nets that get dumped in the oceans annually. The garbage patch problem most people know about consists of fifty percent of these nets. Garbage patches are large areas of the ocean where litter collects, and they are formed by rotating ocean currents called gyres. When I saw that, I wanted to do something: make a watch of garbage that is owned by no one but, in the end, is our responsibility to get rid of."
Gyre SeaCleaner — an easy-to-imagine name, a hard-to-produce watch
The name Gyre came easy. The watch itself, however, was much harder to realize. And although creating a watch brand sounds like the fulfillment of a long-cherished dream, it wasn't at all, as Bernard reveals. "I've been active in the watch industry for a long time with my magazine Watching, but I never dreamt of starting a watch brand. Only when I saw Boyan Slat on television did I think I could help him by doing something I know something about, and that is watches. If he scooped the many 'ghost nets' out of the sea, I could turn them into watches. I felt so frustrated when I saw the misery those floating garbage islands caused that I just had to do something. I have my connections in the world of watches, so I started reaching out. That's how it started. I never had the dream to start a watch brand, but now I felt that I had to do just that."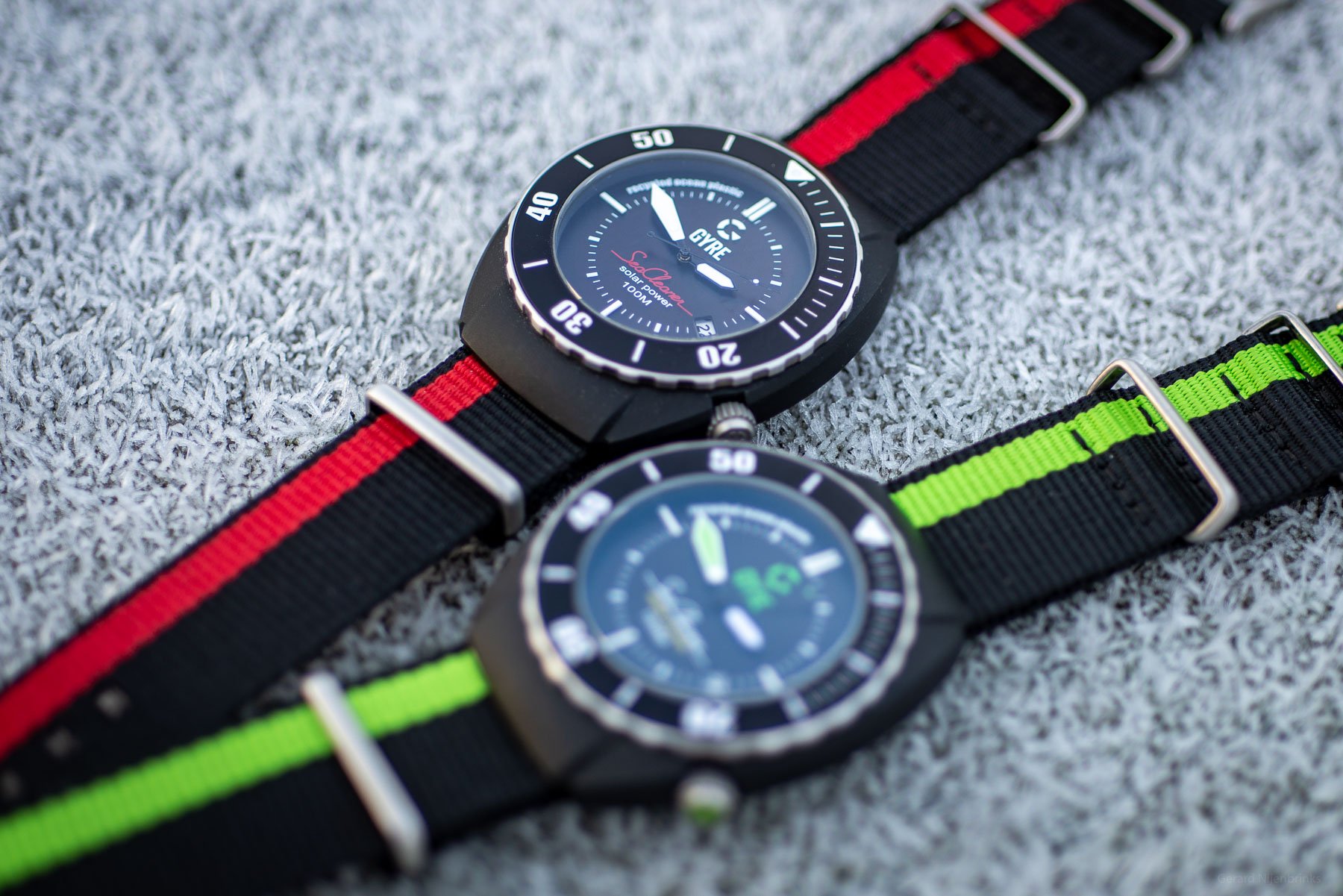 Creating a balanced blend of ingredients
"The idea of a sporty watch with a case of recycled plastic and a solar-powered movement came instantly," Bernard Werk tells us at Fratello HQ. "It took quite a while to source the right materials for the SeaCleaner, the name my business partner and I came up with. What we wanted with the watch itself is show our love for watches. I have a few favorite watch designs, and I wanted to integrate my ideas into one watch that has familiar elements but is original at the same time. I think the shape of the case, the positioning of the crown at 4 o'clock, and the typography offer a balanced blend. It's a completely unique design that was made possible with the help of a Renault designer. Translating ideas and inspiration into shapes and forms is something you should always leave to specialists, in my opinion."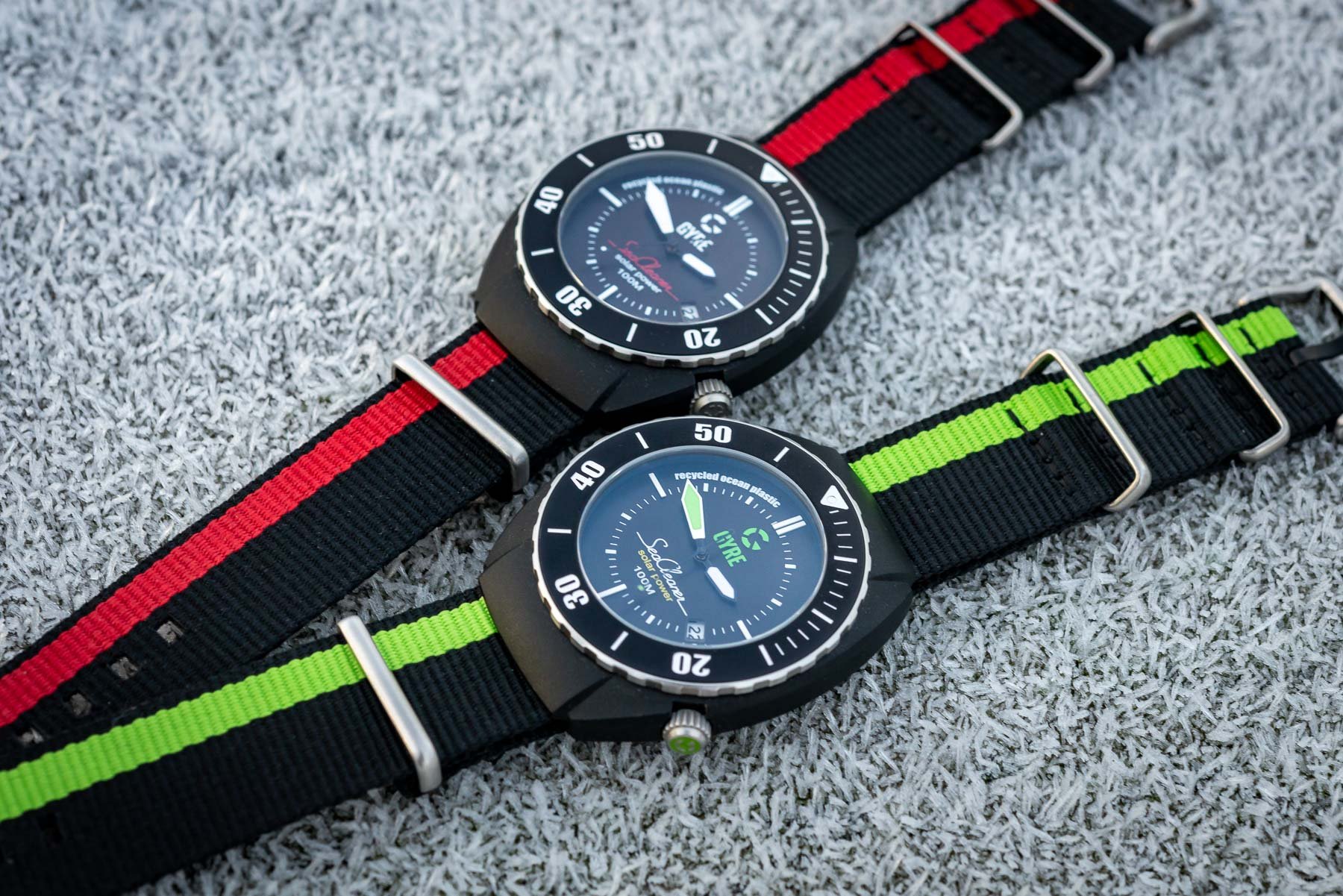 Recycled plastic, sapphire glass, and solar power
The final product is a 42mm (water) sports watch that's available in three color schemes — black/green, black/blue, and black/red. "Kickstarter and Indiegogo helped us on our way," Bernard explains. "It took quite a while to source the right materials for the Gyre SeaCleaner. It was a learning process, so to speak. The black plastic case is inevitable, for instance. That's because black plastic is what you get when you upcycle fishing nets. It's their natural color, so to speak.
What's very important for the feel of the watch and to guarantee quality is the use of anti-reflective, scratch-resistant, and sturdy sapphire glass. And the fact that the Gyre SeaCleaner with its steel case back has a water resistance of 100 meters makes it easy to wear. What I wanted from the start is a solar-powered movement. We get that from Japan, and it completes our philosophy of recycling, awareness, and sustainability."
Building a proud and aware community
Werk's idea is not to just sell the different versions of the Gyre SeaCleaner watch. There is more to it than that. The proceeds from the watch help to support local fishermen and their communities. There are more than 300 people involved in the production chain of the Gyre SeaCleaner, and they are all people who benefit from the project.
And Werk wants to build a community of aware Gyre wearers. "We have sold the watch in over 35 countries worldwide," Werk says. "And we sell our watch online through our website and at different physical points of sale. I think the price of €289 is fair. It has helped us build a community. I get so many positive reactions from people who bought the watch and wear and show it with pride. It shows that people want to put an end to the deaths of thousands of marine animals and coral reefs that sustain heavy damage due to ocean debris."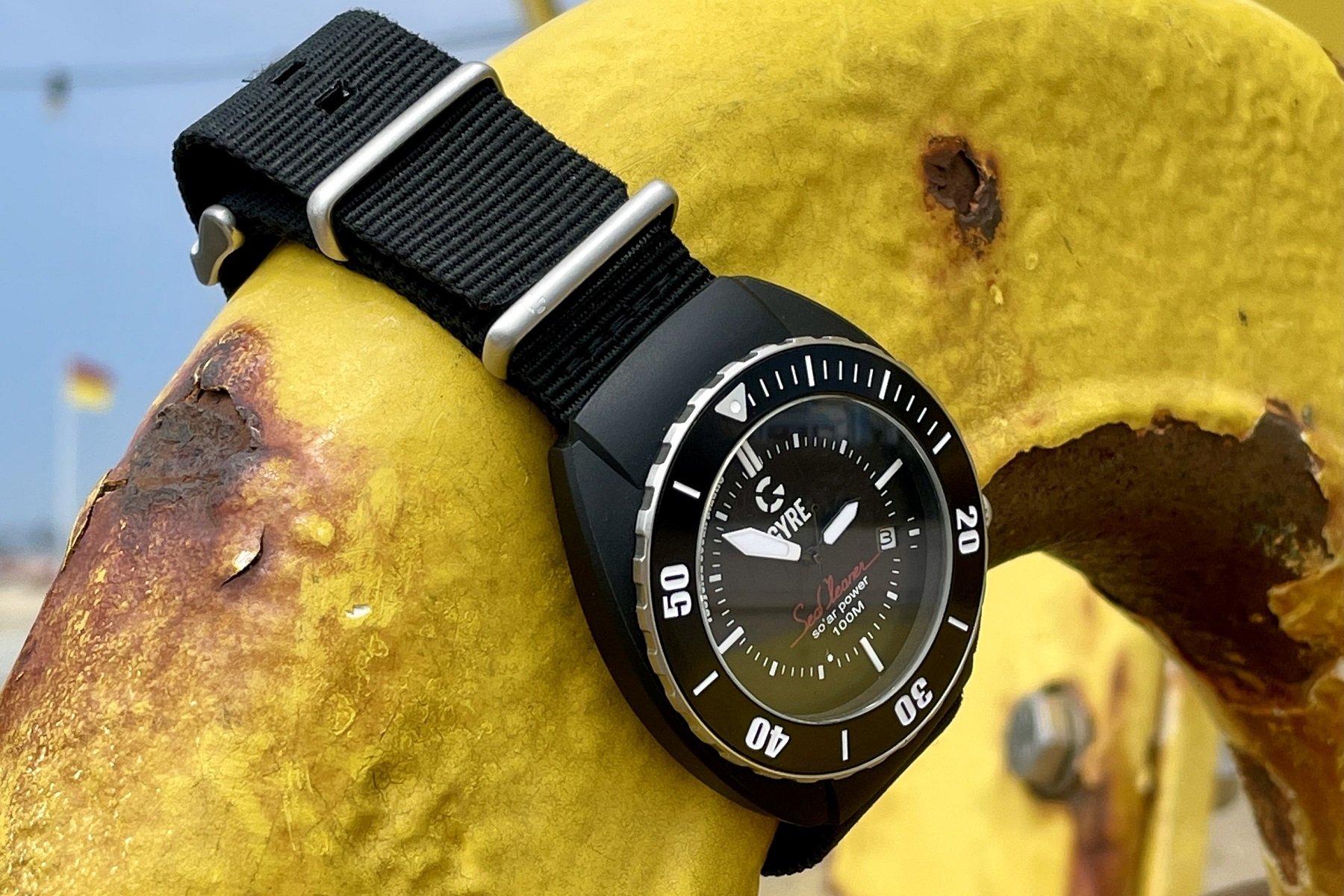 The Gyre SeaCleaner "Red Alert"
The latest Gyre SeaCleaner is the black-and-red "Red Alert". Like the other SeaCleaners, Gyre assembles its watches in the Netherlands. Here, the high-quality Japanese solar movement, which needs three hours in the sun to tell time accurately for six months, finds its place in the case. The Netherlands is also where the watch receives its NATO strap made of plastic bottles. All this leads to a Global Recycle Standard (GRS) certificate. Yes, the Gyre SeaCleaner is the real deal.
The materials Werk and his company use are completely traceable to the source. It starts with local fishermen who collect the fishing nets from the Indian Ocean and deliver them to the recycler. Their efforts are compensated, which benefits the local economy. The nets are also cleaned locally and turned into granulate for making the watch case.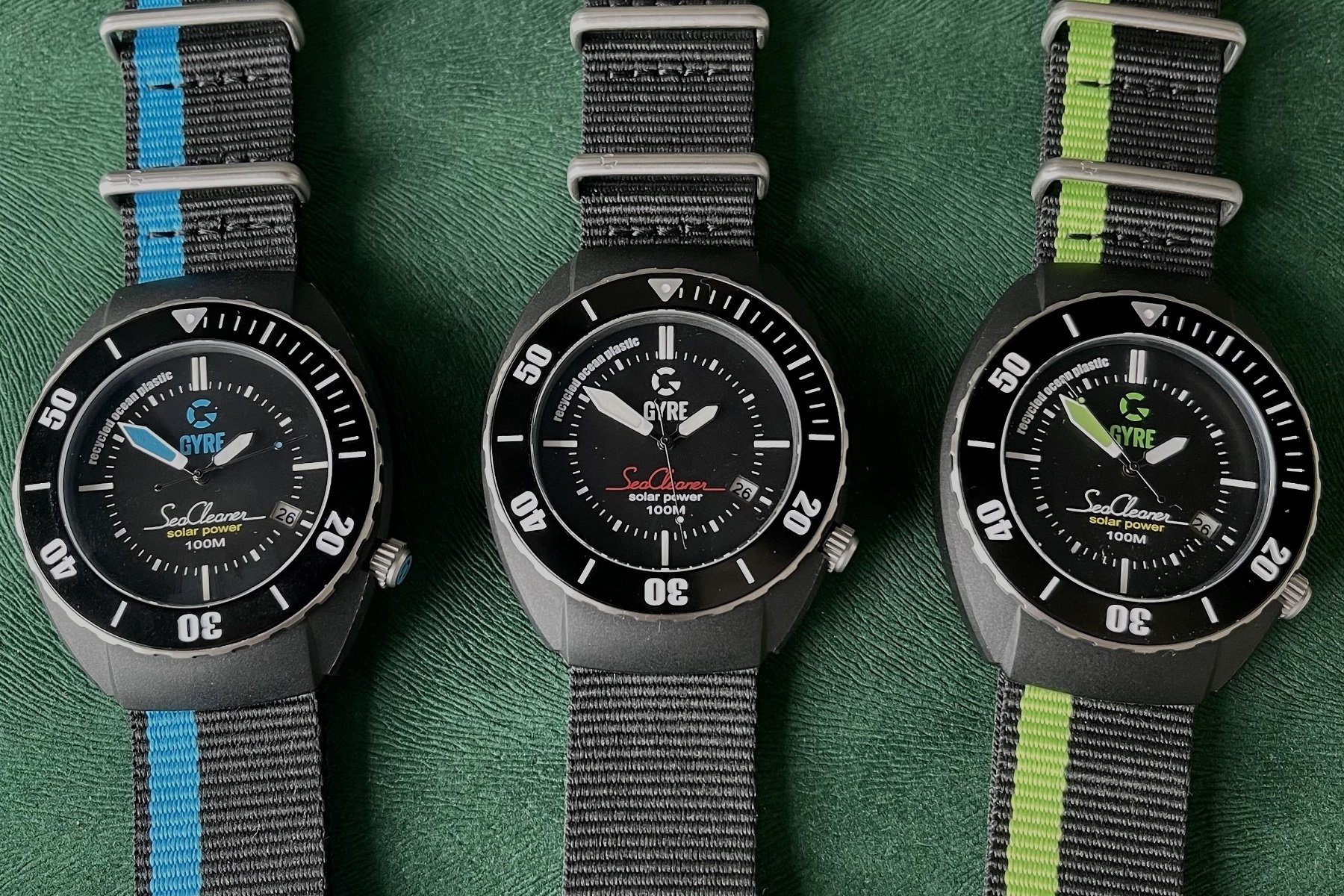 The future of the Gyre SeaCleaner
When I asked about the future of Gyre, Bernard had an immediate answer. "I think the solar-powered movement is great because it forgoes a battery," he explains, "but a mechanical wound movement would be cool as well. In essence, a mechanical watch is incredibly sustainable. You can repair it when it breaks down, and in theory, it could run for many generations. But first things first, the current strap — you can choose between a striped and a full black strap — which is made out of recycled PET bottles. The idea is to also outfit the SeaCleaner with a strap made out of recycled fishing nets. There's more to come, for sure. It takes time to clean up the ocean one watch at a time, you know, but I'm both glad and proud that's what we're doing with every single Gyre."
For more information, please visit the official Gyre website.
Please find and follow me at Lex Stolk • Instagram