Is The H. Moser & Cie. Heritage Dual Time The Watch That Founder Heinrich Would Wear While Traveling?
A hands-on with four central hands, two time zones, a classic case, and a burgundy fume dial
H. Moser & Cie. is all over the place. Literally and figuratively speaking. The brand from Neuhausen am Rheinfall made the Swiss Mad Watch from cheese, the Swiss Alp Watch that made fun of the most popular smartwatch, and made people wonder how a perpetual calendar could work without looking anything like a traditional perpetual calendar; polarizing designs in every aspect. And to literally travel all over the place, the brand now introduces the H. Moser & Cie. Heritage Dual Time.
Until recently, H. Moser & Cie. had the Endeavour Dual Time in its collection. The watch incorporates a second hour hand in red, allowing its wearer to read their home time zone wherever they are. It had a nice gimmick too. The colorful red GMT could be hidden under the hour hand in case the dual time zone function wasn't needed. But that watch is no longer in the collection. Unacceptable, since the company's founder, Heinrich Moser was quite the traveling man. The 22-year-old entrepreneur left his hometown of Schaffhausen in 1827 to embark on a perilous journey that led him to St. Petersburg. He could have used a decent dual-time watch on his journey. It raises the question: If he were alive today, would Heinrich Moser strap on the new H. Moser & Cie. Heritage Dual Time?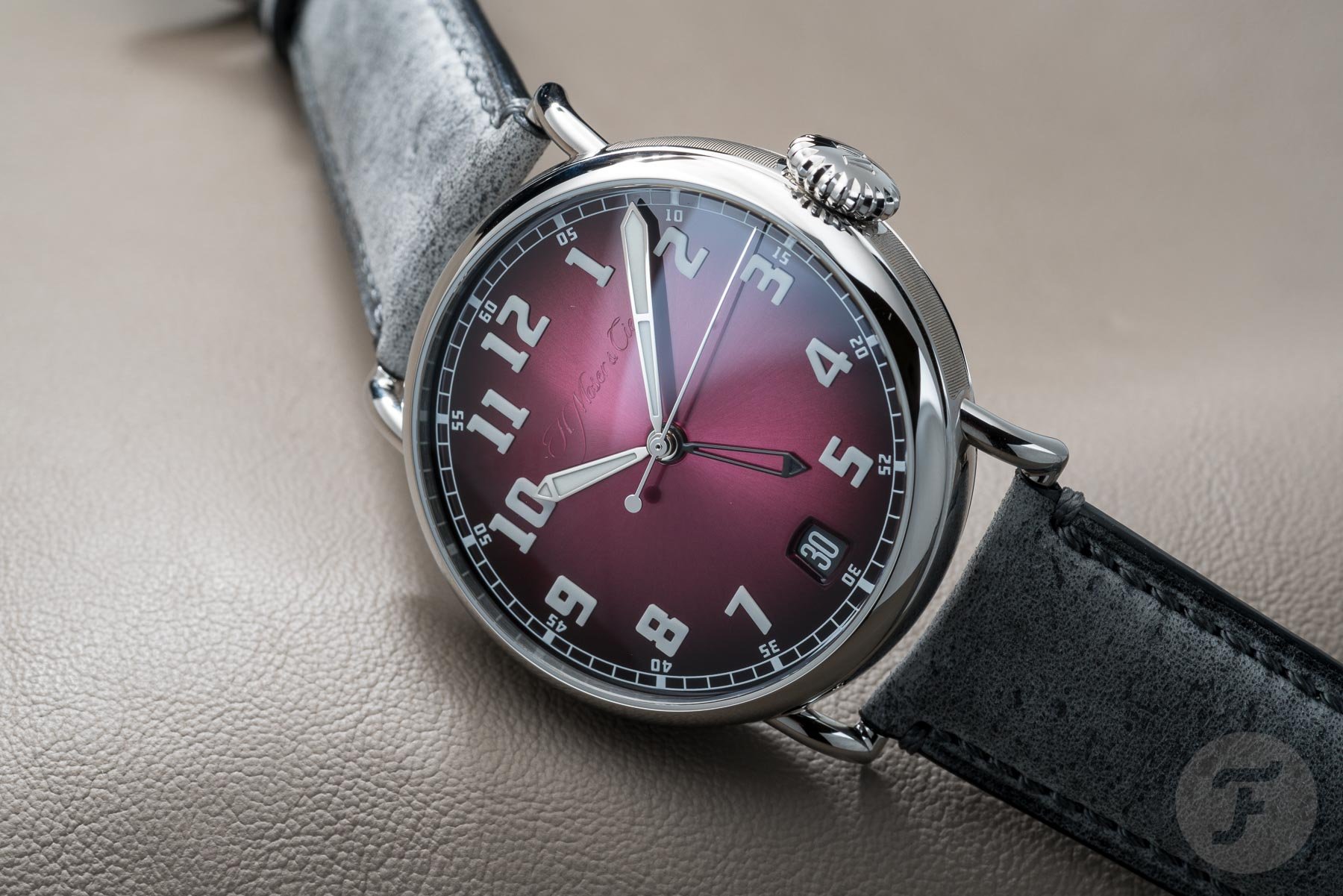 Hands-on with the four-handed H. Moser & Cie. Heritage Dual Time watch
Comparing the Endeavour Dual Time and the Heritage Dual Time (€19,000) reveals that the new travel watch is even more "Moser" than the old one. Meaning, the latest version is even more extracted than the previous. Just like what the brand did to the QP they now did to the GMT. You won't find "disturbing" small seconds or a night/day indicator on the dial. All four hands are mounted centrally, and the dial shows a date a 6 o'clock, a minute track, and large Arabic numerals. A quick glance could fool you into thinking this is the Heritage Centre Seconds. Well, it has central seconds all right, but there's also a neat, gray, almost camouflaged hand for the second time zone on the same axis.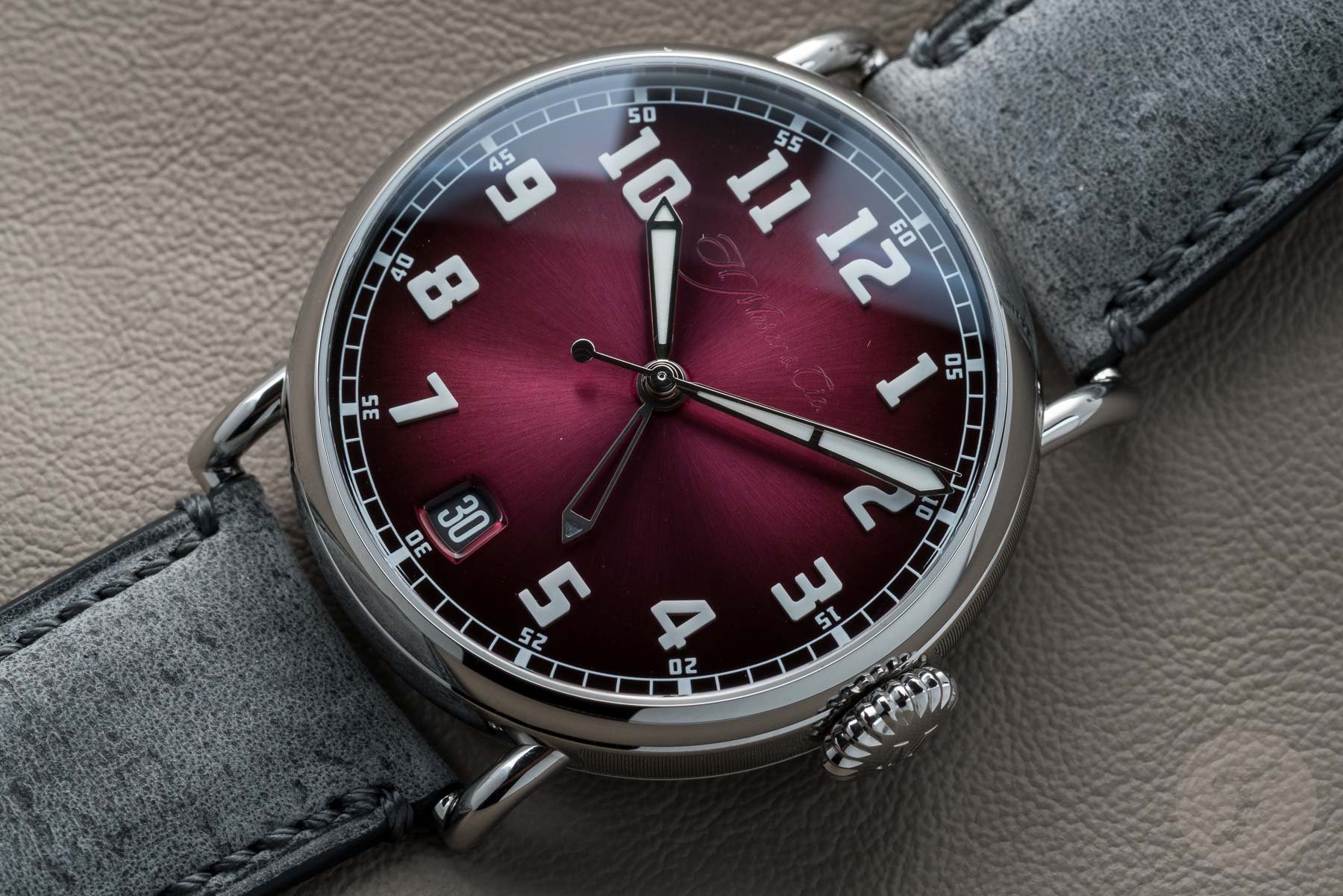 A secret signature…
The design of the Heritage collection starts with a rounded case that stands in the tradition of 19th-century pocket watches. And from there on it starts to show contemporary twists. Like the three-dimensional Globolight Arabic numerals for instance for perfect readability at night. Globolight is a ceramic-based material that can take any shape or color and contains Super-LumiNova.
You might have to look twice for the logo because it's so well blended in …
But also the brand-new Burgundy fumé, sunray dial, which also features the brand logo in transparent lacquer, looks modern. You might have to look twice for the logo because it's so well blended in, it's more like a secret signature. Modern and definitely not playing according to the dominant retro-rules of today, is the railway minute track in contrasting white; no fauxtina here!
Definitely Burgundy
The 42mm × 11.6mm steel Heritage Dual Time has a case shape that is reminiscent of Moser pocket watches and the early 20th-century models on show in the Moser museum in Schaffhausen. Tapered lugs and a large notched crown, together with the contrasting Arabic numerals on the dial, also give it a tool watch kind of appearance. Moser claims this watch is built for adventure, so it's done on purpose. That's also why the strap is made from strong but still supple kudu, a species of African antelope. The gray color sure is modern and maybe even fashionable in combination with the burgundy red dial. A dial you might think from the pictures borders on purple or plum, but it's a very dark red in natural light.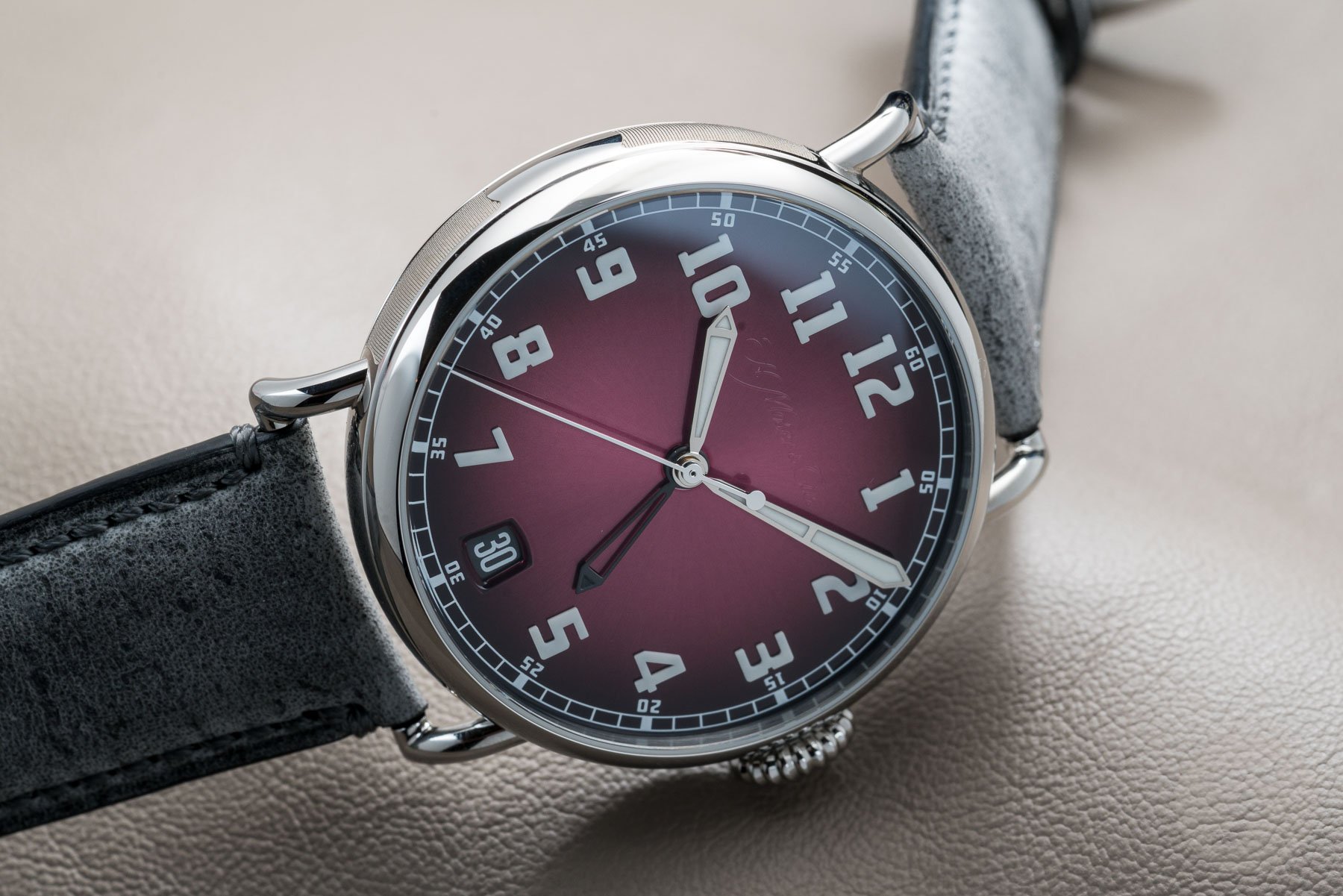 You can still hide the hand
To enjoy an adventure in different time zones, the Heritage Dual Time uses the HMC 809 self-winding, three-day power reserve caliber. You can see it through the sapphire crystal case back. This newly conceived movement is outfitted with a dual time module developed entirely by H. Moser & Cie.
The pursuit of minimalism never stops at "Moser".
The gray central hand indicates the dual time zone and just like the Endeavour Dual Time, this hand can be hidden behind the main hour hand when not in use. The pursuit of minimalism never stops at "Moser". Having a date is quite useful in a travel watch, so that is displayed in a not too prominent, but still practical window at 6 o'clock. For optimal practicality, the date is connected to the dual time zone.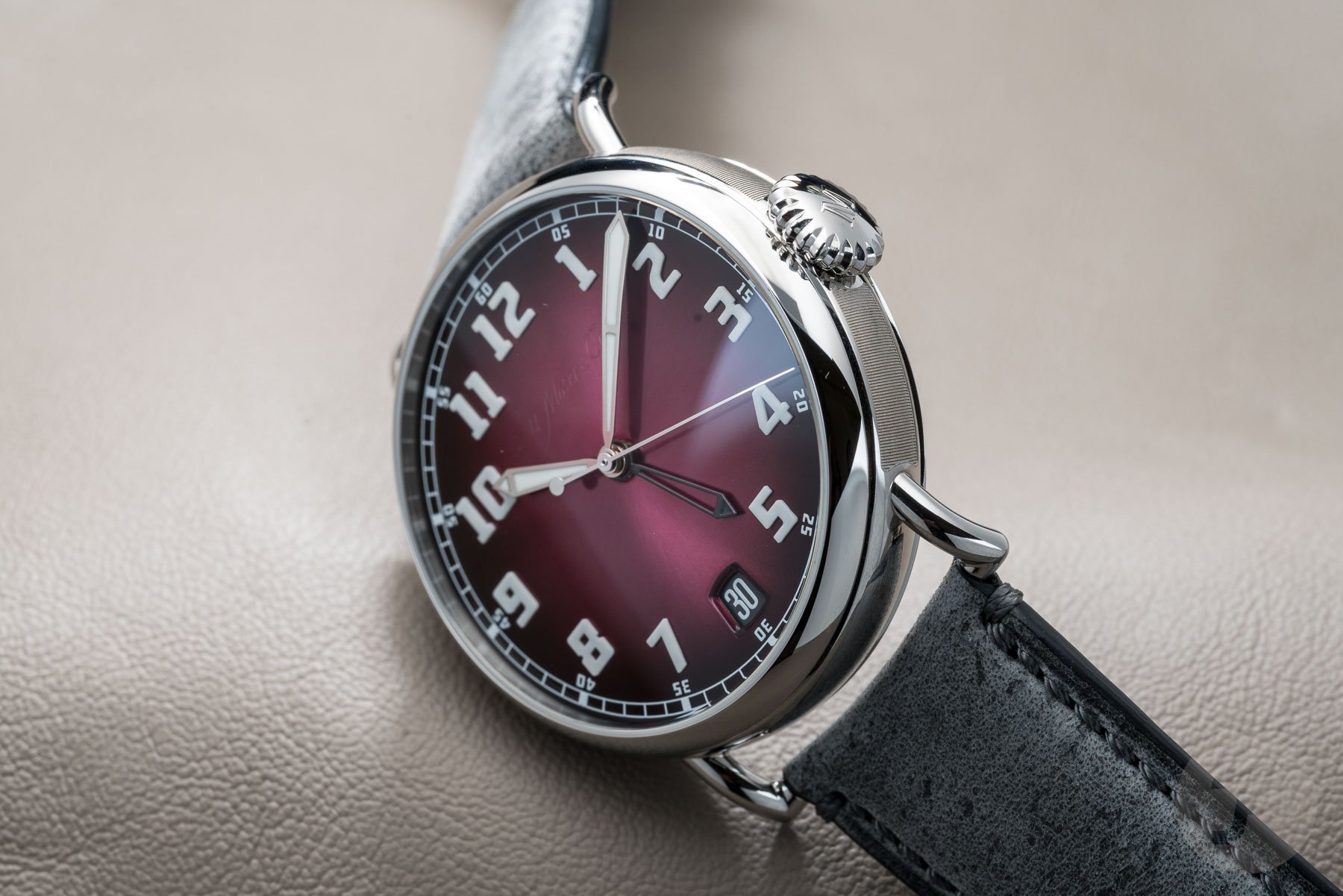 An encounter with the H. Moser & Cie. Heritage Dual Time in Geneva
During the Geneva Watch Days, the Fratello team had the opportunity to see, touch, wear and photograph the H. Moser & Cie. Heritage Dual Time. Aesthetically I can't find any flaws — the dial is warm and vibrant and draws you in and the three-dimensional Arabic numerals, especially in the dark, radiate power and energy. The shape and size of the case paired with the kudu leather strap make the Heritage Dual Time a comfortable companion. But there is one thing I'm missing. And that is something the Endeavour Dual Time did have: an AM/PM indicator. The Endeavour Dual Time had that helpful indication at 12 o'clock. Moser could have countered that with a 24-hour hand and indication, but it didn't.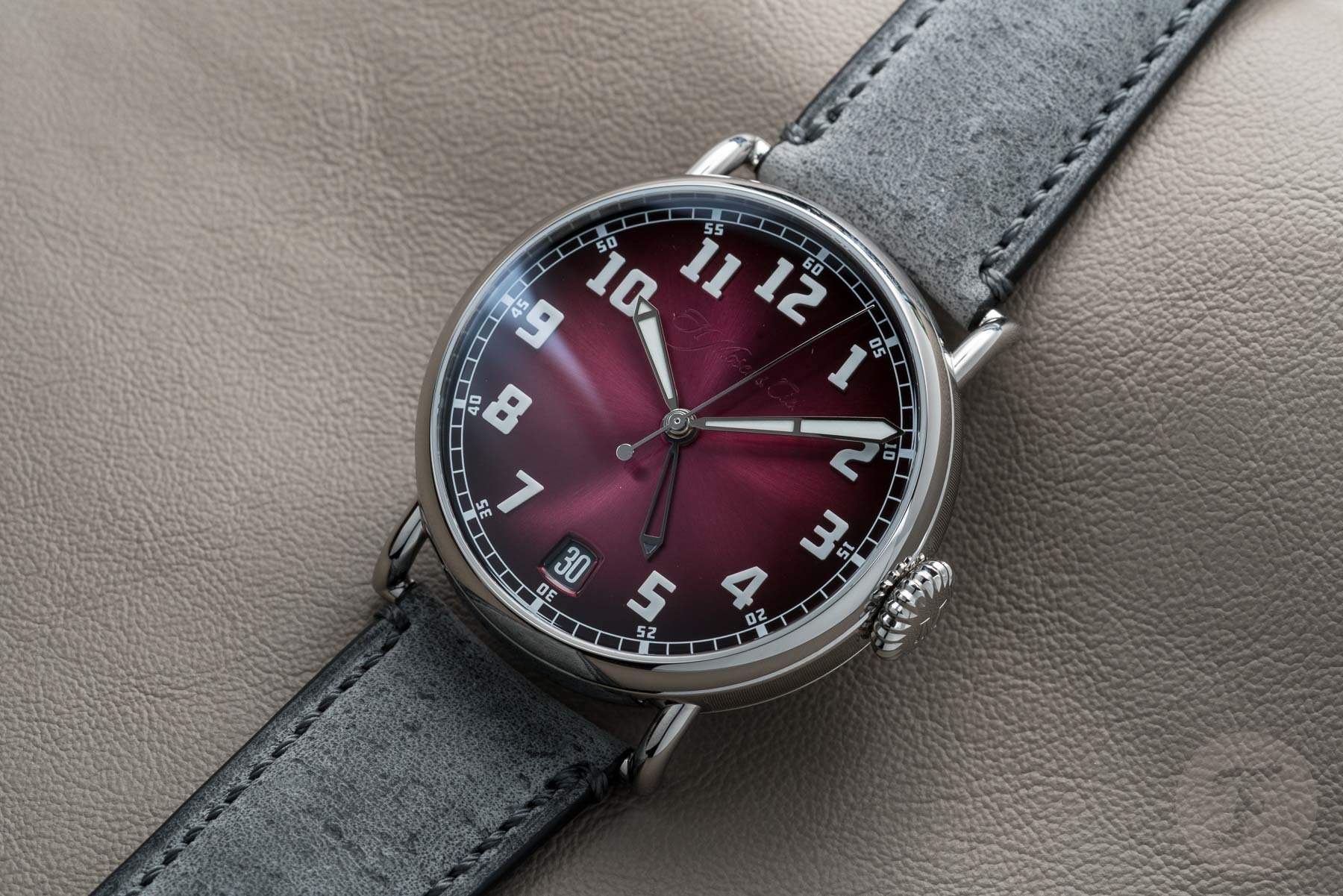 What would Heinrich Moser think?
Is the missing day/night indication in the Heritage Dual Time a mortal sin in a GMT / dual time/travel watch? That's maybe overstating things a bit, but I'm sure I'm not the only one who thinks that missing functionality is a bit of a letdown to an otherwise flawless watch. Maybe the company's pursuit of minimalism has gone a little too far this time. You know what? I think if founder Heinrich Moser would be alive today, and he was traveling to St. Petersburg (GMT +3), he wouldn't miss it. But if he would press on further east and reach Vladivostok (GMT+10), he would miss the AM-PM indicator. Your thoughts?
For more information on the new Heritage Dual Time and other watches from Neuhausen am Rheinfall, please visit the brand's official website.
Please find and follow me at Lex Stolk • Instagram
Watch specifications
Dial
Burgundy fumé with sunburst pattern and H. Moser & Cie. logo in transparent lacquer Globolight numerals; sword-shaped hour and minute hands highlighted with Super-LumiNova; sword-shaped Dual Time hand highlighted with Super-LumiNova, hollow in part, with anthracite gray coating
Case Dimensions
42 × 11.6mm
Case Back
Sapphire crystal
Movement
HMC 809 self-winding in-house caliber; 3-day power reserve; diameter: 32.0 mm; height: 6.0 mm; frequency: 21,600 vibrations/hour; 27 jewels; automatic bidirectional pawl winding system; oscillating weight with engraved H. Moser & Cie. logo.
Functions
Hours and minutes; dual time zone, date; central seconds.