H. Moser & Cie. Unveils Two New Endeavour Vantablack Models — The Dark Side Looks Tempting All Over Again
The Endeavour Centre Seconds Vantablack and Endeavour Tourbillon Concept Vantablack once again show the impact of the most intense black in combination with brilliant red gold
Straight out of the gate, I am a fan of Vantablack. As someone who naturally gravitates towards black in clothing and watches, the intense nature of Vantablack is intriguing and wonderful. And when it comes to watches, the combination of red gold and Vantablack is a winner. H. Moser & Cie. has proudly created some amazing timepieces with Vantablack that had people talking. For Geneva Watch Days 2023, the brand introduces two new timepieces with intense black dials. The first is the Endeavour Centre Seconds Vantablack, and the second is the Endeavour Tourbillon Concept Vantablack. They both come with elegant red gold cases to create a remarkable contrast of modern and classic styles.
H. Moser & Cie. has graced us with a small number of Vantablack releases over time. The unique material made of carbon nanostructures absorbs 99.965% of light, creating a unique overall presence. H. Moser & Cie. compares it to an absence of matter, something we also refer to as a black hole. And after I saw Vantablack for the first time, I understood what the brand meant by that. There is nothing quite like it in the world of watchmaking, so I'm all ears every time Moser announces a new watch with a Vantablack dial.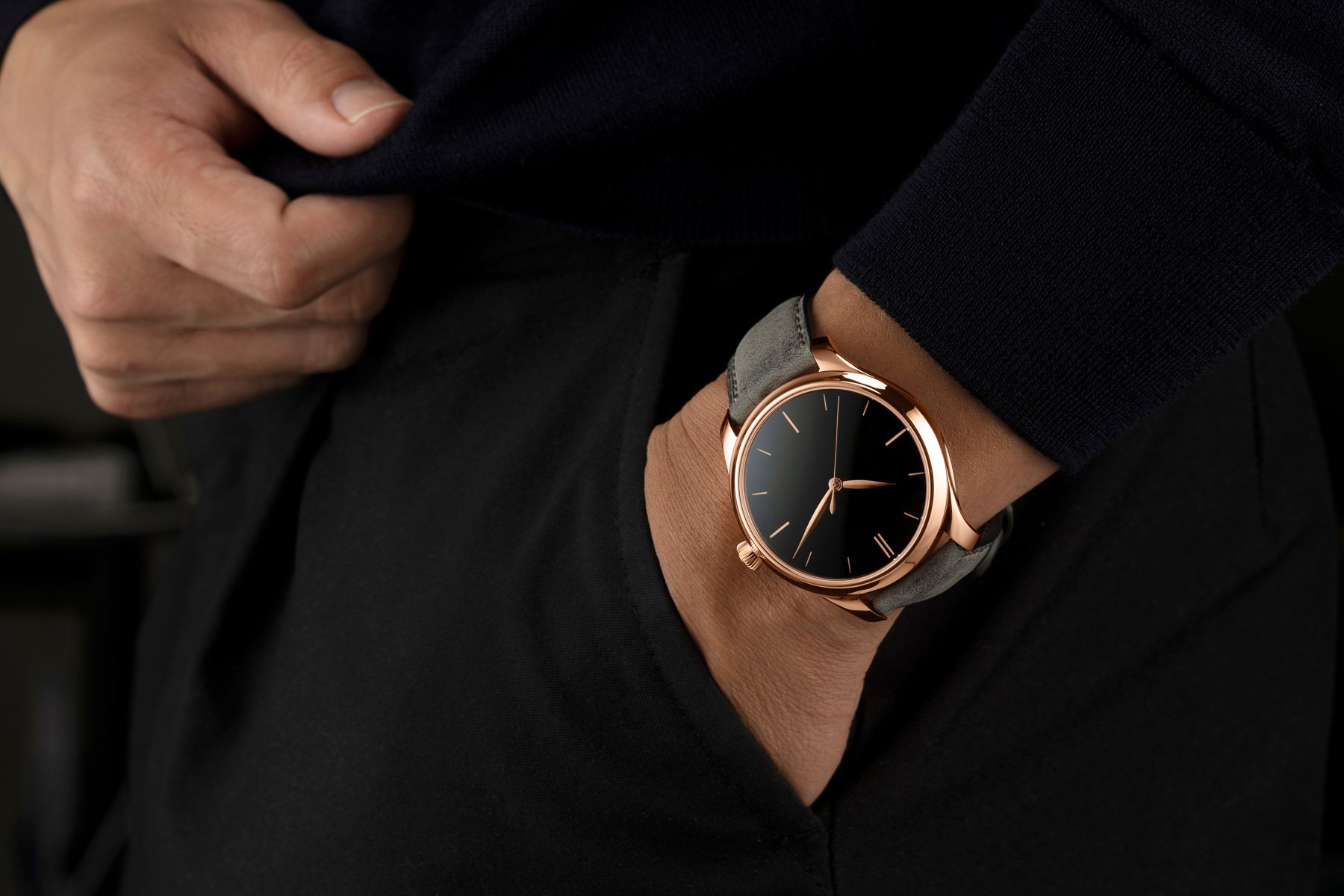 The story of H. Moser & Cie. and Vantablack
As you can imagine, these two new Endeavour models immediately piqued my interest. I might be a fan of Moser's Streamliner series first and foremost, but the Endeavour line has also seen some spectacular releases. One of them was actually a stainless steel Endeavour with a Vantablack dial. So, in essence, the new Endeavour Centre Seconds Vantablack is a follow-up to that first model. The second of the two models is the Endeavour Tourbillon Concept Vantablack. That second new model relates to the Streamliner Tourbillon in red gold that was introduced 12 months ago, and it shares the same HMC 804 movement with a flying tourbillon.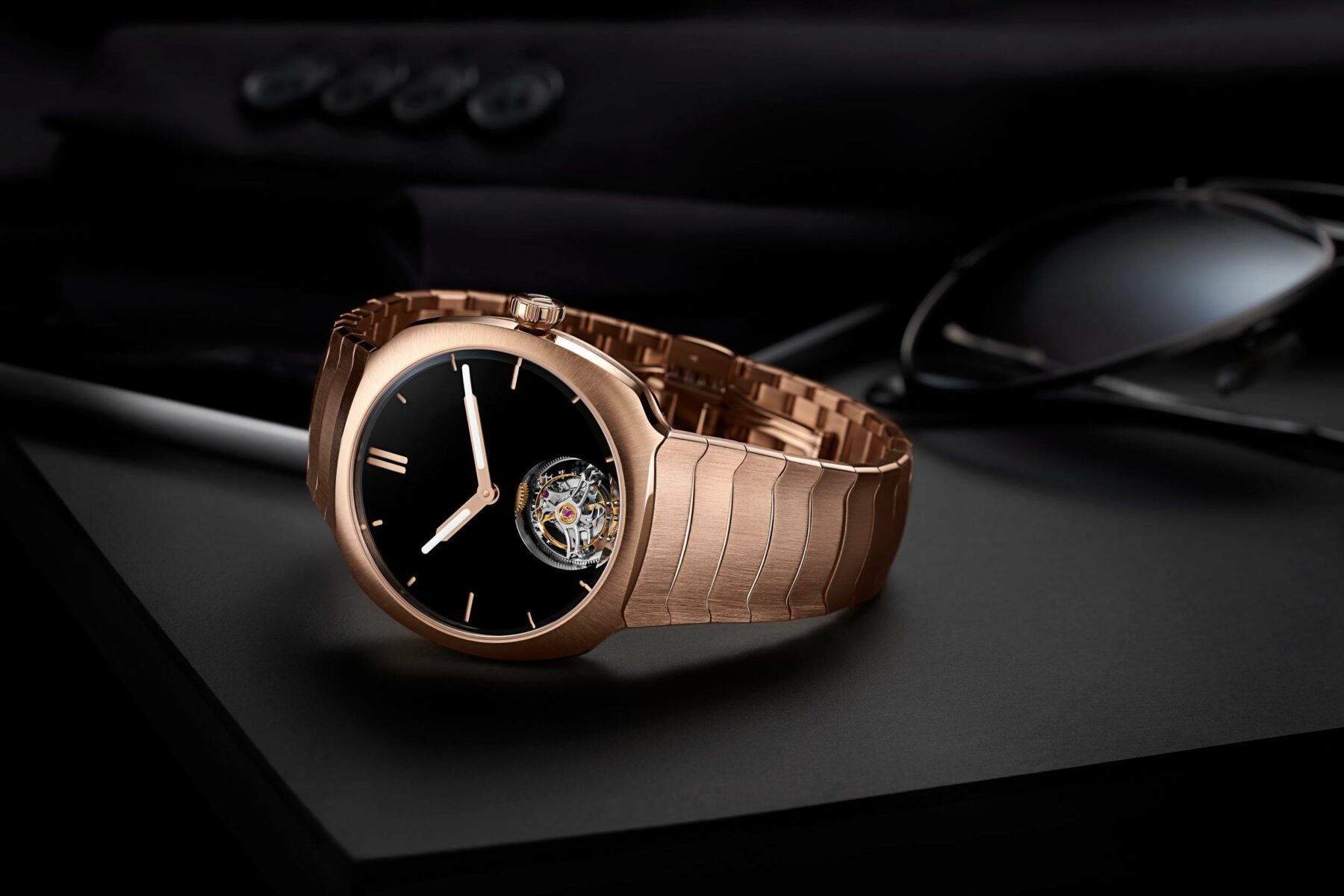 Before we get into the details of the two new pieces, allow me just some thinking out loud about how cool a Streamliner Centre Seconds in stainless steel — or maybe even better, titanium — would be with a Vantablack dial. The Streamliner Centre Seconds with the "smoked salmon" dial that was released last April showed that the Centre Seconds model is the Streamliner at its cleanest and best. I would absolutely love to see a version with a Vantablack dial but with the characteristic minute track worked into the design. But for now, let's get back to the two new models that Moser released.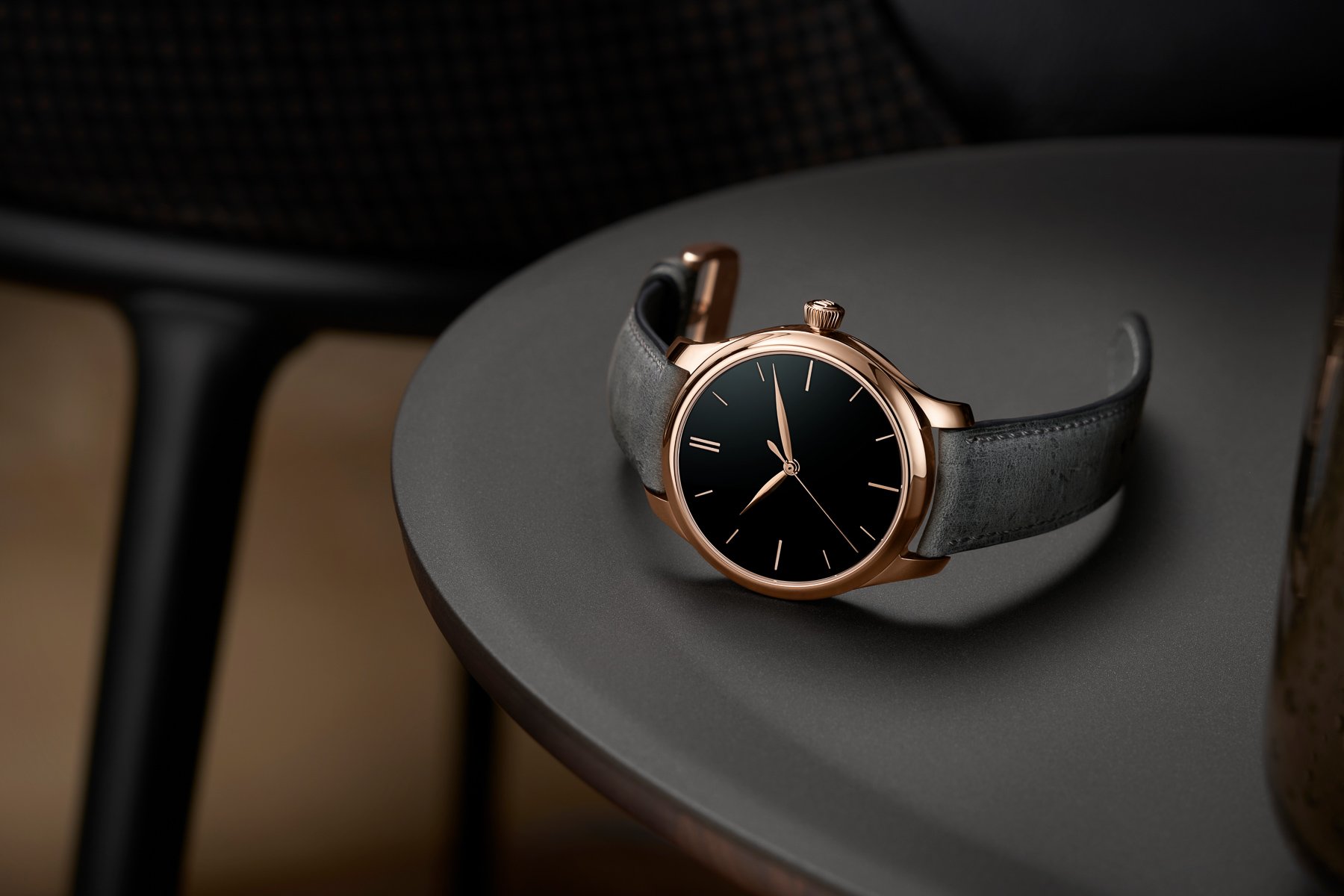 The H. Moser & Cie. Endeavour Centre Seconds Vantablack
Let's begin with the Endeavour Centre Seconds Vantablack. It features the Endeavour line's characteristic 40mm red gold case that is 11.2mm thick. The elegant case shape has proven to be a very good combo with a variety of different dials. Often, the Endeavour dials are fairly minimalist, creating a clash of styles that works very well. But I love that for this second Vantablack Endeavour model, the brand stuck with the rather classic approach of a dial with red gold hour markers. Combined with the leaf-shaped hour and minute hands, it creates a watch that feels very stylish. But the magic ingredient is, of course, the Vantablack dial.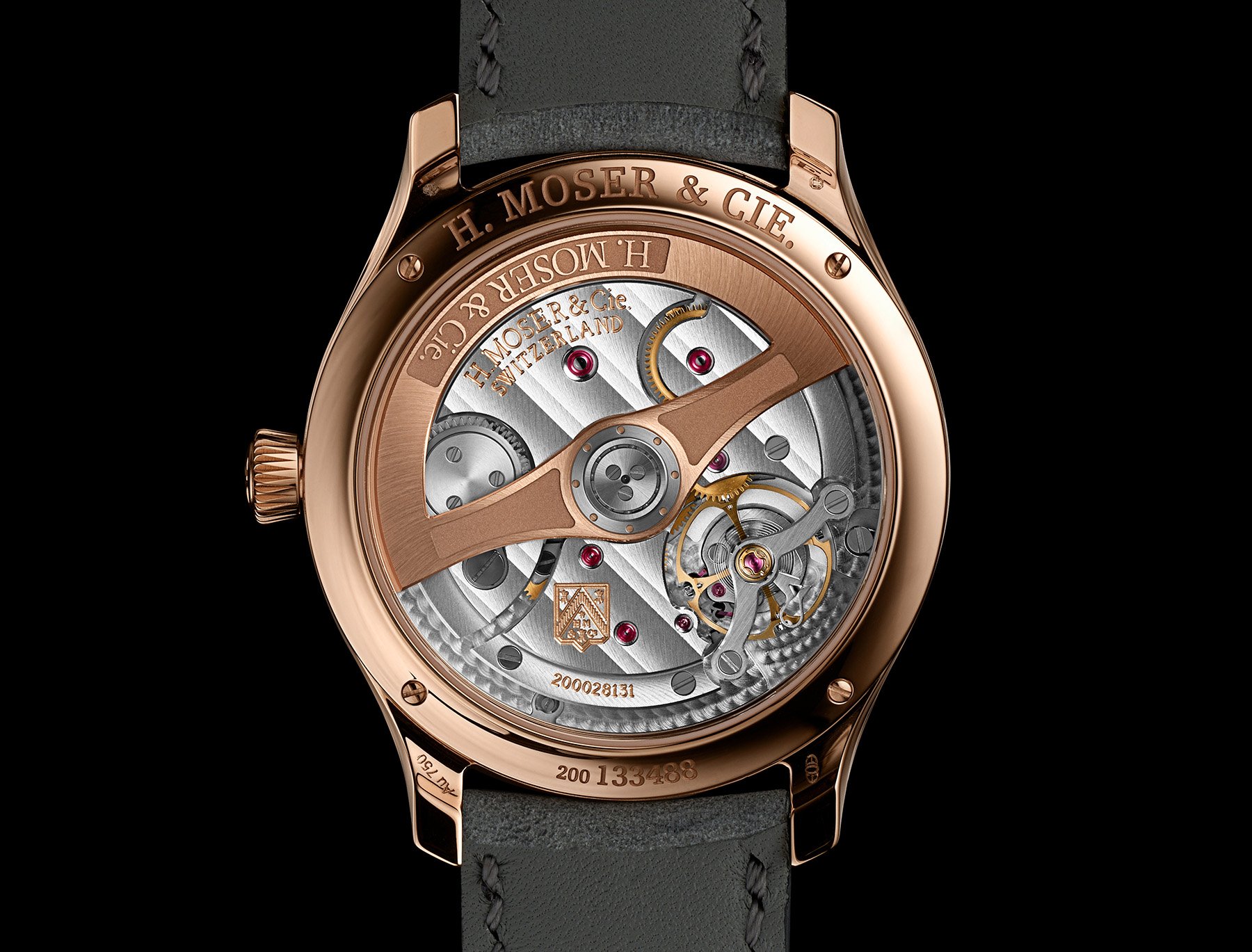 Thor explained in his article about the Streamliner Tourbillon that Vantablack is a coating used in astrophysics for telescopes and by the military. The material is made of juxtaposed carbon nanostructures and absorbs 99.965% of light. As humans, our eyes need reflected light to perceive what we are looking at. But Vantablack tricks us with the appearance of an absence of matter because it absorbs the light. Consequently, it seems like the dial is not there. It's a very weird but wonderful experience that will surely have you always looking at the dial of your watch.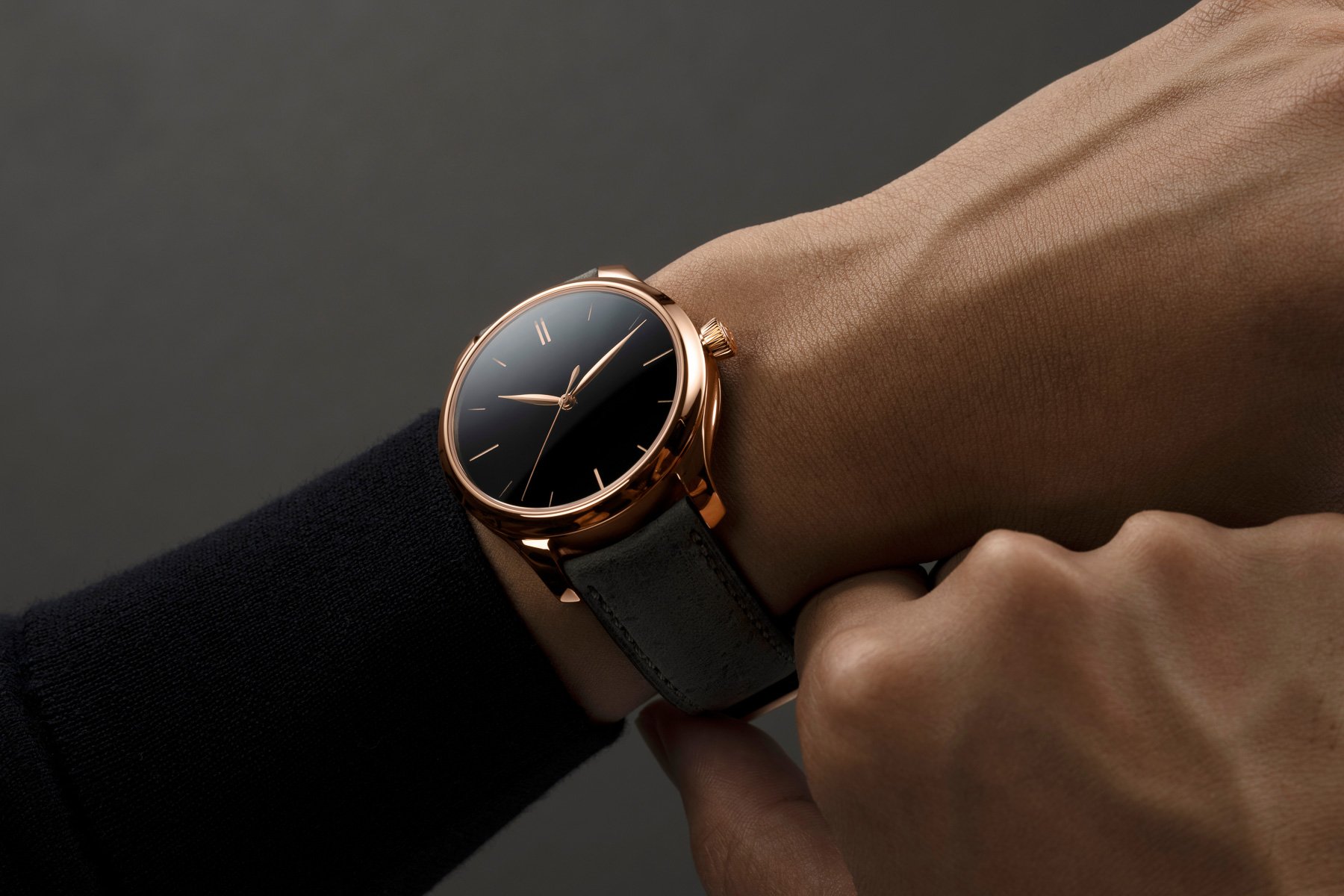 The Endeavour Centre Seconds Vantablack combines modern materials with a classic presence
The combination of red gold and Vantablack creates something special that I prefer over some of the industry's more traditional and iconic dress watches. The red gold case features elegant lines and comes with a red gold crown adorned with the brand's "M" signature. If you turn the watch around, you will get a nice view of the automatic HMC 200 manufacture caliber. The movement operates at 21,600vph, has 27 jewels, and provides three days of power reserve. It's a beautiful movement with a rotor engraved with the H. Moser logo and finished with Moser stripes.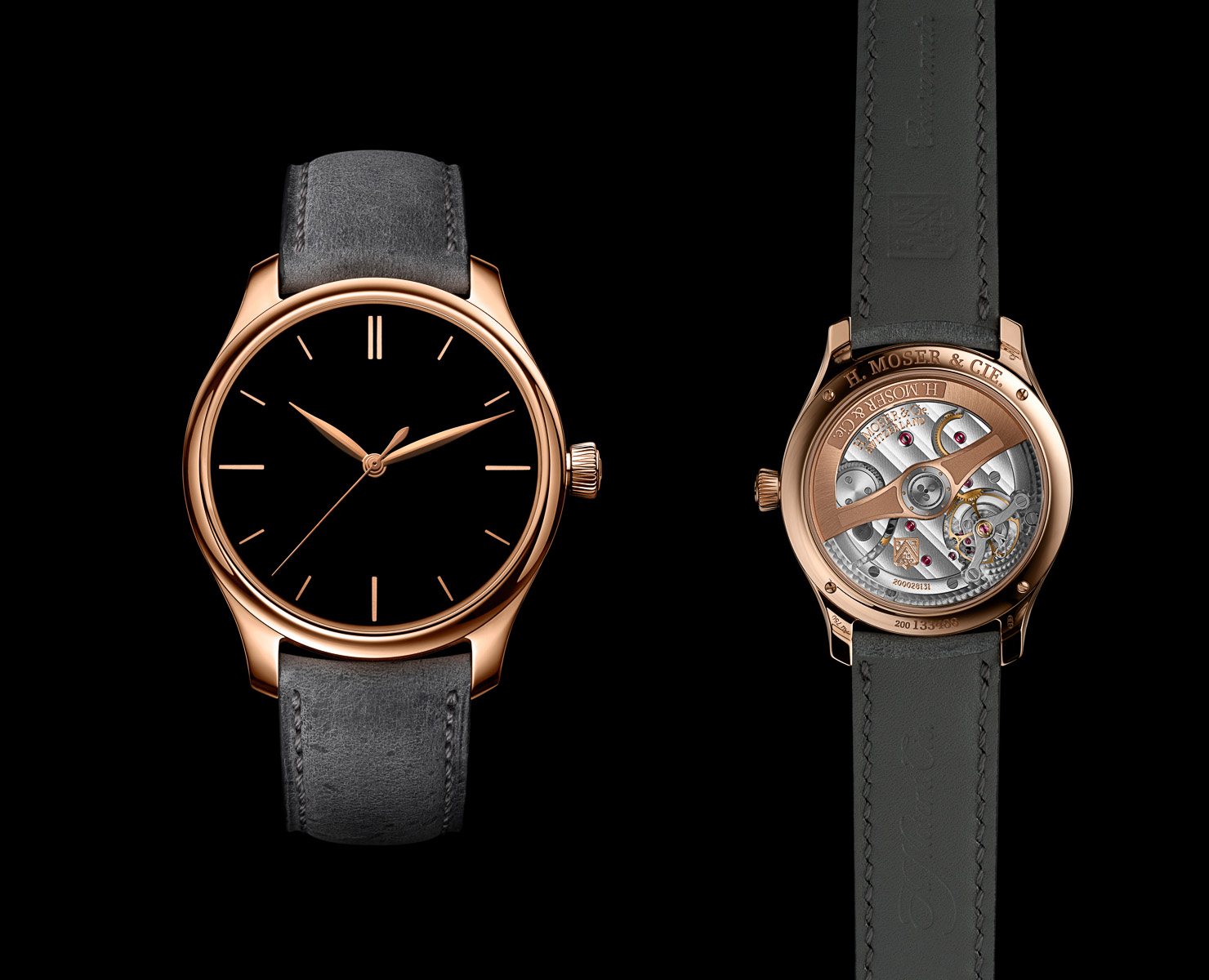 To complete the look, the watch is paired with a gray kudu leather strap with a red gold pin buckle. And what a look it is. I love that Moser chose to use not a black strap but a dark gray one. It makes this new Endeavour Centre Seconds Vantablack look even better. Because the Endeavour series of watches is often created with modern materials, it always offers something new and remarkable. The new Endeavour Centre Seconds Vantablack is probably my new favorite dress watch. The timepiece simply looks stunning, and the classic design with the Vantablack dial is truly special. The watch has a list price of CHF 25,000, making it equally expensive as the previous stainless steel model. I know which one I would choose!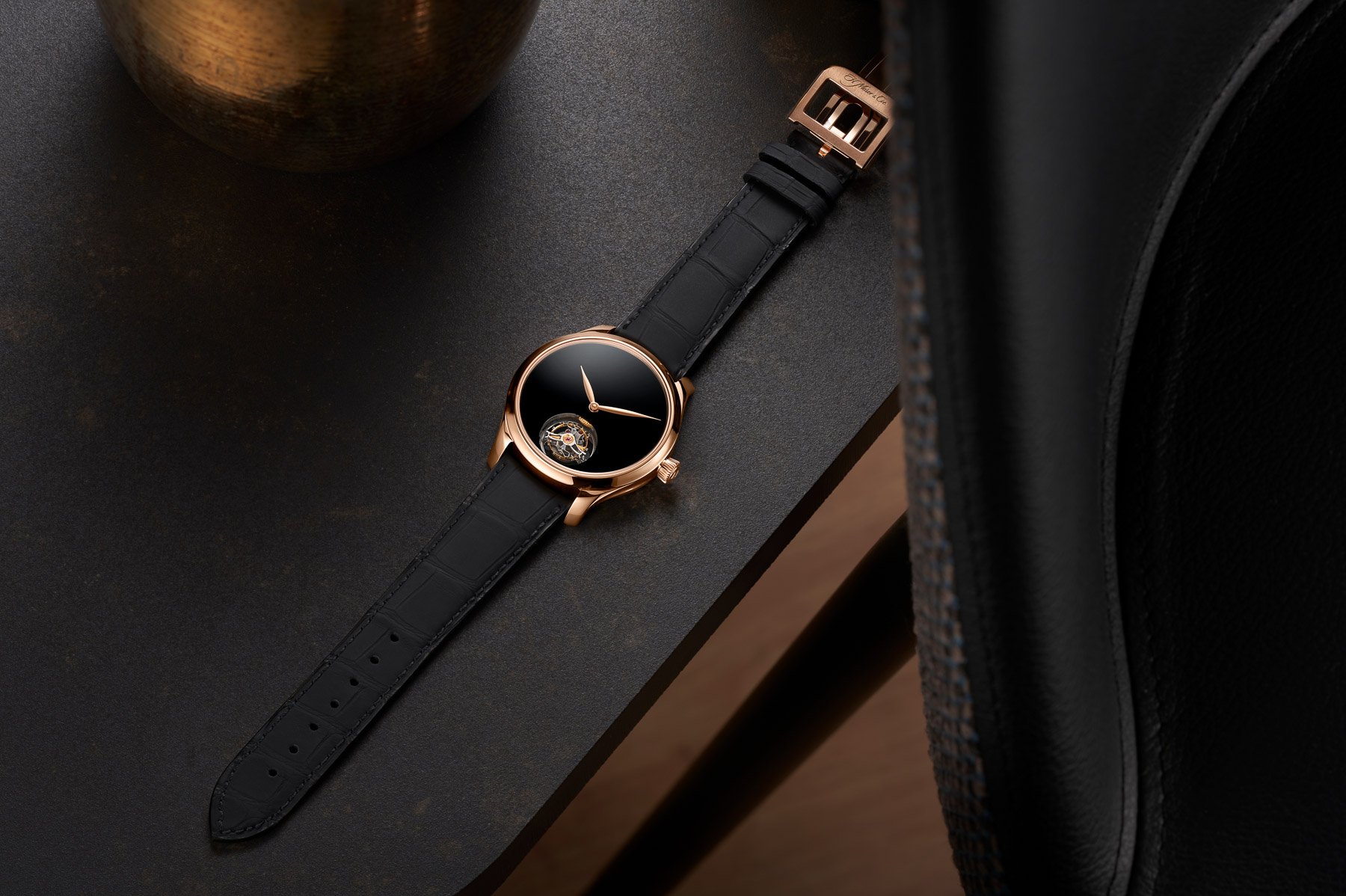 The H. Moser & Cie. Endeavour Tourbillon Concept Vantablack
The second model is the Endeavour Tourbillon Concept Vantablack. As part of Moser's Concept line, it has a minimalist dial design with no logo, other text, or even hour markers. For this Endeavour Tourbillon Concept, we see a fully Vantablack dial that only reveals the 60-second tourbillon with skeletonized bridges that seem to float inside the black hole. The only other elements on the dial — or, more accurately, above it — are the leaf-shaped minute and hour hands. It's a pretty straightforward story, but the sight is quite spectacular.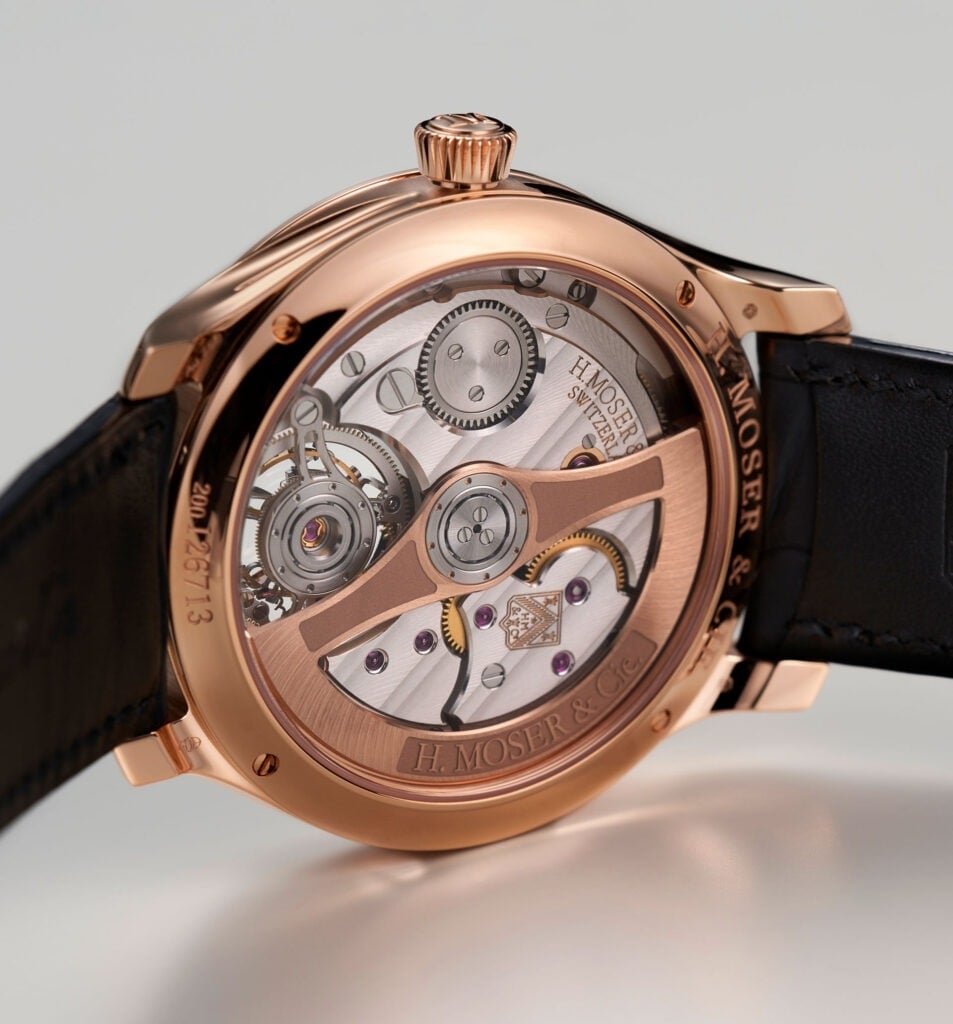 Turn the watch around, and you will see the HMC 804 automatic manufacture caliber that, as I mentioned, also powers the Streamliner Tourbillon. This movement operates at 21,600vph, has 28 jewels, and offers 72 hours of power reserve. It also features an in-house double hairspring to improve isochronism and accuracy. Paired with the watch is a matte black alligator strap and an 18K red gold folding clasp. This strap is in line with the black dial and properly completes the conceptual look of the watch. The retail price for this new Endeavour Tourbillon Concept Vantablack is CHF 75,000. What you get in return is a proper statement piece that will certainly have people talking.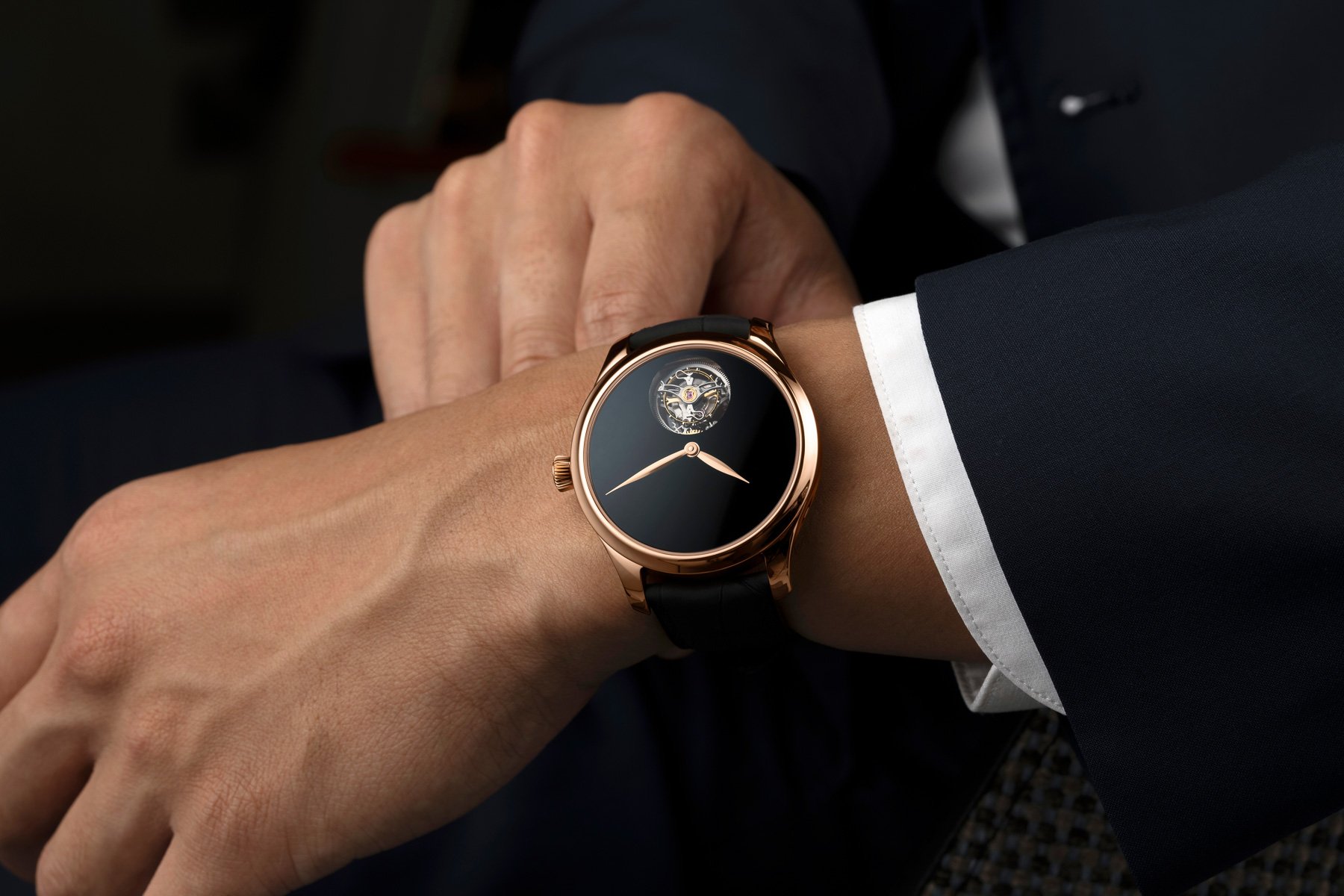 Impressions of the two new Endeavour Vantablack Models
As I said in the beginning, Vantablack might have been around for a while now, but it still is an intriguing material with an absolutely unique look. And H. Moser & Cie. has done a perfect job of keeping the number of releases featuring a Vantablack dial limited. As a result, every model that comes out with a dial made from this material is something special. And with these two new models, I have the same feelings of excitement as with previous ones. But even better, I think the Endeavour Centre Seconds Vantablack is probably my favorite Moser equipped with a Vantablack dial.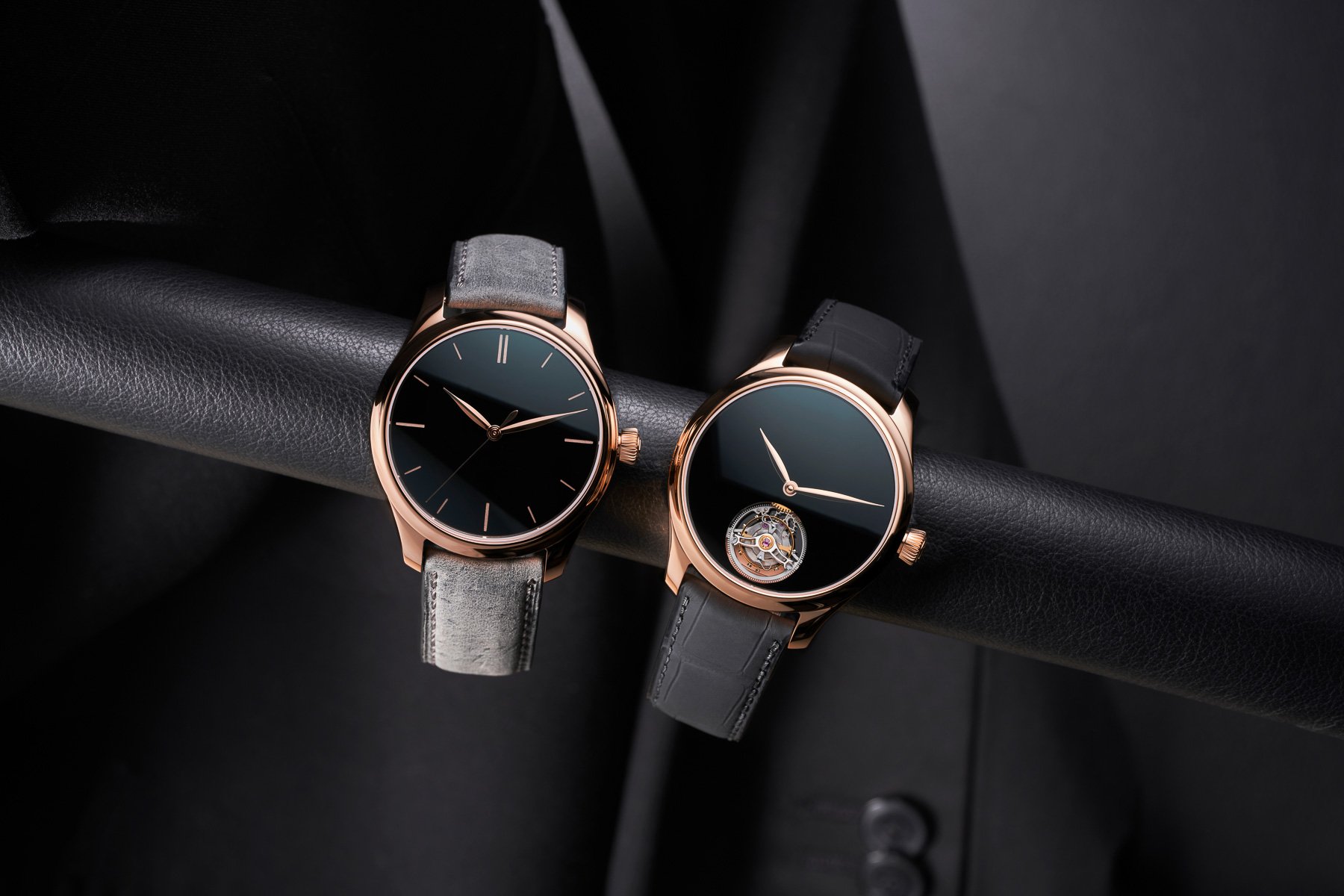 I  prefer the Streamliner models over the Endeavour line, but there is something special about this new Endeavour. I do not care much about tourbillons. While I think they are a great display of watchmaking skills, visually, they often break up the clean design of a dial. And as a design fan, I find that often hurts more than it helps. That's why I greatly appreciate Laurent Ferrier's Grand Sport Tourbillon so much.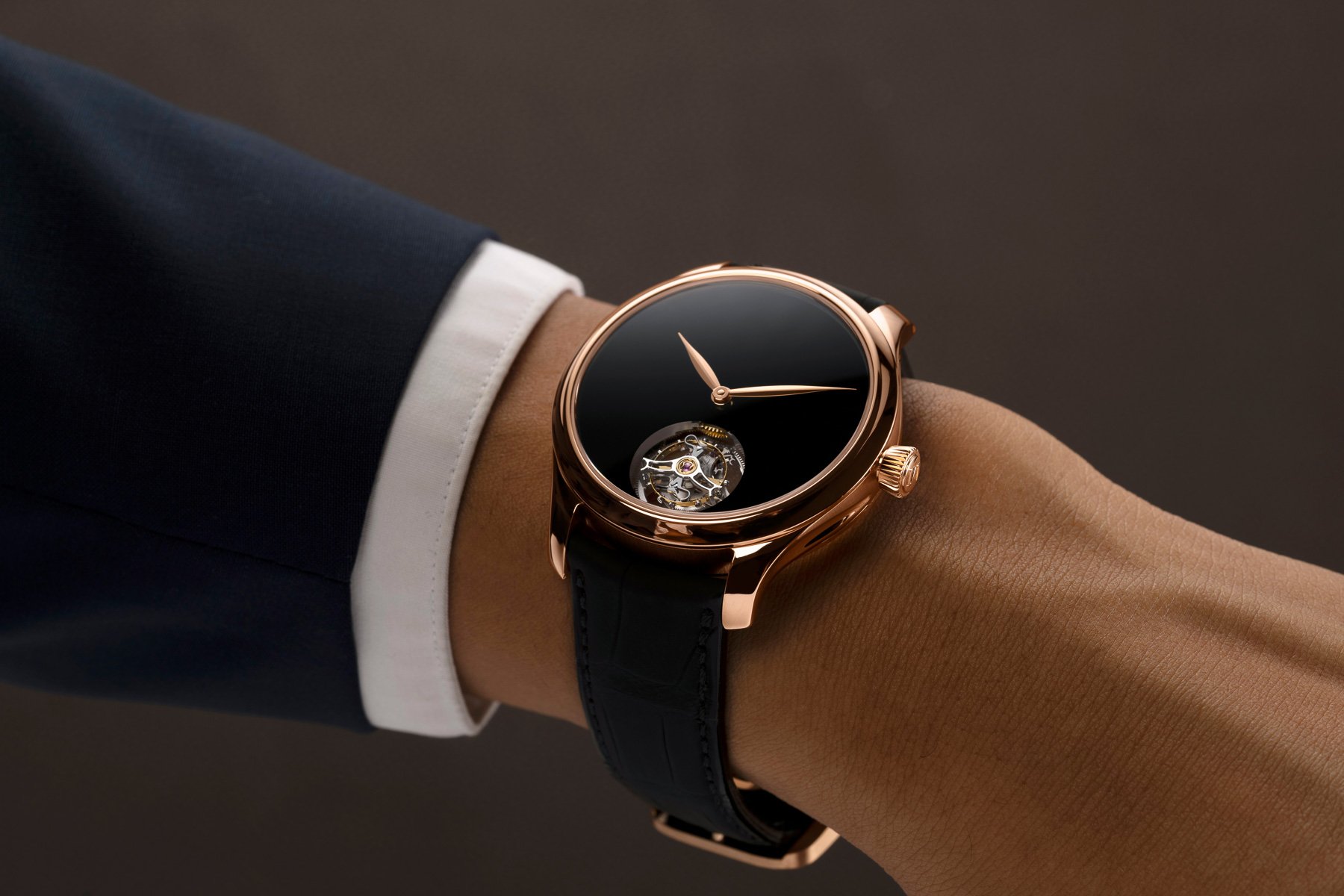 While Moser has done a clever thing by giving the tourbillon the spotlight of the minimalist dial, I adore the clean looks of the Centre Second model. It is the perfect dress watch for me that combines beautifully contrasting materials and classic looks. As a result, the watch is a pretty powerful statement in its relatively understated presence. The Endeavour Concept Tourbillon Vantablack turns out to be the less surprising but equally impressive statement.
For more information, visit the official H. Moser & Cie. website. In the meantime, let us know what your thoughts are on these two new Endeavour Vantablack models.