Monday Morning Mix-Up Featuring A Hamilton Khaki Navy Frogman Auto On New Fratello Hemp NATO Straps
Also in the mix, the Bravur Grand Tour La Corsa Rosa III and two new brand CEOs
For my wrist, the 46mm Khaki Navy Frogman Auto is too big, and for my taste, it's too much. The 41mm version, on the other hand, is the kind of watch you want to take with you on a hike or a day at the beach while doing active things. It's not a watch for the beach club, really, but more for kitesurfing. One great thing about this rugged Hamilton is that you can customize it to your taste with a 20mm-wide strap of your choice. So to tweak the green-dial Hamilton Khaki Navy Frogman Auto, I took a couple of new Fratello NATO straps that our shop manager Laurits had lying around on his desk. With this watch on the wrist, I'll also bring you news on the Bravur Grand Tour La Corsa Rosa III and two new watch brand CEOs.
What I like best about the newest Hamilton Khaki Navy Frogman Auto (€1,295) is the combination of size and nerdiness. The 41 × 13.09mm case will fit most wrists. And because of the watch's design with its very prominent crown protection and mostly sandblasted finishing, it has a pro presence. It looks like an instrument should look, like a sturdy time tool that can take a beating. And those looks are slightly geeky and nerdy. Yes, Hamilton built Frogman watches for US Navy combat divers, but the vast majority of current wearers of a Frogman only dive into the pool. With the watch on the wrist, at least you feel like a can-do-all special operative. But maybe you don't like the black tactical rubber strap it comes on. Although our own Mike liked it, you could find it a bit too crude and not stylish enough. Fratello to the rescue.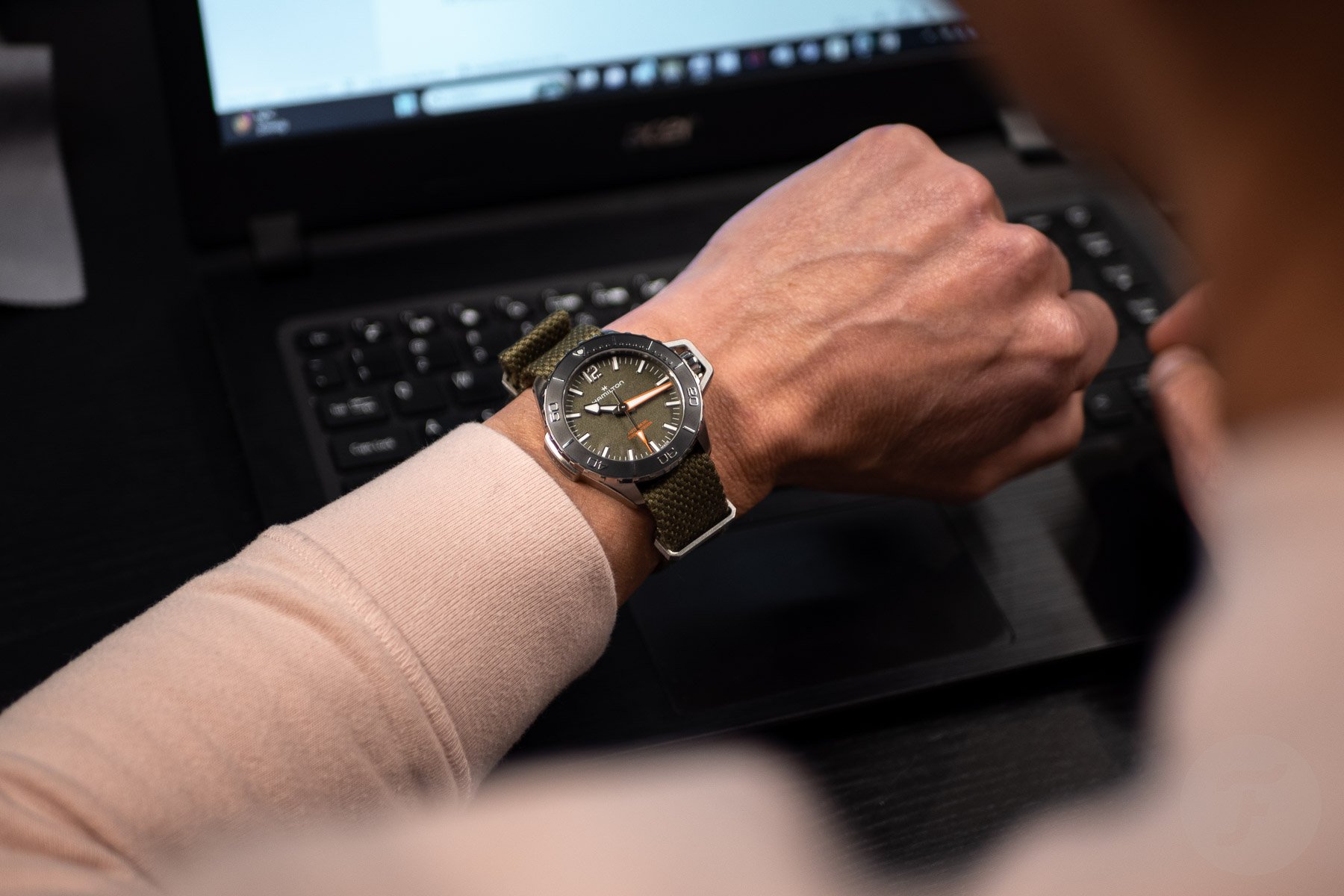 A Hamilton Khaki Navy Frogman Auto on a couple of new Fratello Hemp NATO straps
As I said, I kind of like the over-the-top pro look of the Hamilton Frogman. It's water resistant to 300 meters, there's a notched unidirectional diving bezel that offers a lot of grip, and the bezel also shows numerals and markings in relief and a lume pip. The new khaki-green version has a dial with a granular texture, and as you would expect, there's Super-LumiNova all over the place. And for your information, the split Arabic numeral 12 is a military thing. The best things on the dial, however, are the large hands that show an orange outline. Orange and khaki go very well together while being very functional at the same time.
Anyway, back to the strap. If you want to add some style to this functional instrument, outfitting it with a very soft NATO strap from the Fratello Shop could be the way to go. These straps, which should be available by the end of this month, come in a couple of colors that fit the Frogman well. And because they're made from soft hemp, they're also very comfortable. The straps soften the look a bit, but they fit the watch's origins.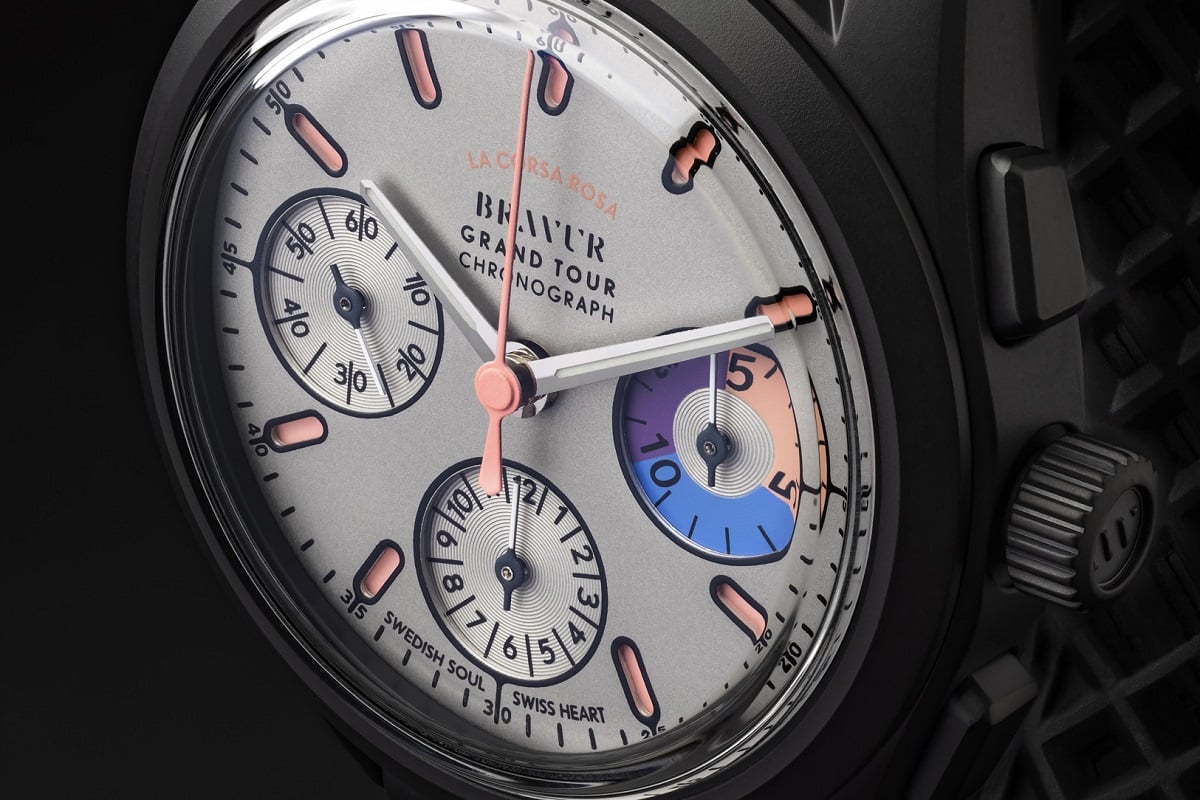 The Bravur Grand Tour La Corsa Rosa III is pretty in pink details
Last Saturday marked the start of the Giro d'Italia, aka La Corsa Rosa, a three-week stage race through Italy. The Bravur Grand Tour is a 38.2mm chronograph that honors one of three Grand Tours, the world's biggest and most prestigious bike races, with designs and colors inspired by the corresponding race. For La Vuelta, there's red, while the Tour de France watch shows streaks of yellow. The Giro watch in black ceramic-coated steel does indeed have touches of pink, the color of the leader's jersey. But along with pink, there are also purple and blue details as a reference to the King of The Mountains and the Sprinters jerseys.
Another nod to cycling culture can be found in the sub-dial. It's the upside-down number 13. Bike racers are a superstitious lot, and when they're dealt the number 13, they pin it on upside down to ward off bad luck. In the picture above, you can see Belgian rider Lawrence Naesen wearing the automatic Sellita SW511-powered La Corsa Rosa III chronograph on a sweat- and waterproof FKM rubber strap.
The Bravur Grand Tour La Corsa Rosa III is built by hand and tested in Båstad, Sweden. It has a price of US$2,590 / €2,397.95.
New CEOs for Bremont and Christiaan van der Klaauw — Davide Cerrato and Pim Koeslag
British brand Bremont recently appointed Davide Cerrato as its new CEO. He's the man who brought you the Tudor Black Bay. Before that, he worked at Panerai, and later at Montblanc and HYT. Bremont is a brand with a plan. Hedge fund manager Bill Ackman and Hellcat Acquisitions LP recently invested US$59 million in Bremont. Appointing a new CEO to help spend the investment wisely yet ambitiously is part of the strategy. With its manufacturing facility in Henley-on-Thames called "The Wing" after its looks, Bremont is ready to fly high, and Cerrato will set the course. What can we expect? Well, Cerrato knows retro inside out. But he's also fond of futuristic design, and when he creates watches, everything is meticulously researched and executed. What do you think is the right course for Bremont to take? Please share your thoughts below.
Koeslag becoming CVDK's CEO was written in the stars
Dutch brand Christiaan van der Klaauw also has a new CEO. It's Pim Koeslag. And that hardly comes as a surprise since he already acquired a majority stake in the brand. Christiaan van der Klaauw started back in 1974 and became renowned for its astronomical watches and clocks. Its name giver retired in 2009, after which Daniël and Maria Reintjes took over the company. Koeslag, who was responsible for the movement development at Frederique Constant and also served as CEO for Ateliers deMonaco, has been with CVDK since June 2022, and now he's taking full control of the operation.
If you want to check out the atelier of the astronomical watchmaker and maybe even see CEO and master watchmaker Koeslag at work, it's possible. The brand occupies a space in a former munition storage facility that looks way more picturesque than it sounds. This seven-strong operation is situated in Naarden, not too far from Amsterdam, and as of June 1st, it will be open to the public. You do have to make a reservation, though. Check out the brand's website for more information and to make an appointment.
Find and follow me at Lex Stolk • Instagram.