The 41mm Hamilton Khaki Navy Frogman Auto Is A Surprisingly Sweet Watch
Hamilton creates a watch that Seiko and Citizen fans should love
If seeing is believing, then chalk one up for the Hamilton Khaki Navy Frogman Auto. This is a watch that, based on pictures alone, wouldn't normally speak to me. In person, though, this just might be one of my favorite sneaky releases of the year.
It was way back in 2020 that I wrote a guide to the affordable Swatch Group divers. Watches from the massive company are obviously popular with everyday buyers, but I often think they're overlooked by snooty watch-loving types. Whether we're talking Certina, Mido, Tissot, or Hamilton, most of the models have an 80-hour power reserve along with a slew of sizes and colors. Plus, prices tend to hover around €1,200, which feels pretty fair. No, we watch people like to seek out the weird stuff. We like limited models and also like to complain when a watch is out of stock. For once, let's celebrate widely available dive watches (not from Seiko). But if weird is your thing, maybe the 41mm Hamilton Khaki Navy Frogman will fit the bill.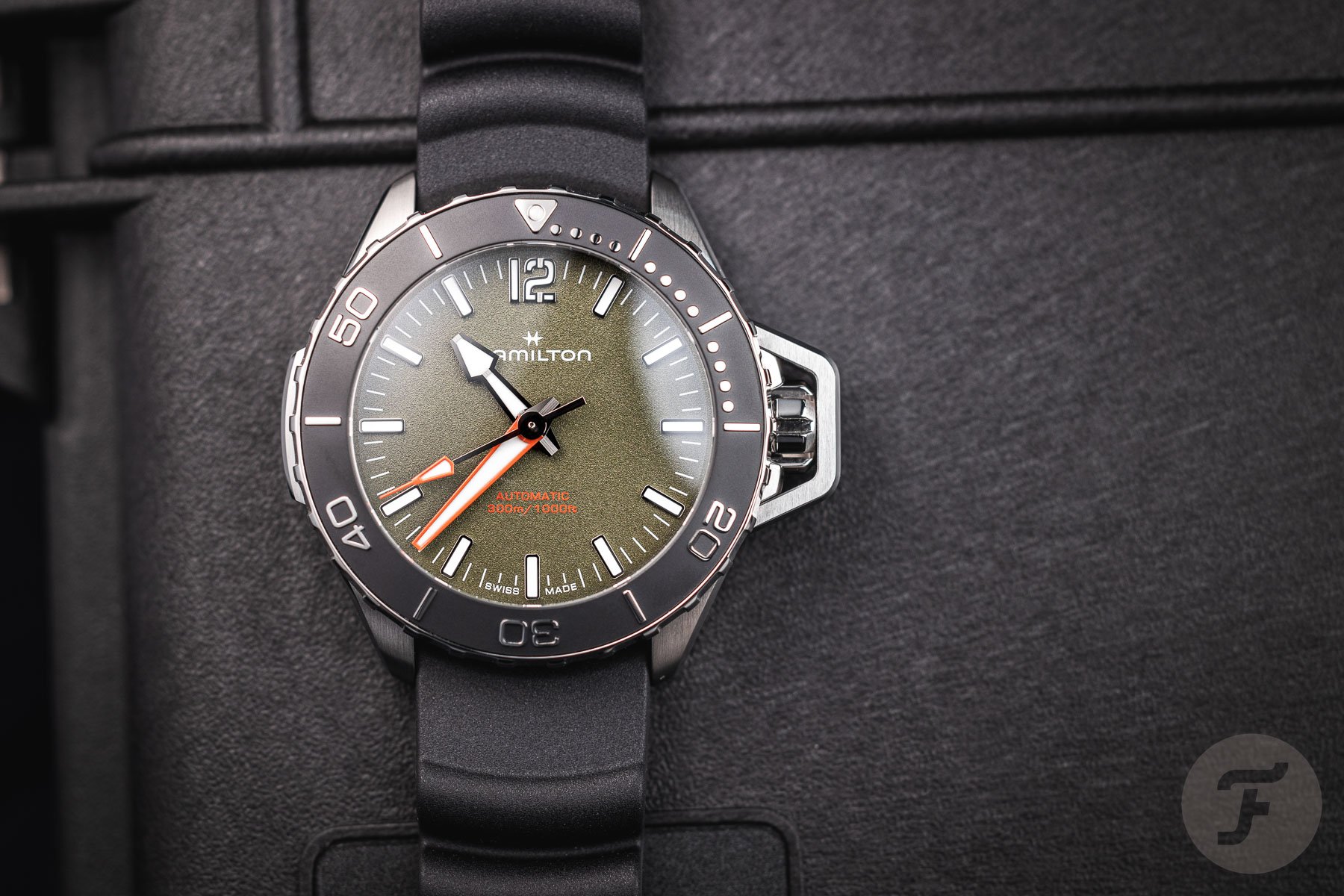 Weird divers — a fine line between funky and cheesy
Before we dig into Khaki Navy Frogman Auto, I'll spend a moment on funky dive watches. If you're reading this, there's a half-decent chance that you recall the early 2000s. During this period, Panerai loomed (extra) large, and it felt like others were doing their best to add some sort of crown enclosure to their watches. Brands like Anonimo, Ball, and others gained a lot of popularity during this time. Like all trends, though, it burned itself out, and we now look back at this era and find it a bit loud and obnoxious. That's not totally fair, but it is what it is. Therefore, when I see a watch like today's Hamilton, my first impression is of a passé diver from yesteryear. However, that impression is dead wrong.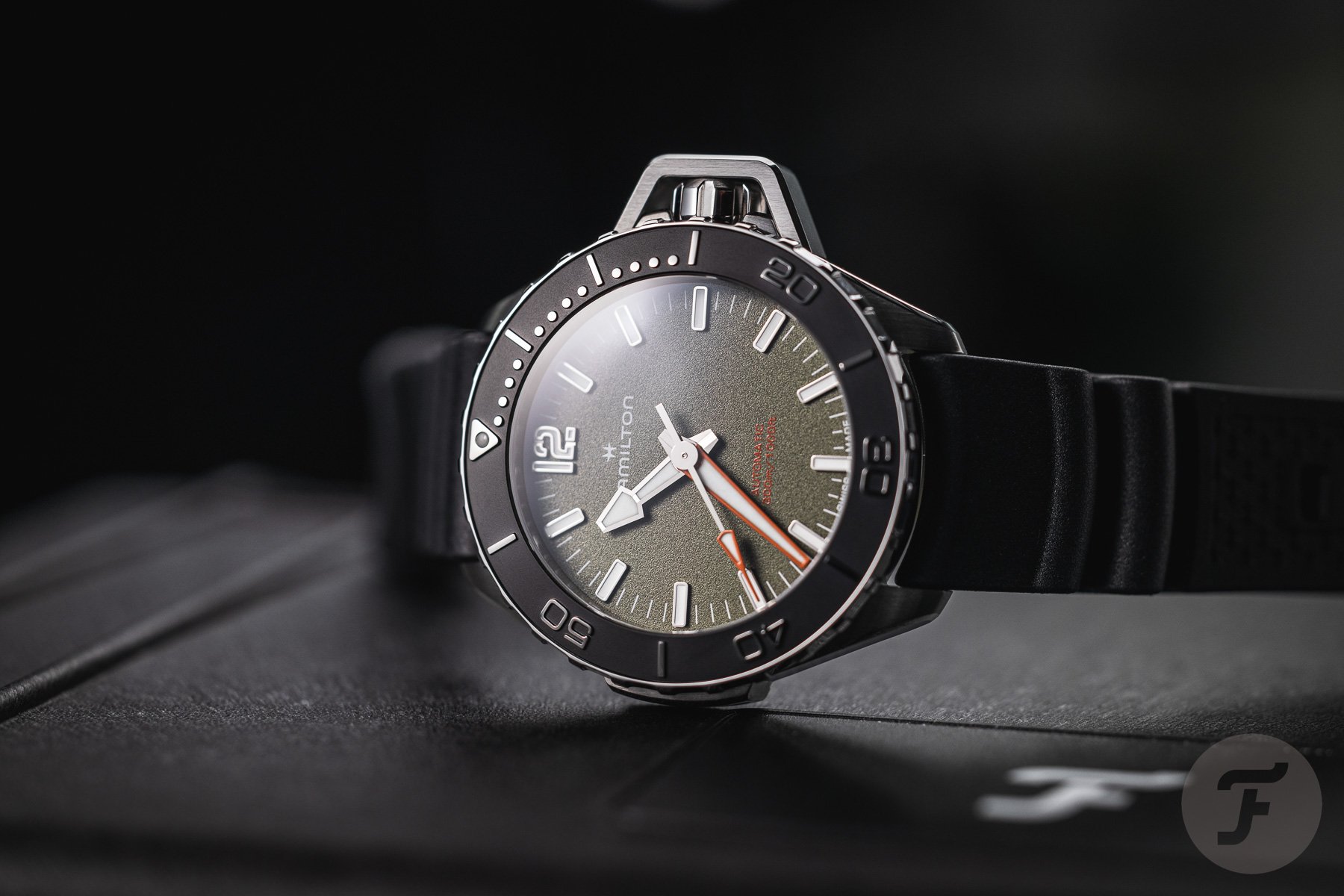 The Hamilton Khaki Navy Frogman Auto
Last year, our colleague Sky covered the then-new Khaki Navy Frogman, but the watch came in a very 2000s-esque 46mm case. For me and my small wrists, that watch was a hard pass once I hit the third paragraph. Still, it was and is attractive. Therefore, the announcement of a smaller Khaki Navy Frogman Auto was a welcome one indeed. Then, Balazs and I recently had the opportunity to visit the Swatch Group offices near Frankfurt. Among the trove of watches we saw, the new 41mm Frogman was an obvious standout for me.
This newest Hamilton is available in a few different options. There's a matte black dial on an olive-green 20mm vented rubber strap that tapers down to an 18mm signed pin buckle. A matte olive version reverses the order and comes with a black rubber strap. Both of those models have a black bezel insert. Finally, there's a black-dial version with a silvery bezel and an Oyster-like bracelet. Interestingly, the prices are consistent across the board at €1,295 here in the EU.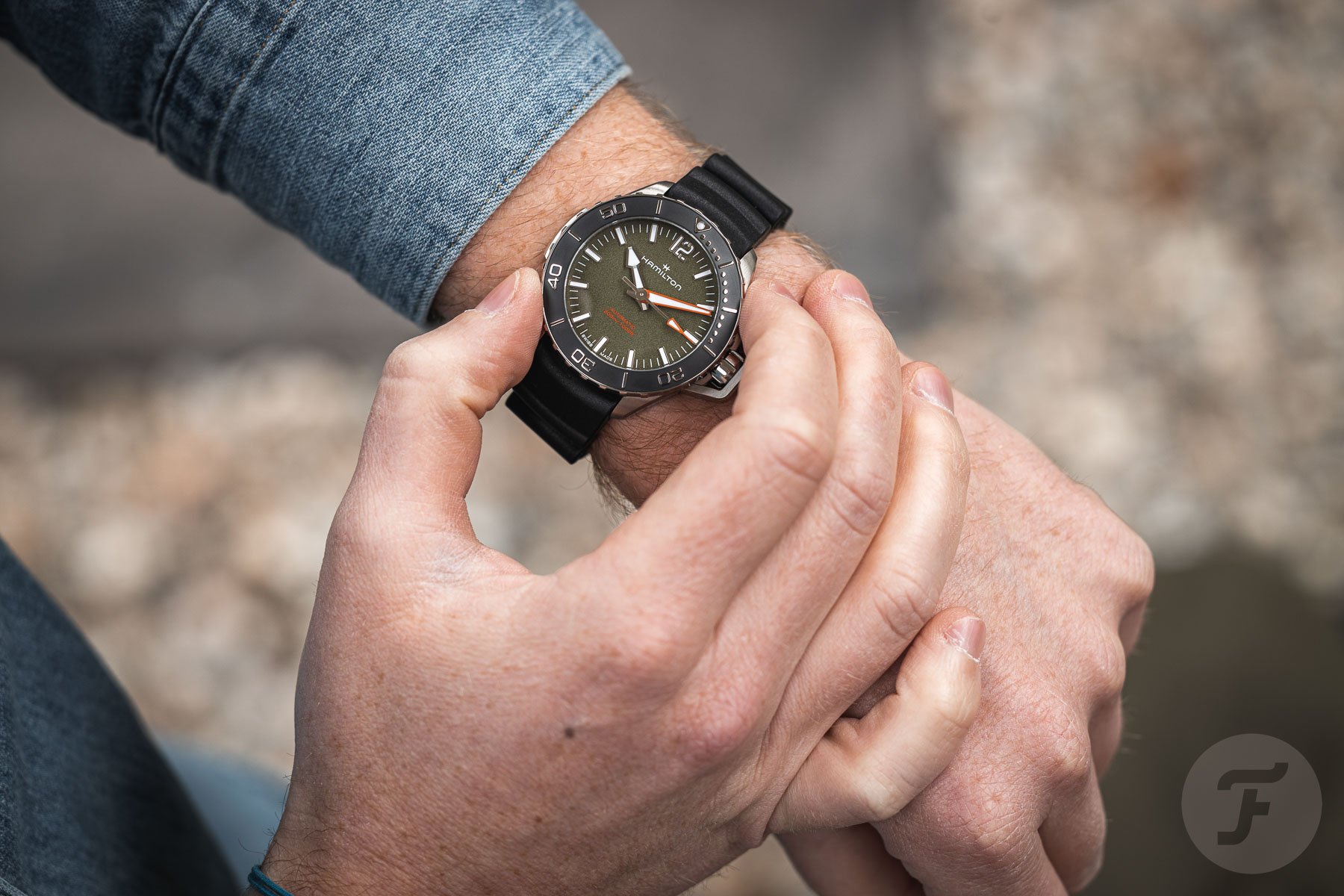 A magical fit
When I read about a 41mm diver like the Khaki Navy Frogman Auto, I assumed that it was going to wear large for its size. I say this because rubber straps are often stiff and details like a crown enclosure tend to add a lot of visual mass. Oh, how wrong I was, though, because this watch wears beautifully. The rubber strap is pliable but is thankfully not made of dust-collecting silicone. Also, it's not too long. The lug-to-lug of the watch is where this watch truly shines, though. At just 44mm from tip to tip, it actually works well on a smaller or medium-sized wrist. This watch was a real surprise! As an aside, I didn't have the chance to see or try the watch on its bracelet, but I'm not sure that's a real loss. This watch works really well on rubber and it even reminds me of some decidedly different pieces.
Outplaying Citizen and Seiko at their own game
With Balazs by my side, I looked down at the 41mm Khaki Navy Frogman on my wrist and asked him if the watch reminded him of anything. As if on cue, he mentioned the ana-digi Citizen Promaster Aqualand. Due to its crown guard, albeit on the opposite side of the Citizen's depth sensor, the watch has a similar outline. Plus, with a small bulge on the 9 o'clock side (signed with the Hamilton logo), it fits the description even more. While I don't have a close Seiko corollary, the bottom line is that this Hamilton feels like a release that could have come from either of the two Japanese brands. If you're wondering, I call that high praise because this feels like the type of watch that could appeal to a wide range of buyers.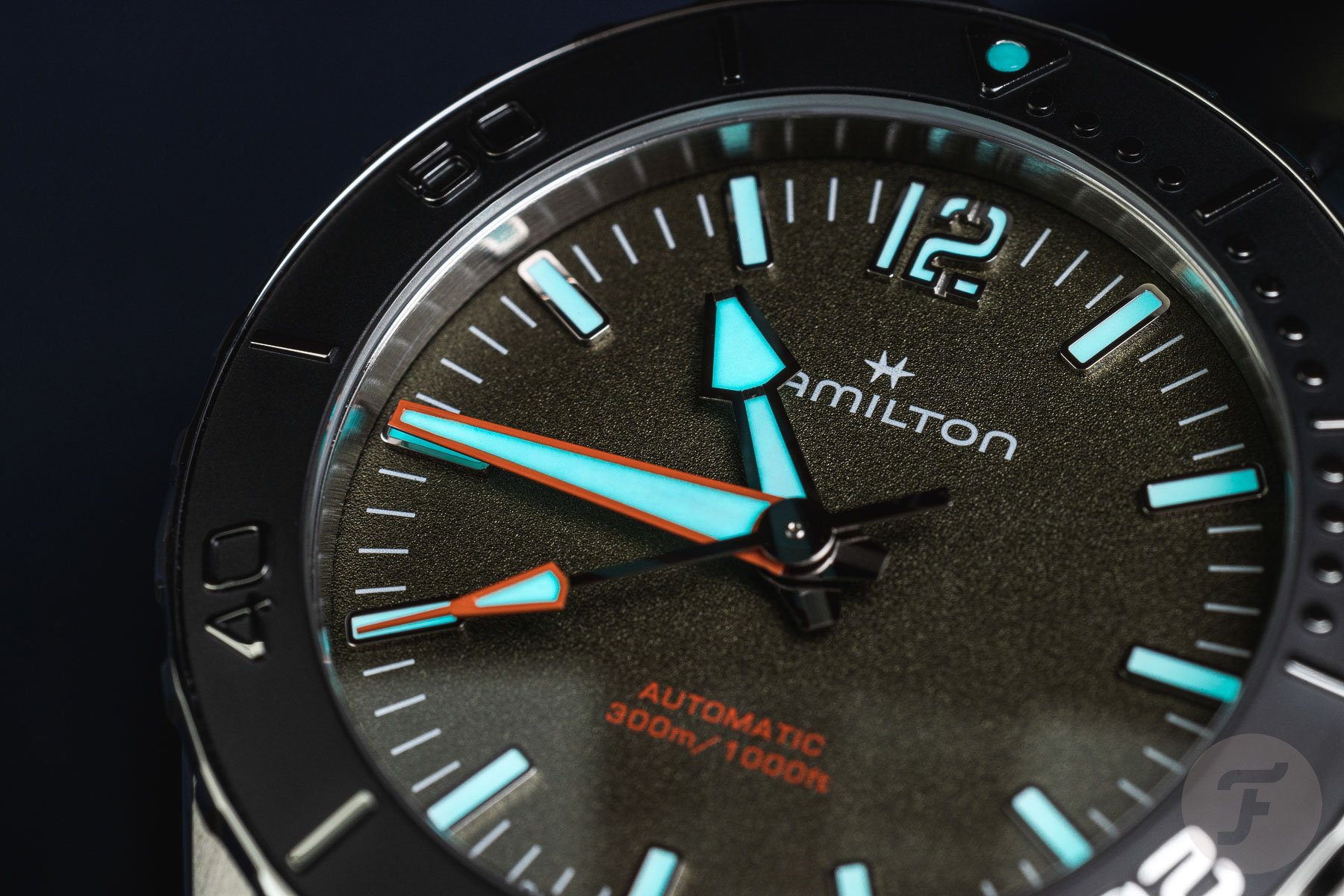 A clean dial design
Thankfully, the Khaki Navy Frogman Auto balances its standout case design with a rather clean dial. In contrast to so many other dive watches from large brands, this one stands out because it lacks a certain function. That's right, there's no date window! While some may miss that, I find it refreshing. Furthermore, the dial itself has a nice matte finish, large Super-LumiNova-filled hands, and simple luminous rectangles for almost all of the hour markers. The writing is also kept to a minimum with only the brand name, "automatic," and the "300m/1000ft" depth rating.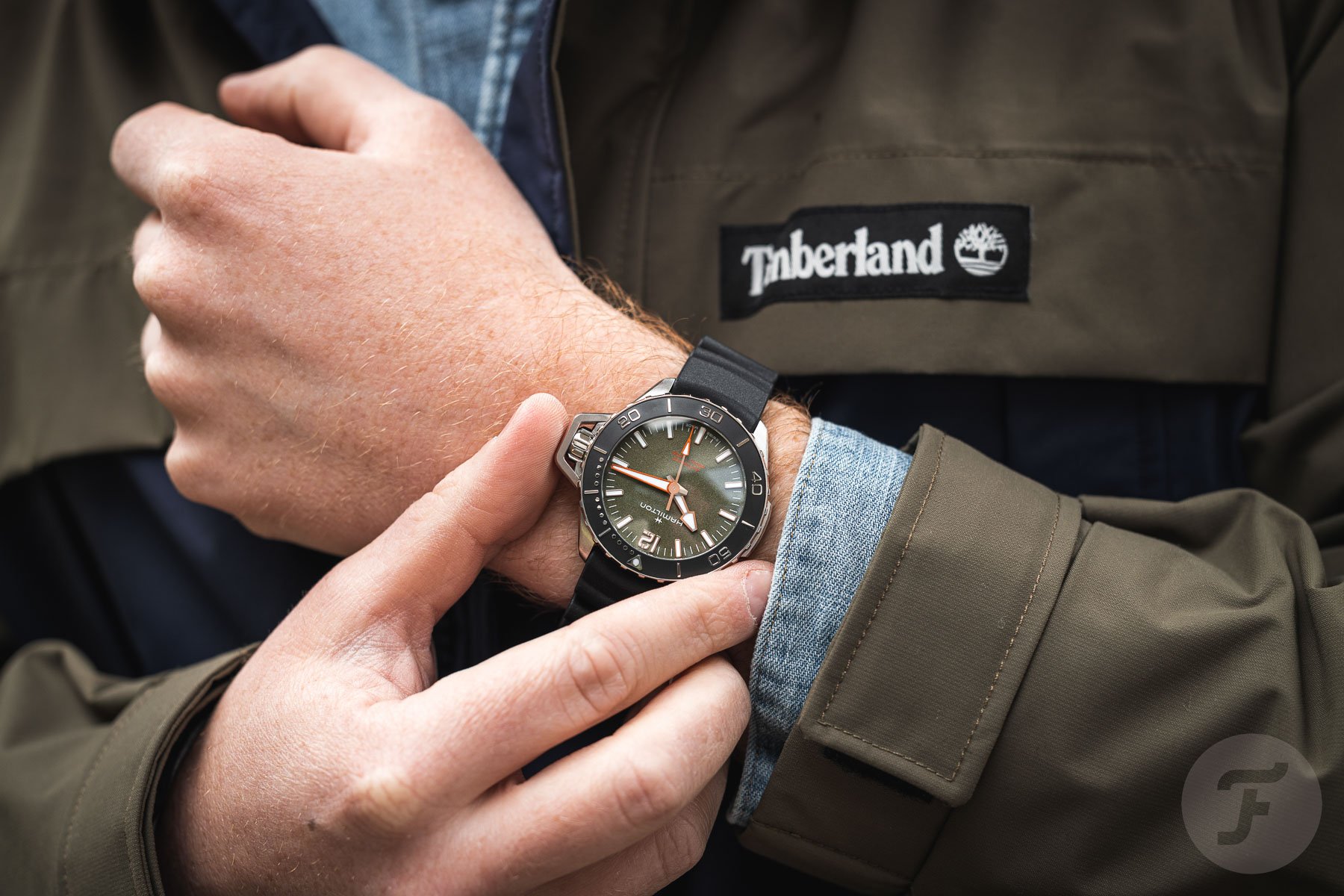 Tactile feel
As far as user experience goes, the uni-directional dive bezel feels solid with well-defined clicks. The crown is also surprisingly nice to use. I originally thought that the crown needed to pull out within its "cage." In actuality, the cage extends from the case when unscrewing the crown. It's a bit different but quite straightforward when using it. Inside, the Khaki Navy Frogman Auto uses the H-10 caliber, which is an ETA-based movement with an 80-hour power reserve and a Nivachron hairspring. It does have a relatively slow 21,600vph beat rate, but that's the price of the longer power reserve. In another nod to utility, the case back is a solid, screw-in affair adorned with an engraving of a frogman mask. Feature geeks may wish for a display back, but I like the simplicity of a solid case back.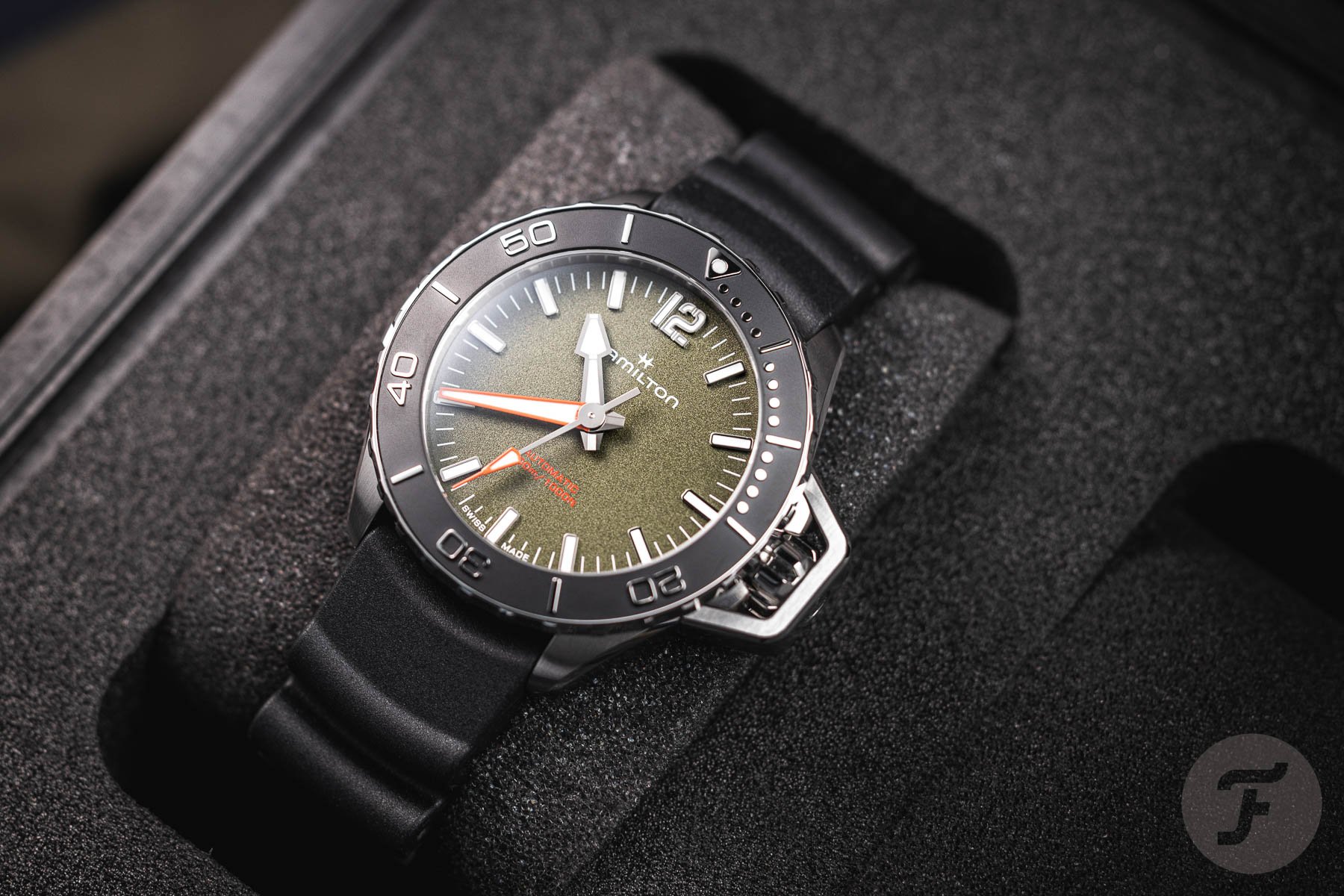 Final thoughts on the Khaki Navy Frogman Auto
If you can't tell, the 41mm Hamilton Khaki Navy Frogman Auto was a highly pleasant surprise during our recent visit with the Swatch Group folks. It fits perfectly and comes with a competitive set of specs for the price. This is a very tool-like diver, and it's definitely suited more for casual wear or actual usage underwater. However, if you're here, there's a good chance you'd like at least one watch like that in your collection. For sure, the crown enclosure won't be for everyone, but if you're on the fence, it's worth trying one in person.
For more information on the 41mm Khaki Navy Frogman Auto, visit the official Hamilton site.
Watch specifications
Model
Khaki Navy Frogman Auto
Dial
Matte black or olive green with applied luminous indices
Case Material
Stainless steel
Case Dimensions
41mm (diameter) × 44mm (lug-to-lug) × 13.09mm (thickness) × 20mm (lug spacing)
Crystal
Sapphire with anti-reflective coating
Case Back
Solid, screw-in
Movement
Hamilton H-10 — automatic winding, 21,600vph frequency, 80-hour power reserve, hacking seconds
Strap
Rubber with signed pin buckle or three-link bracelet with wetsuit extension
Functions
Time (hours, minutes, central seconds) and uni-directional dive bezel