Hands-On: anOrdain Model 2 Fumé Dial
A Spectacular Dial Fitted to a Rather Spectacular Watch
We check in with the visually arresting anOrdain Model 2 Fumé dial.
With its Model 2, anOrdain has enjoyed quite the run of good press.  For certain, the brand is outgoing and has done a nice job of contacting various online watch publications along with making hands-on testing a breeze.  One such example is our very own Tomas Rosputinsky, who reviewed a white and blue enamel-dialed Model 2 last month.  Aside from a dislike of the clinical naming structure that the Scottish company employs, an elementary school level reader could feel the glowing warmth that Tomas had for this watch all the way from Bratislava.  But the company had contacted me at the same time as Tomas and while I was highly interested in trying a light blue-dialed Model 2, they asked if I'd be interested in trying something a little bit different.  Enter the anOrdain Model 2 Fumé dial.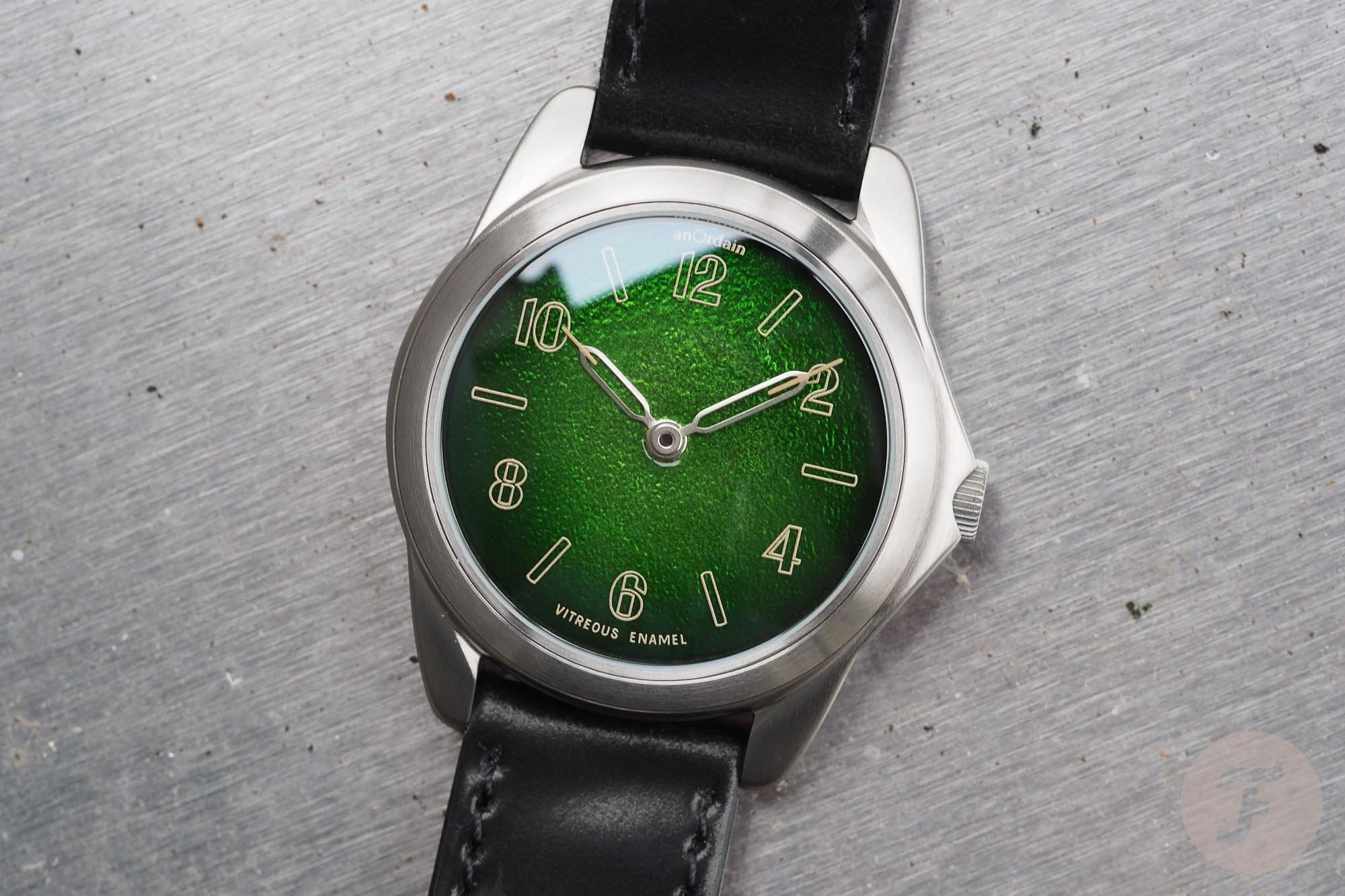 A Mistake Led to the anOrdain Model 2 Fumé Dial
If you're a watch nut, you're likely familiar with the term "Fumé" and its relation to watch dials.  If not, head on over to a brand like Moser and you'll see some of the best examples out there of what is ultimately a dial that varies in color from edge to center.  And those edges?  They're darker than the center, so it creates quite an effect for the eyes.  With anOrdain, apparently a mistake in their normal vitreous enamel process (application of powdered enamel to either a copper of silver blank and then firing at high temperatures in a kiln) led them down the path of what we see today: the anOrdain Model 2 Fumé dial.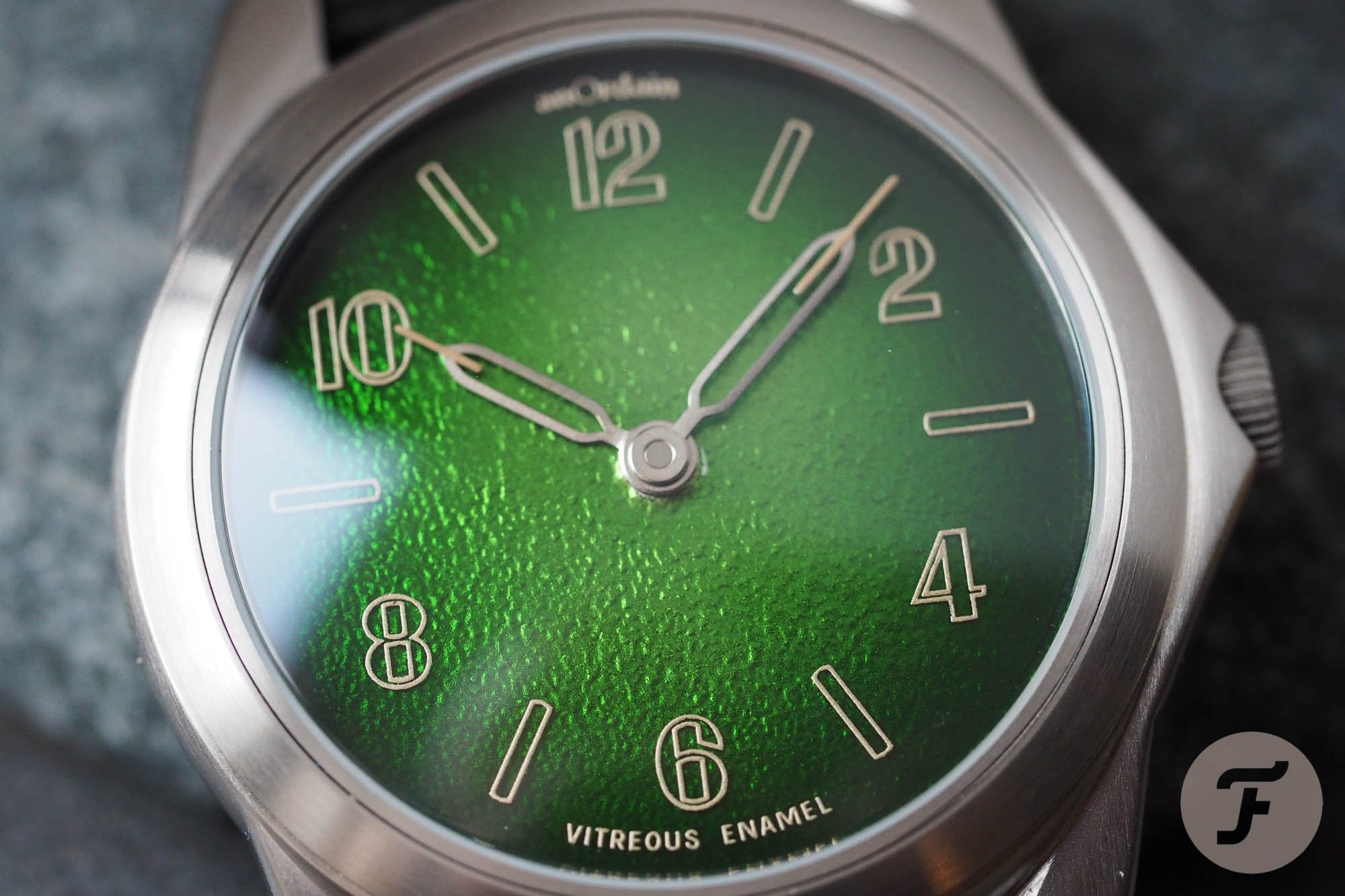 Each Example is Unique
Available in green, orange, blue or purple, the anOrdain Model 2 Fumé dial models vary within their own color range.  The brand says that some dials take on a smooth, pebbly appearance while others are more crystalline.  It all apparently depends on how the enamel reacts with the silver dial plate.  In my book, that built-in uniqueness is pretty neat!  But what are these dials, and the watch in general, like in person?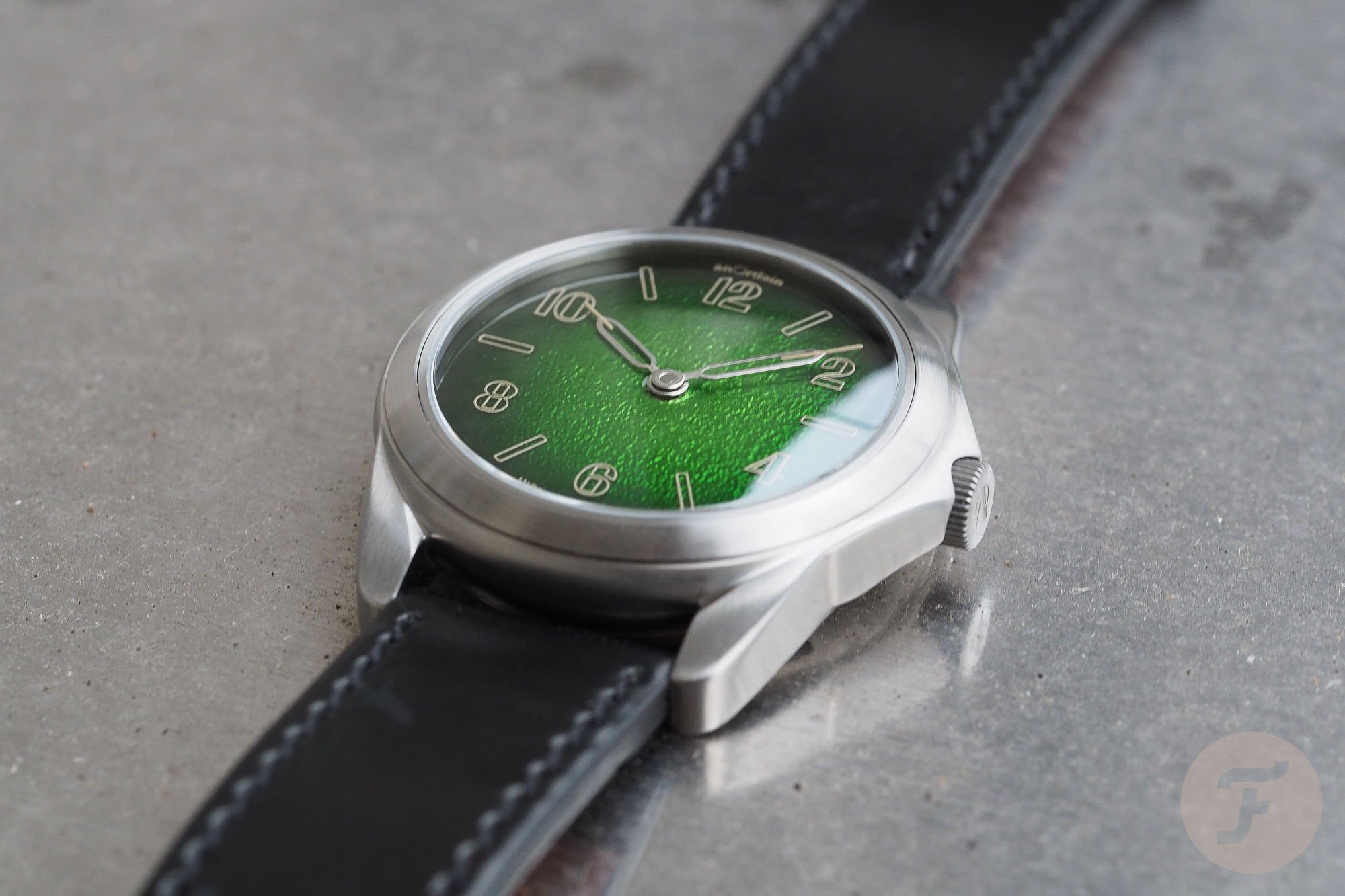 Simply Good
The anOrdain Model 2 Fumé dial is listed as a field watch and that means that despite having a dial surface that sounds awfully brittle, these watches are meant to take a relative beating.  A flush, but rising sapphire crystal with 6 layers of anti-reflective material (making photographing a real chore, by the way!) along with a screw-down steel case back gives us an indication that the watch is meant for more than formal affairs.  5 ATM's of water resistance help lend a dose credibility to its field watch intentions as well.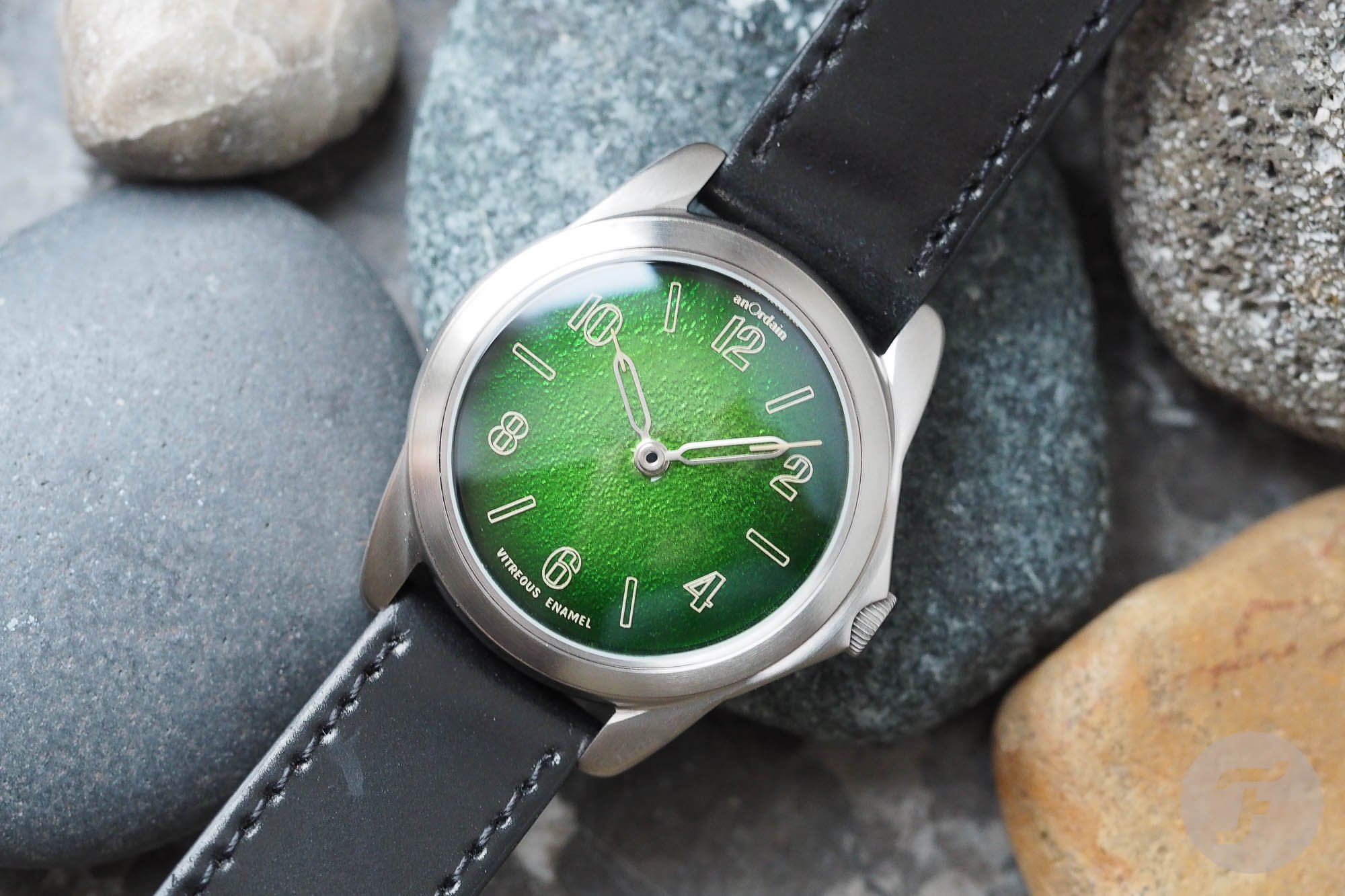 The Dial is a Stunner
I really liked the watch that Tomas reviewed and if I were reaching for my billfold, it's possible that I'd order a "normal" Model 2, but there's no denying the beauty of the anOrdain Model 2 Fumé dial.  I received a green model and it's stunning.  I am sure there are cheaper and easier ways to create a dial that looks about 90% as good as this, but there's something so deep and rich about enamel that it almost looks liquid.  And then add the Fumé effect and the whole thing becomes magic.  I also like how anOrdain kept such a level of restraint on the rest of the dial with the surface application of the numerals and minimal naming info.  And I love the unique hands with their SuperLuminova tips despite the fact that I struggled to see much of a glow.  Tomas and I were having a chuckle because we'd seen the shape before but just couldn't come up with the source.  But then we did!  To me, they look like the artfully formed tool that ships with an iPhone and helps remove the SIM card.  That's not a bad thing at all, but I've spoiled you now because you can't unsee it.  🙂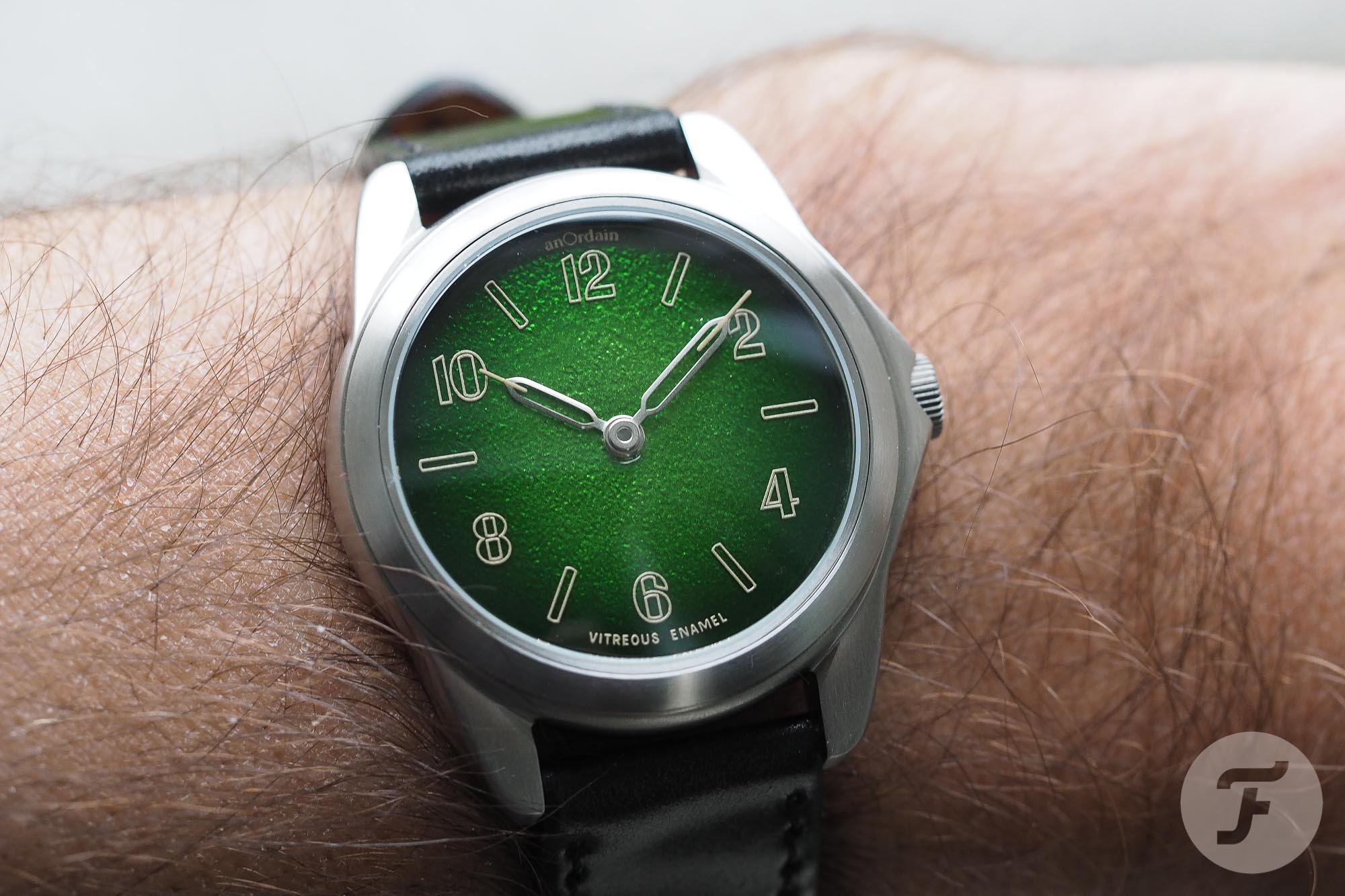 A Case that Works for Many Wrists
With its uniquely shaped 36mm brushed stainless case, the anOrdain Model 2 Fumé dial looks great on the wrist.  And despite its smallish diameter and 43mm lug to lug, I think that there's enough heft with the lugs and crown guard along with the visually arresting dial to make it work on the wrists of those who normally think that life starts at 40mm.  I also think that with the wide choice of dials and bountiful selection of straps (along with various lengths), the watch could easily work with women.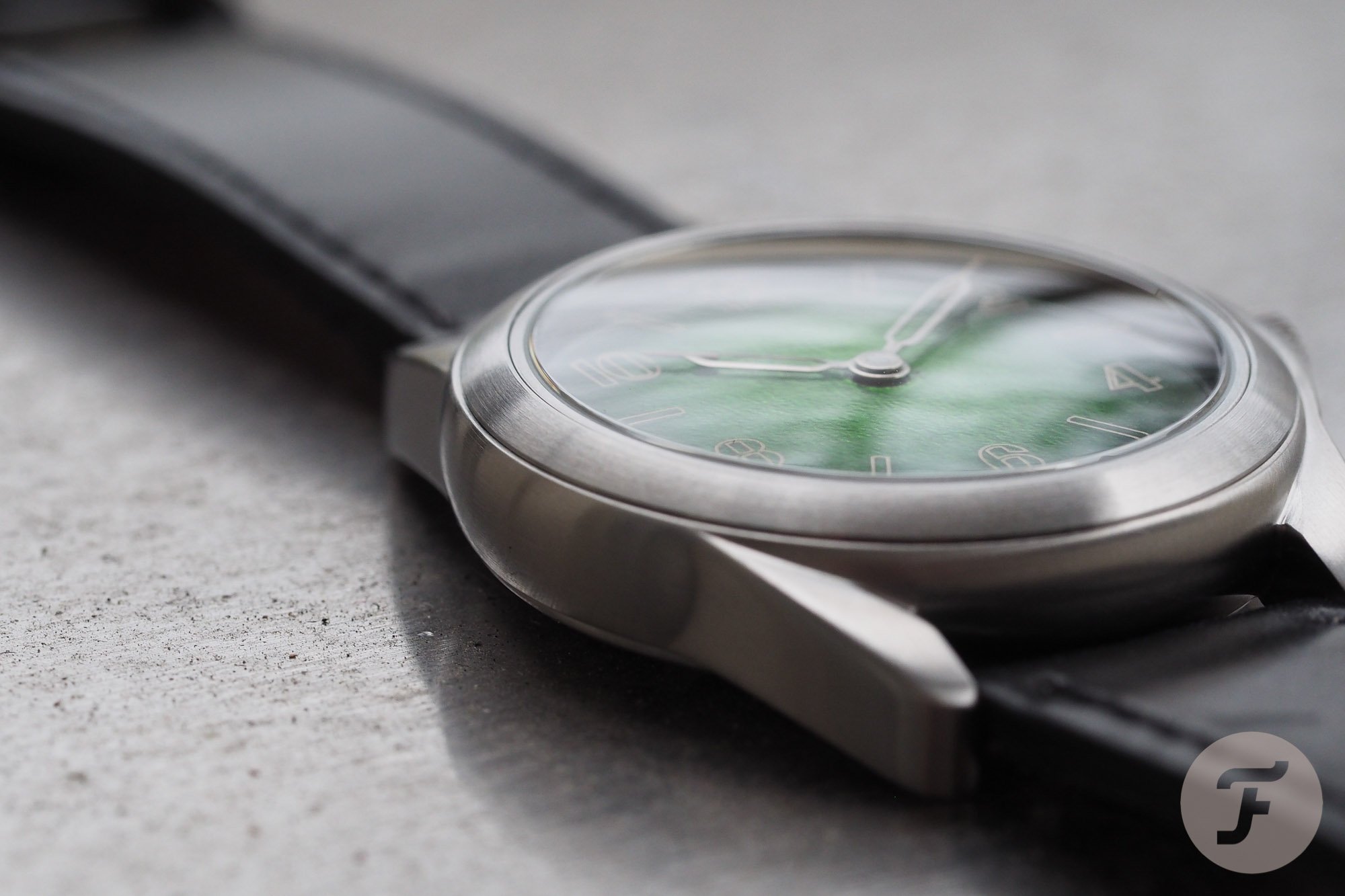 A side profile shows that the good folks from the land of shortbread avoided the typical independent brand pitfall of designing a slab-sided case.  This one is beautifully rounded and helps push it into consideration versus more expensive competition.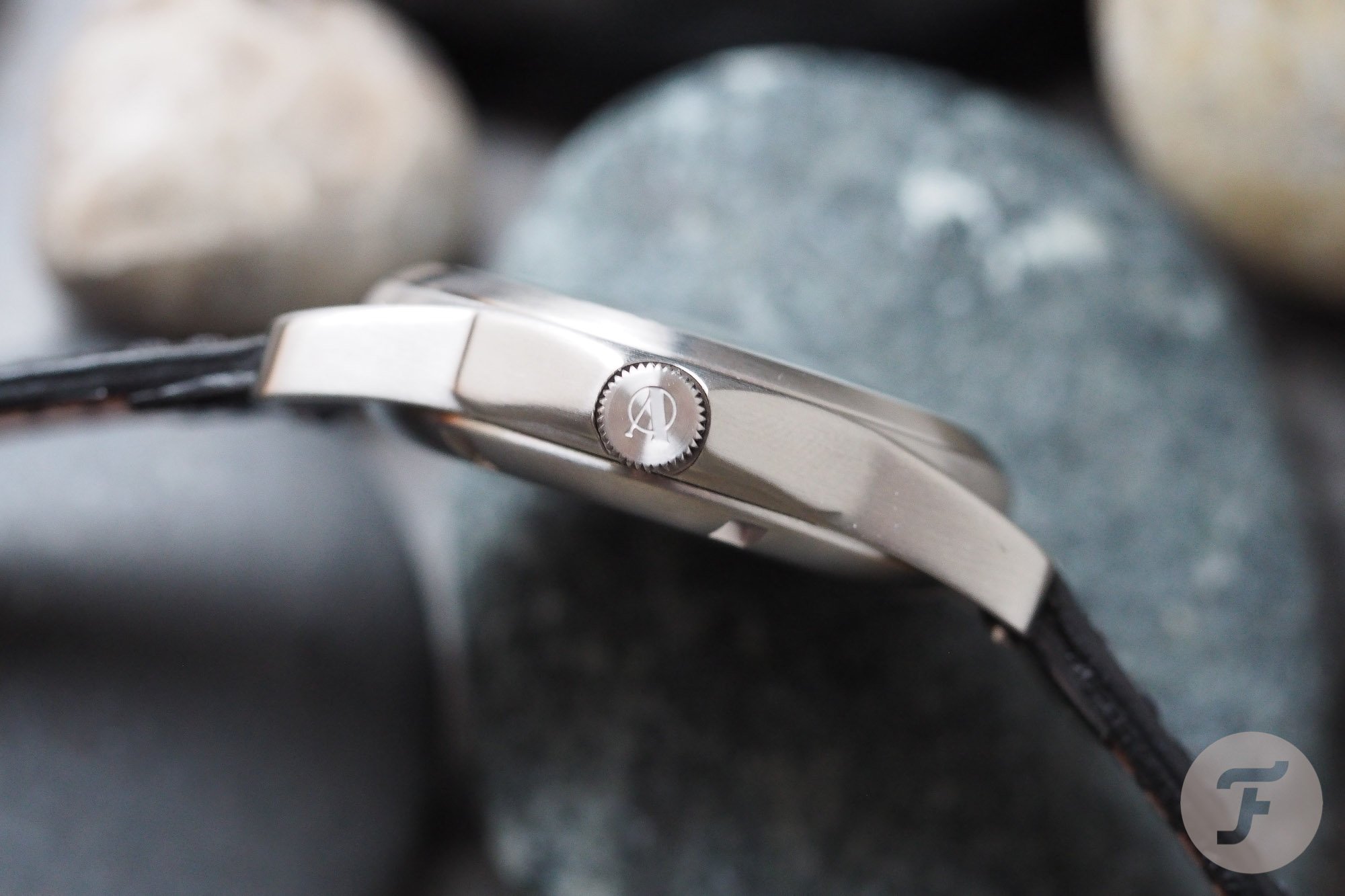 My only attempt at criticism on the design side relates to the crown.  It's nicely signed, but its flat shape comes off as a bit unfinished.  I guess I'd be curious to see what a crown would look like that completes the "arc" made by those guards.  Furthermore, the rest of the case shape has a bit of a flowing, organic look so the flat crown represents a bit too much of a style departure in my eyes.  Horses for courses…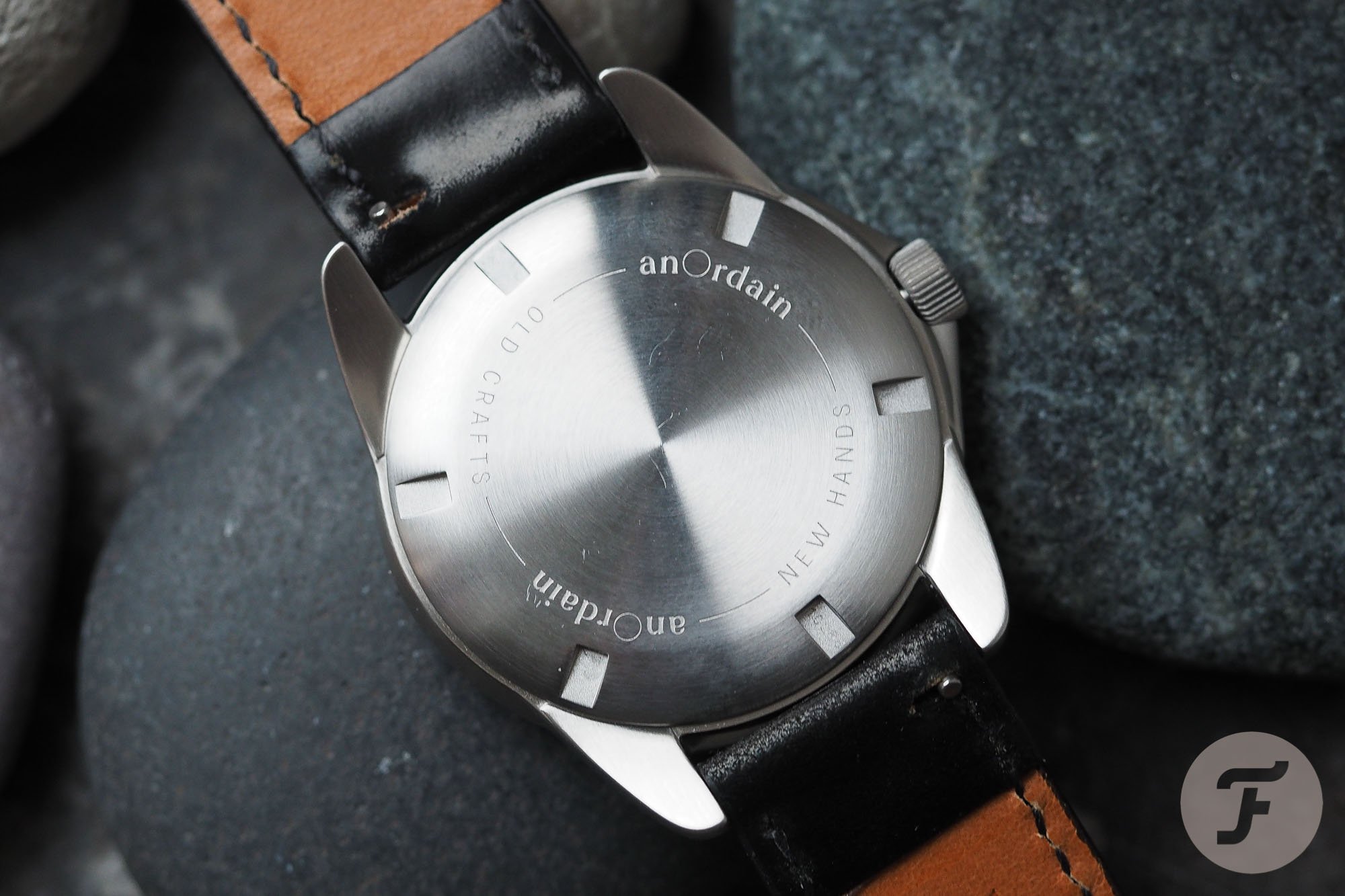 A Manual Movement is the Cherry on Top
The anOrdain Model 2 Fumé dial features the Sellita SW 210-1 manual wind movement with Incabloc protection and that's just such a great choice.  It hides under a plain screw-down case; the brand does offer what seems to be free engraving should you be inclined.  And while there's no sweep second hand to indicate that the watch is wide awake, it's easy to listen to the 28,800 bph movement working through the hours.  The 19-jewel movement is a clone of the old ETA 2801-2 and there are plenty of interchangeable parts.  anOrdain apparently chose it for two great reasons; the movement is easy to service and it requires the owner to engage with the watch on a near-daily basis.  It's hard to fault the logic!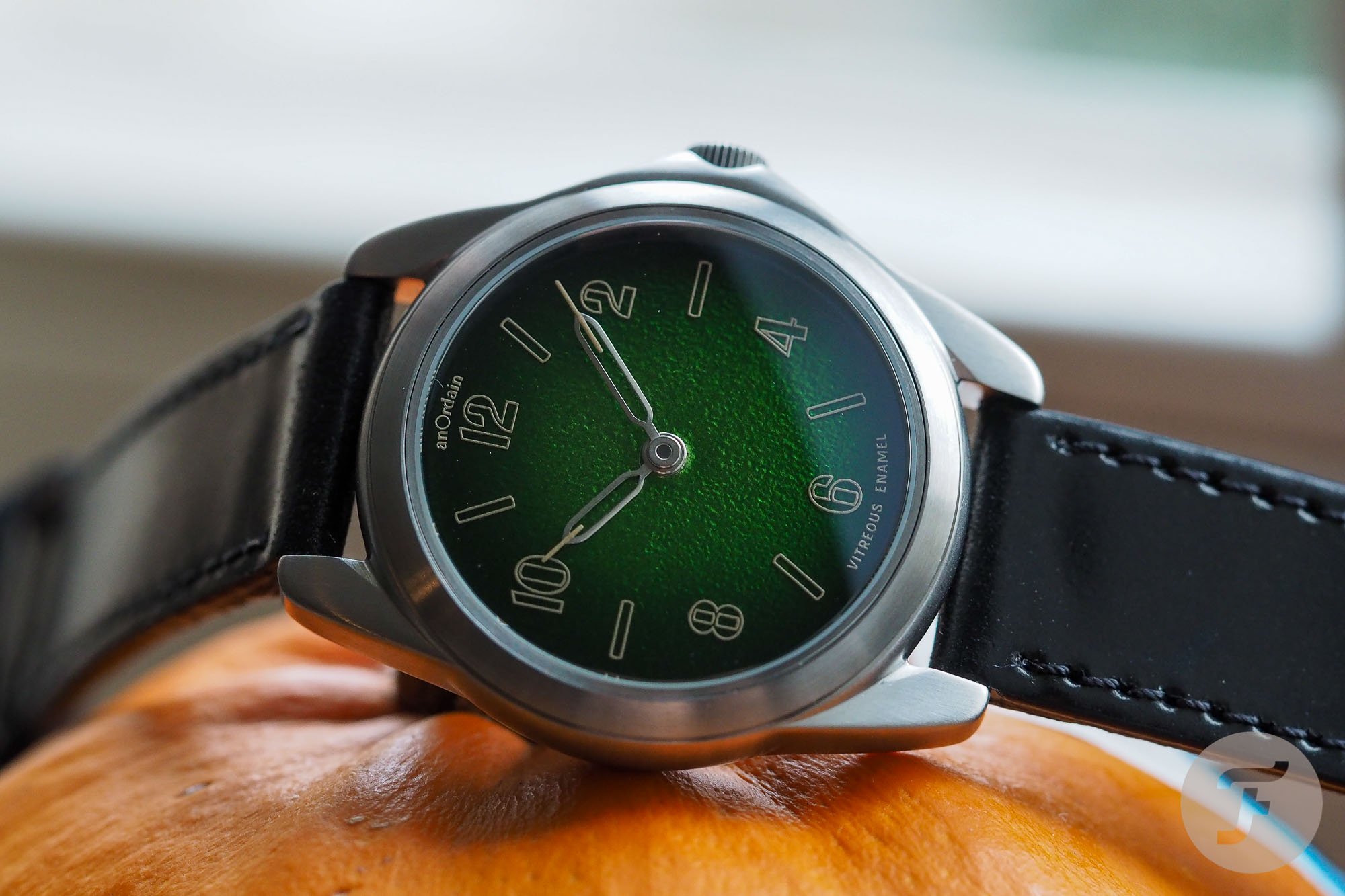 Final Thoughts and Pricing
If you're interested in purchasing an anOrdain Model 2 Fumé dial, you'll be looking at spending 1,500 GBP (that's ex VAT).  That's not cheap when compared to the 950 GBP of the regular enamel Model 2's, but these watches really are different and they simply feel good in the hand.  Plus, with a five year warranty, it truly feels like anOrdain intends to be around for the long run.  With thoughtful packaging, gorgeous straps from Germany made of materials including shell cordovan, kid skin, goat, and suede, I think anOrdain has put together a truly compelling product.  And with lead times pushing out further and further, it seems that plenty of others agree.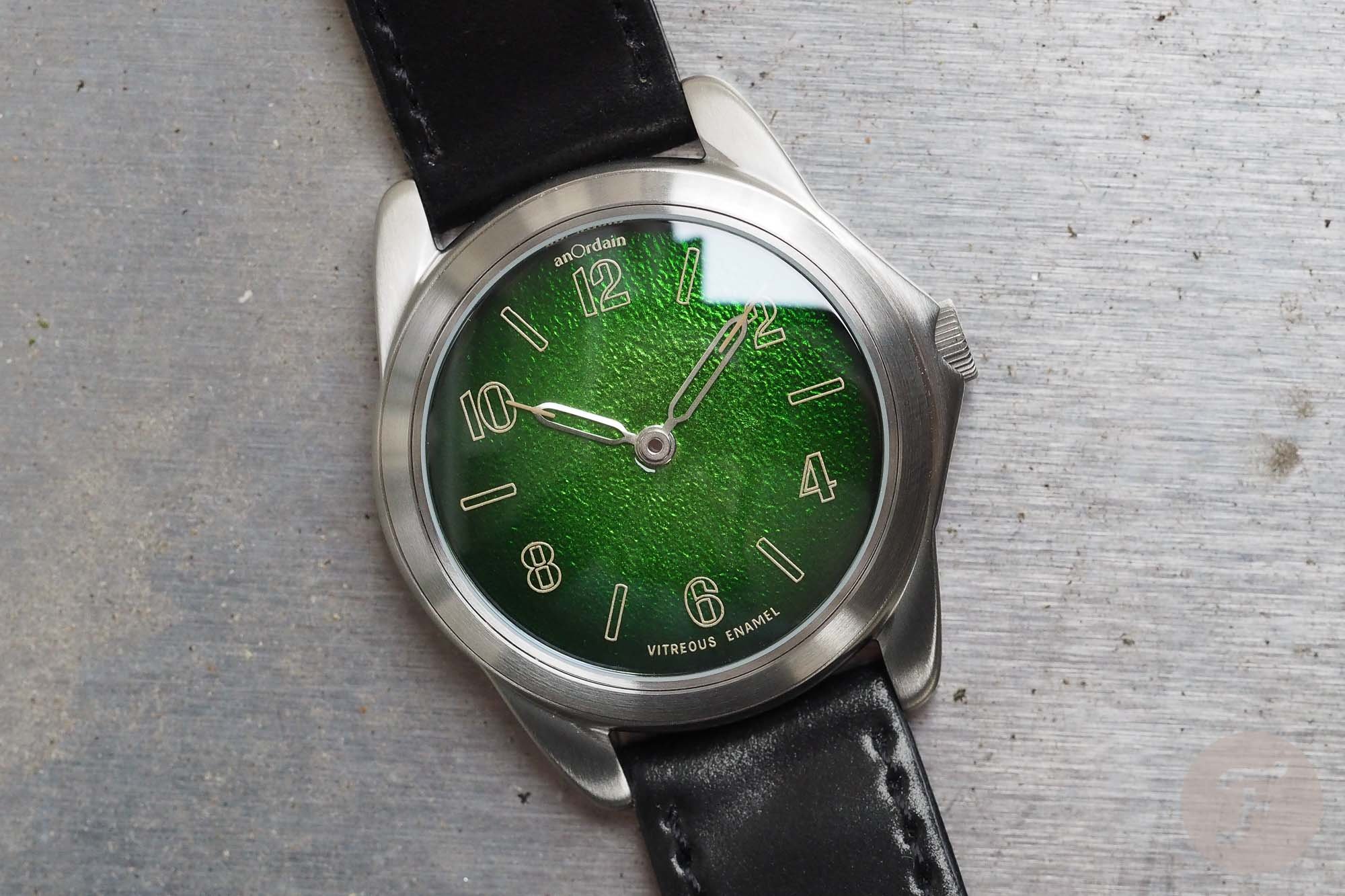 For additional information on the anOrdain Model 2 Fumé dial, head to the brand's official site.
Watch specifications
Dial
Enamel with Fumé Gradient Effect
Case Material
Stainless Steel
Case Dimensions
36mm Diameter, 43mm Lug to Lug, 11mm Thickness, 18mm Lug Width
Crystal
Sapphire with 6 Layers of Anti-Reflective Material
Case Back
Stainless Steel Screw-Down
Movement
Sellita SW-210-1 Manual Wind, 19 Jewels, 28,800 BPH
Strap
Various Leather or Mesh Bracelet
Functions
Time: Hours & Minutes
Price
1,500 GBP (ex. VAT)