Hands-On Formex Element Chronograph Review
Formex is not a new brand (1999), but it is also not very widely known. Exactly two years ago, Formex stopped with all their brick and mortar retailers and decided to sell directly only, via their e-boutique. Formex wanted to be in touch directly with their end-customer, so they also would get a good understanding of what their demand. The cut on retailers also enabled them to invest in a proper working e-boutique and an augmented reality app that Gerard discussed a few days ago in his Munichtime report.
Formex Element
What isn't new, is the case suspension system that Formex uses. This was already patented before they went online-only in 2016. The Formex Element I have here today has this case suspension system and according to the makers, it should make the watch more comfortable on the wrist. Now, the question is of course, does it? Or is it a solution for a non-existing problem, as we see often in the world of luxury watches.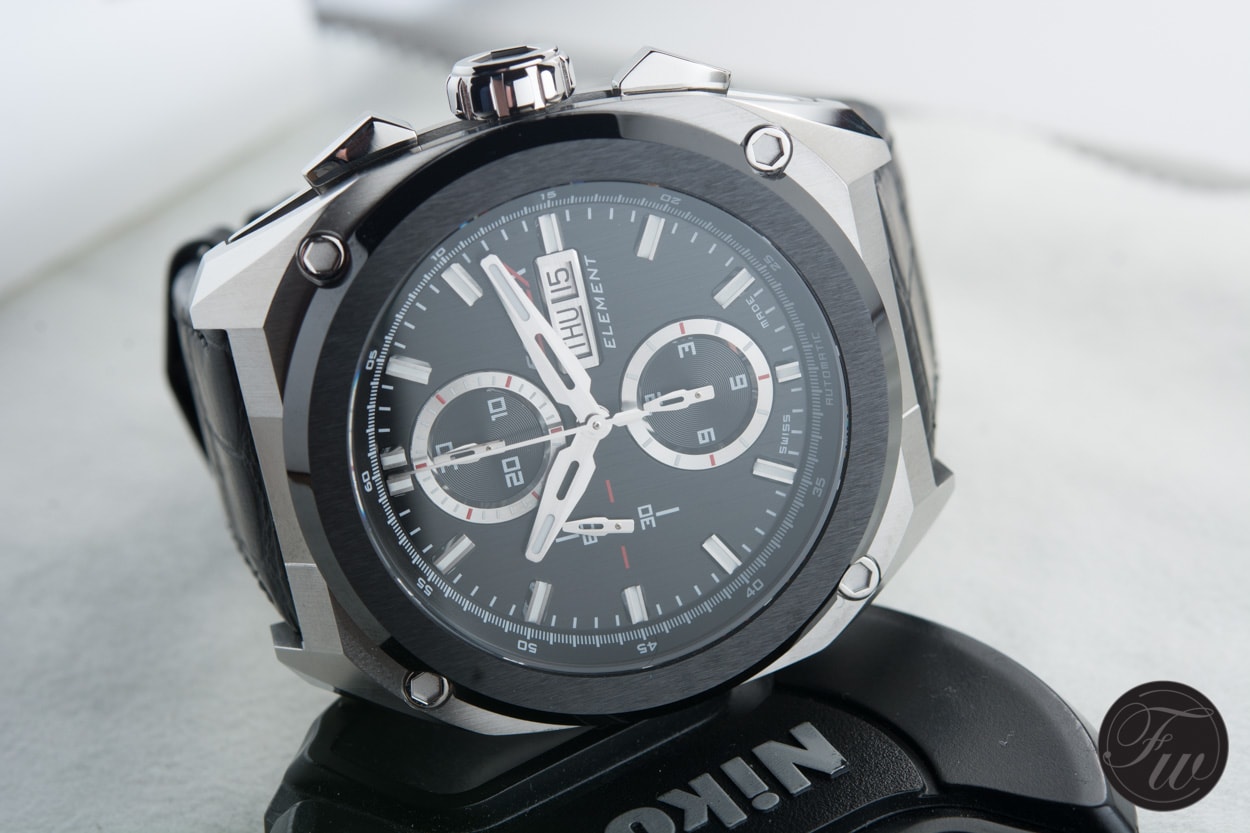 Big And Heavy
Before I answer that question, let's have a closer look at the Formex Element chronograph first. This is by no means a small watch. Actually, I only have one watch in my collection that is bigger than this one, which is my Seiko Tuna reference 6159-7010 with its 50mm diameter. The Formex Element has a 46mm diameter case made of stainless steel. It appears a bit larger though because the watch is square-ish. From lug-to-luge, I measure approximately 55mm. In height, this watch measures 14.5mm. The case consists of two parts, a stainless steel case and a container made of titanium (grade 2). The parts are connected with 4 dampers, making the lugs and upper part of the case band move freely up and down while the rest is kept in place.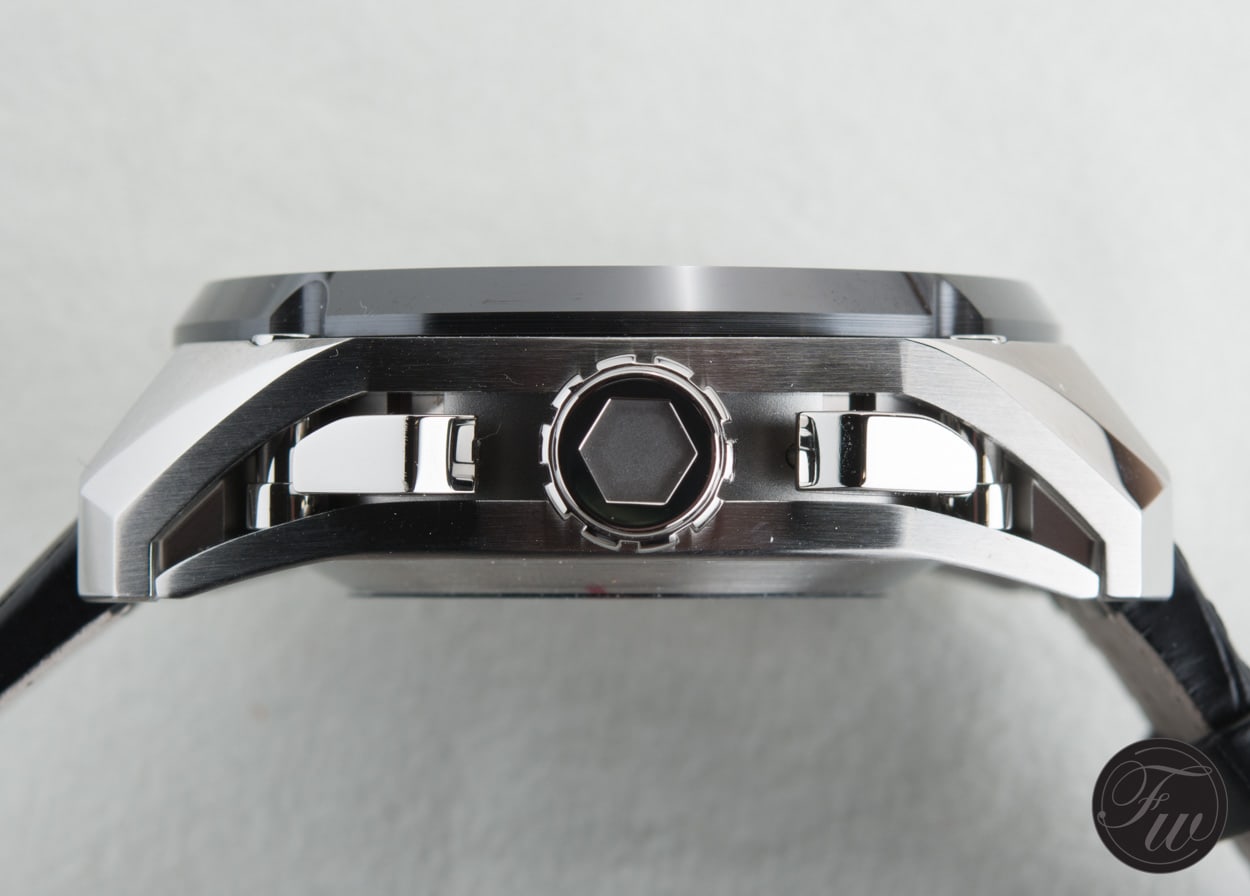 In the above image, you can see the suspension on the left and right. The cylinders are visible through the skeletonized lugs, next to the pushers. As you can also see, the lower part of the case is detached from the upper part of the lugs and the case band part that is located above the crown. An animation of the whole thing can be viewed here. The complex case of the Formex Element has been constructed from 38 separate parts.
Suspension
According to Formex, this concept protects the movement from knocks and hits (or vibrations). I only partly see this, as when I press on the watch via the crystal, I don't feel much movement. I feel the suspension working when I pull the strap under my wrist and more or less pull the case further down the wrist. The same happens when I twist my wrist a bit (moving my hand downwards, in a quite an unnatural way). That said, I do feel the watch uses the suspension when one of the lugs (or all of them) are being pushed down. But how realistic is it that this happens?
Solid
The bezel will probably get most knocks, and nothing really happens when that is being pushed down or gets a knock. When I move my hand around, I do feel that the suspension is being activated as well, so it might add some comfort, but I believe that this is just marginal. I don't expect wonders I have to add because we are talking luxury watches here and almost everything has been tried and tested in the past 100 years. Every innovation is relatively marginal. The concept is nice though and the entire construction is very nicely engineered. The entire case construction of the Formex Element feels very solid. A job well done.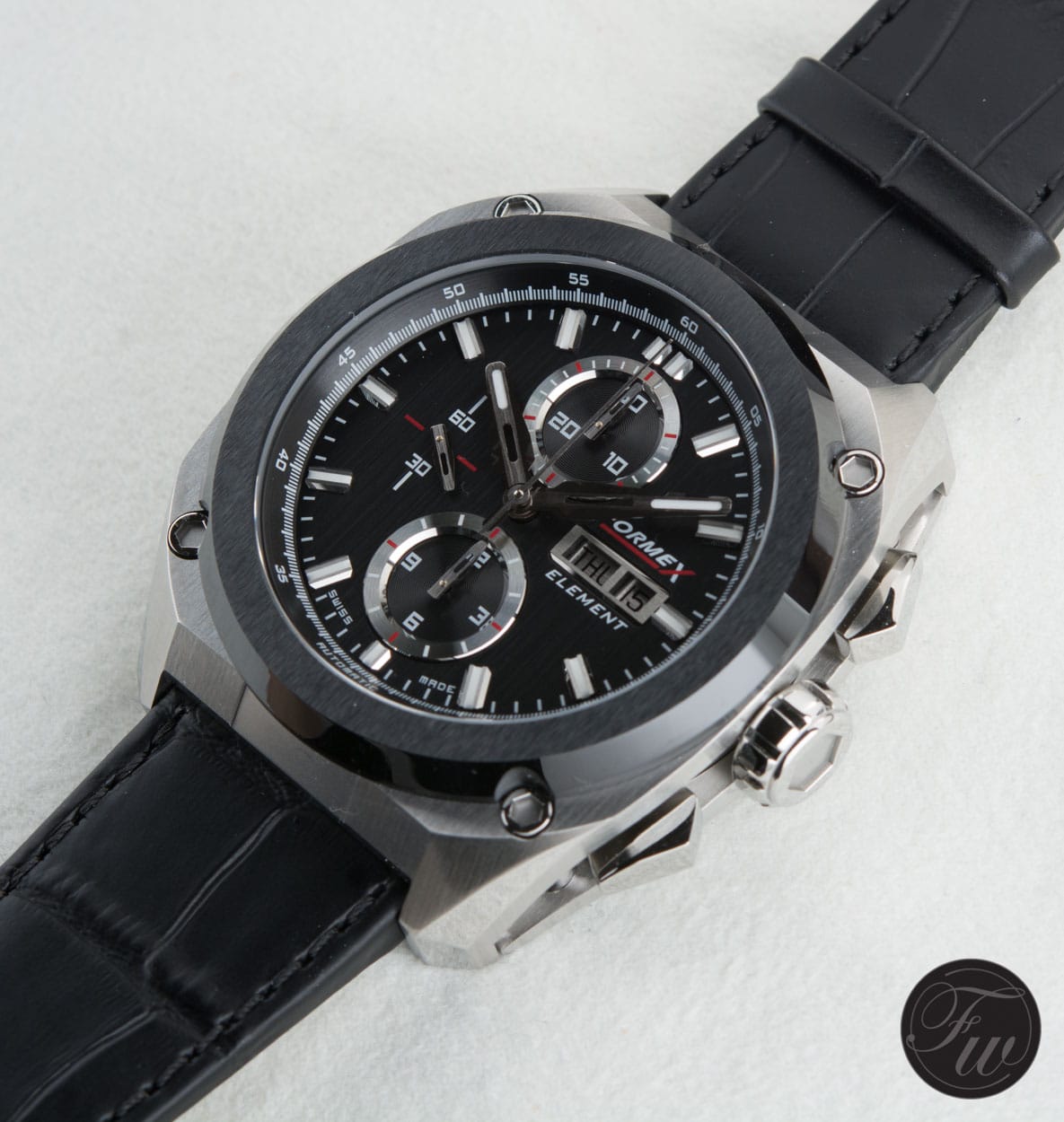 Ceramic
Perhaps more useful to me would be the ceramic bezel. A watch with proportions like this will be confronted with a door post or a table at some point, so a scratch resistant solution is very welcome. My much smaller Audemars Piguet Royal Oak in stainless steel has quite some scratches and dings on the bezel, so I can't even start to imagine what would happen to this watch when I would be wearing it on a daily basis. The ceramic bezel has the advantage that it won't dent or scratch, so the watch will probably keep its new and fresh appearance for a long time. The Formex Element is also available with a bezel in stainless steel, but unless you really dislike the black ceramic bezel on this watch, I would definitely recommend to go for the ceramic version.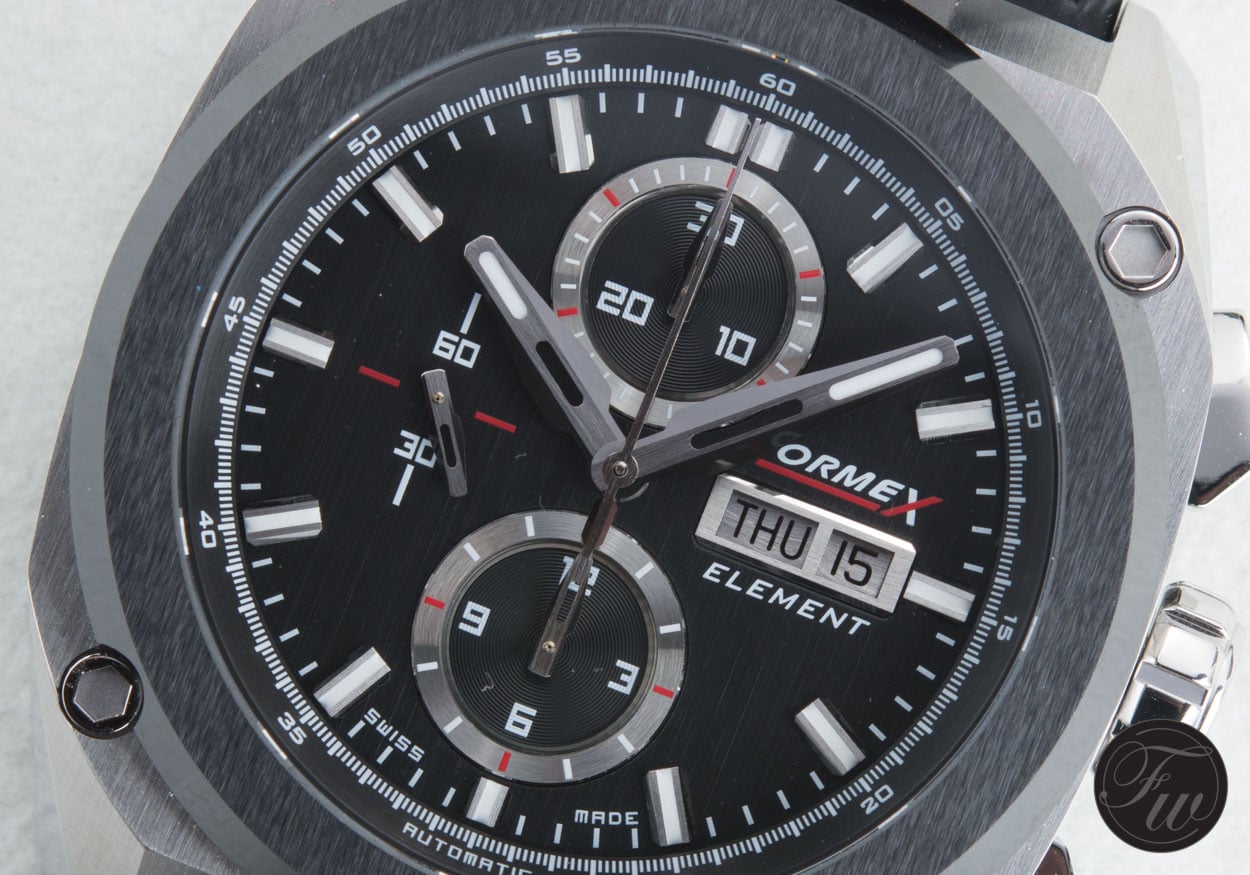 Finishing
The case and bezel consist of both satin-brushed, sandblasted and polished surfaces, giving it this sophisticated look and feel. Even the dial is satin-finished and is applied with silver coloured indexes. Formex used Super-LumiNova for these markers and the hands. The subdials have this snail finish, creating a bit more depth. Even the frame around the day and date has a brushed finish. There is a lot going on on the dial of this Formex chronograph, yet it remains very readable. The chronograph is easy to operate, with its large rectangular pushers at 2 and 4 o'clock.
Details
A large crown makes it easy to grasp and set the time. It is not screw-down, but the watch still has a water resistance of 100 meters. The Formex Element has a lot of details that won't go unnoticed. I like all the different angles and facets with the combination of polished and matt finishing. It gives this watch a nice touch, and because of the polished surfaces, it doesn't become too much of a tool watch either.
Strap and Clasp
The Formex Element comes with a calf strap with croco grain. In the past, I was really against croco grain straps. You either buy an alligator or croco strap or a calf strap, but not a calf strap with a grain. It always made me think that with a strap like that, you try to fool others (and yourself) thinking it is a more expensive exotic strap while in fact, it is 'just' a calf strap. However, a few years later, we all became aware that alligators and crocodiles are being slaughtered for our pleasure basically, in a very nasty way.
Variation
I am not aware that this is the reason that Formex chooses for a calf strap with alligator or croco grain, but for myself, it is a fine solution in the meanwhile. That said, I still wouldn't mind having a normal calf strap with no grain at all. Formex offers a variety of straps in different materials (leather, textile, silicon, steel) that can be ordered via their website with friendly price tags.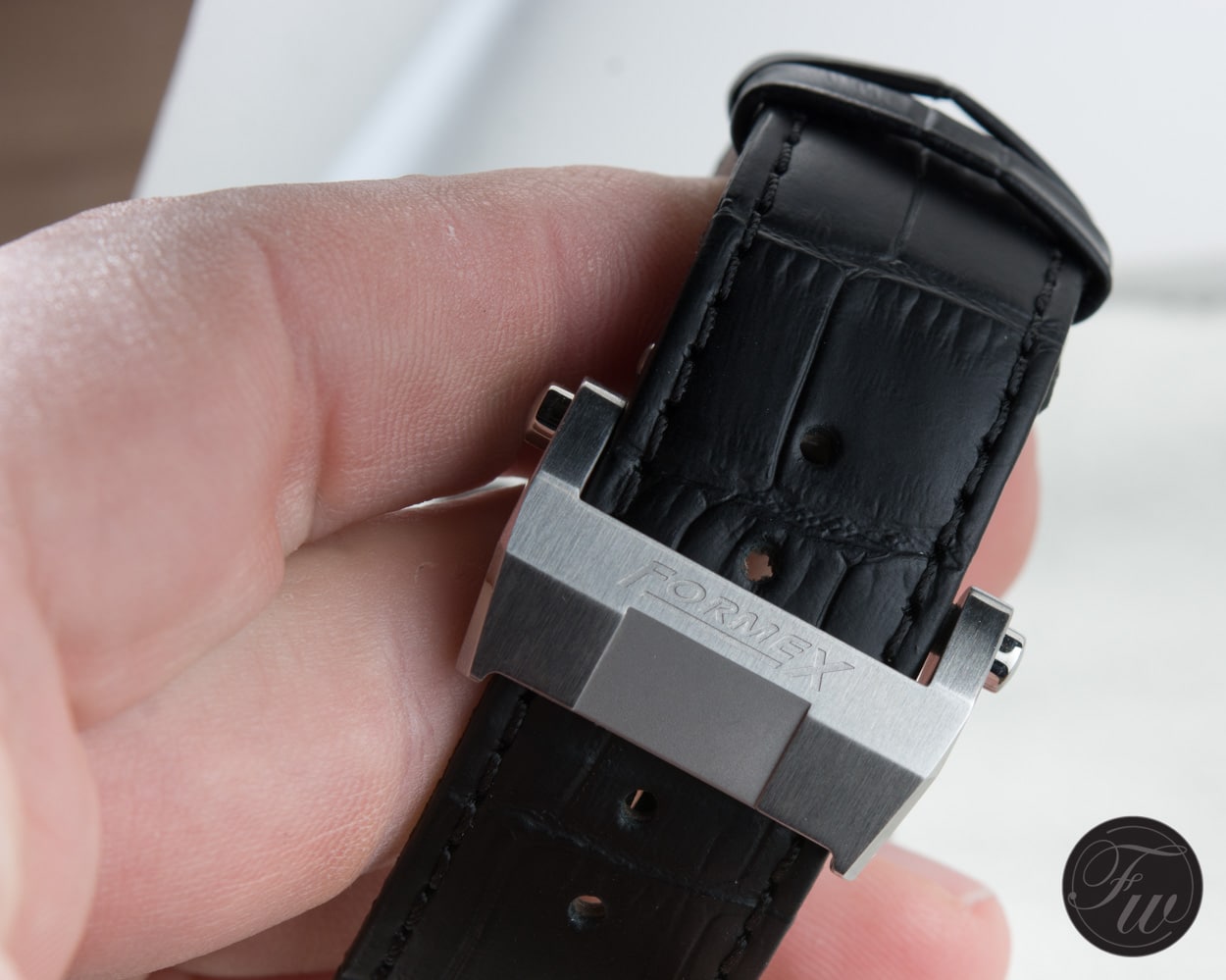 The double folding clasp is something quite special, at least when it comes to materials. It is a combination of stainless steel and carbon fibre composite. One part opens with a pair of pushers, the other side is something you just pull. There is a very small pusher on there, which is a micro-adjustment for the clasp. It has 6 positions and can extend the length by 7mm. The strap uses a quick-release system, so you can easily swap straps.
Valjoux 7750 Chronograph
Formex uses the ETA / Valjoux 7750 movement for this timepiece. A common chronograph movement that has been on the market for decades. No worries here. The calibre 7750 movement dates back to 1973 when – at the time – Valjoux introduced it as their automatic chronograph movement, 4 years after the first ones from Seiko, Zenith and Breitling/Heuer/Büren. Today, Valjoux is part of ETA (Swatch Group) and the 7750 has been used in many watches from many different brands. Even brands that might frown upon 3rd party movements today (take this with a grain of salt), did use the 7750 in the past (think IWC, Omega, Panerai) and some of them are still using it today (Breitling).
The Valjoux 7750 has a power reserve of 42 hours. It ticks at 28,800vph and features a day and date complication besides the chronograph mechanism. Although I have no reason to doubt the after-sales service of Formex, rest assured that any serious watchmaker can service or repair a Valjoux 7750.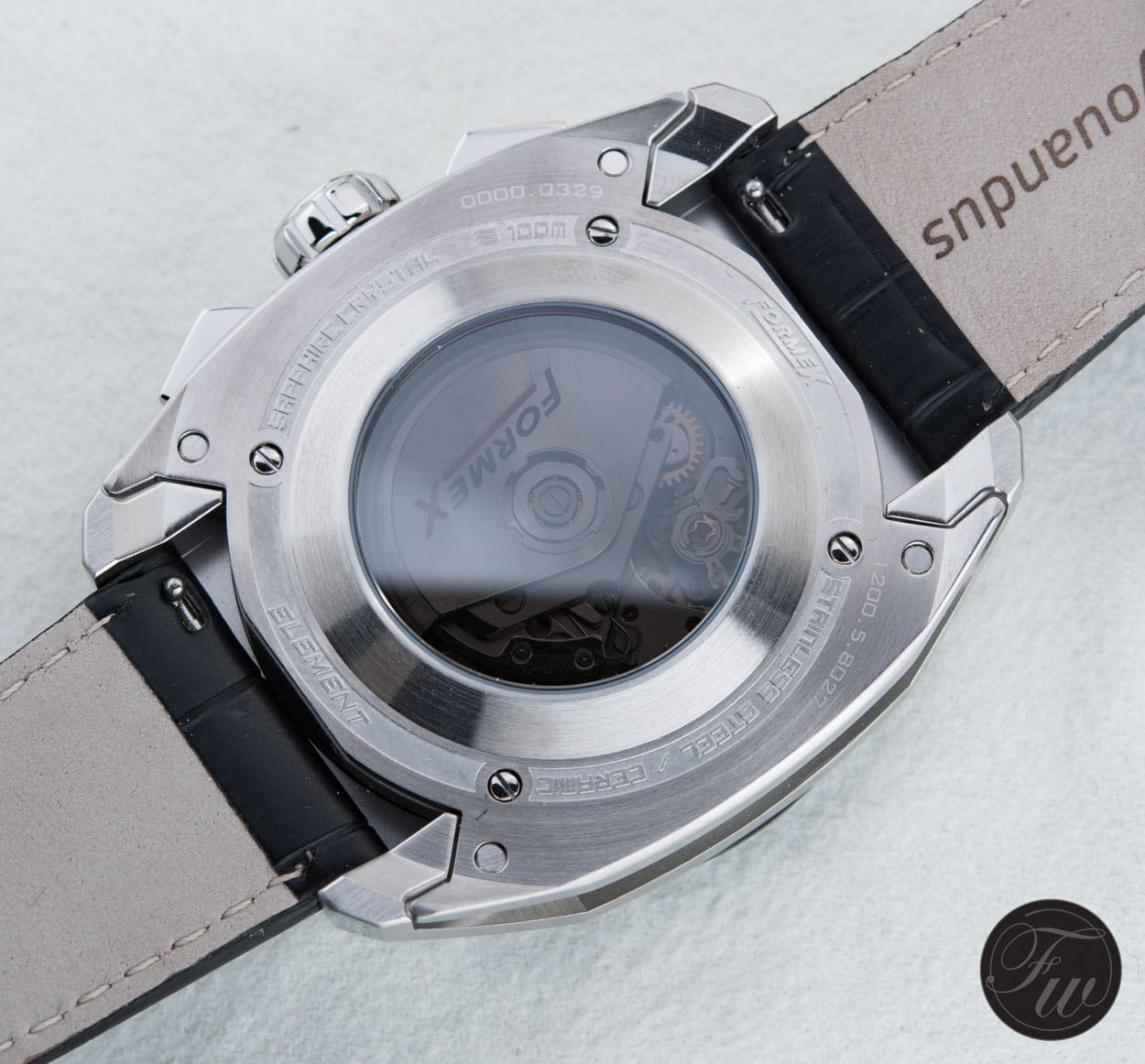 The case back of the watch is engraved with all information Formex thinks is necessary to know for the wearer. You can clearly see the 4 cylinders in the case back as well. You can also see on the picture above how the lugs disconnect from the case back for the case suspension system. In the centre, you see the "smoke-glass" that reveals the chronograph movement. As you can see, the Valjoux 7750 has a customized Formex rotor.
Conclusion – Formex Element
Price and Availability
The retail price of the watch that I reviewed (reference 1200.5.8027.311) is 1490 Euro. The version with the stainless steel bezel is 200 Euro cheaper. The Formex Element is only available via the Formex website. This price includes shipping, taxes etc.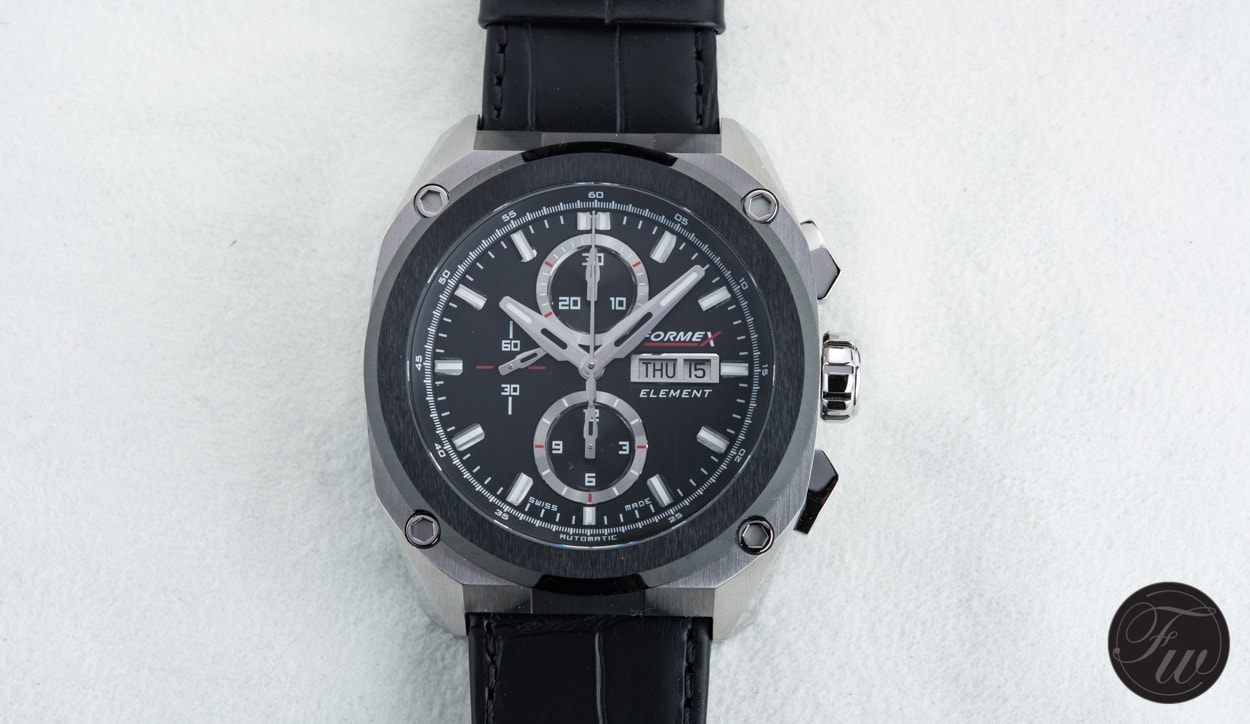 Thoughts
The Formex Element is not something I would purchase myself, but that has to do with my own taste and preference for watches. I much prefer their latest collection called Essence (click here). But personal taste aside, if you are looking for a sports watch with chronograph complication, and like large watches, the Formex Element can be a very good choice. The built quality is very good, the movement is solid with a great track record and the price is very fair. To be honest, I don't see the big advantage of the case suspension system, but I do see that it is working in certain situations or events. It can also be seen as a nod to racing cars and bikes, and you can see it as a mechanical exterior 'complication' of the watch. Fact is, that the Formex Element does what it promises. A good solid built watch using high-tech materials and solutions.