Report: Munichtime 2018 And Some Of Its Novelties
As an official media partner of Munichtime 2018, we visited Munich in the weekend of October 26-28th. In this article, we will give you an impression of what went down in one of our favourite German cities and run down some novelties that were presented there as well.
Munichtime 2018
One can't overlook that the Munichtime event is a very German one. The way it is organized, the location, the exhibitors, and the visitors. Everything breathes a German atmosphere and German culture.
There was already a slight giveaway before we left for the event because their website isn't available in another language than German. Even when you click the English flag most content remained in German 'sprache'. Most exhibiting brands have at least a German background, and the side-programme, with speeches of all kinds, was entirely held in German. Nothing wrong with that of course, just something someone from another country, like me, would notice.
Opening Of The Event
The show started off with a VIP evening on Thursday where Fratello, as one of this year's official Munichtime media partners, was invited for. It pointed out to become a very well visited evening, it seemed even more crowded than the regular Friday opening which followed. Food and drinks were offered abundantly, which was obviously highly appreciated by the many visitors. Unfortunately, I didn't get the message and had a schnitzel dinner myself before visiting the VIP evening.
Some General Fair Impressions
The size of the fairground in Hotel Bayerischer Hof was smaller than last year, with one large room less on the first floor. In this room though, two times daily interesting panel discussions were held. One could attend panel discussions and lectures on subjects like for instance Watch Investments, Watch Trips, History of the Wristwatch, and Important Women and their Watches.
Munichtime Brand Novelties
Starting with a Swiss Brand, Formex
As said, Munichtime is quite a German event. However, brands from Switzerland, Japan, and even The Netherlands were present as well. I'd like to start with a Swiss company which invited us especially to their booth, Formex. Almost simultaneous with the opening of Munichtime, the pre-sale for Formex' latest issue, the Essence Automatic Chronometer, went online. We were happy to learn that a prototype of this attractive watch was available at the Formex Munichtime booth. Although the watch might generate feelings of resemblance to for instance the Piaget Polo S (click the link for our coverage of that watch) with some bezel screws from a Royal Oak, I think it's a nice watch on the wrist. And then, of course, the price of € 790,= is very appealing.

Augmented reality app
Besides this prototype, Formex introduced their IOS (Apple) 'Try On' app. With this app, one wears a bracelet, like the one pictured below, and points with an iPhone camera at it. Except for the wrist of the wearer, the app shows different Formex models in an augmented reality kind of way on that wrist. It's a 2,5D experience, while one turns around the wrist, the image in the app moves accordingly. To see the difference in looks from the app according to real life, I've added a picture wearing the watch shown in the app. Chrono24, by the way, introduced a similar feature on their website lately as well. You'll find their 'Virtual Showroom' here.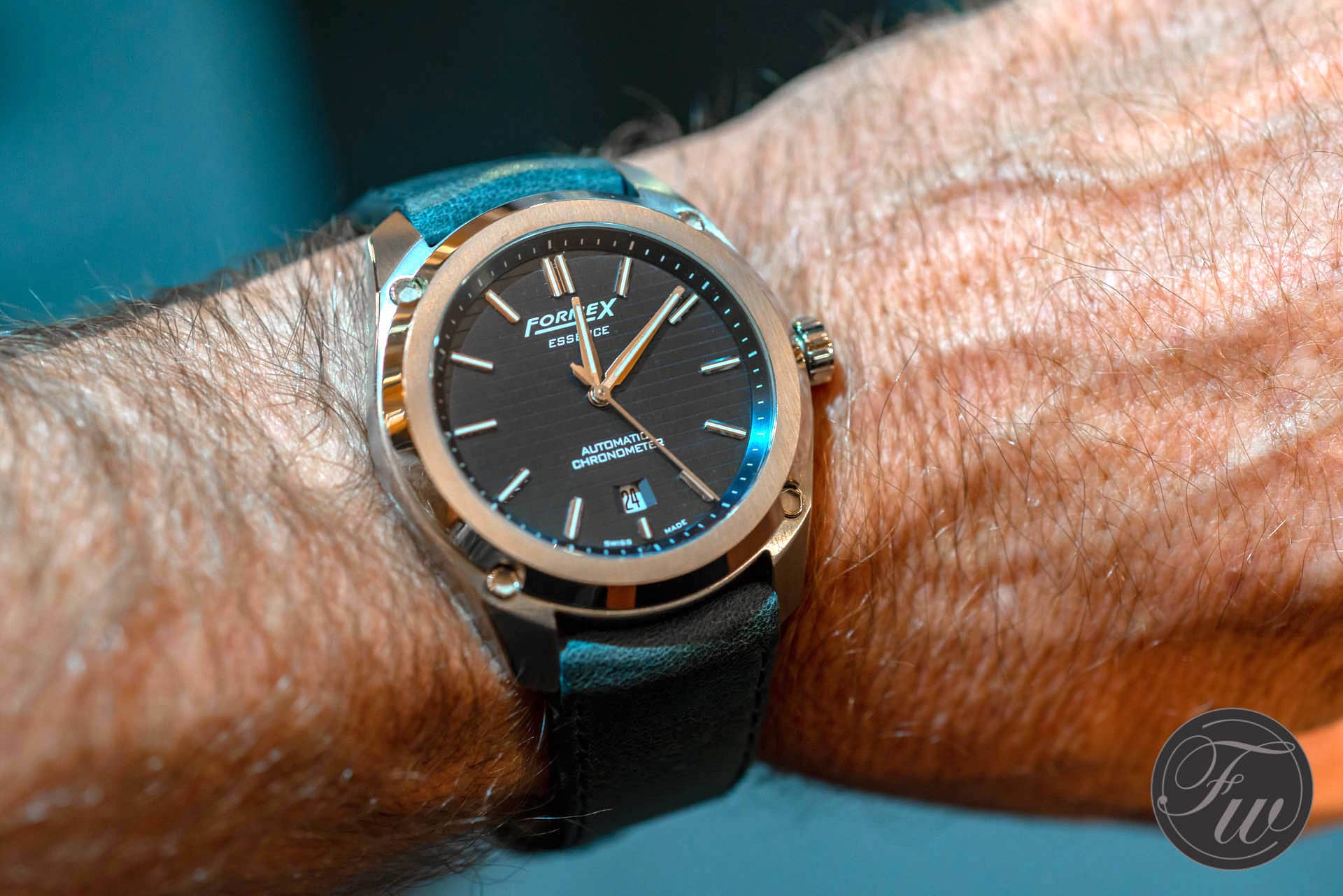 I just want to mention Seiko and Staudt here, as respectively Japanese and Dutch brands who were joining the show. But from this point, I'll just continue with a few of the German novelties presented especially at Munichtime.
Laco's New Squad Watches
In their Squad Watches model line, Laco brought 4 versions of their new Skorpion model to Munichtime. Amazonas, Atlantik, Mojave, and Himalaya. In principle all the same watches, but with different colors. Available with rubber straps and/or with a metal bracelet. These watches have a diameter of 42mm, a flat sapphire crystal, are 300M waterproof, and sport an ETA 2824.2 based automatic movement. The price is just below € 1.000,=. More information can be found at the Laco website.
A Chronos Special by Sinn, and Damascus Steel
Sinn showed us the limited edition of the Sinn 103.St which they produced for the German Chronos print magazine. Only 100 pieces of this 103.St.C will see the light. The watch is a reversed duograph Panda, sporting an automatic Sellita SW 510 movement. The 41mm case has a pressure rating of 20 bar. The black anodized aluminium rotating bezel and a high-domed acrylic glass run deep into the roots of traditional pilot chronographs of the 1960s. The price is just below € 2.000,=.
Second Munichtime novelty showed to us by Sinn was the ref 1800.Damaszener. A watch constructed from Damascus steel, where the dial and the case of the watch are produced in one part. Not only produced from the beautiful Damascus steel, but the watch has also been treated with Sinn's Tegiment technology to have the casing extremely scratch resistant. Because of the nature of the Damascus steel material, every watch will show a different surface. Size of the 1800 Damaszener's casing is 43mm, housing an ETA 2892-A2 automatic movement. Price: € 7.800,=. More information on both watches can be found through the Sinn website.
From Frankfurt as well, Guinand
Just like Sinn, Guinand is Frankfurt-based as well. I don't want to go too deep into it at this point, however, there has been more between Sinn and Guinand in the past than just the city they're operating from. Anyhow, that was long ago and forgotten. Guinand now showed us their Munichtime novelty, the Werksfahrer (Factory Driver, red.) Chrono 1. A model as such which we know from the seventies already, it has been produced by many brands in those days. It seems that Guinand produced a manual-wind version of this model in the early eighties as well.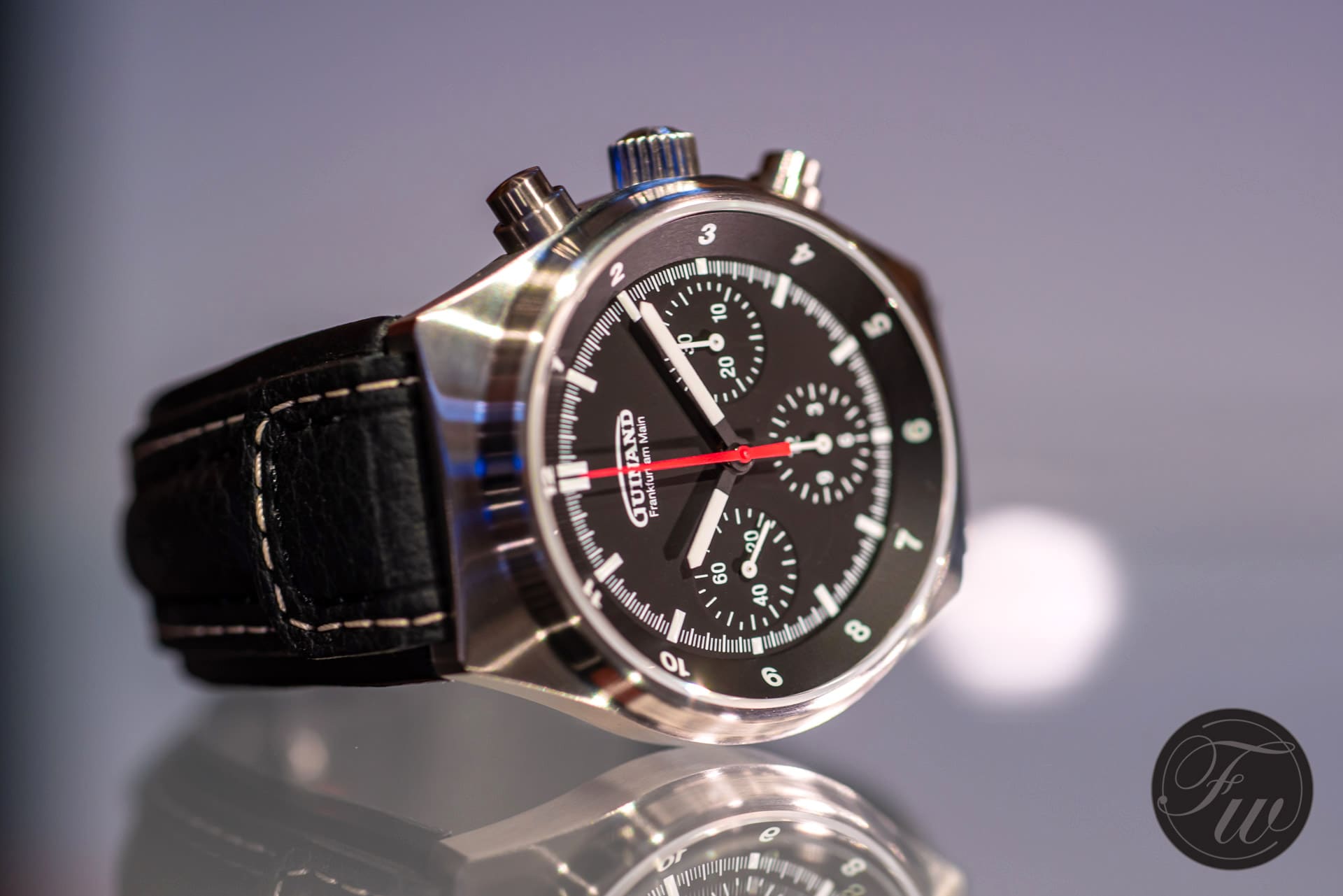 To me, very nice about the current version from Guinand is the Tri-Compax layout and that there's no date to spoil the clear dial. Although there's no mention at the Guinand website, the proven design of the case seems to me like a 41mm one. An automatic chronograph movement Valjoux 7753 runs inside and can be seen through a sapphire glass back. The glass on top is sapphire as well, and the pressure rating of the watch is 20 bar. Prices depend on the choice of strap and start at € 1.790,=. The Werksfahrer Chrono 1 is available in black as well. More information at the Guinand website.
Further up North, Mühle Glashütte
In our pre-show press information, we could read that Mühle Glashütte would bring the 29er Tag/Datum as their novelty to Munichtime. And of course, they did. Seeing it in the flesh I still liked the watch, although it was slightly thicker than I thought it would be. As well it became clear that this watch wasn't really a novelty, it had been shown before as well. I had totally missed it though.
Mühle's real novelty pointed out to be a bronze divers watch, the Yacht-Timer Bronze. A watch which made me immediately think about my beautiful Eterna Kon-Tiki Bronze. Except for some details, and that the Mühle has a date window (which you all know I don't like very much). Well after some investigating, I mentioned that the Yacht-Timer Bronze model had been shown before as well. I guess Mühle just didn't come with a real Munichtime novelty, however, these two watches were certainly worth looking at and trying on. I promise to keep a closer eye on Mühle in the future 😉
Last but not least, Stowa
Another brand which we didn't cover too much on Fratello Watches is Stowa. Stowa for us is best known for their attractive Pilots watches. The last write-up we did on that subject can be found here. Besides Pilots watches, however, Stowa has a nice range of dress, contemporary and sports watches as well. It's in this last section that Stowa showed us their new Pro Diver Weiß. A sporty and modern diver's watch with a pressure rating of no less than 1000M. Made out of titanium, it makes that the 42mm casing didn't become too heavy. A trustworthy ETA 2824-2 is running the show, with prices starting at € 1.320,=. Unfortunately we've only one picture of this new watch slightly worth showing, however, a visit to Stowa's website will certainly show some more.
Last But Not Least
Not pretending to be even nearly complete, this was it for now. I'm sorry for the brands we were not able to cover, but we guess as a reader you got a fair overall idea of what Munichtime is all about. Enjoy some more pictures of the event in the gallery below, and let's wait for what will happen next year, rumour has it that it might be held on a different location.