Hands-On: IFL Watches Levels Up The Metal G-Shock CasiOak With The Limited Black Metal Galaxy
Hand-painted dial art moves the full-metal G-Shock CasiOak up the grail ladder
The Casio G-Shock G-2100 started as a fun, almost-ironic resin take on a certain oak-named grail watch and other '70s octagons. Quickly earning its "CasiOak" nickname, the model was a fresh new take from Casio. Priced at about €110 when launched in 2019, it was a massive success. Today, it's close to becoming a classic G-Shock in its own right with a big choice in finishes and module tech. The big step came in 2022 when Casio dropped the all-metal GM-B2100 series. The brand had resisted the temptation to launch an all-metal CasiOak for obvious reasons. Poorly made aftermarket shrouds and bracelets for the resin octagons sold like hotcakes as Casio played a long game. When the three metal-cased CasiOaks finally dropped, they came late to the party but aced the game.
With the rise of the CasiOak, Swedish online retailer IFL Watches tapped into the zeitgeist. Back in 2021, teaming with Chris Alexander, aka @thedialartist (now the company's creative director), IFL Watches dropped the smash-hit CasiOak Galaxy Rainbow. This black resin CasiOak with bespoke pointillistic artwork instantly sold out, laying the foundations for a catalog of brightly colored watches. This includes myriad G-Shocks, the Tissot PRX Galaxy, and a couple of Oris variants, such as the Divers Sixty-Five Tiffany Sky. Now two years after the first hit, IFL Watches levels up the G-Shock CasiOak. Meet the Black Metal Galaxy.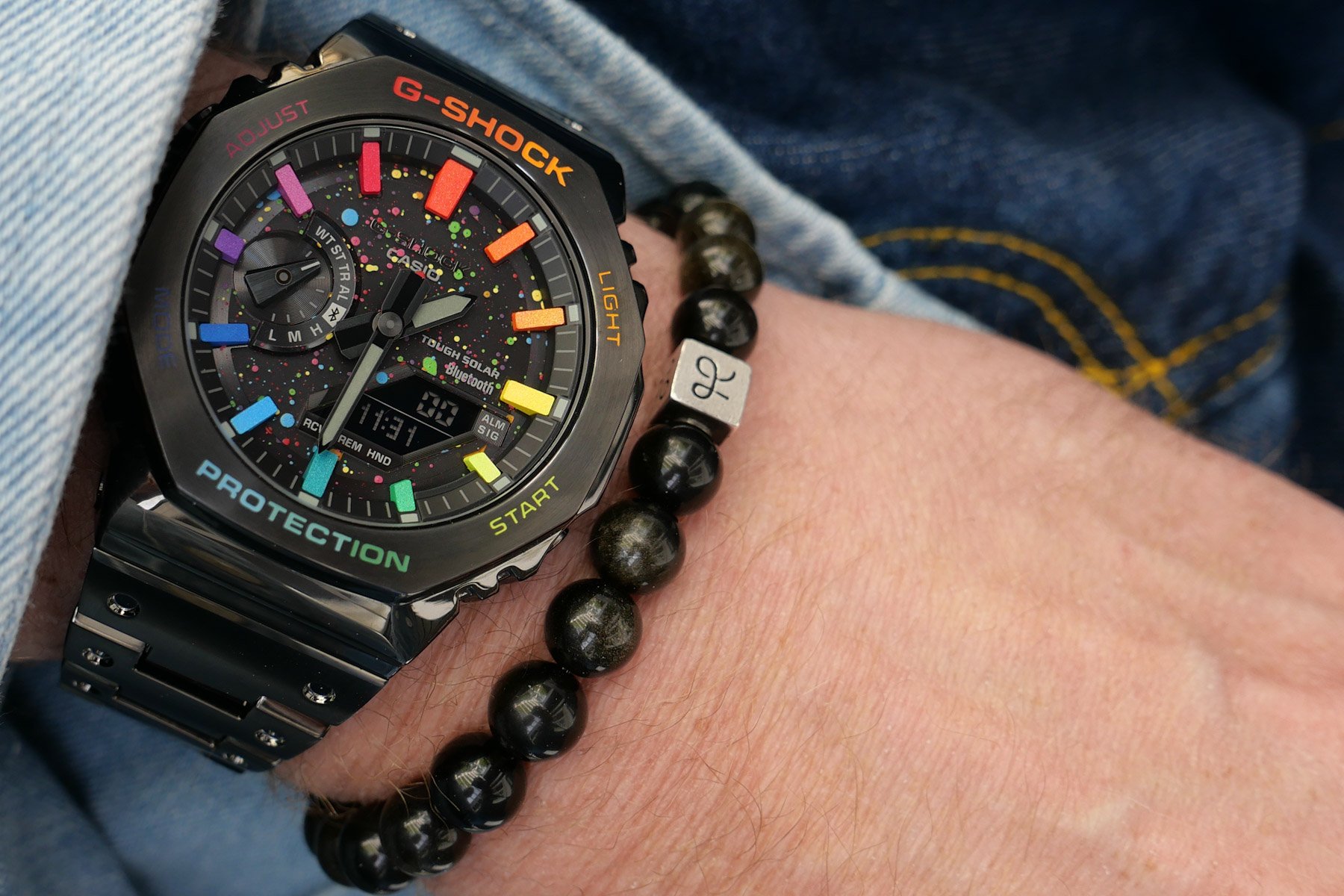 Abstract art for an upmarket G-Shock
The work of IFL Watches involves colorful, hand-painted bespoke dials from new watches that come with a two-year warranty. You might think that this colorful "galaxy" is sprayed, but it's manually painted with a pointillism technique. Wikipedia tells us that French painters "George Seurat and Paul Signac developed the technique in 1886, branching from Impressionism. The term 'Pointillism' was coined by art critics in the late 1880s to ridicule the works of these artists, but is now used without its earlier pejorative connotation. The movement Seurat began with this technique is known as Neo-impressionism." And each of these custom G-Shock dials is unique. This simply adds a considerable level (or galaxy) of pop-art freshness to a solid G-Shock. As for luxury? Well, if you're used to €100 G-Shocks, then this is another world altogether. It's a colorful celebration of the Casio sub-brand, topped only by some titanium square 5000s and the hand-crafted MR-Gs.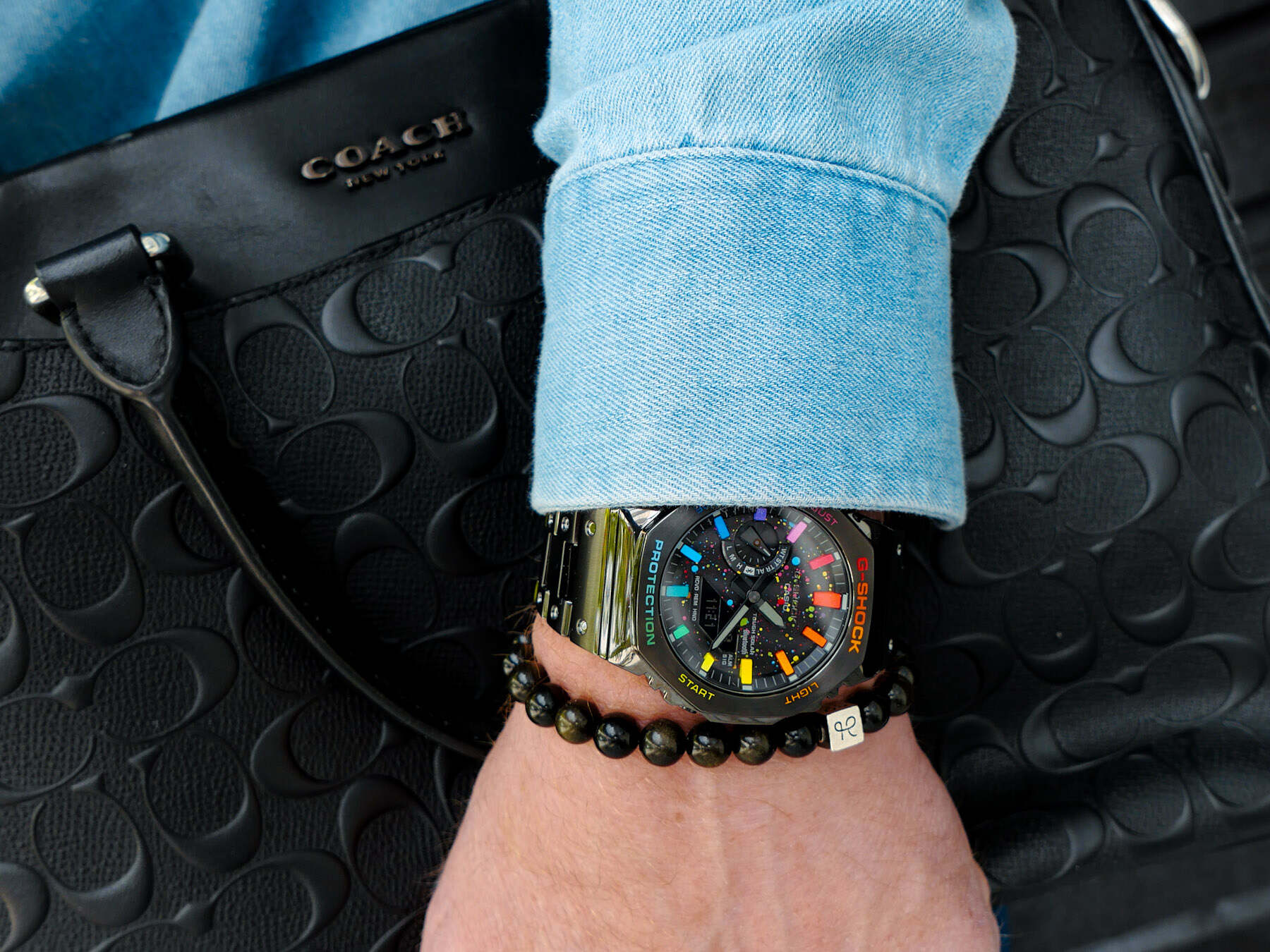 Still packed with functionality
Before delving deeper into the custom artwork, let's not forget that what I'm wearing in these shots is a superb everyday watch. I love 37–38mm retro mechanicals, but I'm still biased. My go-to everyday watch is a Casio. In fact, it's a burgundy all-metal G-Shock "Square," the GMW-B5000RD-4. I gulped at spending €600 on this a couple of years back, but I haven't looked back. Just like this 149g (sized for my 17.5cm wrist) CasiOak, it feels nothing like a resin G-Shock. The steel bracelet is the same here, and with its simple big-link design, it might look basic. But the Japanese know their ergonomics.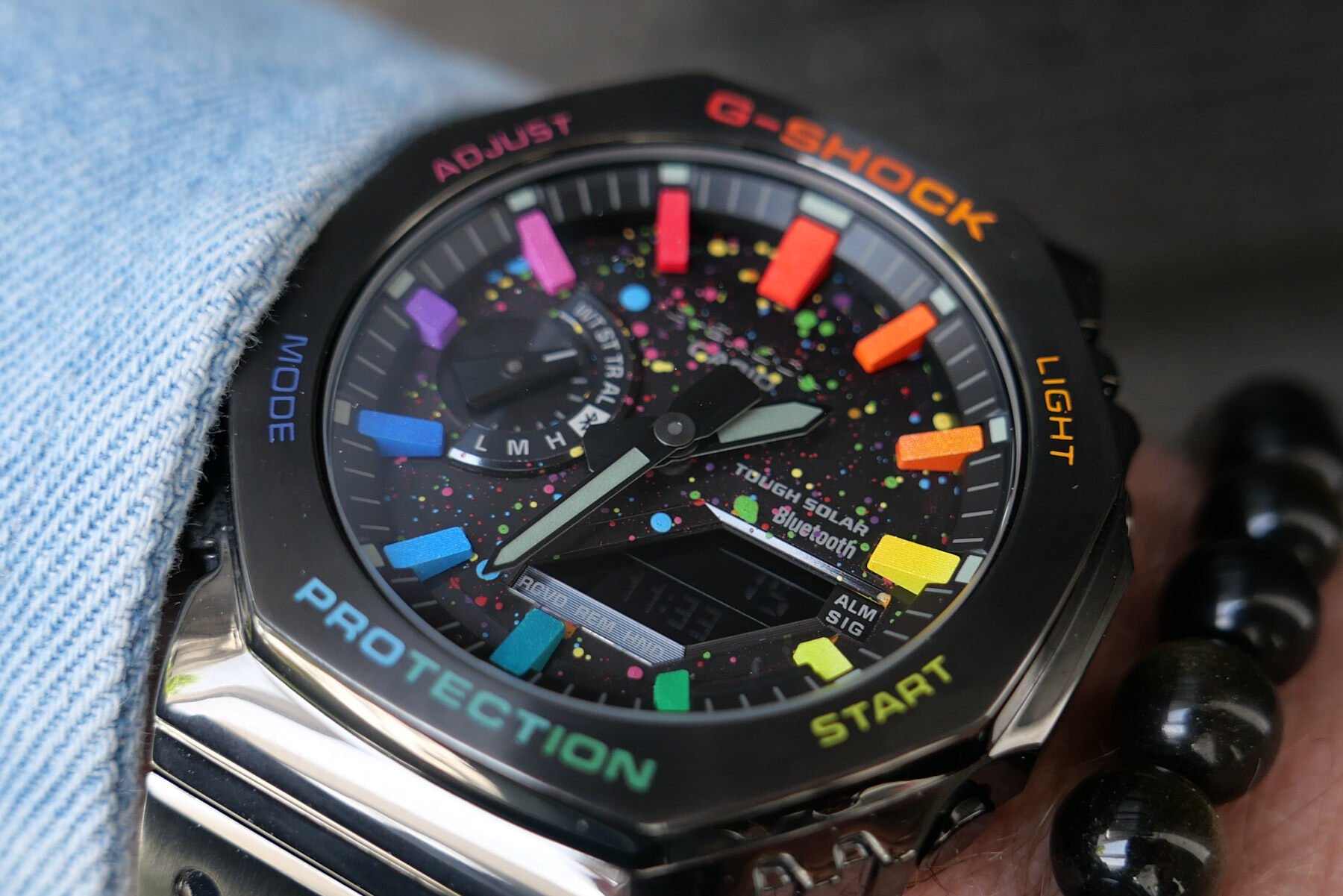 The links are held together by small-scale Casio spring bars, so it's sized up in five minutes flat. In fact, it drapes softly despite its simplicity, and everything else is pure G functionality. The metal version has a Bluetooth upgrade to link to the G-Shock app, an intuitive world timer, solar power, and all your stopwatch and countdown needs covered. And unlike the first resin Oakies, the light is powerful enough to make the galaxy-colored dial cheer you up at midnight. Obviously, like any decent G-Shock, it has a 200m depth rating and is massively shockproof. But trust me, you'll baby this one more than you're used to.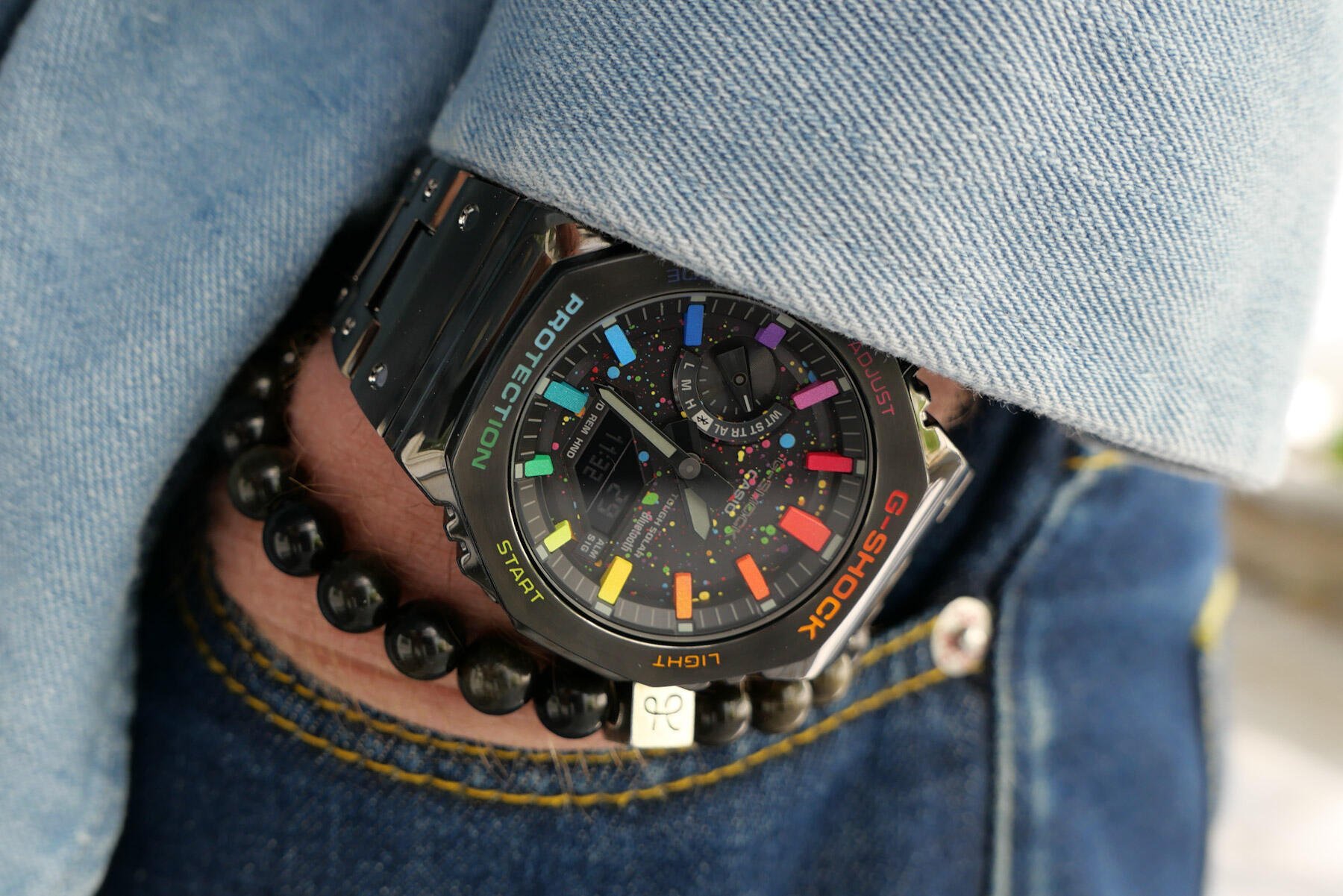 A glitzy twist inspired by two icons
The Black Metal Galaxy is a full-metal CasiOak with added soul. Consider that each one of the 200 pieces to be made is unique, then it adds up. Pointillism does not inspire perfection but rather oodles of charm. You'll find a red, blue, or pink splodge (should that read "planet"?) covering half of the "H" in the G-Shock logo. And this is all part of the charm. The rainbow indices are actually painted in a glitter-infused lacquer and hint at the mythical twinkle of rainbow gem-set Rolex Daytonas. The blocky indices that are cut into the minute-track rehaut appear to clamp the dial and are painted separately from the main dial surface.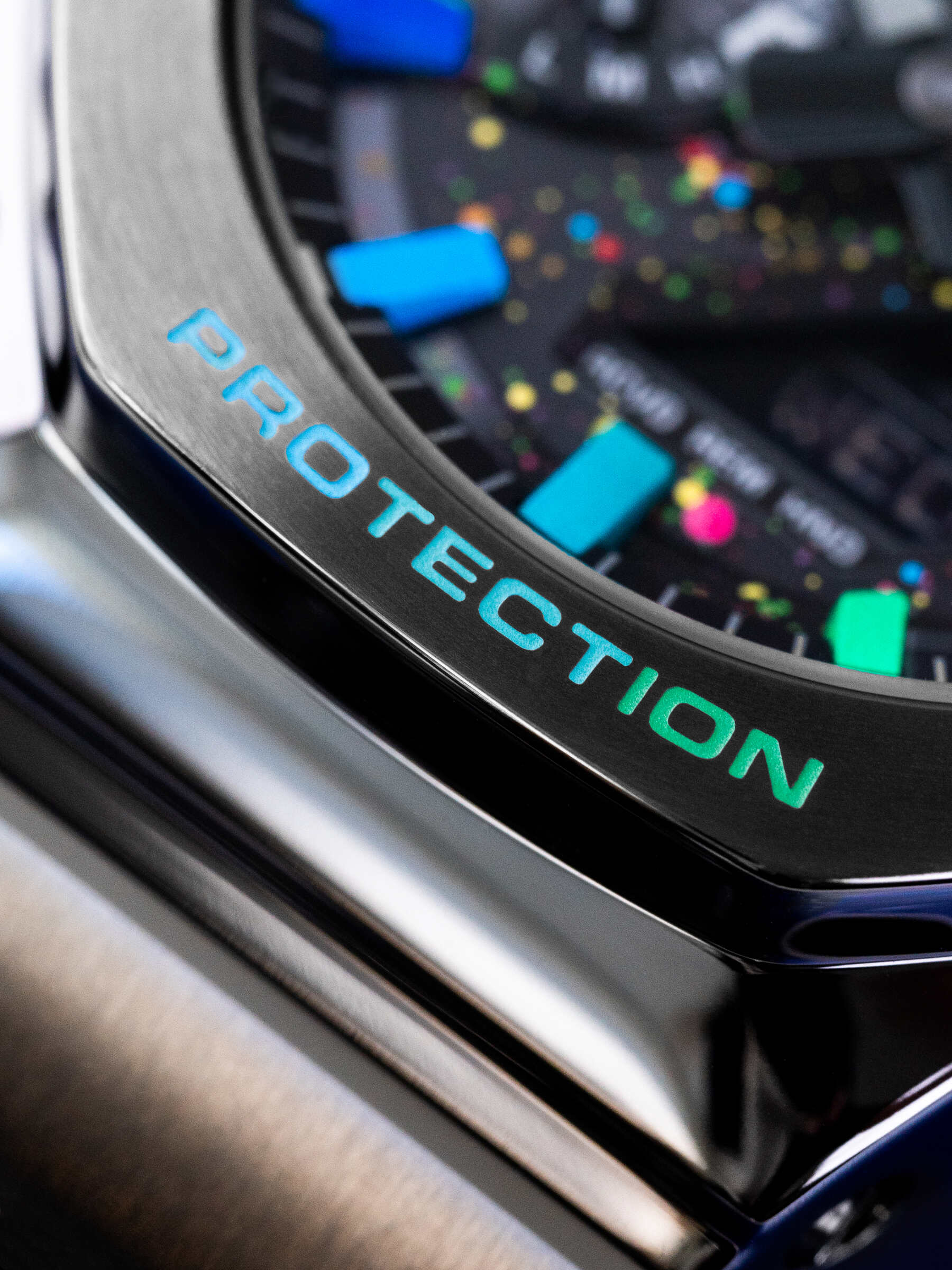 The 12 indices' soft, rainbow-like transition from fiery orange at 12 o'clock through yellows, blues, purple, and red is matched by filled text on the bezel. On the normal GM-2100, you'll see the bezel as all-black except for at close quarters where engraved text is visible. Here, the "G-SHOCK" text at 12 and "PROTECTION" at 6 o'clock are deliciously colored in with a dégradé technique. The word "PROTECTION" has a turquoise P ending in a green-tinged N. To be honest, I think Casio might be looking at the Black Metal Galaxy with quiet respect since it fuses the fun of affordable bright-colored Gs with the upmarket feel of metal.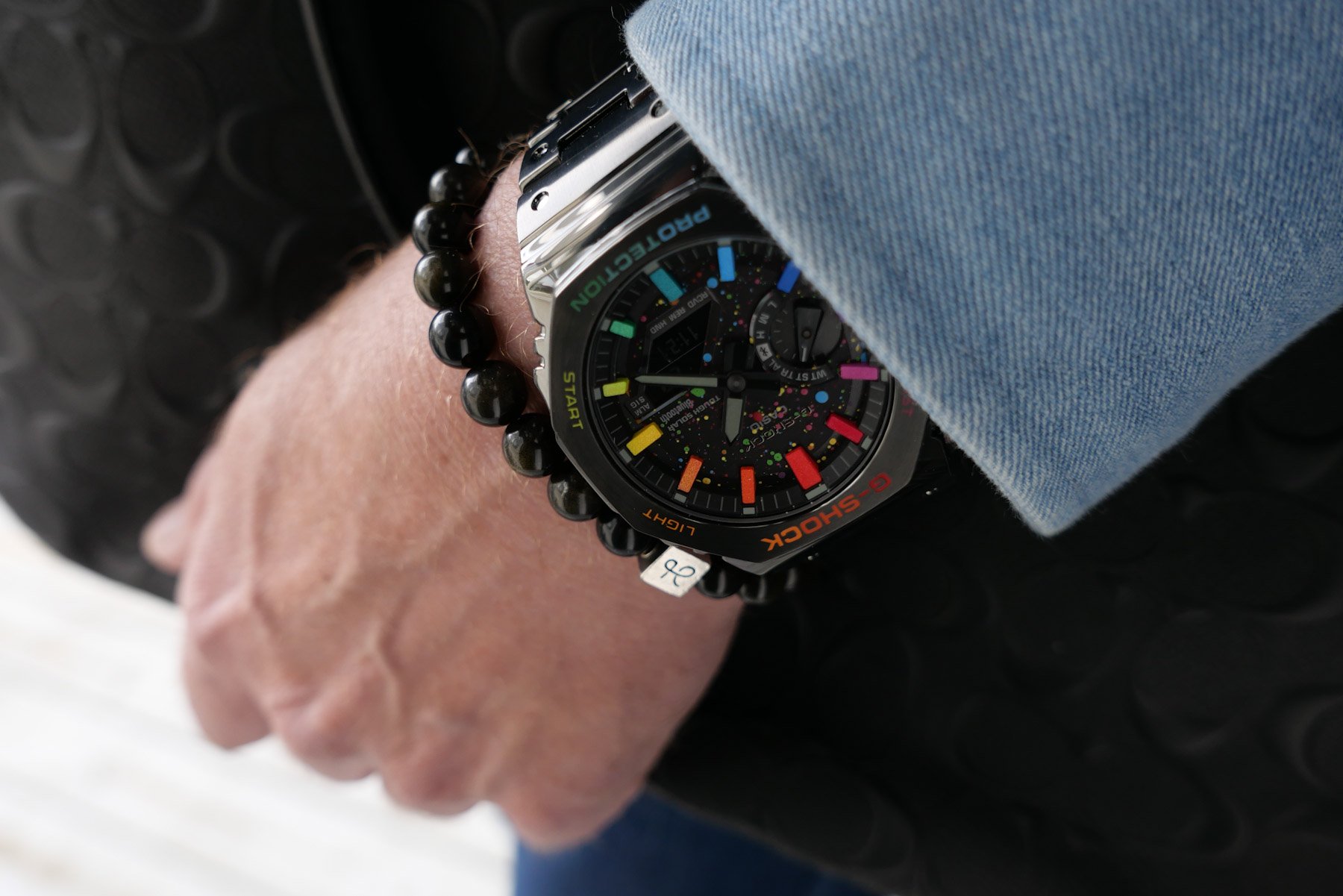 A nearly black and tempting conclusion
As my day job is in the world of Italian interior design, I'd say that the ion-plated black of the G-Shock CasiOak isn't black. It's a deep, lucid anthracite gray. This only improves its versatility and gives off a similar vibe to a ceramic Hublot. That glitzy big banger (pun intended) is obviously a galaxy apart in price (haha). It's not a fair competition, but swinging in favor of this IFL artwork is its wearability. With a 12.8mm thickness and despite seeming broad at 44.4mm across, it is a very wearable watch, and I admit to liking it a lot. As I've touched on already, it takes the usual cheap summer fun of a bright €150 resin yellow or red G-Shock and encases it in the metal luxe of the GM-B2100BD-1A. But it's also a lot more.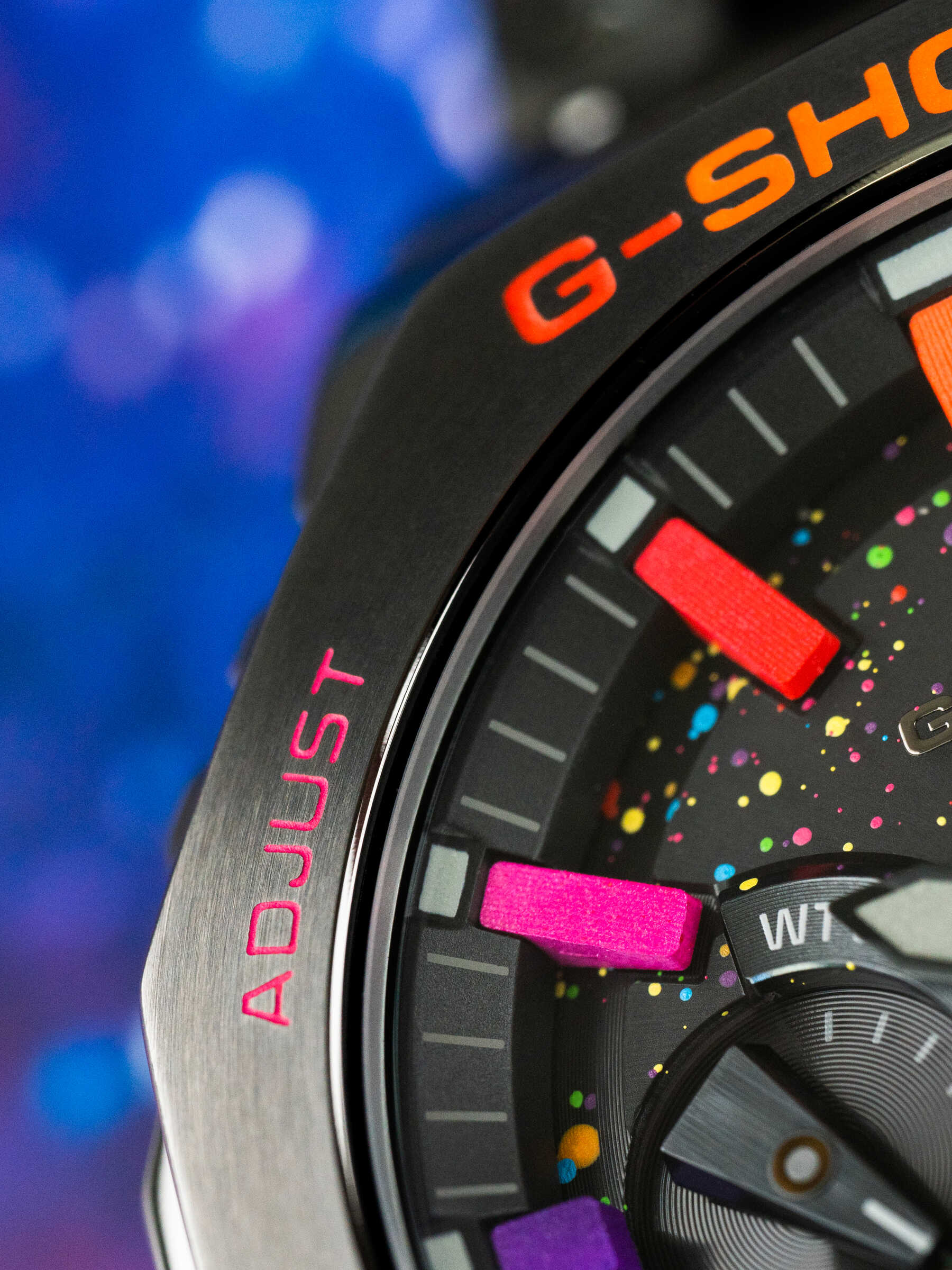 The Black Metal Galaxy is simply the best of two worlds without stretching to the fascinating €5,000–7,000 MR-G series. Compared to the €599 standard GM-2100, the IFL €1,390 price might seem like a considerable price-tier upgrade. But just look at the red-to-orange hand-filled text at 12. The dégradé coloring alone will make you understand the hours of labor behind each piece. Each IFL G-Shock is like a personal work of art with a rugged tech soul. With this in mind, I find it a very tempting proposition. The G-Shock CasiOak Black Metal Galaxy launches today the 29.05 at 4 pm CEST. Have a look at the IFL Watches website, and you might find you can have your digital cake and eat it too.
Fratelli, what do you think? If you love colored G-shocks but find resin a bit mundane, is this your idea of a big upgrade? Let me know what you think in the comments.
Find me and follow me: @thorsvaboe
Watch specifications
Model
G-Shock GM-B2100BD-1A
Reference
IFL Watches G-Shock CasiOak Black Metal Galaxy
Dial
Black dial with hand-painted details, separate function sub-dial, and digital display
Case Material
Ion-plated stainless steel
Case Dimensions
44.4mm (diameter) × 49.8mm (length) × 12.8mm (thickness)
Case Back
Ion-plated stainless steel back, screw-down
Movement
Casio Module 5691 — solar-powered with Bluetooth functionality
Strap
Ion-plated stainless steel bracelet with push-button deployant clasp and micro-adjustment
Functions
Analog time display (hours and minutes) with separate digital display. Stopwatch functions, countdown timer, phone finder, illuminating neo-display, LED light display, world time, and full auto calendar.
Warranty
Two years from IFL Watches