Hands-On With The Isotope Hydrium Pro Nordblad Limited Edition
Honoring an inspirational ice diving achievement
Isotope has been delivering its Hydrium dive watch in many different guises, most recently with neon-green touches in the successful collaboration with seconde/seconde/. The series has generally been segmented into regular Hydrium models and the "X" models, which are a little more playful. The watch I'm going hands-on with today pays tribute to record freediver Johanna Nordblad, and it is the first to carry a "Pro" designation. As such, the Nordblad Limited Edition is the most professional and functional Hydrium variant to date. But what exactly does that mean, and what elevates it above previous models?
Many of us will never push a dive watch to the extremes of its capabilities. I'll admit that the thought of descending into the murky depths, trusting my life to a breathing apparatus, or, in the case of Johanna Nordblad and other freedivers, putting ultimate trust in their ability and dedication, fills me with dread. However, it is comforting to know that the watch I wear to the beach with my kids or during a splash at the local pool can handle anything I'm likely to throw at it. A somewhat more robust list of things that a diver watch should be able to withstand is set out in ISO 6425, and this is the first watch from Isotope that meets those standards. For an excellent rundown of what ISO 6425 lays out, take a look back at Gerard's article.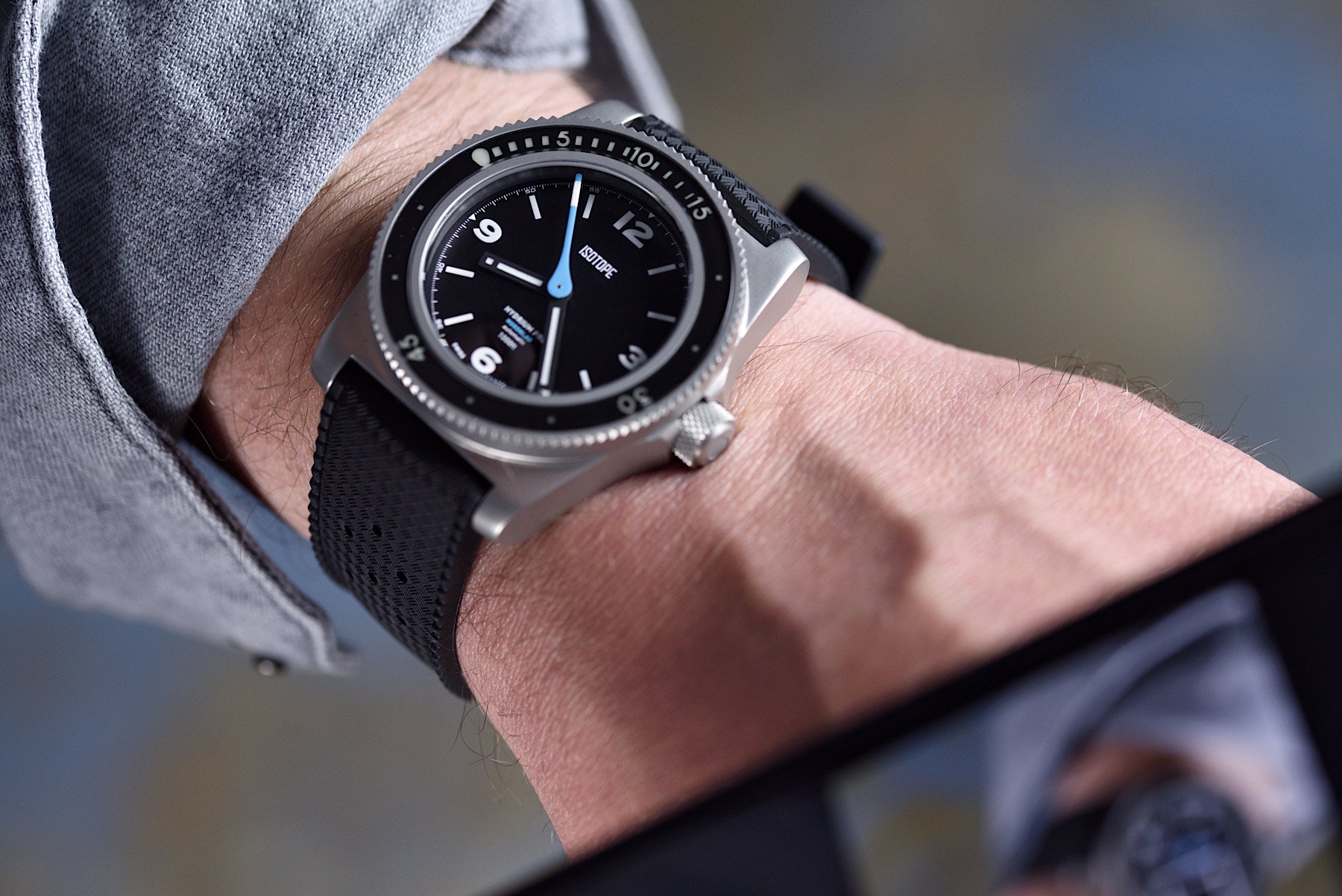 A professional diver and a professional watch
A competitive freediver since 2000, Johanna Nordblad discovered the healing powers of cold water after suffering a severe leg injury. In 2015, she broke the women's world record by swimming beneath the ice for a distance of 50 meters. In March of 2021, she broke the 100-meter mark, becoming the first person to swim for an incredible 103 meters between holes in the ice. If you haven't already watched it, I highly recommend the Netflix documentary Hold Your Breath: The Ice Dive. It covers the training, build-up, and world record attempt. It is fitting that such an individual is honored by Isotope's first "Pro" diver's watch.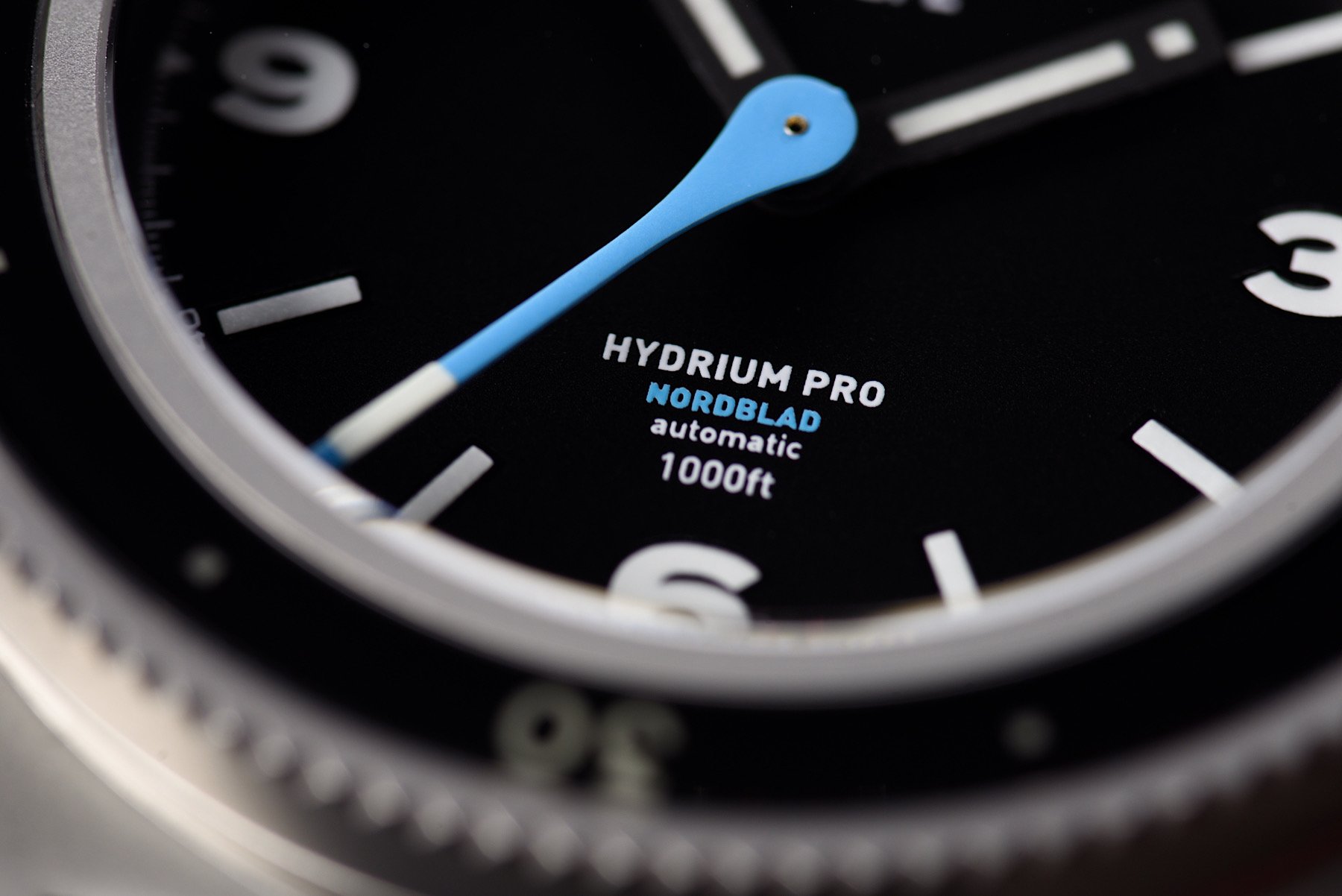 Now, ISO (the International Organization for Standardization) does not certify anything. It sets out the standard that a watch must meet or, at least, the tests it must be able to pass, to qualify as a diver's watch. Isotope says it builds the new Hydrium Pro Nordblad Edition to exceed these specifications. However, like most watches that state the same, this does not mean that each watch has been independently tested. The linked article above gives an excellent summary of those standards. Still, broadly, these relate to visibility, magnetism resistance, corrosion resistance, shock resistance, and (surprise, surprise) several tests related to water resistance.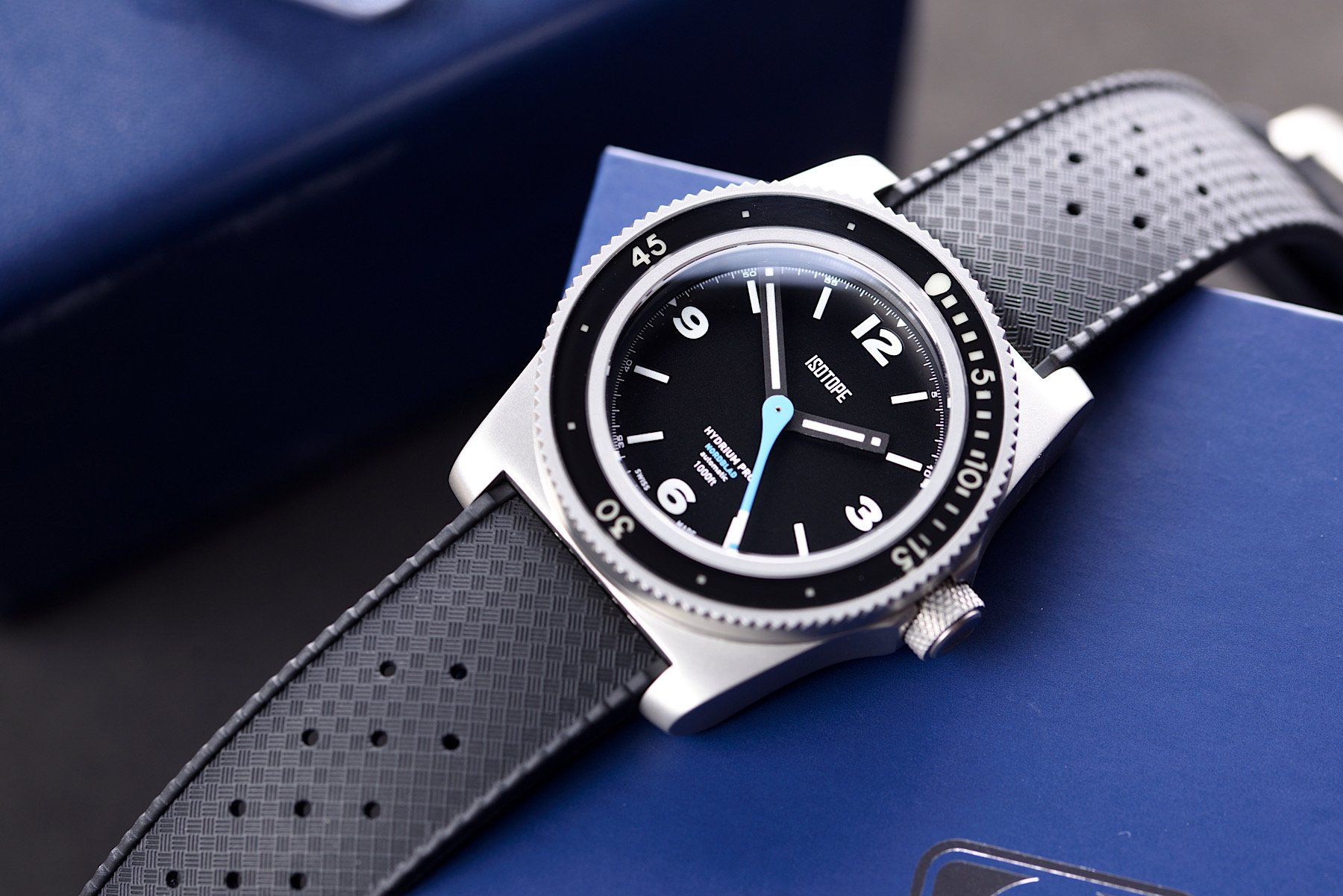 The Hydrium Pro in a nutshell
This isn't the first Isotope watch to bear the Nordblad name. An earlier compressor-style dive watch, Goutte d'Eau (or "water drop"), featured the same black and azure color scheme. Only the prominent seconds hand and Nordblad text in the lower half of the dial host this color here. However, that's enough to lift the watch away from being a fairly ordinary, black-dialed dive watch. A combination of luminous hour markers and thick Arabic numerals at the cardinal points give assurance that function is at the forefront of this watch.
Looking back to the visibility part of the ISO specification, the watch features a 120-click bezel with full indexation over the first 15 minutes, numerals at 30 and 45 minutes, and five-minute markers elsewhere. All bezel markers are lumed, glowing the same bright blue as the i-shaped hands. As a throwback to the more informal Hydrium X models, the "lacrima" shape continues to appear as the 12 o'clock bezel marker.
Sapphire crystal is present on both the front and back of the watch. The dial side gets a domed sapphire with an underside antireflective coating, while the custom rotor of the Swiss Landeron 24 automatic movement is visible through the rear display case back.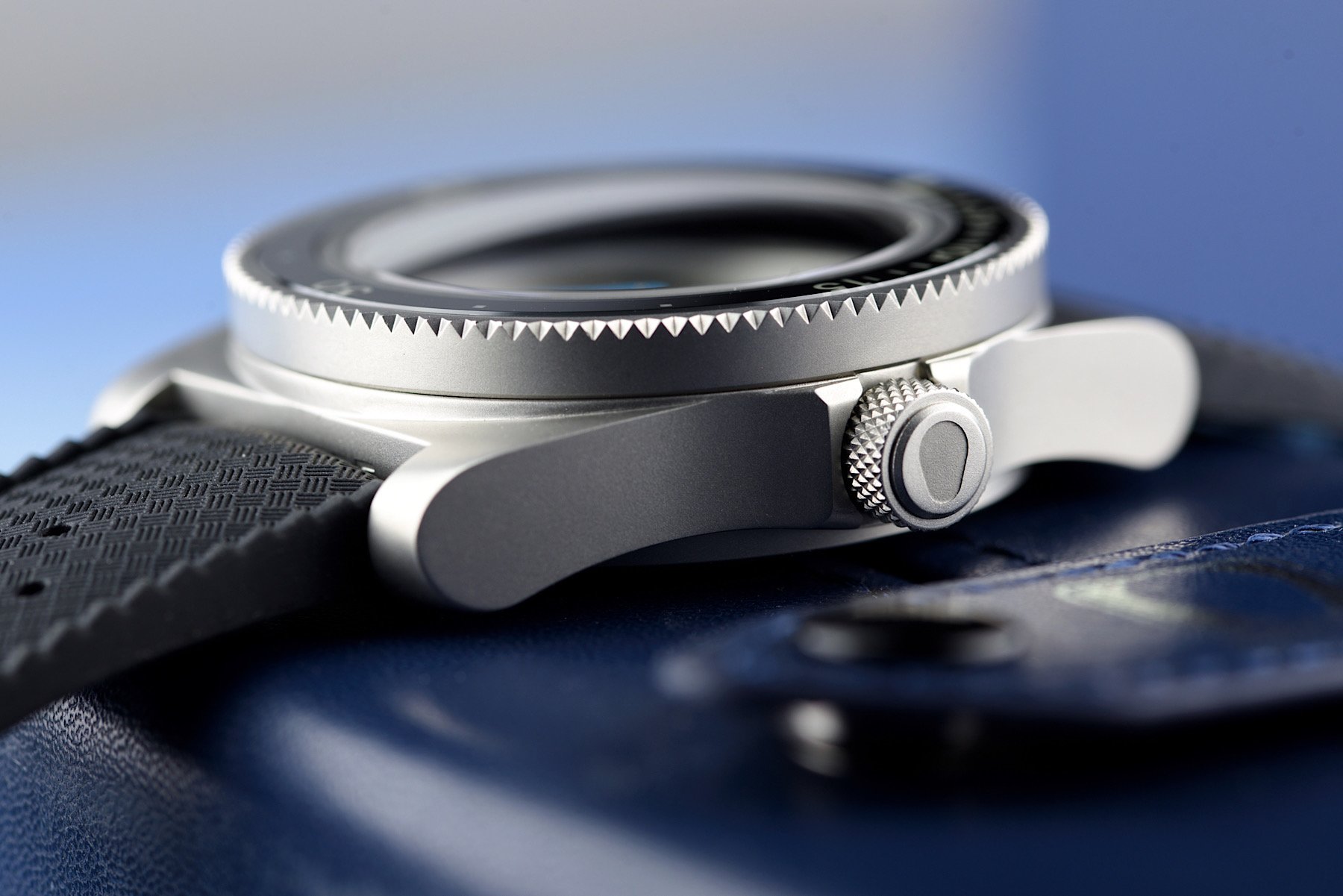 The Hydrium Pro follows the same blueprint that fans know and love
As the Nordblad Limited Edition uses the same case as other Hydrium models, it wears the same. Owing to the 40mm × 48mm dimensions, that means a wearable watch for many wrist sizes. On the other hand, the chunky case design and near-15mm thickness create a watch that still feels substantial, even if it doesn't look like it dominates the wrist. For reference, my wrist is just a smidgen under 7″ (17.5cm). The Hydrium sits in my sweet spot for how I like a watch to look on my wrist. It has a little space to spare as it wraps around my wrist with no overhang.
The watch comes with a black FKM rubber strap, providing flexibility and comfort. I haven't been tempted to switch the strap out at any point. Good-quality rubber on a dive watch both looks and feels appropriate. If you do want to change things up a little, then the quick-release spring bars make it easy. Plus, there is a range of 22mm straps in other colors available directly from Isotope. I'd love to see a dedicated bracelet for the Hydrium model — indications are that this might be in the works.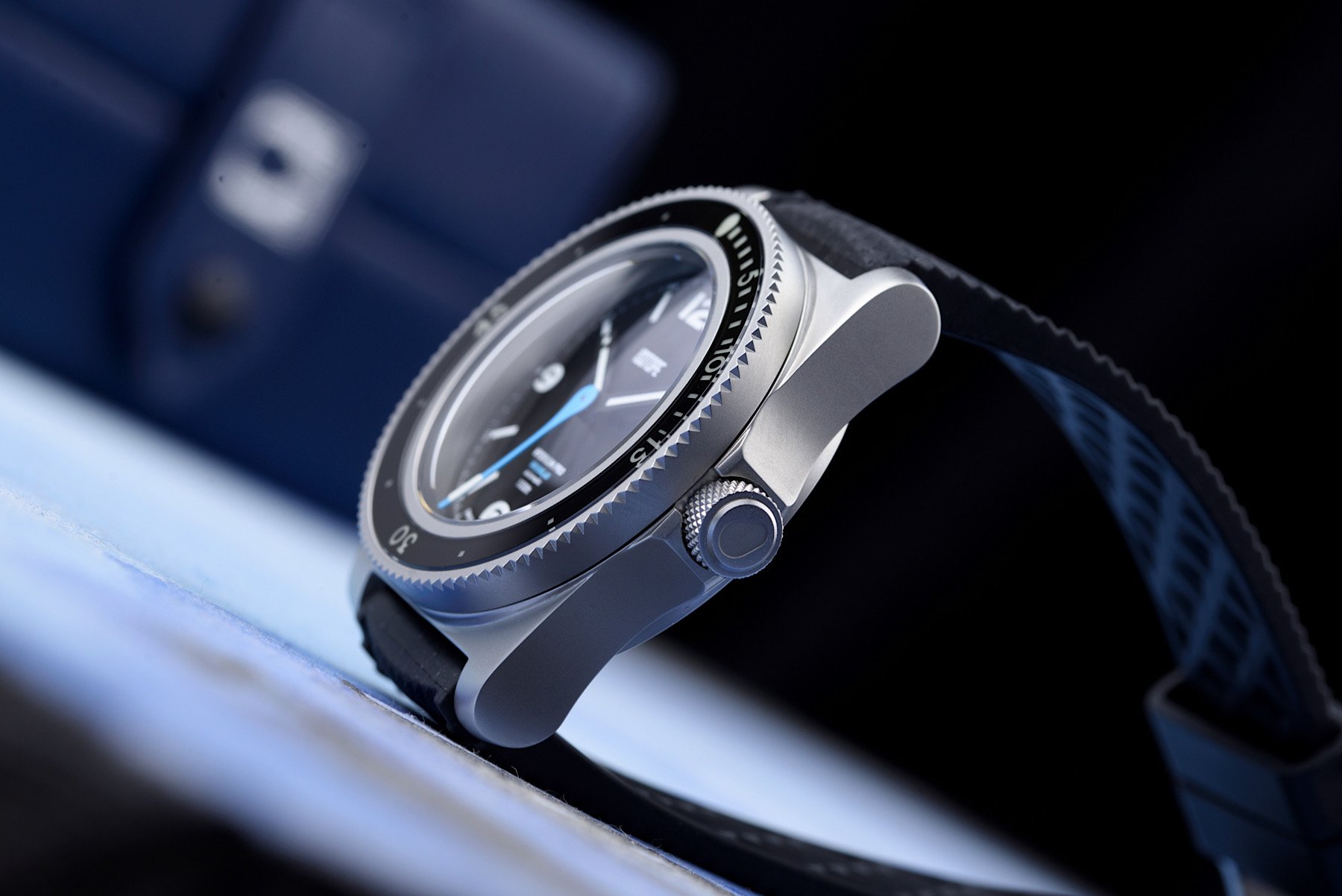 Final thoughts on the Isotope Hydrium Pro Nordblad Limited Edition
I have handled many Isotope Hydrium models, and they have ranged from having a strong focus on quirkiness and originality of design to practical, function-forward dive watches. This 100-piece limited edition pushes that purposeful end of the series further through a few tweaks with ISO 6425 in mind. I started this article by asking what elevated this particular watch above previous models. The reality is that not much has changed. In part, that's due to how good the Hydrium already is.
My tastes lean more toward quirky and unique designs. I don't have too many strict functional requirements in mind when choosing a watch. However, if your demands are the inverse of this, then the Hydrium Pro Nordblad is as professional as I expect a watch from Isotope is likely to get. Find out more about the Isotope Hydrium Pro Nordblad Limited Edition here. You can get yours for £1,080.
Watch specifications
Model
Hydrium Pro Nordblad Limited Edition
Dial
Matte black with painted Super-LumiNova indices
Case Material
Stainless steel (316L) with micro-blasted finish
Case Dimensions
40mm (diameter) × 48mm (lug-to-lug) × 14.9mm (thickness) × 22mm (lug spacing)
Crystal
Sapphire with underside antireflective coating
Case Back
Stainless steel with sapphire exhibition window, screw-in
Movement
Swiss Landeron 24 — automatic winding, 28,800vph frequency, 40-hour power reserve, 25 jewels, accuracy within ±12 seconds per day
Strap
Black FKM rubber (22mm width) with quick-release pins
Functions
Time (hours, minutes, central seconds), 60-minute timing bezel
Special Note(s)
Limited to 100 pieces