Hands-On With The Steel Jaeger-LeCoultre Polaris Perpetual Calendar
How a brief encounter in a back room complicated my life
Sure, I saw the pictures, but who can trust pictures these days? I mean, some renderings you get from brands truly border on fakery. Reality sometimes has no place in those overly polished and touched-up depictions. You get no real sense of the hue of the colors used, the finishing, the shape, the proportions, and so on. And though the watches from JLC usually don't disappoint and the numbers and words in the press kit made sense, I only had the pre-produced photographs to go by visually. So I was a tad skeptical — that's just how I approach things in my watch life, I guess — before going hands-on with the steel Jaeger-LeCoultre Polaris Perpetual Calendar.
What I wrote previously about the steel Jaeger-LeCoultre Polaris Perpetual Calendar (Q9088180) was true. Hey, it was mostly factual. Not too many big opinions. But I have to correct one thing. I wrote that the watch "… gives off some IWC GST Perpetual Calendar vibes (in a good way, don't get me wrong)." In reality, it doesn't. The IWC is a much more integrated watch. It's way slicker and smoother, too. The complicated new JLC Polaris also has a nicely integrated bracelet, but it is a bit more rugged than the IWC. It's just what would expect from what originally is a tool watch. Now, let's take a closer look at this piece in the metal.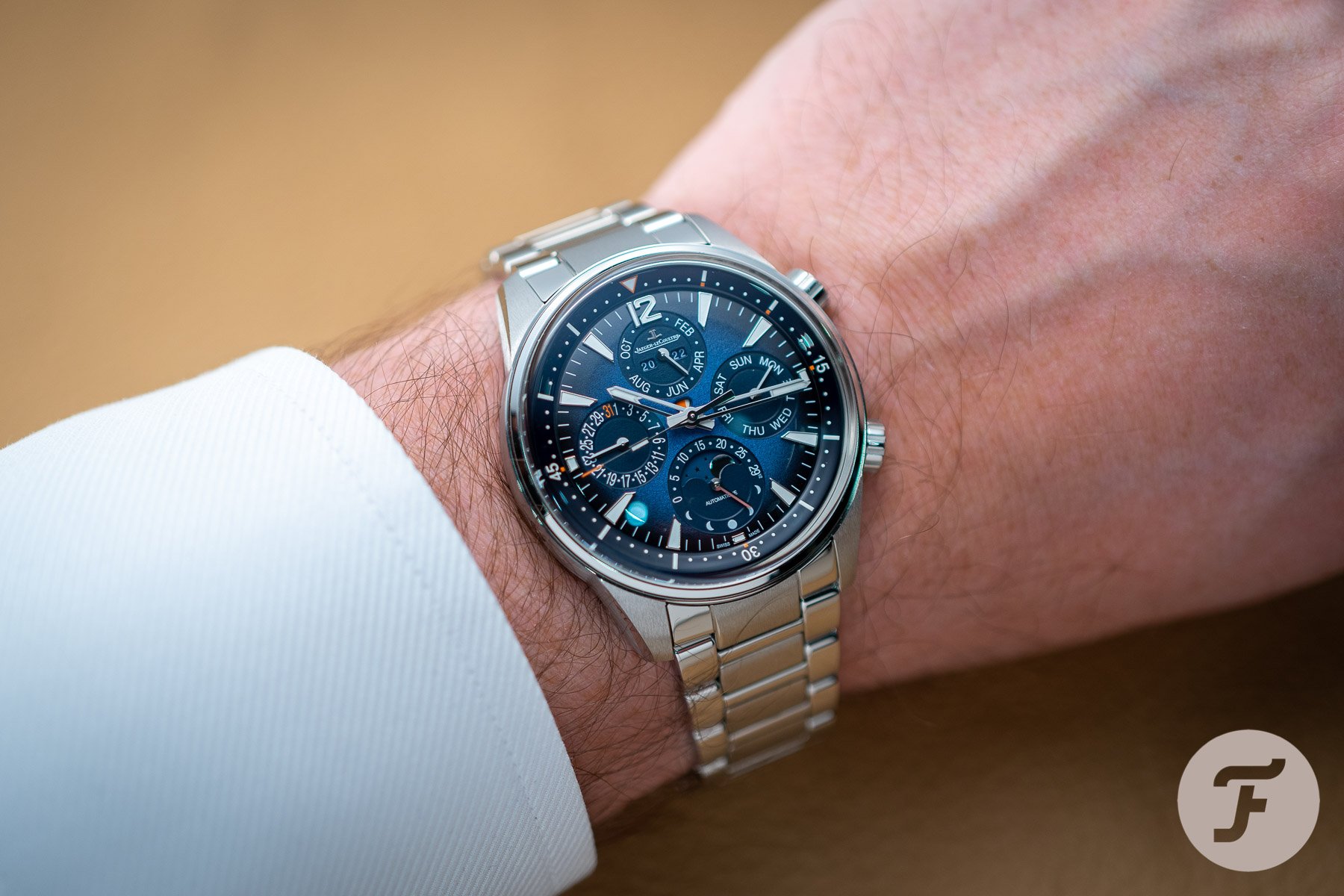 The Jaeger-LeCoultre Polaris Perpetual Calendar brings out my inner poet
First, the lacquered gradient blue dial hits the sweet spot. It's not too dark, not too light, not too blue, and not too black. Although it is very black on the perimeter, it's just right. It also gives the easy-to-recognize "QP" look of the dial with its four sub-dials an astronomical boost. It's a QP (quantième perpétuel — perpetual calendar) that, by its color scheme, reminds its wearer that the universe may last forever, but you certainly won't.
… a subtle and somewhat poetic reference to our relationship with eternity and the galaxy.
Calling it a "memento mori watch" would be too doomy and gloomy. But the colors used, in combination with the calendar function that will soldier on long after you are gone are a subtle and somewhat poetic reference to our relationship with eternity and the galaxy. It's a poem recited by a professional athlete, if you catch my drift. I guess you'd need to be receptive to these types of things, but I am.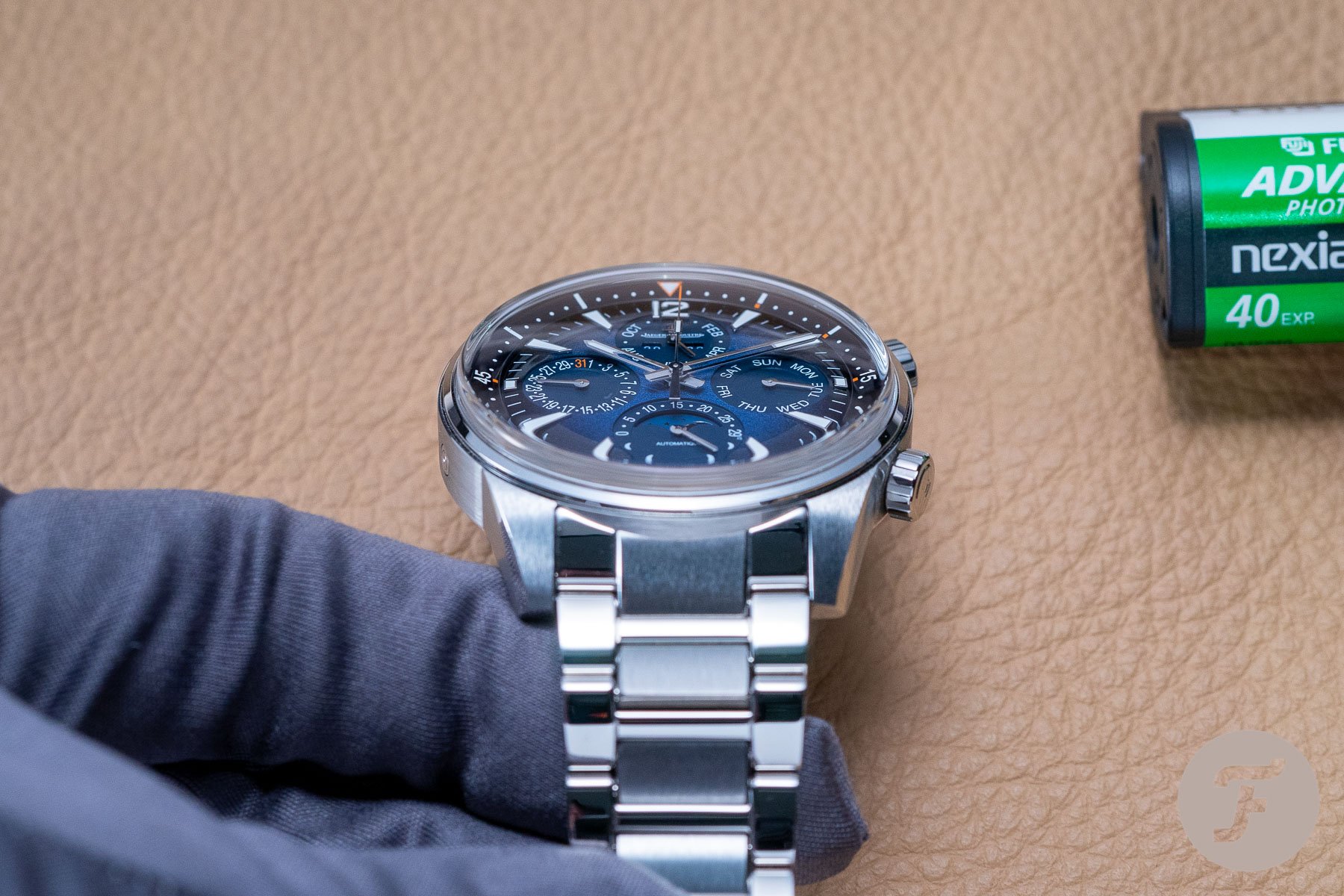 I'm also a material guy
But as much as I like to philosophize about watches and get carried away, I'm not only a dreamer. I'm also a material guy. All the words and thoughts mean nothing if the watch doesn't actually walk the talk. And the steel Polaris Perpetual Calendar sure does strut its stuff confidently and convincingly. It had me convinced, anyway, the second I took it off the presentation tray in a warm photo booth at the JLC Watches & Wonders stand. The 42 × 11.97mm case, that is water-resistant to a depth of 100 meters, is sporty, no doubt. It has the Polaris lines and finishing that give a bit of sophistication, but aren't frivolous to the point of overwhelming its functionality. Because of the size, proportions, sturdy steel bracelet, and distinct dual crowns, this QP is a real Polaris in every sense. The only difference is that comes with a complicated bonus.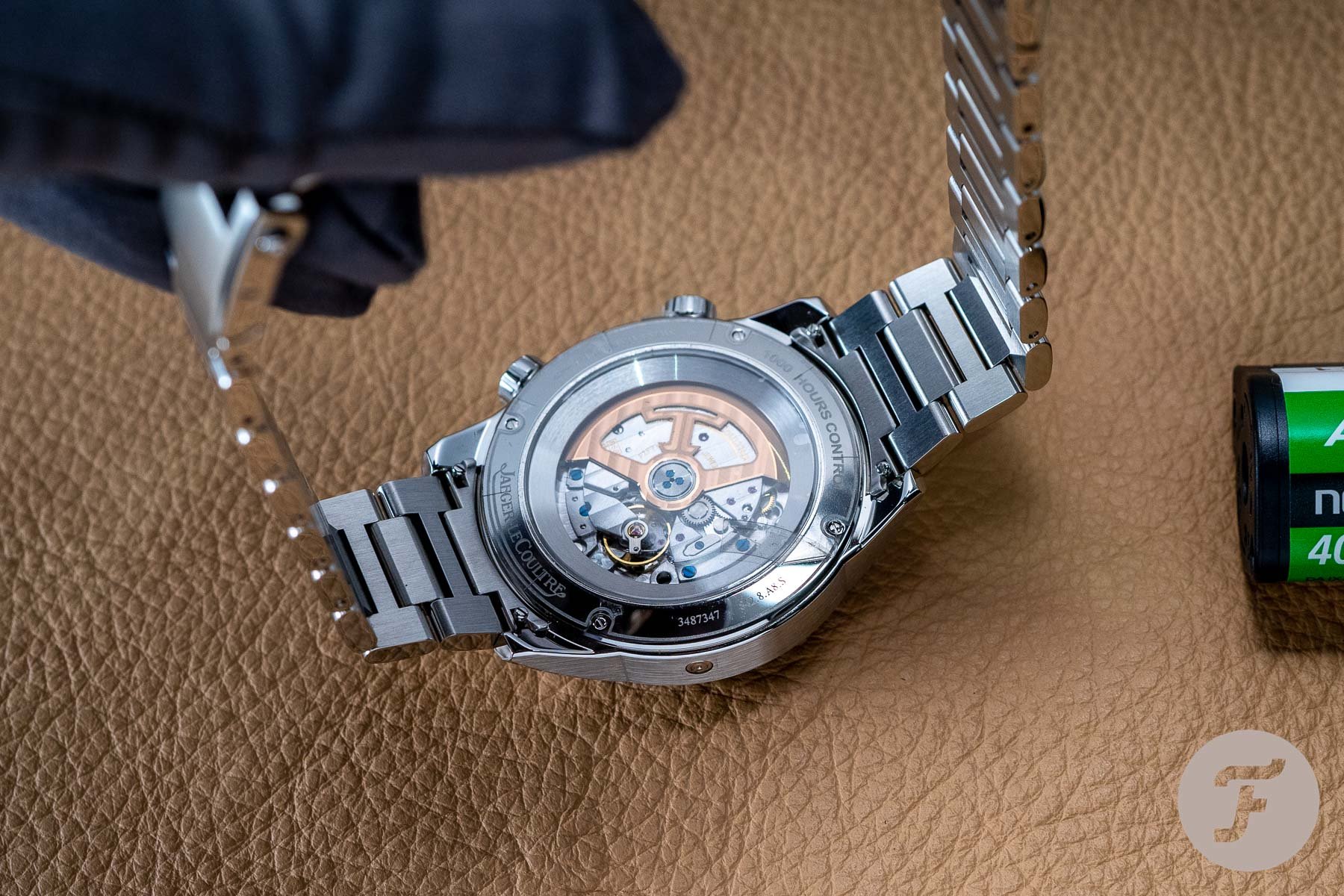 A micromechanical and functional fetish
In a world where the time and other information surround us, do we really need a mechanical calendar from a practical standpoint? No, we do not. But if you have a fascination for all things micromechanical and/or you are a movement freak, you have come to the right watch. Inside the case of this latest Polaris beats an upgraded in-house perpetual calendar movement from the Le Sentier brand.
A microscopic astronomical spectacle that is well worth observing …
The new Calibre 868AA has been developed especially for the new Polaris Perpetual Calendar. Yes, it is an evolution from a 2013 movement, but that one is a Neanderthal compared to the latest caliber. A cool, little twist is a retrograde display of the Southern Hemisphere moon phases, which complements the classical Northern Hemisphere moonphase display at 6 o'clock. It's a microscopic astronomical spectacle that is well worth observing for some time through a loupe. And the new caliber also boasts an increased power reserve of 70 hours.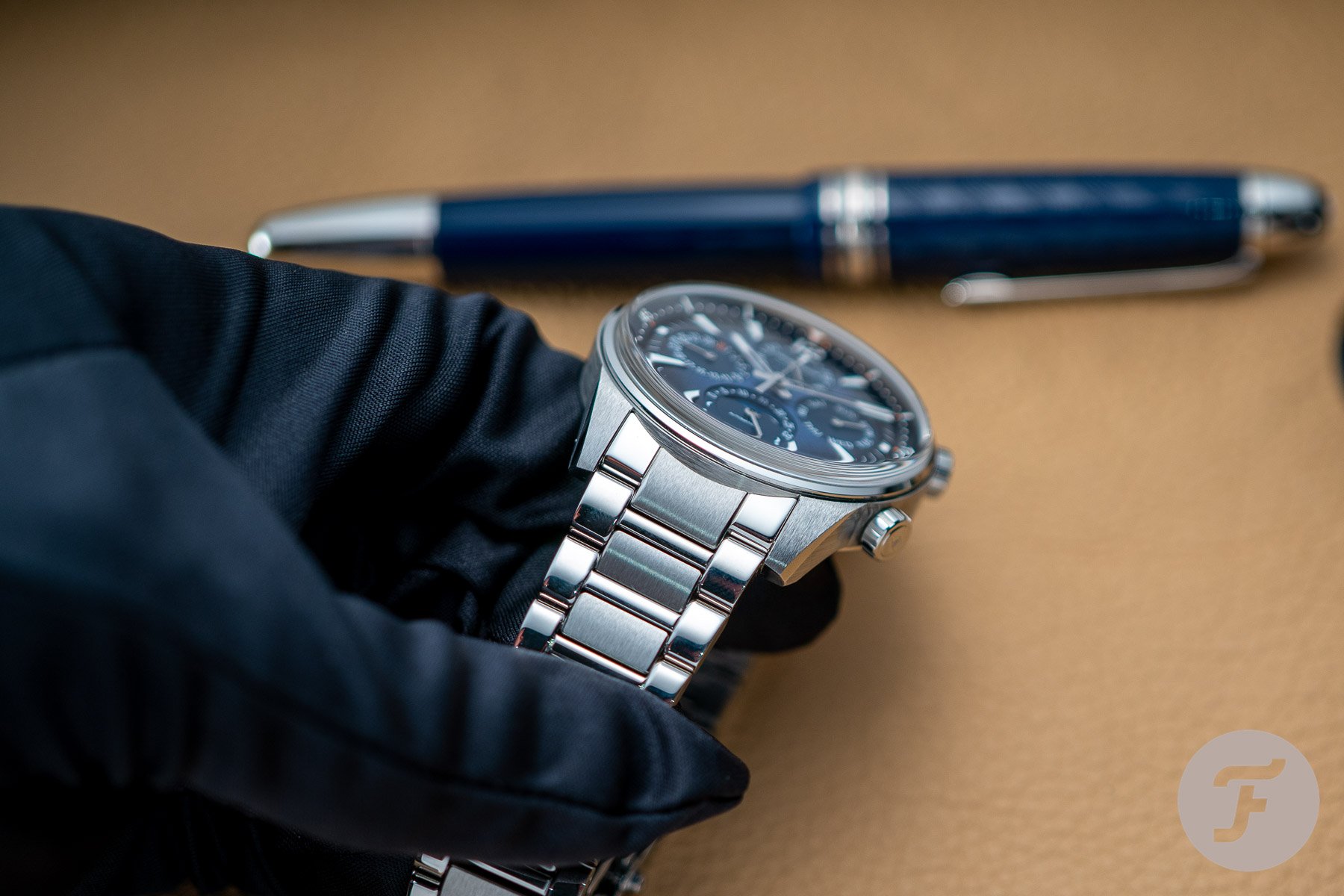 Why I love/hate the Polaris Perpetual Calendar
Enough about the insides of this latest Polaris. Because no matter how impressive the inner workings of this watch are, the outside features are what put me in a spot of bother. Yes, it's because of its perfect proportions, but mostly because of the white trapezoidal Super-LumiNova hour markers that stand out like bright, white stars in the night sky. There's no room for vanilla or cream-colored stuff here, and that was such a wise decision on JLC's part. And I also have to mention the crisp, long, and strong skeletonized hands with luminescent tips. They are not only easy to read but also wonderful to look at.
But when I look at the price, my life gets complicated. The stainless steel version I crave and desire costs €31,000. "You get a rubber strap with that," I hear you say. But that's not the point. Neither is the price itself. It makes sense. The problem is that I just don't know how to get the €31K together. Suggestions — please keep them decent and out of the criminal sphere — on how to make my sporty perpetual dream come true are welcome. Oh, and I'm not selling organs. Well, on second thought, I don't have a deep emotional bond with my kidneys… I do, however, seem to have a strong spiritual connection to the Polaris Perpetual Calendar. So yeah, I guess I am willing to let one go. Anyone?
You will find more factual information on Jaeger-LeCoultre's official website.
Please find and follow me at Lex Stolk • Instagram