Hands-On With The RZE Ascentus Titanium GMT Tool Watch
An affordable watch with Seiko's equally affordable GMT movement
It's no secret that I am a fan of RZE watches. The Singaporean microbrand has existed for several years and has forged a strong identity by producing affordable yet well-built titanium tool watches. Over the years, RZE has released a slew of excellent watches, and now it's added another string to its bow with the Ascentus GMT.
The Ascentus marks the first GMT watch in the brand's ever-growing stable of timepieces. It joins dive watches, field watches, and chronographs, and it is the next logical step for RZE.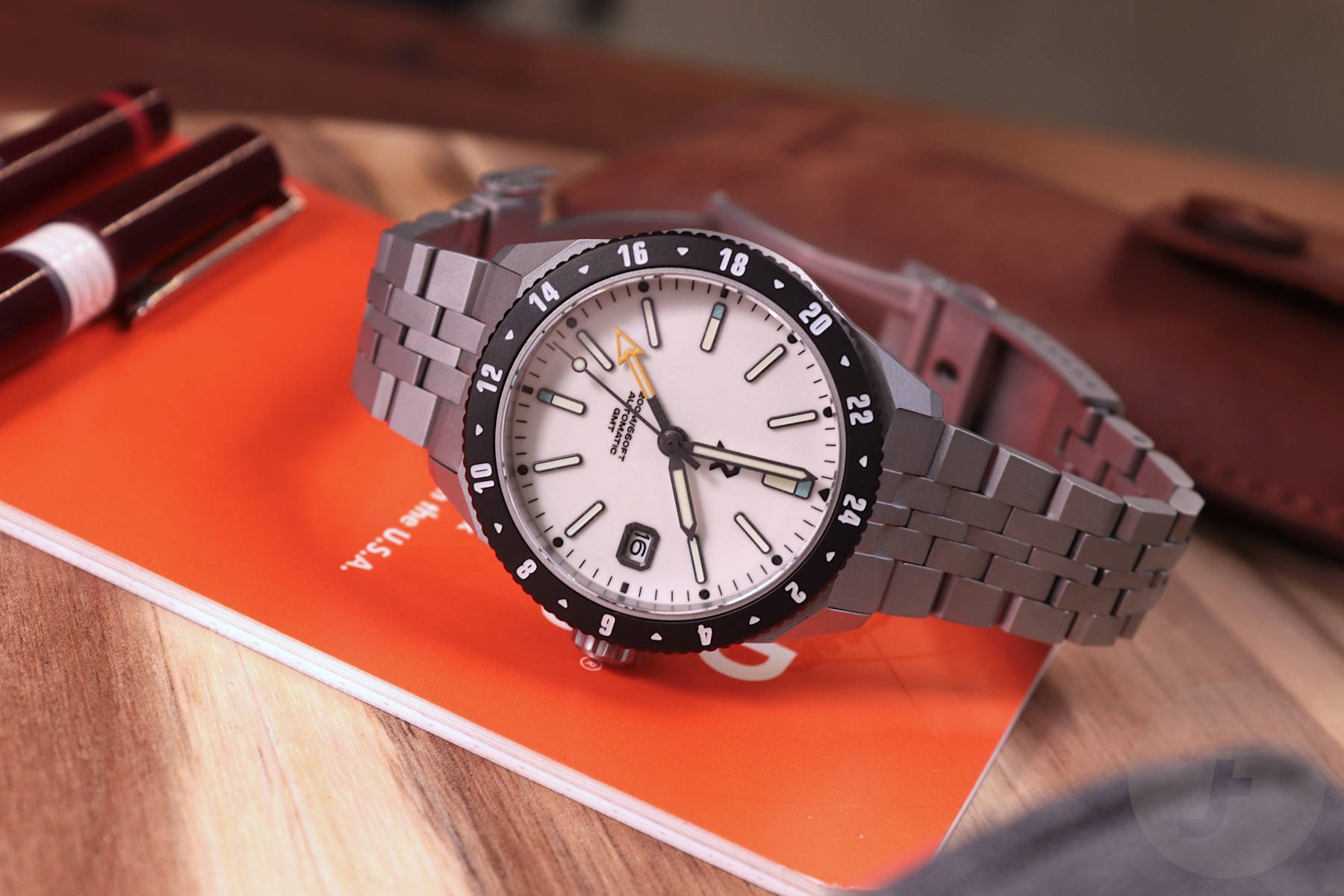 The RZE Ascentus GMT is rugged yet incredibly wearable
Despite falling under the Ascentus moniker, this watch seems to share much of its DNA with RZE's Endeavour and Resolute collections. I don't want to say they use the same case, but I would not be surprised if they do. The 40mm Grade 2 titanium case is highly faceted with no curved surfaces. It creates a very rugged and tool-appropriate silhouette. The entire case and bracelet received a bead-blasted finish and RZE's proprietary UltraHex coating. The only standout component from this pattern is the unidirectional DLC-coated titanium bezel. It's a very slim bezel, which allows for a larger dial aperture, thus increasing overall legibility. The bezel markings are rather slim, but in the grand scheme, the primary time legibility is more important than the GMT scale, so it's a sensible trade-off.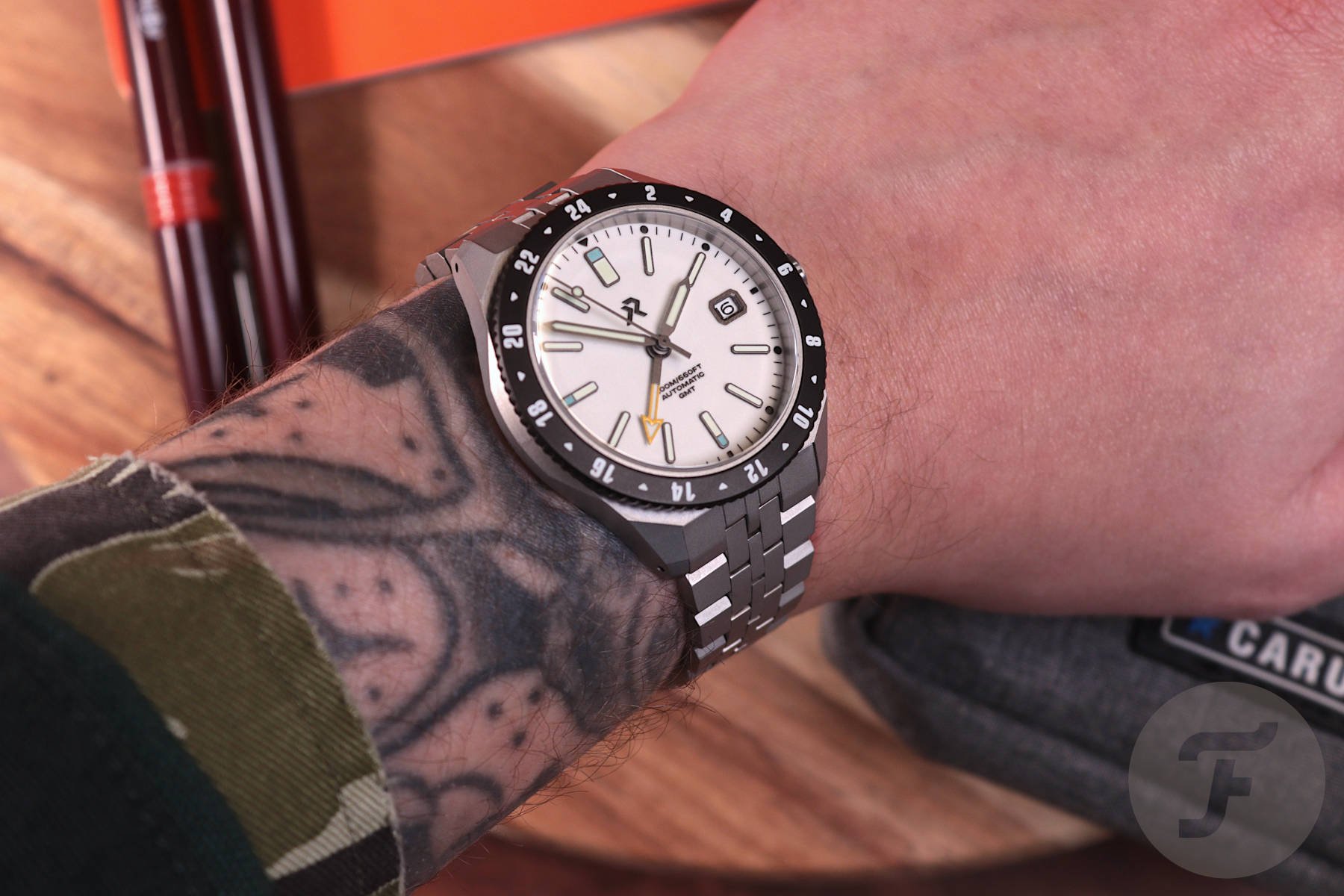 For the spec hunters among us, the case is 13mm thick. From lug to lug, we're looking at 46mm, and a standard 20mm lug width completes the list. Weight-wise, we're at a wrist-friendly 90–110g, depending on how many links remain in the bracelet after sizing. This is a nice package of measurements that should keep most people fairly happy.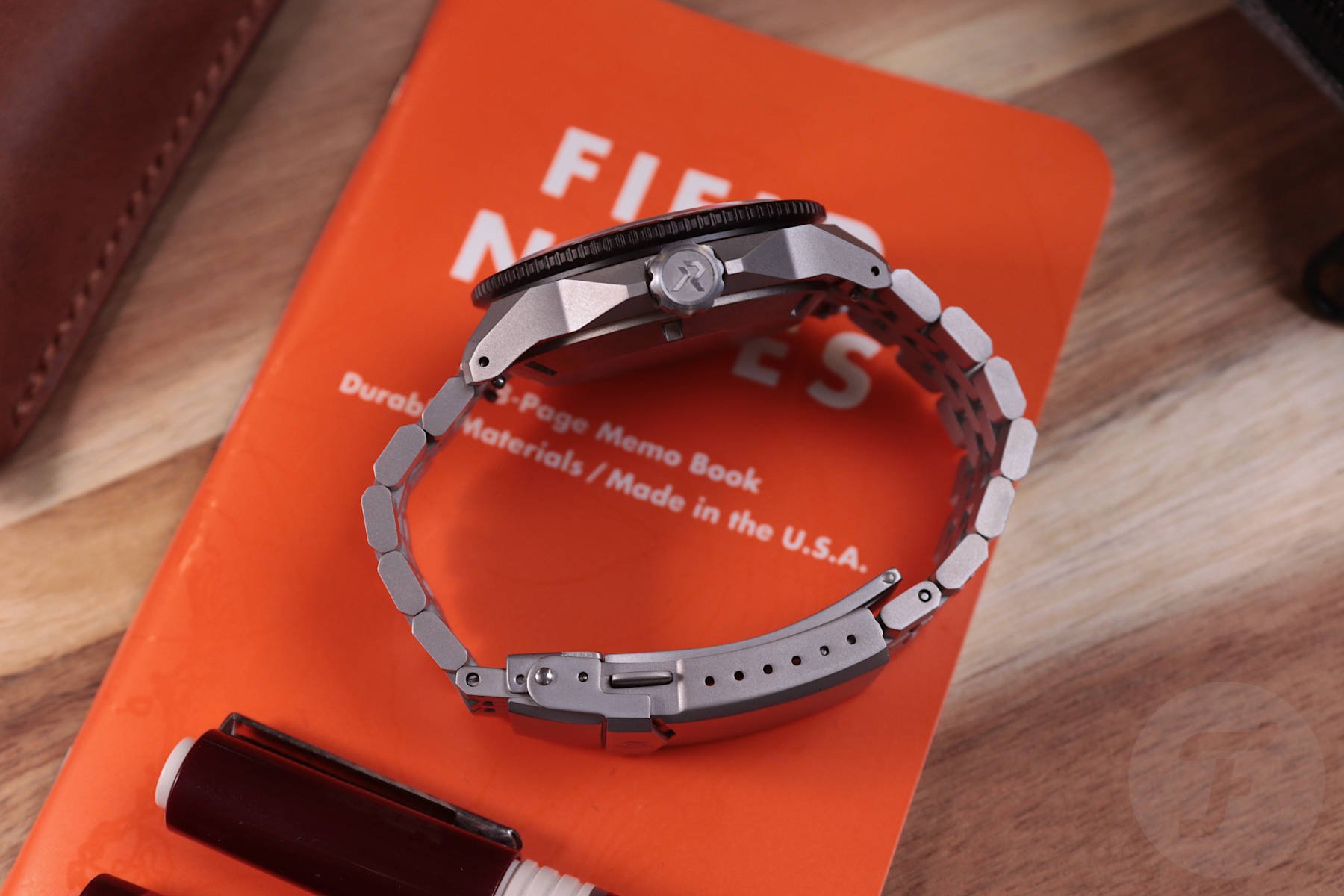 A titanium bracelet
RZE describes the Hex-Link bracelet as "the most comfortable titanium bracelet ever." It's a bold claim, but I haven't tested out many other titanium bracelets, so I can't confirm or deny that statement. I'm not usually a fan of titanium bracelets because they usually feel a little "rattly," but that's due to the nature of titanium as a material. I can say that the Hex-Link bracelet looks nice enough. I have two points of note, though. For the hairier-wristed folks among us, be prepared for some arm-hair pulling. My wrists are not particularly hairy, but I experienced a notable amount myself. It wasn't enough to put me off, but it was enough to recall it.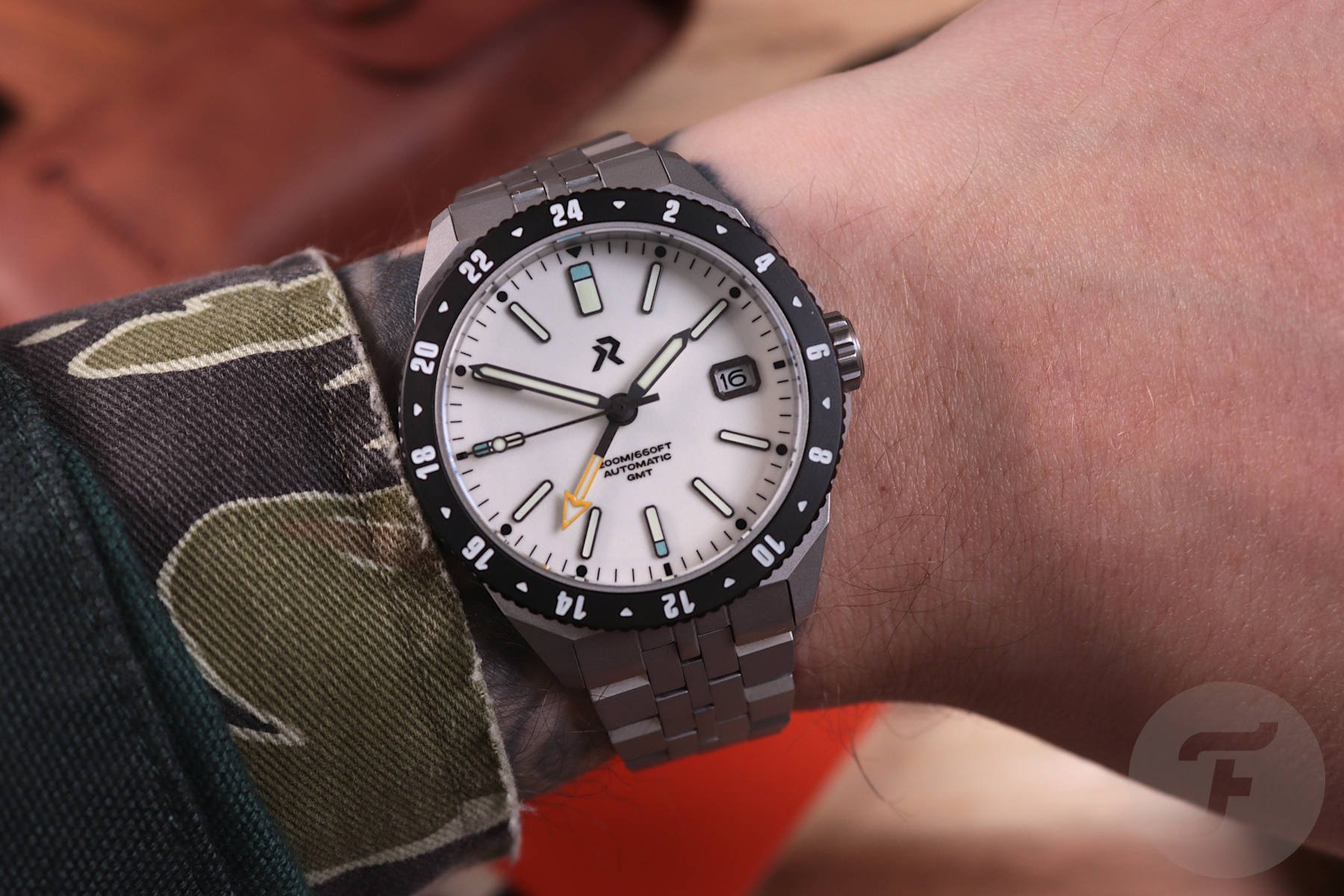 The other point is a minor gripe (and possibly me being overly critical), but the shape of the end links could be better. The fit is fine, but the shape needs to match the shape of the lugs better. You can see what I am talking about in the images. There's a small protrusion, but one that RZE will hopefully refine. There's also a facet on the end link that looks like it's meant to line up with the corresponding facet on the lugs, but it's noticeably off.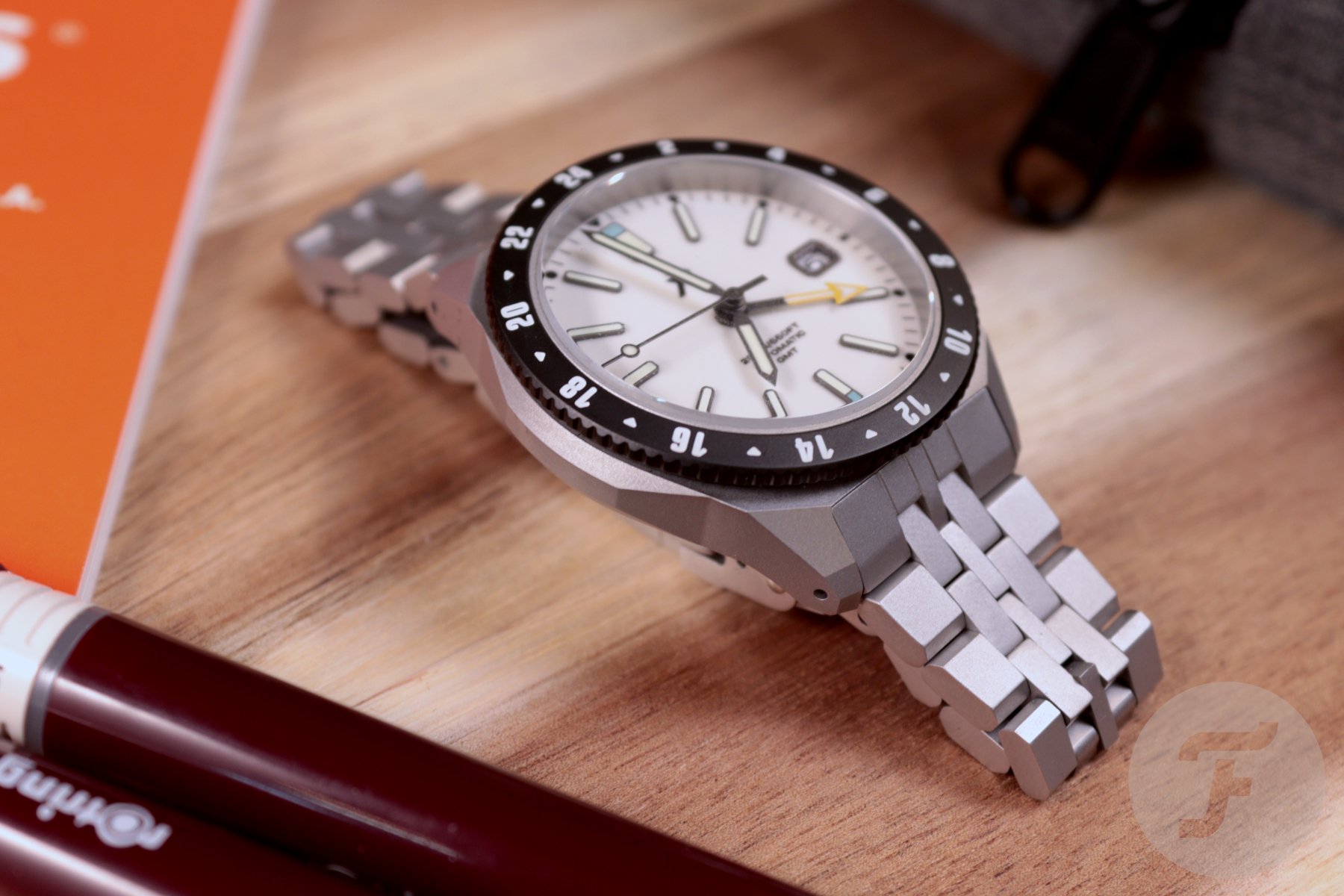 With bracelet end links, I feel they're sometimes not as well-matched as they should be. The connection between the bracelet and the case is important and should be harmonious. It's not bad here, but with how well RZE does everything else on its watches, the brand could improve this area in future iterations of the Ascentus.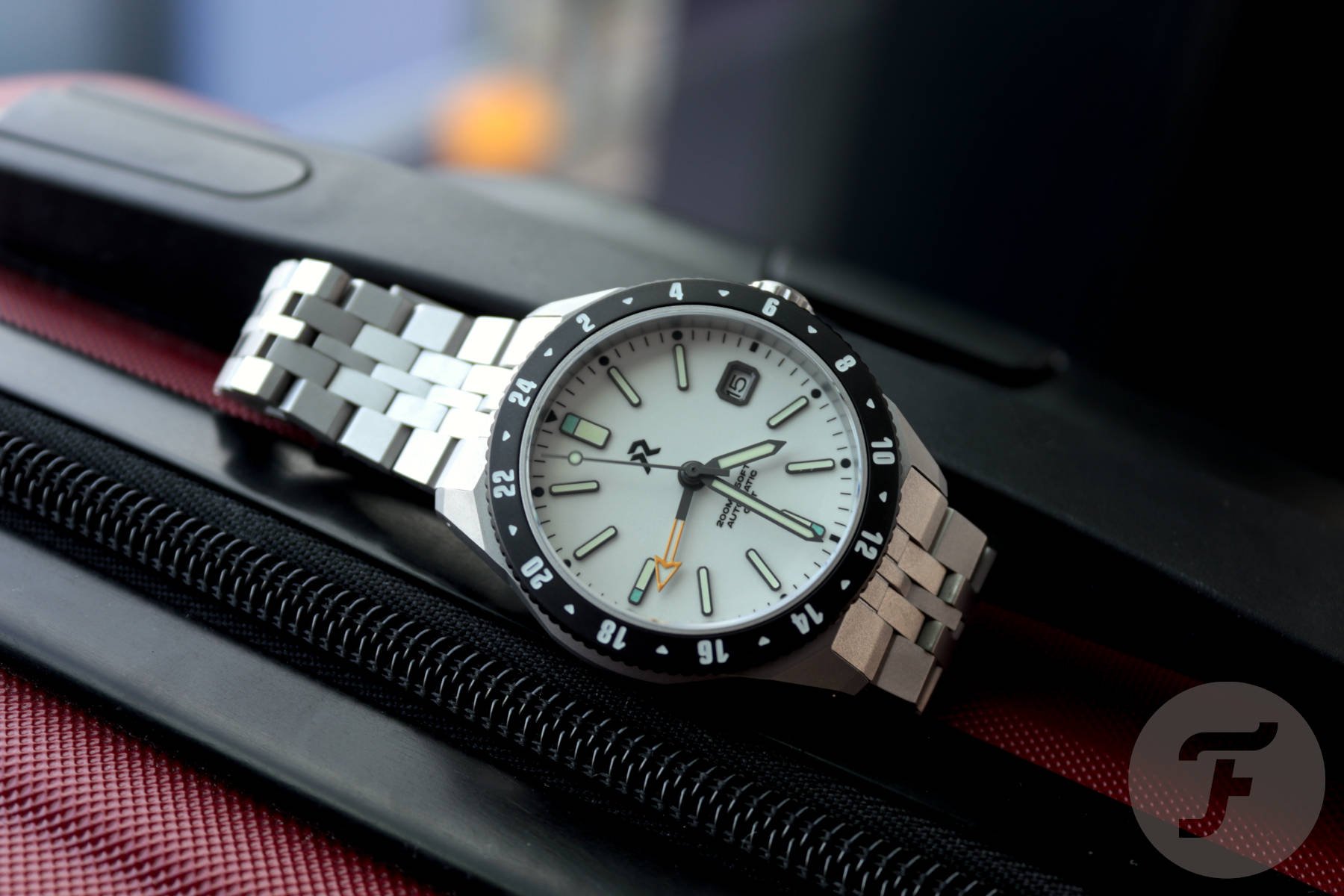 The Ascentus dial and lume
The dial design is classic RZE. If you're familiar with the brand, you'll recognize it from the aforementioned Endeavour and Resolute Supercompressors. The only tweak here is the addition of the date window. I have the Polaris White version here for review, and it features a fully lumed dial with lumed hands and indices. The dial uses what appears to be BGW9 Super-LumiNova, which is white in daylight but glows with a blue tint at night. The indices and hands predominantly use C3 Super-LumiNova, which contrasts nicely against the lumed dial. The cardinal markers then have a separate orange-lumed plot to help differentiate them. The result is one of the most legible dials in low light that I have come across. It's tastefully done despite the vast amount of lume at play.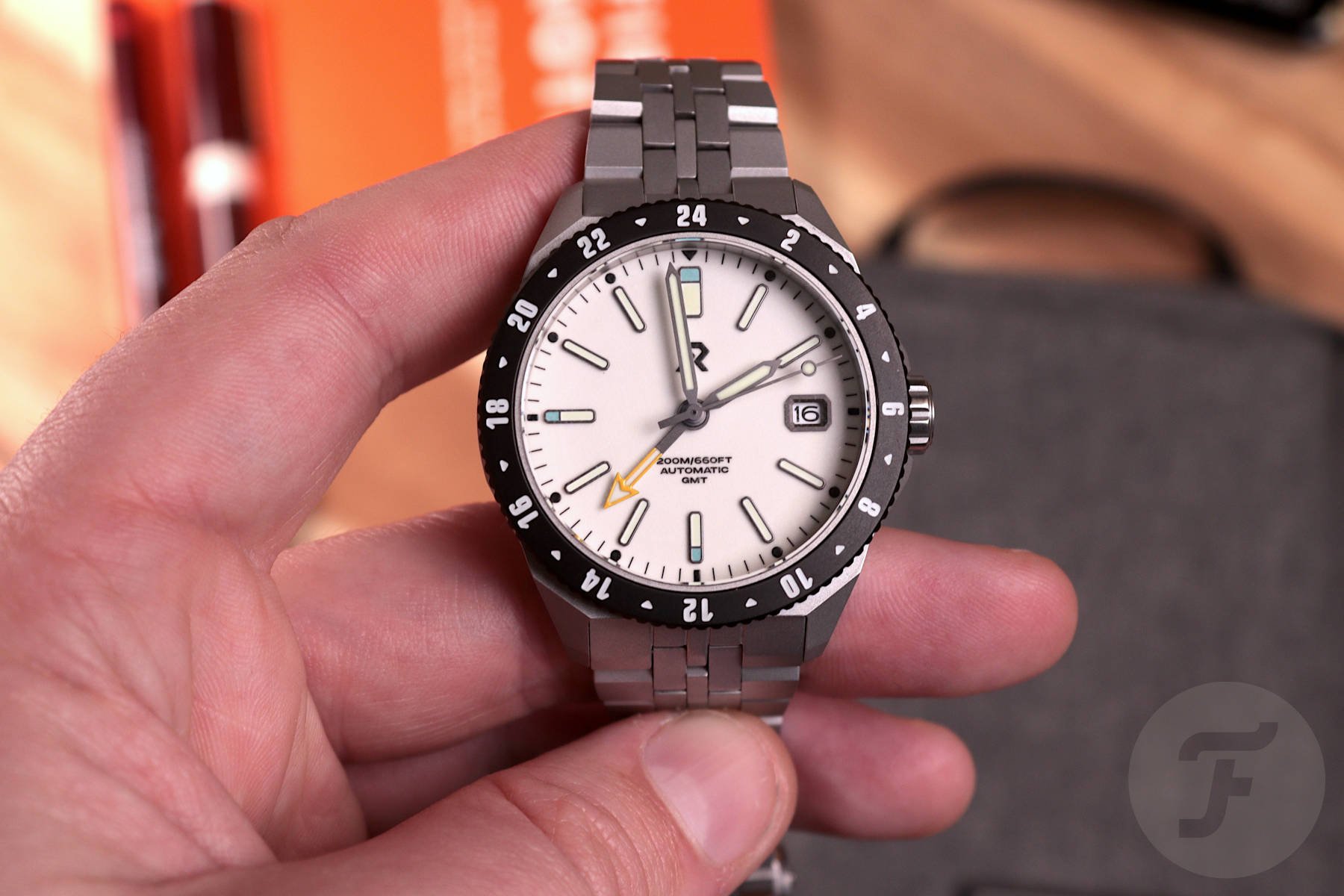 I have one minor criticism of the dial. Well, "criticism" is perhaps misleading as it's more of a personal preference. Still, to my eye, the border around the date window seems excessively thick compared to the outlines of the hour markers. As a result, the visual weight of the date window seems unbalanced. I would prefer the window border to be a little thinner, akin to the hour markers. Balance is essential on a dial, and it could be slightly more refined here. Aside from that, everything else is nicely in proportion. This includes the four hands too. They also have a black coating to integrate nicely with the hour markers and dial details.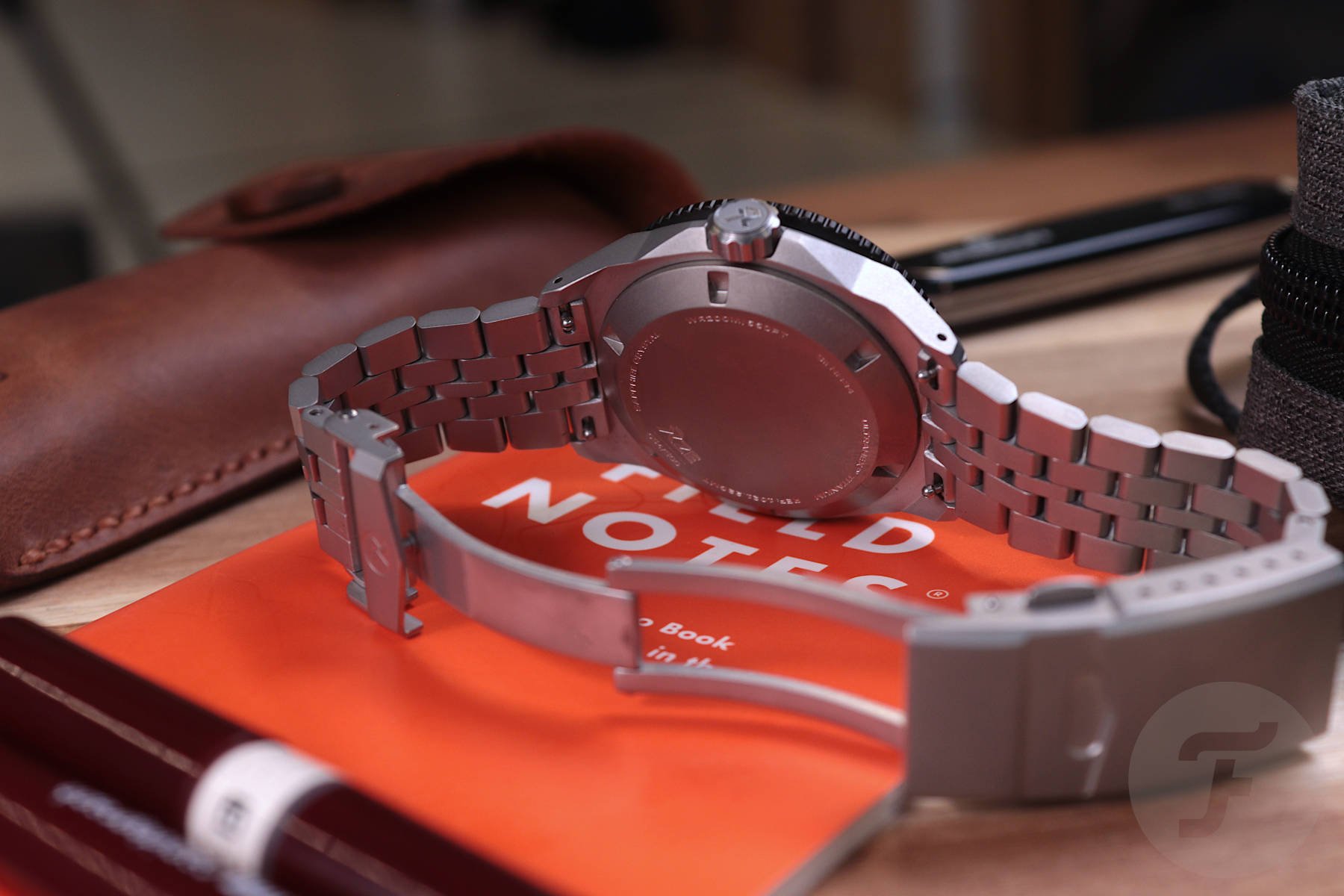 Seiko-powered affordability
The movement inside the Ascentus GMT is the Seiko NH34 GMT caliber. People had been clamoring for an affordable GMT movement from Seiko for years. The success and easy availability of the three-handed NH35 movement allowed brands like RZE to offer well-designed mechanical watches at affordable prices. However, collectors never had the option of an affordable GMT watch until last year. Thankfully, Seiko changed all that with the introduction of the NH34.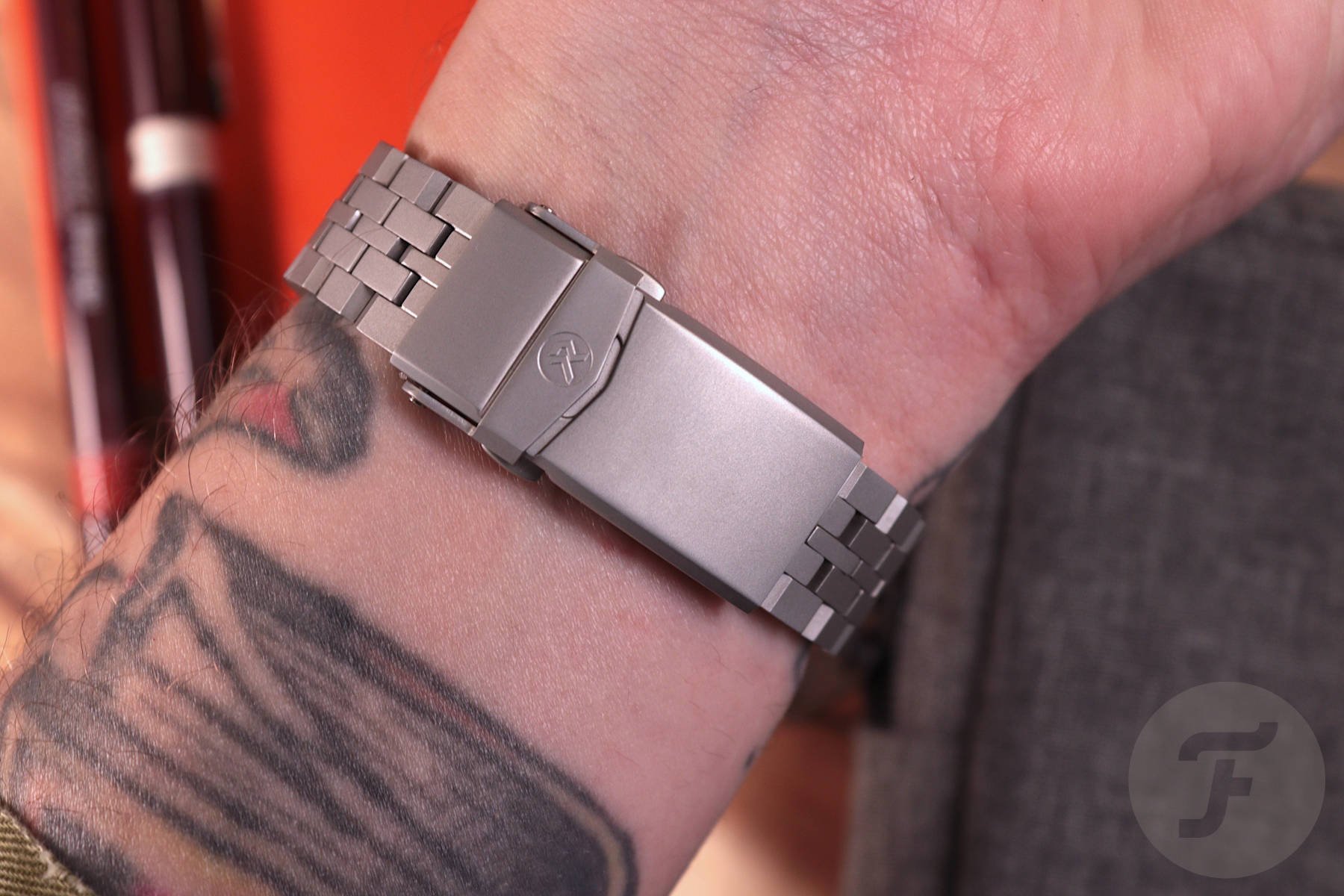 Initially only available in its own watches, Seiko has now made the movement available to third parties, and we are starting to see microbrands pick it up. As with the NH35, people don't buy it for the highest accuracy. That's not to say it cannot be regulated to be more accurate, but don't necessarily expect it to be so right out of the box. Seiko quotes -20/+40 seconds per day, but you may want to take it to your watchmaker, who will likely get that down to around the ±10 second mark. The NH34 also gives you a reasonable 41-hour power reserve. That's enough if a little unspectacular, but, again, we are looking at affordable watches here, so expectations must be realistic. You won't be getting a three-day power reserve for $549.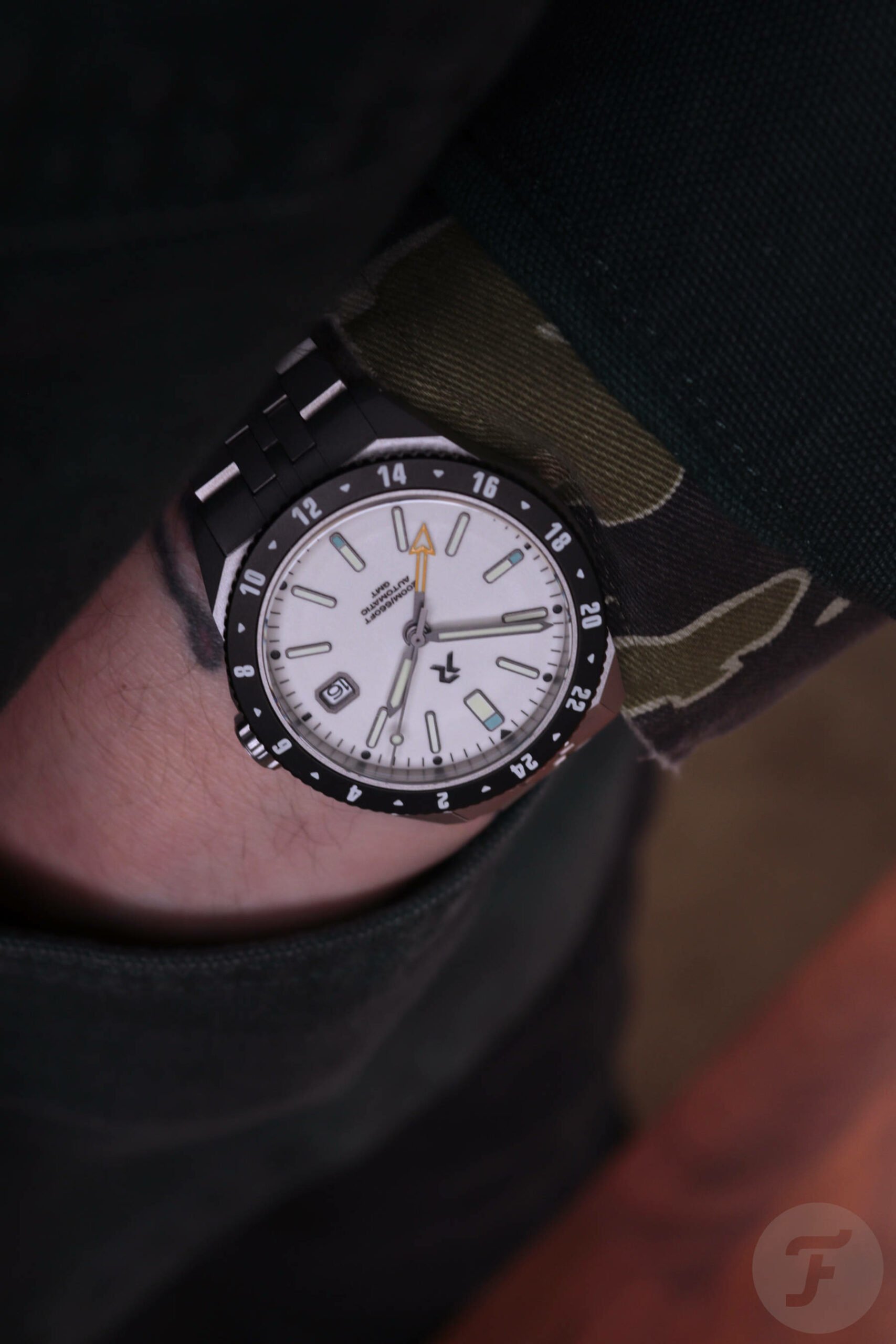 RZE Ascentus GMT price and availability
There's a lot to like here with RZE's Ascentus GMT. It's an excellent addition to the brand's stable, and it's priced well to offer collectors a GMT that won't require remortgaging their homes. There are perhaps one or two areas that I'd like to see tweaked for future iterations, but they're by no means dealbreakers and more personal preference than anything critical. I remain a fan of what RZE does, and that's proving that solid watches don't have to cost the earth. If you're looking for a reliable titanium GMT tool watch, not much else can top this for the price. The RZE Ascentus GMT costs US$549 and is available in four colorways from the official RZE website.
Follow me on Instagram: @davesergeant | @fratellowatches
Watch specifications
Dial
Grain-textured dial with applied luminous indices
Case Material
Bead-blasted Grade 2 Titanium with UltraHex™ Coating (up to ~1200Hv hardness)
Case Dimensions
40mm (diameter) × 46mm (lug-to-lug) × 13mm (thickness)
Crystal
Sapphire with inner-side Super-AR coating
Case Back
Screw-down solid titanium case back with Viton gasket
Movement
SII NH34 — GMT automatic movement, independently adjustable 24-hour hand, 21,600vph frequency, 41-hour power reserve, 24 jewels
Water Resistance
200m (660ft) / 20ATM
Strap
Hex-Link titanium bracelet (20mm) coated with UltraHex™ Coating (316L steel buckle)
Functions
Time, date, second time zone, 24-hour bezel
Special Note(s)
Included extras: Blackcomb pouch and multitool for sizing bracelet/strap changes