Hands-On: The Fun And Affordable RZE Valour Chronograph — Now In A 39mm Case!
Bringing a new size and a new design
Like many people, I got into watch collecting through microbrands. While not to everyone's tastes, microbrands' relative affordability allows you to try out watch-collecting concepts more affordably than some more prominent brands. Different people have different budgets to spend on watches. To some people, €500 is an impulse purchase; to others, it takes time to save up and justify such an expense. That's where microbrands offer collectors some real value for money. I believe that's precisely where RZE slots in with the Valour Chronograph.
This is the second generation of the Valour Chronograph — you can read my review of the first-generation model here. The new version features a revamped and refreshed dial design and a smaller, more "on-trend" case size. RZE has built its name on producing titanium tool watches at affordable prices. The brand eschews fancy Swiss movements and Swiss production for simpler Chinese manufacturing and Japanese movements. While I've always been impressed with the RZE watches I've experienced so far, how does the new Valour Chronograph stack up?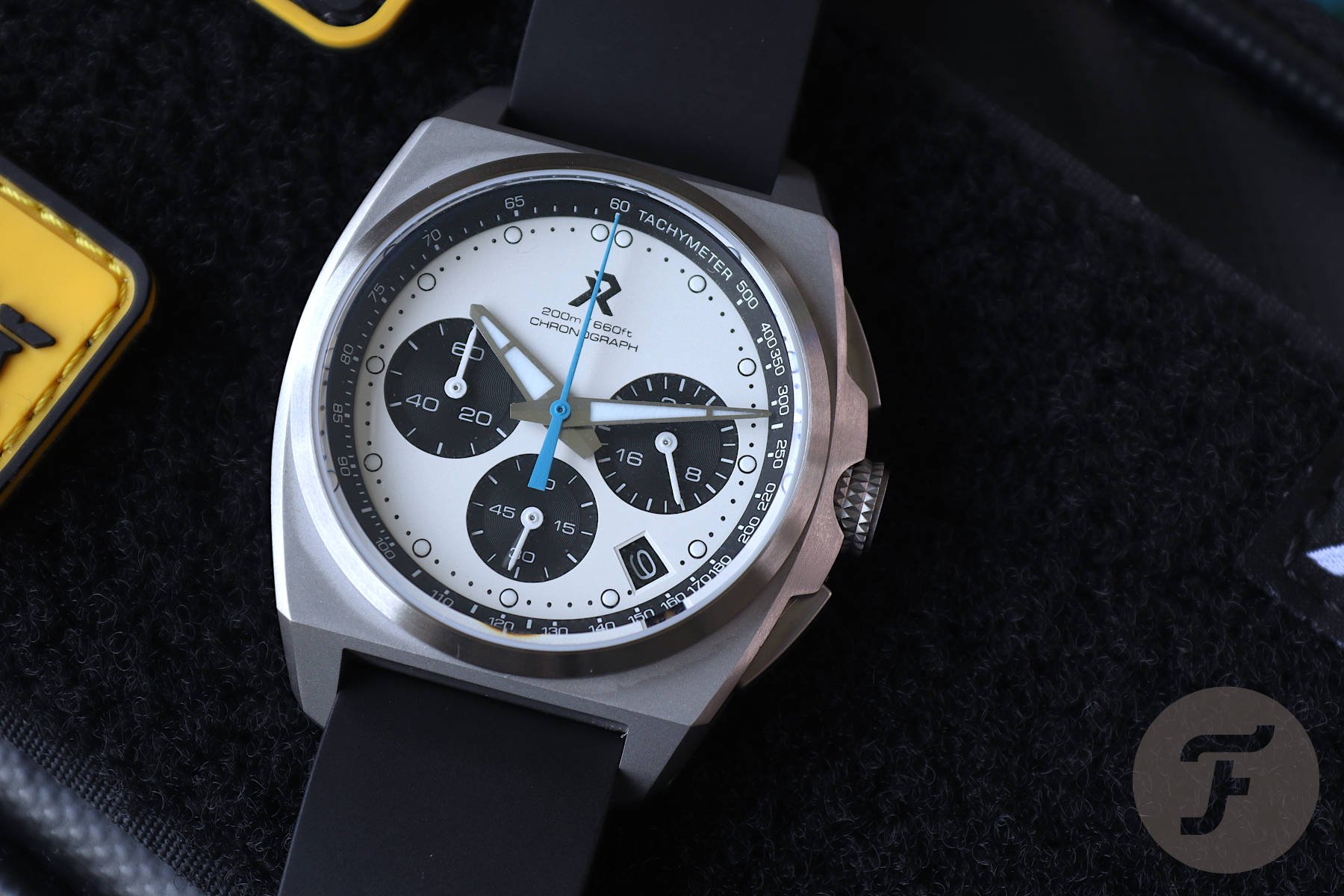 A new yet familiar case for the Valour Chronograph
Despite technically being a follow-up or a sibling to the original Valour Chronograph, the newer model has a distinctly different personality. Not only is it smaller, but RZE has moved the external tachymeter bezel onto the chapter ring. It's a smart move that easily allows for the diameter reduction while enabling RZE to create something that walks its own path.
Compared side by side, the old and the new Valour Chronograph cases are relatively similar (except for the aforementioned bezel). While the diameter has shrunk from 42mm to 39mm, the lug-to-lug remains the same at 47mm. This creates a slightly elongated visual effect that I find a little more aesthetically pleasing when compared to the original. Don't get me wrong, I liked the original Valour Chronograph, but the new 39mm version looks a little more refined. The evolution is just right. For the spec hunters among us, the case measures 12mm thick, also like the previous version. A screw-down crown and case back give the watch an impressive 200m water-resistance rating.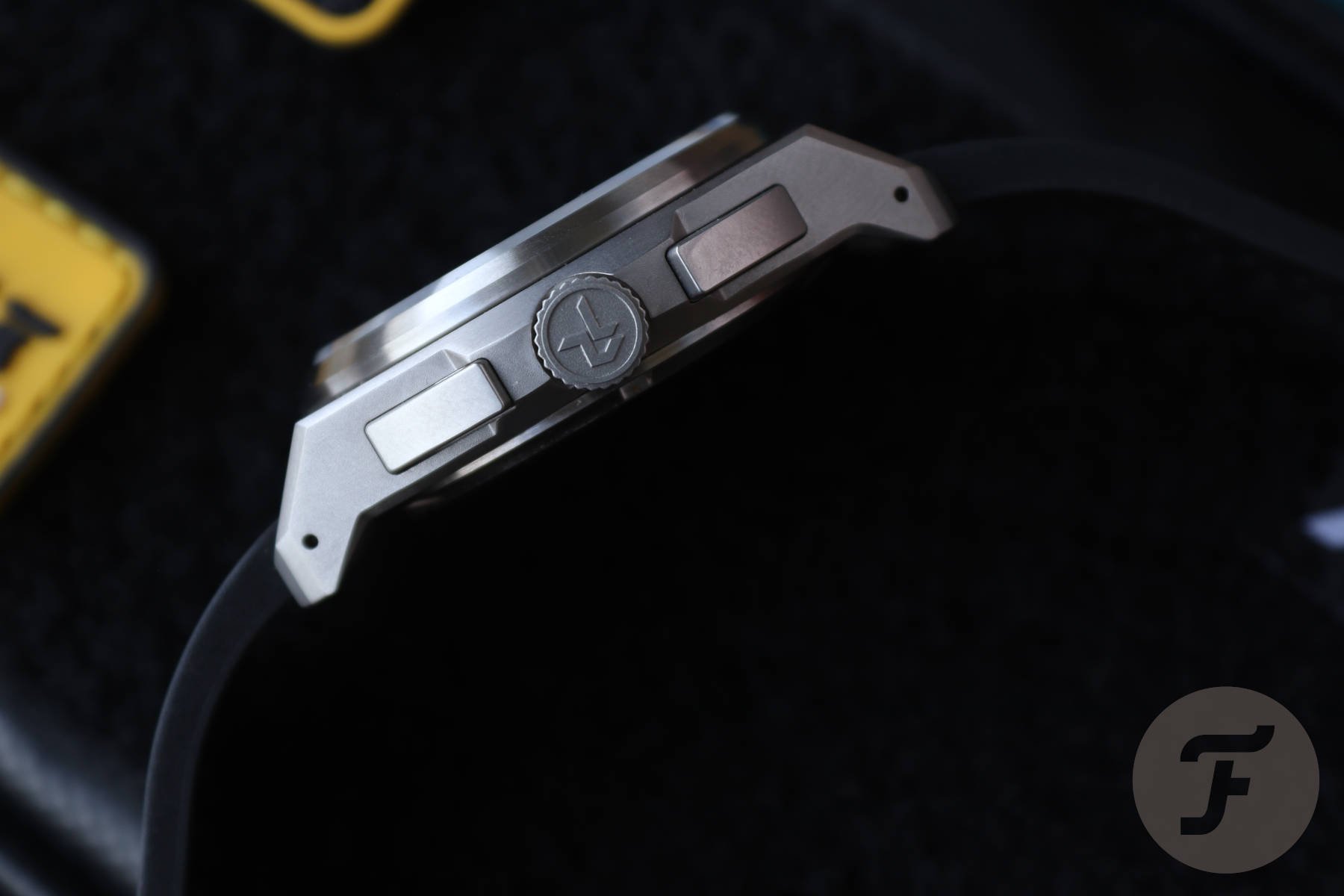 RZE's proprietary ULTRA-Hex coating is ever present and a trademark feature on all of the brand's watches. I can't explain any of the technical information behind it because RZE keeps it hush-hush. What I can say, however, is that it works a charm. I purposely tested out the "scratch-proof" claims in a previous review using a penknife tip. Surprisingly, it left no scratches or marks on the surface, even when I tried a little harder. I'm not in the habit of purposely trying to damage watches, but to prove a brand's claims to the Fratelli, I am happy to test things out a little more rigorously.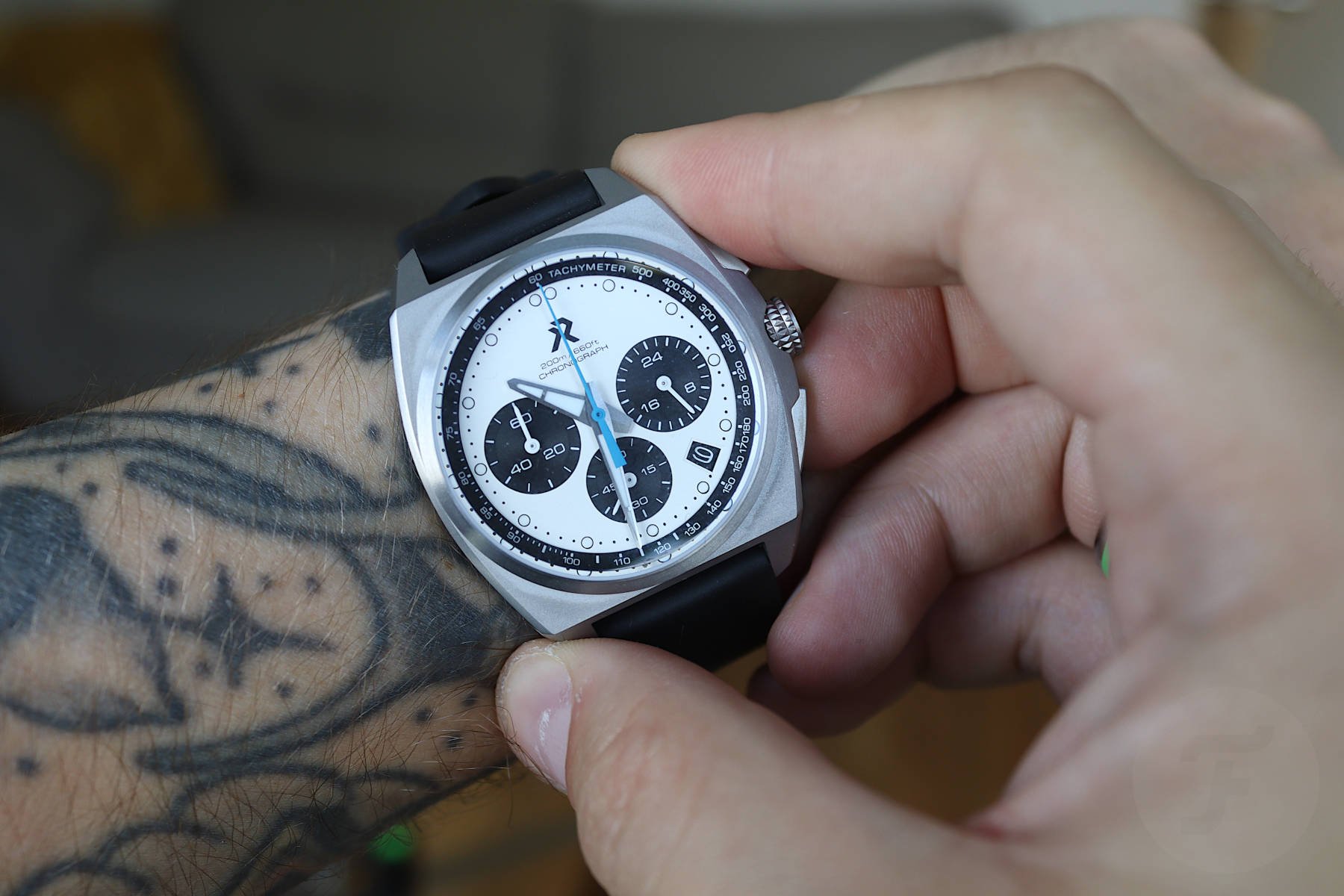 RZE has refined the dial
The Valour Chronograph comes with a choice of three dial colors. White and yellow have become standard options for pretty much all RZE model launches, but this time, the brand has added a pastel/pale blue dial color too. It's a hue we're all reasonably familiar with and seems to be one of the "in" colors for watch dials at the moment. I have the white version for review, and it's undoubtedly the most versatile of the three colors.
Despite the similarities in case design, the dial of the new Valour Chronograph receives several changes and is less "generic" than its predecessor. It eschews the applied baton markers in favor of lume-printed dot markers. It's quite a clever design choice as it also allows solid hour markers the whole way around the dial without the sub-dials truncating those at 3, 6, or 9 o'clock. RZE's logo sits proudly at 12 o'clock, with the spec information usually found at 6 o'clock moving up beneath the logo because of the addition of the third sub-dial.
The date is something worth talking about as well. Usually, we see punters clamoring for color-matched date wheels as if their lives depended on it. With the new Valour Chronograph, RZE has gone for contrasting black date wheels across the entire range. When you look at the side-by-side photos, you'll see the old Valour used a matching white date wheel for the white-dialed model, allowing it to blend in and be unobtrusive. Usually, this would be my preference, but I find the confidence and boldness of the contrasting date wheel to be rather appealing in this instance. The position of the date window may be a point of contention for some people, but it was the obvious choice with the additional sub-dial at 6 o'clock.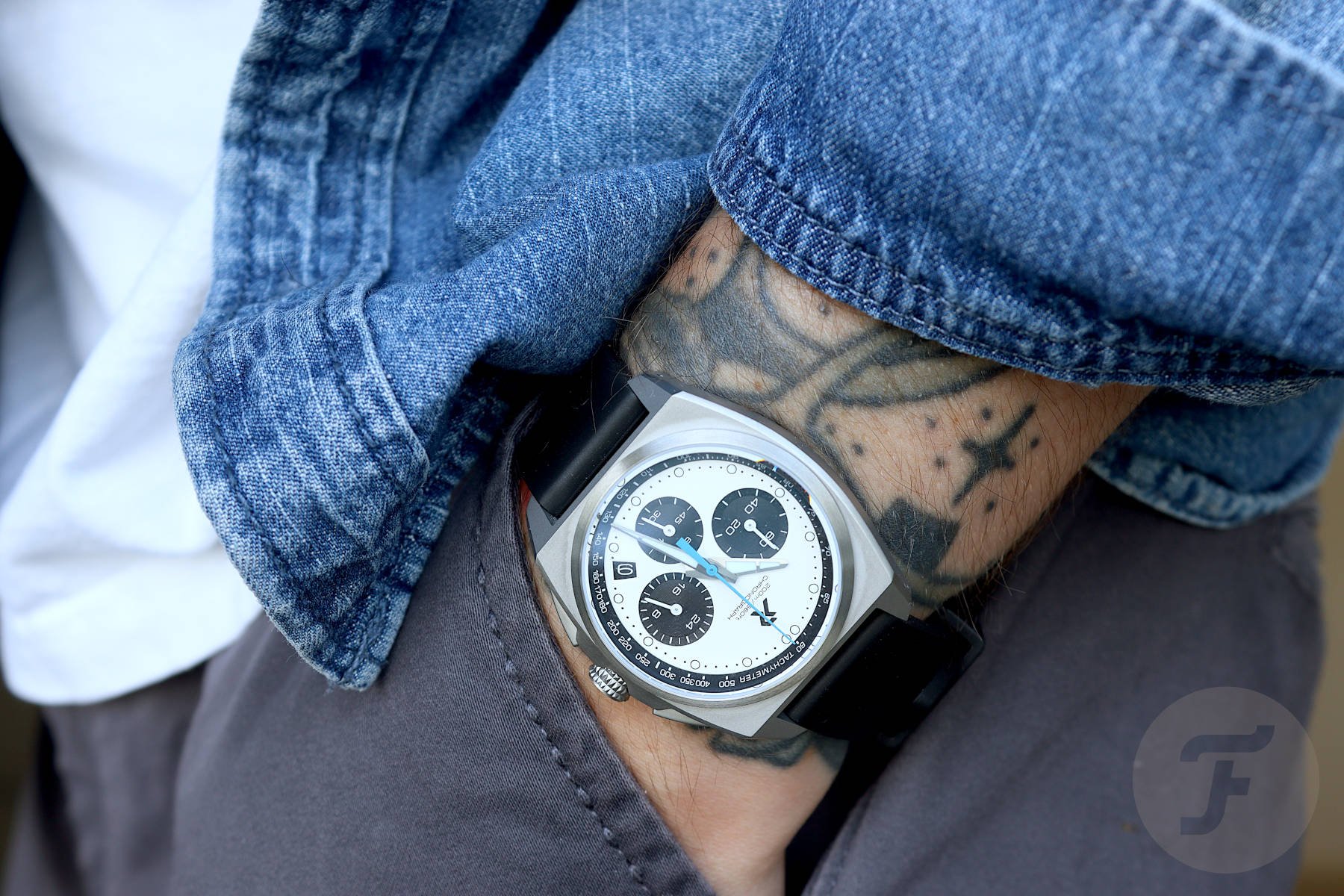 Meca-quartz, baby!
RZE has again gone with a meca-quartz chronograph movement for the new Valour. Meca-quartz movements give watch collectors a combination of affordability and some mechanical-like attributes like the sweeping chronograph seconds hand. This time, we see the additional sub-dial at 6 o'clock displaying the going seconds. This hand only "ticks" rather than sweeps, but this is not a big deal. I prefer the visual elements of the third contrasting black register against the white dial.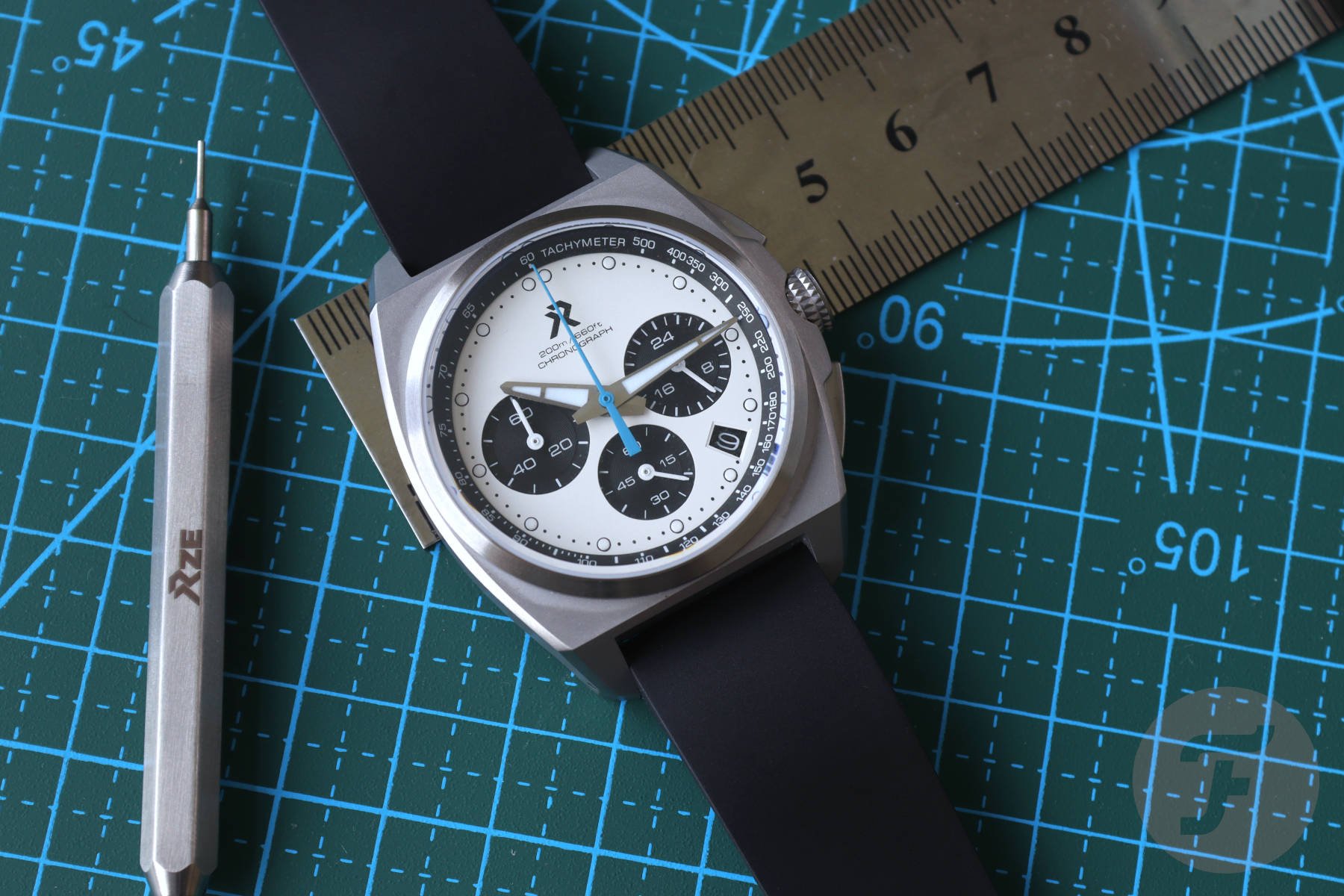 The strap is good enough, but you might want to swap it out
Straps can be a tricky thing for many microbrands. A good bracelet is tough to do well on the sorts of budgets that microbrands are working with. I've seen more poor-to-average bracelets than I care to remember. RZE chose the rubber-strap route for the Valour Chronograph. The FKM rubber strap I had in for review is decent enough and comfortable on the wrist, but it's one that many microbands have used. It's a generic, unbranded one that functions just fine but doesn't do anything to elevate the watch. If anything, it downplays the watch a little, and I expect most people who buy the watch will quickly swap it out for something else. That said, you don't buy a microbrand watch for the strap…
Thanks to the 20mm lug spacing, any 20mm strap will also fit. When I wore this watch, I chose a textured rubber strap that I got from AliExpress. This is a goldmine for rubber straps, and you can get them cheap if you're prepared to wait for the extended delivery times.
Custom rubber straps are very pricey to make. The cost of the molds is expensive enough, but then the large MOQs can also scupper plans unless a brand sticks with the same strap for quite some time. Since initially writing this review, RZE has taken the plunge and invested in a custom rubber strap outfitted with matching UltraHex-coated titanium hardware. It looks pretty smart and would be a nice upgrade to the stock strap that comes with the Valour Chronograph.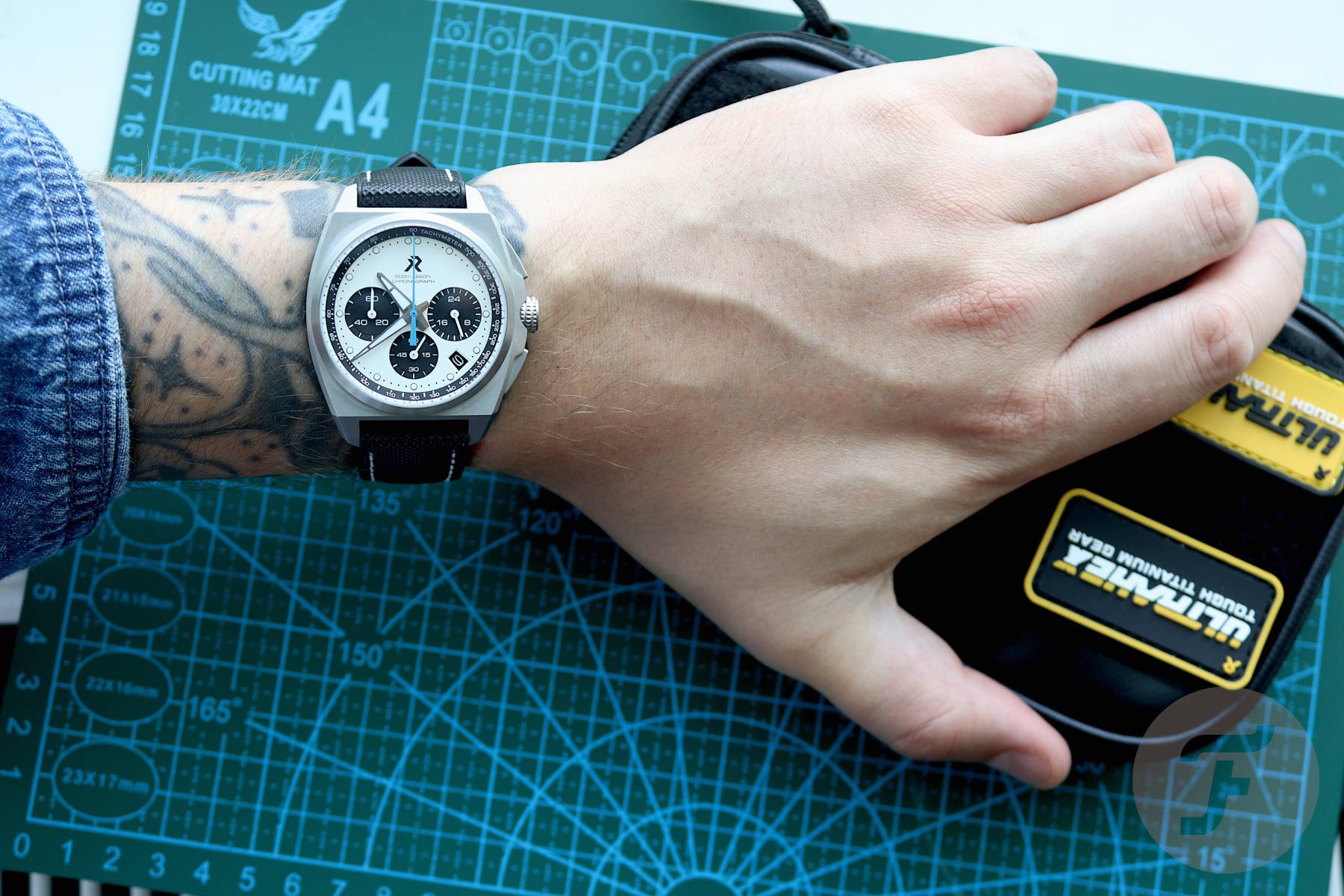 The Valour Chronograph is one for…
In the review for the Valour Chronograph's bigger brother, I said that the watch would be an excellent option for someone looking for Speedmaster vibes, but in a watch with its own character (i.e. not a Speedmaster clone/homage/copy/rip-off). Despite the new Valour Chronograph being of the same lineage, I would suggest this model as a great affordable alternative for anyone looking at Zenith's Chronomaster Revival A384. It's not a like-for-like copy by any stretch, but some similar characteristics make it a great option. In this specific colorway, it bears a passing resemblance that might help scratch the "itch" for anyone saving up for the real deal!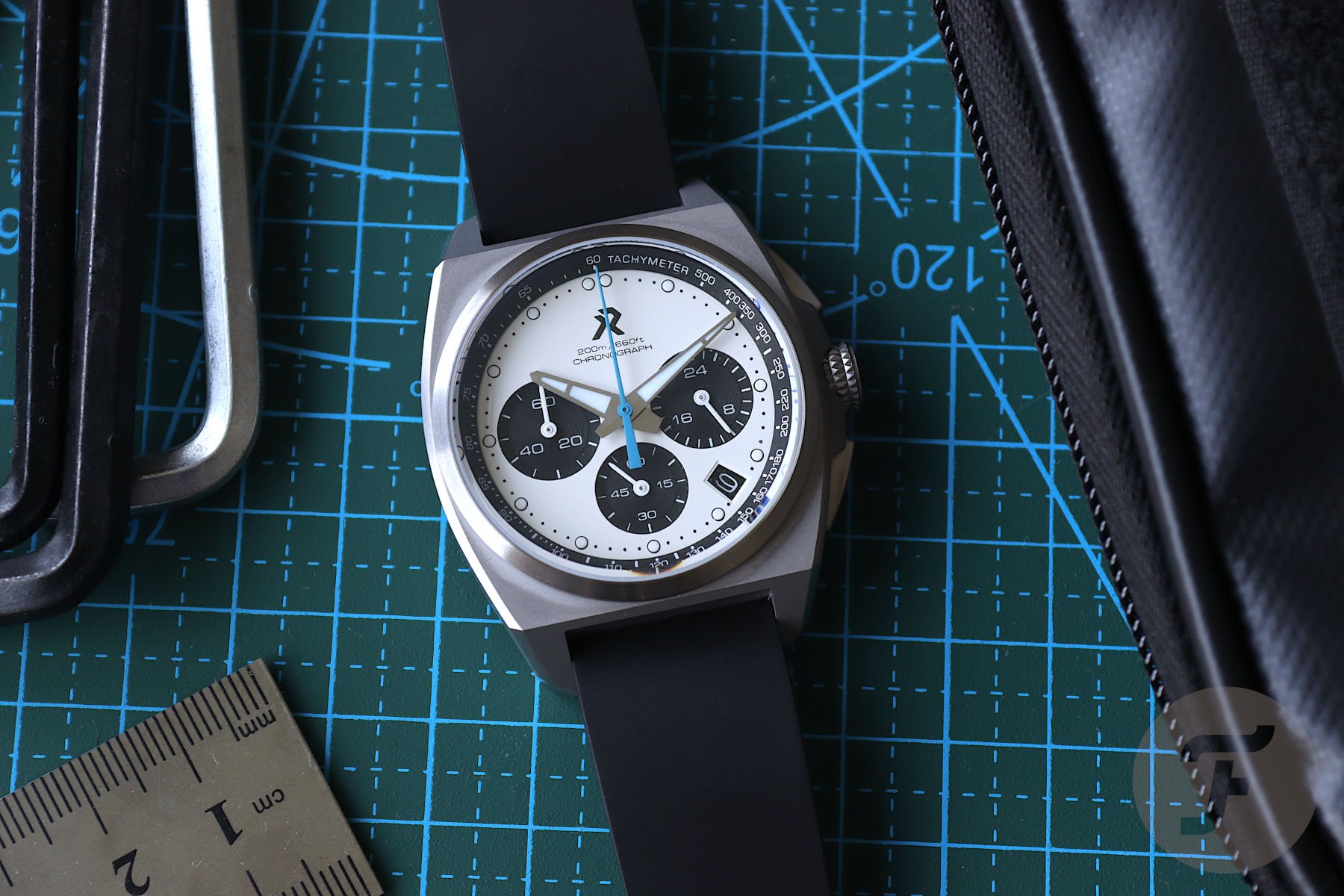 RZE Valour Chronograph — Price and availability
If you're looking for an affordable quartz-powered chronograph and are sick of trying to find a MoonSwatch, then perhaps it's worth considering the Valour Chronograph. It's a positive step forward in refining the original design, and most importantly, it is comfortable on the wrist. Just swap out the generic strap, and make it your own!
Priced at just US$369, it won't break the bank, and it allows you to grab and go with a 200m-water-resistant chronograph when you would rather avoid wearing a mechanical timepiece. Weekend dog walks? Redecorating? Heck, even just as everyday wear! The Valour Chronograph has you covered. You can find out more and pick one up from RZE's official website.
Follow me on Instagram: @davesergeant | @fratellowatches