Hands-On With The New RZE Valour — An Ultra-Tough Titanium Mecha-Quartz Chronograph
The latest offering from RZE
I've been a part of the Fratello team for the better part of 10 months now, and despite the Speedmaster expertise in the ranks here, I think I was the only team member who didn't have a chronograph, let alone a Speedmaster. Just don't tell RJ, or I'll probably be in trouble! Despite still not having a Speedmaster in the collection, I have finally added a chronograph in the form of this RZE Valour. It's a great affordable watch that offers a decent bang for your buck. Let me tell you a little bit more about the watch that filled the chronograph gap in my watch box.
Watch collecting is obviously near and dear to our hearts. You wouldn't be reading this article if you weren't a watch nerd like the rest of us. For some, watches represent a simple tool for telling the time. And those people often have just one watch to cover all bases and be done with it. For us, watches represent a fascination and a hobby. We look for individual watches to cover different needs and collect them with fervor. But sometimes people get too caught up in the prices of watches and their technical features. Does adding a couple of extra zeroes at the end of the price automatically make something better? Does your next watch actually "need" a quadruple tourbillon? It's entirely up to you! For me, I like to have a range of different watches in my collection. As such, a healthy part of it is comprised of microbrands.
Now, RZE is no stranger to the pages of Fratello. Rob has written about a couple of its previous releases here and here. If you take a quick look, you'll see that Rob was suitably impressed with those watches too, so I was particularly keen to take a closer look at the Valour Chronograph. Where the Endeavour and Resolute both used automatic movements, the Valour uses a Meca-Quartz movement.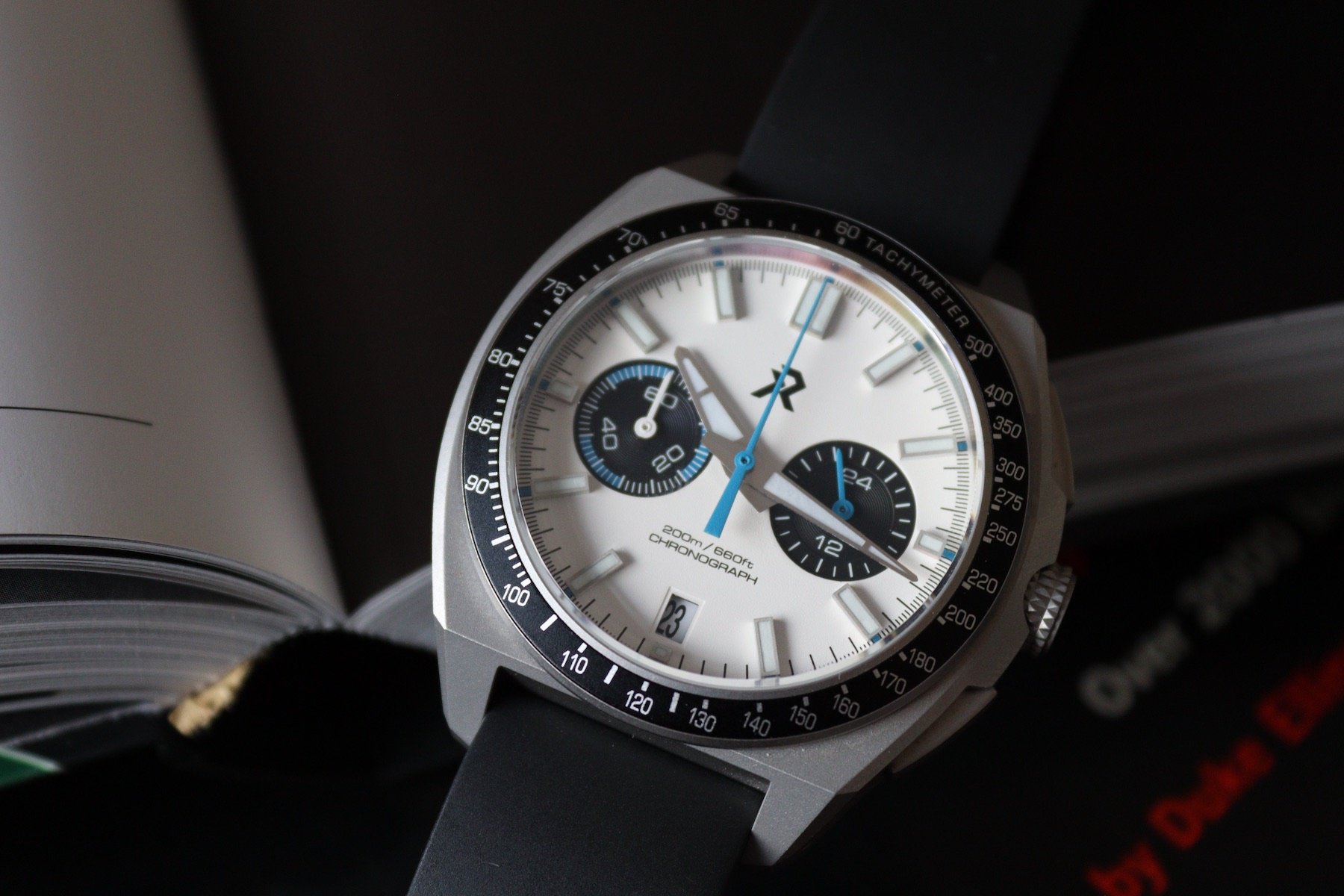 The RZE Valour and its ULTRAHex armor
Whenever I review a watch, I usually start with the case. It's the first thing we touch when we hold a watch for the first time, so its importance cannot be overstated. The RZE Valour employs a "fat" tonneau-shaped case. The midsection is flat right up to the lugs where they sharply angle down, not unlike the modern Zenith Defy cases. As a big fan of the Zenith Defy, this is definitely meant as a compliment. It's a strong and well-defined case silhouette.
The chronograph pushers are nicely integrated into the case and blend into the crown guard. We see oversized rectangular pushers that give a very modern vibe, and I'm a fan. They wonderfully complement the case's angles. A modern watch needs modern styling, so I'm glad not to see round pushers being used here.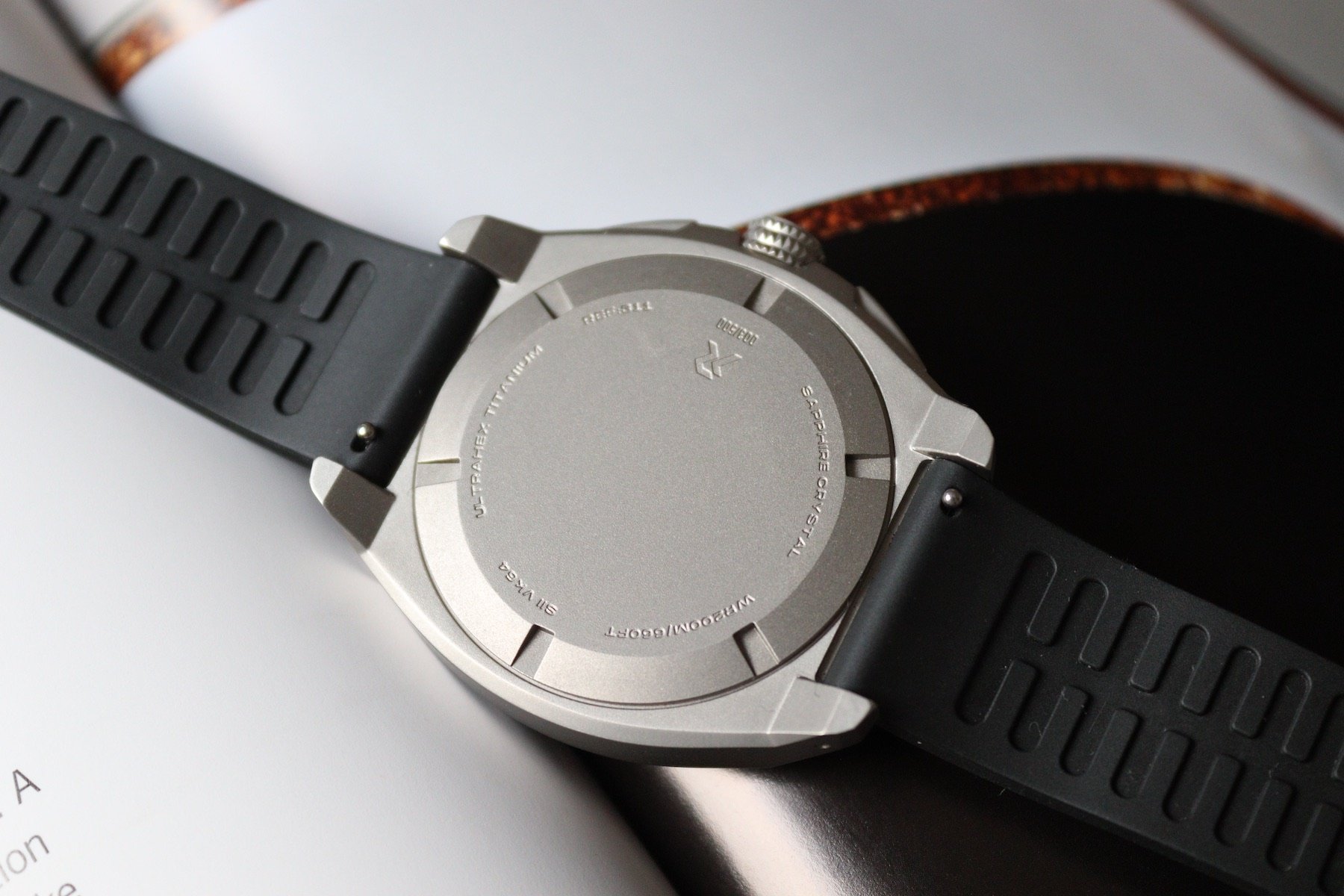 I'm a titanium convert
The RZE Valour Chronograph is the first titanium watch I've ever worn for an extended period of time. I can still remember the first time I picked up a titanium watch. I was at an AD with a friend who worked there, waiting for him to finish so we could head over to a RedBar Manchester meetup. He passed me a Grand Seiko watch made from titanium with a matching bracelet. I hated it! It felt too light, and the bracelet felt "tinny". I never picked up another titanium watch until the day this one arrived in the mail. Maybe my tastes have changed? Or perhaps it was the bracelet that threw off the rest of the experience? Either way, I've now come to love titanium and its lightweight properties.
I'd be remiss not to mention the coating RZE uses on its watches. It claims that the coating is proprietary, but I don't know what it's made from, so I couldn't dig further into it. Either way, all I know is that it works. I'd read another review of this watch where the reviewer said he hit it with a shovel and no scratches or damage were visible. Intrigued, I used the tip of a penknife to poke at the back of the watch and, lo and behold, no visible scratches.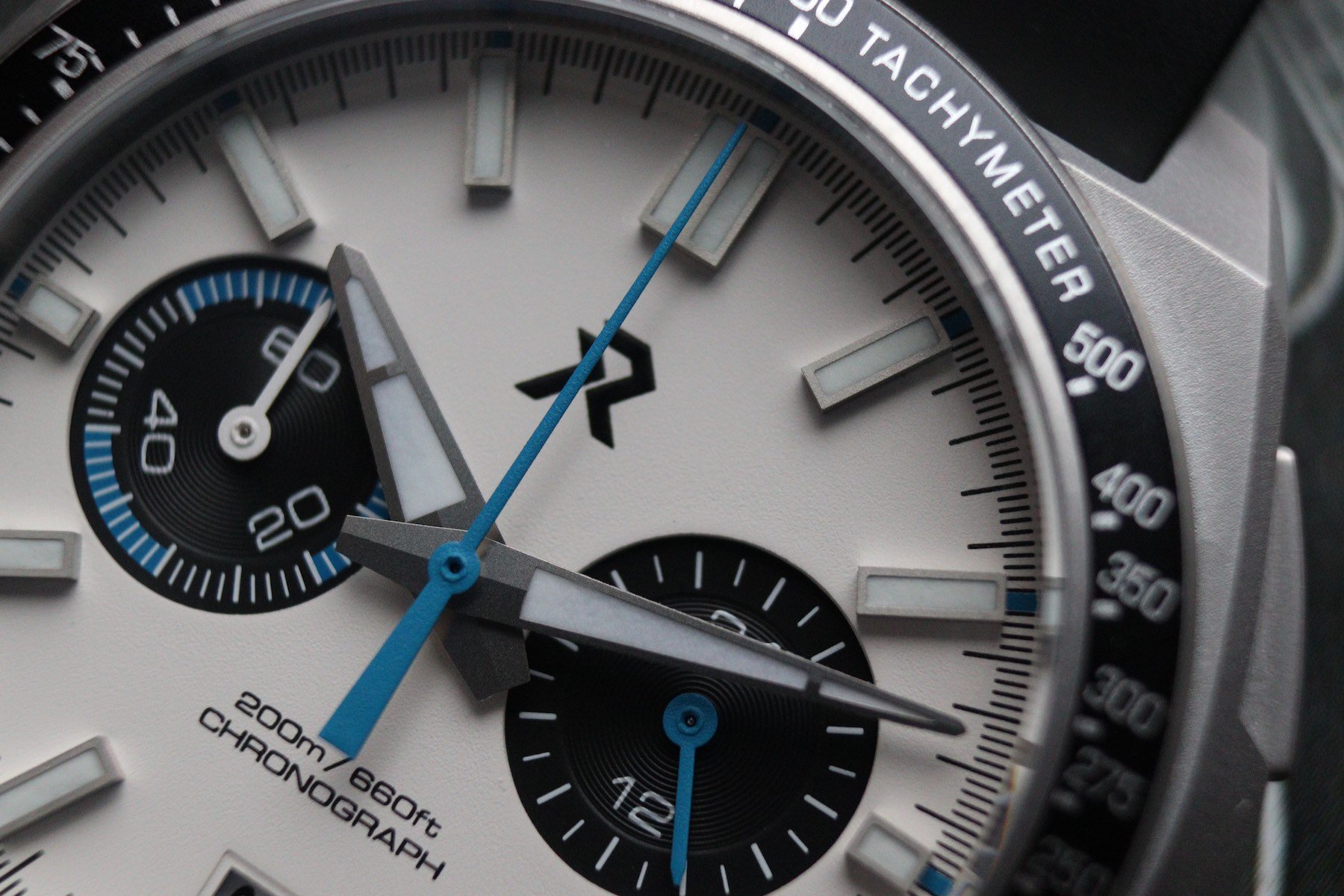 Plenty of choices
If you're interested in a Valour of your very own, you have three colors to chose from. This may not sound like a lot of options, but sometimes I feel that microbrands are so uncertain of themselves that they offer entirely too many color choices. RZE has made the decision easier for customers by providing just three variations.
First up, there's GT Black with a paper-like matte black dial with brilliant flashes of orange on the sub-dials and central chronograph seconds hand. A dial-matching black date wheel pokes out at 6 o'clock.
Next up, we have the Vintage Salmon with a salmon-colored dial with a subtle eggshell texture. Black sub-dials offer some much-needed contrast with black text and logo on the main dial and white markings and hands for the sub-dials. The Vintage Salmon also employs a black date wheel.
Finally, we have the Crusader White, which is the model I have on my wrist. It's a classic panda dial. White and black offer the ultimate contrast and provide the perfect canvas for those flashes of electric blue to cut through. It's the blue that attracted me to this model over the others. The Crusader white has a white date wheel, but I think a black date wheel would have looked slightly better. That's just personal preference, though.
All three models have sharp applied hour markers with a double index at 12 o'clock. They're filled with Swiss Superluminova, as are the hour and minute hands. I believe it to be BGW9 (white daytime color, pale blue glow). It's adequate, but it's nothing to write home about. It could be brighter but, to be honest, at this price point, it's certainly good enough. This isn't a dive watch, so radioactive lume isn't expected, nor is it a dealbreaker. I'm sure RZE could have increased the lume capacity, but that would likely have increased the costs, or maybe we'd have had to skip that incredible ULTRAHex coating. For a watch costing €315, I'm more than satisfied.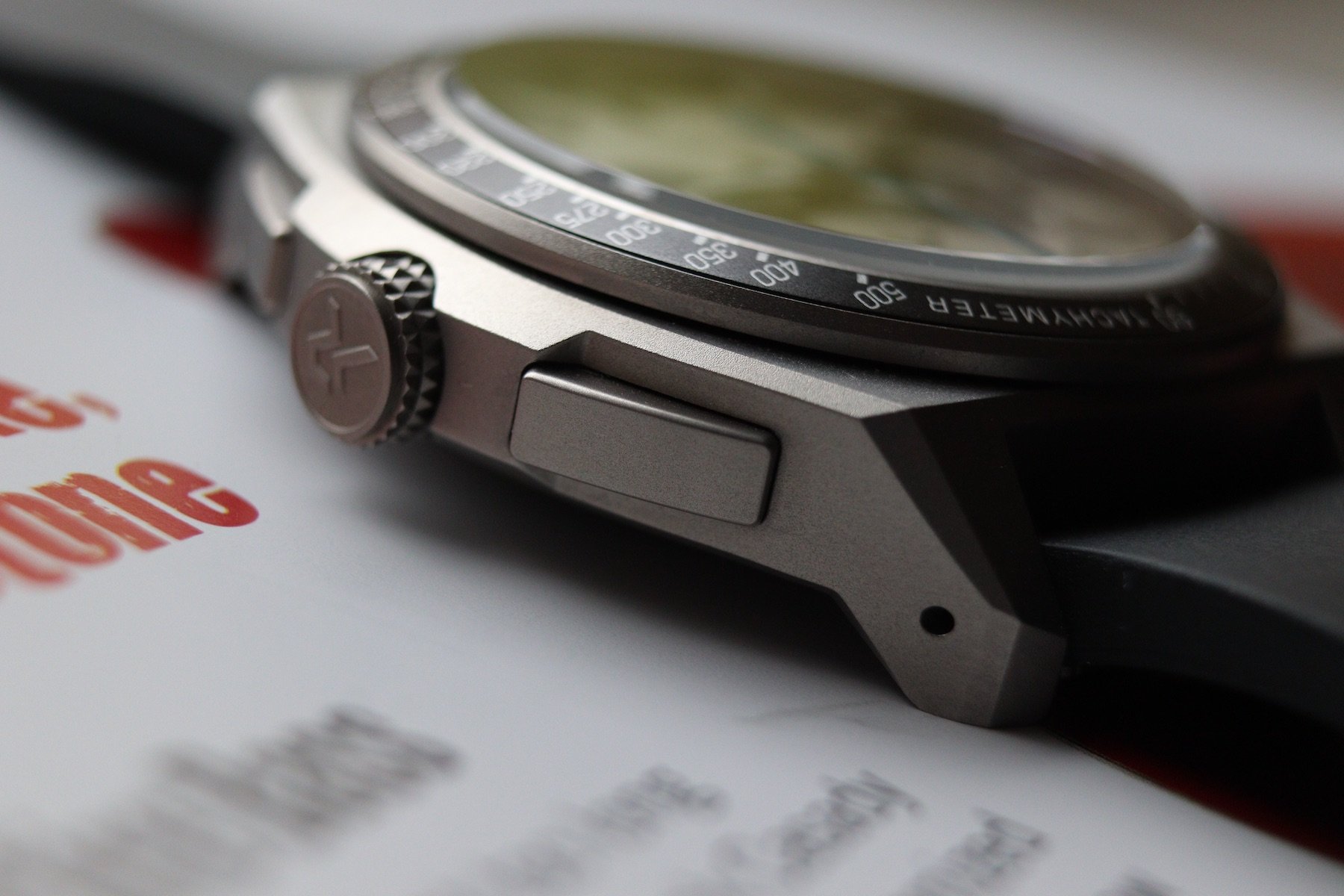 Mecha-Quartz movement
Seiko-built mecha-quartz chronograph module powers the RZE Valour. Interestingly, this model drops out the going seconds indicator, which removes any visual indication this is actually a quartz chronograph. Without the "ticking" seconds hand, you could almost fool yourself into believing it has a mechanical heart. With the rapid-stepping chronograph seconds hand (that advances five times per second), it's not an illusion that is entirely broken by using the chronograph. A clever and thoughtful decision. The sub-dials display elapsed minutes at 9 o'clock and a 24hr indicator at 3 o'clock.
Additionally, the choice of the mecha-quartz movement allows for two further benefits. Firstly, the quartz movement is far lighter than its mechanical counterparts. Lightweight is the name of the game here, and it perfectly complements the titanium case's weight-saving properties. Secondly, the mecha-quartz movement allows for a very affordable price. Despite being a reliable and accurate movement choice, the modules are pretty cheap to produce. Those savings are well represented by the watch's price. Two more boxes ticked for me!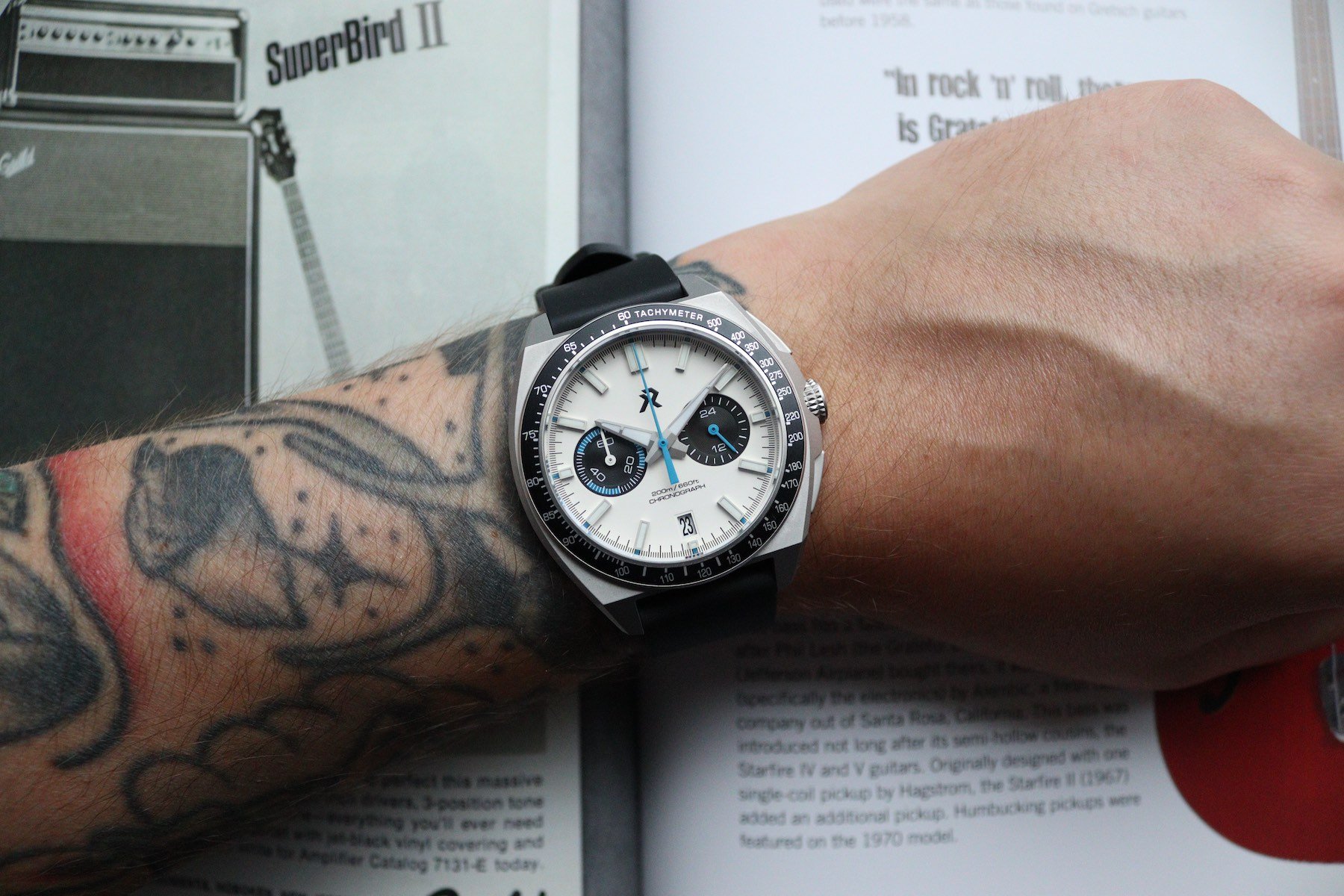 FKM rubber strap plus a bracelet option
As standard, the watch comes shipped on an FKM rubber strap. FKM is slowly becoming more broadly used in the watch industry. It is far superior to silicon, and even natural rubber, in my opinion. It has a smooth and satin finish and texture, and it doesn't attract dust and lint. It's supremely supple and offers some of the best comforts from any rubber strap I've ever worn. This exact design is a common one I've seen offered by various microbrands. I have the same identical strap already in several colors. It's simple and does the job, but the plain design is a little uninspired, in my opinion. I will likely change the strap out and I have already found a nice Marine Nationale style strap to put on it. I think that it'll make for a nice combination.
I'm never that bothered if the straps that come with watches are not amazing. Unlike when a watch comes on a bracelet, then I can be quite picky. I have drawers and drawers of straps as I like to mix things up, so replacing the OEM offering with something a bit nicer is not an issue. For those who prefer a bracelet, RZE has you covered too. It'll cost you a small supplement of €92, but the visual impact looks to be worth it. I've not seen one in hand, but I'll be purchasing one separately to give myself the option. It's an excellent H-link design titanium bracelet, with the same ULTRAHex coating as the case.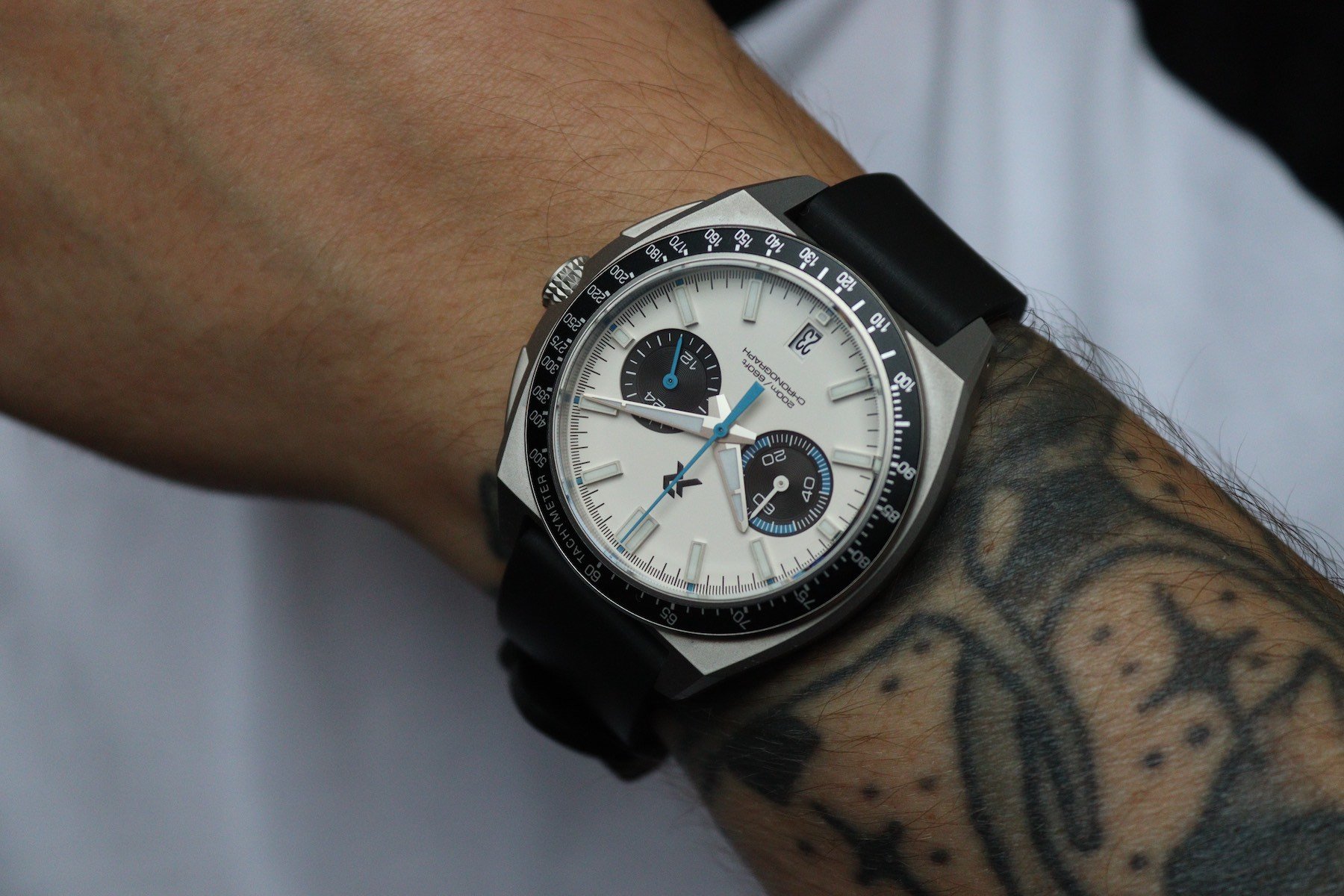 Who is the RZE Valour Chronograph for?
In a world where there's a near-infinite choice for affordable chronograph watches, RZE sets itself apart and demonstrates it is a brand that knows what it is doing. With affordable pricing, a modern take on classic styling, and a titanium case with ULTRAHex coating, RZE is onto the third success in as many outings.
I like to try and suggest a comparable watch when reviewing microbrands. I do not subscribe to out-and-out clones of existing watches, but I like it when microbrands can capture some of the same vibes or the essence of another watch. You may recall that I previously felt like the Maen Greenwich GMT offered fans a budget alternative to the Patek Philippe Aquanaut? Well, for me, the RZE Valour is an excellent microbrand alternative to the good old-fashioned Speedmaster in my books. I feel that RZE has captured that classic chronograph essence, with some modern vibes in the form of that lovely titanium case.
If you're like me and looking for a solid beater watch that does its own thing while capturing some of that Speedy spirit, the Valour might be worth looking into. So, until the inevitable day I find the right Speedmaster for me, I have a very capable wrist companion in the RZE Valour.
How can I get one?
Pre-orders start today at 10 pm Singapore time (GMT+8) and you can grab yours for just €315. If you want to add a bracelet, it'll cost an extra €92. To find out more about the RZE Valour, you can visit the RZE website here.
Follow me on Instagram: @davesergeant