Tougher Than Tough: The G-Shock Mudmaster GWG-2000TLC-1AER — Toyota Land Cruiser Tie Up
A special collaboration with the Toyota Auto Body Team Land Cruiser
The Dakar rally has always had a reputation for being one of the world's toughest races since its inaugural season in 1979. Drivers have to navigate thousands of kilometers of remote desert under the harshest possible conditions. Naturally, a G-Shock seems like the perfect choice for drivers taking part. And how about what is undoubtedly one of the toughest G-Shock models on the market today? Teaming up with the Toyota Land Cruiser team, G-Shock introduced the Mudmaster GWG-2000TLC-1AER. Equipped with all the tools drivers might need, it's a perfect watch for all off-road activities. Whether in the desert, the mountains, or on and under the ocean, the new Mudmaster makes sure you are ready to tackle any challenges. Let's take a closer look at this tough, burly monster of a watch and see what it is that makes it so special.
Much like the Toyota Land Cruiser that took part in this year's Dakar rally, this watch can take a beating and press on unscathed. It shrugs off sand, dirt, water, and mud, deflecting anything you can throw at it thanks to its forged carbon bezel components. All of the tech inside is kept safe thanks to G-Shock's very own carbon core guard technology. And though the brand describes the watch as "a smaller, lighter watch ready to take on the harshest of terrain" it is still a pretty hefty thing to strap to your wrist. That said, G-Shocks always get a pass when it comes to their bigger size (like how Cartier watches get a pass for their smaller dimensions). Having seen the three new colorways, I must say that this special edition is by far my favorite.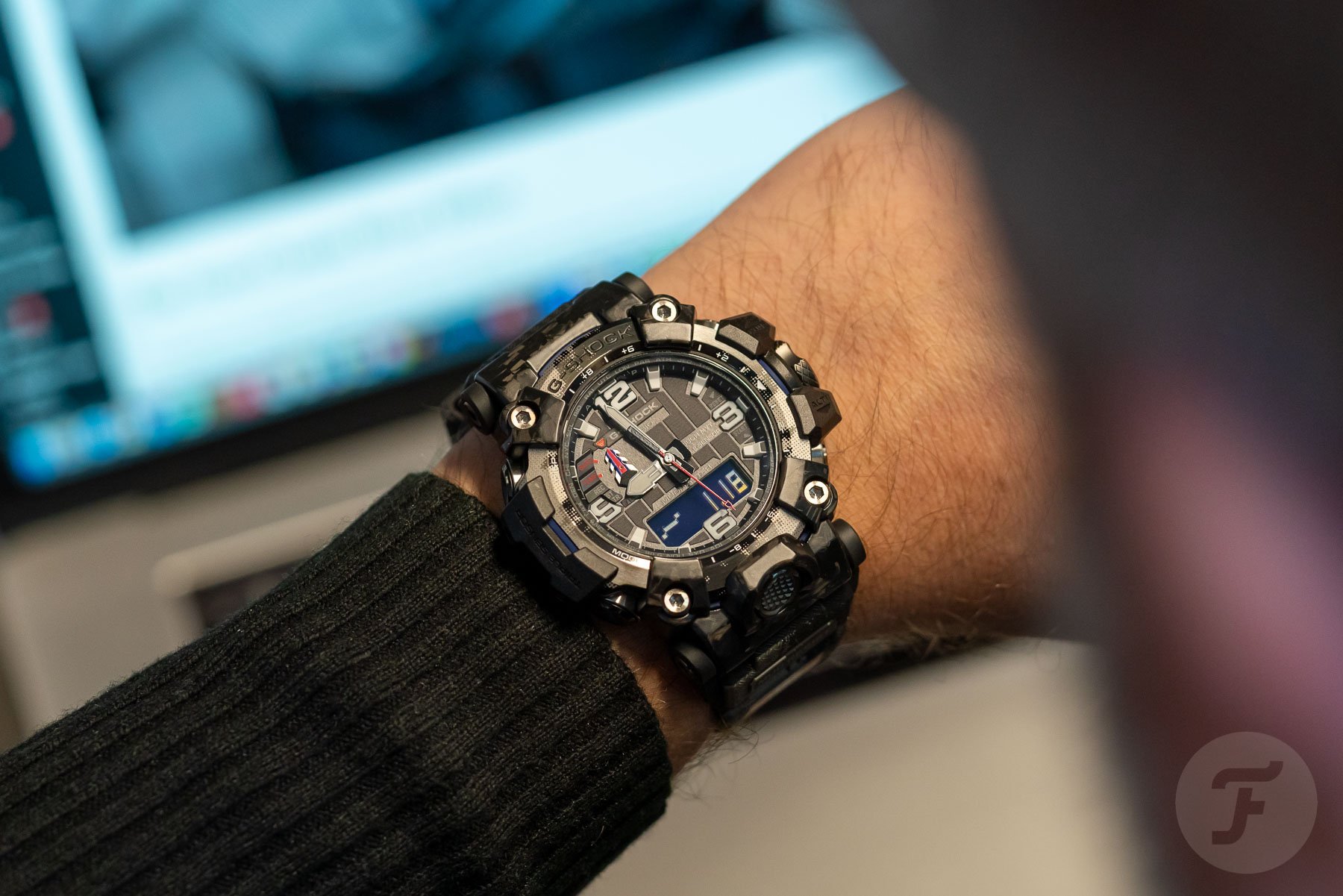 The G-Shock GWG-2000TLC-1AER
It's one thing for a watch to feature the ubiquitous "water resist" marking. But not every watch can feature "mud resist" like the aptly named Mudmaster. And if the name doesn't say it all, then its hardened tactical aesthetic will hint at exactly the kind of watch this is. It's a 4×4, lifted-suspension, turbo diesel off-roader that can tackle any obstacle with ease. This special model is given a mud-splatter motif meant to reflect the look of the Toyota Land Cruiser after a long stage of the Dakar rally. The Toyota Auto Body Team Land Cruiser's logo is laser engraved on the back of the watch, and the buckle and stainless-steel elements of the bezel are ion-plated with the same pattern. When it comes to features, this watch is as over-specced as possible.
Like all G-Shocks, it's water-resistant to 200m. It also keeps time to a standard of ±15 seconds per month. On top of that, the G-Shock GWG-2000TLC-1AER features the following functions — alarm (with five daily alarms and an hourly signal); altimeter (with a measuring range of -700 to 10,000 meters); calendar, barometer (with a built-in air pressure sensor which displays weather patterns); battery level indicator, compass (with 60 seconds of continuous measurement to within 1-degree of accuracy); a countdown timer, world timer, hand-shift function, and display illumination. The watch is also low-temperature resistant down to -10º C and is radio-controlled with G-Shock's Multi-Band 6 system. For a full list of the features that make this one of the most well-equipped G-Shock watches available today, check out the G-Shock website. At just 106 grams though, it's still comfortable on the wrist, despite its impressive 61.2mm × 54.4mm  × 16.1mm dimensions.
Final thoughts
Are you're looking to upgrade to the latest and greatest when it comes to G-Shock offerings? Then you would be remiss not to consider the most recent Mudmaster released earlier this year. And if you want to have a slightly different look to the usual three models, the GWG-2000TLC-1AER is your best bet. When it comes to G-Shocks, I normally prefer to keep things classic. But there's just something about the Mudmaster that makes me want to go all the way. And the mud-spattered look of this special edition would be the way to go for me! The price difference from the standard GWG-2000 models, which retail for €749, is not too significant. This will set you back an additional €50, coming in at €799.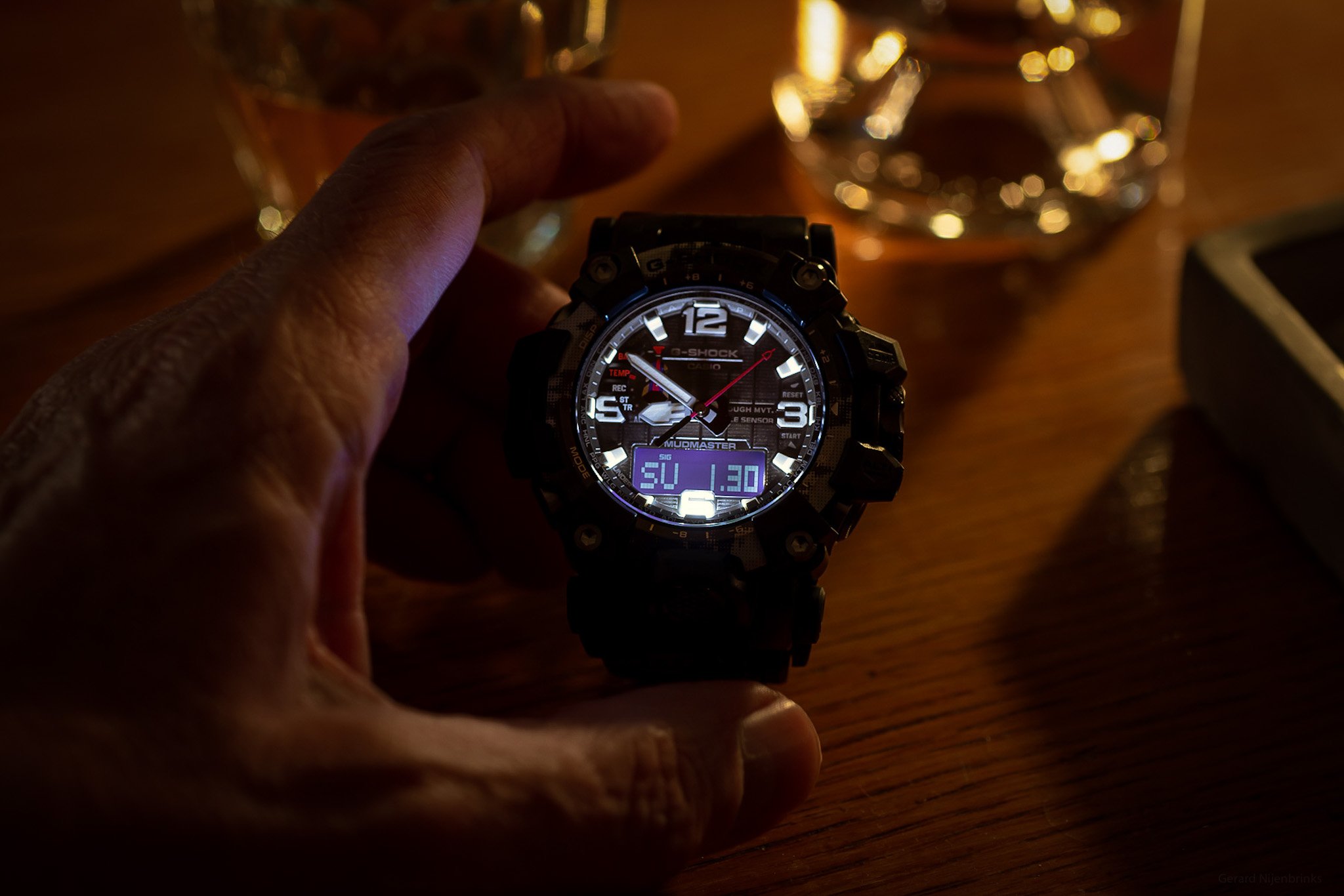 What do you make of it? I'd love to hear your thoughts in the comments below. And for more information, head on over to the G-Shock website.