Hands-On: The Vario Versa
A Reverso-like experience for 33 times less?
There are some horological experiences that I'm almost certain I will never have — reviewing an A. Lange & Söhne Saxonia or owning a Jaeger-LeCoultre Reverso Duoface, for example. Never say never, but I'm pretty sure neither will ever happen. I do find these watches stunning and unique, and I truly do want to experience them. However, like many of you, I have a limited budget, I don't live near a JLC boutique, and I don't even feel comfortable stepping inside one. I yearn to experience a Reverso each time I see a photo of it online, just as I yearn to strap on a Cartier Tank (you know, the tiny one with the solar-powered movement?). So I turn to micro/independent brands that, thankfully, help get us closer to these experiences. 
I do not mean to create controversy by writing this review. Nothing will ever replace a Tank or a Reverso; let's be clear on that. However, when I get my hands on a watch that invites me to partake in a new type of horological experience for not too much money, I want to tell you about it. This is what's going to happen today by looking at the Vario Versa. It's a rectangular, dual-face, quartz-powered timepiece that comes from Singapore and costs around €400. This is the first Vario watch I've reviewed, and I've got to be honest, I'm impressed. And you might be too.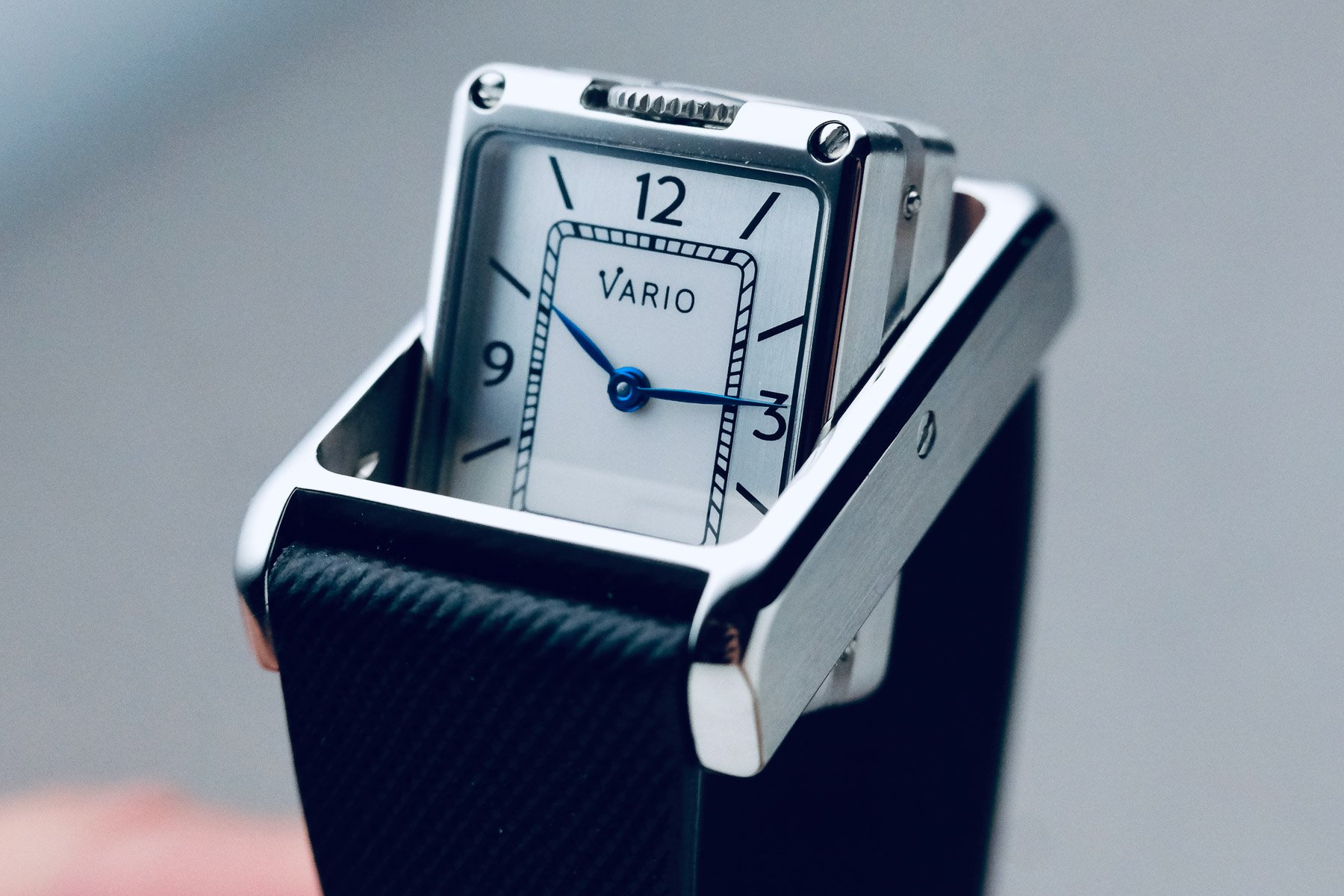 Yes, it has two faces!
Let's get the oversized elephant in the room out of the way. The Versa, as its name might have given it away, has two faces. Two dials. On one side, there is a somewhat-Reverso-like dial with a central minute track and Arabic numerals at the cardinal points. On the other side, we have a dressier dial with an outer minute track and rhombus-shaped markers at the cardinal points. There are currently three versions of the Versa, and each comes with the same silver/white dial on one side. However, they differ in that the dressier dial comes in blue, red, or green. By the way, two new versions are coming with black or white dials on the dressier side.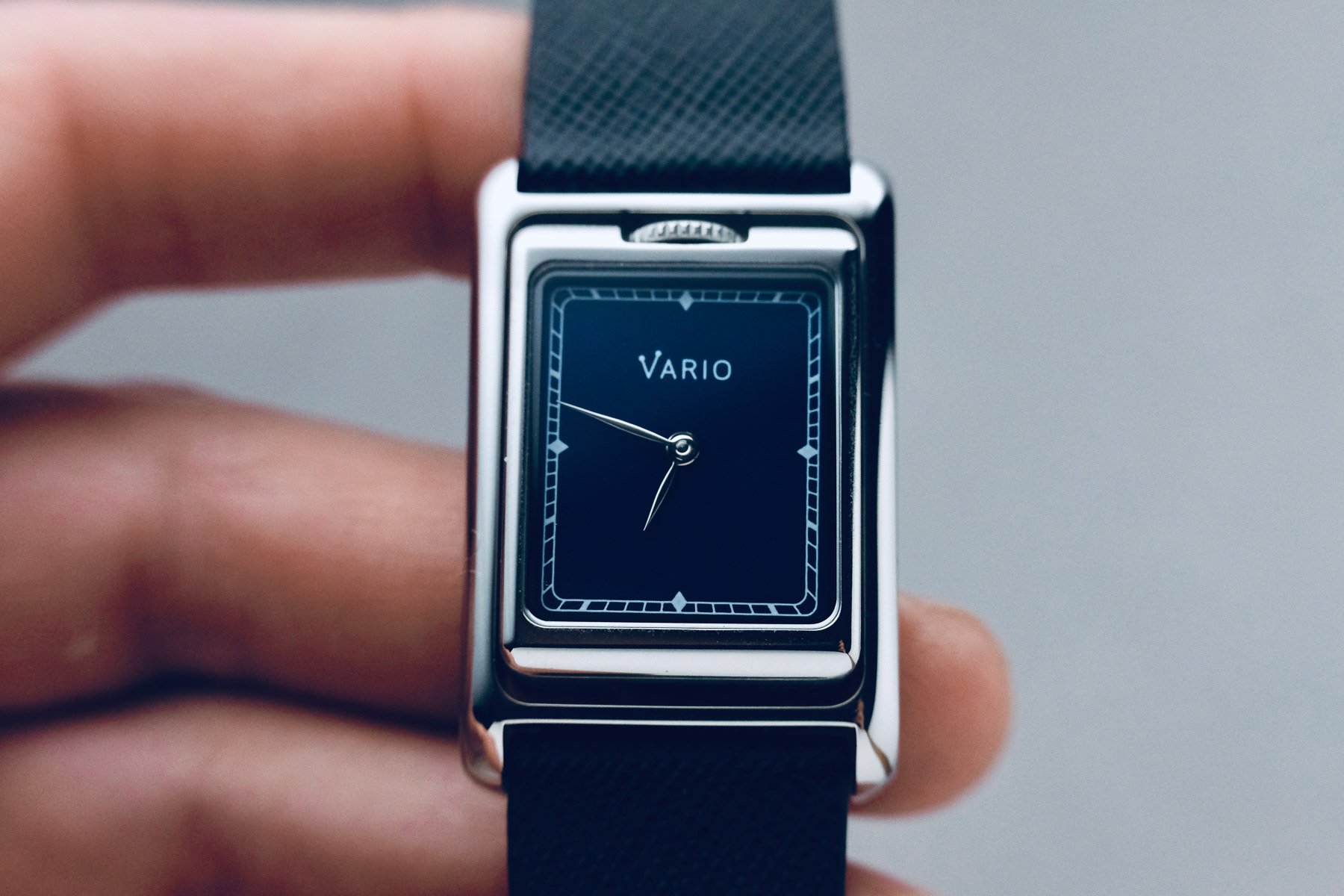 While the faces on the JLC Reverso flip horizontally, the ones on the Versa flip vertically. This means that you have to rotate the watch head by pushing the top or bottom of it to make it rotate on its axis. It's very easy to do, however, there are two caveats. First, you have to remove the watch from the wrist to switch faces. Second, the hidden face hugs your skin, and it will get smudged. Neither are deal breakers for me, especially when keeping the €400 price tag in mind, but you should know about this.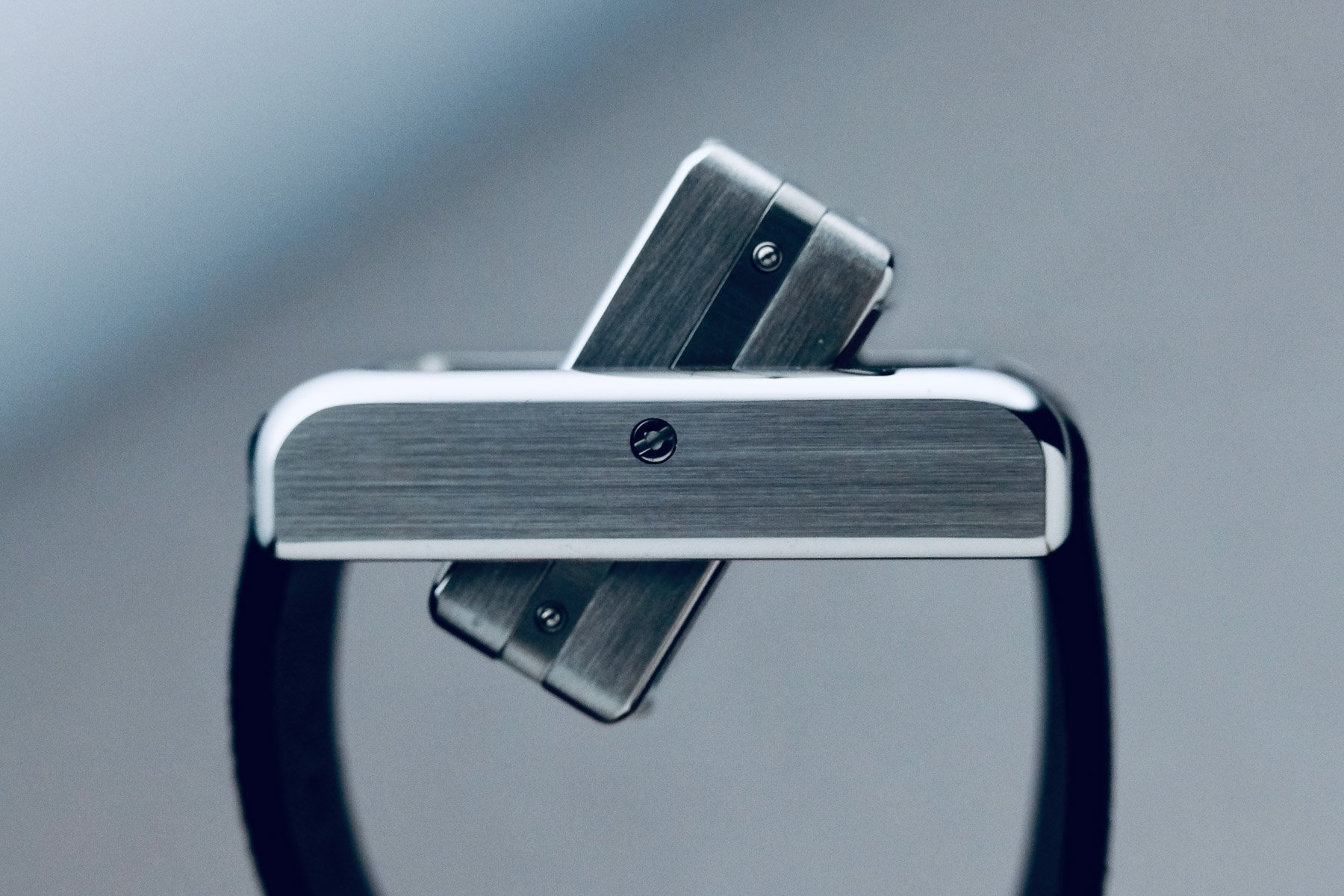 All the specifications you need to know
So, how does Vario manage to offer a Reverso-like experience for 33 times less than a large Duoface at retail? Well, it starts with the movement powering the watch. Each face has its own movement, the Ronda Slimtech 1062. This caliber has one jewel and a battery life of six years. It's a time-only movement without running seconds, and it is, apparently, very thin. As you can see from the photos, each face comes with a small and flat push/pull crown to set the time. You can set the time while keeping the watch on the wrist, and I found this operation quite easy. Having two movements operating independently allows you either track two different time zones or simply swap faces to suit your needs.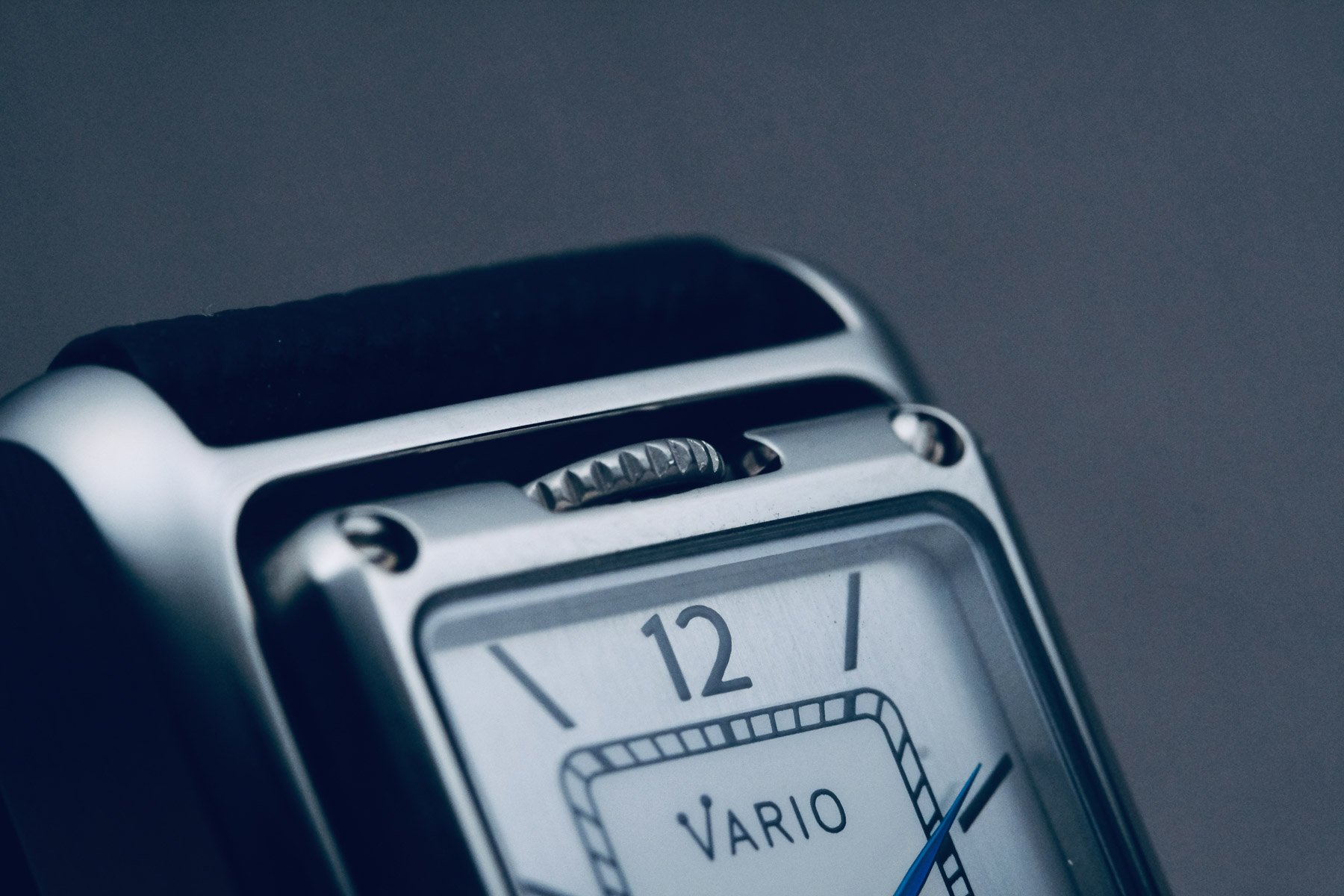 I used the 3-6-9-12 dial more often than the other one as I find it more visually appealing. What did impress me is the fact that each dial is covered by a small piece of sapphire crystal with an inner antireflective coating. It is indeed very easy to read the time in any lighting condition. The case is made of 316L stainless steel, and each fixed bezel is secured on the watch head by four screws. These screws give the Versa a modern and subtle industrial vibe that I particularly like. The watch comes with an alternation of polished and brushed surfaces. It features a polished finish on top of what I described as the fixed bezel, the lugs, and the chamfers running alongside the case. Brushed surfaces are found everywhere else.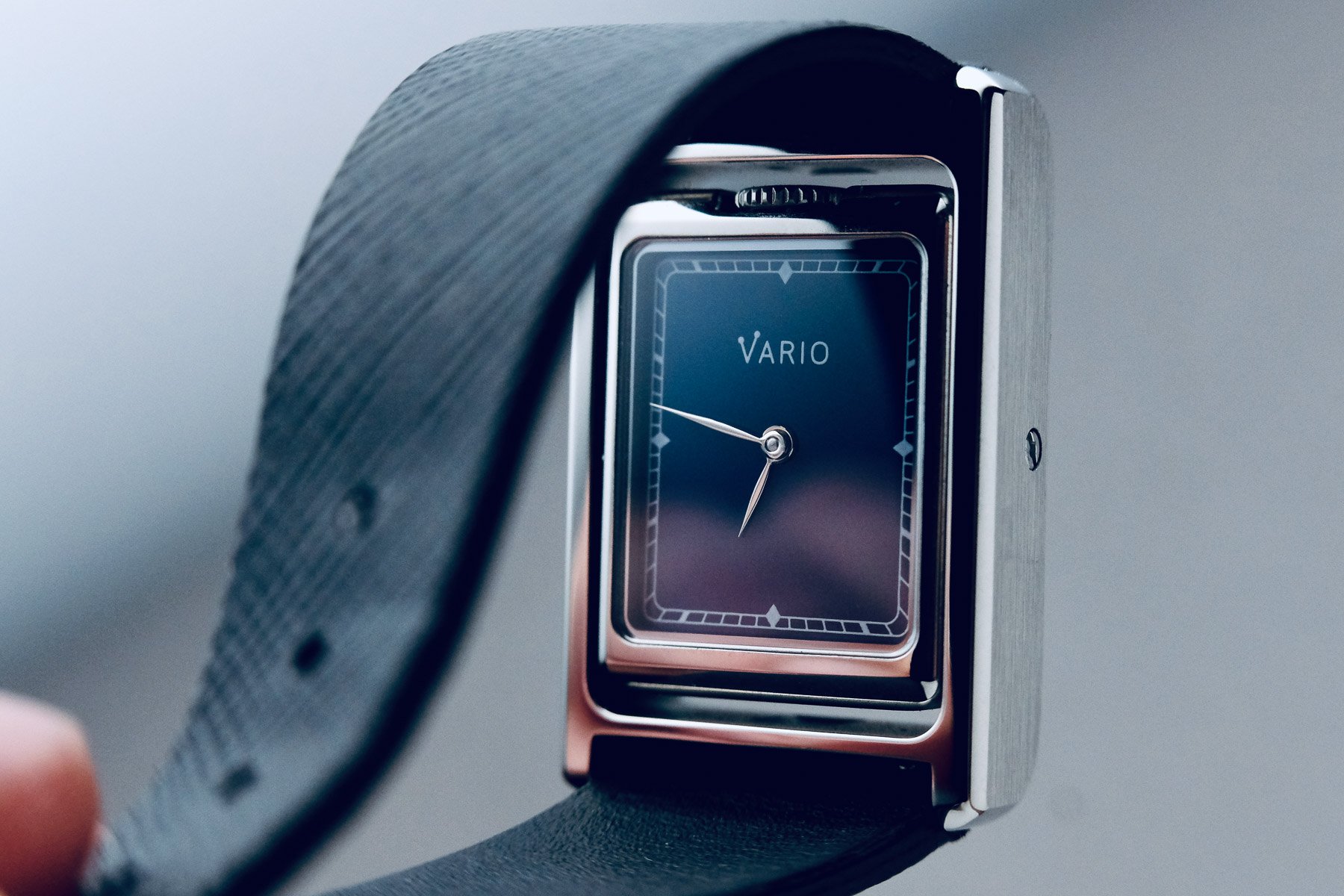 Unsurprisingly, the Versa only has a water resistance rating of 5 ATM. I didn't expect much more in that area. The watches come with an Italian leather strap and a deployment clasp. I find the deployment clasp somewhat overkill on this type of watch. It adds unnecessary bulk to an otherwise light and thin watch (I promptly switched the strap!). But wait, what are the case's dimensions? I'm glad you asked. The case diameter is 26mm, the lug-to-lug is 40mm, and the thickness is 12mm. Yes, it does sound thick, and I was a bit worried about that at first. But given how light it is, the thickness doesn't bother me.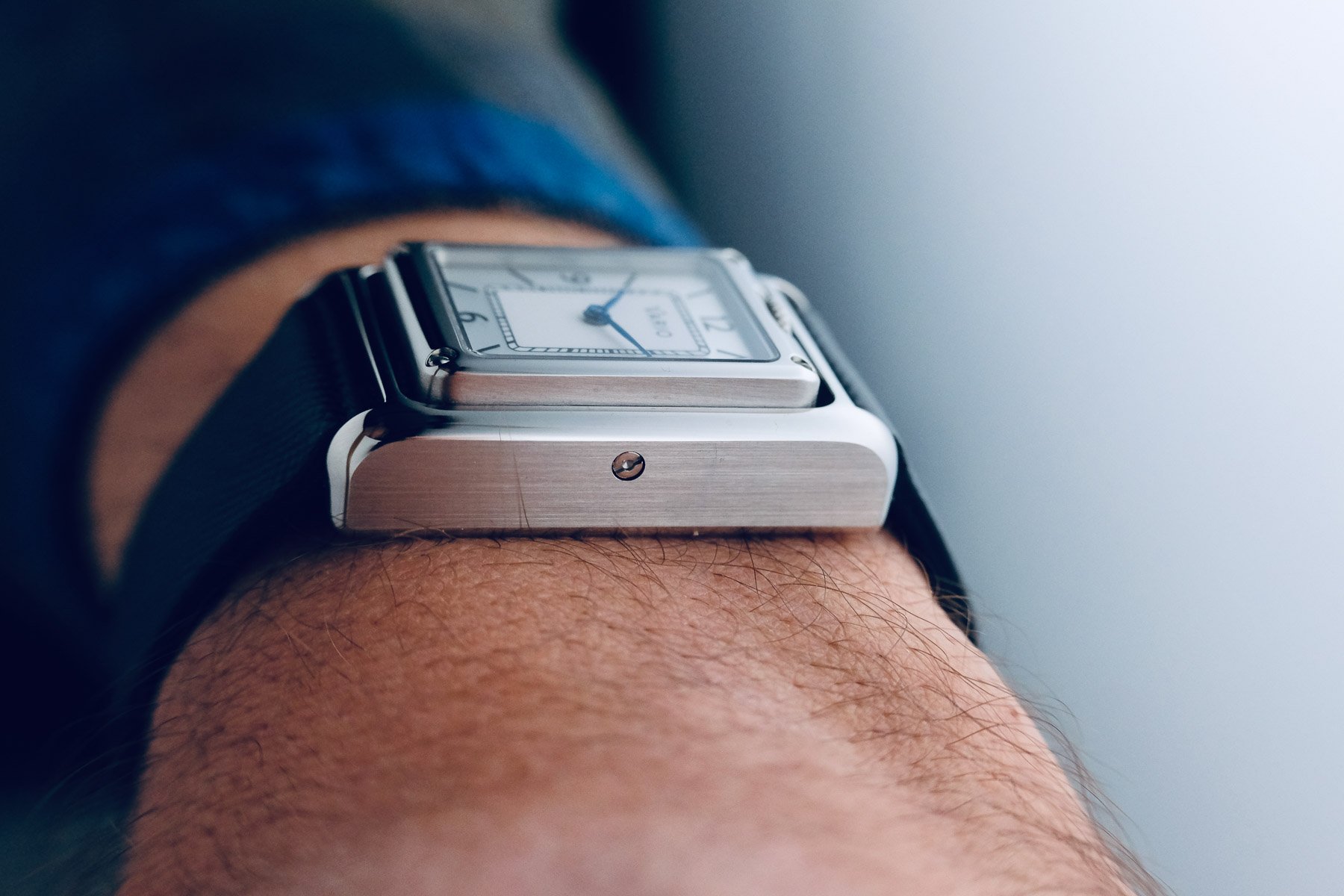 In comparison, the Reverso Classic Large Duoface has a case thickness of 10.3mm, a width of 28.3mm, and a lug-to-lug distance of 47mm. This makes the Versa a smaller watch, notably due to having tiny quartz calibers.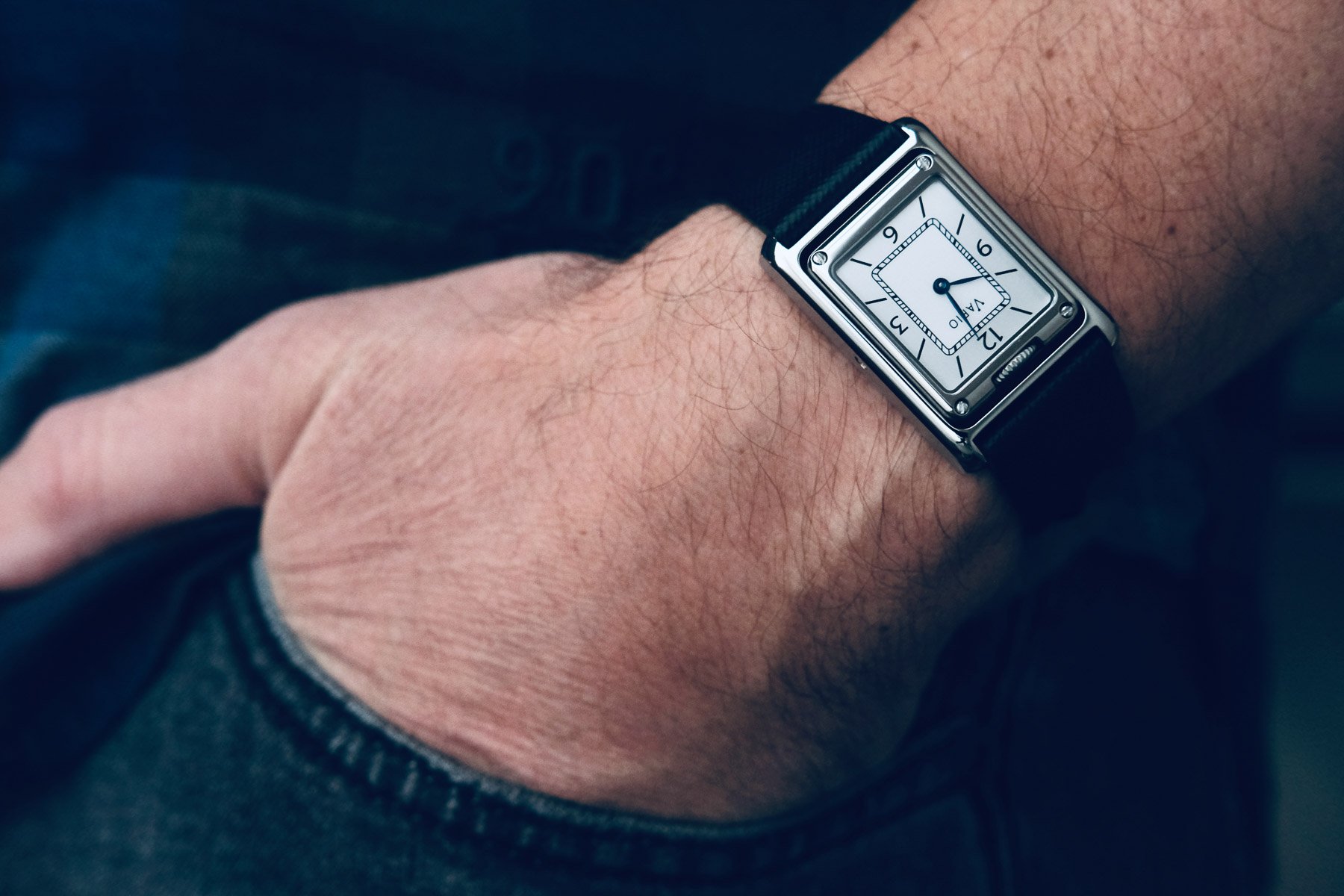 What the Vario Versa is (and what it isn't)
No watch could ever replace the JLC Reverso Duoface. The engineering it comes with, having a dual-purpose mechanical movement in a case just 10.3mm thick is impressive. JLC also pioneered the dual-face design, and no brand has ever done it better since. But we could be quick to judge the Versa as an homage to the Reverso, just as we could say that the Seiko "Tank" is an homage to the Cartier Tank. Objectively, we could say that any round diver is an homage to the Rolex Submariner. Several Swiss brands have made rectangular dress watches before — Baume & Mercier, Patek Philippe, and Oris, among others — but I don't hear people call these homages. Perhaps we can agree that Cartier does not have a monopoly on rectangular cases.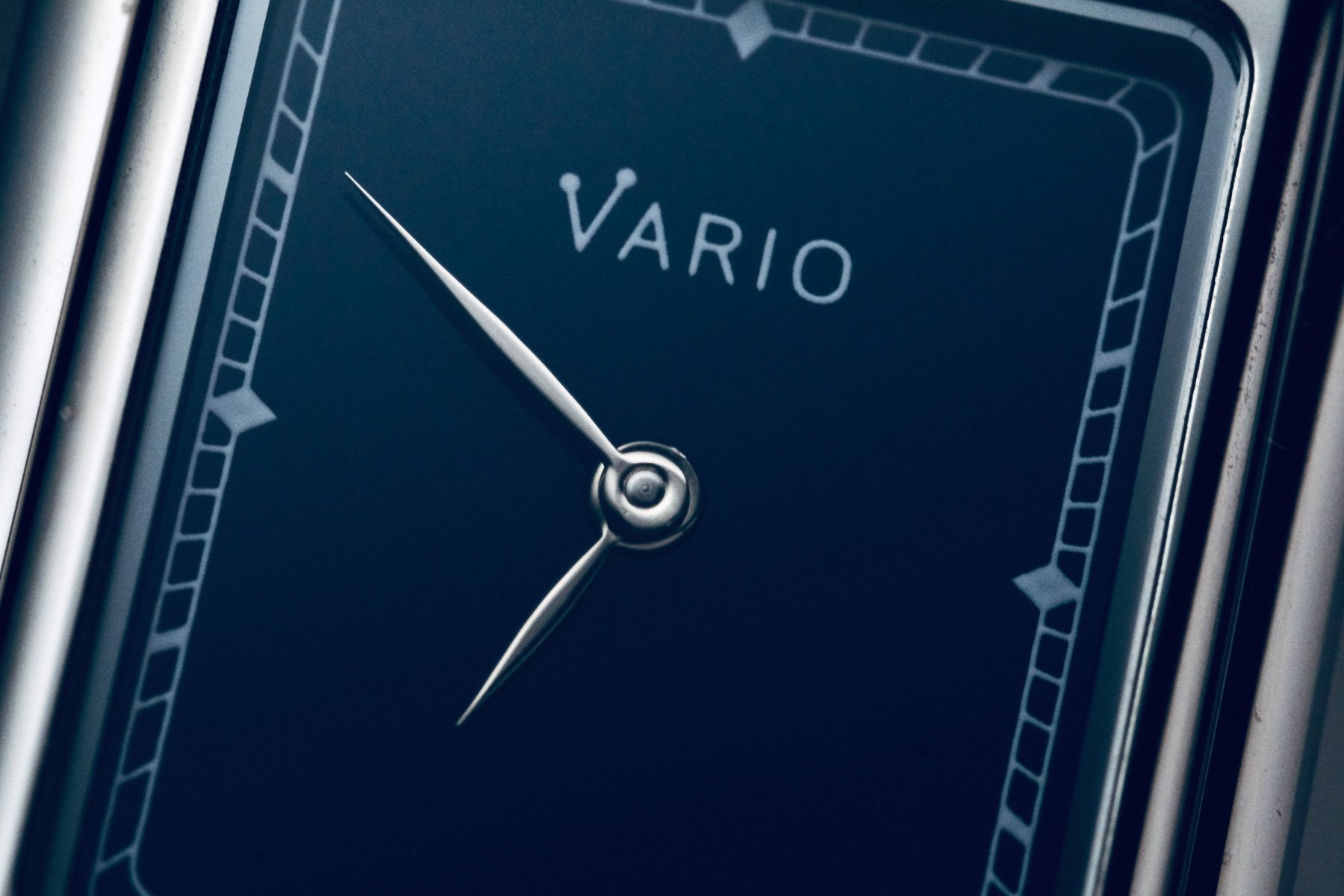 Uh-oh, I feel I'm treading on shaky ground here. Because next, I would dare say that JLC does not have a monopoly on dual-face watches!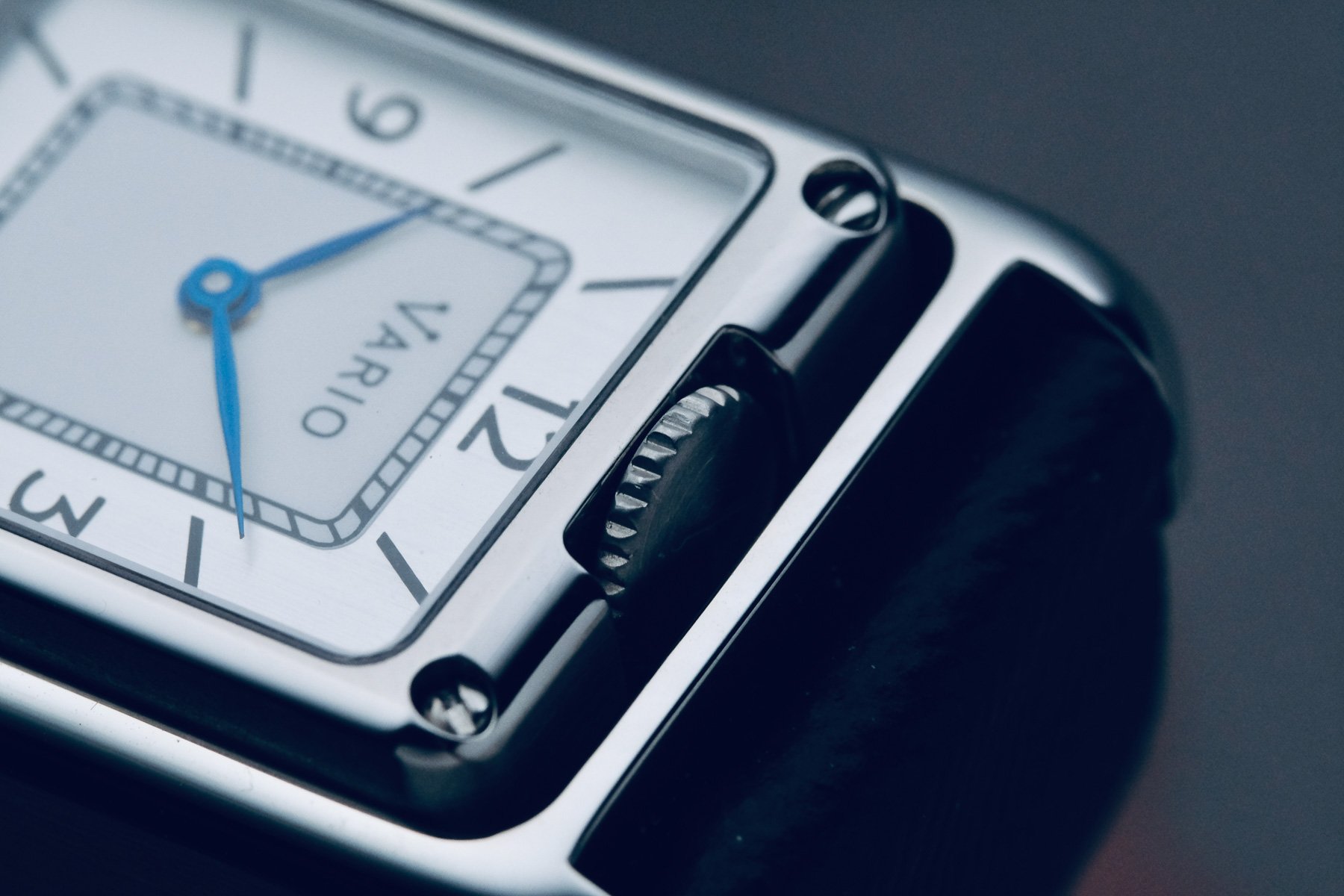 Is anyone still reading? Yes? Good. Thank you for staying with me and listening to my little rant. I do not mean to offend anyone, naturally, and I only want to bring your attention to an affordable and great-looking timepiece that I believe is worth your while. Although I try not to talk about prices too much and how they relate to what you get, I must do so here. Although €403 is a lot of money for many people, I feel that spending this amount of cash on a Versa would be a good decision. Objectively, it's a small price to pay for what is clearly a big investment for an up-and-coming microbrand. In addition to sourcing the right movement, getting the design and mechanics right is not an easy task, and I applaud Vario for doing it.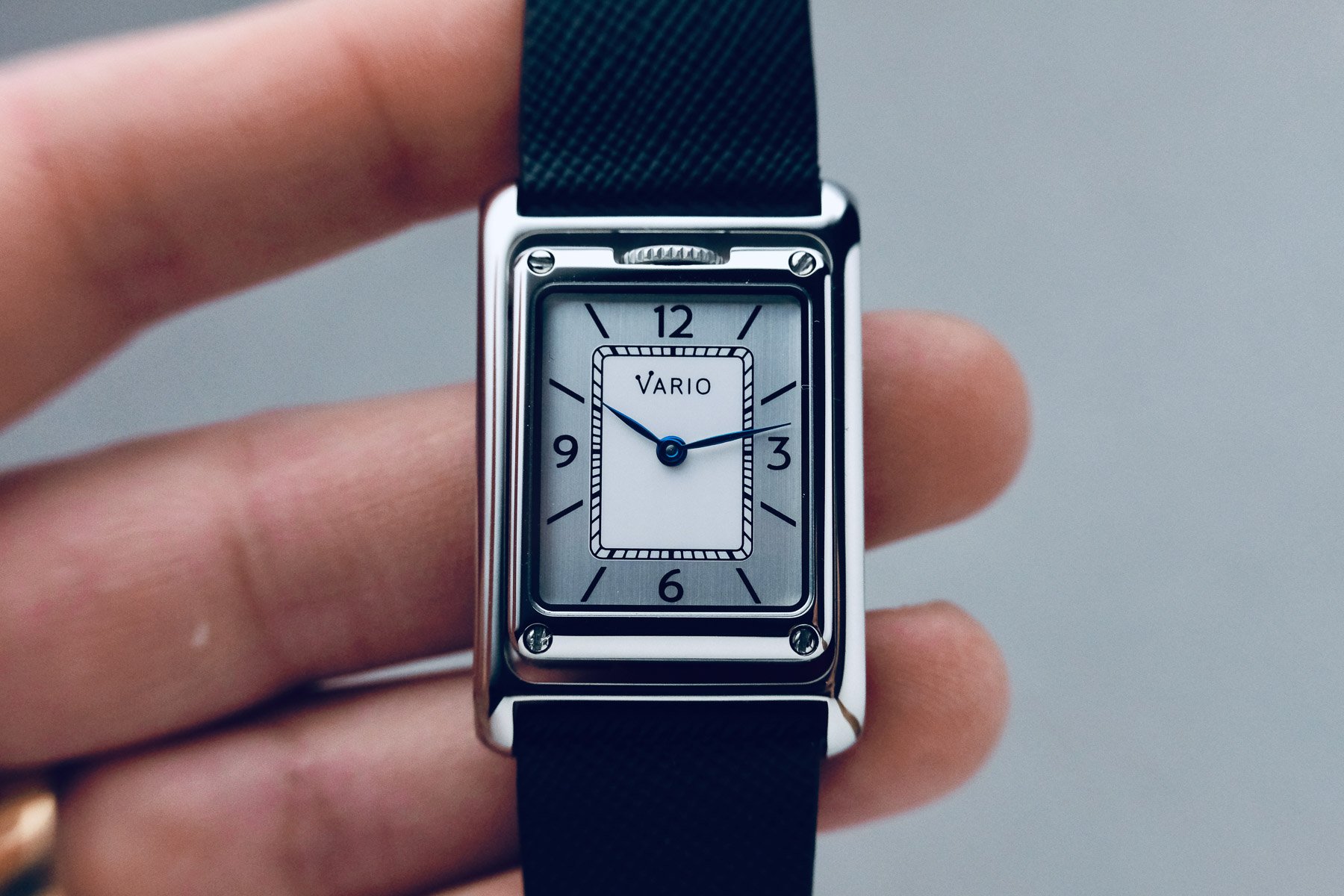 Final thoughts 
As always, I would say that I love micro/independent brands for how they allow us to have new horological experiences, whether it be an affordable and well-specced diver, a dual-face dress watch, or a flyer GMT for less than €1,000. There is a lot to love about these types of brands…but a lot to dislike too. A lack of originality, subpar quality control, and ghastly marketing campaigns are common. Once in a while, though, micro/independent brands do things right. Although this is subjective, I would say Vario did a great job with the Versa. But these are only my thoughts. What do you think of it? Does it remind you too much of the Reverso, or does it do something a bit different? I would love to hear your thoughts on this one! 
For more information, you can check out the Versa on Vario's website.