Six Months With The Jaeger-LeCoultre Reverso Duoface — My Ownership Experience So Far
The Reverso is definitely not a dress watch. I repeat: it is not a dress watch!
I can't believe it's already been six months since I bought my Reverso. I guess it's true when they say that time flies when you're having fun. Indeed, one thing that has become very clear during these first six months is that my Jaeger-LeCoultre Reverso Duoface is such a beautiful, different, and most of all fun watch to wear! It felt a bit like the start of an experiment when I bought it. Of course, I was convinced of my choice at the time of the purchase. But the Reverso is such a unique kind of watch that I was curious to see whether my love for it would stick around or slowly fade. I'm happy to report that it has only increased over the summer!
A lot of people refer to the Jaeger-LeCoultre Reverso as a "dress watch", even though it was originally introduced as a proper sports watch. I mean, that story about the polo players in India might be a marketing trick, but I can totally see how it's a watch that's very comfortable to wear during any kind of exercise. Well, except for swimming, maybe. It's quite small and very light on the wrist, and in the case of the Monoface, you can at least protect the dial from sudden impacts (though the movement may not fare too well). At first, I also treated my Reverso Duoface as more of a dress watch. Well, not anymore.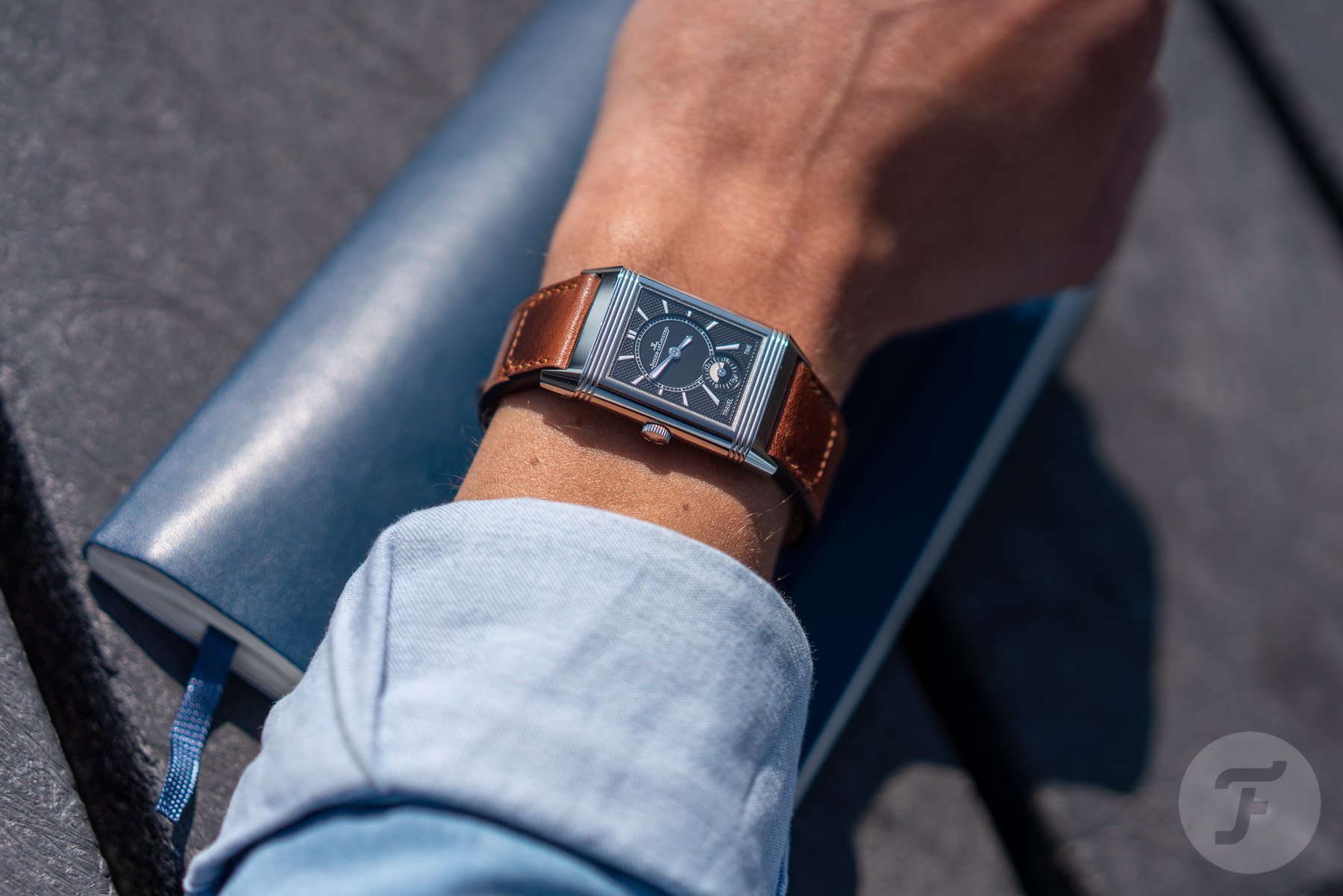 The size must be right
It was quite a journey to find the right Reverso for my 17cm wrist, though. I really like the sunburst guilloché pattern on the small Reverso Monoface (40.1 × 24.4mm). But as that one is more targeted toward women, it did turn out to be a bit too small for my wrist. Then I went one size up to the medium Reverso Monoface (42.9 × 25.5mm) with the rectangular small-seconds sub-dial covering the six. I must say, I had to get used to its diamond-shaped guilloché pattern, but its size worked a lot better on my wrist. Nevertheless, I still felt like something was off.
So I asked if I could try on the Reverso Tribute Monoface, which is, again, one step up in size (45.6 × 27.4mm). The AD had the blue one in stock, and it was a beauty. But I had seen it before at a get-together, and those indexes were a bit too shiny for me. I also felt like the watch was too big for my wrist. So then I walked around for a while thinking that the medium Reverso Monoface would be the one for me. But when I was in Seville and I saw the green Tribute in the window, I couldn't resist going in and trying it on. It was still too big, but it might be my favorite of the three Tributes, with the red one in a very close second place.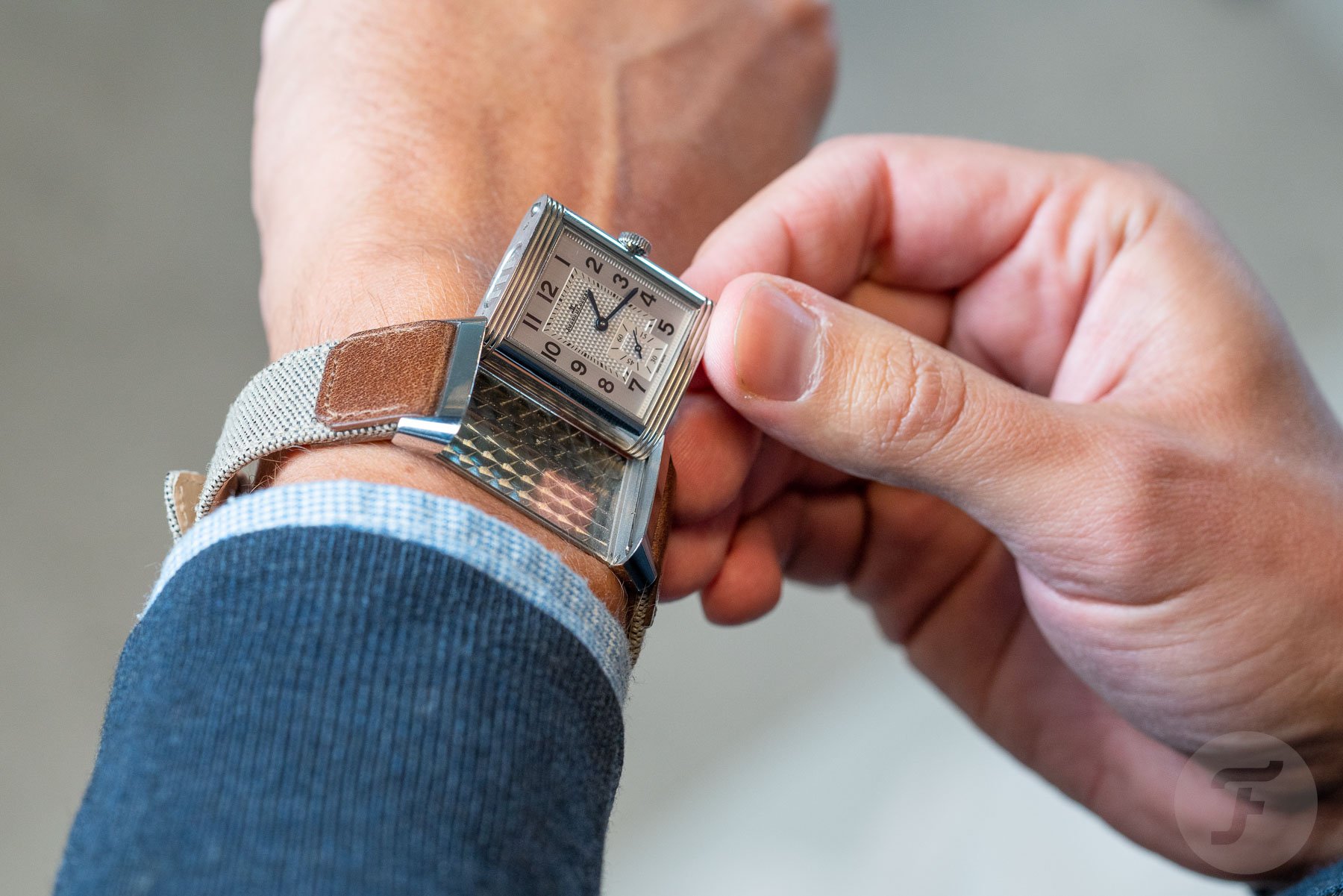 The surprise of a second dial
When I was back in Amsterdam, I decided to go for another fitting session. That's when I tried on the medium Reverso Duoface. I had always ignored the Duoface models because of their perceived thickness and the fact that a Reverso "should" only have one dial, as originally intended. But when I tried this one on, it immediately felt and looked great. I realized that what was off with the Monoface was the thickness, or rather, thinness of the case. The medium Monoface is only 7.1mm thick, so it felt a bit like a small plank on my wrist. The medium Duoface is relatively thick at 9.1mm, but it's still a very thin watch, of course. And, because it's a bit thicker, I think its proportions work better on the wrist.
And that second dial is certainly more than just an impressive party trick. I really like the silver dial with its vertical brushing, crisp and clear numerals, blue hands, and fine guilloché pattern. But there's something about that pitch-black dial with the hour markers that look like rays of the sun. They're surrounded by another incredibly fine Clous de Paris pattern. The dials are recessed a little, which creates great depth. And then there's the icing on the cake — the magnificent guilloché pattern on the 24-hour dial to indicate day and night. It is so finely executed and so subtle. In fact, it might be the thing that I enjoy the most about this entire watch! But the Reverso Duoface is not only beautiful to look at. It's also very functional.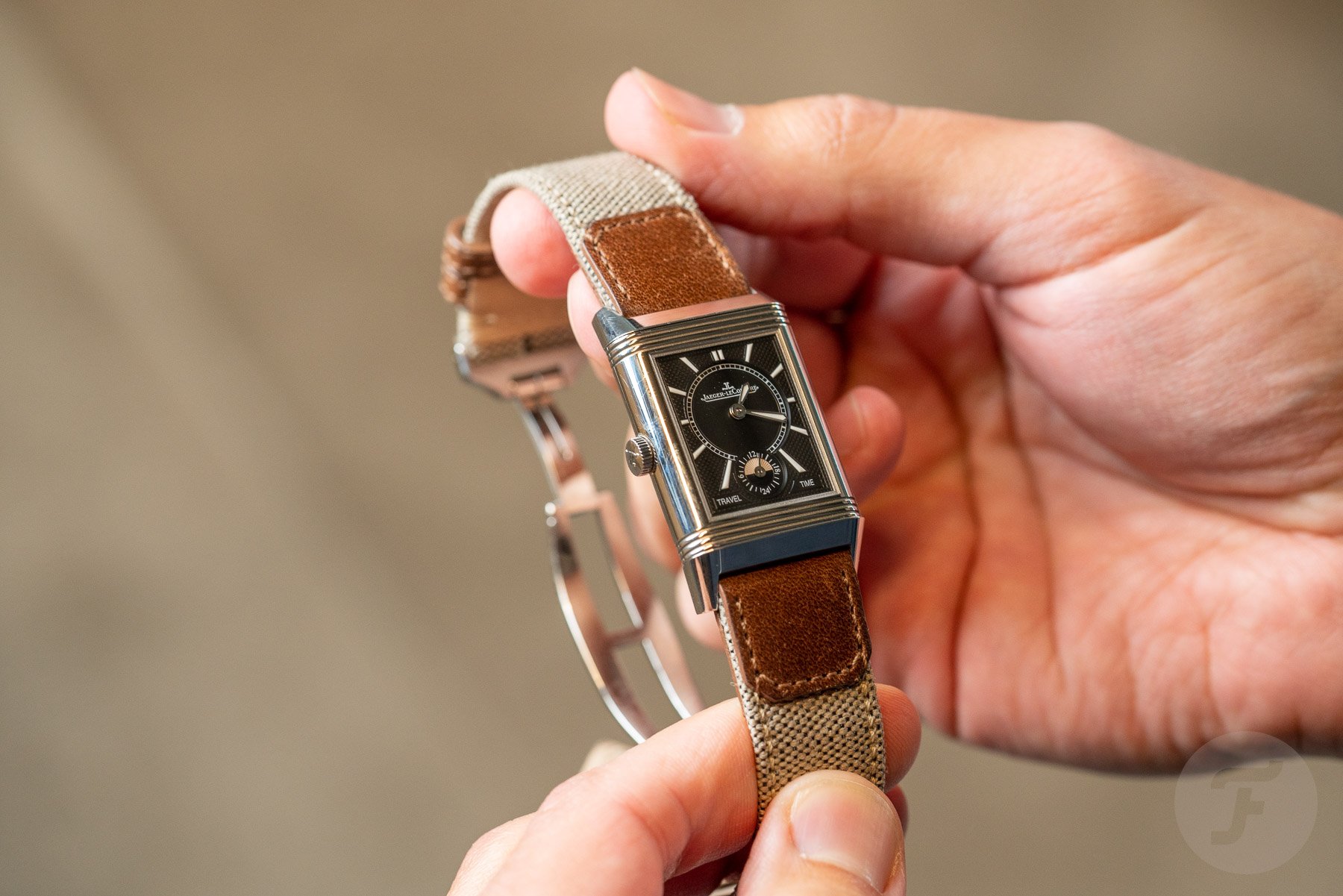 My first GMT watch
Because besides offering two completely different dials, the Reverso Duoface also offers you the possibility to set two different time zones. To be completely honest with you, I've never actually used this feature. Nevertheless, it is impressive that the caliber 854A is able to offer it in such a small package. By the way, the bigger Reverso Duoface models use the exact same movement. You set the other time zone by using the slider, which is only visible and operable when you push the case out to flip it. On the older models, this was done through a pusher above the crown, but the slider is so much more sophisticated.
We've had some discussions in the office about whether the words "travel time" on the black dial actually make sense. But I guess I'll find out when I eventually end up using this watch to track another time zone. Some people also say that you get two completely different watches for the price of one. Well, in my opinion, that's not quite true. First of all, the Reverso Duoface is a little more expensive than the Monoface. And even though you can alternate between dials, the watch on your wrist is still very much a Reverso. But that is certainly a good thing because what a watch this is!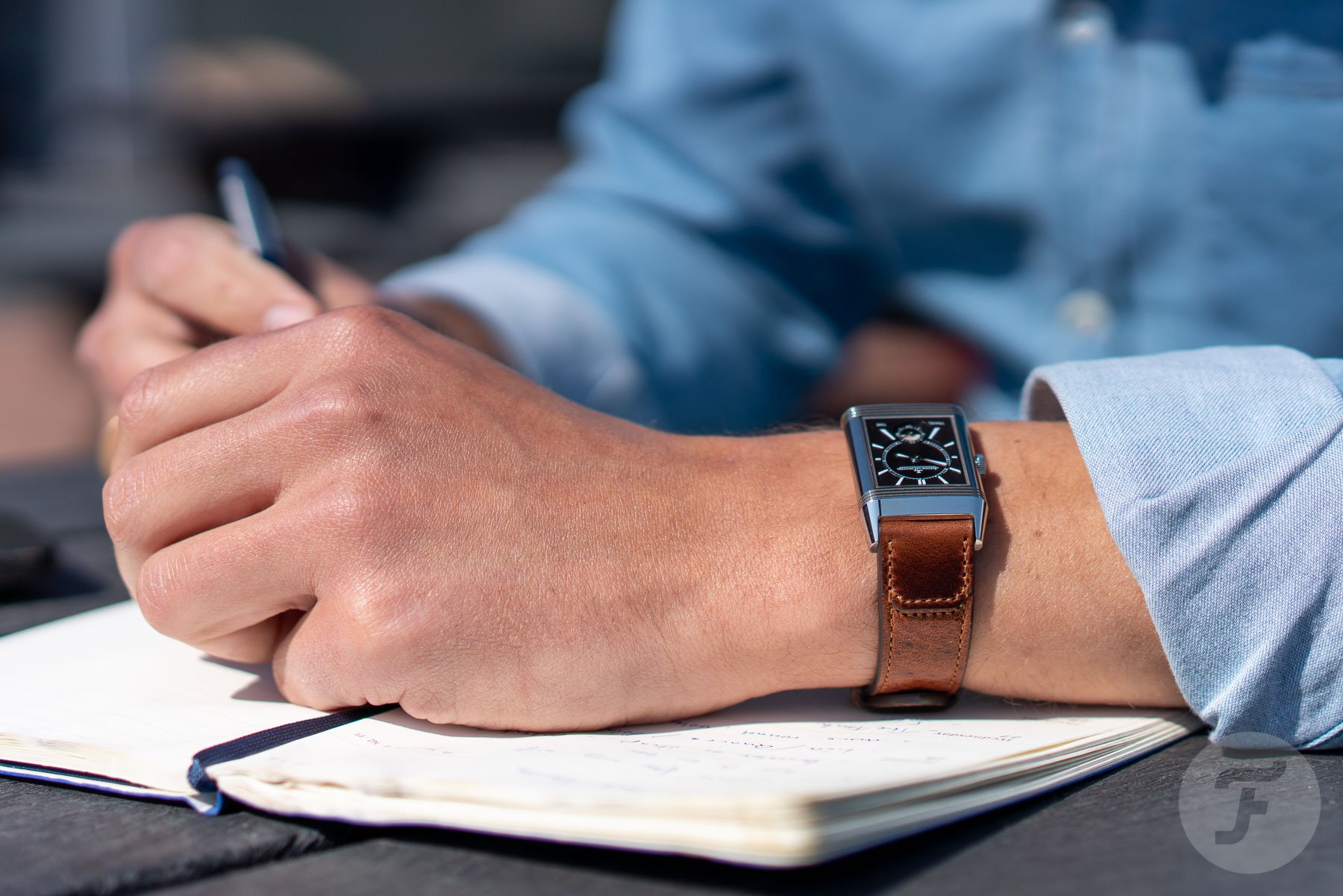 Unlike any other
It really is something special. It's totally unlike any other watch I own or have owned. And its design hasn't changed all that much since 1931, the year the Reverso was introduced. But what's so special about it, then? Well, first of all, the rectangular shape. I know it's not uncommon, but it does wear quite differently on the wrist. Then there are the relatively short lugs, which are dramatically sloped and even bend a little around your wrist. They give the watch so much of its strong character. But the vertical design language is also abruptly interrupted by the signature horizontal lines on the revolving part of the case.
Now that I think of it, this is my only watch that has any kind of decoration on the case. All right, they're just three horizontal lines above and underneath the dial, but still. The grooves complement the otherwise all-polished case very well. I'd almost compare them to racing stripes on a Ford Mustang. But they also remind me of the lines at the end of a bullet. Especially when you look at the non-crown side of the case, it does look a bit like a bullet. I can't imagine just how dull the Reverso would look without those lines. And then there's the almighty revolving mechanism, of course.
It's so satisfying to push it out with one finger and turn it around with the other. It just feels like such a solid mechanism. Timo, the CEO here at Fratello, is afraid of the wear that the little steel ball bearings that keep the case in place might endure. I'm actually not so afraid because there's a spring behind each one, so it'll take a long time for them to wear out. And I'm sure the people at Jaeger-LeCoultre will also check them at the time of the next service.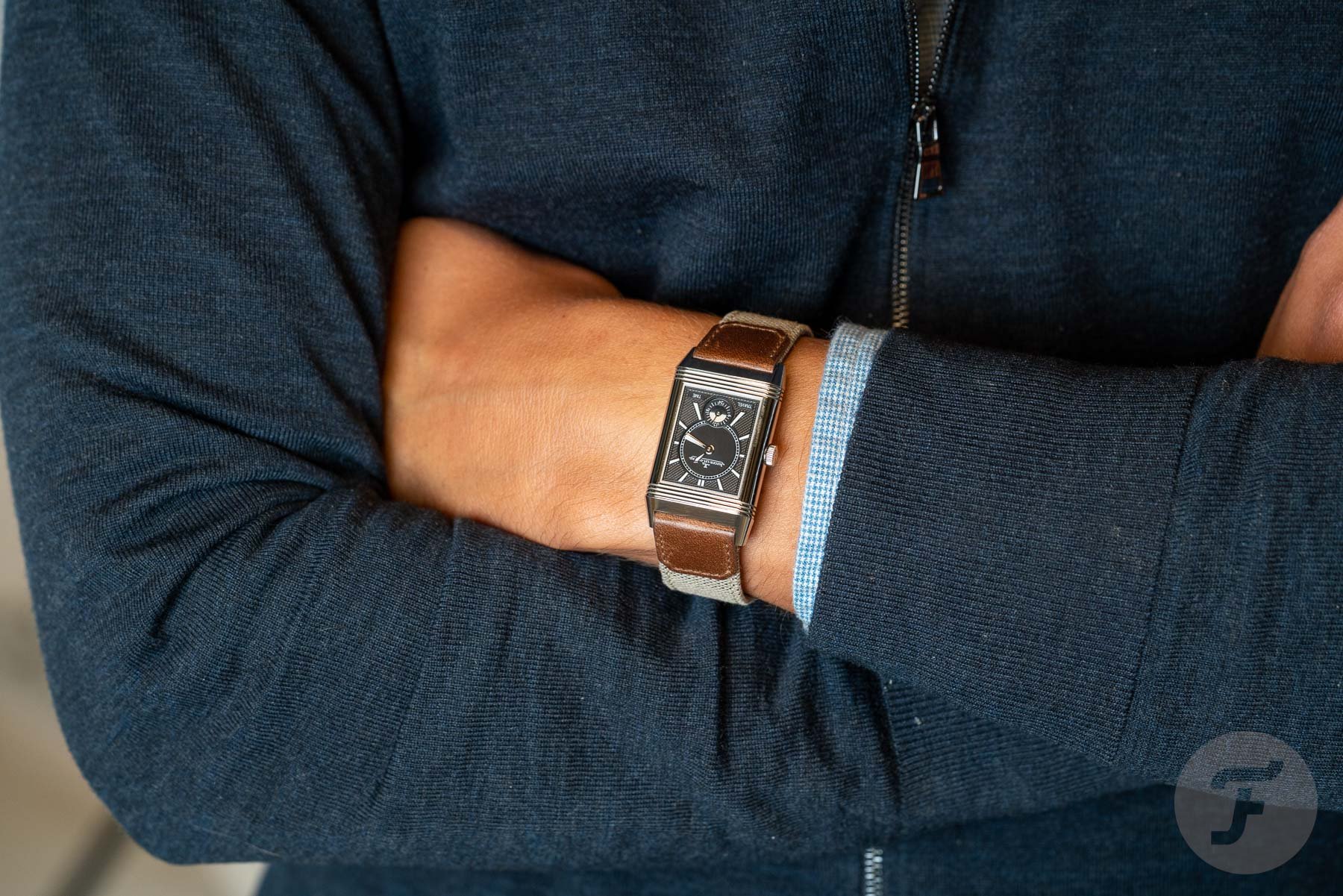 Small but mighty!
So what has the last half-year been like with the Reverso Duoface on my wrist? An absolute joy, I must say. Judging from its measurements, you might think it's a small watch, but I reckon it has the same presence as a normal 36–37mm watch. That's also because of the fabulous Casa Fagliano Collection straps. My Reverso came on an all-leather strap from that collection, and I ordered another one in a combination of leather and canvas. The folded bits of leather at the lug ends almost make them look like an integral part of the case construction. These straps are such an essential part of why I enjoy the Reverso so much. Just like the watch, these straps are different than any others I had owned before.
In particular, the leather/canvas version completely changes the vibe of the Reverso. This strap turns it into a more informal and sportier watch. With its all-polished, classically shaped case, it's still not the sportiest watch out there, of course. Still, I love this combination of a classic style and a more informal touch. It's also how I would describe the style of the clothes I usually wear — a not-too-worn-out pair of jeans, an Oxford or denim-style shirt, and a pair of sneakers underneath. And that's exactly how the Reverso on this Casa Fagliano Collection strap feels on the wrist. It's certainly not like the dress watch that people often imagine it to be.
I must admit, though, I also thought of the Reverso as more of a dress watch. At the beginning of ownership, I noticed that I was being quite cautious while wearing it. As such, I chose not to wear it on a day with the kids, for example. But after the first scratches showed up, I started wearing the watch whenever I wanted, and that's exactly how the Reverso should be worn. Don't be too afraid; mine has survived many romps with the kids without any problem.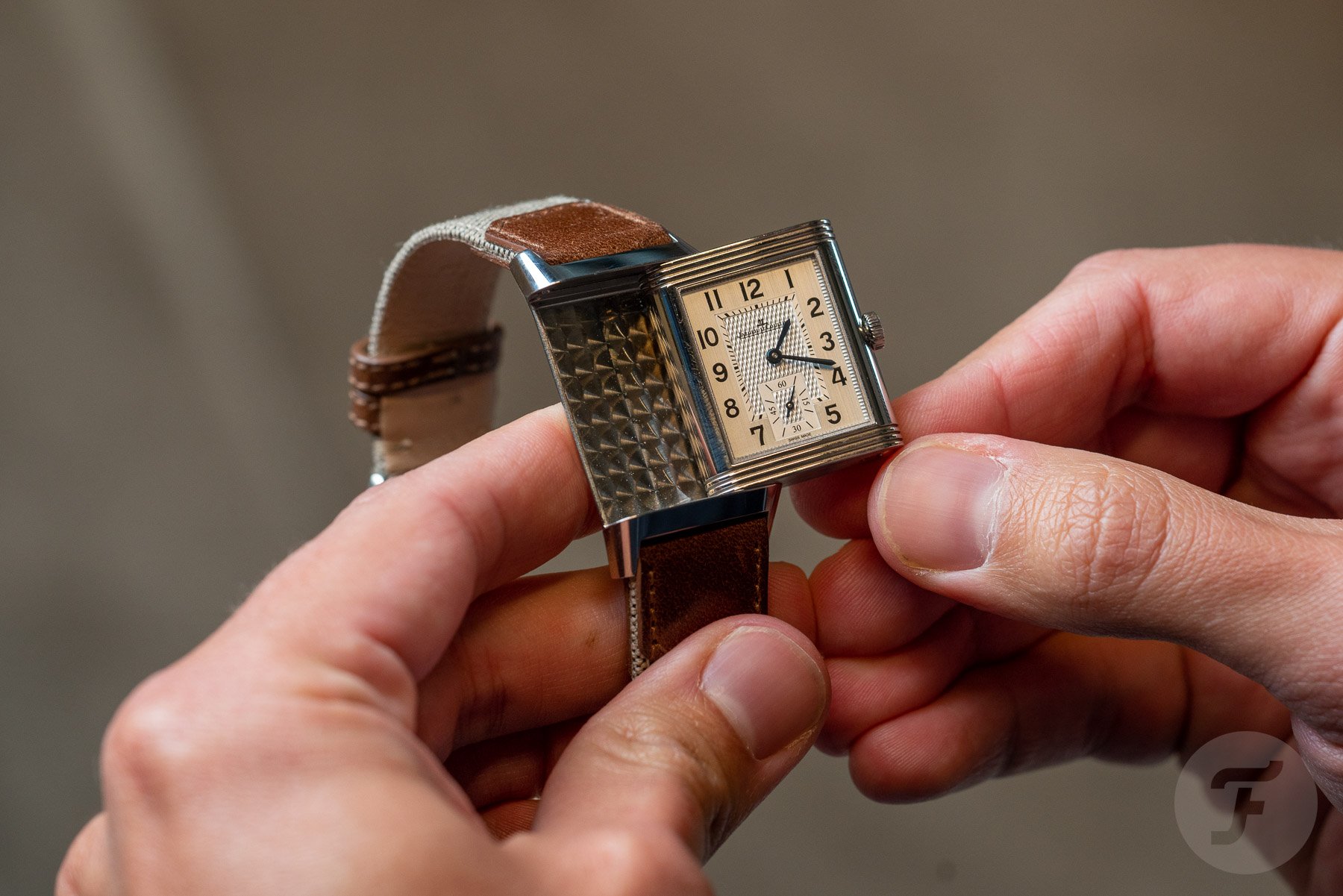 Make it your own
Of course, I can't cure anyone of their "Reverso aversion," as Lex referred to it in his Reverso experiment. If you don't like the feel of the rectangular shape on your wrist now, then you're probably not going to get used to it later. But I would like to disagree with Lex on the part where he called the Reverso a watch for "mature people." I feel it very much depends on how you style the watch. The right kind of (Fagliano) strap can completely change the Reverso experience. And if I may give you one other piece of advice, I'd recommend that you try a smaller size than you think you need. I tell you, it makes all the difference!
So there you go — my first six months with the Jaeger-LeCoultre Reverso Duoface. I hope it will be just the start of many months and years to follow!
In the comments, let me know if you're on the fence about getting a Reverso and why, or tell me about a watch in your collection that's totally different from any other that you own.
And if you have any further questions about my experience, you can also contact me through Instagram: @fliptheparrot