Hands-On With The Atelier Holgur Frømand — A New-Generation Luxury Dive Watch
Where bonkers hypercar design meets watchmaking tradition and flawless functionality
On the 26th of October, 2022, the Atelier Holgur Frømand made its debut in the watch world. It sent ripples across social media, and a handful of watch media outlets also caught the scent, publishing pieces praising the watch. But at that point, all that we had to go on were several pictures, a spec sheet, and a brief from the brand's owners. Since then, a lot has changed. We were lucky enough to meet both Matt de Bakker and Asbjørn Simonen-Andersen. I enjoyed a Teams chat with Matt, who gave me some insight into how the brand came to be and how it all ties into his long-standing passion for watches and diving. And Asbjørn, who lives just a short flight away in Denmark, made the trip down to The Hague. A couple of my colleagues and I enjoyed some good coffee and conversation with him.
Just before he jumped on the train, Asbjørn handed me the watch and both straps to wear and enjoy for a whole week, all for what will likely be the first hands-on review of the Frømand to be published. Now, for the sake of this article, I truly want to focus on my experience wearing the watch. If you want to know more about the brand and the watch's specs in more detail, you can read Jorg's excellent introductory article. That said, I'll still touch upon a few insights that Matt and Asbjørn were kind enough to share with us. So if you're wondering what it's like to spend some quality time with the Atelier Holgur Frømand on your wrist, read on to find out.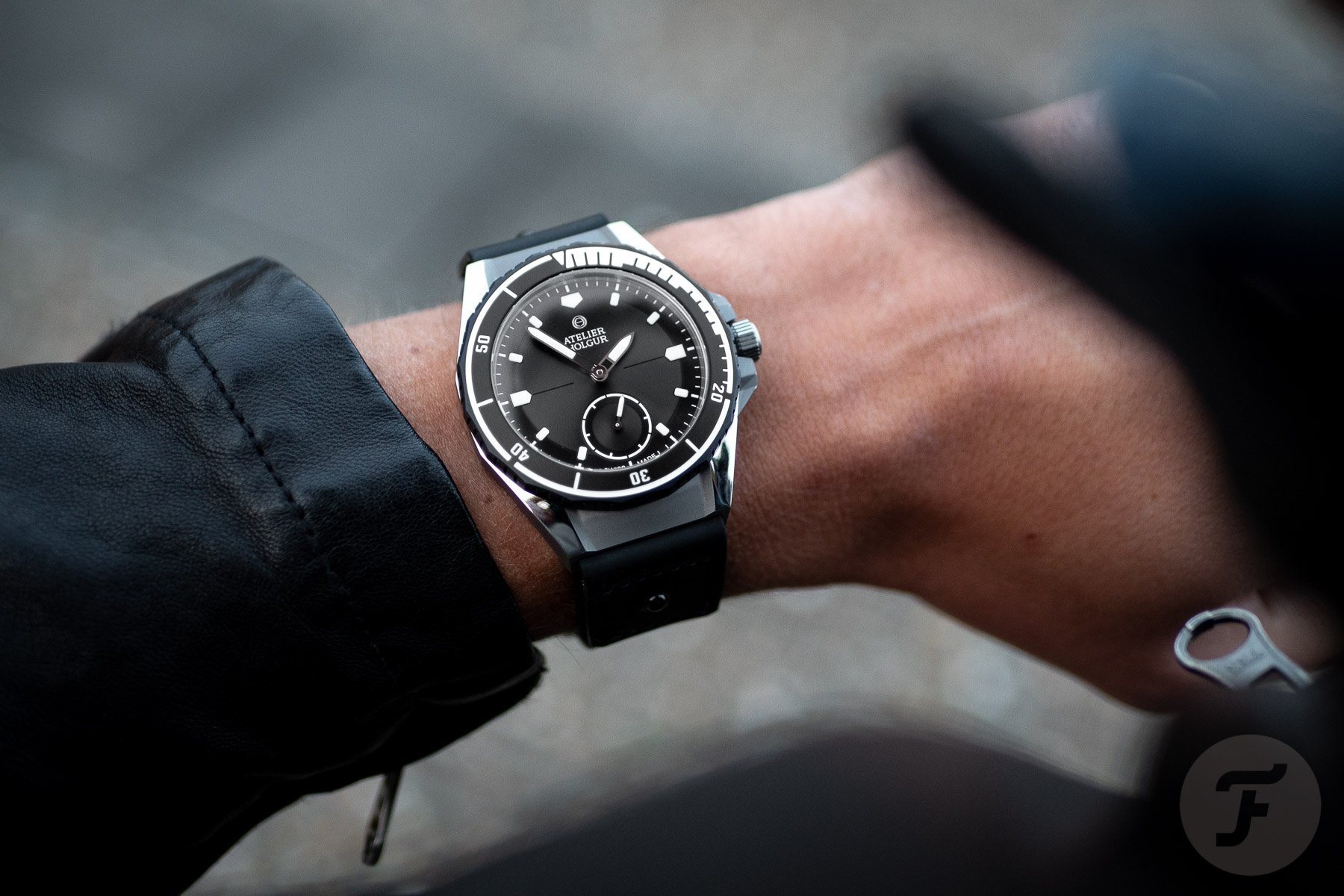 Some extra bits of information
Before I jump in, though, I want to provide a few points that Asbjørn and Matt raised about the brand. The first has to do with something very important indeed — the brand's name. The explanation behind it is simple but carries a lot of meaning and makes for quite a beautiful story. It has to do with the fact that Asbjørn's grandfather Holgur was a watchmaker himself. In using his grandfather's name (and his signature "H" on the movement and buckle), Asbjørn pays tribute not only to his grandfather but also to his family's watchmaking heritage. And though watches have certainly come a long way since Holgur practiced his trade, it's still a small detail that adds a lot of meaning to the name.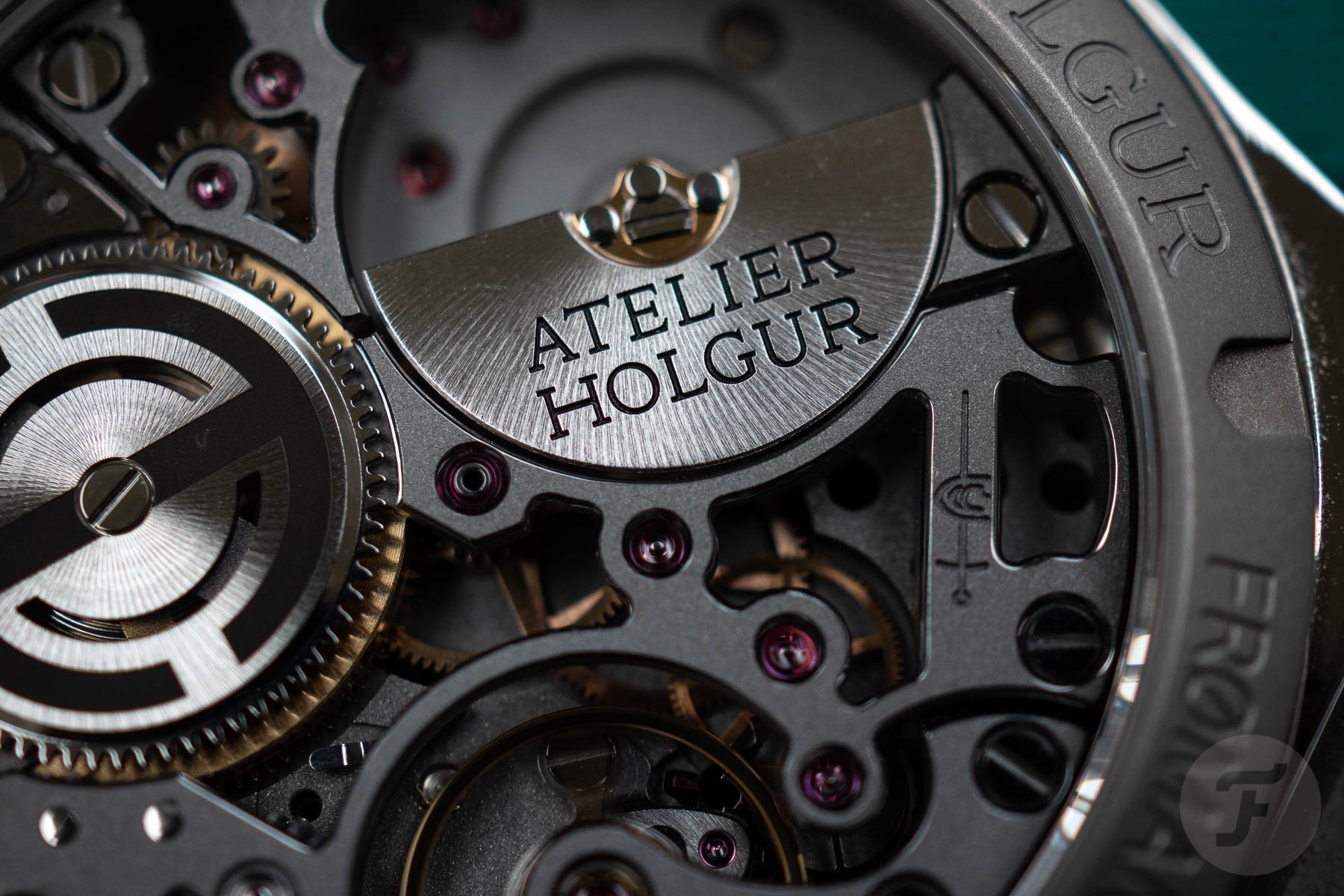 The second thing is the fact that Matt was the one who insisted on kicking things off with a dive watch. Having grown up by the seaside, Matt loved snorkeling and playing in the water. Later in life, he thought that his asthma would prevent him from scuba diving, but with some training and a lot of care, he has been able to advance his way to earning several diving diplomas. Scuba diving opened up a new world of fascination for him. Coupled with his passion for watches, it was a recipe that resulted in the Atelier Holgur Frømand.
Keep in mind that these guys grew up attending the same school in France, and though life took them their separate ways, they eventually found something to bring them together again. And I, for one, am glad this happened, as it has resulted in the birth of a fascinating new brand with a lot of ambition and some big ideas for the future.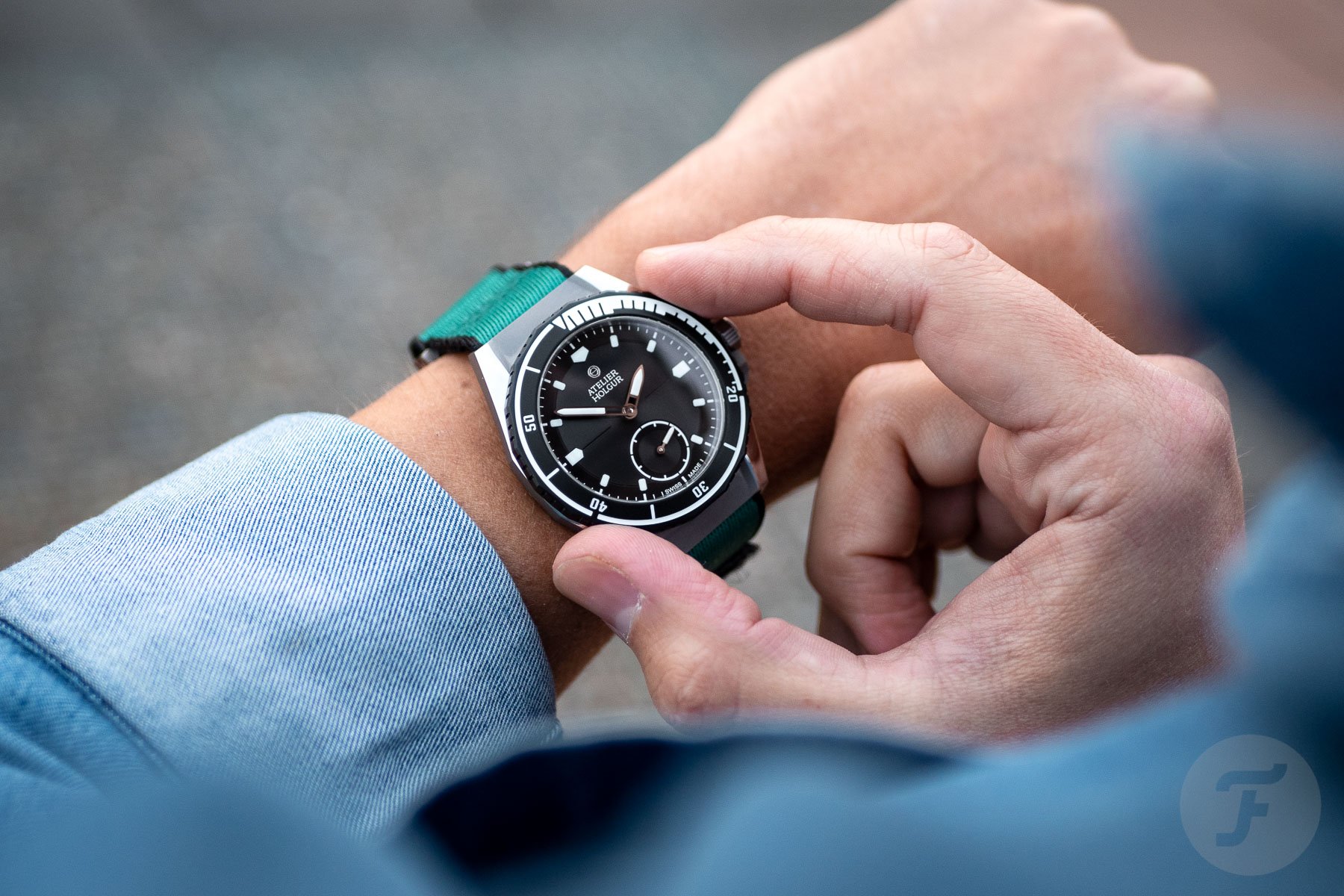 Hands-on with the Atelier Holgur Frømand
Some of you may know a bit about my collection and the kind of watches that I normally gravitate toward. But for those who don't, you should know that the Frømand has a special sort of duality to it. This watch both exists perfectly in line with my taste but also entirely outside my comfort zone. Looking at it on my wrist, the Frømand doesn't ooze luxury. It's not an amalgam of shiny ceramic and polished metal designed to catch the light for a premium feel. It's mostly matte, and it feels focused and purpose-built. The lume is solid, and the bezel feels great. It is both lightweight and legible, and it certainly has the specs to match its looks. After all, it is a 300m-rated dive watch, meant to be worn alongside a dive computer and a neoprene sleeve several fathoms down.
But then you look closer and start to see that there's more to it than what is readily apparent. The Grade 5 titanium case is beautifully finished by hand in Switzerland. The dial's finish is not sunburst but machined with a radial pattern. This causes a moiré effect, giving the impression that it's sunburst, much like a vinyl record.
The hands aren't simply painted with a layer of lume. Instead, they frame a 3D chunk of Super-LumiNova, much like those used as markers on the dial. The bezel is also fully lumed and provides quite a light show in dark conditions. On the wrist, the 40mm case disappears thanks to its lightness, perfect proportions, and the comfort of the straps. It felt as familiar as any of my watches, making for quite a pleasant surprise whenever I checked the time.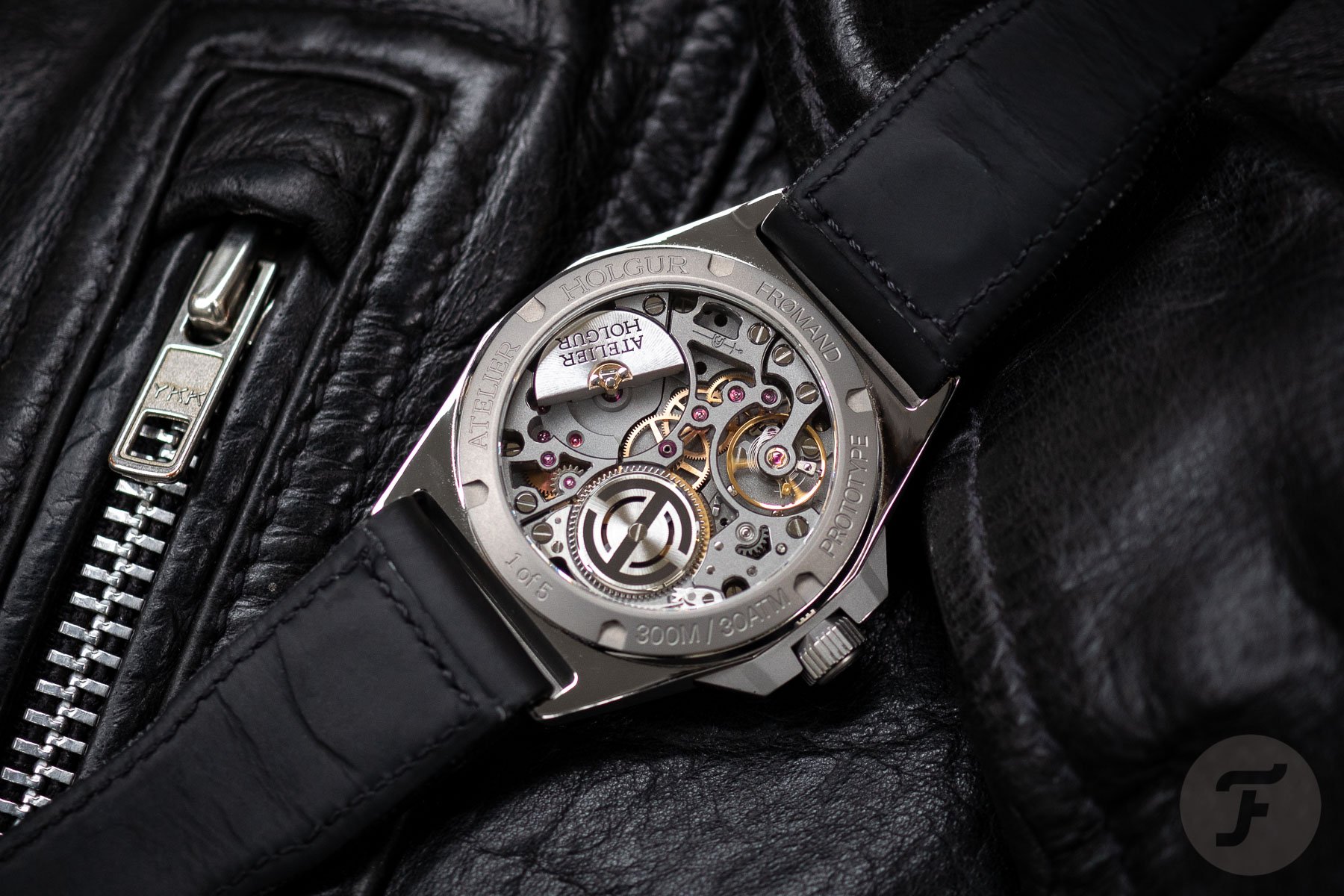 Impressive both on and off the wrist
I find that a watch feeling familiar on the wrist is often a sign that it's getting some things spot-on. Here, it's not just the size and weight but also small ergonomic details, as well as a comfortable strap. But there's also a psychological element to it. Personally, I've never felt comfortable wearing a watch worth more than €5K, let alone anything in the five/six-figure price range. Yet somehow the Frømand transcends the encumbering feeling of wearing a watch that costs more than your car (which is certainly the case for me). Perhaps it's due to the lack of pretense paired with the excellent build quality. Or maybe it's that for every ounce of refinement, you get double in terms of ruggedness. Regardless, not once did I feel that this watch didn't belong on my wrist. And that's not something to take for granted.
Off the wrist, it's also quite a thing to behold. Flipping the watch over reveals that Matt and Asbjørn didn't set out on this project alone. In fact, it reveals the mesmerizing Schwarz Etienne ASE 200 movement, made especially for Atelier Holgur. It's a beautiful tangle of skeletonized bridges with micro-blasted surfaces and hand-polished, beveled edges for contrast. However, three round elements stand out — the ticking balance, weaving back and forth as it keeps time, the partly skeletonized H-logo mainspring-barrel cover, and the signed tungsten micro-rotor. The movement is not merely beautiful, but like the rest of the watch, its beauty lays upon a foundation of functional proficiency. With 33 jewels, bidirectional winding, and 86 hours of power reserve, it's a worthy heart at the core of the Atelier Holgur Frømand.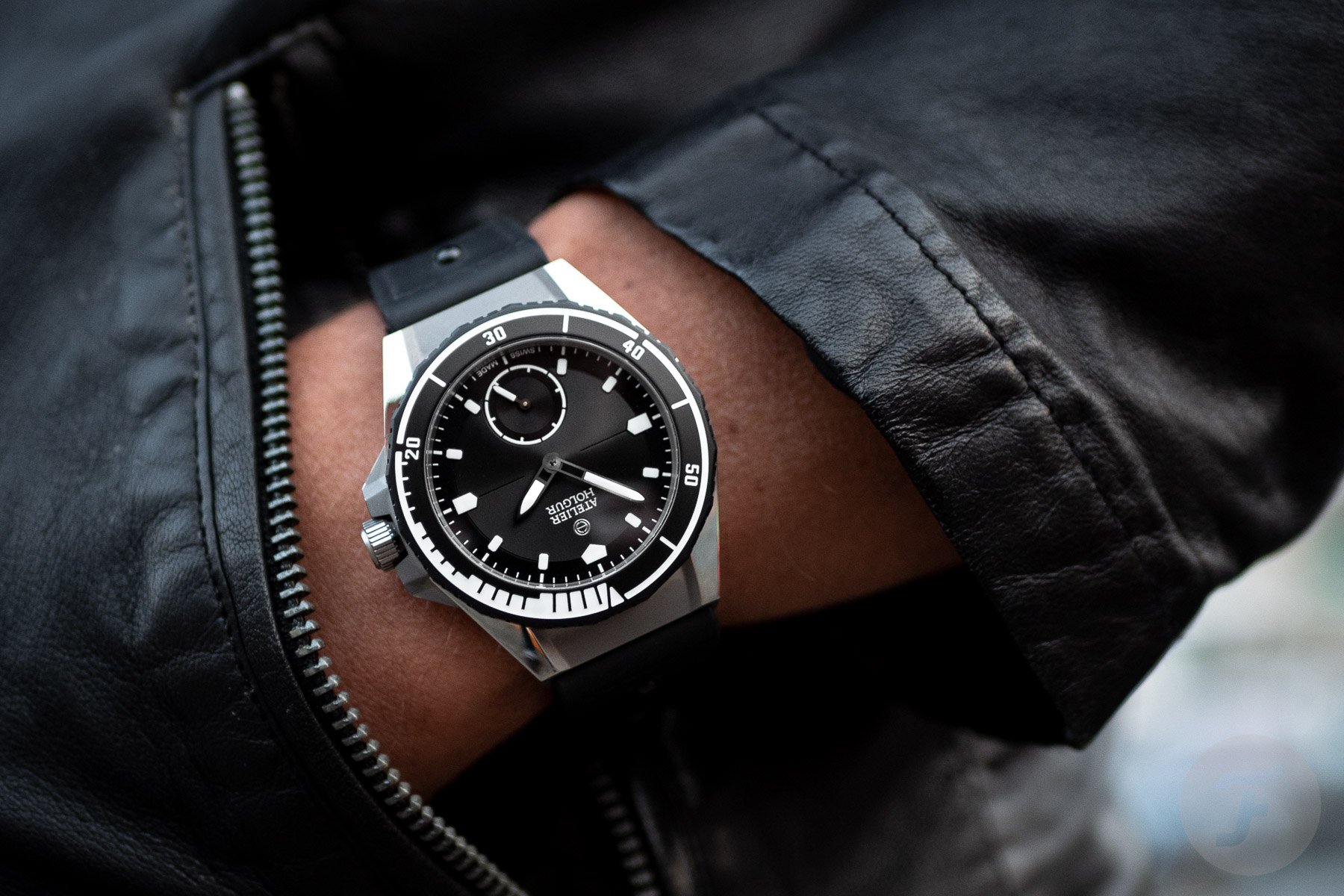 The Frømand's duality
A significant part of how Matt and Asbjørn speak about the watch has to do with its dual nature. The Atelier Holgur Frømand is a bit like the Jekyll and Hyde of the watch world. However, unlike in the work of Stevenson, the behavior is very much encouraged, with the brand furnishing the watch with two different straps, both made of recycled ocean plastic. The first offers a way to wear the watch in your daily life. This black strap is fastened with a rivet as well as a hook-and-loop patch. You simply slide the flap through the integrated lug bars and fold it over. The rivet keeps the flap down, and the hook-and-loop material secures it. This is the Doctor Jekyll option. But should you be feeling dangerous, you can always opt for Mr. Hyde.
This second option has Matt and all those of us who dive with a mechanical watch on our wrist in mind. The scuba strap follows the conventions of a traditional NATO but simplifies the system slightly. It does away with the buckle, the extra fastener, and the length of material that usually sits under the watch. It's just one piece with a fold-over hook-and-loop patch and a titanium loop on the other side. You simply slide the strap through both lugs, the long end through the loop, fold it over, and you're good to go. It's the same tried-and-true system used by the Tudor Pelagos FXD. And though rampant murderous behavior in the middle of Victorian-era London is highly discouraged, there's hardly any extreme activity that you couldn't tackle with this combination.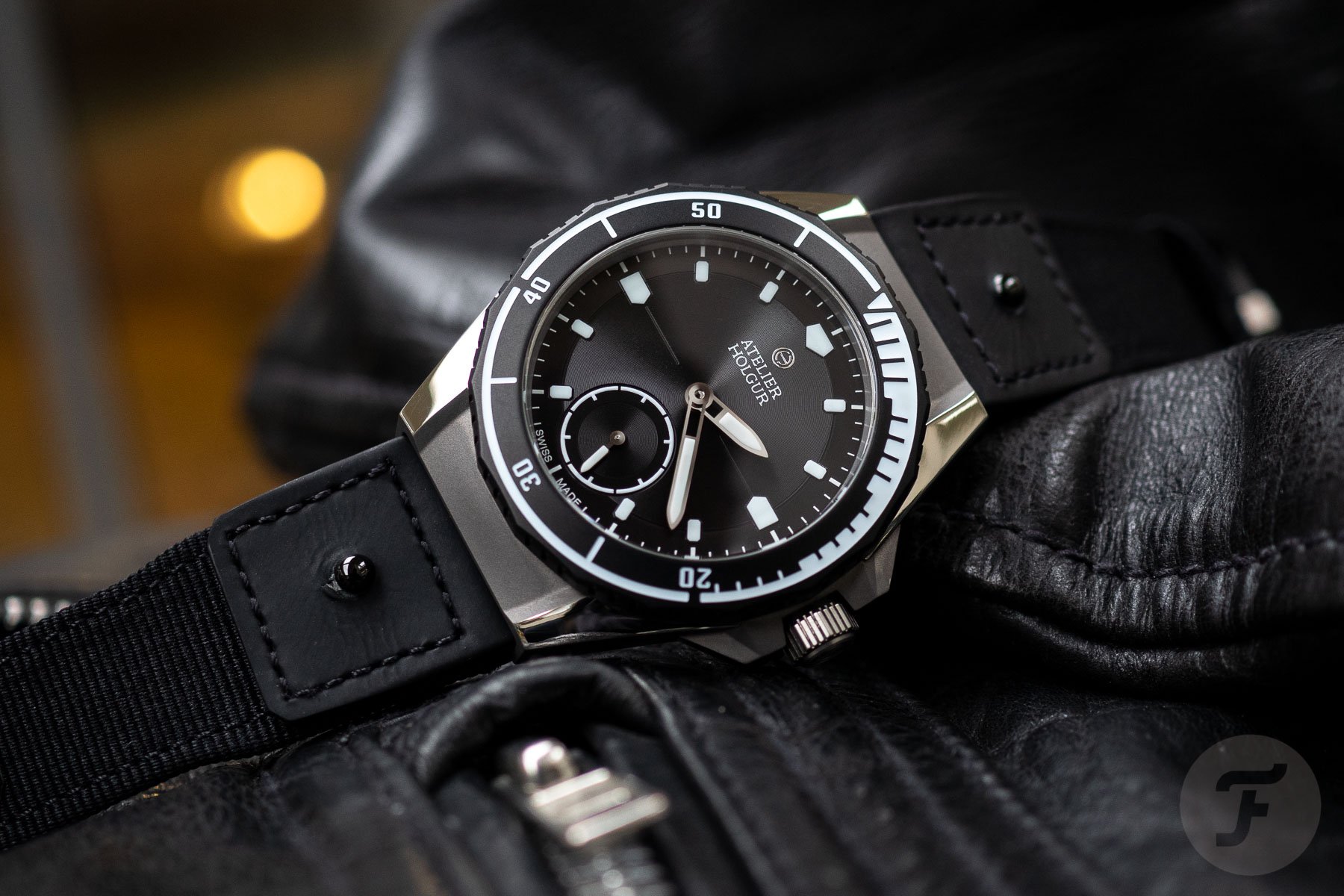 Final thoughts
Allow me the indulgence of one final analogy to describe how I feel about the Atelier Holgur Frømand. Don't worry; I'll leave the English literature on the bookshelf. This time, it's about cars. Speaking with Jorg about the watch, I told him that it kind of feels like something from Pagani, TVR, or Koenigsegg. These are not the most famous names in supercars. Most people know Ferrari, Lamborghini, Bugatti, and maybe a handful more. But it's these smaller, lesser-known brands, working out of a shed with nothing but the boundaries of their imagination to limit their ambitions, that truly create incredible products that capture the imagination. This is how I see Atelier Holgur. It's a brand without boundaries. Matt and Asbjørn have already taken the hardest steps, and I, for one, can't wait to see them pick up the pace and break into a full sprint.
Did I enjoy my time with the Atelier Holgur Frømand? Absolutely. Does it feel like €10K on the wrist? Well, I am lucky to have a job that has me crossing paths with many €10K watches on a regular basis. Some look and feel better than others. In the case of the Frømand, you sure aren't paying the premium for the name on the dial. As such, you can rest assured that what you are paying for will certainly feel like money well spent. For more information, please check out Jorg's more detailed article here or go directly to the Atelier Holgur website.
But don't let me have all the fun here. I'd love to hear your thoughts on Atelier Holgur's first creation in the comments below.