Hands-On With The Behrens Consteller — A Dark Galaxy On The Wrist And An Unexpected Addition To My Collection
This futurist regulator defied my plans for dressy wristwear, and I'm happy about it
To kick off the new year, the editors here at Fratello usually each pen a story on what their plans are for the coming year. This breezes past irrelevant events like house moves, childbirths, and the like. It's all about watches, of course, and the hunt for new wristwear for our collections.
We are all collectors of watches, even if some of us occasionally claim not to be. And I had a clear plan this year. It involved a rectangular watch of the small kind. Yes, that meant either a Reverso or a Cartier, not an open-worked, high-tech, 42mm version of a regulator, that's for sure.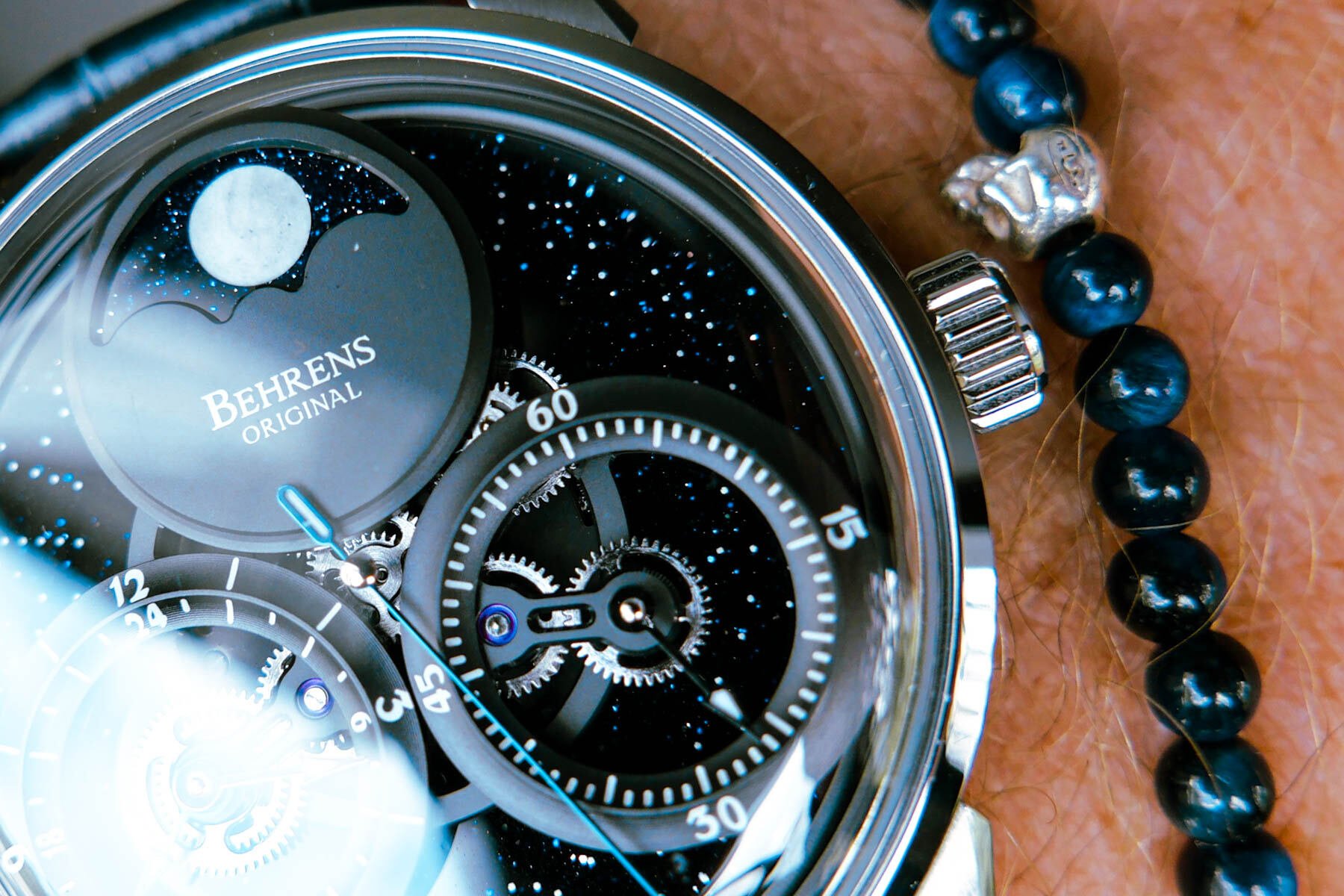 What made me choose 42mm complexity over a rectangular French icon?
My plan went astray big time as this is neither small, rectangular, nor "dressy". It is, in fact, dressy but on a much grander scale. The Behrens Consteller is in the same vein as an MB&F Horological Machine or a collab with H. Moser & Cie. However, it comes at a (much) more humane price level.
Dave first tuned me into the brand, but I admit to being skeptical of the size. This was back when I was a one-track small-diameter preacher, and 42mm was a big no-no — until I got the Behrens × Chaykin collab as a house guest, that is. It was a very different proposition to the Consteller, packed with fun but within the same 42mm case. On soft FKM rubber, it had unexpected comfort for its size, being slim and with short, curvy lugs. But while I fell for its charms, my budget does not allow for €10K in avant-garde wristwear, no matter how deep the crush.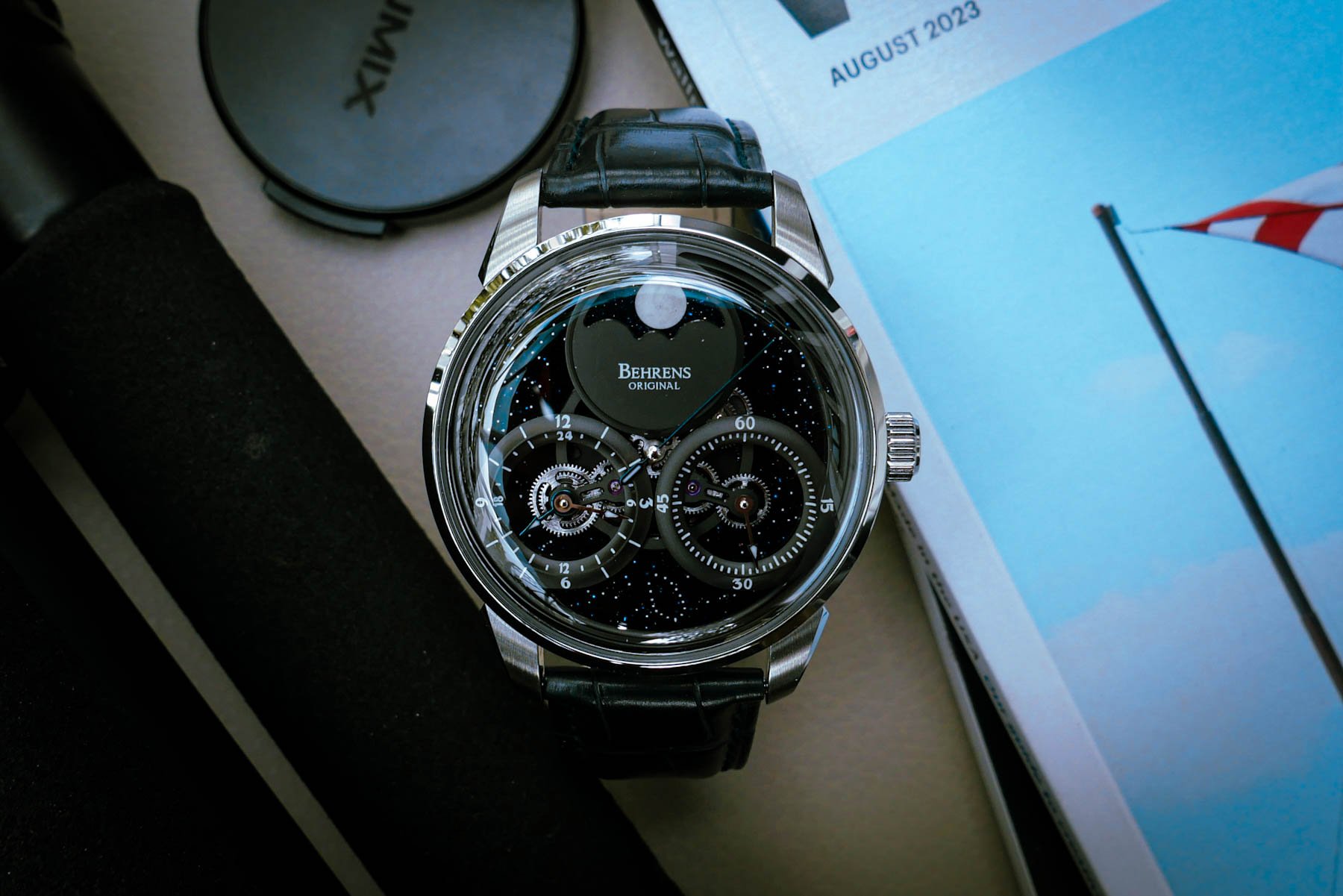 Behrens: an accessible and visionary brand
As with Dave's NaviGraph, Behrens focuses on open-worked dial designs with a contemporary edge. We're talking spatial complications and regulator-style designs, spiritually similar to innovative work from big-bucks Swiss independents. The portfolio is big on mechanical ingenuity and spacecraft influence while remaining down to earth cost-wise. Behrens does have some pieces above €10K, like the Chaykin collabs and the Perigee, but many are around €3,000–4,000. That might make some of you skeptical, but after living with the Chaykin for nearly a month, I was easily convinced (in fact, after only a day or two). A big reason for the value proposition lies in the fact that Behrens cleverly bases the power train for its creations on solid everyday movements. These are from Miyota, not in-house or Swiss. But except for the recognizable view through the case back, the Behrens Consteller is based on in-house-developed micro-mechanical modules and engineering.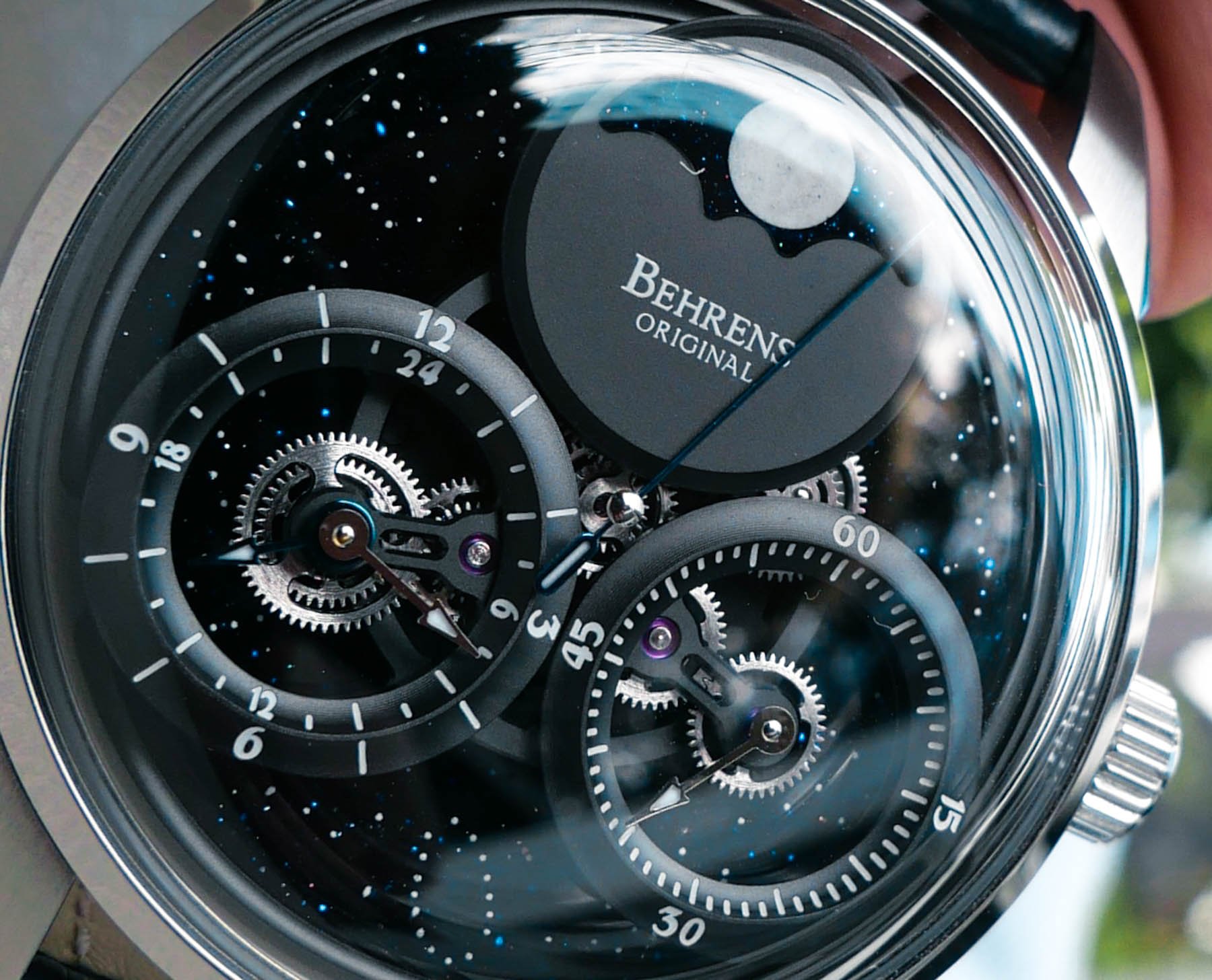 First impressions of a wrist-worn galaxy
The first surprise is the comfort Behrens manages to get from a 42mm case. It is only about 9mm thick, with the dramatic sapphire dome making it 12.5mm total, and the lug-to-lug is decent at around 50mm. More important is the remarkably flat case back, allowing the lugs to curve down to hug your wrist and avoid the dreaded "float." Part of its dressy feel comes from an alligator strap, which is also unfeasibly soft from the get-go. The beveled edge surrounding the domed crystal is sharp and steep enough to make it all about the dial. Design-wise, the sides of the case are simple and softly brushed, while the lugs have a sweep of a bevel flowing along the curved tops.
The first thing that springs to mind is a dark space station hovering in the starry abyss.
The lugs are also retrofitted to the case, another detail that makes the transition to them from the case sides sharper than on a normal one-piece construction. To be honest, though, this is all about the dial. The first thing that springs to mind is a dark space station hovering in the starry abyss. It looks black, but catch the light, and glittering sprinkles of blue in the aventurine background pop with applied constellation details (hence the name). The same aventurine is the blue-glittering base of the hand-applied moon in the 12 o'clock window. The effect is overwhelmingly complex and punches leagues above the Consteller's US$2,650 price.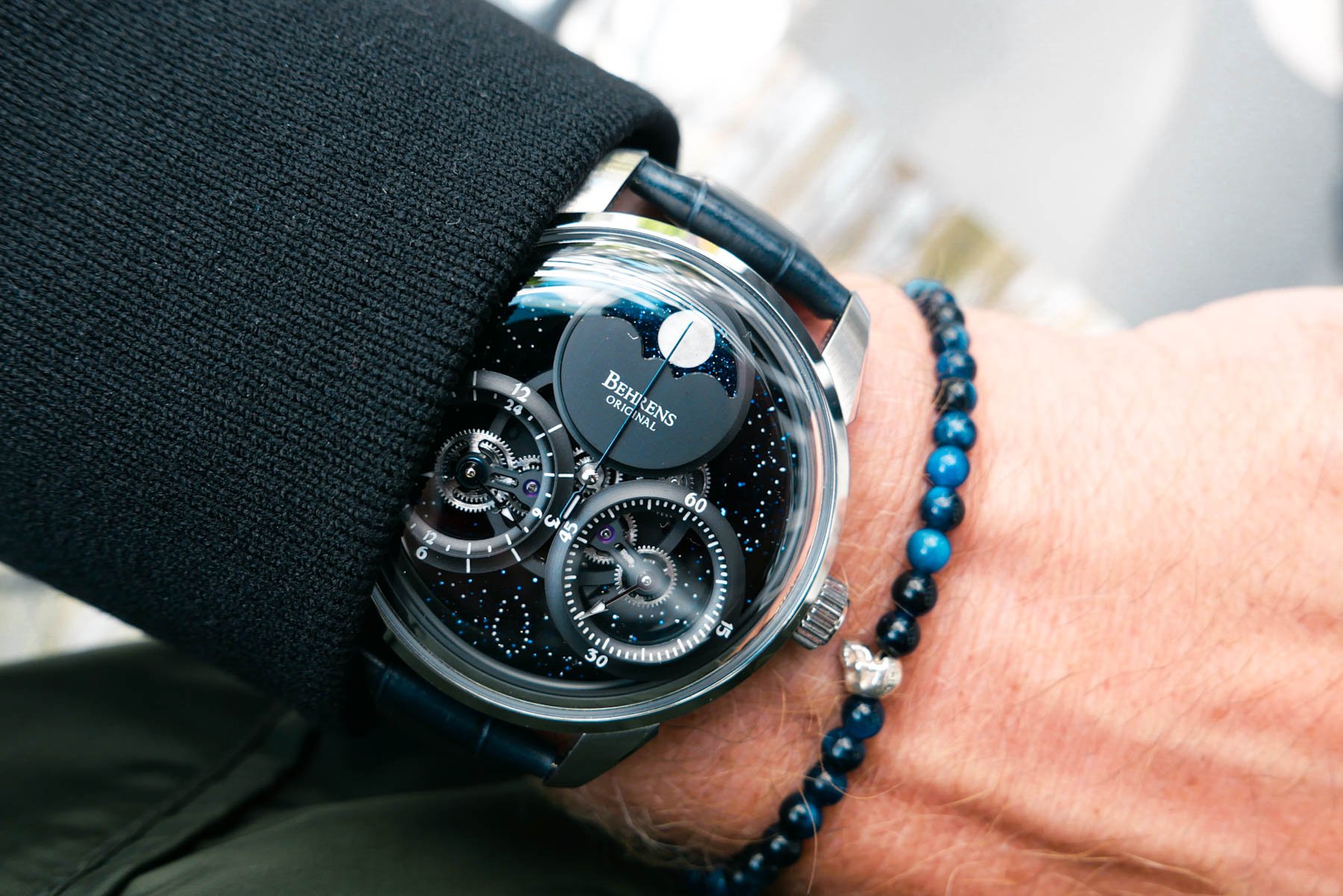 The dial art
This is a regulator-style watch but unlike its historic associations. You'll breathe a sigh of relief seeing no date window on the open-worked Consteller, but it is here in another form. In fact, the aventurine dial background takes the sparkling place of the date wheel. It rotates every 24 hours to display a slightly different constellation pattern, applied on the glass surface. This sits in contrast to the brushed steel case, a one-off deviation from the normal black DLC — consider this a pièce unique or a prototype.  The black DLC version is more like Darth Vader's enigmatic dress watch, while mine is a dressier take. That includes a soft blue alligator strap that picks up on the deep blues of the aventurine and the two blued hands. The steel contrasts with the dial's galaxy depths while matching the steel gear train of the in-house regulator module.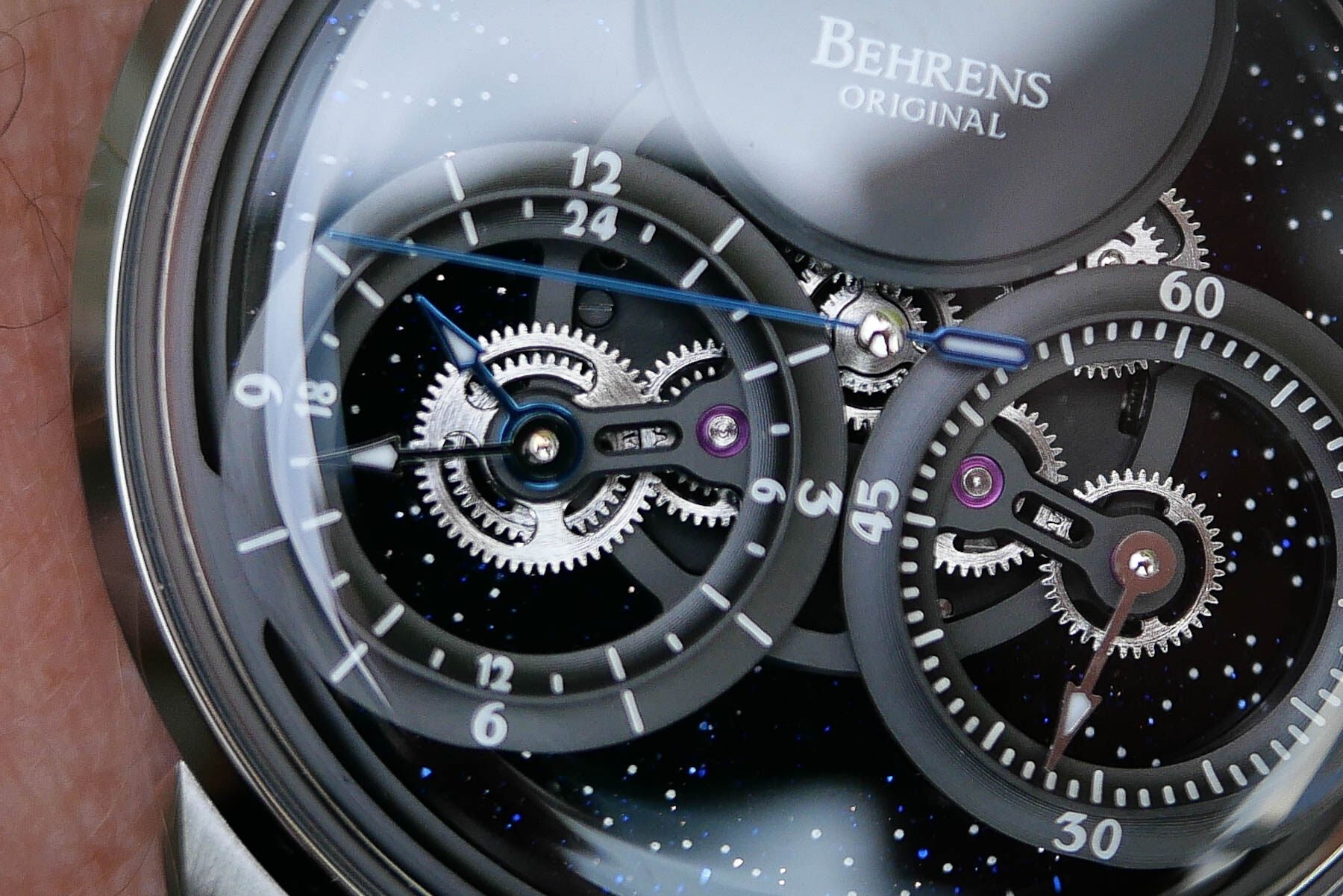 Is it mechanical art or a timepiece?
That is a good question and will make you wonder about its legibility. Yes, I admit it takes longer to check the time on the fly, but do I care? After all, this is not the watch I'll wear out on my road bike or running. The extra second it takes is worth it for the small-scaled magnificence of it all, at least to me. The two floating registers and moon phase at 12 are symmetrically positioned and cylindrical with a delightful curved-edge top chapter ring. Visible gearing is affixed to slightly beveled bridges, and everything appears to float in space. The register pointers and all markings are lumed, making for a cool nighttime spectacle, with a blued 24-hour hand mirroring the hour pointer but not adjustable like a GMT.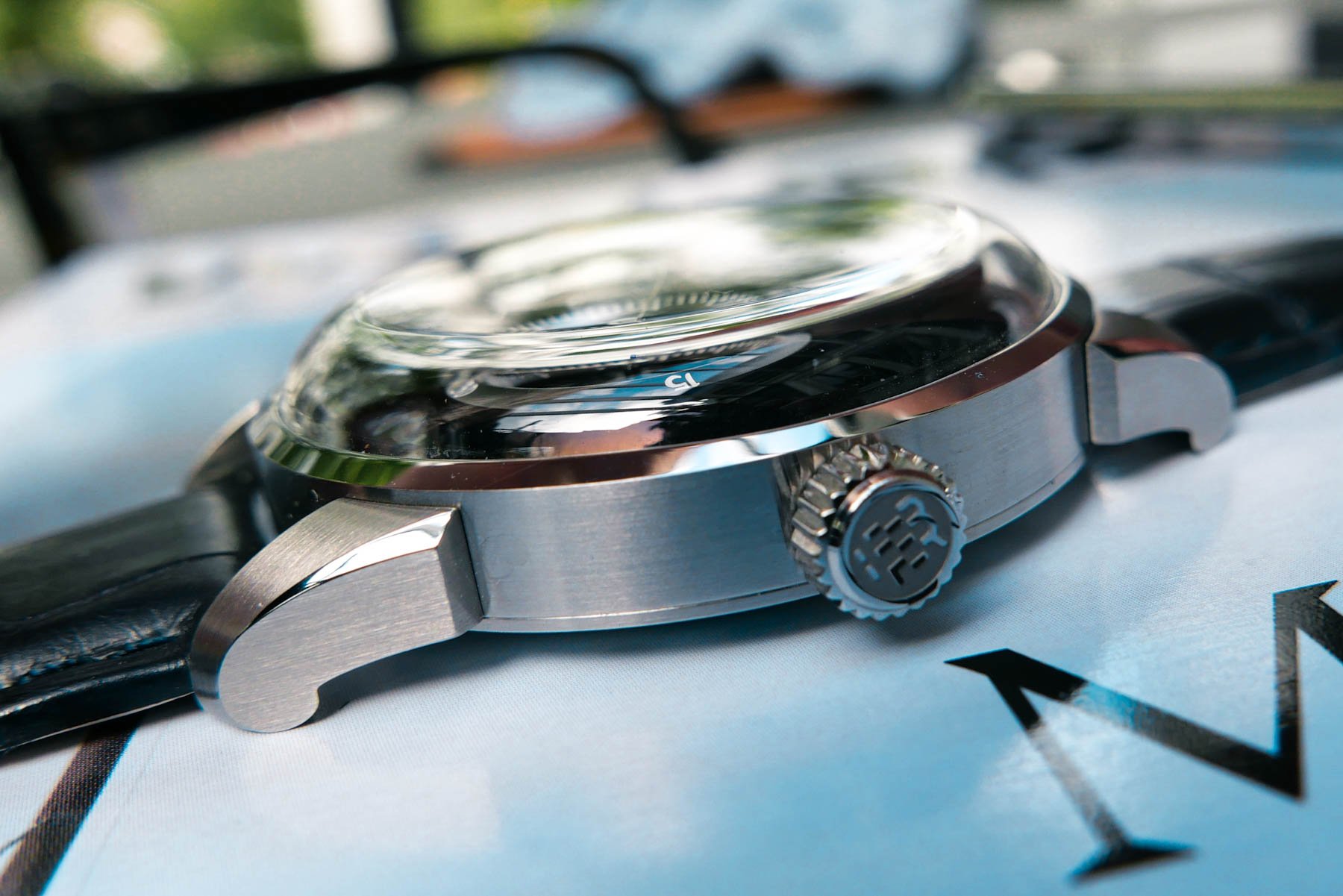 The dark colors and aventurine depths help the hovering magic effect, but a closer look reveals a central rear ring connecting them. Each of the three cylindrical shapes is also fixed to the rehaut at four-thirty, seven-thirty, and 12 o'clock. This detail took me a few days to notice in bright sunlight.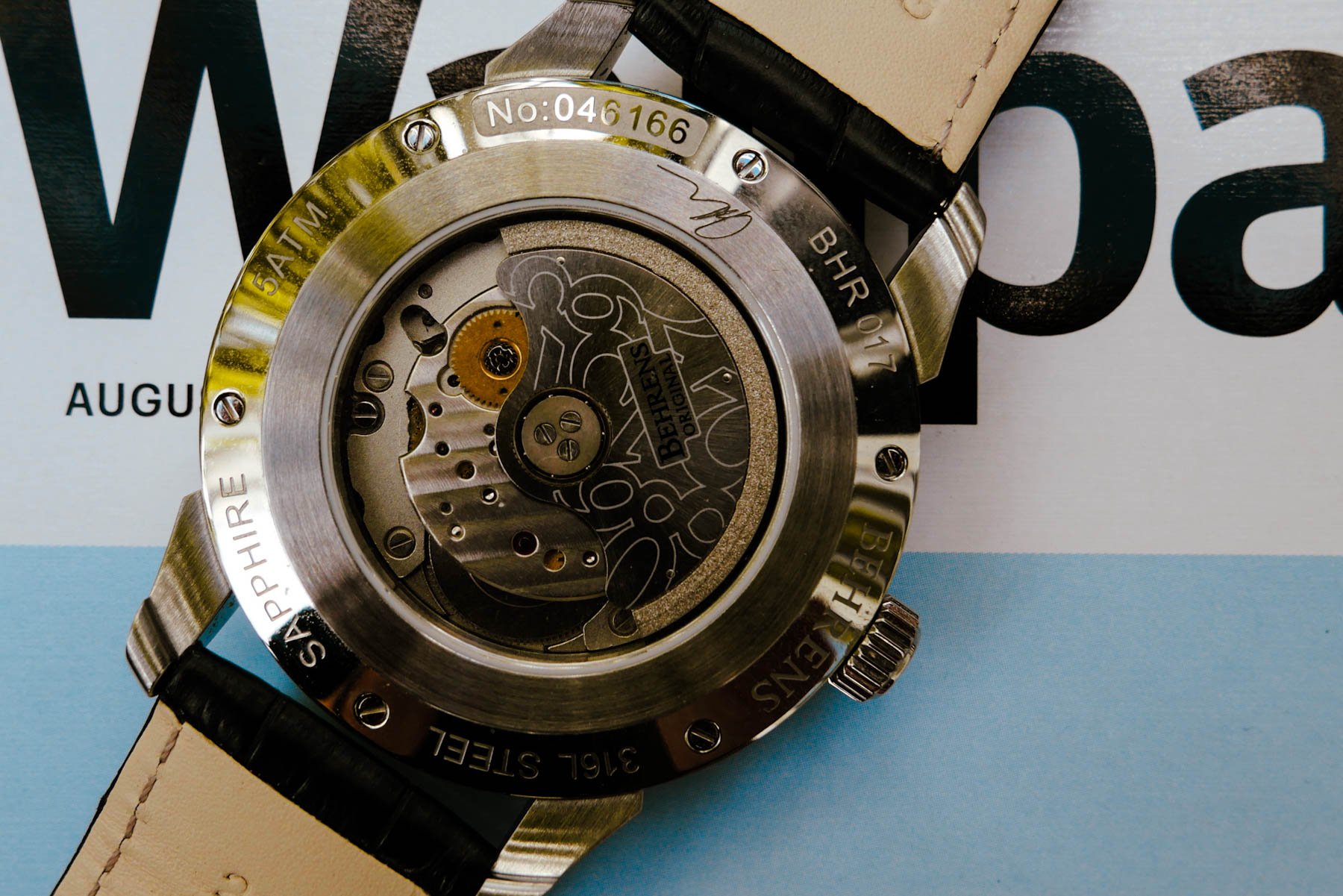 To me, the fact that this is based on a Miyota caliber has become irrelevant when the open-worked "dial" is an in-house, complex mechanical structure to this level. The ébauche's origins are insignificant, especially given the standards of execution and imagination of the Behrens design team.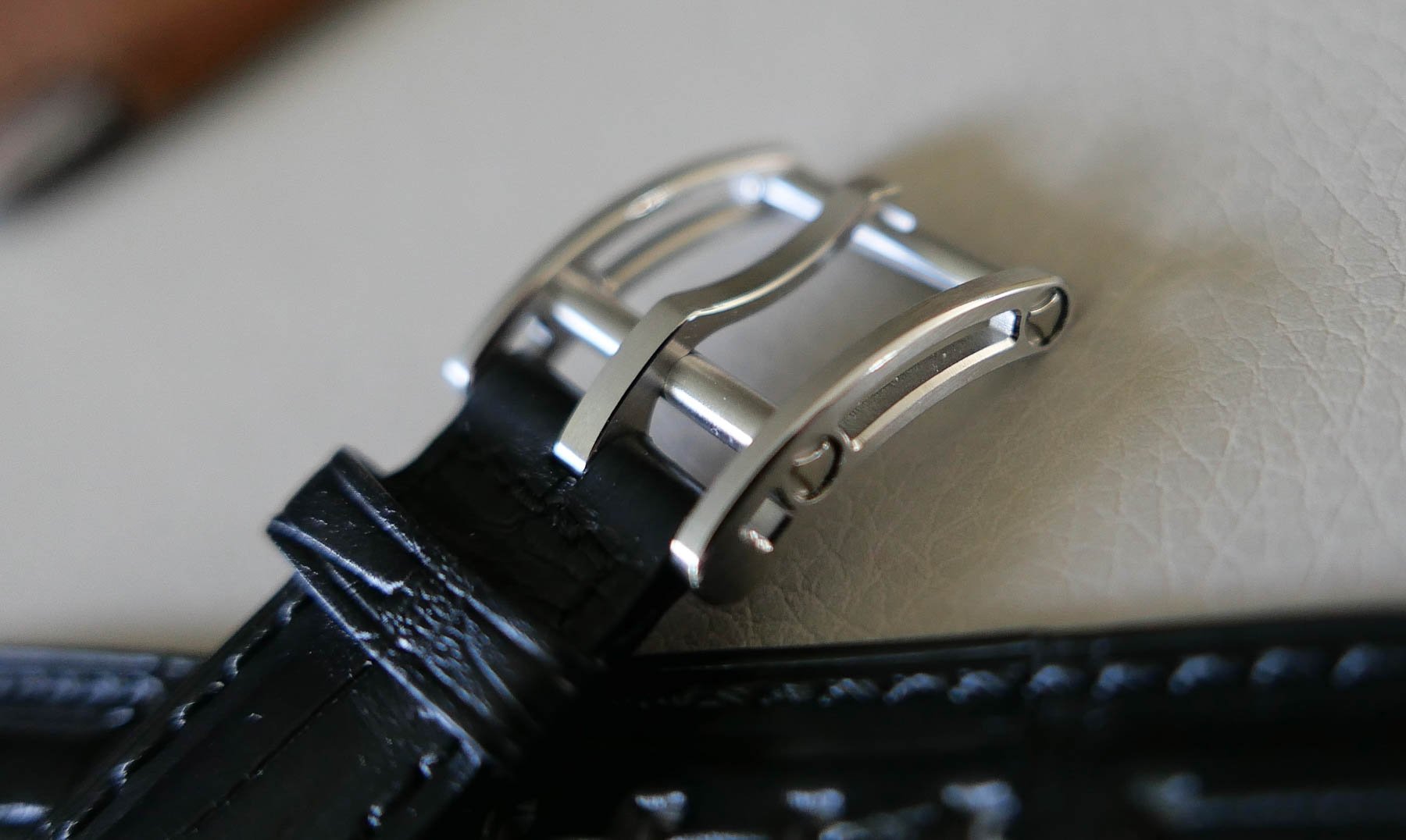 The buckle department
After all that, you might find it distinctly odd to have a footnote on a buckle, but read on. With my Behrens Consteller, I also acquired an extra black alligator strap, which has the brand's most elaborate pin buckle. In fact, it is one of the best I've ever seen. It is quite long in reach, allowing for a great fit when your wrist isn't too big, and the details are impressive. The buckle itself is brushed, with slim, polished bevels on all edges and meticulous finishing. All is held together with proprietary miniature bolts with an alpha-shaped head that looks fit for an F1 car, and the pin itself is shaped and countersunk into a central bar. So yes, God is indeed in the details, and Behrens has got it right on many levels.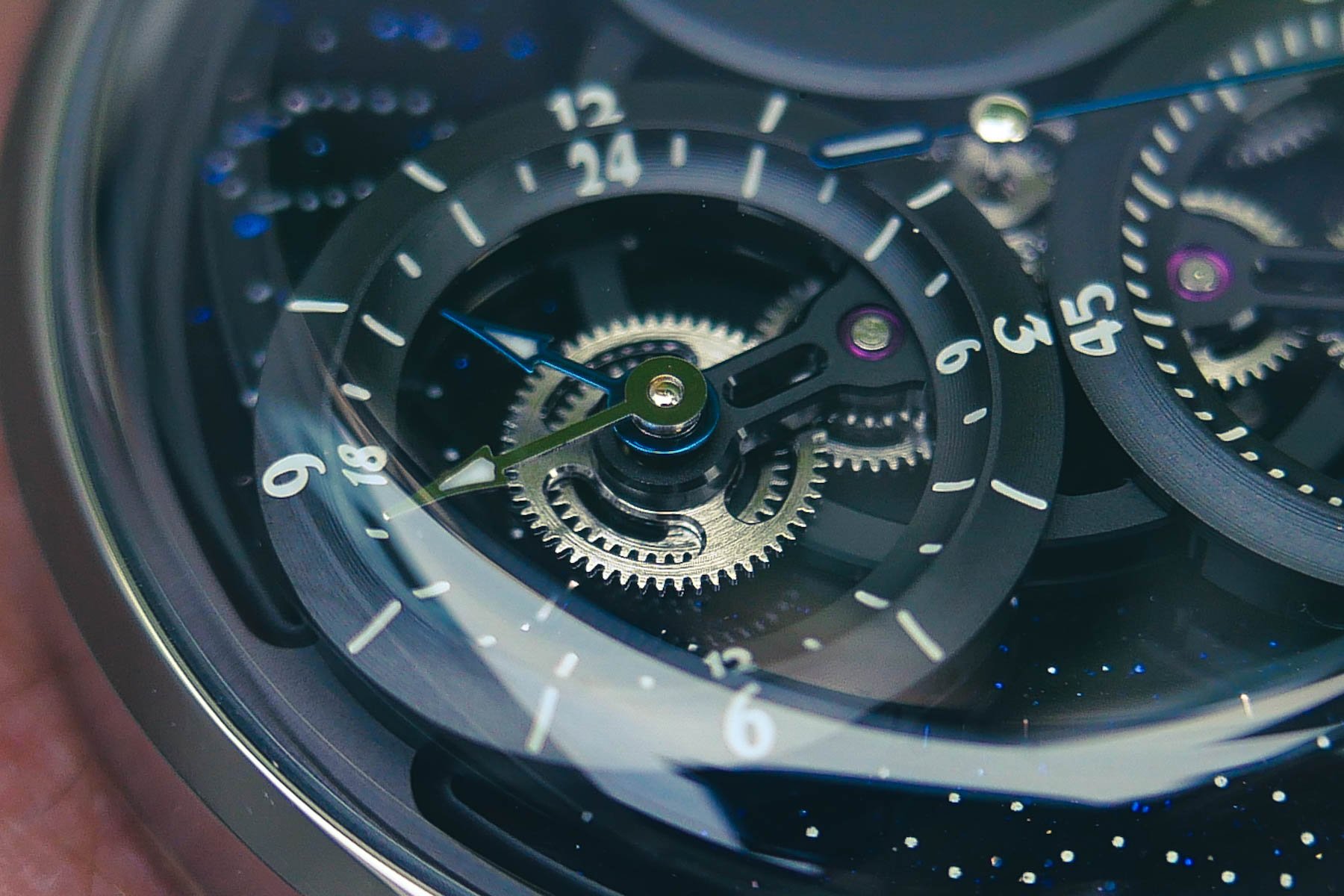 What's next for Behrens watches?
The Consteller and the Konstantin Chaykin collab are both pretty impressive 2023 releases, but last month, the mind-boggling BHR030 dropped, and so did the Behrens mic. If the brand's designers manage to pull more rabbits out of their hat before next year, I will be seriously impressed, and I am watching closely. You can find the Consteller in its standard black DLC case on the Behrens website for US$2,650. There is also an alternative version with a MOP background instead of aventurine, so have a look.
Fratelli, have I strayed too far from my original remit of 2023 wristwear, or am I onto a good thing? Surely, one of the best ways to recruit a younger, manga-watching, PS5-fiddling demographic is futurism? And yes, these days, people are still embracing those interests into their 30s with empty wrists. What better than a dark galaxy-inspired regulator to get them hooked? Let me know your thoughts in the comments.
Watch specifications
Reference
B017 (steel prototype)
Dial
Aventurine rotating dial with open-worked regulator layout and moon phase
Case Material
Stainless steel (316L)
Case Dimensions
42mm (diameter) × 50mm (lug-to-lug) × 12.5mm (total thickness including crystal, 9mm without)
Crystal
Domed sapphire crystal with AR treatment
Case Back
Stainless steel with sapphire window
Movement
Modified Miyota 9-series — automatic winding, 28,800vph freqeuency, 42-hour power reserve
Strap
Alligator leather (21mm width) with pin buckle
Functions
Time (12/24-hour and minute sub-dials, central seconds), moon phase