Owning Watches Doesn't Make You A Collector: Why I Don't Consider Myself A Watch Collector
And why it doesn't mean that I don't love testing, buying, owning, wearing, and writing about watches
I can cut a long story short by giving you the quick answer to why I don't consider myself a watch collector. First and foremost, I'm a watch journalist. A bit of distance between subject and journalist is preferable, in my opinion. But when I went through my little troupe — I don't dare call it a collection — of watches, I did find something like a common denominator. It also made me reminisce about the collection that could have been.
Before I started writing about watches, I looked at them, talked about them, saved money for them, and rationed myself for them. When I was a poor student but had already caught the watch bug, I bought them, sold them, and went through that process all over again a couple of times for them. And it was worth it every time. I didn't write about watches, but music and football amongst other things, and because of that, I enjoyed them in a non-professional way.
What stopped me from becoming a watch collector?
It all started seriously with a Baume & Mercier Formula 1 Chronograph. It heated up with an automatic TAG Heuer S/EL Chronograph, intensified with a range of Breitling watches, an IWC Pilot's Watch Chronograph, and even a Rolex Explorer II made a brief appearance. Where have they gone? What happened? And what happened after the watches I mentioned? What stopped me from becoming a watch collector?
Why I don't consider myself a watch collector — Painting the picture
To cut a long story short, life happened. Nothing too dramatic. Just life. I'm talking about career changes, becoming a father, buying a house, getting married — and the opposite of that — and also having other (costly) interests and hobbies. What also happened is that I started working for a watch magazine — the printed kind. And because of that, I got closer to the object of my desire than ever before. What also happened is that my professional outlook as a trained journalist caused distance between the subject and me. Does that sound pompous? Sorry about that, but it did happen. The deeper I dove into the world of watches and the more I learned about what happened behind the scenes, the less the magic of mechanical marvels affected me.
Work harder!
Luckily, it didn't ruin my love for watches. But what it did is make me work harder to find watches that hit my sweet spot. And my watches had to work equally hard to stay in the "collection". Sometimes the watches had to fight my love for a new watch. Without an unlimited budget, trading in and selling privately was my modus operandi to obtain a new timepiece. But it also happened that a watch had to go because I had to satisfy another burning urge — a new bike. That's the other costly passion/hobby I referred to earlier. I've been a cyclist for as long as I can remember. Racing, riding in the high mountains, and also regular training through the polder is fully integrated into my life.
Worlds apart
Just as much as I want a watch on my wrist, I want to ride my bike. And that comes with a cost because I like bikes that are in the same price range as very decent watches. I remember selling a watch to be able to buy a Pinarello "Prince of Spain" Limited Edition. I never regretted doing that because on that exuberant carbon bike I conquered Mortirolo, Tre Cime di Lavaredo, and Stelvio, to name but a few brutal climbs. That bike gave me hours and hours of fun and kept me in good physical and mental shape too. That's not something you get with a watch. And you know what? I never wear a watch on the bike. I don't find it comfortable. Bikes and watches are two separate worlds for me, although I once interviewed IWC ambassador and cycling legend Fabian Cancellara while riding around his hometown of Bern.
My signature watch
But no bike, or anything else in life, has come between me and my Chronoswiss Timemaster. The watch has been with me for over twenty years. There was a moment when I could have used some cash, but then it was, at best, worth half the original price, and therefore a bad option to sell. I can't remember what watch I "sacrificed" instead back then, but I could also be suppressing my memories — I will ask my shrink what's going on. And now, many years later, even though the prices on Chrono24 are much more favorable, I won't part with it. Not now, not ever. After wearing it for over two decades, that glow-in-the-dark Timemaster has become almost a part of me. It really has become my watch, the one that so many people have seen me wear. It's my signature piece, if you will, and I won't give up my signature.
A pilot instead of a journalist
Thinking back on the watches in my past, I think that it's safe to say that I had a thing for pilot's watches. Had I not become a journalist but a pilot instead, I could have soared the skies with a couple of Breitlings. The Spatiographe Montbrillant, Emergency Orbiter 3 — that watch came with a piece of the balloon that orbited the globe — and the fully brushed Navitimer Fighters Limited Edition, for instance. Or the sober IWC Pilot's Watch Chronograph Ref. 3717. The Timemaster with its protruding onion-shaped crown is, of course, also an aviation-inspired timepiece, so I would also wear that.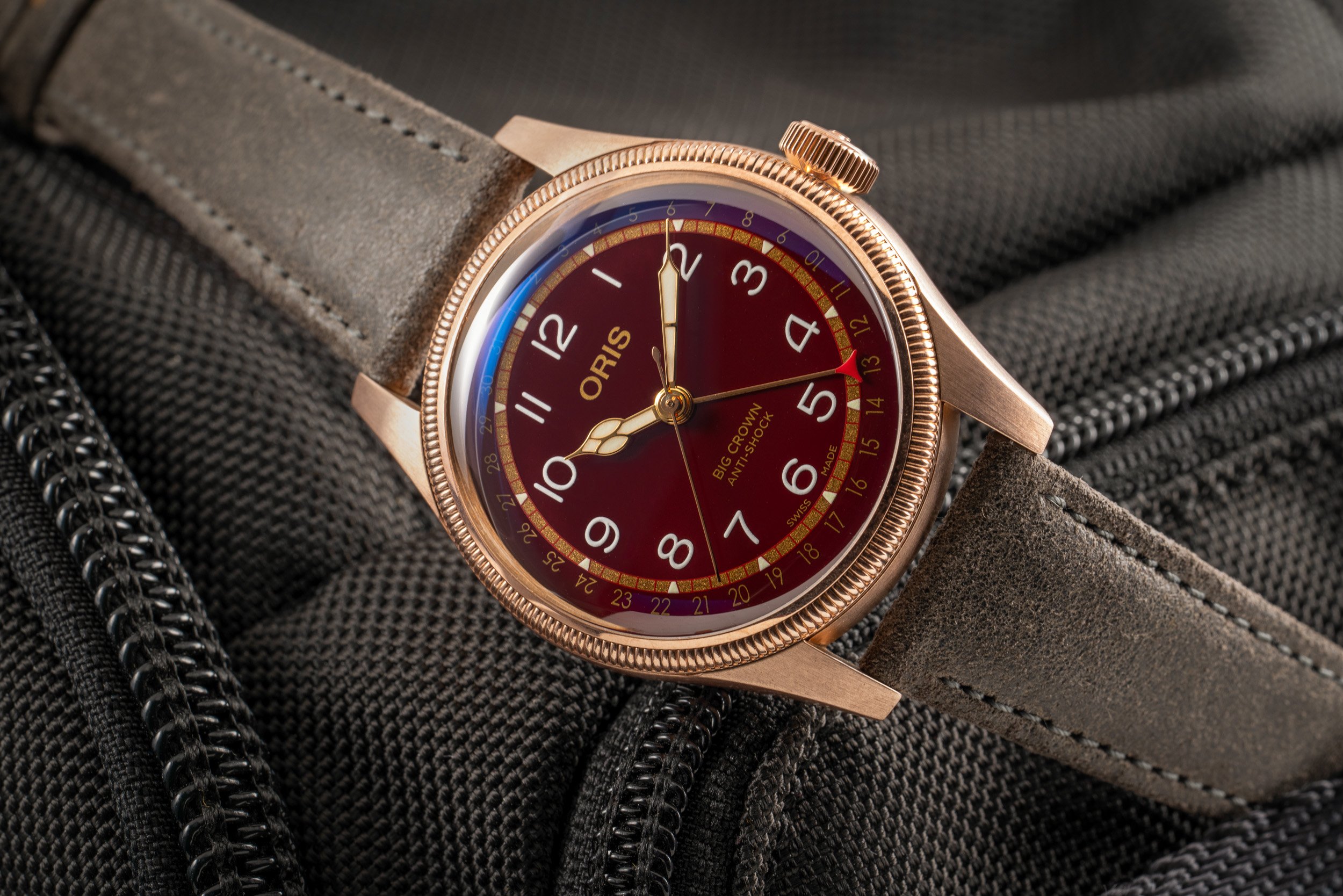 The current "collection"
So the "Lex Stolk Pilot's Collection" never materialized, but that doesn't mean I don't have a couple of watches. There's a pair of Glycine watches — an Incursore Officer and a blacked-out Combat Sub — my dad's 1950s Mido Multifort, and the recent Fratello × Oris Big Crown Bronze Pointer Date "Fratelloris", for instance. Looking at the watches in my possession, I come to the conclusion that Japanese watchmaking has beaten its Swiss rivals.
I come to that staggering conclusion when I look at my Seiko "power trio". There's the 1972 King Seiko 5626-7111 with its hi-beat movement, a first-generation Seiko Astron GPS SAST001 in black titanium and ceramic with copper-colored accents, and a Grand Seiko Tough Quartz SBGX341. And it becomes a quartet if you also count the Casio G-Shock GW-M5610NV-2JF "Military Navy" limited edition I bought in Tokyo. I visited a lot of watch manufactures over the years, but the Japanese way of building watches really resonates with me.
I don't consider myself a watch collector, I hope you don't mind
When can a group of something be called a collection? I've read a definition that stated that one is an object, two is a pair, and three is a collection. In that case, I own many collections. Not just a watch collection, but also collections of bikes, sneakers, Japanese denim, books, and CDs. I think it's only a collection when you have the intention of making it grow, and when it has a clearly defined theme. Maybe one day, I can talk about my collection of handmade Japanese watches. For now, though, I'll just stick with owning a bunch of watches. And wearing them with great pleasure, something I continue to do.
The same goes for writing about watches. My knowledge of the workings of the industry and the uncountable amount of good and bad watches I've seen over time have not made me lose interest in timepieces. So no, I don't consider myself a watch collector. Instead, I see myself first and foremost as a watch journalist. And that works just fine for me. I hope it works for you too.
Please find and follow me at Lex Stolk • Instagram