Hands-On With The Christopher Ward C60 Sapphire Dial Watch
While the rest of the watch world waited, CW jumped into TV
It looks like a sapphire crystal is not enough today. Christopher Ward is moving the bar a bit higher and introduced another innovation for its C60. A mysteriously blue-tinted translucent dial made of sapphire.
I was not in particular excited when I saw the press release. But true to the profession, when there is anything slightly innovative jumping from the crowd, I never hesitate to see it in flesh. Three seconds after I unboxed Christopher Ward C60 Sapphire, I liked it. It's one of the watches that looks much better in flesh than it does in pictures.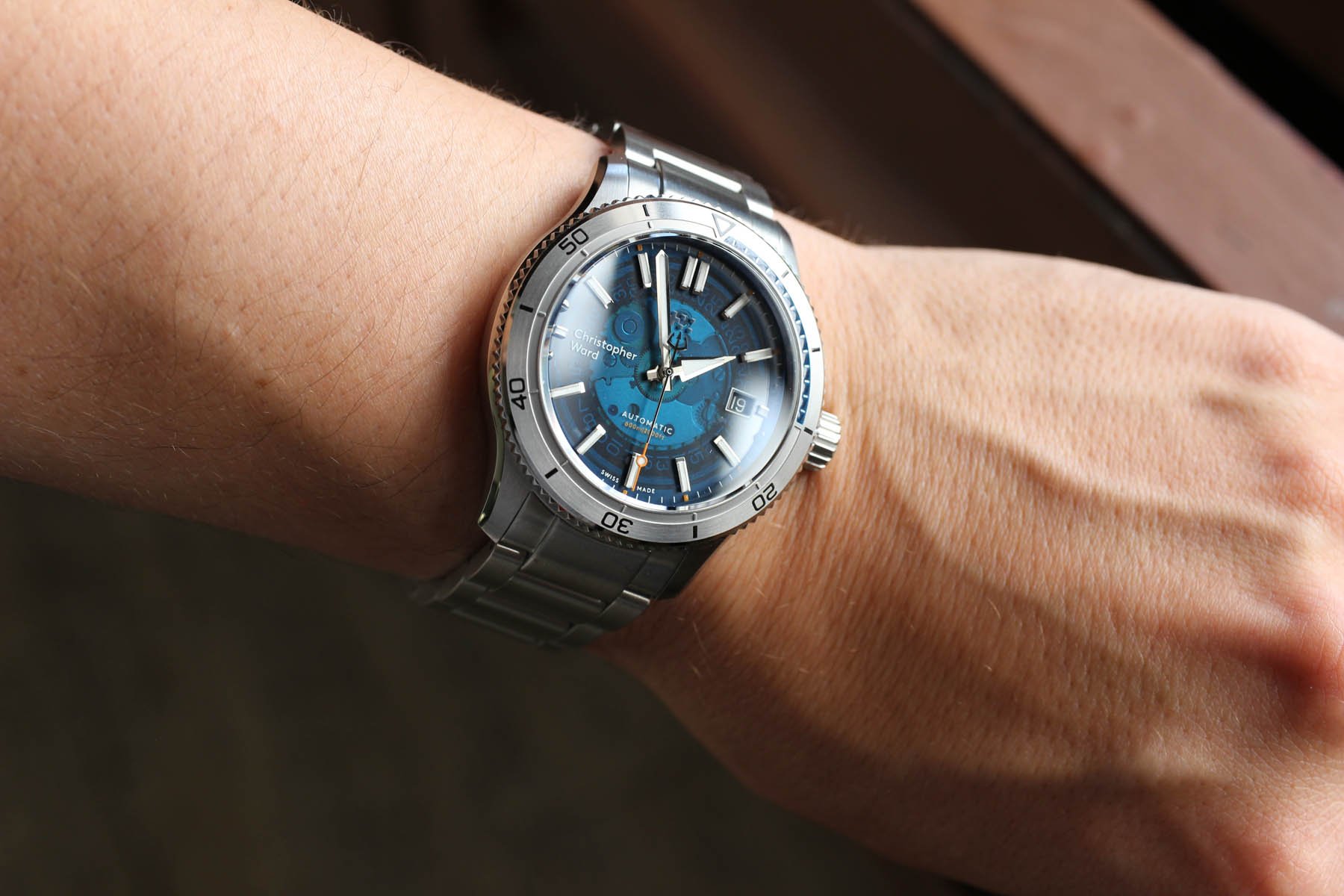 Christopher Ward C60 Sapphire
'The first week-end of lockdown at the end of March saw a big drop off in sales but since then we have been fortunate to have enjoyed excellent sales which have been well ahead of our pre-COVID budget," says Mike France, CW Co-founder, and CEO. While we spent our time counting canceled events and new-releases being postponed, CW was planning for the market hit.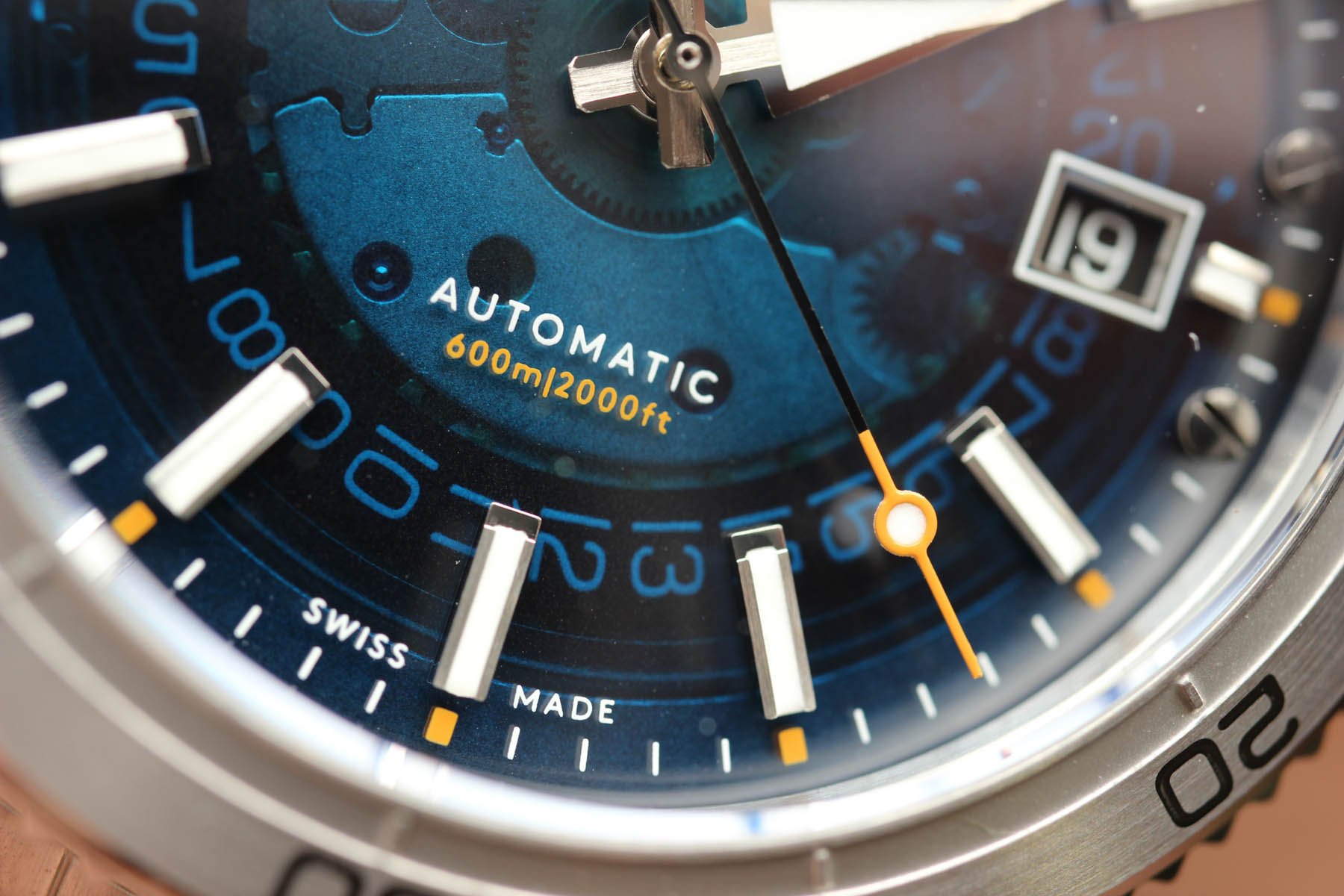 "Our two chronograph releases initially planned for May have been delayed due to Sellita factory closure," says Adrian Buchmann, Head of Product Design. That unfortunate inability to deliver SW510 movements made for an earlier release of new C60 Sapphire. And Christopher Ward threw itself into the exercise wholeheartedly. Thanks to Covid-19, the budget was bigger than ever before. "In fact, we have increased our marketing spend and given salary premiums to our front-line team who have been so busy despatching watches. C60 Sapphire in particular has been a phenomenal success," says Mike France.
Daring combination
The C60 Sapphire is the first model in a planned series dedicated to displaying the mechanics of the Sellita SW200 movement. I like this cheeky combination of a 0.6mm thick slither of sapphire fitted in a rough-and-ready divers' watch. That's a surprise and I wouldn't expect that in a watch that challenges me to dive 600m beneath the water's surface. The sapphire dial on a C60 feels like dancing the Walz in football boots — just about crazy enough to sound like a good idea.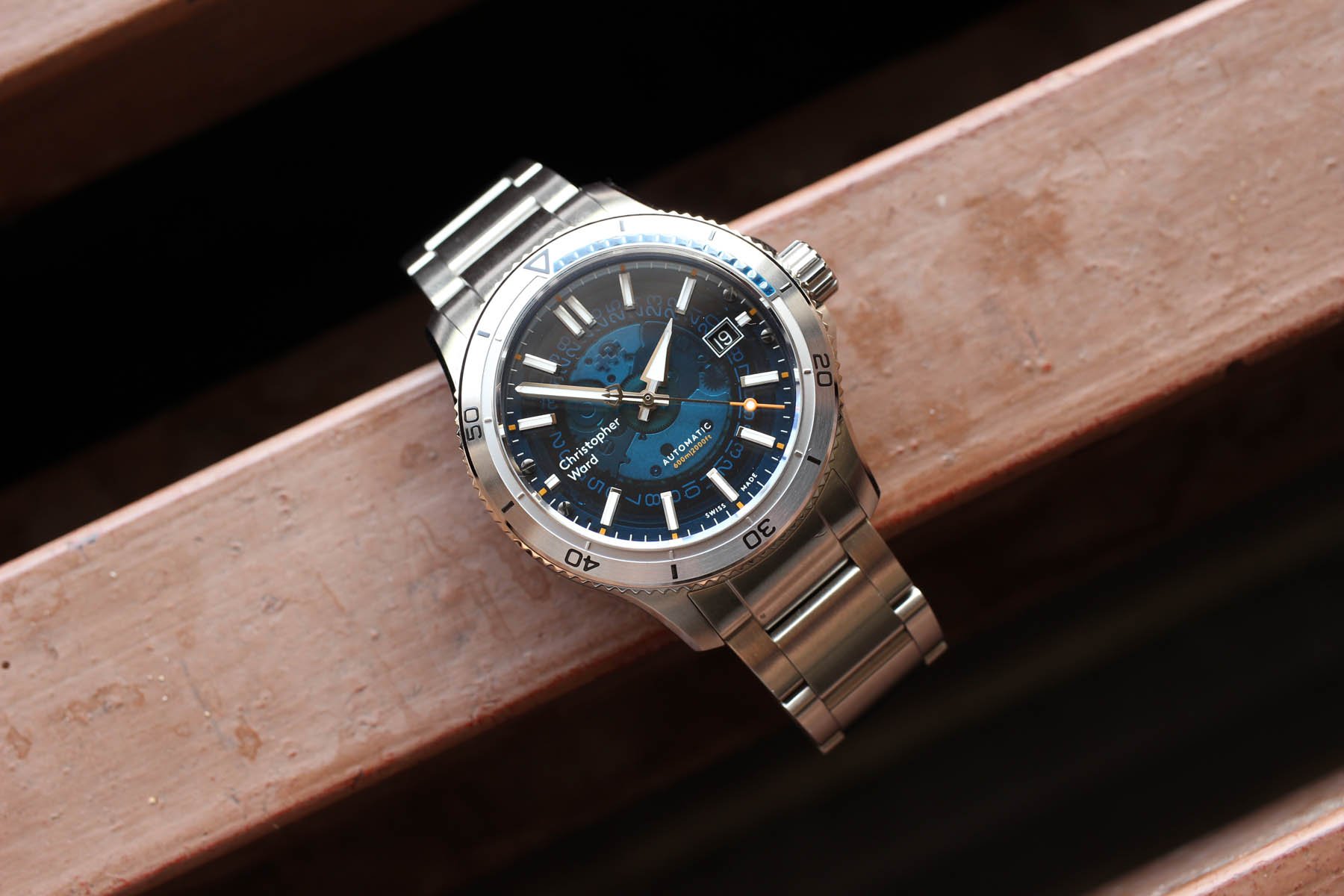 A bit of technology
The complexity of the dial is illustrated by its lengthy production process involving 20 different steps. "It starts with a slice from a lab-grown sapphire "carrot" and rough polish of both sides to the required thickness. Then we laser drill holes and chamfer the edges by polish grinding," explains Adrian. Following these steps, a final polish is applied until the surface achieves its glossy finish. Then it goes to the dial factory for printing.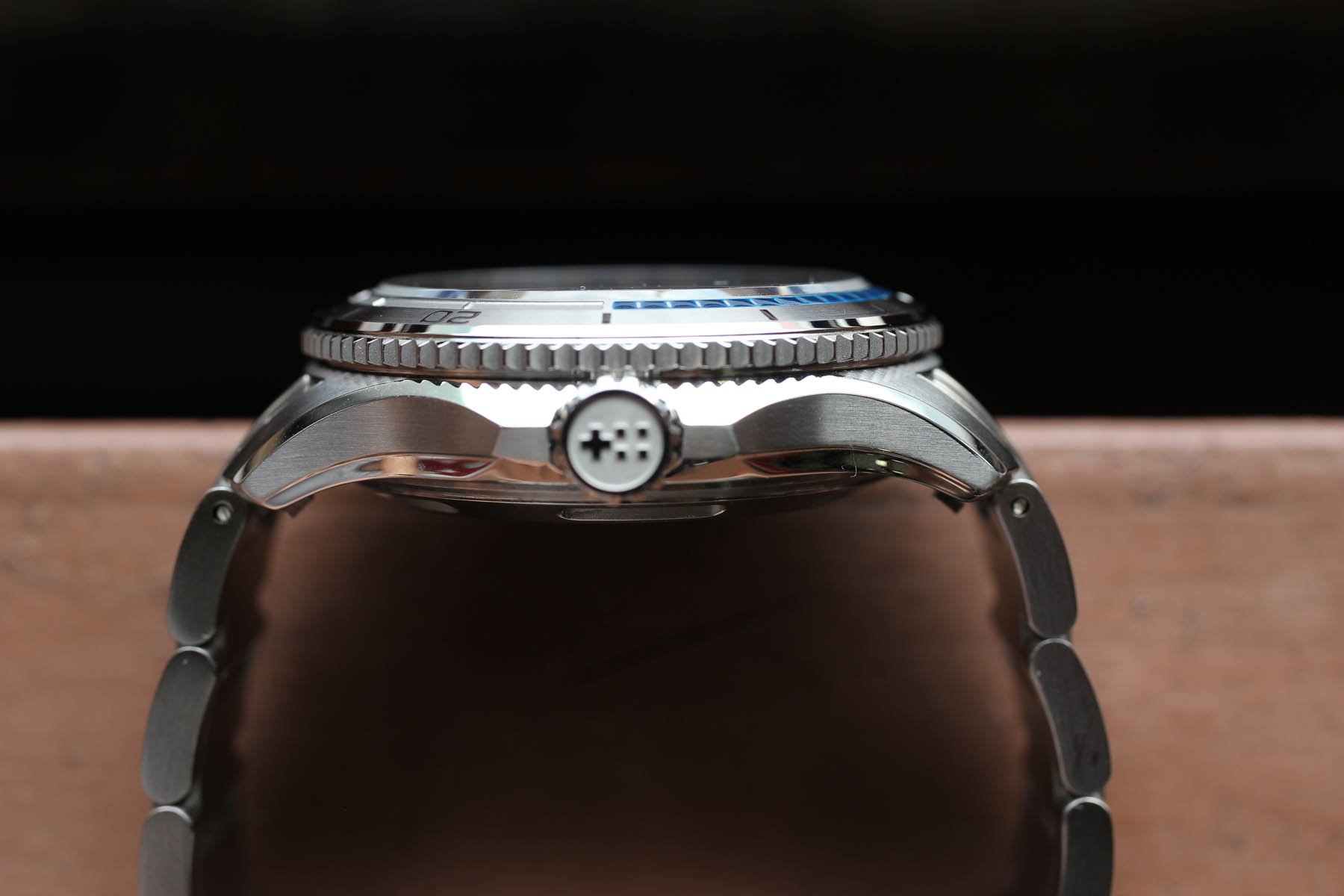 The sapphire is then compressed for 24 hours with a blue polycarbonate wafer that gives the dial its translucent blue glow. Stamping, diamond cutting, and assembling indexes that have Grade X1 GL C1 Super-LumiNova is next before these complex markers are applied by hand, rounding out the final stage.
Icy cold gorgeous
When you give it a full-frontal look, C60 Sapphire strikes with a perfectly balanced design. While polished areas are visible from the side only, a top view presents sporty matt finishing that fits with hand-filled countdown hour markers and other dark blue markings. Snow-white lume on indexes and subtle orange detailing on the dial and central second contribute to vividly fresh, but mature color scheme.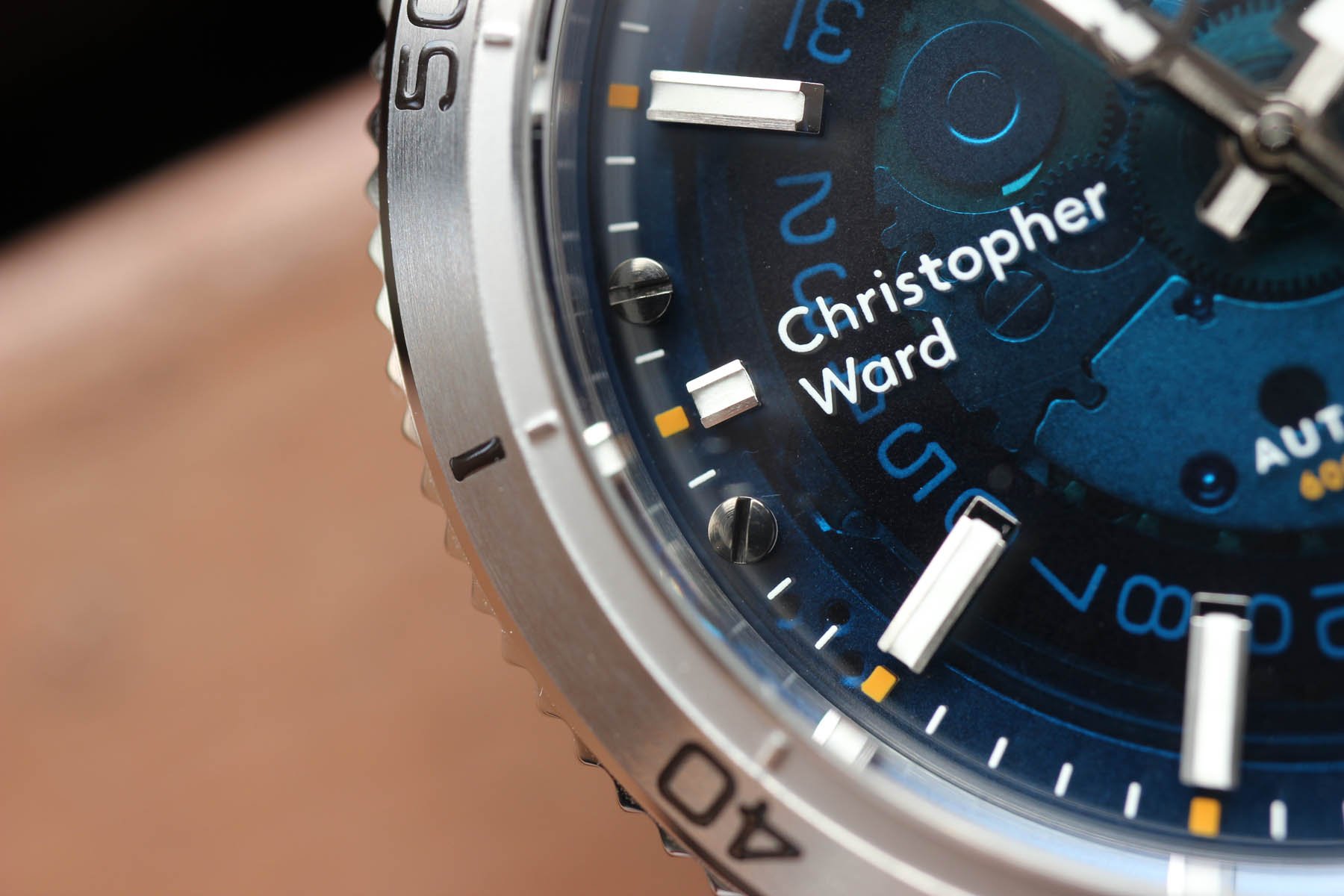 Deep blue Sapphire
I was afraid of reflections, but I needn't have been. A sapphire under a sapphire brings a truly unique visual experience and thanks to the blued polycarbonate translucent effect, it doesn't look cheap. It was a great choice to opt for a black background date disc. As a result, the translucence gets higher to the center. The translucency of the material gives the dial real depth and you feel like you are looking through a heavy mass of water while diving really deep.
Two watches in one
If ever a watch was made to be worn in the sun, this is it. It's the perfect summer watch (and I am not referring to its significant water resistance). Indoors, perhaps around a boardroom table, the C60 Sapphire behaves as an elegant blue gentleman. But the moment you take it outside, the watch comes alive.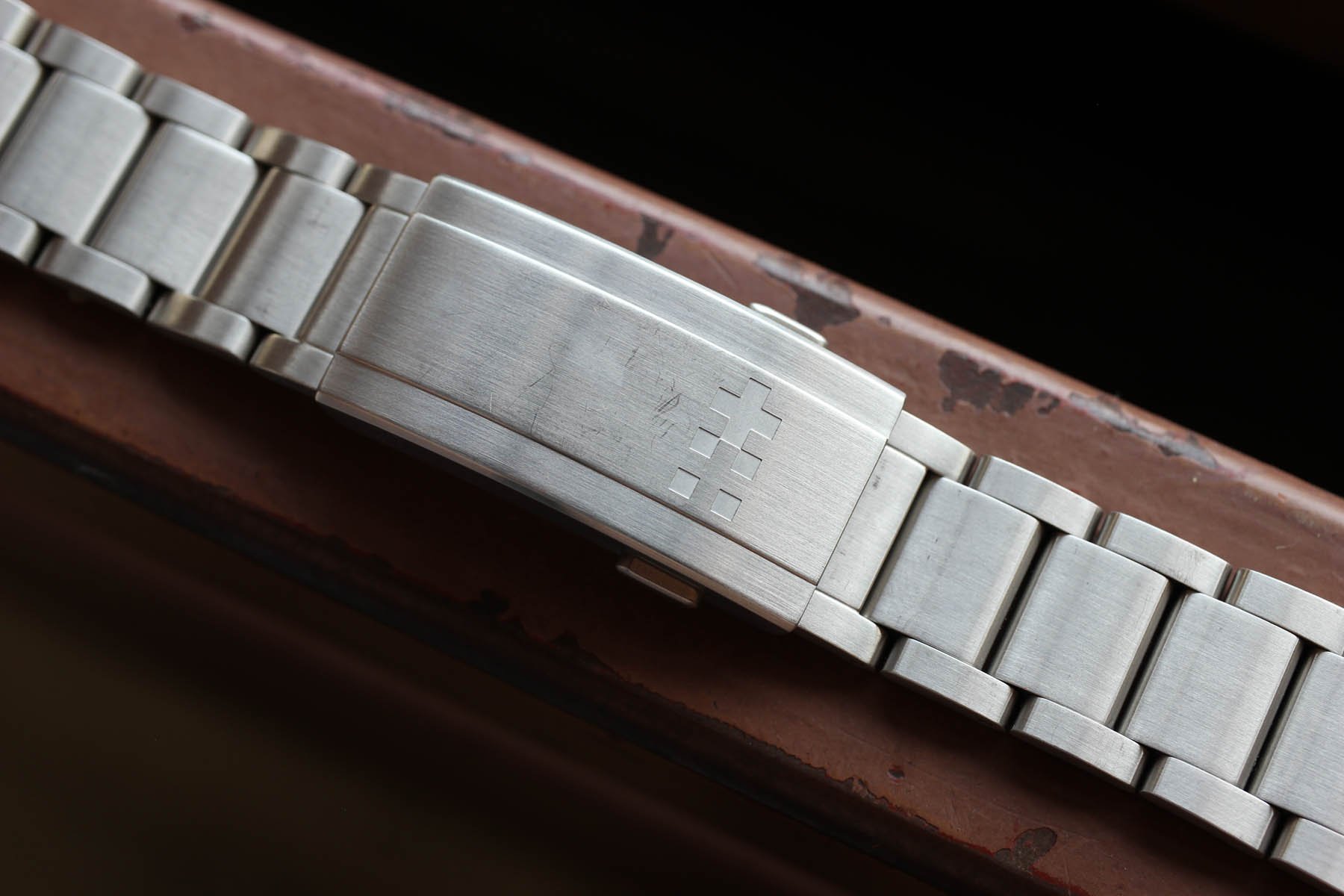 Bracelet only
When I reviewed the recently released C65 GMT or the C65 Trident I opted for leather or hybrid strap. This time I asked for a bracelet. The first week I left it on a shelf and wore it with generic light brown leather out of habit. One day, when the mood took me, I switched it up for the steel. The improvement was enormous. I'm telling you, do not buy this thing on the leather. The bracelet improves the look immeasurably. The design looks much more integrated and the wrist feeling is much better. It feels heavy in the hand, but on the wrist, it is a balanced beauty.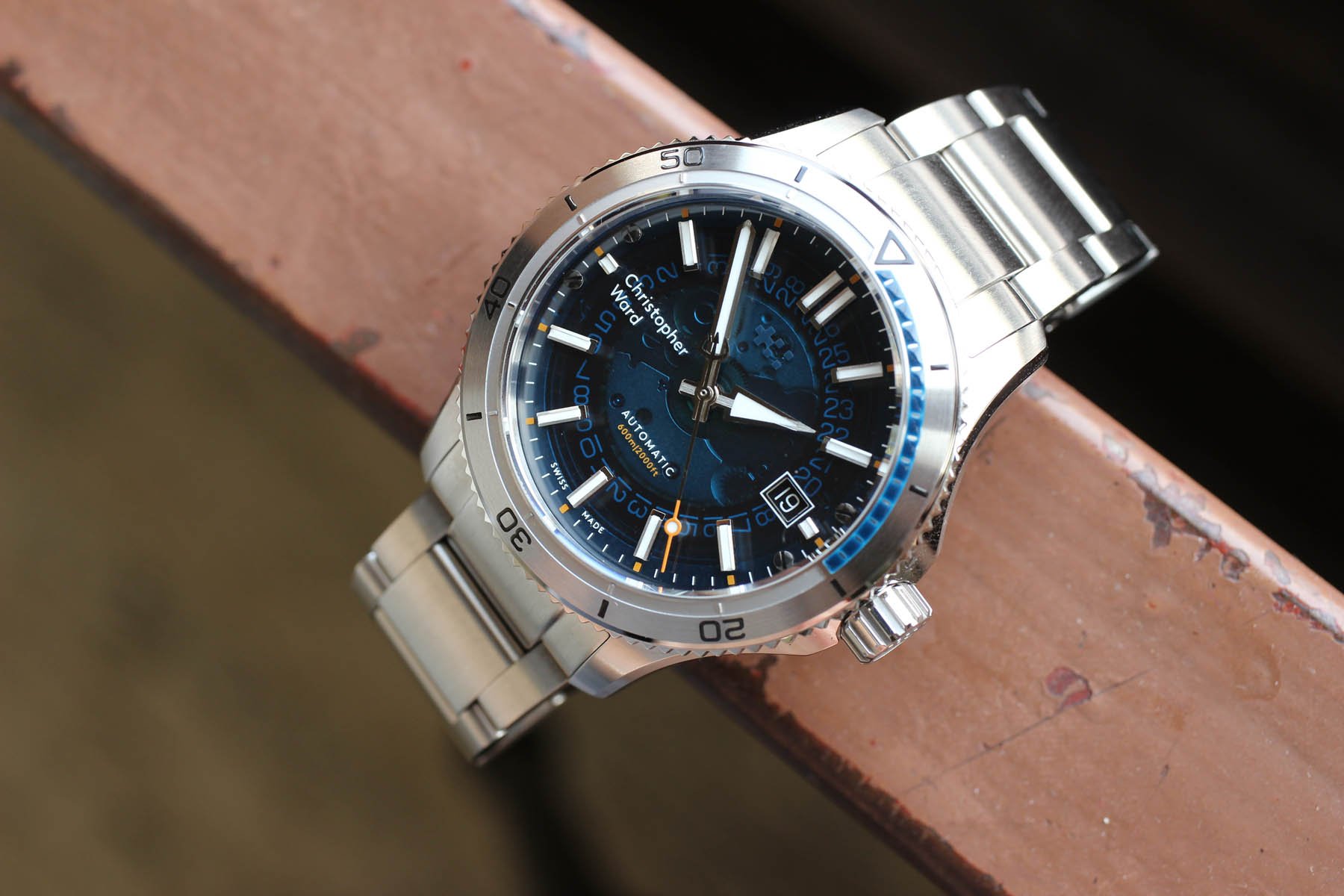 CW on air
After two weeks with the C60 Sapphire, I finally understand why CW decided to make it the focus of its first-ever TV advertising campaign. "It was quite an emotional moment to see the first ad hit the screen at 17:40 pm on May 1st. I feel proud that little old Christopher Ward, along with Her Majesty's Government, were the only people to have created a studio shot ad at that time," Mike reflects on the historic moment for Christopher Ward.
Last thoughts
With most watches I take in for review, I find my feelings remaining relatively constant throughout. This situation was different. For once, I found myself falling for the C60 Sapphire more and more as the weeks wore on. The real "wow" moment came when I switched it to the bracelet. And, following that, details such as the dial screws, the subtle twin-flag motif on the dial, or "lollipop" center seconds hand kept me entertained. If you are looking to spend around €1,000 for a new summer watch, I would put this one high on the list. You can find more info here.
Watch specifications
Dial
Blue sapphire dial with twin flags at 12 o'clock, Super-LumiNova® Grade X1 GL C1-filled hands and top-brushed indexes with diamond polished facets
Case Material
316L stainless steel
Case Back
Screw-down exhibition caseback with blue crystal
Movement
Sellita SW200, 26 jewel self-winding mechanical movement
Water Resistance
60 ATM (600 metres)