Hands-On With The Cycling-Inspired Bravur Grand Tour Series Chronographs
A guest post by Vincent Deschamps
It took me a long, long time to get into chronographs. The first few years of my watch collecting were focused on divers, then field watches, and then exploration watches. But a good friend of mine (and a proper watch nerd) was into chronographs and convinced me to take a look. So I did. I started by reading about classics such as the Speedmaster, El Primero, and Daytona. It became clear that chronographs exist for a specific reason — timing something. And the more I read, the more I became fascinated by niche chronographs, such as the Bravur Grand Tour Series. This collection was made specifically for bike races. Let's talk about that.
Bravur popped up on Fratello in 2017 and 2018 when RJ and Balazs wrote about the brand's BW003 and Scandinavia models. Alas, not much has been written about the brand since, so I'm happy to be presenting three of its newest models from the Grand Tour collection — La Corsa Rosa, La Grande Boucle, and La Vuelta. Before I tell you what these names refer to, let's take a quick look at the brand and its founders to provide some context and refresh our memories.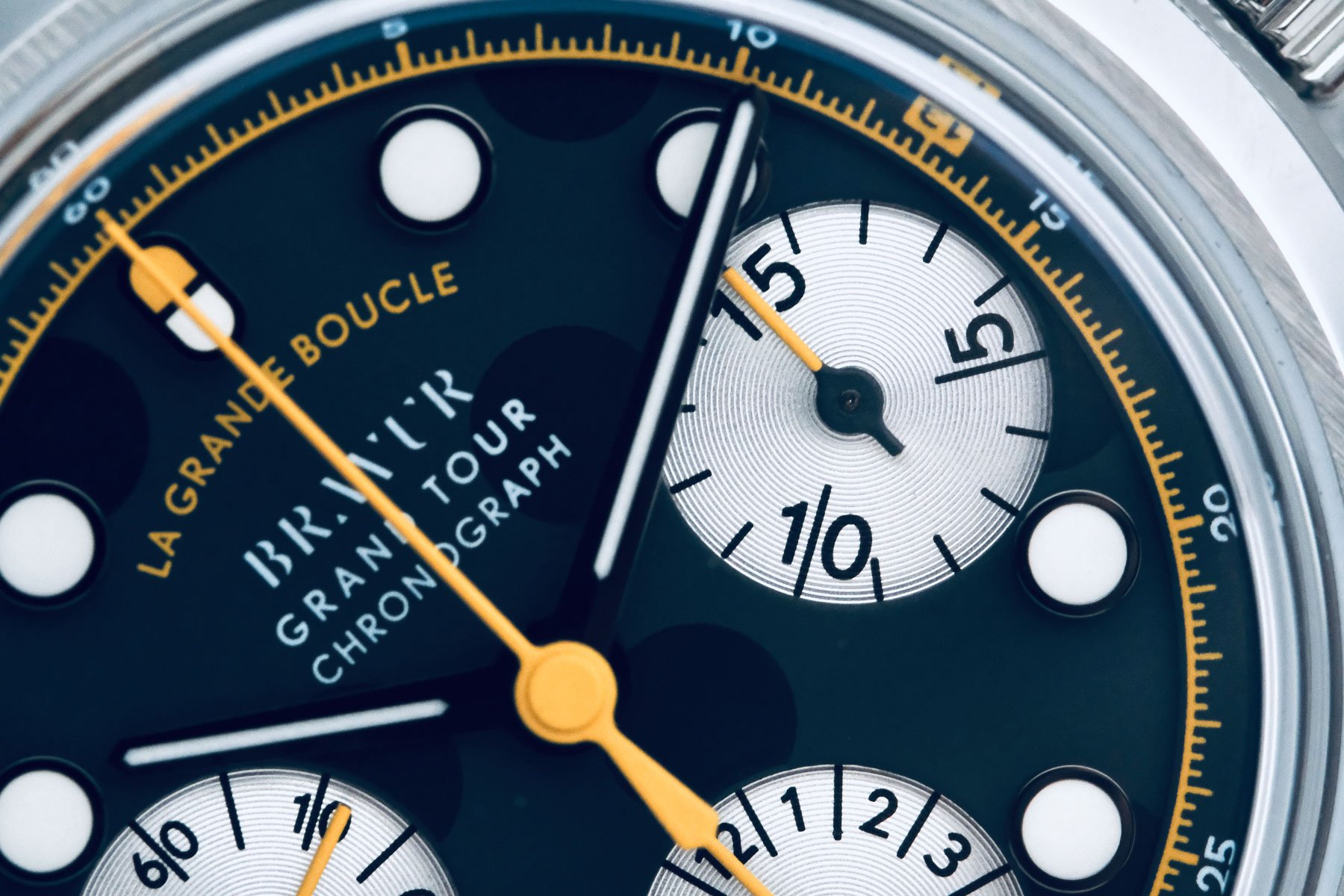 The brand Bravur
Bravur was founded in 2011 by two friends, Magnus Äppelryd and Johan Sahlin. The two friends would routinely meet on weekends to partake in bicycle races around the southern part of Sweden. The brand, by the way, is headquartered in a small coastal town in the southwest part of the country. This is also where the watches are assembled by Bravur's watchmaker. The brand's philosophy is to make affordable luxury watches with a strong Scandinavian design flair. I know, that's a pretty lofty mission statement, and handling the Grand Tour series, I'd say Bravur is doing well.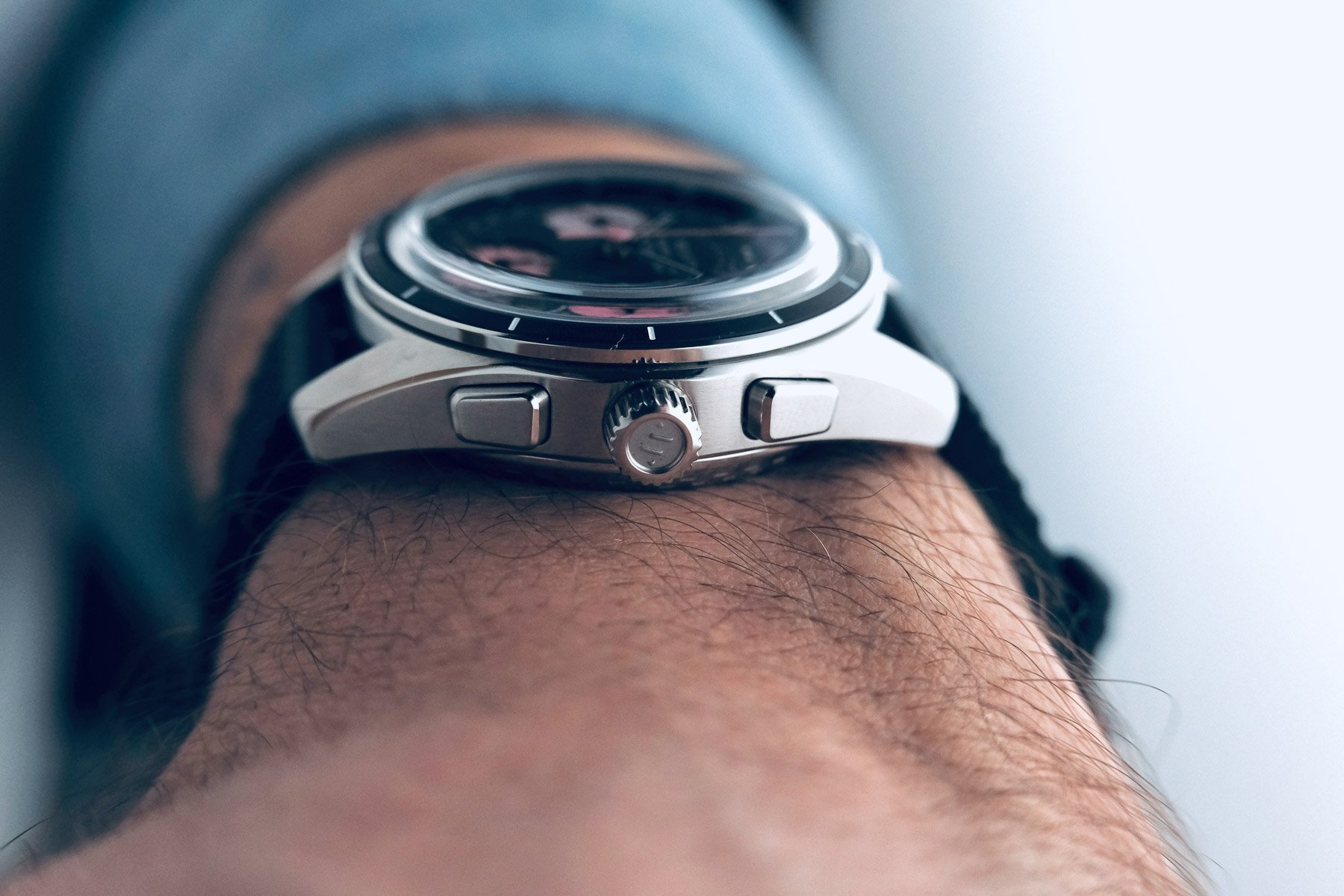 Since Äppelryd and Sahlin are into bicycle races, it was only natural for them to make sports watches. More accurately, I would say it was about darn time. Most of their collections can be categorized as dressy or everyday timepieces. And the Grand Tour is perhaps the most daring of all of their collections for their inspiration and engineering. As we will see below, the watches are packed with great specs and unique design elements. But before we get into this, let's talk more about the inspiration for the collection.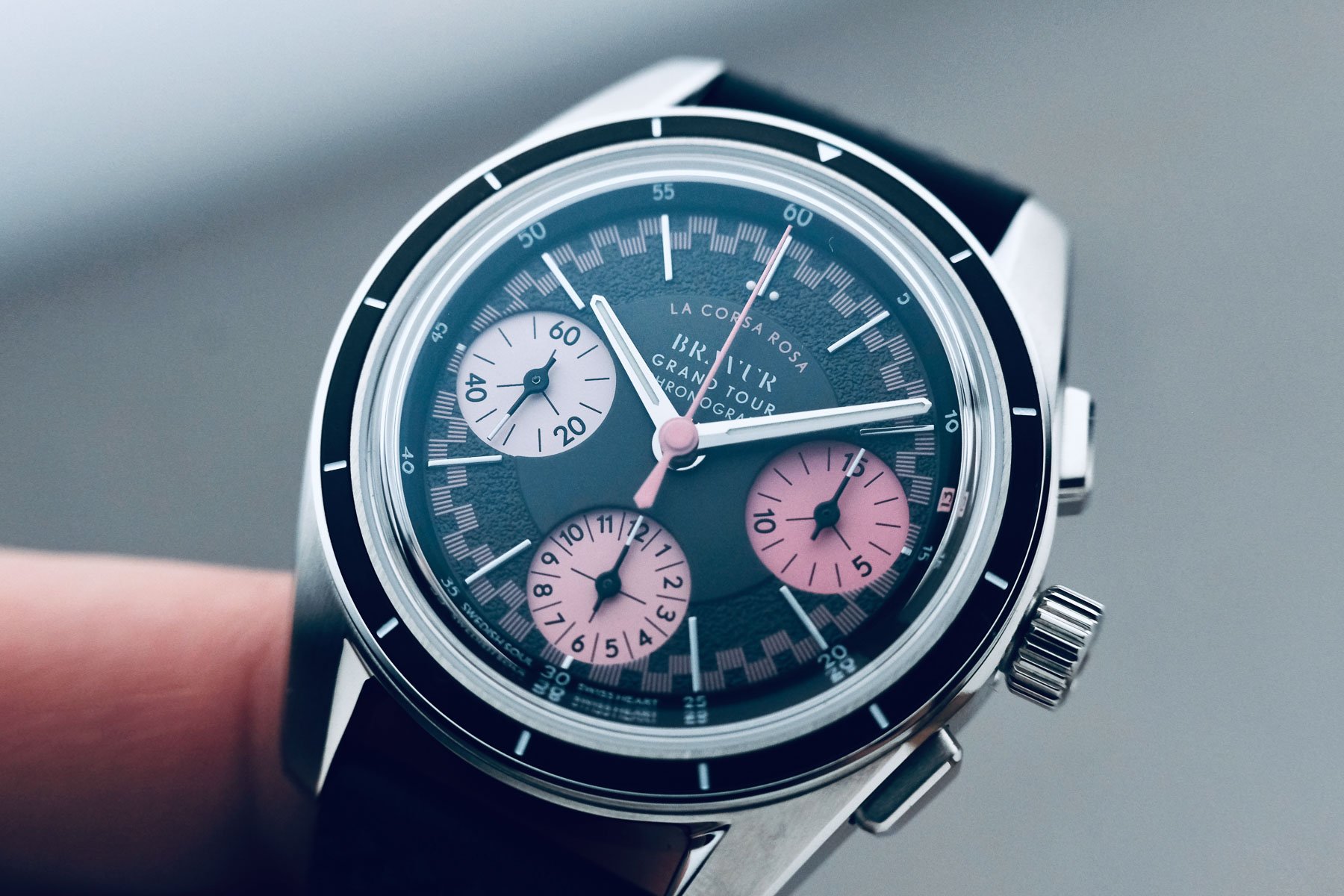 Bravur Grand Tour series: the function
Chronographs such as the Speedmaster are "general-purpose" chronographs in that they can be used to time all sorts of things. This includes anything from the fuel burn of a rocket to a car racing around the circuit. What distinguishes one chronograph from another is its visual style or design inspiration. For example, racing chronographs used to come in bright colors and unusual case shapes. The (TAG) Heuer Monaco with its square case and rally strap has a very unique style in that sense but standard chronograph functions. This is a very simple explanation, but for the sake of brevity, it will suffice.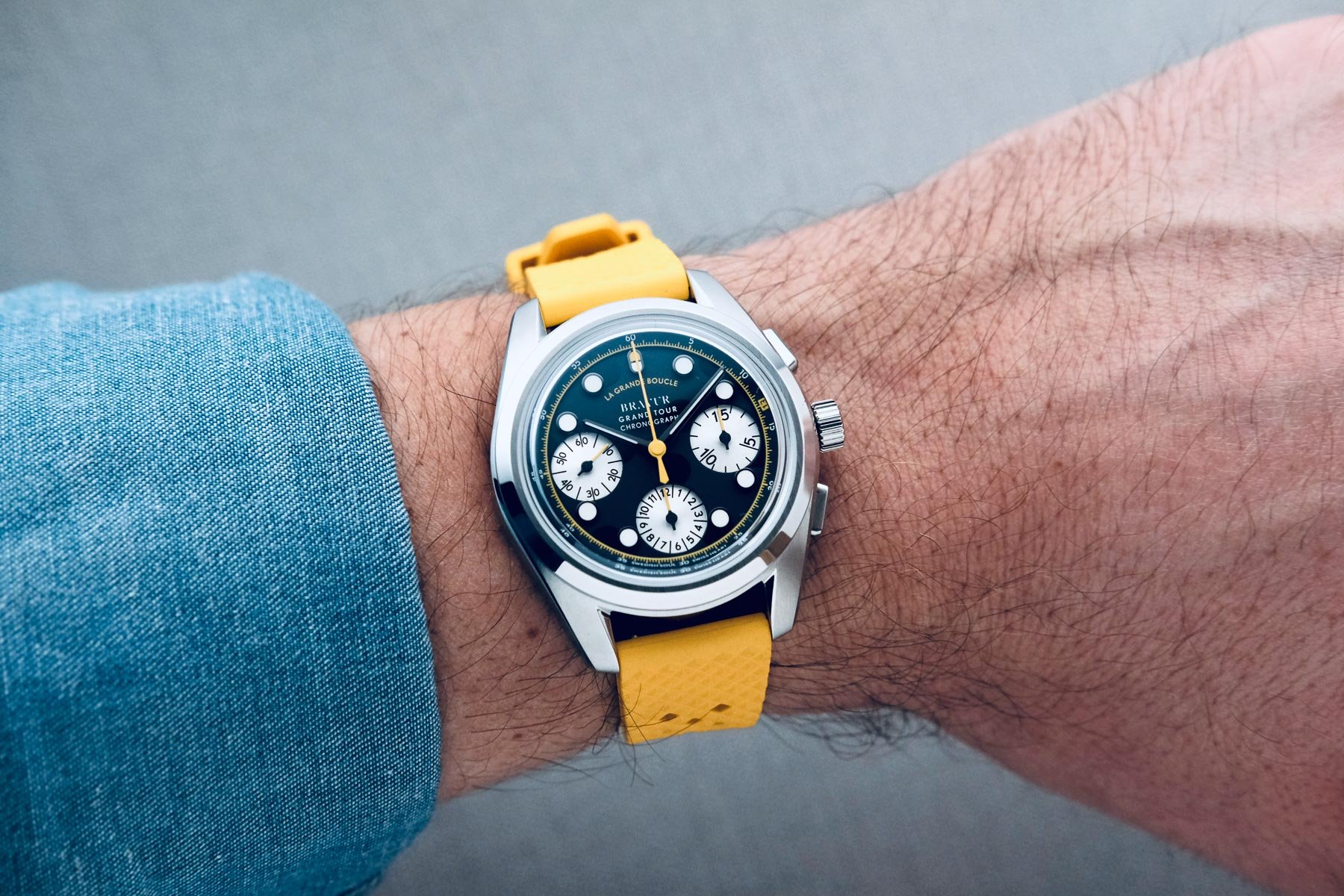 While chronographs do come with different sub-dial configurations, at their core, they all are made to time an event. Usually, the sub-dial for elapsed minutes is a 30- or 60-minute totalizer. In the case of the Bravur Grand Tour, however, we find a 15-minute totalizer at 3 o'clock. This allows for more precise timing of short-term intense efforts during a race as well as timing your pasta (the latter is an added bonus that the brand owners pointed out!). Just as Brew makes chronographs that facilitate timing the perfect espresso shot, the Grand Tour has a more specific application. If given the choice, I prefer to have a 60-minute totalizer above all other sorts of minute sub-dials, but that's just me.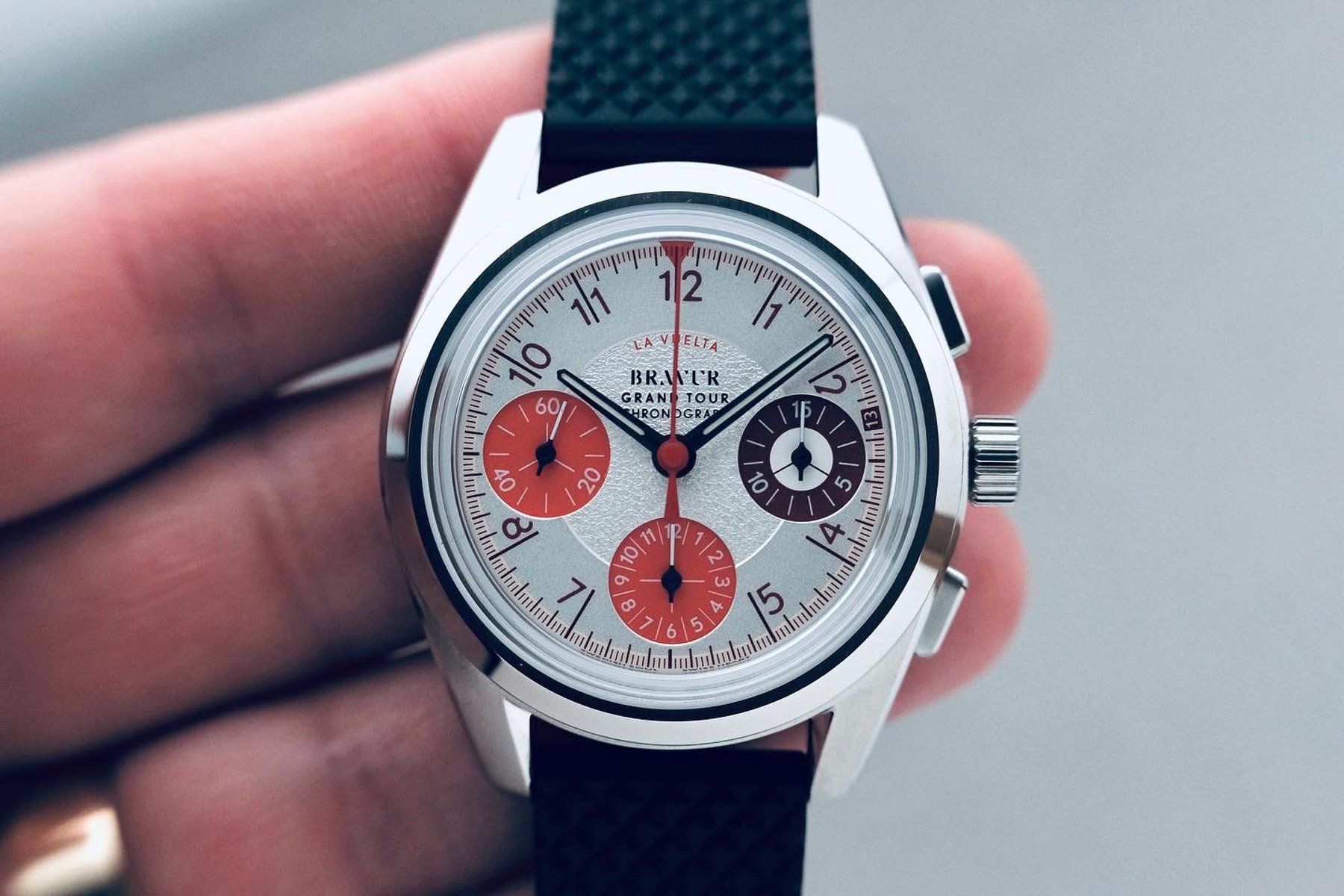 Collection overview: the inspiration
The cycling inspiration in the Grand Tour series can be best seen in the designs of the watches. The color on the Grand Tour La Corsa Rosa's dial is inspired by the color of the race leader's jersey (in the race of the same name). And the pink hash marks on the dial are reminiscent of a race flag. The dial color of the Grand Tour La Grande Boucle is reminiscent of the wet asphalt that cyclists encounter during the Tour de France. Similarly, its discreet polka-dot pattern can be found on the leader's jersey. And as you can notice from the photos, each watch has a very distinct look. And each comes with too many details to list here. To make things easier, the name of each race that inspired the designs is printed at 12 o'clock.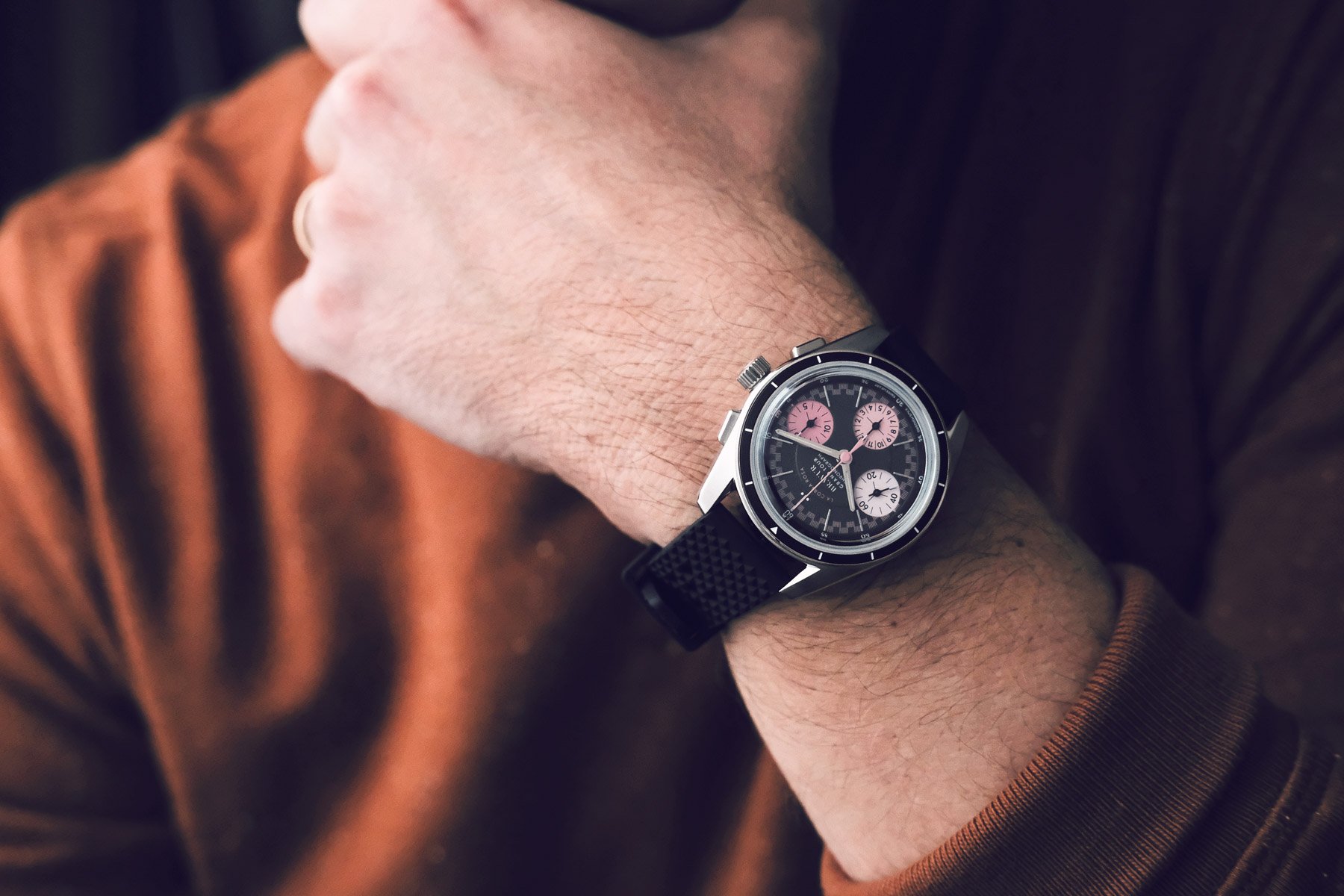 Down to the specs
Besides their cycling inspiration, these watches come with an interesting set of specifications. They measure 38.2mm in diameter, 46.3mm from lug to lug, 14.4mm thick, and 18mm between the lugs. These dimensions are rather constrained for a full-fledged automatic chronograph movement. The caliber inside is the Sellita SW511 b, which has 27 jewels, a 62-hour power reserve, and a 28,800vph (4Hz) frequency. These specifications are rather interesting to me for a chronograph movement, especially one that can fit in a smaller case. The movement, by the way, can be seen thanks to a sapphire window on the case back. 
Speaking of sapphire, one can find a flat piece of it on the front of the watch. Coupled with a water resistance rating of 100 meters (and a push/pull crown), you get a robust timepiece. Each watch is either fitted with an FKM rubber strap or a Milanese mesh bracelet. The strap feels solid and matches the overall sporty look of the Grand Tour series. I did not experience the mesh bracelet, but it does look good in pictures and certainly elevates the overall look of the watches. Finally, let's address the lume. Lume doesn't often impress me on chronographs, and it doesn't on the Grand Tour either. It is present but not potent. However, lume generally isn't a deal-breaker for me.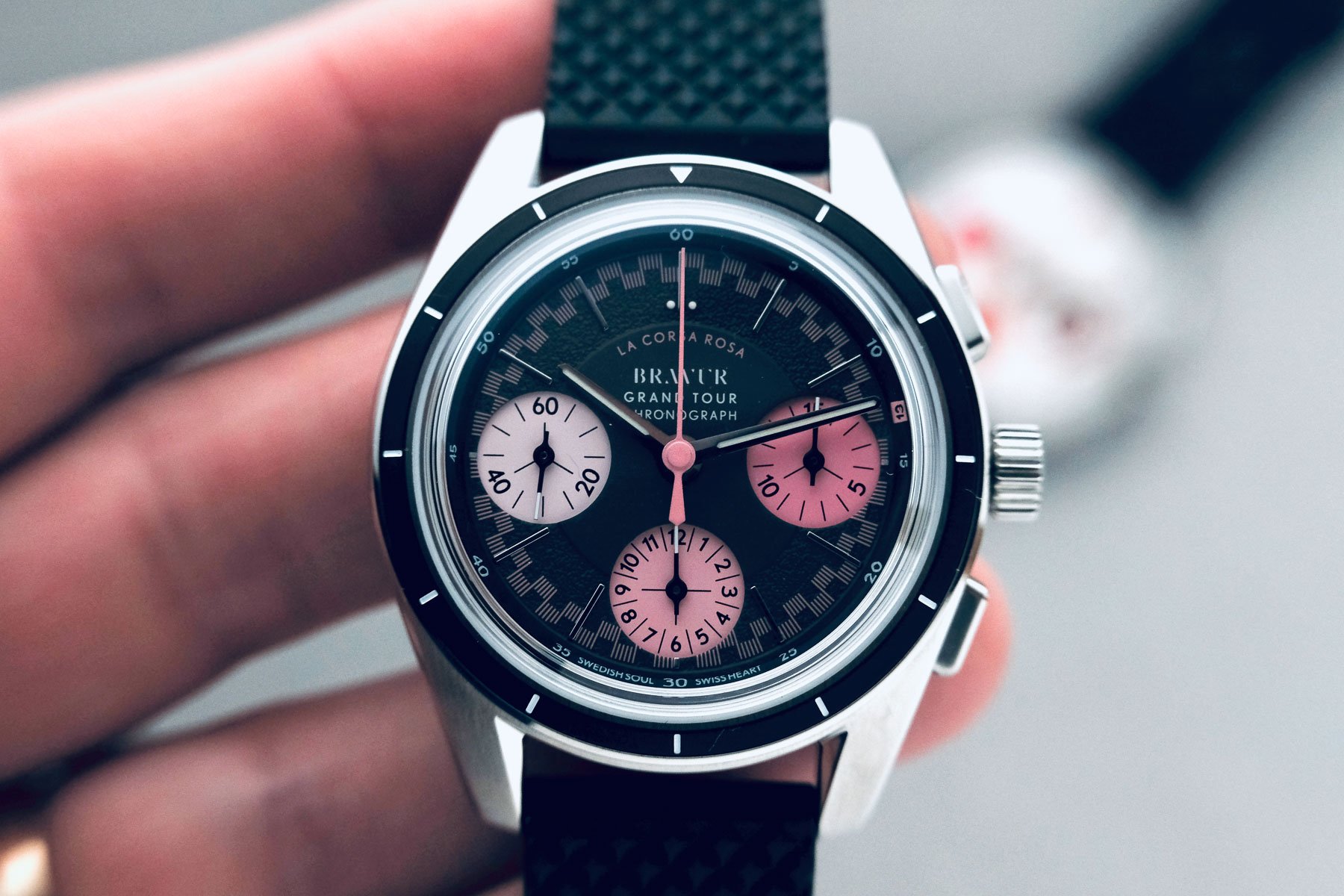 A few key visual details
Before wrapping up this review, I wanted to point out a few important aesthetic attributes that caught my attention. As you've gathered, these watches are inspired by professional cycling races, and as such, they each have a distinct look to match one of the three most prestigious events in the sport. Each comes with certain colors and dial configurations, but one common characteristic that they have is texture. Whether it's the radial graining on the sub-dials of La Grande Boucle or the sandy texture on the La Corsa Rosa, there's a lot of three-dimensionality in the Grand Tour series, which I find captivating.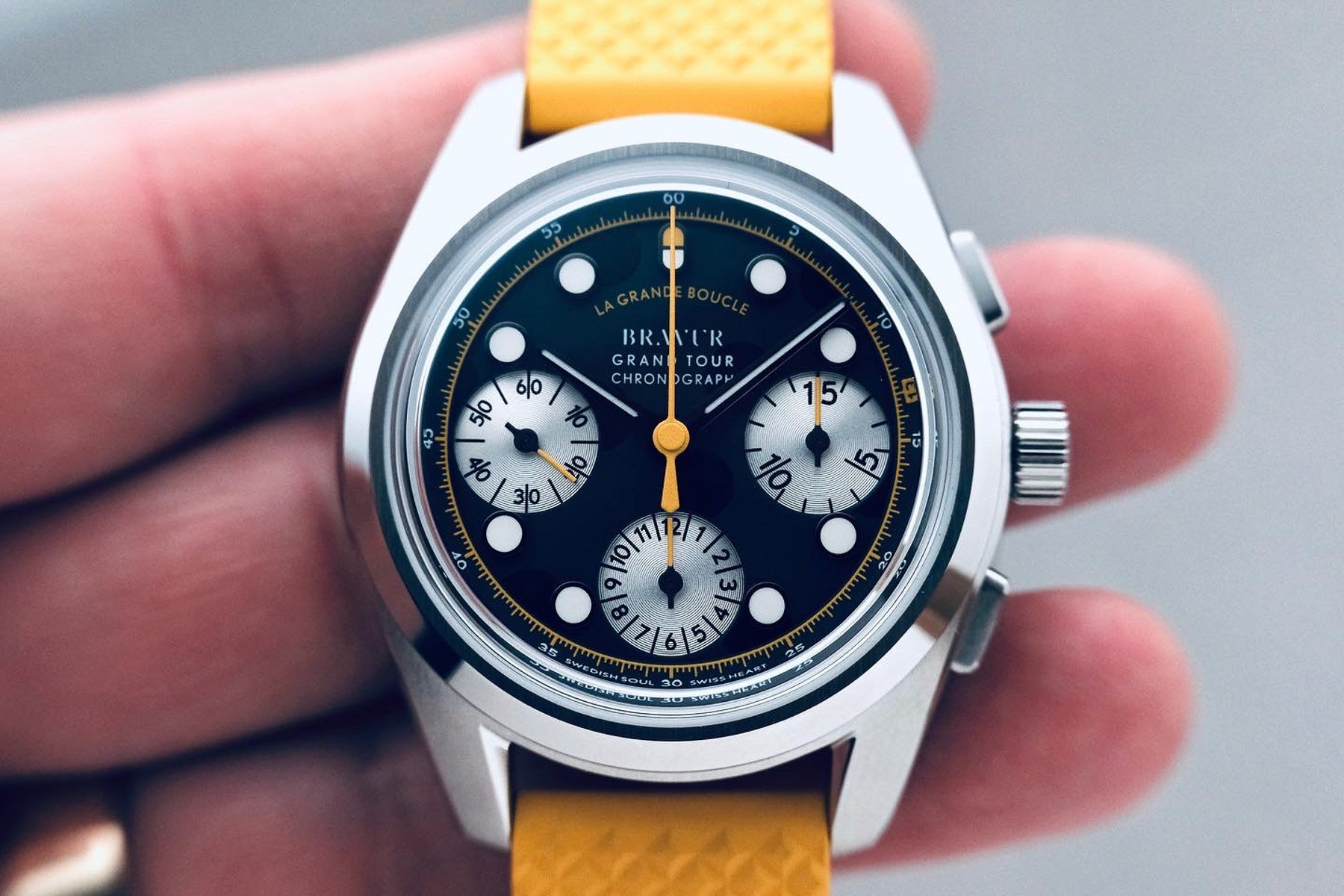 The visual effects continue on the case back. The outer portion shows the flag pattern, which can also be seen on the sapphire crystal. And more than these textures and patterns, what I find the most interesting is the case design and profile. I like the compact feel of the case as well as the presence of the massive lugs. Matched with almost-rectangular pushers with an alternating brushed/polished finish, I find the overall package dynamic and sporty. If I were to purchase a Grand Tour, I would opt for the rubber strap as it matches the purposeful allure of the watches.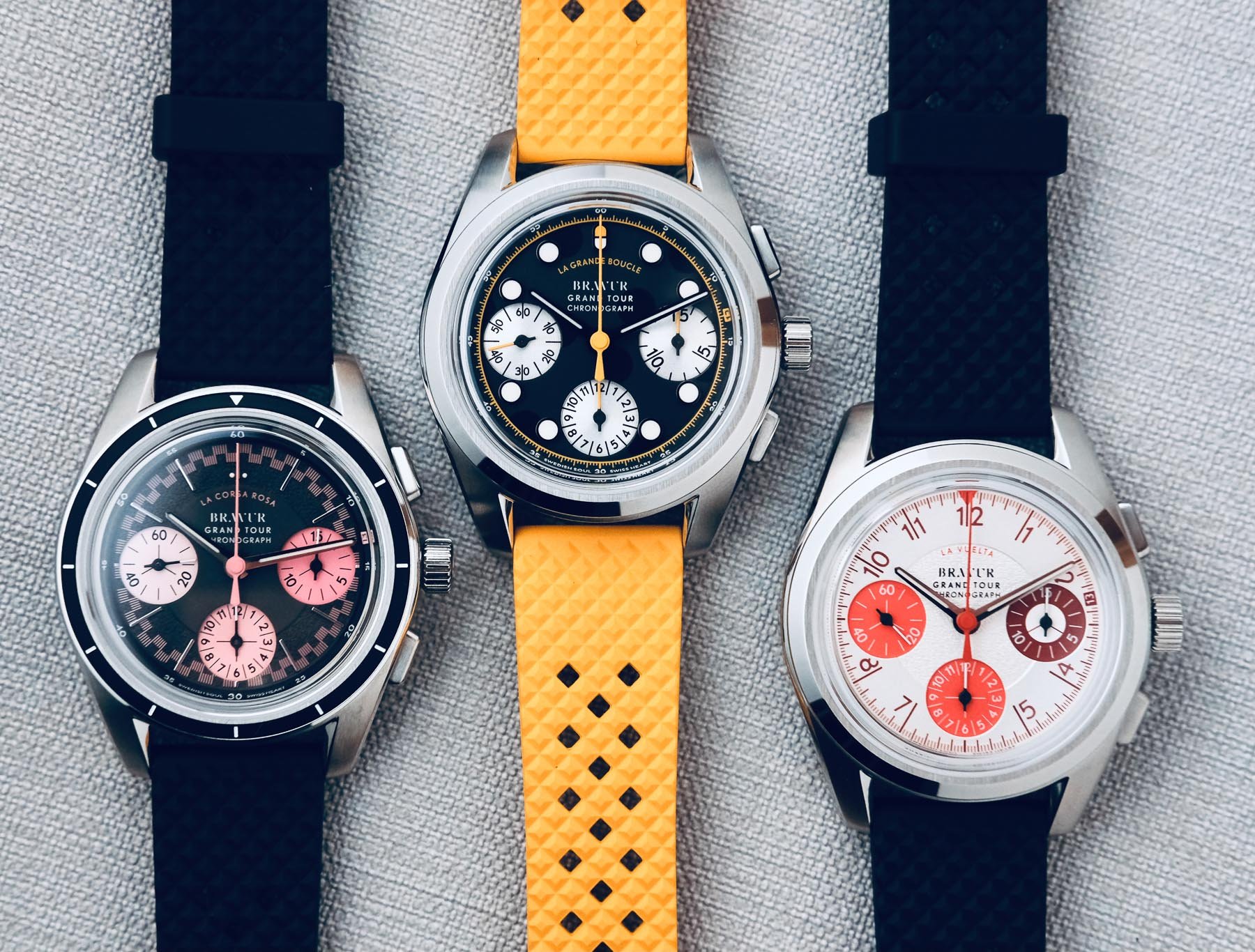 Final thoughts 
Well, I did my best to swiftly present the Bravur Grand Tour Series and its many variants and specifications. There is a lot more that I could say about these watches, and I thought the connection to racing was an important aspect to highlight. I'm not an expert in chronographs, but I do find each model particularly interesting to look at. And the inspiration behind the collection is rather unique if I'm not mistaken (but if I am, please let me know!)
Before I let you go, let's talk about prices. The Grand Tour La Grande Boucle and La Vuelta models retail for US$2,550 on a strap and US$2,600 on the bracelet. The La Corsa Rosa model comes exclusively on a strap and retails for US$2,550. Each version can be purchased directly from Bravur's official website.
Now that I've shared facts and a few thoughts about these watches, I would like to hear from you. What do you think of these watches and their design? Let me know in the comments.