Hands-On With The Golden Casio G-Shock "CasiOak" GM-B2100GD
This new gold-finished version looks tremendously good and brings some added swagger to a fan-favorite model
It's been only a few weeks since I reviewed the Casio G-Shock GM-2100C Utility Series. I was highly impressed by the presence of the brand's different "CasiOak" models in combination with the straps that they come on. The versatility in the look of the four watches was a nice surprise, and seeing and wearing the full steel-colored GM-B2100D-1AER made me want one. But we might have a new contender on the other end of the spectrum. The new full-metal G-Shock "CasiOak" GM-B2100GD in yellow gold tone is quite the statement. Over the top? Most certainly not!
I've said this many times, but I'll gladly repeat it: there's something magical about the combination of black and gold. And sure, it would be desirable to make that come alive in the form of an 18K yellow gold Rolex Day-Date with a black dial. But if your budget, like mine, doesn't stretch that far, G-Shock has the perfect option that packs plenty of style and offers that same black and gold aesthetic. And you know that a gold G-Shock comes with a lighthearted smile, but that doesn't make the new GM-B2100GD a less capable watch.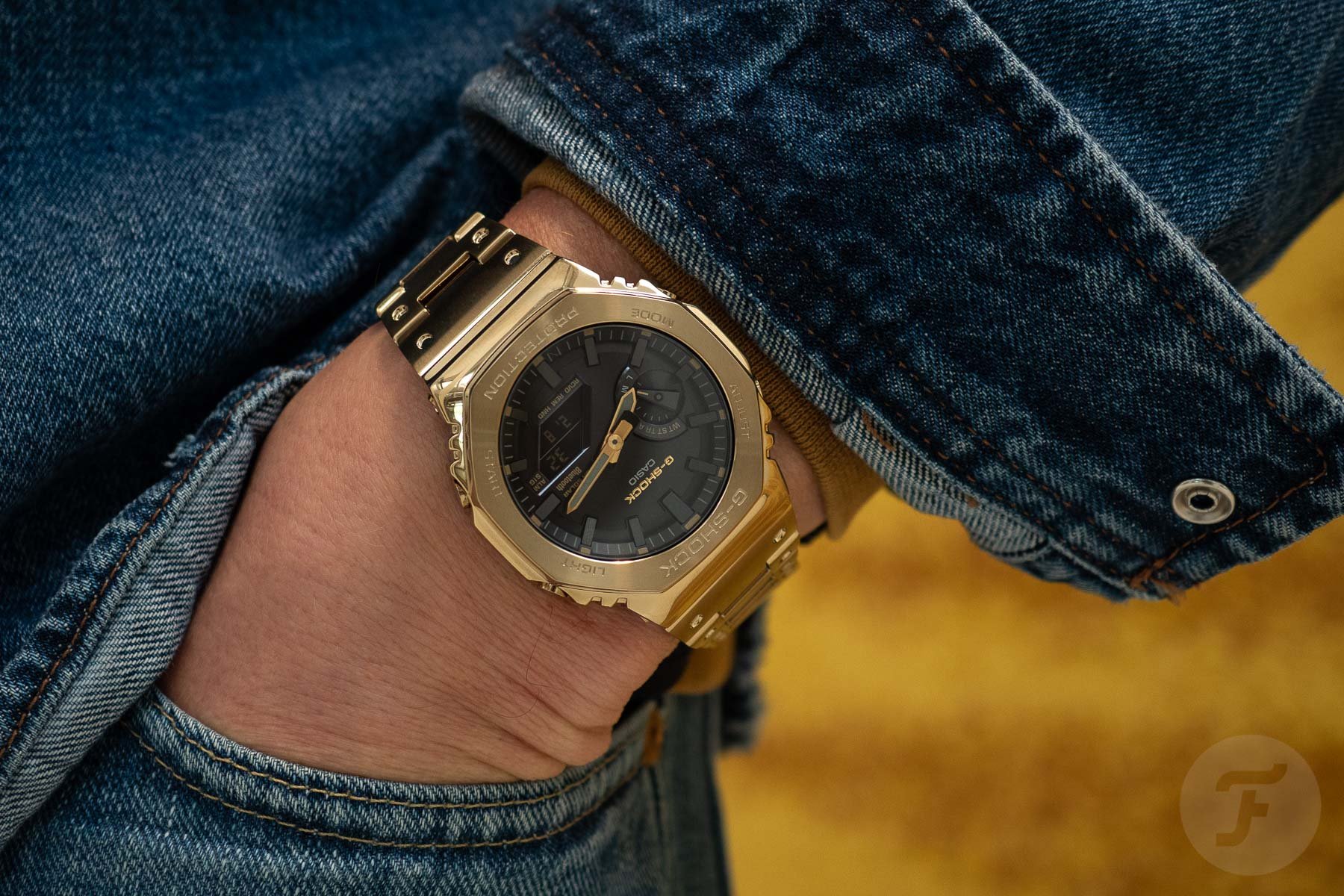 Further proof of a great concept
You might ask, "What is new about this gold version of the G-Shock 2100?" It is an addition to the already introduced versions of the GM-B2100 models that Lex wrote about in October of last year. At the introduction of the series, we saw three models. The first was a stainless steel version, the second was stainless steel with a black ion-plated (IP) finish, and the third was a version with a pink gold IP finish that introduced the first taste of gold.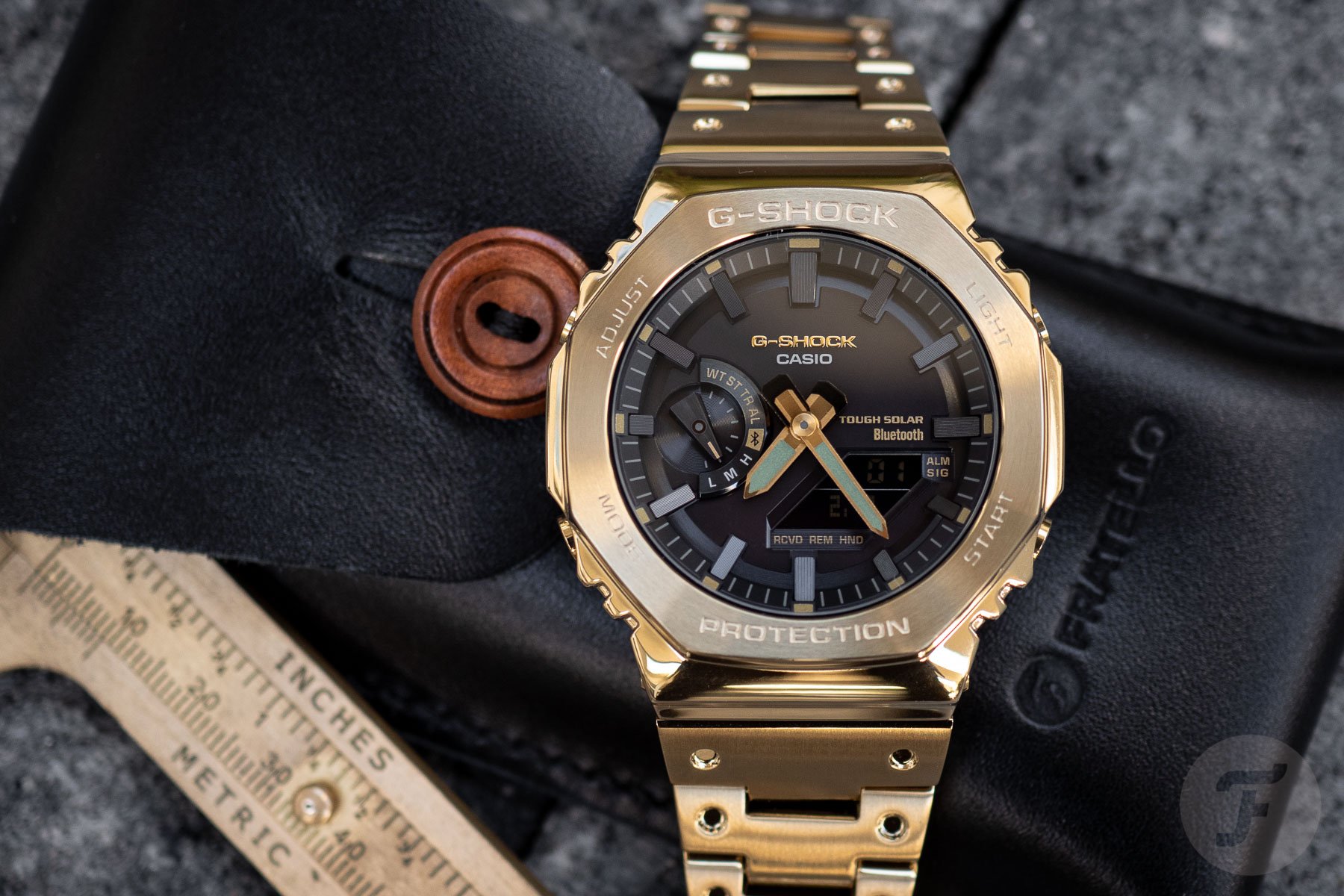 Alongside the regular stainless steel model, this new version with a yellow gold IP finish is my new favorite. Compared to the pink gold version, I think this new one is brighter and feels fresher. What I love overall about the series is that G-Shock chose to keep the dials predominantly black, essentially creating a stealthy dial that contrasts nicely with the gold details. As you can see, the watch has the brand name and hands executed in bright gold, and the ends of the hour markers and some dial text are also executed in a slightly darker gold print. Frankly, I think it looks stunning.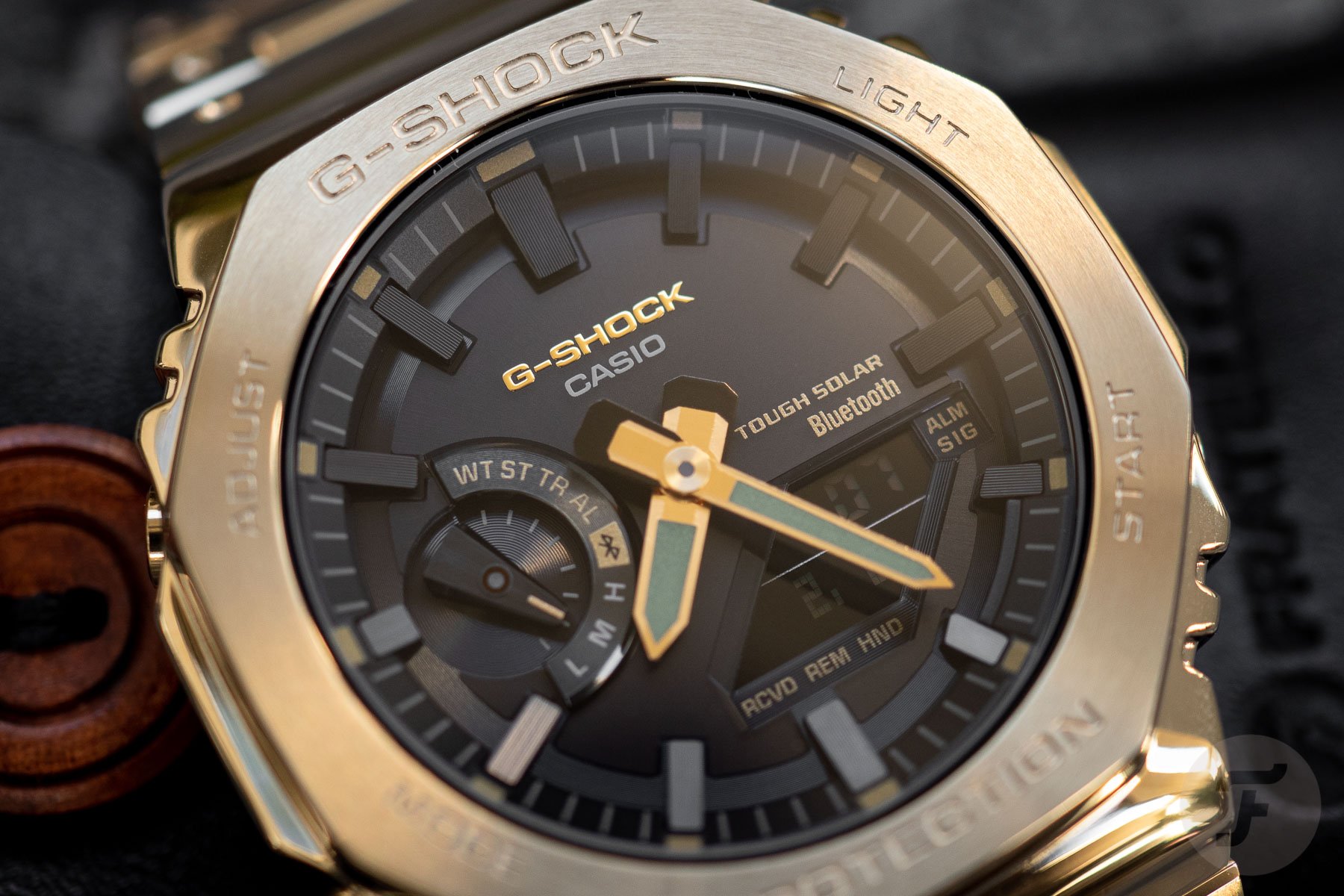 The specs of the G-Shock GM-B2100GD
Let's dive into some specs of this G-Shock GM-B2100GD for good measure. The case measures a substantial 44.4 × 49.8 × 12.8mm, and it is water resistant to 200 meters. By G-Shock standards, this is a modestly sized model. If you compare it to some of the other G-Shock lines out there, it's actually on the smaller side. But I love that G-Shock's designers perfectly understand that a bigger size doesn't have to make a watch hard to wear. I have tried multiple large G-Shock models, and they have always offered great comfort on the wrist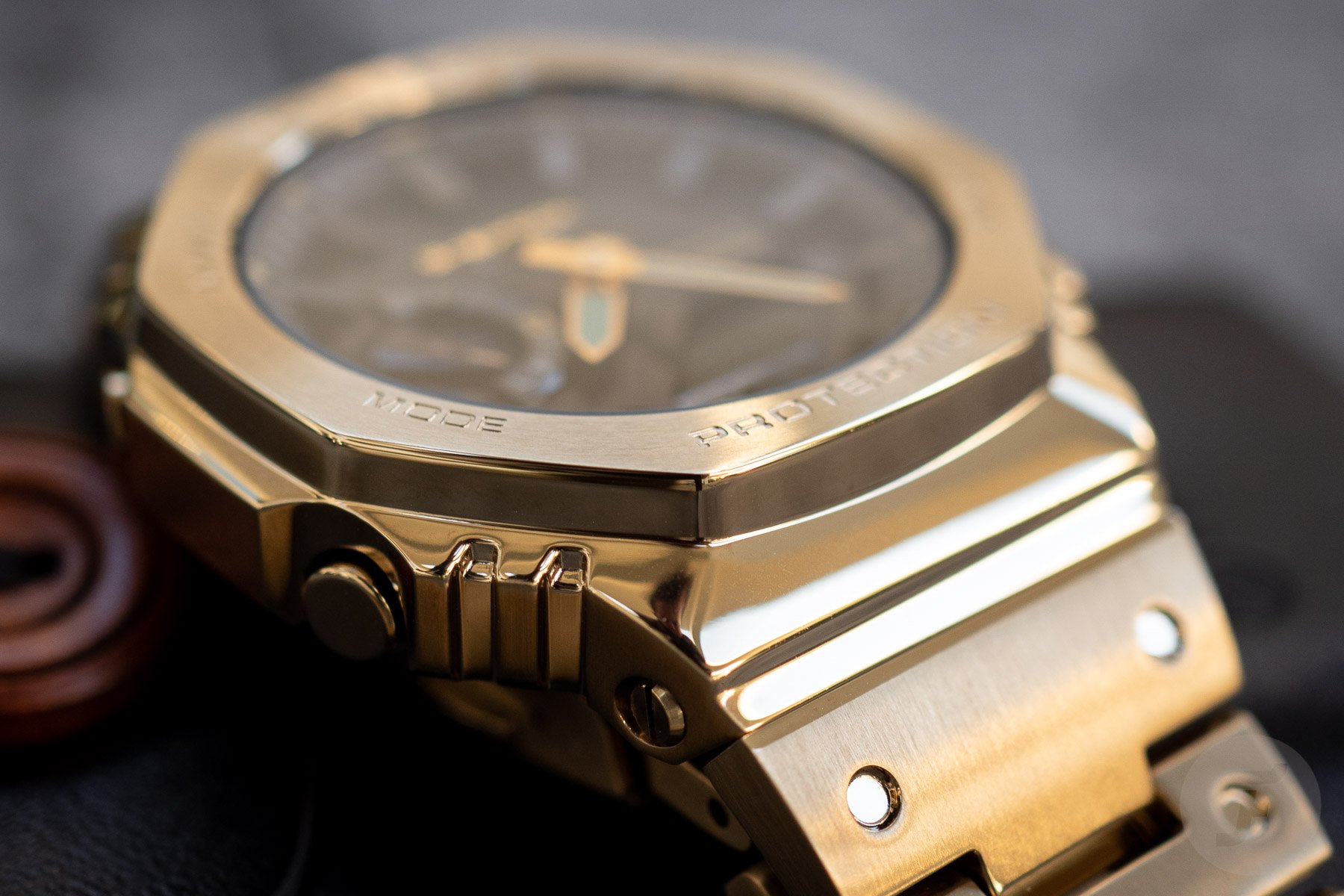 When it comes to this CasiOak, you know it wears like a charm. Its size is great, and the heft of the ion-plated stainless steel gives the watch some real substance. It weighs 165 grams, so it is significantly heavier than its resin counterparts. But I love that feeling of putting a steel G-Shock on my wrist. Not only does it feel like a proper watch, but the way it is built gives the same wearing pleasure as the resin models.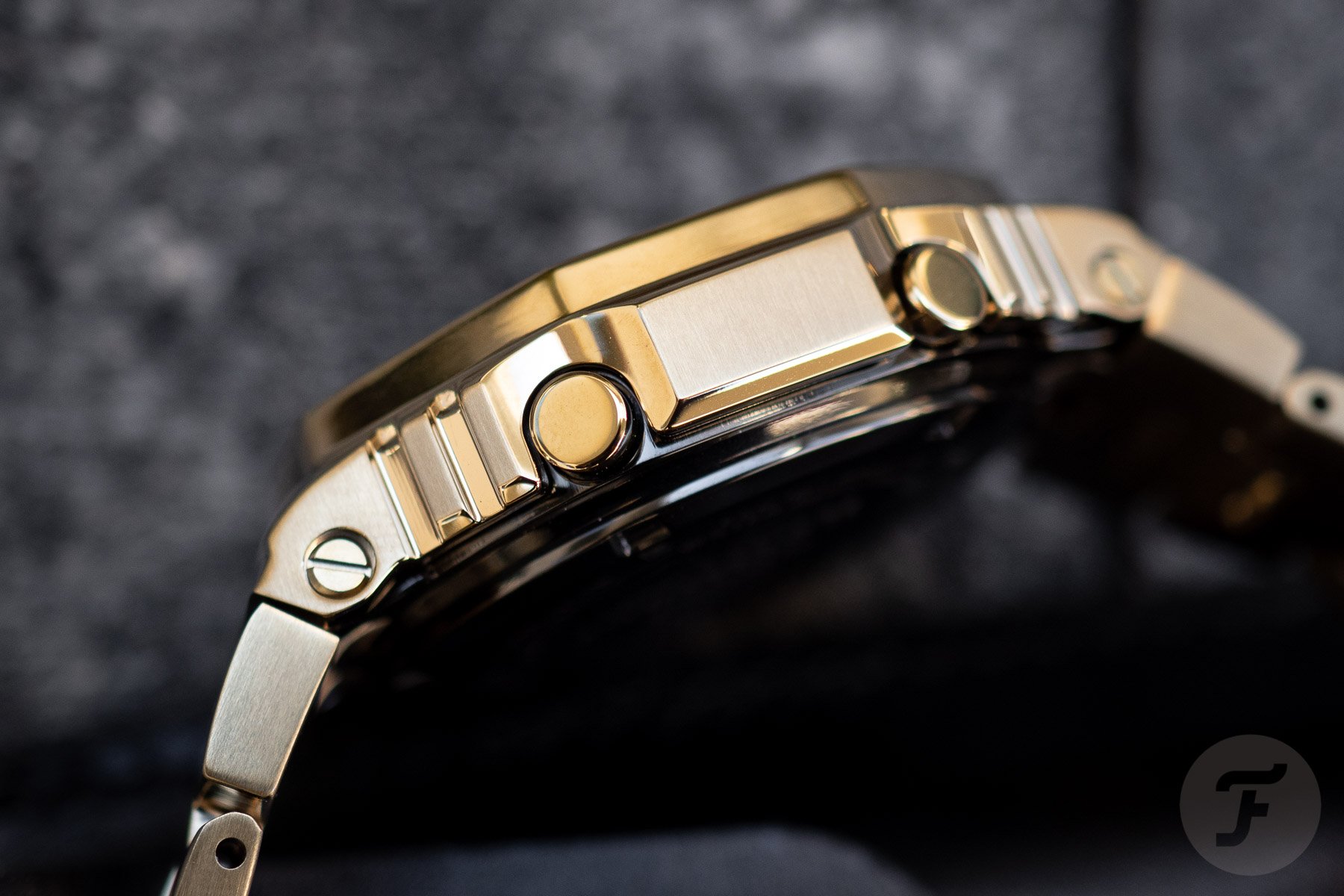 The premium finish adds to the X factor of the gold CasiOak
What really amplifies the watch's premium feel is the finishing quality. As Lex explained in his article, these models feature a three-step surface-finishing process. It consists of high polishing and both circular and vertical brushing. The result is a watch that feels very upscale in its execution. Another element that adds to that experience is that the pushers and screws also feature a gold ion-plated finish. You can't fault G-Shock for making these watches feel like something special.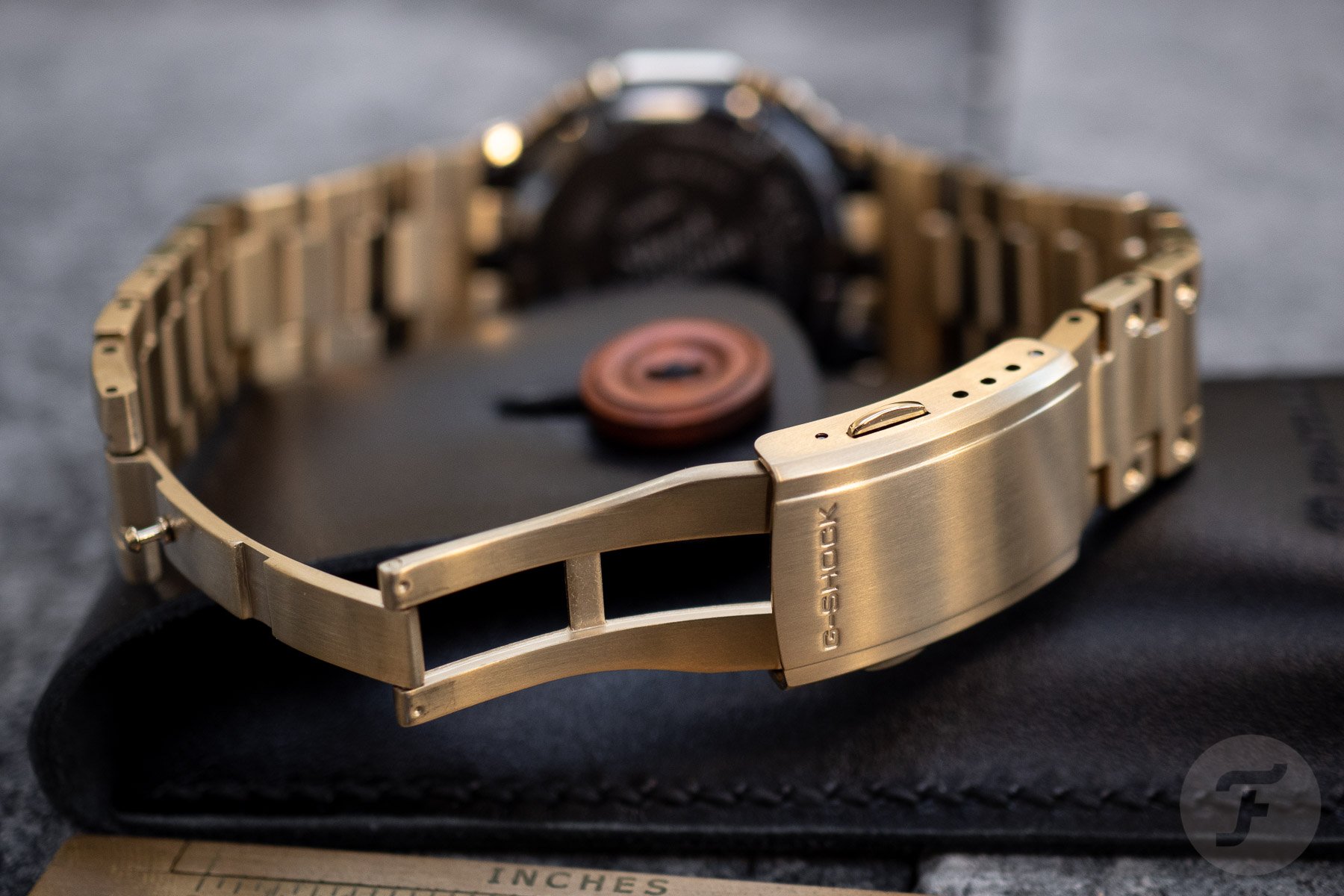 I said it in last week's review of the titanium G-Shock GMW-B5000TCC "Circuit Board," and I'll say it again: what you get for your money is simply impressive. And at different price points, G-Shock always delivers. If you have ever worn a stainless steel or titanium G-Shock, you know the best proof of that is the bracelet. The bracelet of this gold G-Shock GM-B2100GD is simply a joy to wear. It is in line with the bracelets of the stainless steel G-Shock Squares and the aforementioned other three models in this series. The combination of flexibility for great comfort with the sturdy build quality for longevity is perfectly balanced. The watch simply oozes quality in all its details.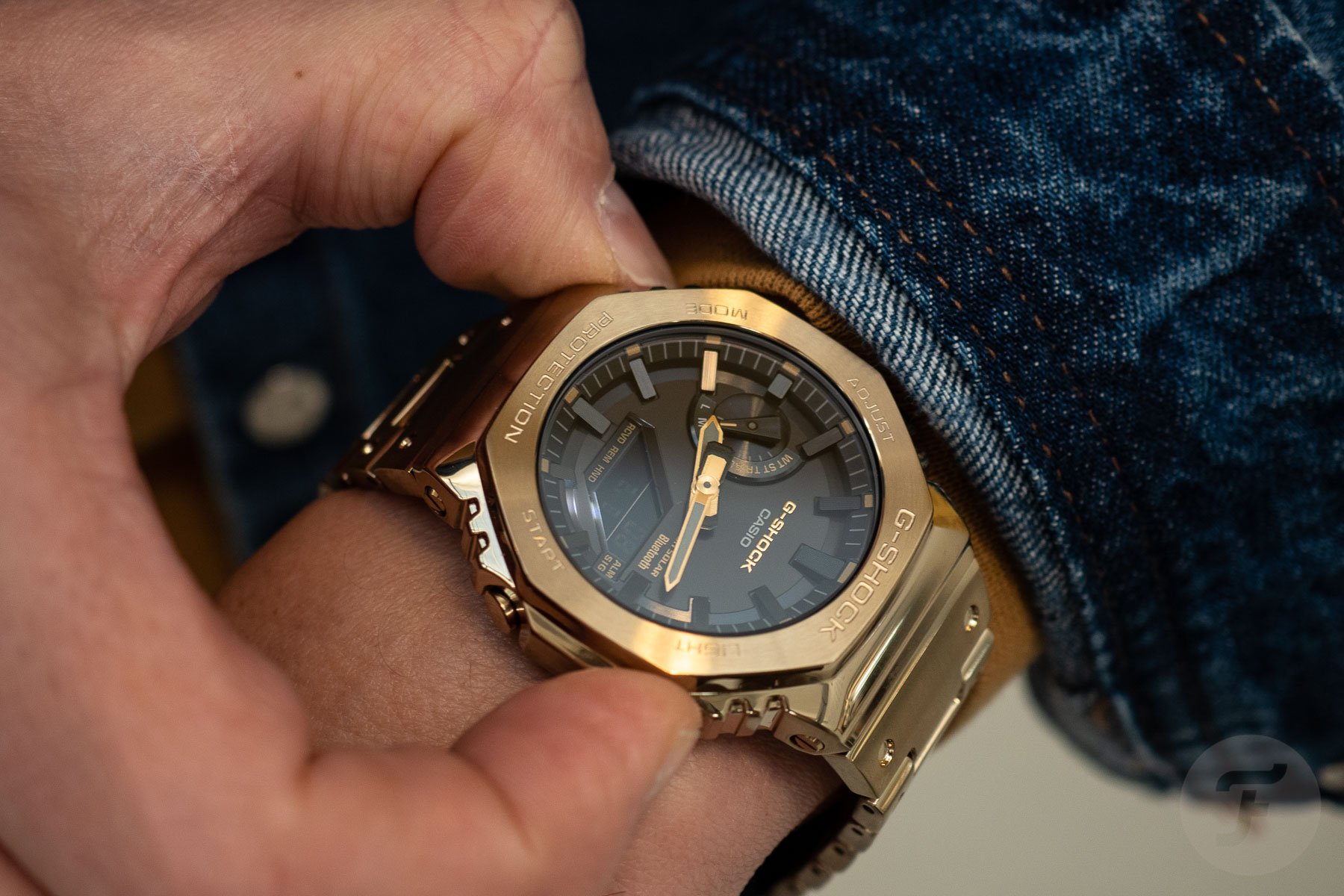 The functions of the G-Shock GM-B2100GD
The functions of this G-Shock GM-B2100GD are obviously in line with the other models in the GM-B2100 lineup. It is powered by Casio's 5691 Tough Solar module with Bluetooth connectivity. It allows you to easily set up the watch with the help of G-Shock's Connected app. On top of that, it ensures that the watch is accurate and running on time. The combination of analog and digital displays offers a wide array of functions, as with all G-Shocks.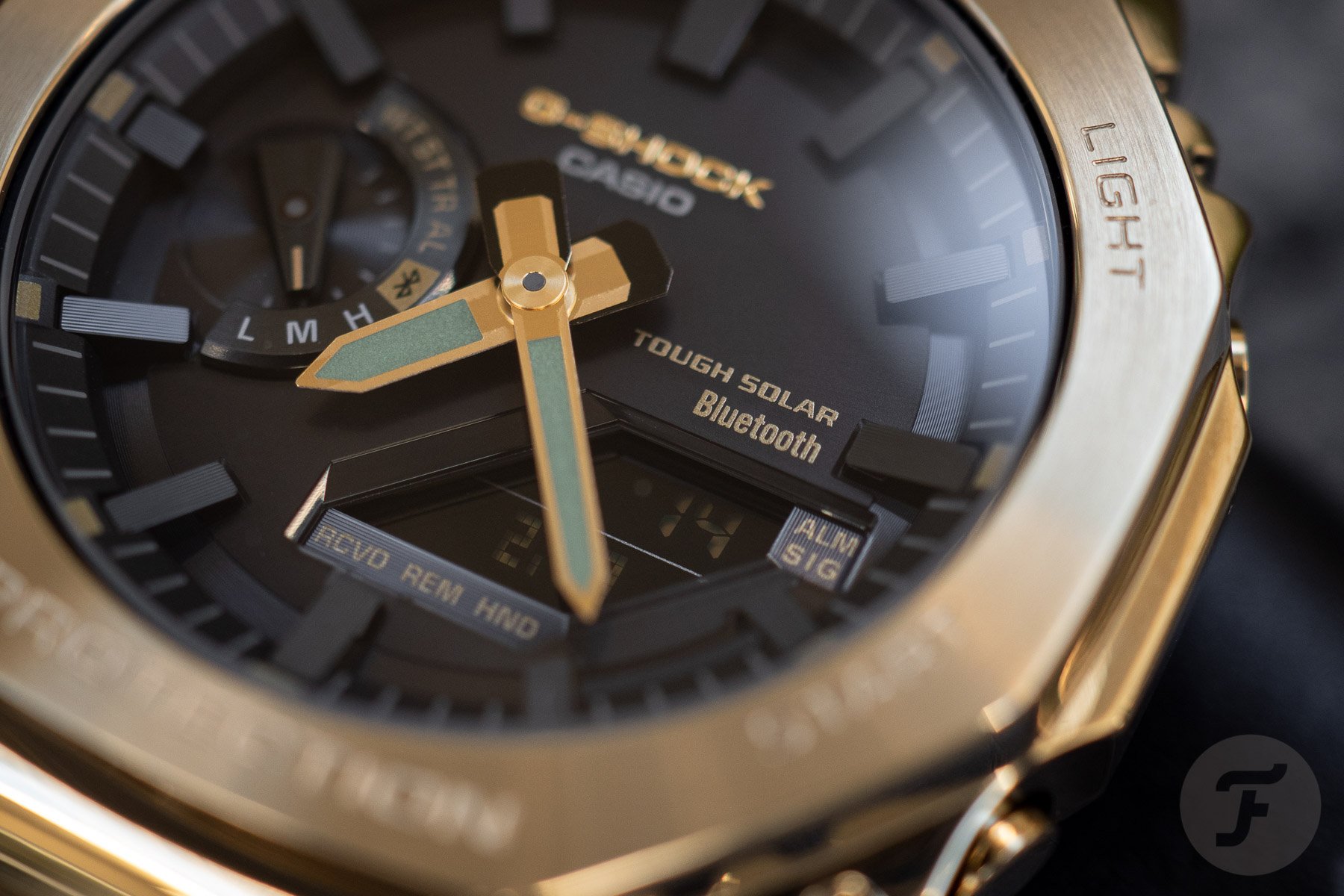 These include a world timer that is capable of showing the time in 38 different time zones, a stopwatch, five daily alarms, a countdown timer, and a full calendar. And if you are having trouble reading any of the displayed functions, the Super Illuminator will light up the dial by switching on the double-LED lights. A nice detail is that it can have an afterglow of either one and a half seconds or three seconds. Lastly, if the watch is fully charged, it will run for roughly seven months without a charge while using all of its functions. If you switch on the power-saving mode, that life will increase to an impressive 18 months.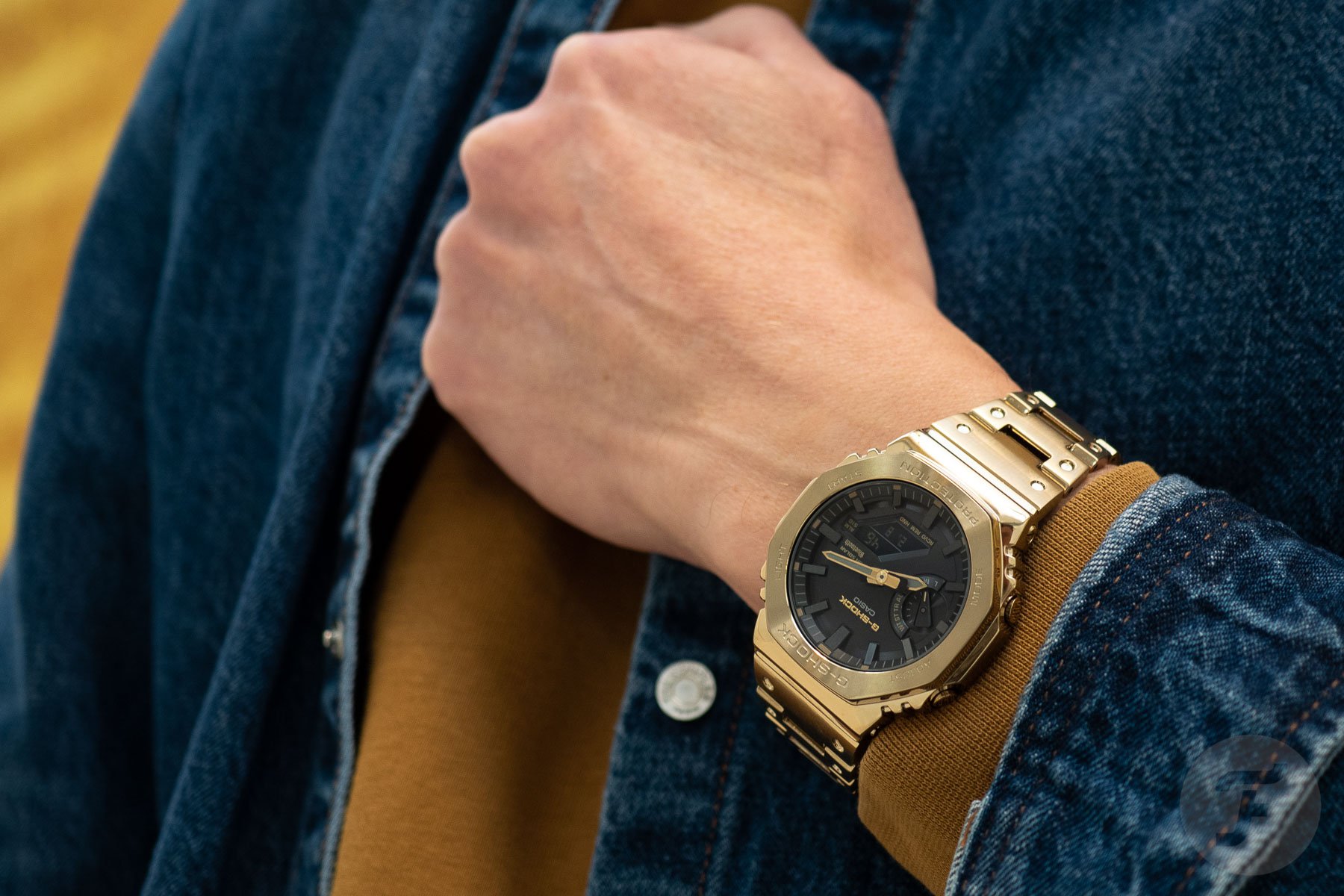 Wearing the G-Shock GM-B2100GD
As you will understand by now, I had a ton of fun with the new G-Shock GM-B2100GD. I am not afraid to wear a colorful watch, especially not if it's a G-Shock. The best example of that was the G-Shock MT-G MTG-B2000PH2A "Blue Phoenix" that I adored. But G-Shock has presented us with many more great colorful pieces since that release, and I have thoroughly enjoyed most of them upon getting the chance to check them out up close. The same was true with the new GM-B2100GD.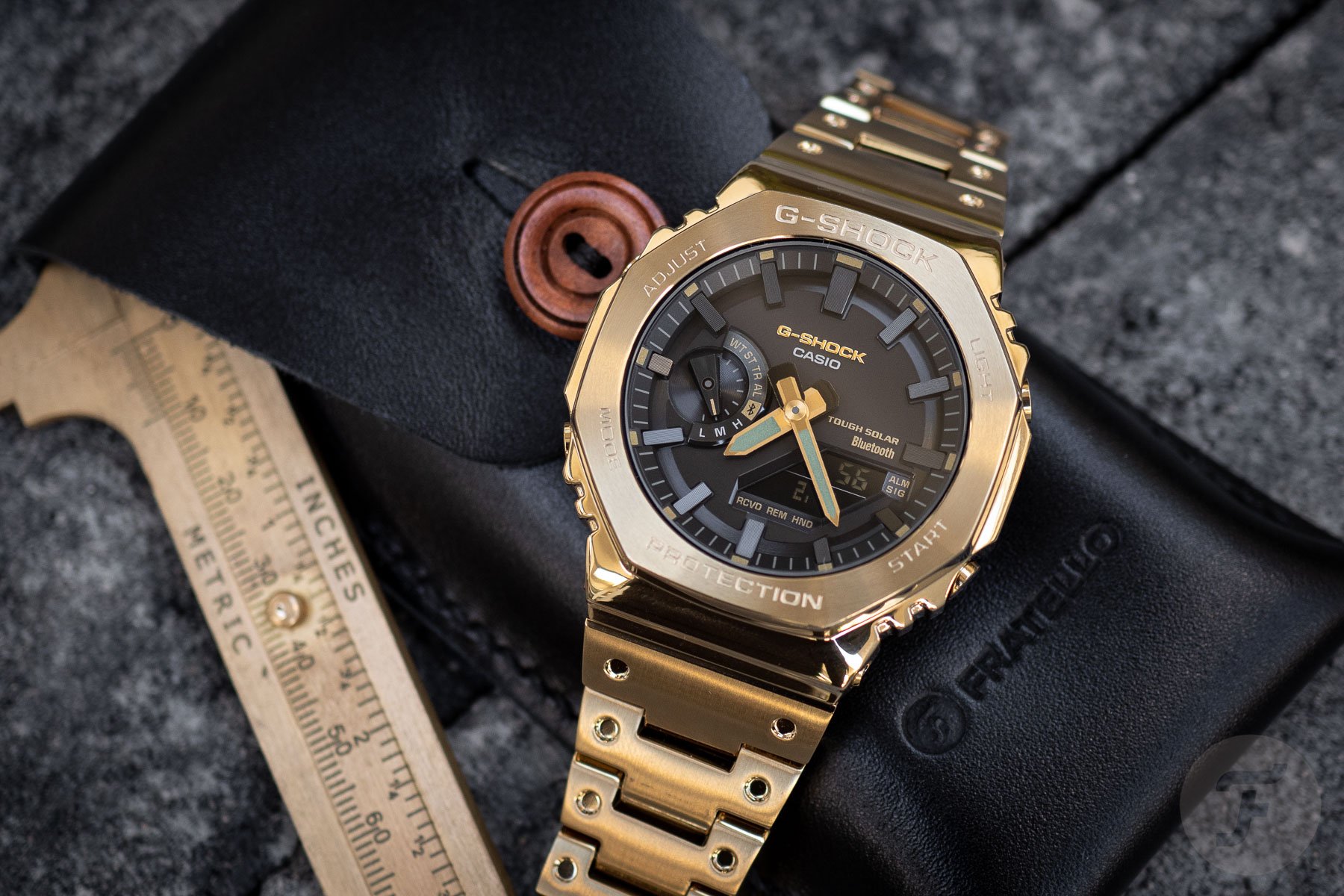 This time, however, I was maybe even more impressed because this gold CasiOak combines an overall feeling of fun with such a serious look that I really wanted one. At €599, it offers tremendous value, and it looks simply brilliant. This is the kind of statement that I love from G-Shock. In all fairness, my list of G-Shock wants is pretty long by now, and that is the best compliment that I can give. If quite a few of a brand's releases end up on my wishlist, the people behind them must be doing something very well. But this yellow gold G-Shock GM-B2100GD immediately found a spot at the top of the G-Shocks I want. I love this new G-Shock GM-B2100GD, and I think it's a brilliant addition to the brand's lineup.
For more information on the Casio G-Shock GM-B2100GD, visit the official G-Shock website.