Hands-On With The Maen Brooklyn 36 — An Unusual Panda With A Champagne Twist
Refreshingly free of stopwatch pretense despite vintage racing vibes
That subtitle was meant for me, as I have a confession to make: I don't need a chronograph. That doesn't stop me from having at least five watches in the genre, but do I use the top-right pusher to time anything? Never. Boo, tsk tsk, shame on me. And yes, I understand your anger. Perhaps my fault lies in being too honest. But have a long, hard think about it. When was the last time you actually timed something remotely sporty with your mechanical chronograph?
I thought so, so why not admit to being a bit shallow like me? I love the dial designs of great chronographs, especially with two horizontally opposed sub-dials, preferably named after a particular two-tone Chinese bear. But trust me, you don't have to pretend anymore since small brands have discovered the joys of the Miyota 9122 calendar movement. This is the same that powers my Kurono Calendrier. That was one of my best purchases of last year and my first Asaoka creation. Unlike some other fans, I was relieved to find no pushers framing the crown and no locked-at-12 chrono pointer. Maen, a known quantity on the indie scene, has used the same caliber in its new Brooklyn 36 Triple Calendar, and I have one of the first prototypes on my wrist.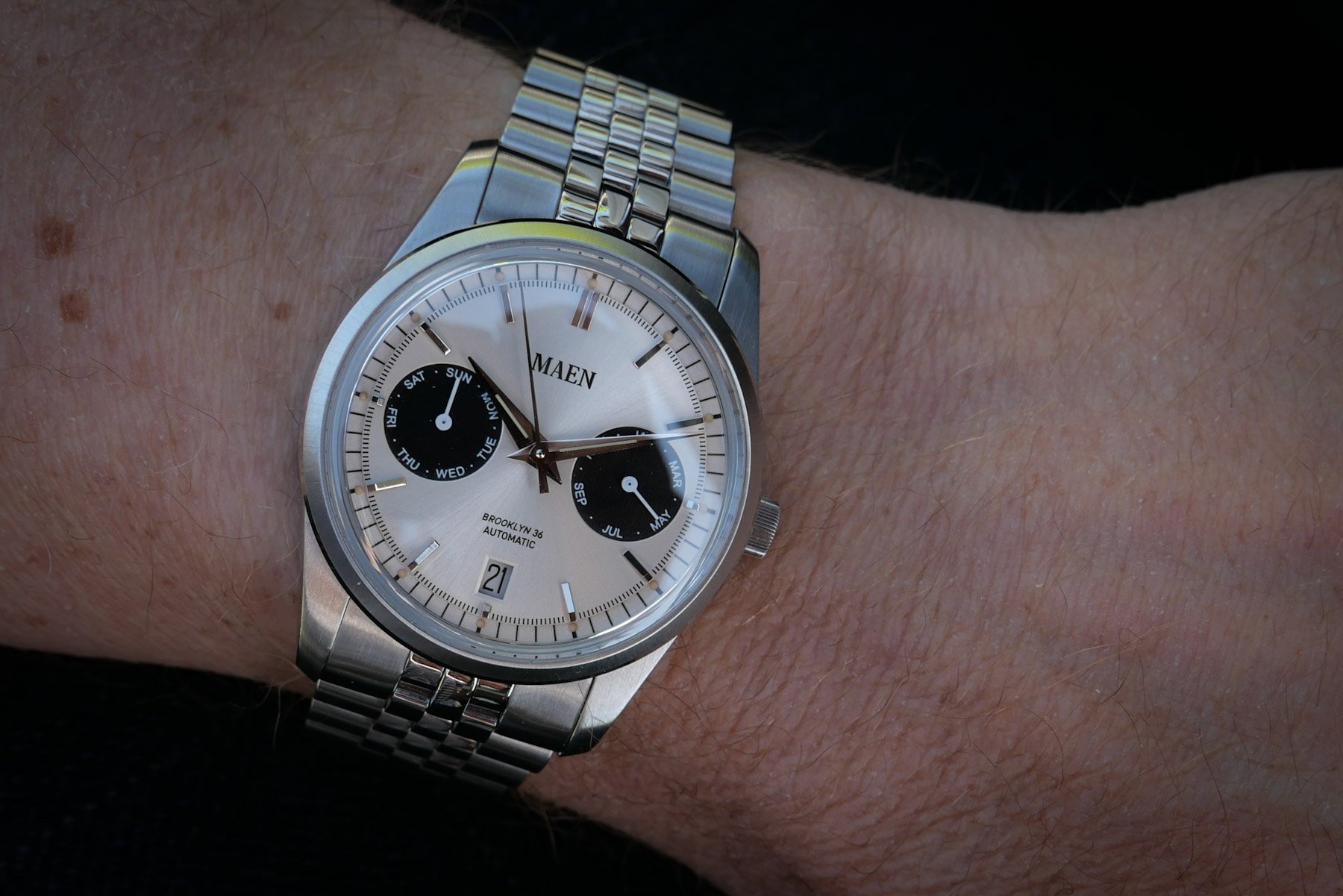 First impressions and a spoiler alert that's too late
It's a prototype, but you might have seen it before. Yes, Vincent Deschamps wore one of these Maen prototypes for his "Top 5 Microbrand Watches Under €1,000 In 2023" story. But it's all good. Check that out for a look at the black version. Me, I'm wearing the charming "champagne panda" (band name, anyone?). What first struck me was the sweet-fitting nature of the 36mm case. I do enjoy the smoothness of my Kurono Tokyo Calendrier, and Maen has managed the sorcery of fitting this quite complex automatic into a smaller case. The flanks are nicely rounded off with a decent polish, while the case top has a smooth brushing to the steel. Maen is also one of the brands that have understood that we want to see lug-to-lug dimensions listed (bravo). And the Brooklyn 36's 46mm stretch is just right. In proportion to the case and bezel, the lugs are dive-watch strong with a Tudor-esque sweep.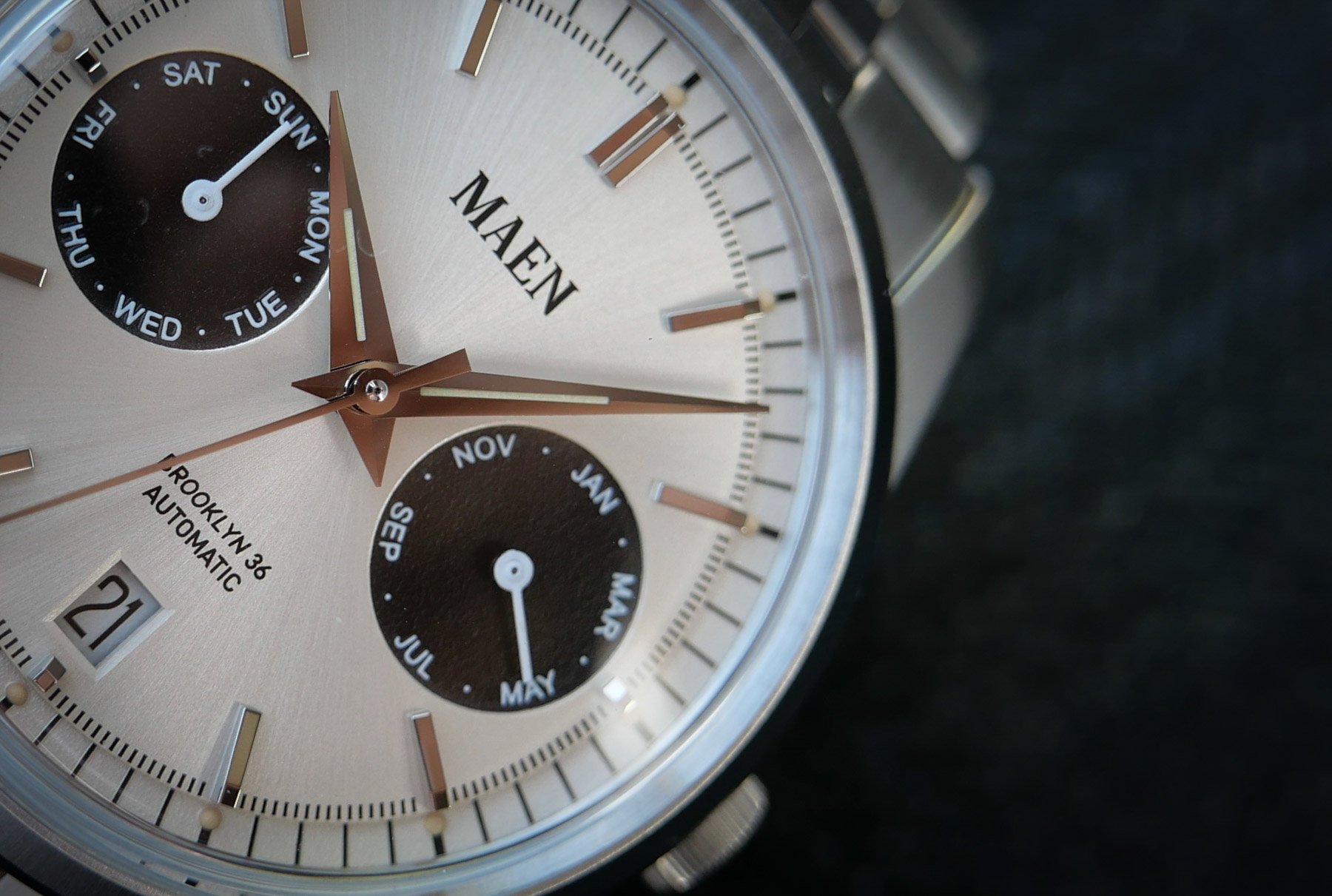 Budget-beating dial details
Without getting into the details of the Jubilee-style bracelet, I got lucky this time, with a prototype fitting me right out of the box. The first impression of a rather good everyday watch for the money sticks. The dial has my respect, inspired by mid-century pie-pan dial designs. The Maen team has put proper thought into it, starting with a stepped-down minute track on the rehaut. This adds finesse to the layered dial and is textured like the sub-dials. Subtle '60s details abound, like chisel-edged indices and tiny lume pips on the minute track. The beige lume is echoed in inlays on the dauphine hands, and while it doesn't provide a nightly light show, this ain't no diver. In fact, the feeling is sports-dressy, like the 1960s 35mm Heuer Carrera. With no way of timing a sprint or lap, you might find this a sacrilegious simile, but the vibe is undeniable.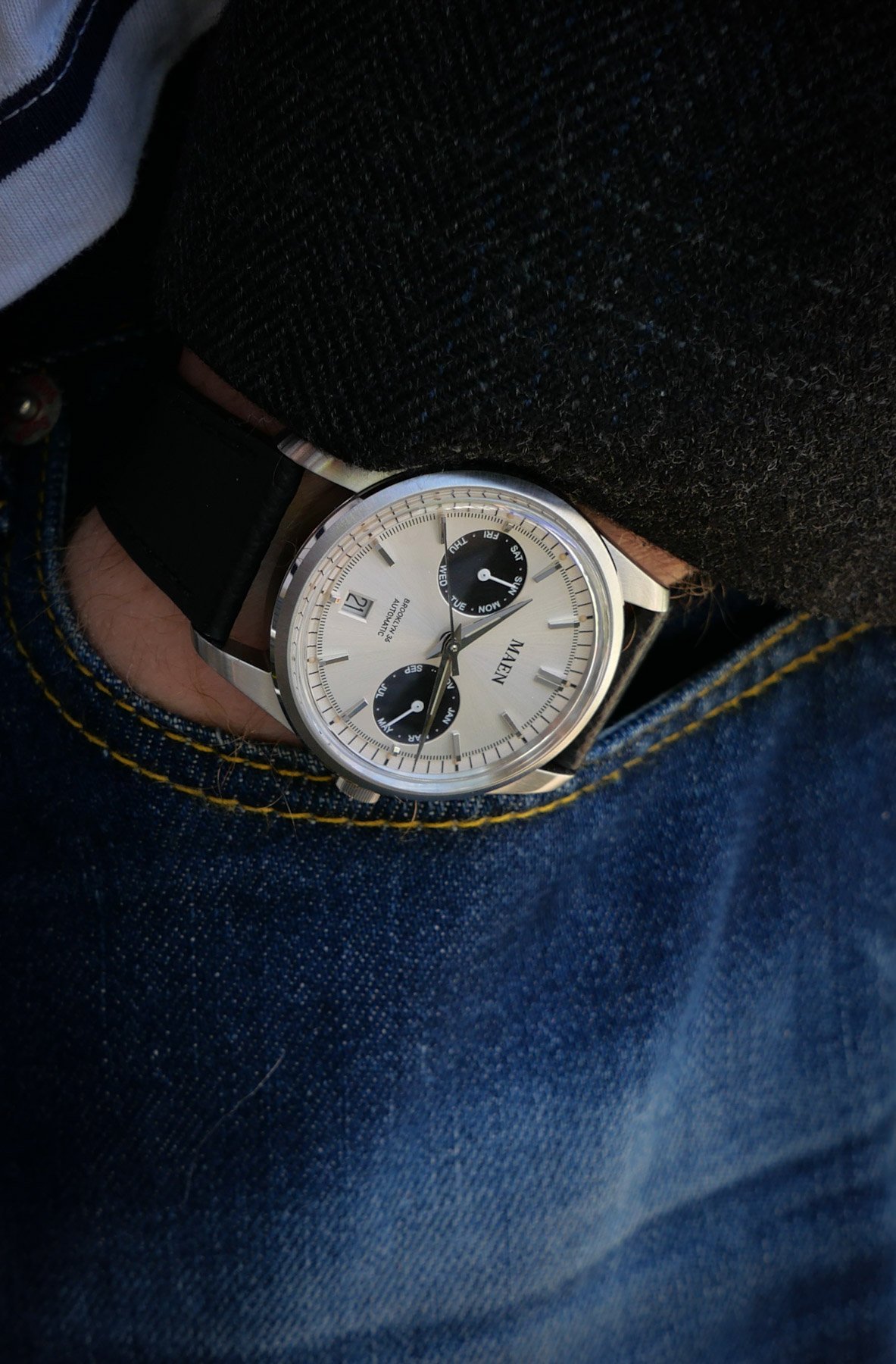 I'll get into the well-made bracelet shortly, but first, let me finish the dial praise. And it does deserve it for the price of €679.20. The sunray brushing is a quiet affair but lends a noticeable sheen to the warm champagne tone. True to its '60s-inspired design roots, it has a date at 6 o'clock, while the day and month sub-dials have clean white print on a grainy charcoal surface. This is actually a necessity for old people like me; swapping to a 42mm diver will feel like wearing a fully-lit hotel sign. But I'm not complaining. It's all about that quiet vintage charm, and don't tell me the tachymeter on a vintage Heuer is readable (hang on, where are my glasses?).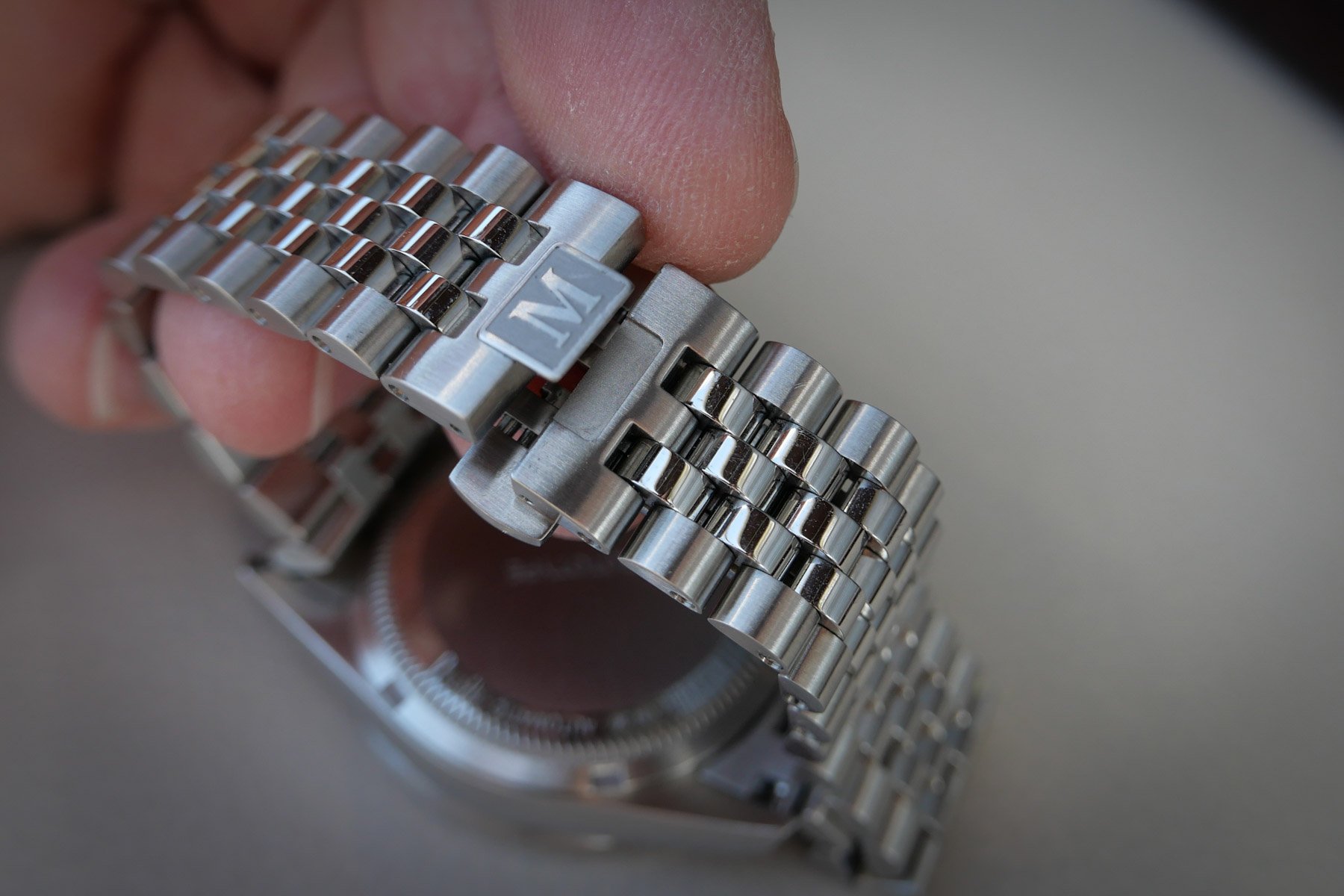 A strong bracelet design and one small quibble
The Maen Brooklyn 36 comes on a Jubilee-style bracelet with solid steel links. This drapes nicely except for a few sharp edges. As this is a prototype, that should get ironed out, and the butterfly clasp snaps shut with an assuring and definite solidity. The nice taper from 20mm to a slim 16mm also gets a good rating. Screw-in links mean it's a cinch to adjust, and it feels solid.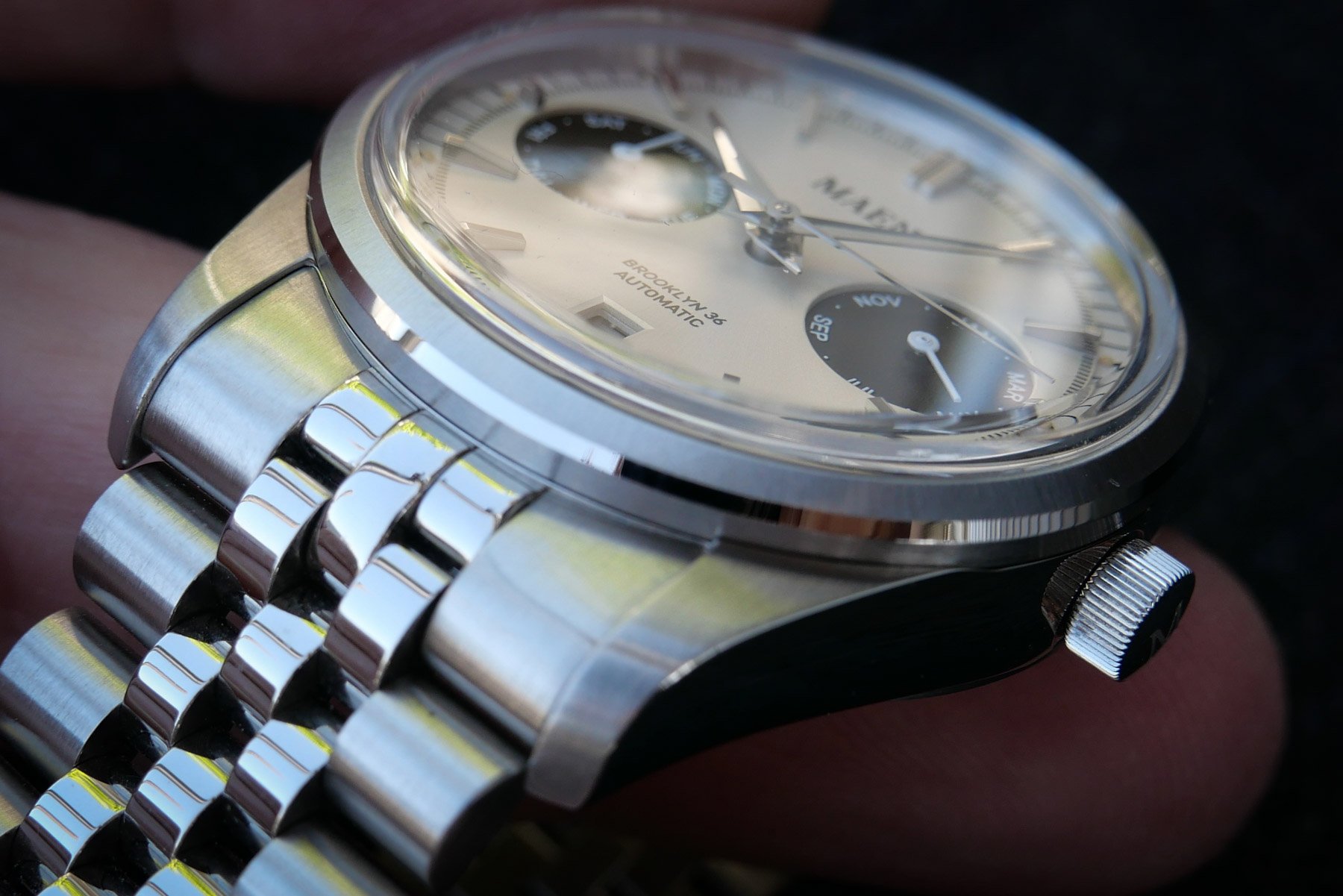 I love the radial brushing on the top of the bezel, accentuated with a slim beveled edge. The bezel also sits slightly wider than the round flanks, which are delicately recessed. The only drawback for me, having big hands, is the Brooklyn 36's small crown. For my fingers, the crown doesn't protrude far enough, and manual winding was a rough, less-than-pleasant affair. But other than that, I have no quibbles, and the li'l crown was outweighed by oodles of personality.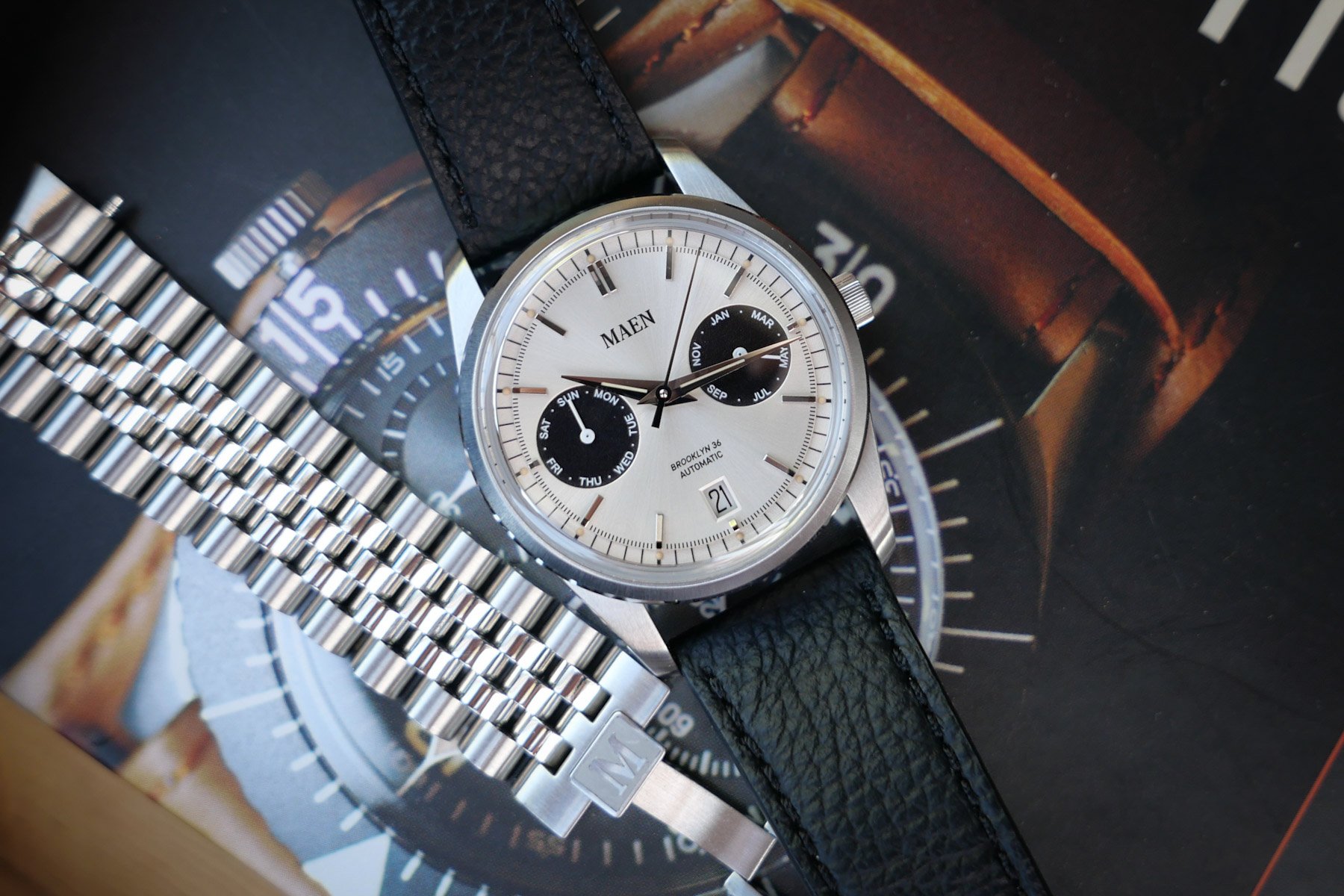 A strapping conclusion
For the final twist in the tale, I tried it on a textured black leather strap, and it looked fantastic. The strap emphasized the dressier nature of the Brooklyn 36, allowing the champagne dial to shine. The contrast of darker dials with the bracelet works a treat (check Vincent's shots). But the soft black strap aced it. Maen offers an optional tropic or NATO strap for this, which are slightly odd choices. With its 50m depth rating, the Brooklyn 36 ain't no diver, even if it looks cool on rubber. So Maen, try this panda on leather, and you might agree that it looks rather suave. The Miyota 9122 is a good choice. Having owned one since last year, I can say it's ETA-close for accuracy. The box-type sapphire tops out a solid spec for what is a pretty unusual 36mm watch, and Maen has done a good job here. The Brooklyn 36 is a great fit if you enjoy smaller watches, and there are five other color choices if you don't fancy a sip of champagne. A final note here: Maen has confirmed that the crown will be altered for a more tapered version for production, great news guys.
Here's hoping I haven't offended any Fratelli with my honesty about chronographs. I'm wearing one as I'm writing this and love it, but I can't remember the last time I timed something. Feel free to tell me off; I probably deserve it. Please add your comments below, preferably on my hands-on with the Maen Brooklyn 36.
Find me and follow me: @thorsvaboe
Watch specifications
Dial
Sunburst champagne with gray sub-dials
Case Material
Stainless steel (316L)
Case Dimensions
36mm (diameter) × 46mm (lug-to-lug) × 12.6mm (thickness including crystal)
Crystal
Box sapphire crystal
Case Back
Solid screw-down case back
Movement
Miyota 9122 — automatic triple calendar, 28,800vph frequency, 40-hour power reserve, 26 jewels
Strap
Stainless steel solid-link Jubilee-style bracelet with butterfly clasp
Functions
Time (hours, minutes, central seconds), triple calendar (day, date, and month)