Hands-On With The Maen Greenwich 38 GMT Watch
A smart and classy GMT sports watch
I love microbrands. It's one of those areas of our beloved industry that you probably love or hate. For me, I love it. While it takes a lot of effort to sift through all the dross and rubbish to unearth real gems, the effort is worth it. Today I am writing about one such gem from the microbrand Maen. More specifically, the Maen Greenwich 38 GMT.
You may recall I briefly covered this watch in a previous Independent Insights article. I made it the lead story of the roundup because I loved the look of it so much. I reached out to brand owner Sebastiaan Cortjaens and asked if I might borrow the prototype to get a hands-on feel for the watch. Luckily for me, Sebastiaan kindly agreed and shipped out my favorite model (with the orange-tipped GMT hand) for me to wear and get a feel for. So, how did I get on?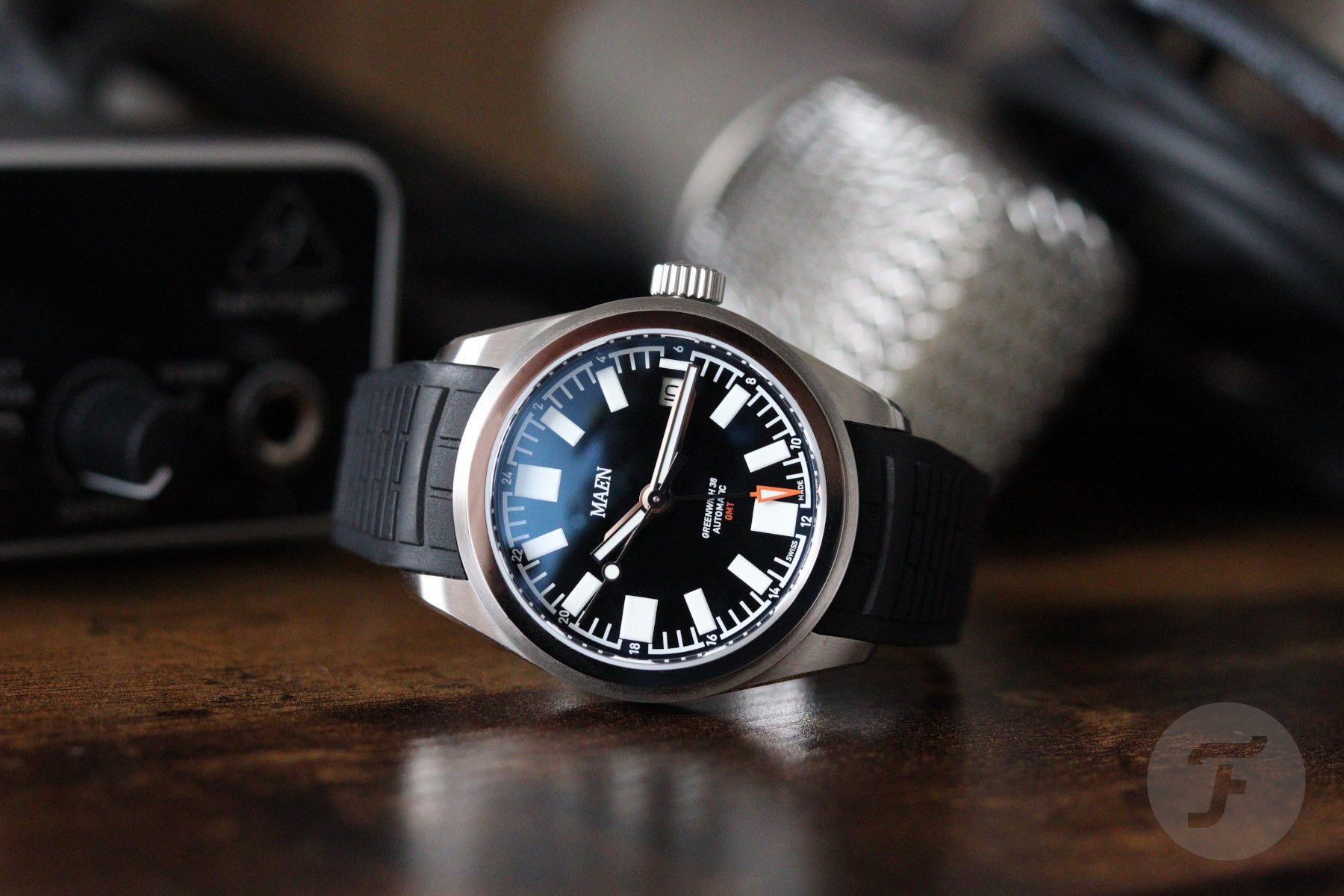 First things first…
I'm quite happy to let the cat outta the bag here and say that I really enjoyed this watch. All the design elements came together very nicely to create a watch that lived up to my expectations, and then some. It's nice being able to write that as there have been some other watches I've been excited to see in hand, only to be let down by them when I get a chance to handle them. Thankfully this was not the case with the Maen Greenwich 38 GMT.
The case size is a weird one. There's no 100% hard and fast rule regarding what works for me and what doesn't. Sure, I have my preference, but there's nothing like getting a watch on your wrist to know for sure. That's where I was with the Greenwich 38 GMT. Until this point, I'd never actually experienced a 38mm watch before, so I couldn't say for sure how it was going to wear. I have a 36mm piece in my collection, which is fun, but sometimes it feels a little too small. So, logically, I wondered where the 38mm might sit. Well, it turned out to be something of a revelation!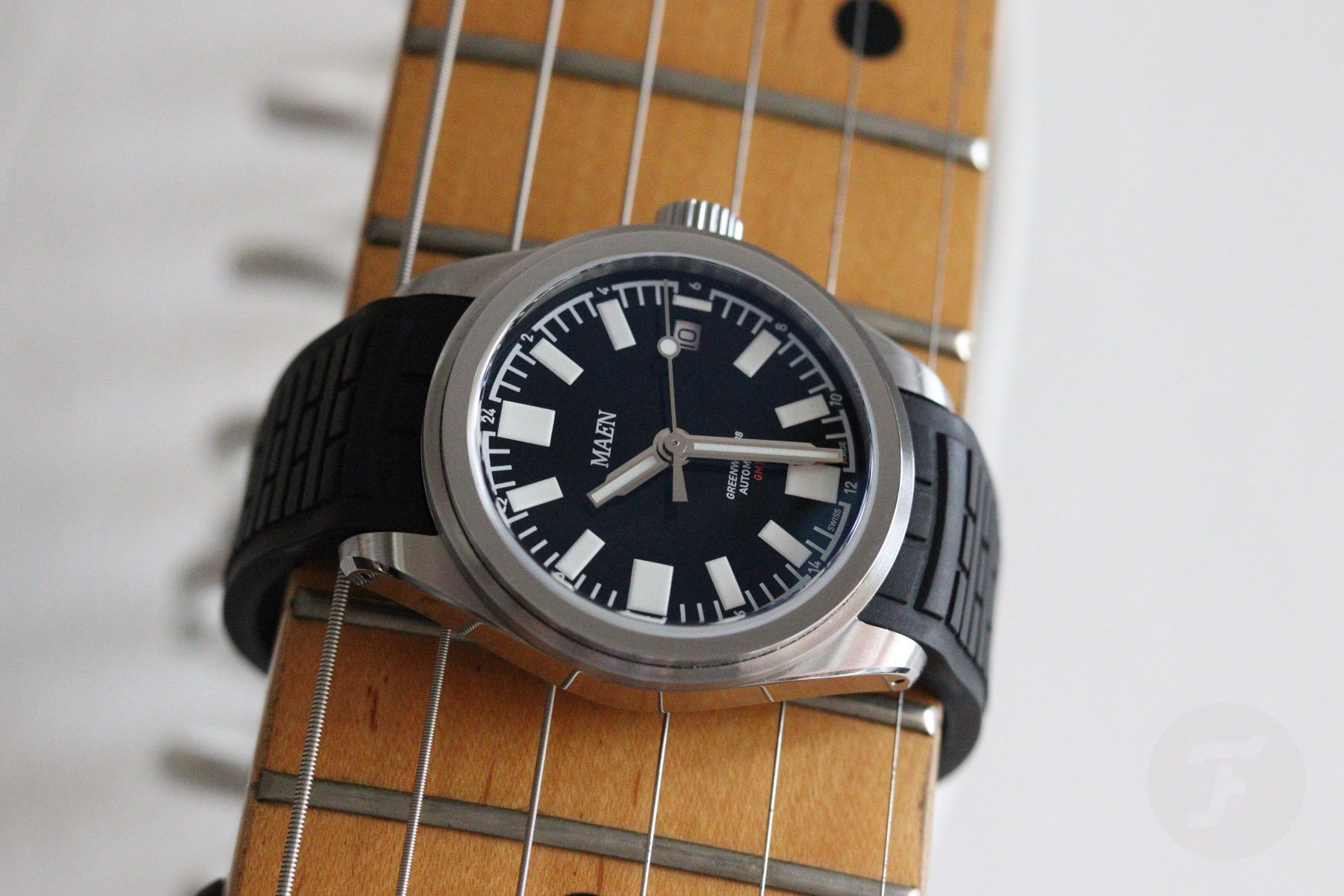 The Maen Greenwich 38 GMT case
As I previously mentioned, the case comes in at a svelte 38mm in diameter. It measures 12mm thick, including the beautiful domed sapphire crystal. The case is well machined, and the finishing was on point. The brushing was smooth and even, and the polished sides and bevels provided excellent contrast. However, the real winner here is the gorgeous stepped bezel.
I think it's important to say how much the stepped bezel contributed to the watch's character. I cannot imagine the Greenwich 38 GMT with any other type of bezel. The stepped bezel was a perfect choice. With alternating polished top surfaces and brushed sides, the bezel really helped frame the big, bold dial while also offering some shape and depth from the side profile.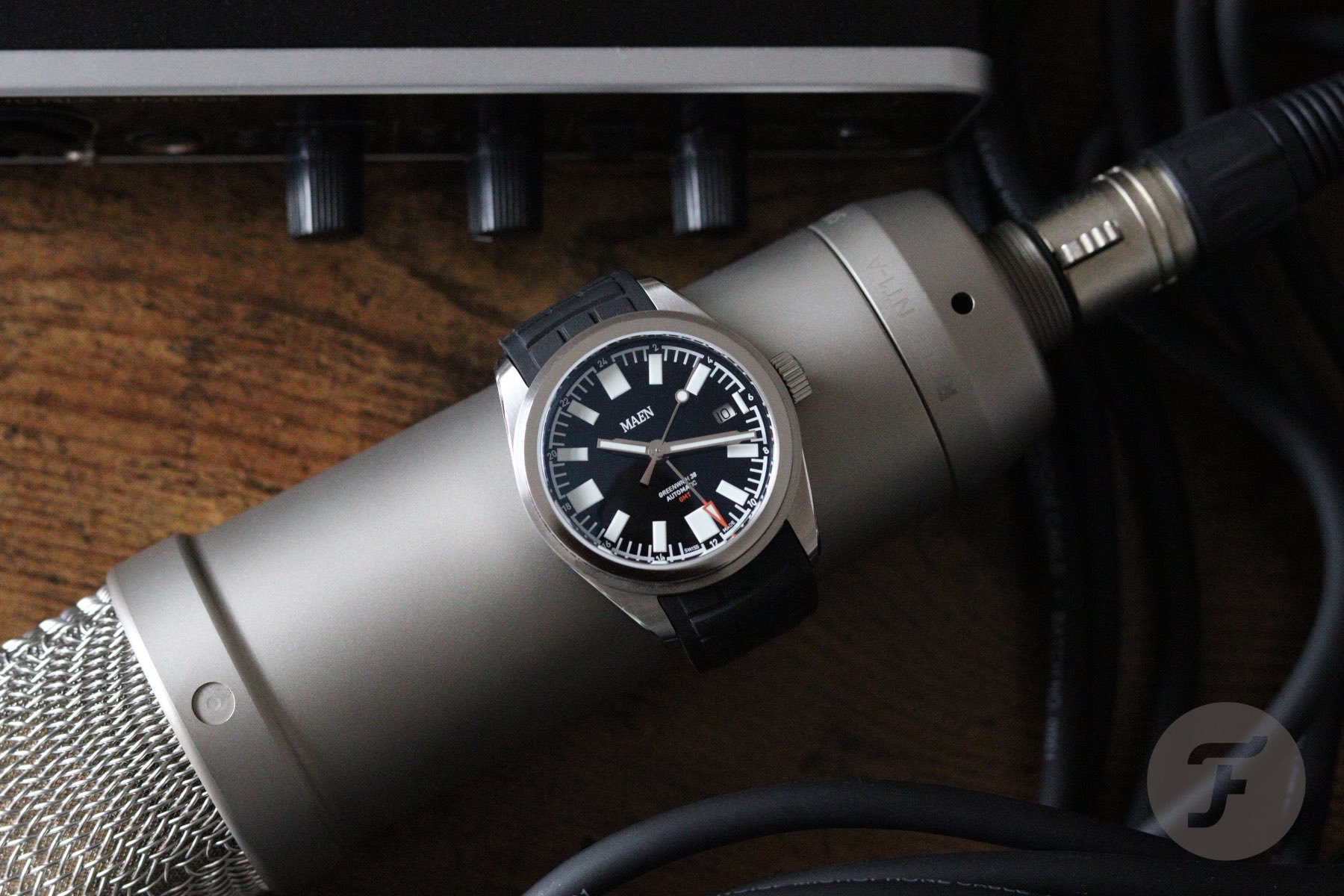 A lovely black enamel dial
Maen offers three different dials for the Greenwich 38 GMT: two black ceramic dials, differentiated by the color of lume (choose from classic white or vivid red), or you can plump for a rather fetching blue tapisserié dial. I decided to take a look at the black enamel dial with the white hour markers. I preferred the more classic look, as the red was too much for me. The blue tapisserié dial was also very nice. Still, I thought the flat enamel dial would better allow the integrated rubber strap to shine. More on that later!
The ceramic dial was excellent. The surface was flawless, and the lumed hour markers performed admirably. I admit it took a little bit of time to get used to the oversized hour markers, but they seemed like the only obvious choice by the end of my time with the watch. There was a date window at 3 o'clock, which was very neatly cut out of the dial. No messy edges here.
All text on the dial was in a matching white, save for the word "GMT", which was orange to match the GMT tip. Around the periphery of the dial, Maen included a simple white minute track, broken up by GMT hour notations. Only the even numbers are shown here, which is quite normal, but if I suggested one change, it'd be to include some kind of marker to signify the odd 24-hr numbers. When setting the GMT hand, I once or twice found myself getting it slightly wrong, possibly confused by this scale. That one could be totally on me, though, as a) I don't own a GMT watch, so I very rarely get to use the complication, and b) I'm not sure how the odd numbers/indicators could easily and neatly be incorporated into the dial design. If you have a suggestion, please let me know in the comments!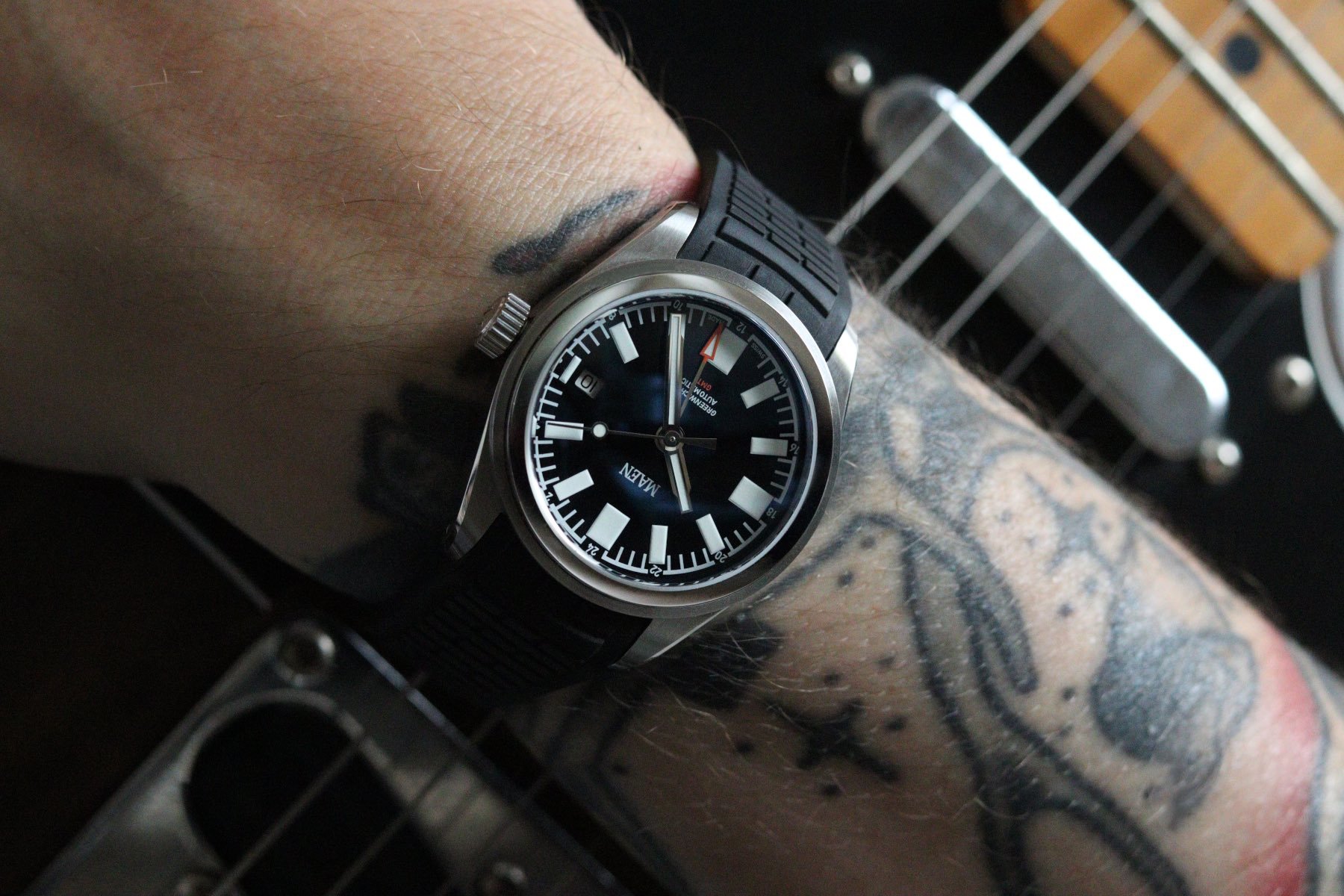 Not the usual suspects
You may be expecting a Sellita SW330-1 or an ETA 2893-2, as they're the usual suspects for microbrands when making a GMT watch. That is not the case here. Instead, Maen has opted for the less well-known SwissTech S24-045 GMT movement. Despite the more common movement options mentioned above, the SwissTech movement is becoming more common in the mid-priced microbrands. The movement offers a 40-hr power reserve, which isn't anything to shout about. Still, with how often I tend to rotate my watches, anything less than an 8-day power reserve is a moot point. I imagine this also rings true for many of us, so I don't tend to get caught up on power reserves.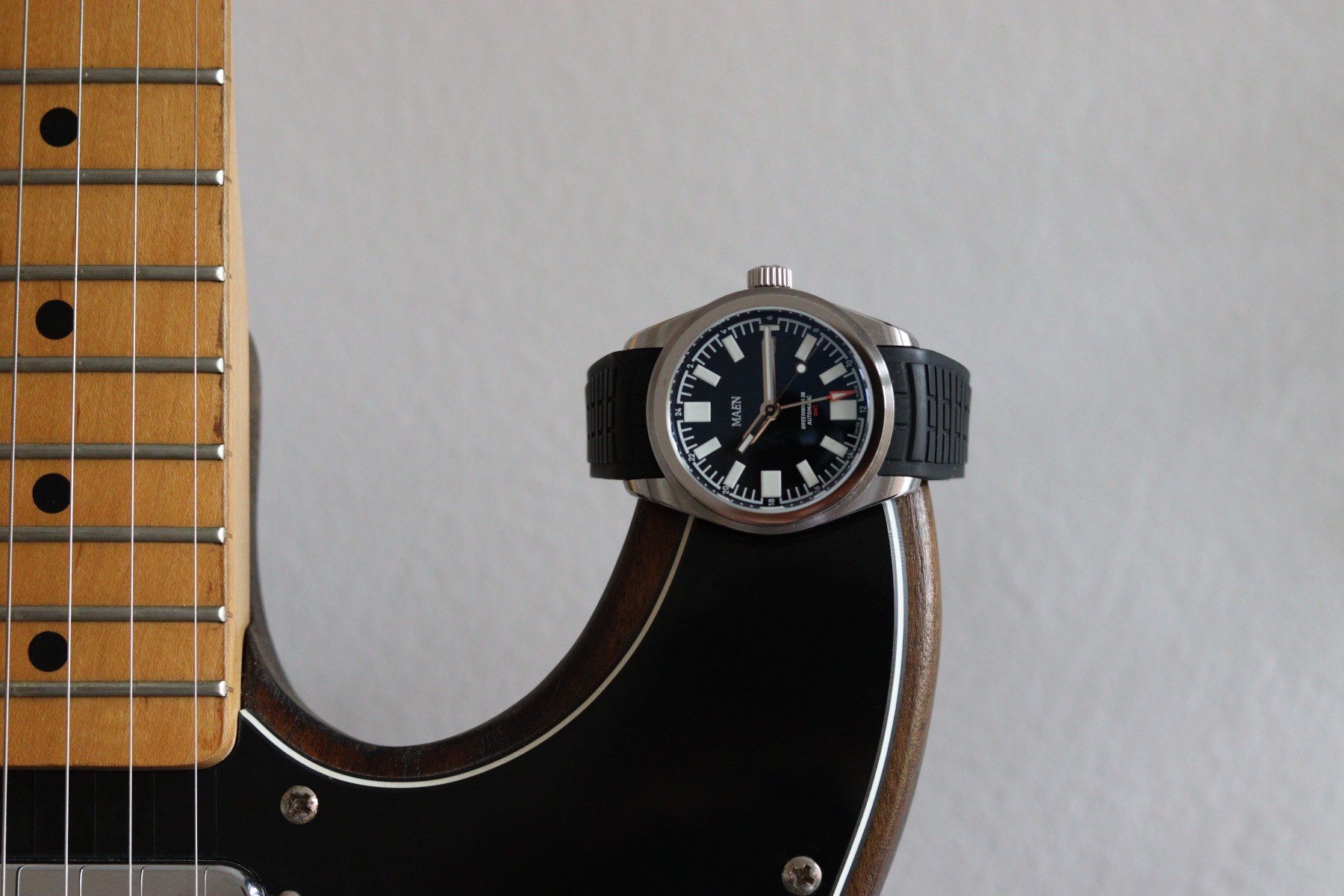 In operation, the SwissTech movement performed admirably. I noticed zero loss or gain of time for the week or two that I wore it. Again, I don't tend to monitor accuracy as ferociously as some reviewers for the same reason as I'm not fussed about the power reserves. As long as the timekeeping is not noticeably off, then that's what matters to me. The movement worked well and did its job. Winding was smooth, and the crown operation was equally as slick. Nothing to complain about here.
I believe that the SwissTech movement is a fair bit cheaper than the ETA or Sellita. When the operation and accuracy seem at least on par from my experience here, I have zero qualms with Maen saving some money. If it means a cheaper product with a very similar level of quality, I fail to see any issue with that!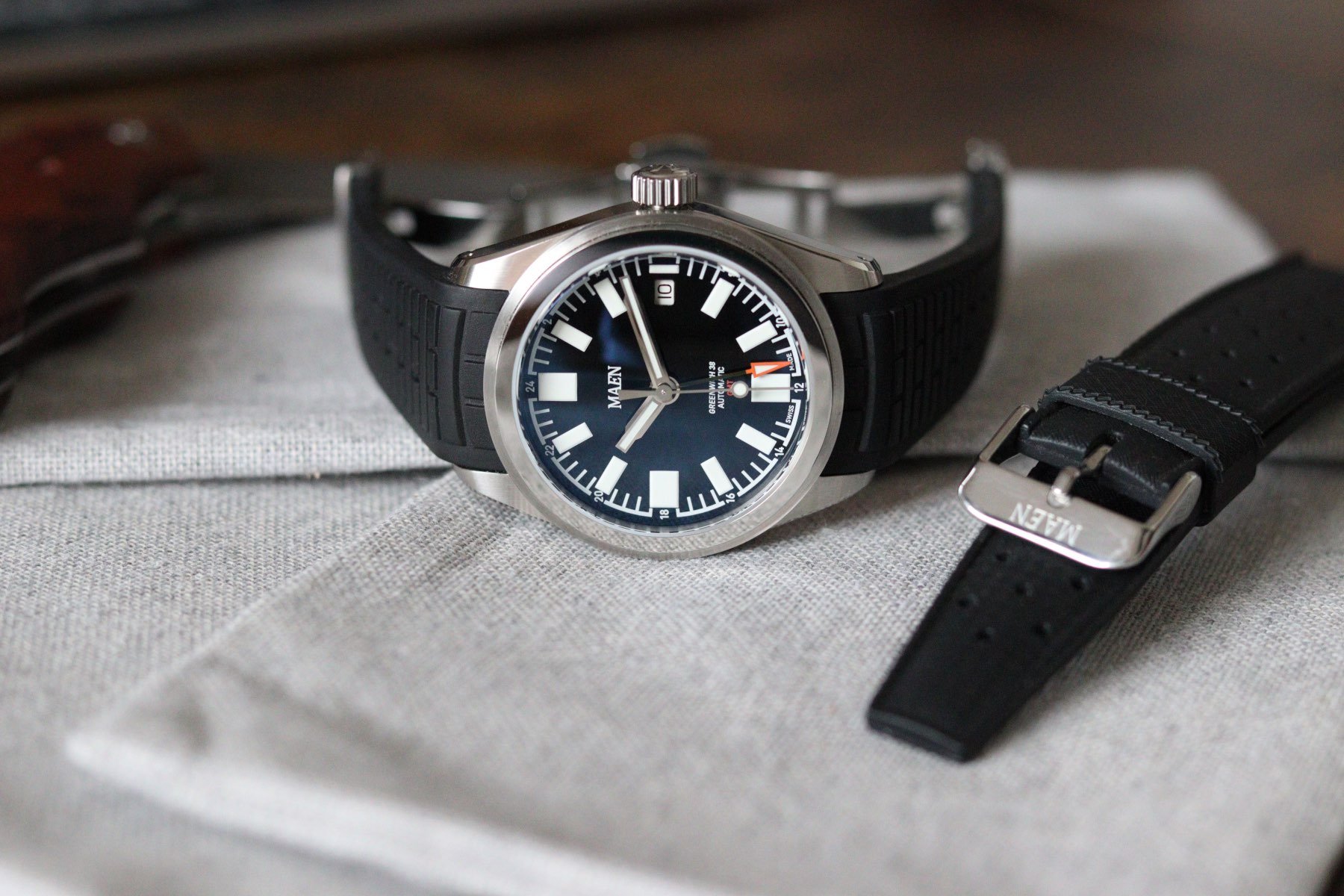 That strap…
The Maen Greenwich 38 GMT comes on a rubber tropic strap as standard. I asked the brand to send over one of the case-hugging custom rubber straps, too, as I loved the combo from the renders. The form-fitted rubber strap just looked incredible! When the watch arrived, the tropic strap was installed. The quality of that strap was excellent enough. Still, I admit, I took it off immediately and put on the other rubber strap. I must note that installing the form-fitted rubber strap was really rather fiddly and took about 5–10 minutes to do!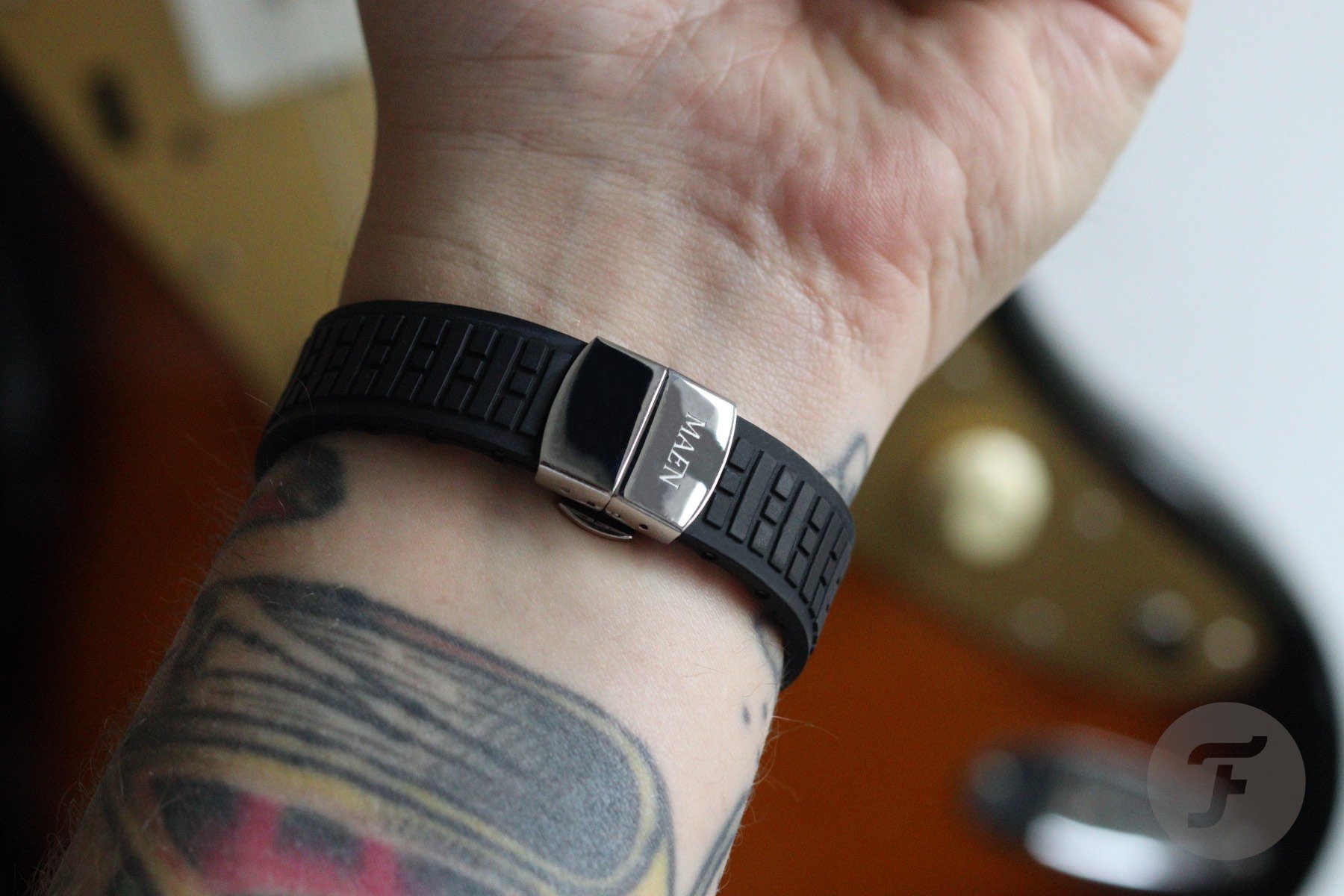 I spoke about this to Sebastiaan (founder of Maen). He said there's a particular way to install the strap, and all buyers will be shown how to do this properly. Even with the fiddly installation, the strap is worth it. As I said, the tropic strap was nice, but the fitted rubber just looks infinitely better.
If I had to pick on one thing, the butterfly clasp on this strap was just "okay". It could have been slightly better, but it's difficult for microbrands. Large MOQs mean that custom options are very rarely feasible. However, there are quite a lot of off-the-shelf options available to brands. It might have been better to blow the budget on a better clasp so that such an obvious weak spot wasn't left screaming at me from the underside of my wrist. That's not to say it was inherently wrong; it worked fine and was comfortable enough. Unfortunately, it just wasn't entirely on par with the rest of the watch, which was otherwise superb. I guess Maen made its own bed on this one: if the brand hadn't got it so right with the watch head, I might not have noticed…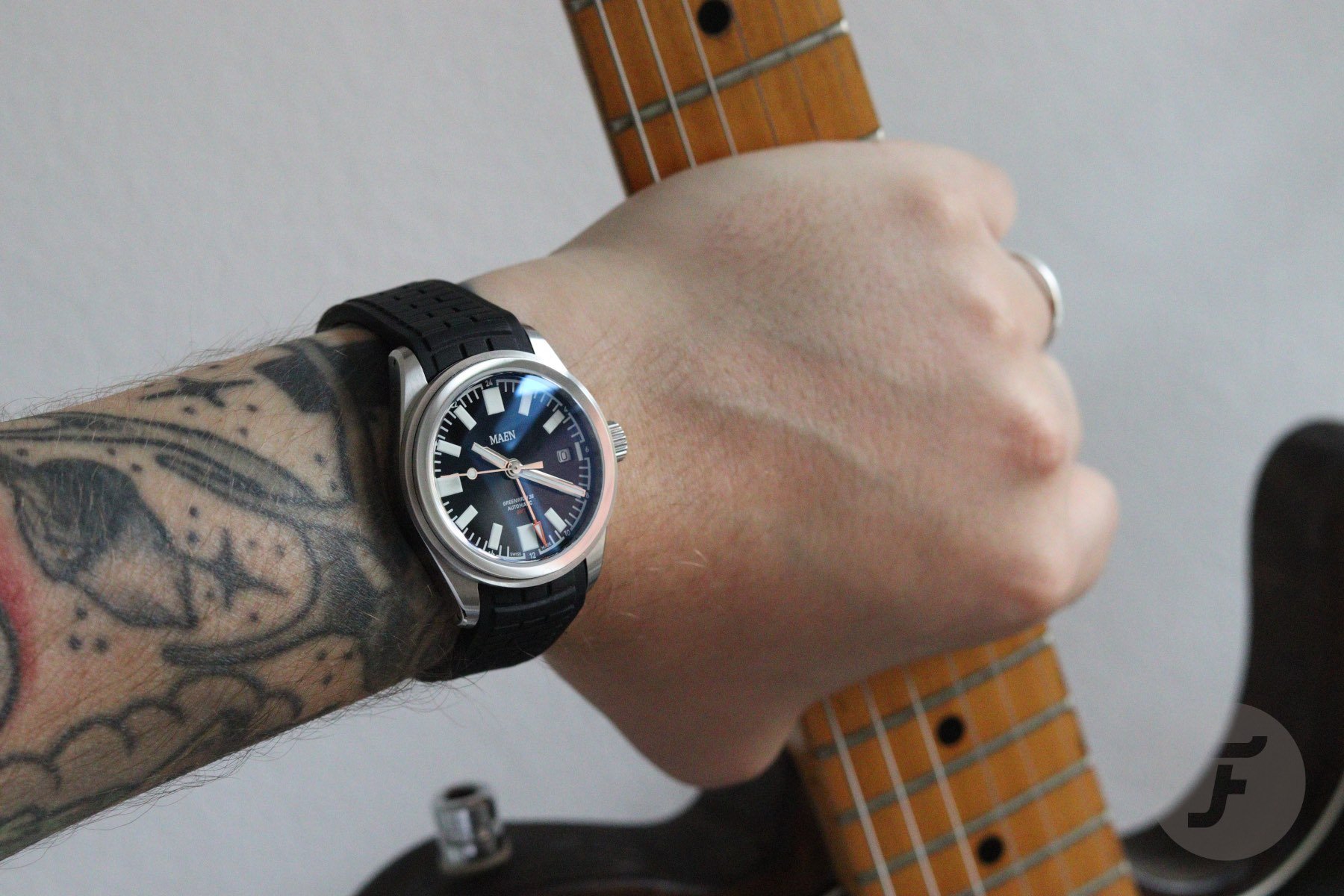 A microbrand alternative to the Aquanuat?
In various microbrand Facebook groups, I often see that people are looking for microbrand alternatives to more expensive watches from the big boy brands. I'm not talking about homages; I'm talking about other options that capture some of the vibes of the other watch while still doing their own thing. For that reason, if someone asked me for a microbrand alternative to a Patek Philippe Aquanaut, I'd have no qualms suggesting the Maen Greenwich 38 GMT.
The watch itself looks entirely different. I'm not suggesting that there's a similarity (beyond the fitted rubber strap design, perhaps). Still, having worn an Aquanaut a couple of times and wearing the Greenwich, I see some crossover in character and personality. Both watches are sports watches with a slightly refined and classier edge. I feel that both watches are suitable for various settings, from the beach to the boardroom. Both watches can quickly change their personality by a simple strap change, with leather or rubber creating quite different personas. And both are very versatile everyday watches. I really want to applaud Maen for making a watch that effortlessly handles this fluid personality.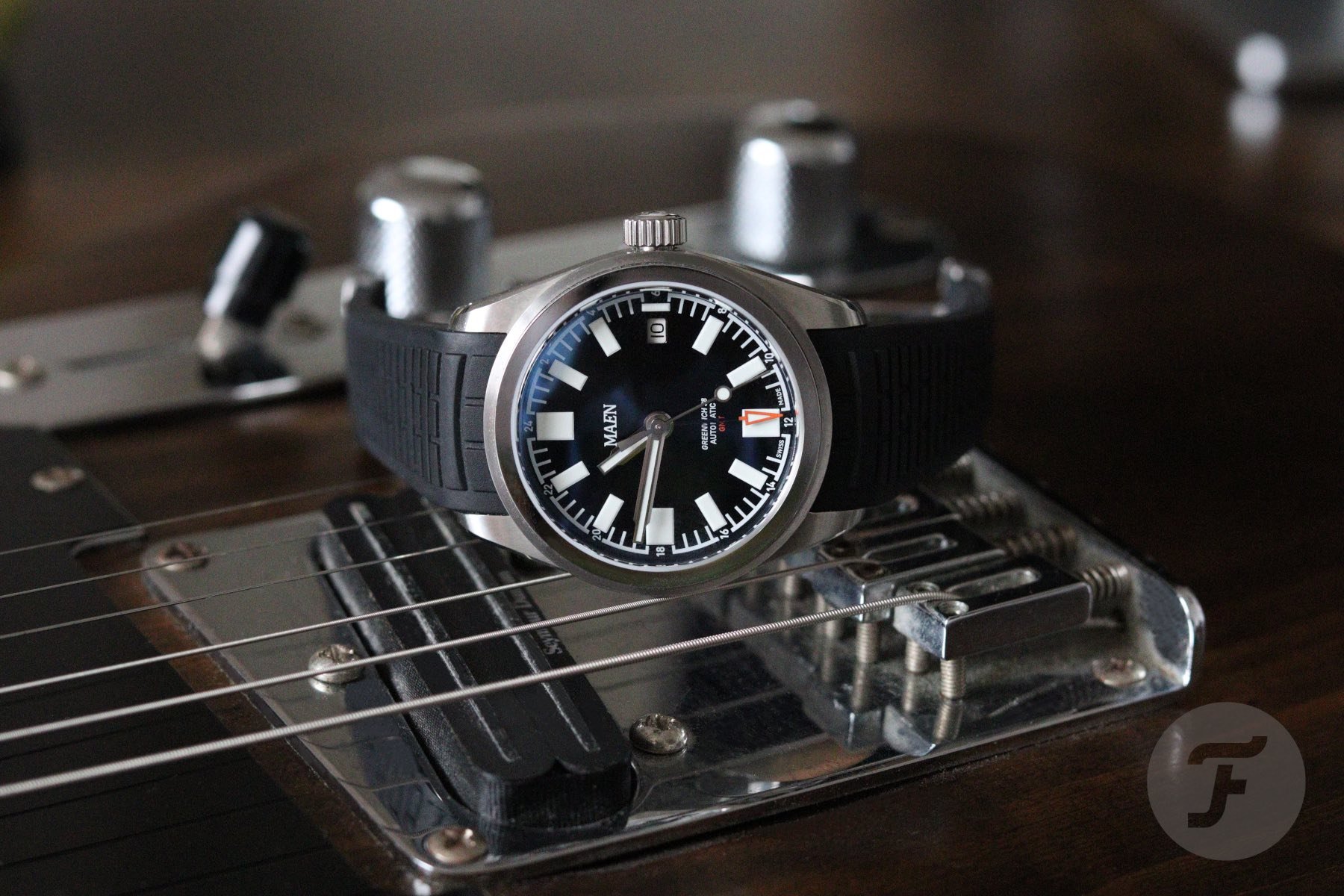 Final thoughts on the Maen Greenwich 38 GMT
It's pretty evident that I like this watch. Maen has done a great job of creating a watch suitable for many different settings. I loved the decision to go with the 38mm. The watch receives two big thumbs up from me. For €639 (excluding taxes), this is a lot of value for your money. If you like what you see, and want to find out more, you can visit the Maen website right here. Assembly is taking place right now, and the Greenwich 38 GMT will be available to purchase on Tuesday 20th July at 4pm CEST. I recommend signing up to the mailing list on the Maen wesbite for a reminder closer to the time!
Follow me on Instagram: @davesergeant
Watch specifications
Dial
Black enamel with C1 X1 Super LumiNova
Case Material
316L surgical grade stainless steel
Case Dimensions
38mm x 46mm x 12mm (including sapphire crsytal
Case Back
Solid screw-down
Movement
SwissTech S24-045 GMT
Water Resistance
10ATM (100m)
Strap
Tropic rubber strap included. Integrated rubber strap available as upgrade.
Functions
Hours, minutes, sweep second, GMT and date
Price
€639 (excluding taxes)