Hands-On With The Ollech & Wajs OW M-110 AS
Time spent reveals a watch and a brand worth checking out
Today, we take a closer look at the Ollech & Wajs OW M-110 AS, a tactical watch with a surprising level of detail. This is my first time going hands-on with a watch from O&W, and I'm excited. I've admired the brand's watches from afar, but a chance run-in along with a clumsy move led to communication with the team there.
Every so often, my clumsiness is fortuitous. A few weeks ago, I attended the World Time UK event at Heathrow Airport. I got up early that day, and my friend grabbed us each a cup of tea at the hosting hotel. I carried the covered paper cup with me while perusing the watches. When I came to Ollech & Wajs, I wanted a closer look at the brand's wares and decided to put the cup on the booth table. Right before moving on, my hand brushed the relatively full cup and knocked it over. Some tea spilled onto the brand's vintage paper brochures, and thankfully, the duo behind the table was understanding. I felt awful, though. A few days later, I received a surprising email from Andy, the brand's marketing director. He jokingly brought up my spillage and asked if I'd be willing to review the new OW M-110 AS. I happily obliged.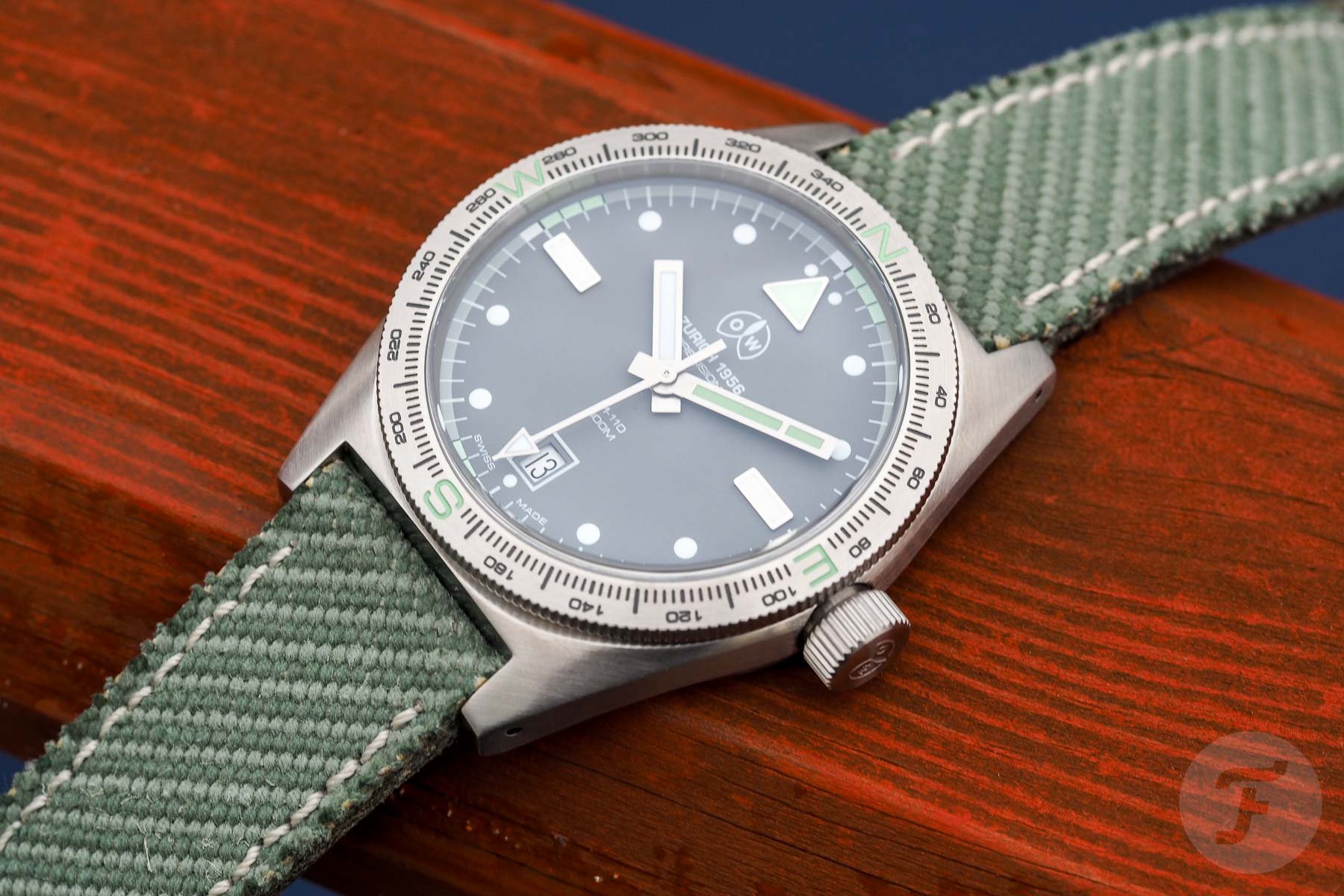 The Ollech & Wajs OW M-110 AS
These days, the sheer number of skin-diver-cased watches on the market is somewhat daunting. The once-popular design was all but forgotten for several decades, but it has come roaring back with a vengeance. Companies such as Seiko, Alsta, Wolbrook, Glashütte Original, and Aquastar are just some of those that are offering so-called "H-cased" watches. I think it's important to remember that during their heyday in the '60s, skin divers were meant to offer value and utility in a world where scuba diving was on the rise. Therefore, I look for value whenever a modern iteration crosses my desk. I also look for some sign of uniqueness. Thankfully, the Ollech & Wajs OW M-110 AS delivers on both accounts.
Of course, I had heard of Ollech & Wajs prior to the "tea party." I've briefly covered a release or two from the brand in the past. I've also watched friends pick up attractive vintage models. Speaking of which, the O&W has a nice nice, albeit recent, history stemming back to 1955 in Zürich. The company has always offered approachable tool watches with a purpose. They were popular with divers, pilots, and soldiers. A look at the brand's history is worthwhile and shows some colorful models. In 2017, Ollech & Wajs underwent a modernization, and today's OW M-110 AS is a recent result of that work.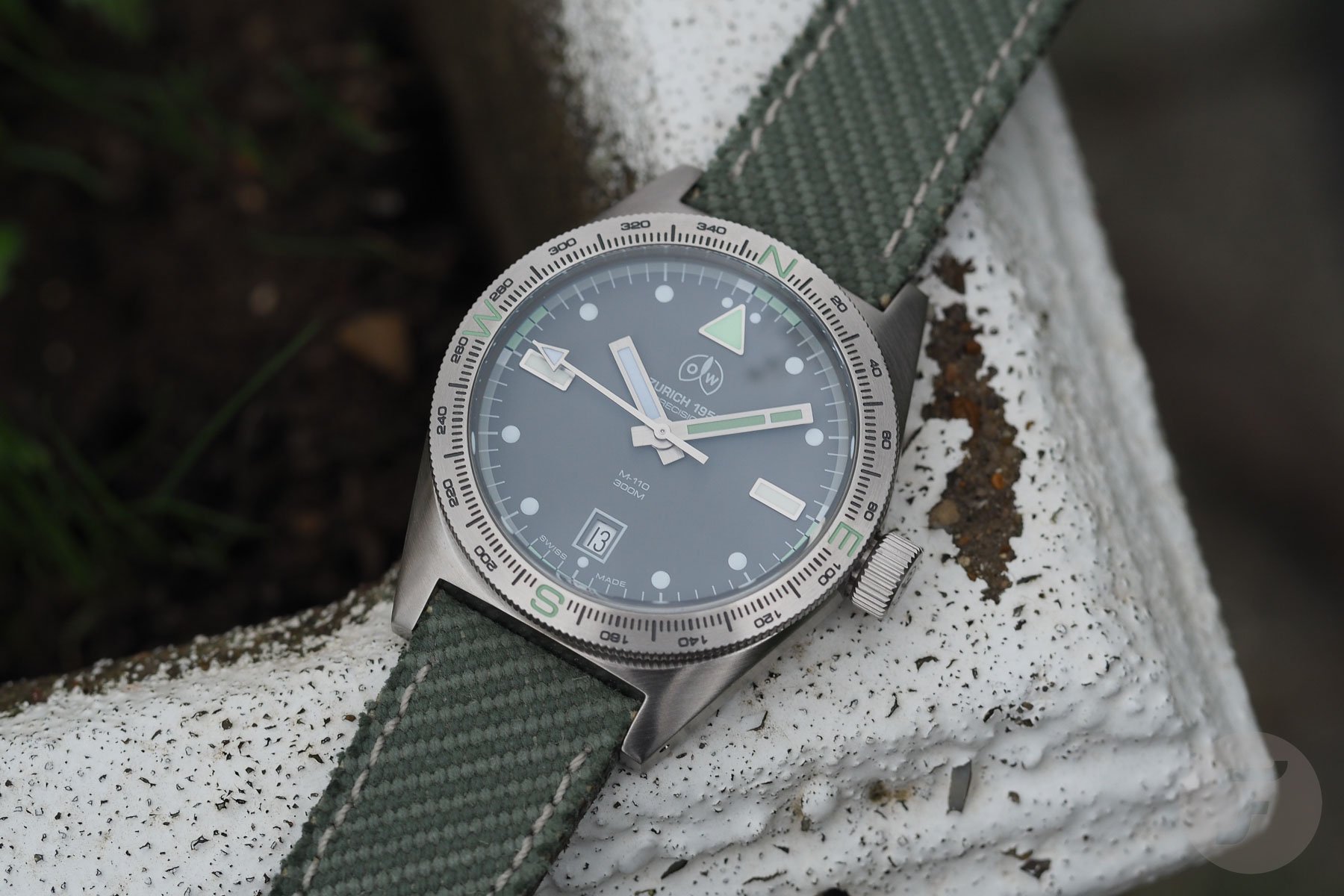 A military watch with diving chops and a compass bezel
We'll spend a moment discussing the functionality of the OW M-110 AS before getting into the aesthetics. First, note the bidirectional friction compass bezel with an angle scale. Ollech & Wajs mentions its use by soldiers to find direction using both the bezel and Sun, something we've seen on watches like the Seiko Alpinist. Second, after each quarter hour, there are three minutes highlighted in light green. This also relates to a military standard of radio silence during the quarter hours to listen for distress calls. The rest of the watch is relatively straightforward and includes a large screw-down crown and case back. For a skin diver, the water resistance is hefty at 300 meters. As for size, the watch is quite wearable with its 39.56mm diameter and 45.7mm length. It's also decent in the thickness department, coming in at 14mm with the box-style sapphire crystal.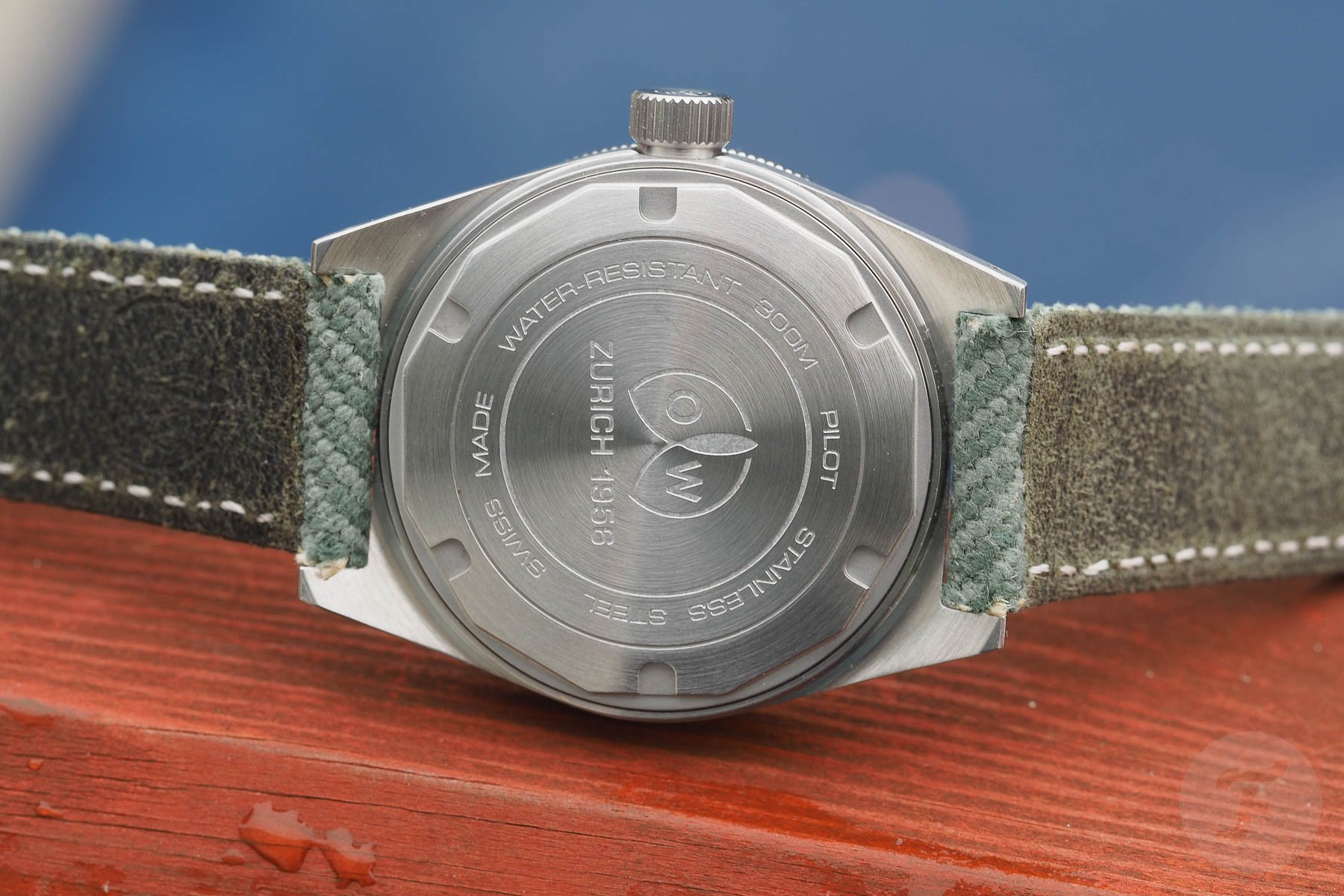 A bespoke movement in the OW M-110 AS
Most companies that make semi-affordable divers use off-the-shelf movements. With the OW M-110 AS, I think most will be pleased that Ollech & Wajs goes the extra mile. The watch uses the Soprod Newton Precision movement, which is based on the P092 automatic caliber. Ollech & Wajs specifies that the movement is adjusted to five positions which results in a daily accuracy of  ±5 seconds. Additionally, it has a custom rotor in the shape of the brand's logo and delivers 44 hours of power reserve. The movement also receives a Chronofiable certification, which is a designation that I had not heard of previously. I've mentioned the accuracy of the movement, but this certification relates to durability. It includes tests for water resistance, stem and crown durability, temperature resistance, aging, shock resistance, and more. You can judge for yourself if the certification makes a difference, but I do appreciate the extra effort.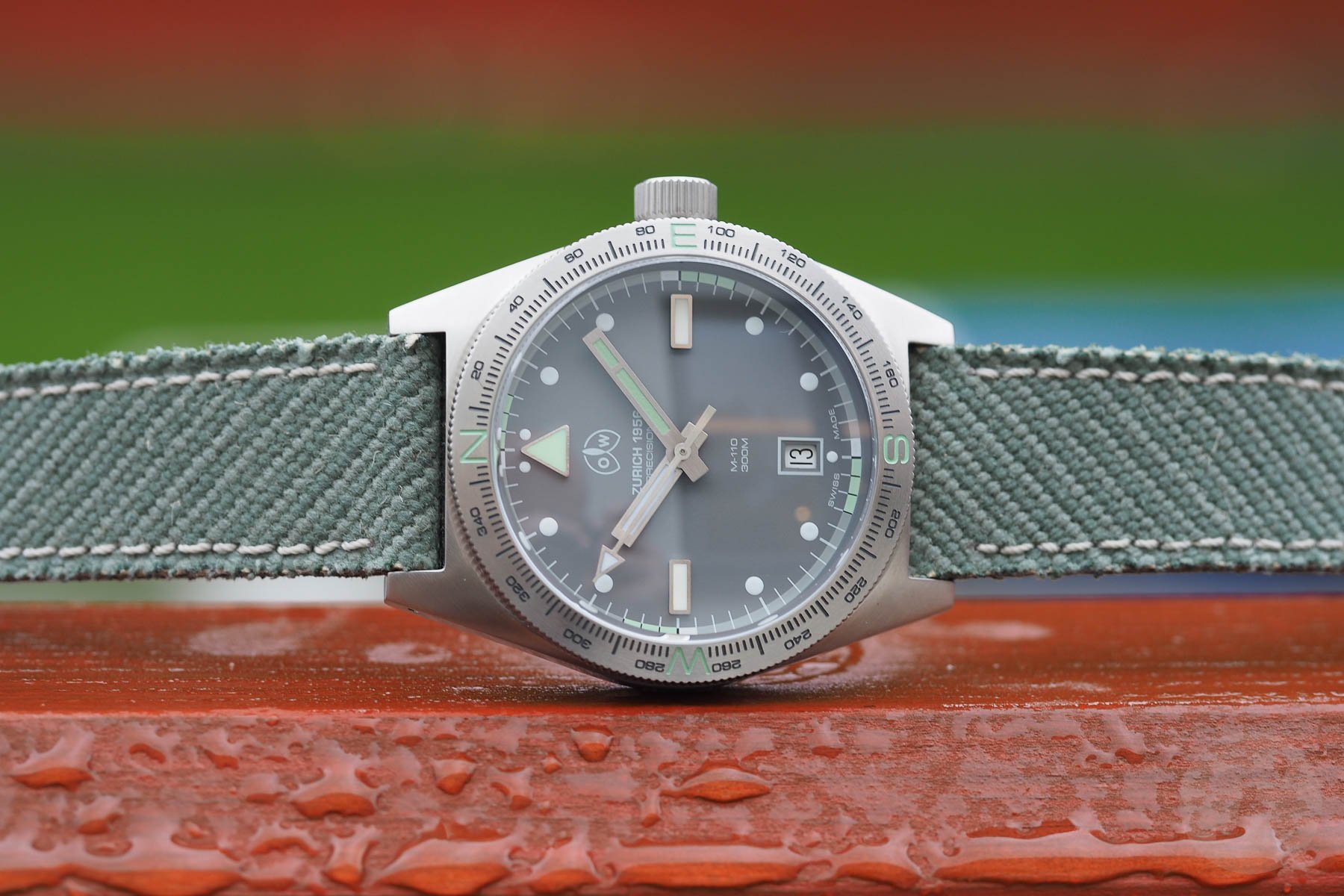 This strap rocks!
Normally, I'm neither here nor there when it comes to OEM straps, but the OW M-110 AS might have one of the cooler straps I've tried. Ollech & Wajs opted for a handmade 20mm Italian strap made of '50s surplus Swiss military canvas. The straps are backed with matching leather and and feature suede keepers. A signed pin buckle complements the look. When I first opened the watch box, I thought that the strap would be too stiff and uncomfortable, but it conformed to my wrist after just minutes of wear. A strap alone isn't a reason to buy a watch, but this one is truly fantastic and beautifully made. Other brands with watches costing multiples more would do well to emulate this style. As an aside, the watch is available on a nice-looking stainless mesh bracelet and is sold as the OW M-110 M.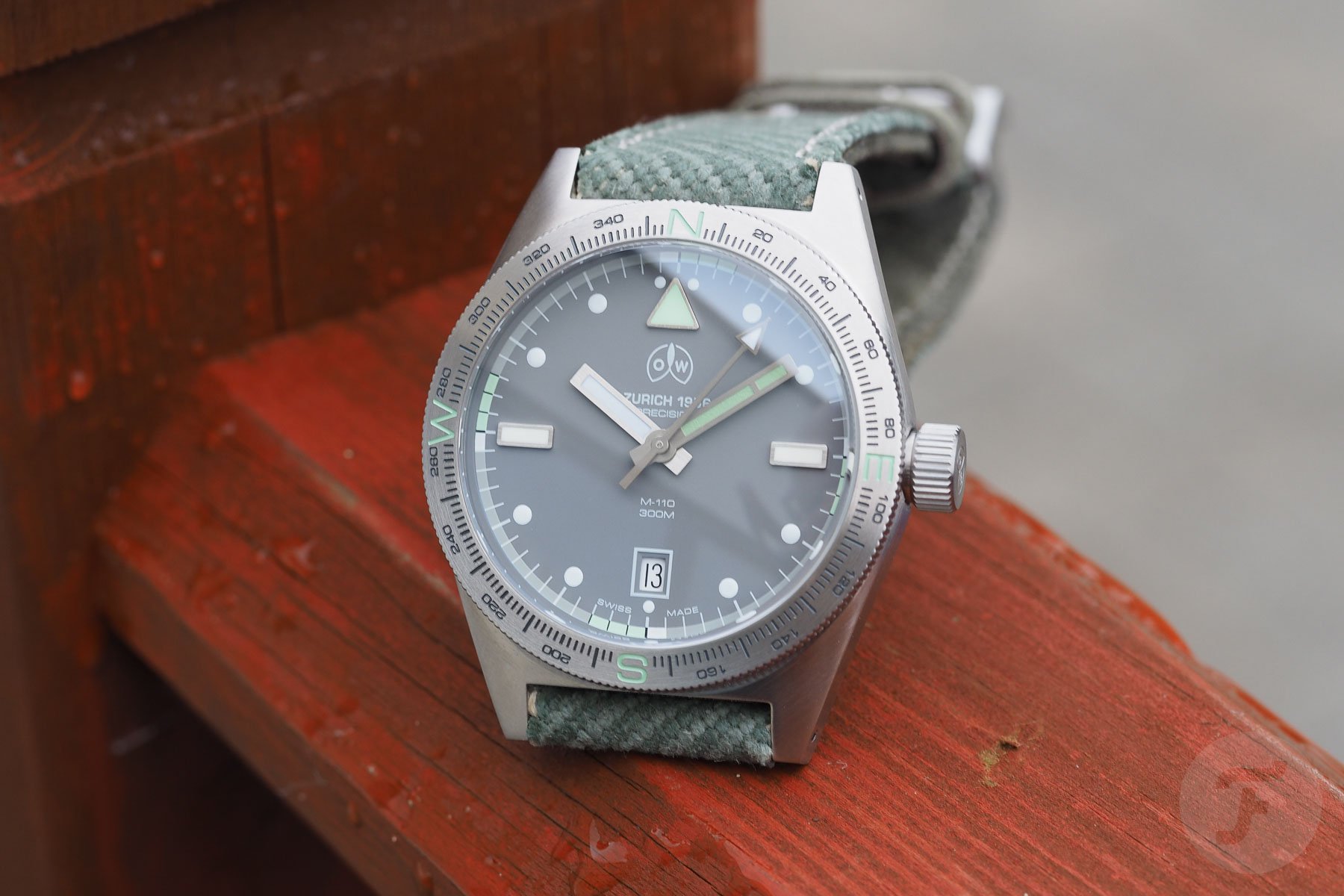 The looks are unique and oddly calming
I mentioned that a skin diver needs to bring unique looks to the party to stand out from the ever-growing crowd. I think the OW M-110 AS does that well and continues the company's pattern of blending very different colors. Here, the dial is light gray with brushed steel, light green, and white detailing. The date window is nicely integrated at 6 o'clock to look like an hour marker. It's all very smooth and calming. I don't think I've seen a watch with this palette, yet it works really well. It certainly isn't garish, too sporty, or boring. The bezel is also beautifully made. I do wish it had a luminous "N," though, so that it could do double duty for timing. Another note is the contrasting Super-LumiNova on both the hands and dial markers. The watch is seriously bright in the darkness.
The OW M-110 AS on the wrist
With its moderate dimensions, the OW M-110 AS is very comfortable on the wrist. The strap looks beautiful and seems to have a hard-wearing construction as well. Yes, the anti-reflective crystal makes it hard to capture, but it's an easy watch to read. Also, in a city like London, it's yet another great example of a timepiece that flies below the radar and works with just about every type of clothing from casual to business casual. It also helps that it can easily withstand a bump or an encounter with moisture.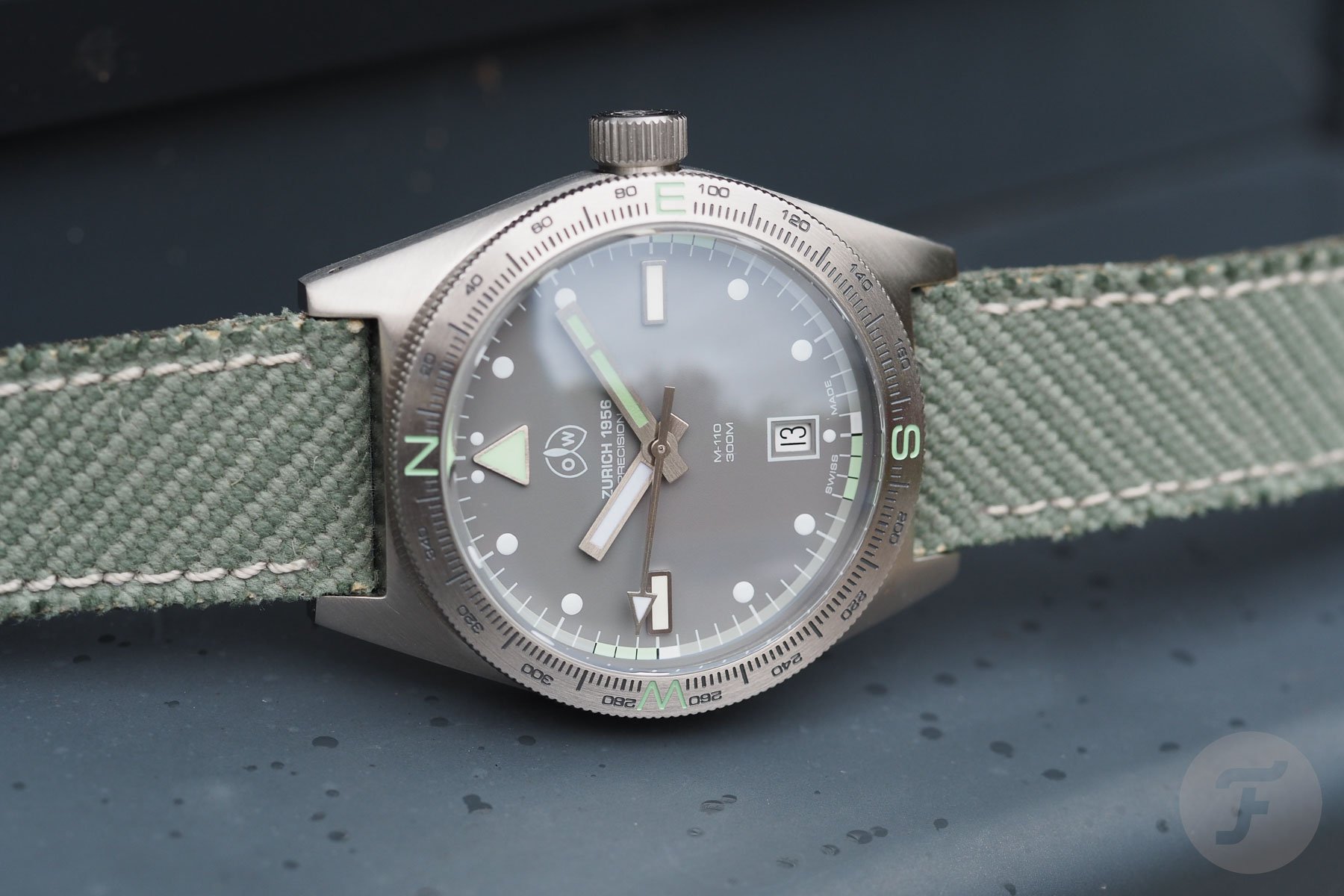 Pricing and final thoughts
The Ollech & Wajs OW M-110 AS retails for CHF 1,456 (roughly €1,540 / £1,340 based on fluctuating exchange rates) and is available on the brand's website. That's roughly 30% more than a similar-looking Seiko SPB diver on a strap, so the difference is not small. That said, I think this watch offers more serious specs, a much higher level of accuracy, and includes competitive finishing for the price. Plus, a three-year warranty is a nice addition. I had never gone hands-on with an Ollech & Wajs watch before this review, and it makes me glad that I spilled that cup of tea! There's a lot of attention to detail here, and the brand even mentions that this watch is 90% Swiss origin (including the case). Based on all of these attributes, I'd say that Ollech & Wajs's watches are well worth considering.
Watch specifications
Dial
Matte gray with indexes and "radio silence" periods in Super-LumiNova
Case Material
Stainless steel (316L)
Case Dimensions
39.56mm (diameter) × 45.7mm (lug-to-lug) × 14mm (thickness)
Crystal
Sapphire with antireflective treatment
Case Back
Solid stainless steel, screw-in
Movement
Soprod Newton Precision P092 — automatic and hand winding, hacking, 28,800vph frequency, 44-hour power reserve, 23 jewels
Water Resistance
30 ATM (300 meters)
Strap
Green 20mm military-grade double-twill hemp canvas with pin buckle
Functions
Time (hours, minutes, central seconds), bidirectional compass bezel, and date