Hands-On With The Orient Star 1964 Diver 2nd Edition — A Surprisingly Good Vintage-Flavored Dive Watch
Premium Japanese retro with an elegant twist
I'm old. In fact, I'm probably the second-oldest member on the Fratello team, with teenage (watch out!) dad duties taking as much time as writing. But I stay tuned to the streets, son! (Who am I kidding? I look silly with my Air Force 1s.) My age means that Orient is a brand I remember from my childhood before I knew about premium Swiss provenance. Orient has been absent from many European store windows, but there's a comeback in the cards. When I was around 10 years old, I remember the Orient coat of arms in a watch display. For me, it already then seemed great value (not for my mom), even quite flash. Will the Orient Star 1964 Diver 2nd Edition give me the same feeling as my 10-year-old self, hands pressed against the store window?
These days, the Orient brand is a well-known "secret "within the watch community thanks to the Bambino and Mako. These ranges offer serious value, and though Orient is owned by Seiko-Epson, the brand does its own thing. That means offering an alluring taste of in-house production for less than €300. But Orient also has a Lexus to its Toyota, and that is Orient Star. You'll recognize these top-tier Orients by a defining feature at 12 o'clock, a smiley crescent-shaped power reserve indicator. And in the 1964 Diver recreation, Orient is onto a good vintage vibe that surprised me. Orient was created in 1950, with the Orient Star level-up brand established in 1951, so the story has already been written. The 1964 Diver was first released in 2021 as part of the Orient Star's 70th anniversary, and this 2nd Edition is based on the Calendar Auto Orient from 1964.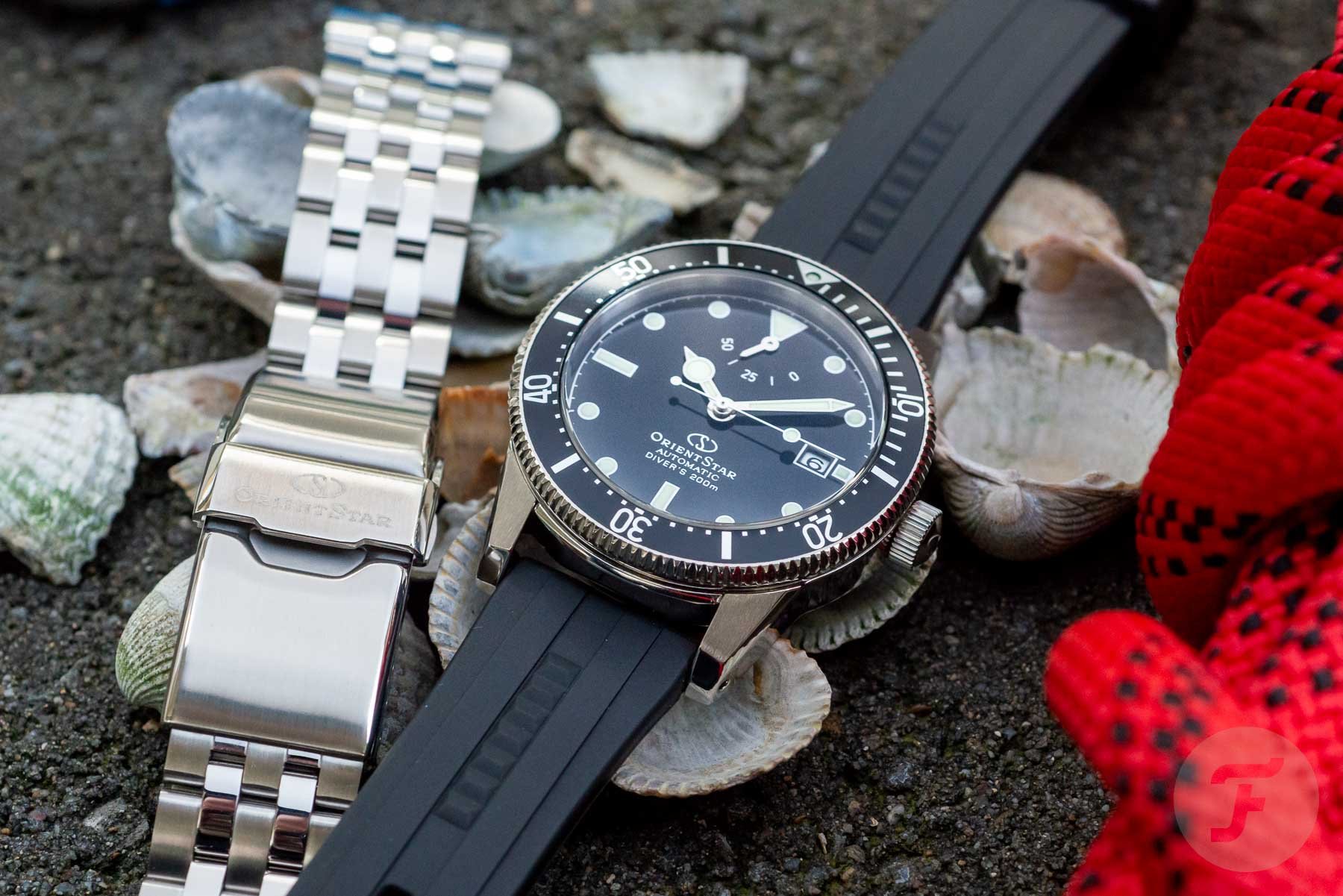 The Orient Star 1964 Diver 2nd Edition packs a polished punch
This is the second time this week I've re-evaluated my thoughts on watch sizing, even the important lug-to-lug. I love sub-39mm cases, but this 41mm watch with a 49.6mm lug span feels great. And there's an unexpected German connection, reminding me of a watch I miss dearly, the Sinn 104. Surprised? Just like the German pilot's watch, the 1964 Diver has a 41mm bezel with a slightly smaller polished case. It also has a similar tiered underside, narrowing down to a 38mm screw-on case back. This means that with its stretched lugs, it feels more like 39mm on the wrist, with one vital detail. The lugs angle down steeply, showing neat, brushed tops and Grand Seiko-like angled tips. These extend down to the level of the case back, a vital detail. Against a slab-sided watch like the 41mm Black Bay, it's a winner in perceived size, but is this irrelevant for its price category? Maybe not.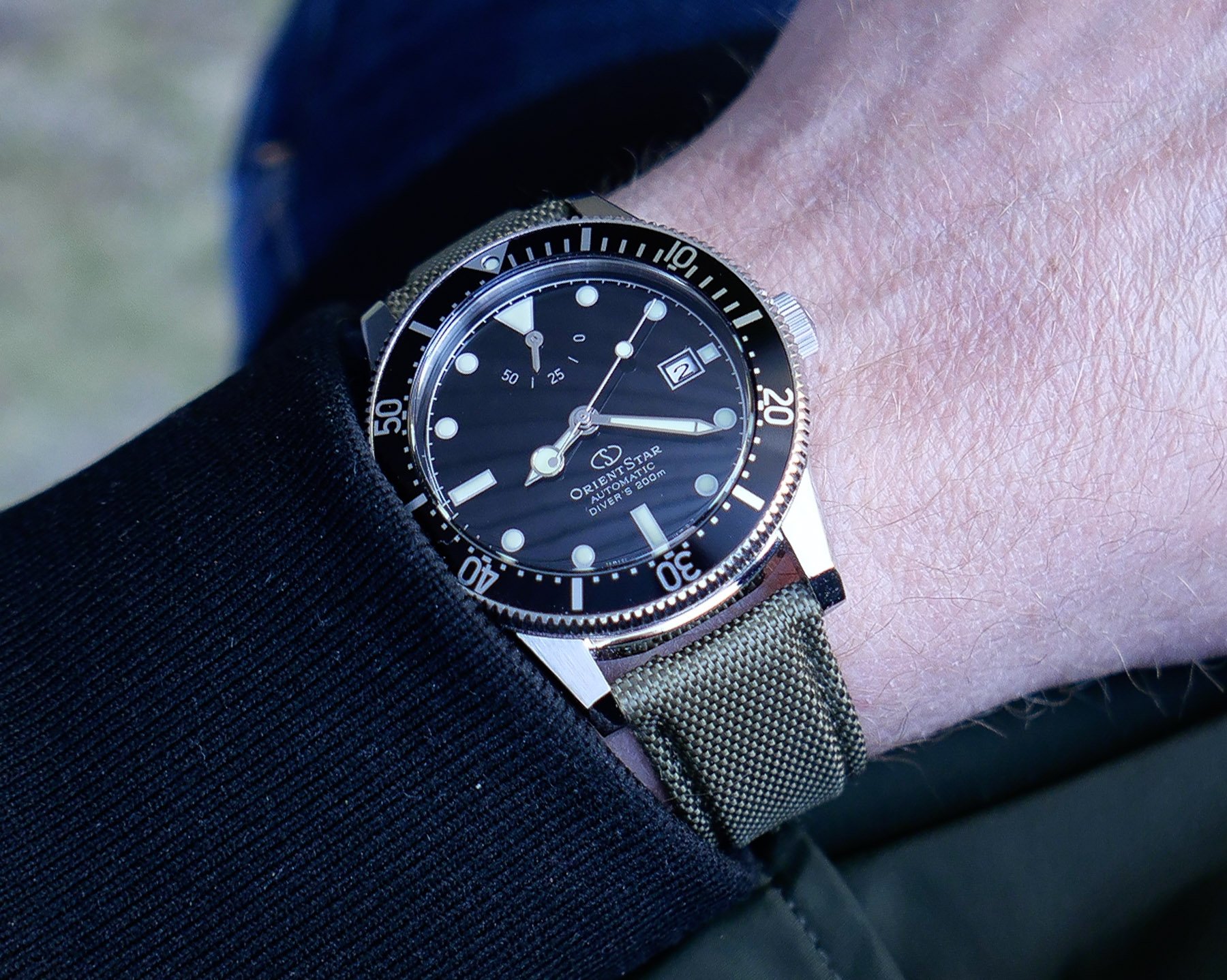 Vintage "almost perfect" equals big charm
Seriously, after that size-technical introduction, I'm claiming non-perfection to be perfect. What do I mean by that? The Orient Star 1964 Diver 2nd Edition is a period-pure rendition of the Calendar Auto Orient diver. These days, it's not much more expensive to add a glossy ceramic bezel that takes a beating. Finishing has come a long way too, so why not add contrast with extra-sharp bevels, accentuating the polished and brushed details? Surely, that would only enhance any watch? Well, I've grown to differ here after my failed affair with a Tudor Black Bay 58. This half-matte anodized aluminum bezel insert is the perfect example. It's not scratch-proof, but it is historically appropriate, with a classic recessed lume pip just like many vintage Japanese dive watches.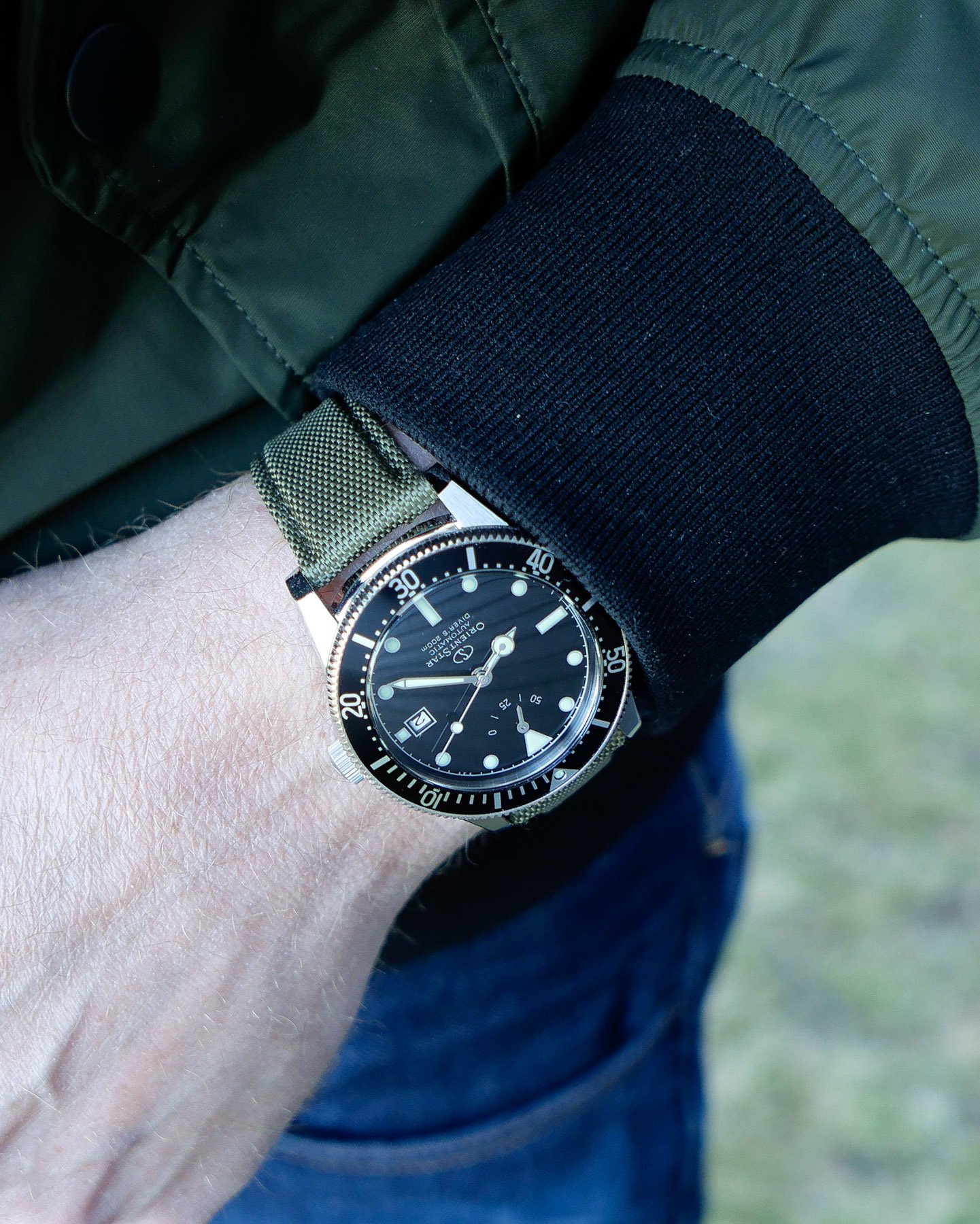 Looking at this side by side with the original, I get a warm, fuzzy feeling of details being there for the right (and sentimental) reasons. The dial has a many-layered glossy black finish that would be eons away from its original. The small lume plots, however, are centered within silver-printed surrounds, not sharp, fat appliqués like most Seiko Prospex divers. For more than €1,500, they could have been more prominent, but wouldn't look right to the vintage enthusiasts, who are a big demographic for these limited editions. The dial is large compared to the index sizing too, but it's all good, just like the tiny but perfect indices on a Blancpain Bathyscaphe. Pop this on a sailcloth strap and squint, and you'll have a budget version of the Fifty Fathoms, trust me.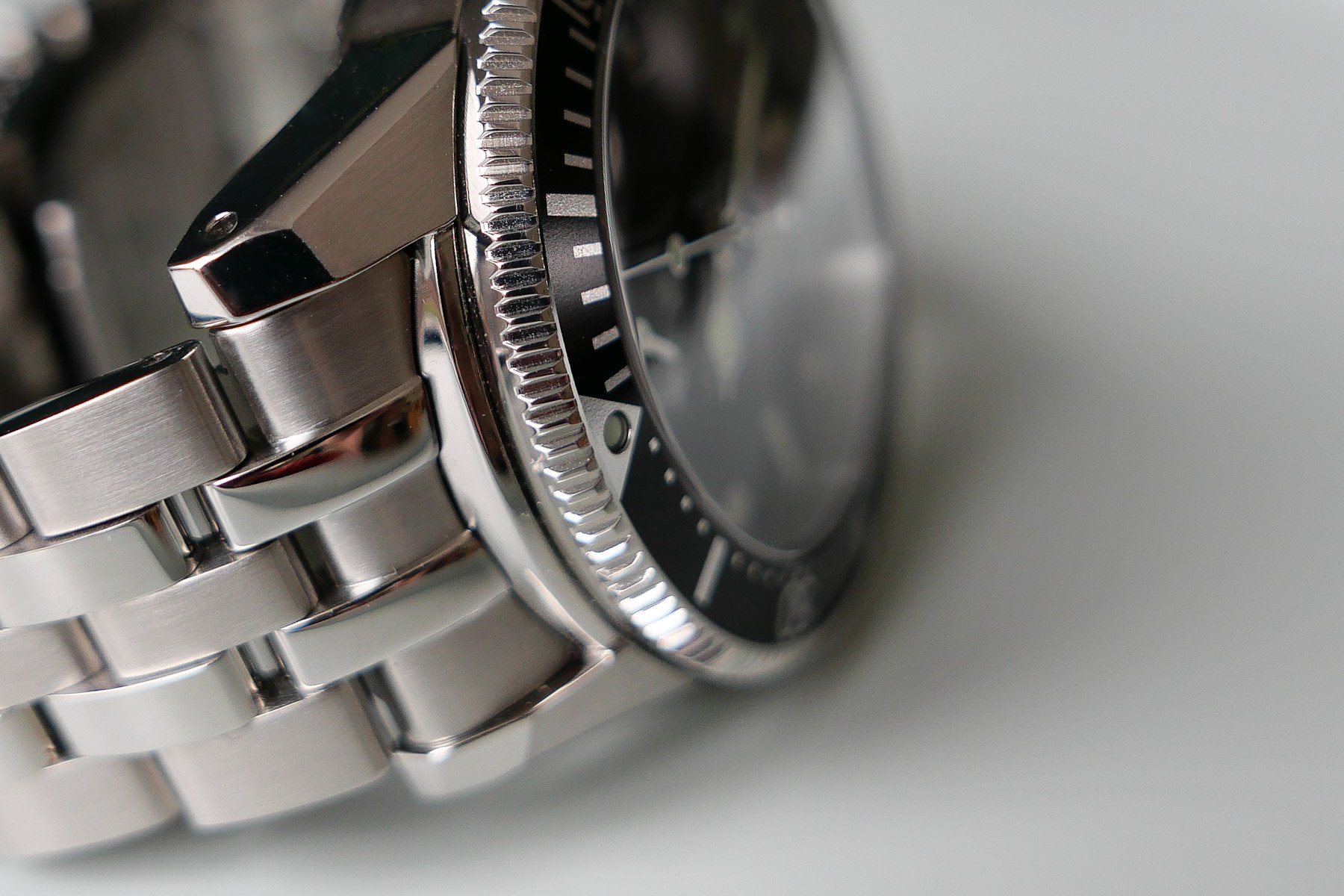 So much for imperfect perfection — where's the catch?
This is all a matter of preconceptions. A version of the Seiko Prospex SPB143 costs less, sits similarly on the wrist, and is a tougher tool with its brushed finish. But the F6N47 caliber of the 1964 Diver doesn't lag behind the Seiko 6R35 in the accuracy stakes (according to my somewhat-unscientific measurements without a timegrapher). Yes, the usual Japanese pessimistic numbers are easily surpassed. The Orient's bracelet might not be perfect, but I love my tools with a dab of bling. The details include polished sides and small, polished mid-links, giving off a more elegant vibe than pure tool watches, but that's my cup of tea. Sure, the tolerances are not amazing, but compared to another purist diver with a blingy beads-of-rice bracelet like the Doxa Sub 300, it's equally good with a better clasp.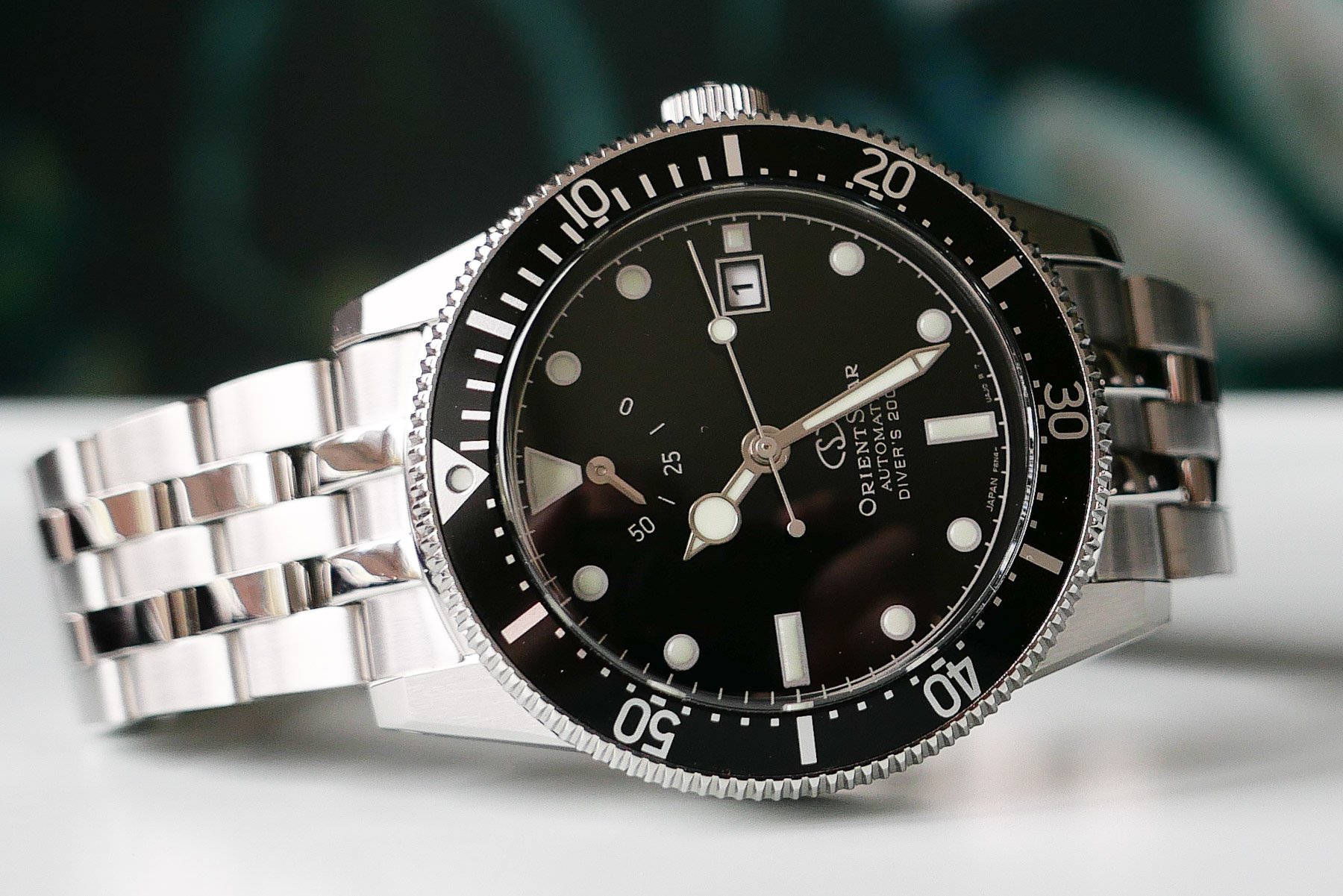 A charming conclusion
Kudos to Orient Star for this reborn diver, coming across as a dressy piece of everyday cool. It's very personal, but I'm fond of the quirky, polished details. Sure, the bracelet's five links are visual only; in reality, the small ones are fixed in place. But on the wrist, it is a comfortable, weighty piece at 163 grams, adding to the quality sensation. I'm still not sure whether I'd be happier with the logo on top and the power reserve at 6 o'clock, but does it matter? For a week or two, I've worn this regularly on different straps, and believe me, it has a way of growing on you. At £1,329.99, the Diver 1964 2nd Edition is simply a good, period-perfect diver and a great alternative to mid-priced offerings from Seiko Prospex and Tissot with the more modern Seastar. I believe Orient Star is onto something good, and judging by the recently released silver-dialed version, the minds behind the brand know it.
So, Fratelli, have I opened your eyes to a different taste of Japanese vintage style? Let me know your thoughts on this in the comments. And if you're already a fan of Orient or Orient Star, tell us your favorite model as well.
Find me and follow me: @thorsvaboe
Watch specifications
Model
Diver 1964 2nd Edition
Reference
RE-AUO601B (also available as RE-AUO602E with a green dial)
Dial
Gloss black lacquered with painted round and rectangular indices. Vintage diver-design hands and lollipop seconds hand with lume inserts. Date at 3 o'clock and crescent 50-hour power reserve indicator at 12.
Case Material
Stainless steel (316L) with polished and brushed finished, aluminum bezel insert
Case Dimensions
41mm (diameter) × 49.6mm (lug-to-lug) x 14.5mm (thickness)
Crystal
Double-domed sapphire crystal with antireflective treatment
Case Back
Solid stainless steel, screw-down
Movement
Orient F6N47 — in-house automatic caliber, 21,600vph frequency, 50-hour power reserve, rated at +25/-15 seconds per day
Water Resistance
200m (ISO 6425 compliant)
Strap
Stainless steel five-link bracelet (20mm) with a push-button deployant buckle and diver's extension. Additional black silicone strap included.
Functions
Time (hours, minutes, central seconds), date, power reserve indicator, 60-minute timing bezel.