Hands-On With The Seriously Impressive Seiko Prospex SLA073
With a special dial and a great color combination, Seiko's latest modern reinterpretation of its 1968 diver is a cave-diving winner
We all know that Seiko releases an astounding number of watches every year. Because of that, it's hard to remember all or even most of them. But every year, we get at least one marvelous standout that will find its place in your memory. This year, we have already seen the SJE093 (a 38mm remake of the 62MAS), the third Rowing Blazers collection, the Prospex SPB381, SPB383, and SPB385 GMT dive watches, and the higher-end King Seiko SJE089 and SJE091. Staying on the higher end of things is the new Seiko Prospex SLA073. This new version of the 1968 Diver's Modern Re-interpretation combines some serious cave-diving-inspired style and an upgraded movement for impressive results.
When it comes to Seiko divers, the modern reinterpretation of the 1968 diver is my favorite of the Prospex collection. It celebrates the awesome looks of Seiko's first professional dive watches in style. Together with the Marinemaster, they form a duo of watches that is hard to beat. They are up there with the best in their respective price brackets in terms of value for money and awesome looks. I had great fun writing a Top 5 of Marinemaster favorites not too long ago. In that list, I included the smaller Prospex SPB187 that I love. But what if you combine the smaller case size of that model with the movement of the Marinemaster 300? Could that be the perfect Seiko diver?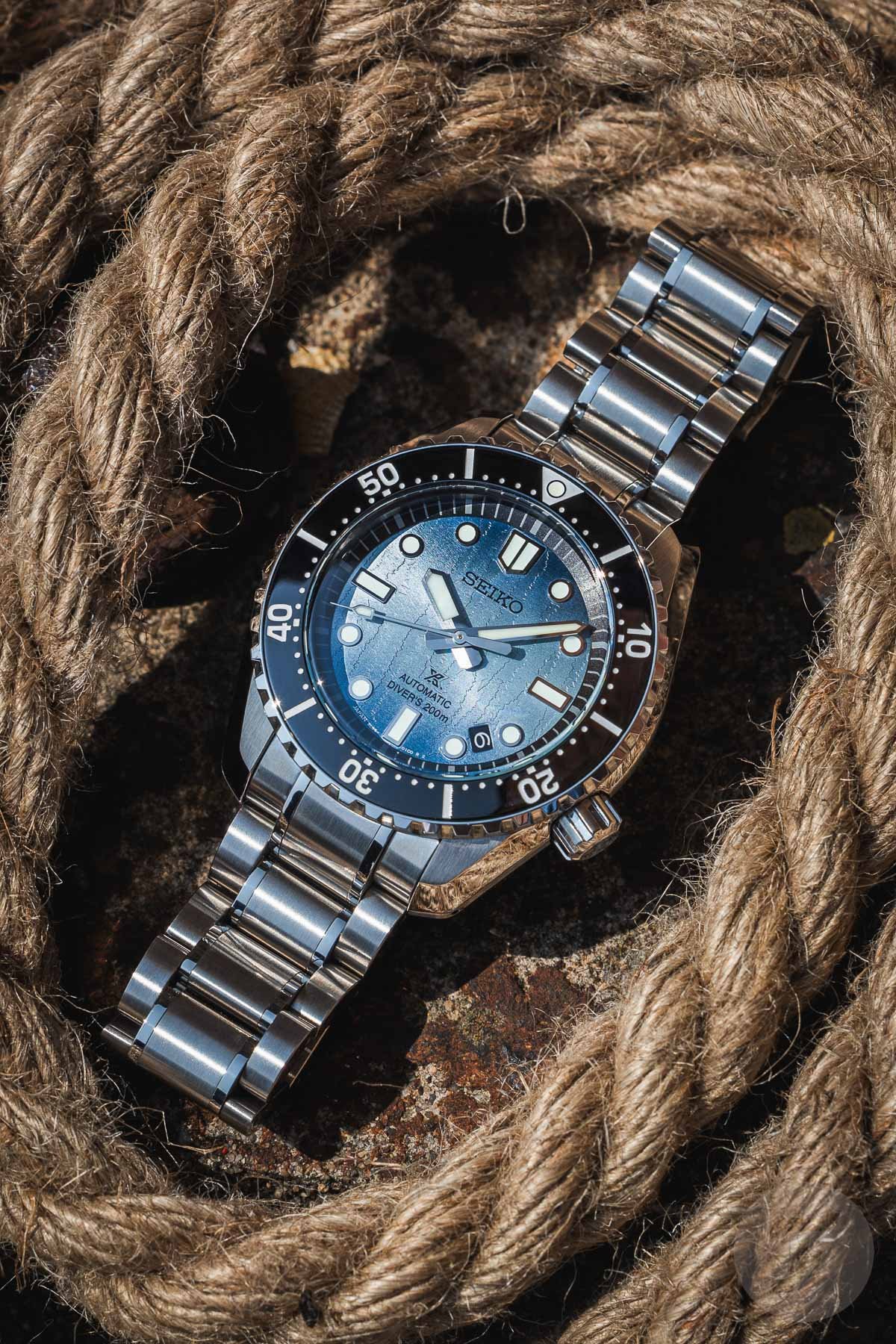 The Seiko Prospex SLA073 at first glance
The new Seiko Prospex SLA073 features a 42.6mm stainless steel case that is 13.1mm thick, 49.6mm from lug to lug, and water resistant to 200 meters. What makes this watch an absolute winner in my book is its case shape. With its angles and characteristic lugs, this case design may be rooted in the past, but it looks modern and serious. If ever a dive watch looked competent, it would be this one.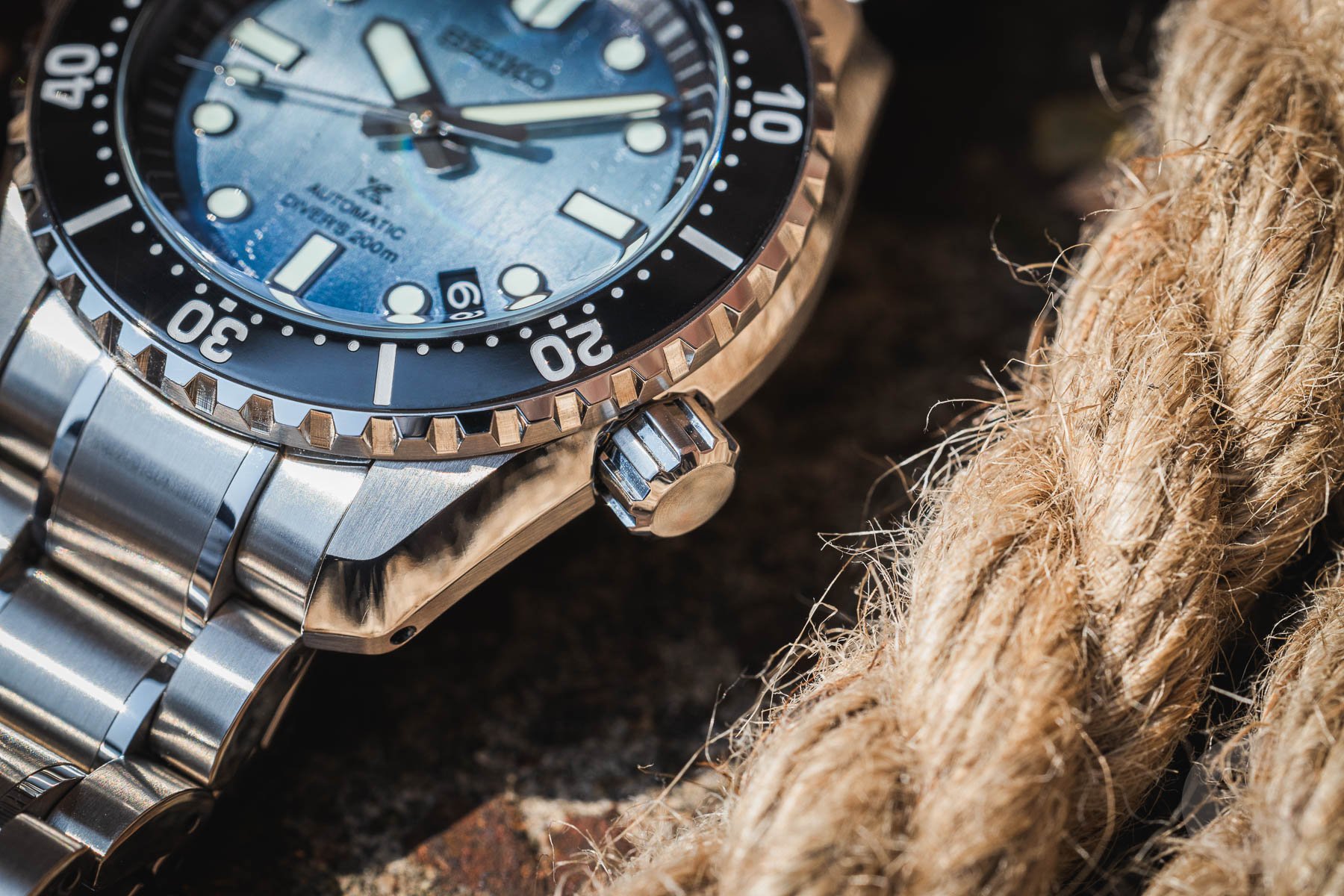 But Seikophiles will recognize that the case of this SLA073 is not the same 42mm case that is used for the regular SPB185 and SPB187 models. This case is in line with the ones used for the limited-edition SLA055 and SLA057 that Lex reviewed in late 2021. As he remarked then, the case of these watches is slightly more similar to those of the classic models from 1968 than the more contemporary case of the SPB185 and SPB187. Having said that, the style is instantly recognizable and looks great. The screw-down crown is placed just above the 4 o'clock marker. It's a visual imbalance that Lex hinted at as well, but it did not bother me for one second.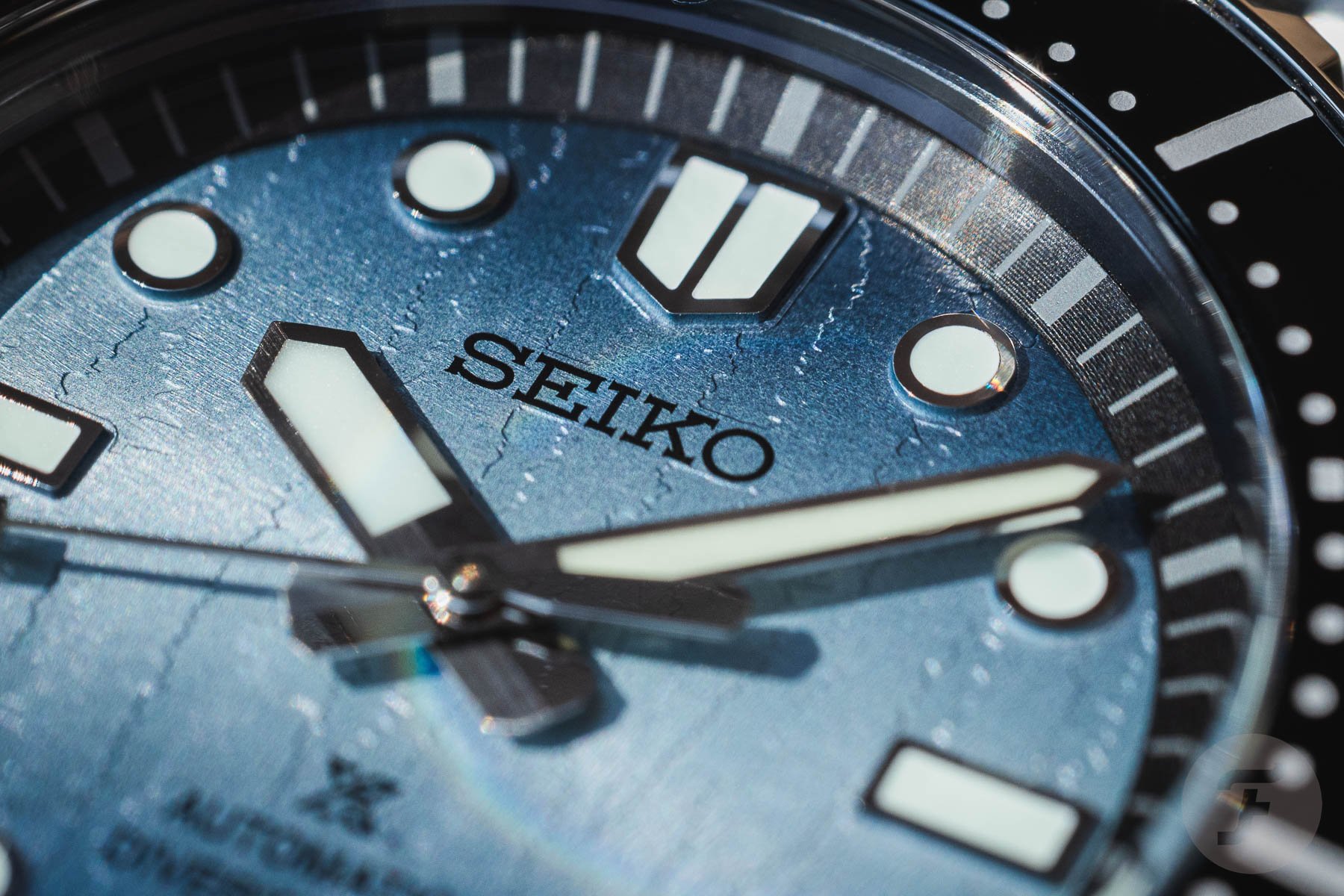 A very special dial inspired by cave diving
The case is graced by a black hard-coated stainless steel bezel insert with white numerals. Under the dual-curved sapphire crystal, you will find a very special dial. It's a light blue with a beautiful gradient and pattern inspired by the wonderful world of cave diving. I love the color combination, and seeing the dial up close gives a good impression of its depth and level of detail. The gradient is inspired by a diver's light illuminating an underwater cave. Obviously, this is a nice marketing story, but I think that this dial is stunning anyway.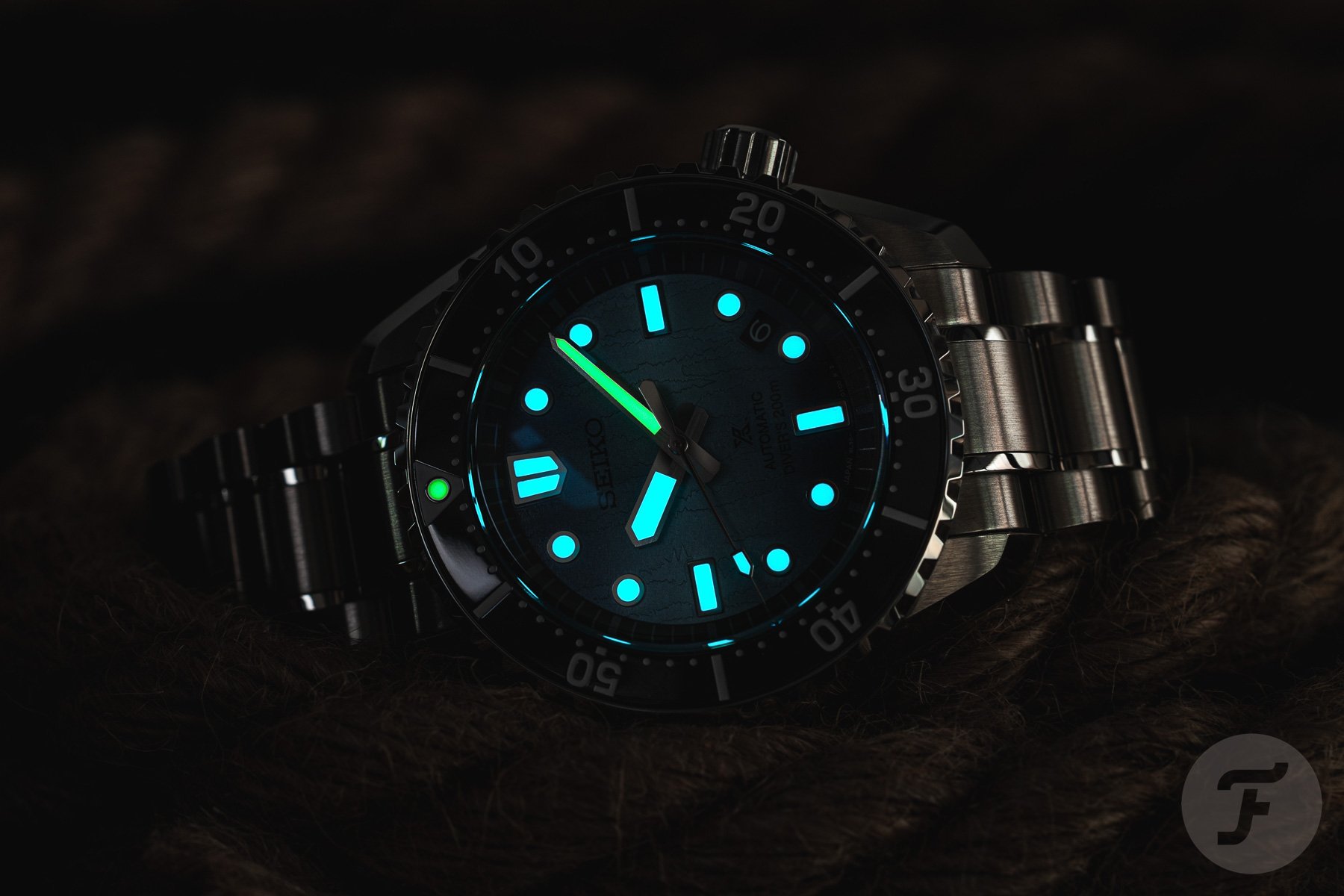 The dial is graced by the familiar hands and indices. In a nice detail, all the indices and the hour and seconds hand feature Lumibrite that lights up blue. The lume pip and minute hand feature lume that lights up green in the dark. I love the combination of the hour and minute hand. They are instantly recognizable and do a great job of telling the time. As you can see, the date window is tucked away between the 4 and 5 o'clock markers and features a dark blue disc with white printing. Initially, I wasn't too sure about this contrast because I like date indications to blend in. But after wearing the watch for some time, it did not necessarily stand out in a bad way.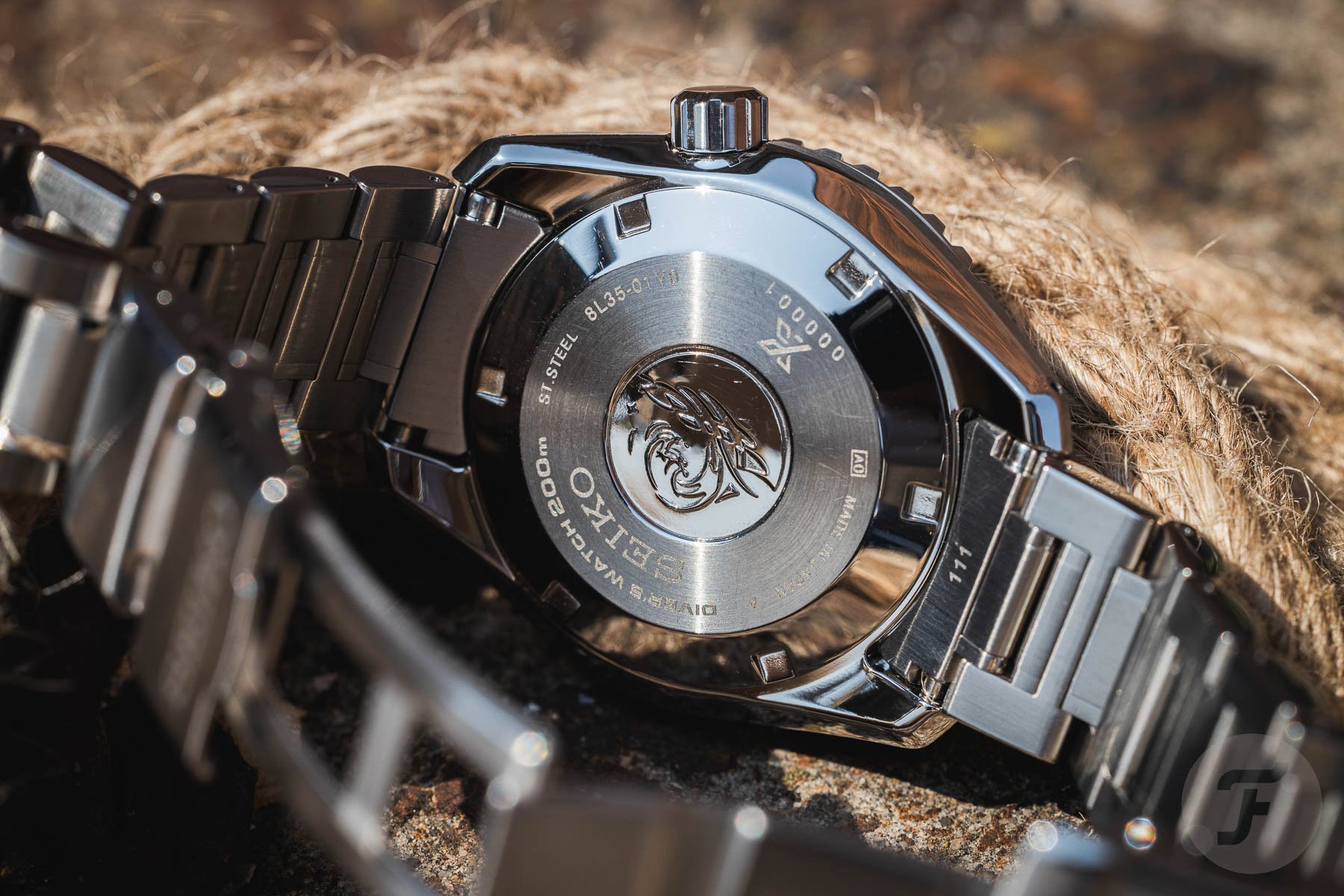 The familiar Seiko caliber 8L35
Hidden behind the screw-in case back is Seiko's in-house caliber 8L35 that we know from the Marinemaster. This automatic movement is based on the Grand Seiko caliber 9S55. As the 8L35 is specifically used for dive watches, Seiko uses a version that is less elaborately finished than its Grand Seiko counterpart. The movement operates at 28,800vph, has 26 jewels, and provides a 50-hour power reserve. In terms of accuracy, the official numbers are -10/+15 seconds per day.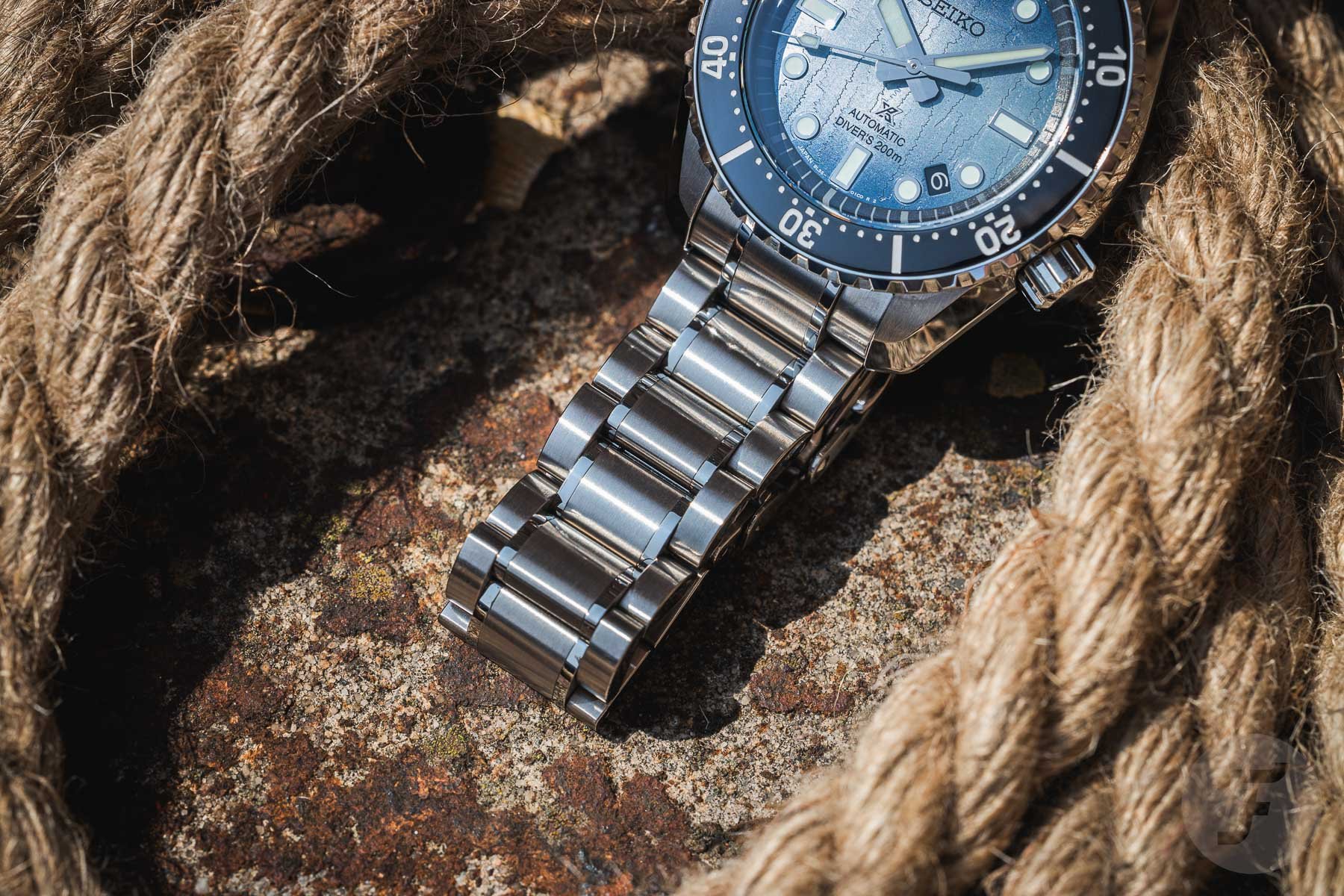 We have seen this movement in a series of limited editions, and it's always interesting to see what prices Seiko comes up with. So let's compare the price of this new SLA073 to the SLA055 and SLA057 that Lex reviewed. This new SLA073 comes in at €3,000, and compared to the €4,600 of the two previous models, that is a significant difference. Part of that is due to the use of regular stainless steel for this model versus Seiko's Ever-Brilliant Steel for the earlier ones. But other than that, there seem to be no differences.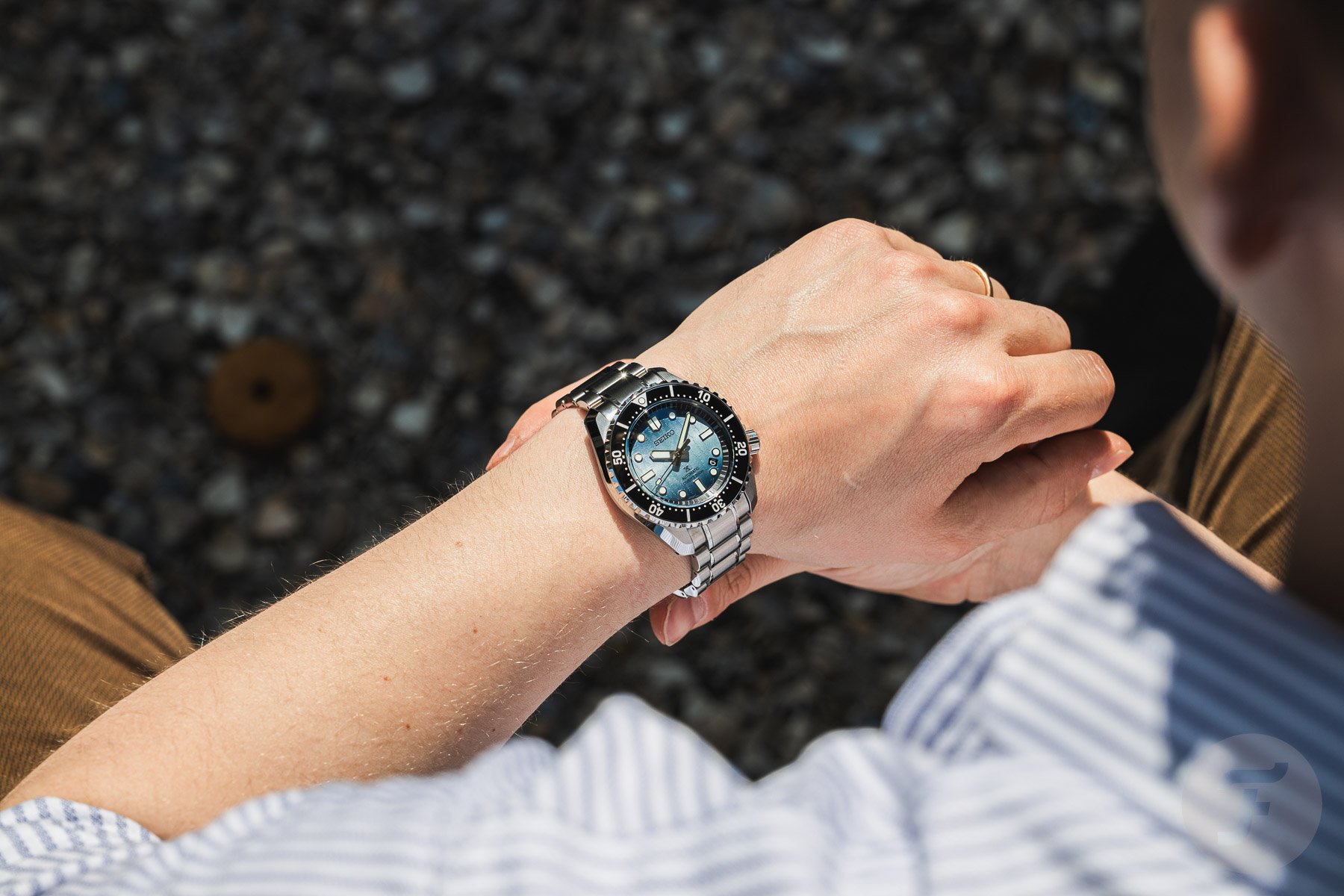 Wearing the Seiko Prospex SLA073
While the two previous models came with a rubber strap and a NATO strap, this new model comes with a stainless steel bracelet. And it's a very nice bracelet, I must say. The seemingly straightforward five-link design has some nice intricacies. The center links feature brushed surfaces with slim, polished intermediate links on either side, giving the bracelet extra detail. I love the design and was also impressed by the quality of the bracelet in comparison to some other Seiko bracelets I have tried.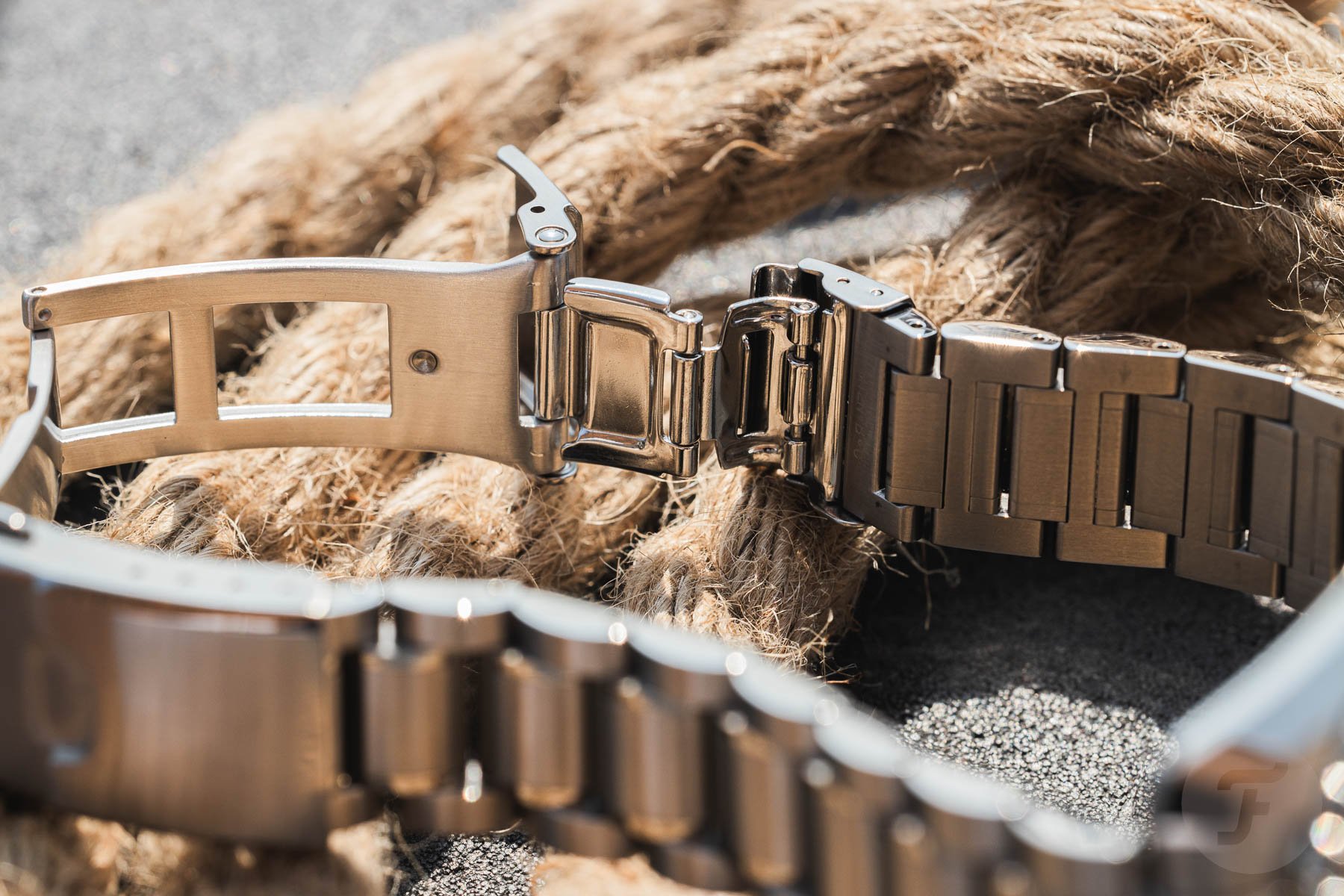 This bracelet has a fold-over clasp with a security lock, micro-adjustment holes, and a dive extension. It also wraps itself smoothly around the wrist and, honestly, surprised me with its comfort. Maybe it's a ghost from the past that is haunting me, but I was never too impressed with Seiko bracelets. Consequently, witnessing this new bracelet was a joyful surprise.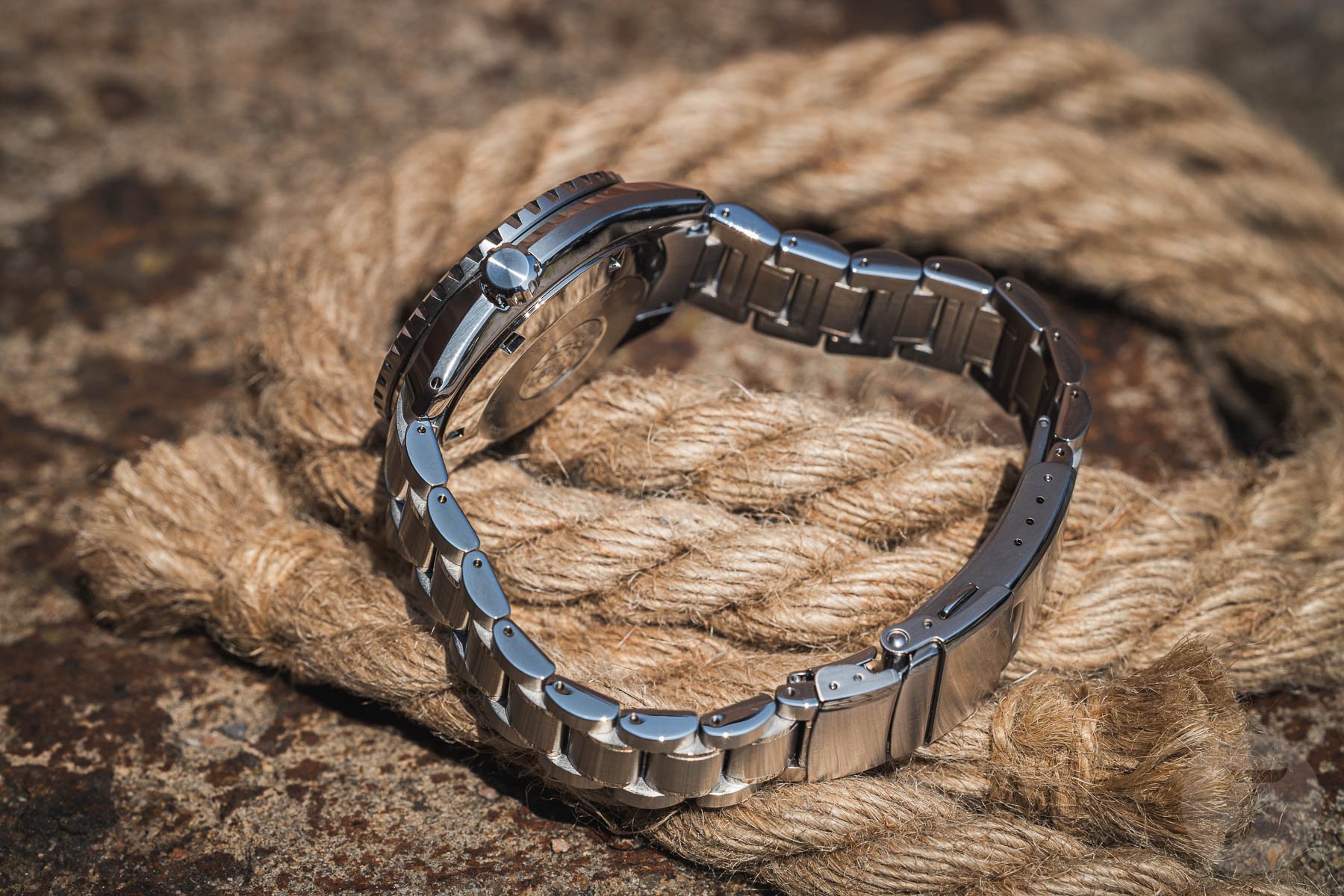 Substantial but not chunky
Once on the wrist, the watch is the perfect size for my 18.5cm wrist. I like my modern dive watch to be substantial without being chunky. That's exactly what makes this new Prospex SLA073 such a great watch for me. While I have recently gravitated towards smaller watches, this one is perfectly proportioned and provides that feeling of competence both on and off the wrist. And that is what I want from a dive watch.
Every part of this SLA073 feels incredibly well made, from the overall quality of the case and the bracelet to the level of detail of the special dial and the well-considered color combination. This new Seiko Prospex SLA073 is one of the highlights in this year's stream of new Seiko releases. While the year is far from over and the Japanese brand probably has some more great pieces in store for us, this is one that I will definitely remember at the end of the year.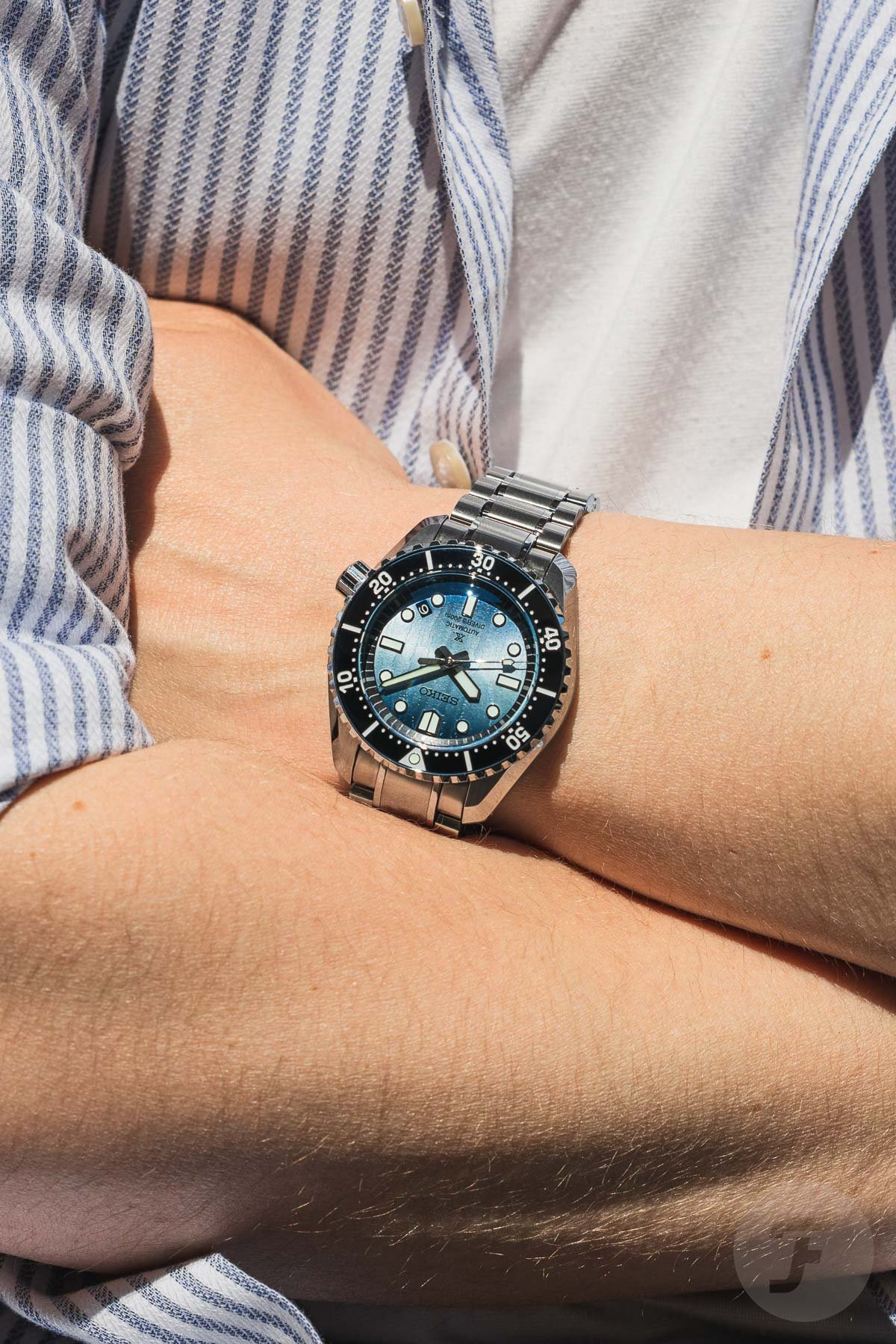 Final thoughts on the Seiko Prospex SLA073
By now, it'll come as no surprise that I love this new Seiko Prospex SLA073. However, the one thing that I keep coming back to is the question of whether it is worth more than double the price of the SPB187, which is €1,300. On the other hand, it is significantly more affordable than the SLA055 and SLA057, which were €4,600, as mentioned.
Thinking about that, I believe this Seiko SLA073 is a great deal for its €3,000 price. Compared to its more affordable siblings, the watch offers a significantly better movement. Additionally, it features a slightly different case that is finished to a much higher level, as is the bracelet.
Lastly, you will get a stunning dial that looks amazing in different lighting conditions. As mentioned, the level of detail is very nice and adds to the overall experience of wearing a true luxury dive watch. Because of this, I believe that the SLA073 beats many of its competitors in the same price bracket. And in comparison to its Seiko stablemates or not, the SLA071 offers incredible value and looks seriously good.
For more information, visit the official Seiko website. Let us know your thoughts on this new high-end SLA073 in the comments section.
Watch specifications
Model
1968 Diver's Modern Re-interpretation
Dial
Light blue with gradient, stamped pattern, and applied luminescent indices
Case Material
Stainless steel with hard-coated steel bezel insert
Case Dimensions
42.6mm (diameter) × 49.6mm (lug-to-lug) × 13.1mm (thickness()
Crystal
Dual-curved sapphire crystal with antireflective coating
Case Back
Solid stainless steel, screw-in
Movement
Seiko 8L35 — automatic winding, 28,800vph frequency, 50-hour power reserve, 26 jewels
Strap
Stainless steel five-row bracelet with diver's extension
Functions
Time (hours, minutes, central seconds), date, 60-minute dive bezel