Hands-On With The Super-Slim Solar-Powered Casio Edifice EQB-1000AT Scuderia AlphaTauri
Start your engines, please!
I don't know about you, but when I think of Casio these days, I automatically think of G-Shock. The tough and rugged watches that we all seem to love so much. I do not think so much about Casio's other product lines, which is a shame because, as I found out, I'm missing out on some really nice stuff, such as the latest Edifice collaboration with Formula One team Scuderia AlphaTauri. The new EQB-1000AT and ECB-10AT mark the second collaboration with the team. This one came after their name change to Scuderia AlphaTauri last year.
Previously known as Scuderia Toro Rosso, the team announced its intentions to change its naming rights for the 2020 championship in September 2019. Despite various name changes over the years, the team's involvement in Formula One can be traced back to the 1985 season when they first competed as Minardi. The team has been owned by Red Bull since the 2006 season. Now, I'm really not a fan of Formula One. I get why people love the sport, but it's not for me. I even went to the same high school as Sir Lewis Hamilton, but I still have zero interest in the sport. Thankfully you don't need to in order to appreciate quite how fantastic the new Scuderia AlphaTauri Edifice watches are.
These are a pair of high-performance metal chronographs based on the brand concept of "Speed and Intelligence". Both the Casio EQB-1000AT and ECB-10AT, which are made with 6K carbon, are collaboration models designed with the Italian Formula One team. Today, I have the Casio EQB-1000AT on my desk, so let's have a bit of a closer look!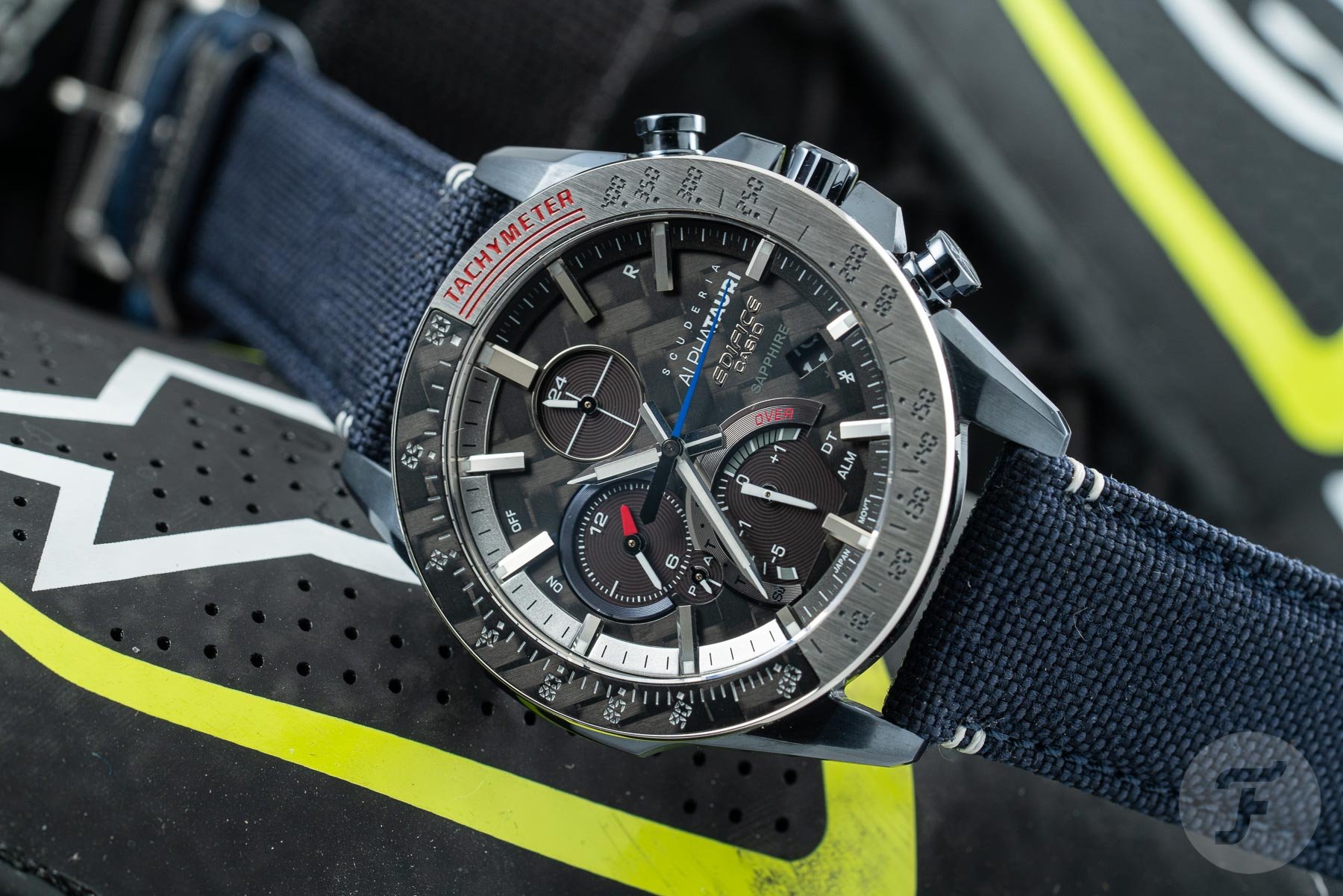 Casio Edifice
Edifice may not be Casio's most well-known model line, but it contains some of the Japanese brand's most technologically advanced sporting chronograph watches. Compared to G-Shock, the latest Edifice watches offer more technological capabilities, a premium design, and Bluetooth connectivity. Usually eschewing the resins and plastic cases preferred on G-Shock watches, the Edifice watches focus on premium materials for the discerning professional.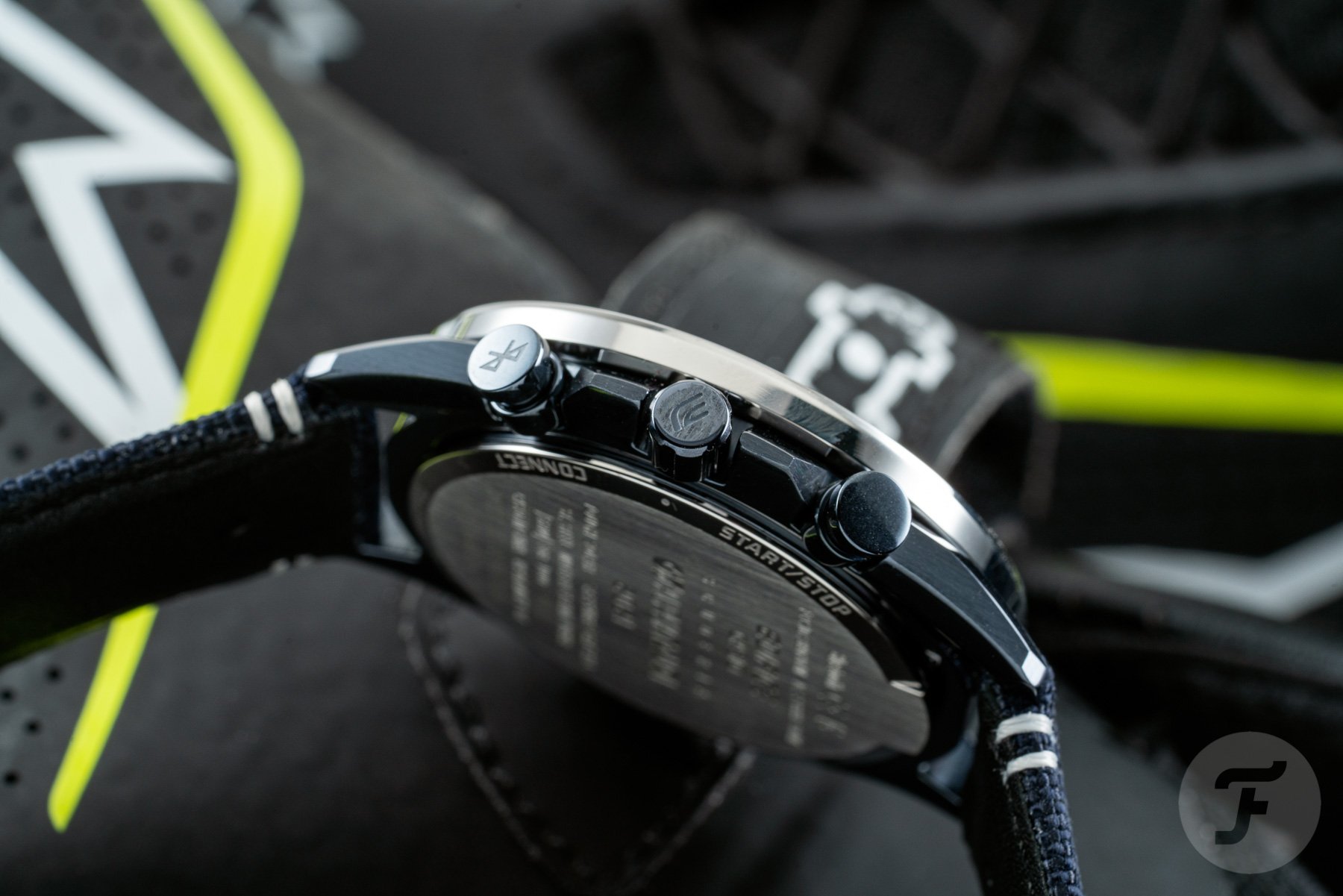 Thinness is the name of the game
Holding the watch in hand, it's quite an attractive, sporty timepiece. I particularly liked the thinness of the watch case. Every single one of the watches in my collection is automatic. That means I have gotten used to the case thickness that comes with that territory. It's, therefore, always quite refreshing to pick up a quartz-powered watch and appreciate the thinness that type of movement caters for. Despite the on-paper measurement case diameter of 45.7mm, I didn't feel that this commanded such an intimidating feel on the wrist. By traditional brand rules, we would be calling this a large watch. However, Casio marches to the beat of its own drum. Its watches are hardly traditional, so those traditional rules are kind of a moot point.
The Casio EQB-1000AT is just 9.8mm thick, but I expected it to be even thinner before measuring. I think that the thicker bezel offsets some of the visual impact when viewing from the side. The mid-case is wonderfully slim, and with an overall weight of just 71g. I mean, this thing was nearly unnoticeable on the wrist. Knowing the full technical capabilities of the watch, it's impressive that Casio can squeeze so much into such a slim watch.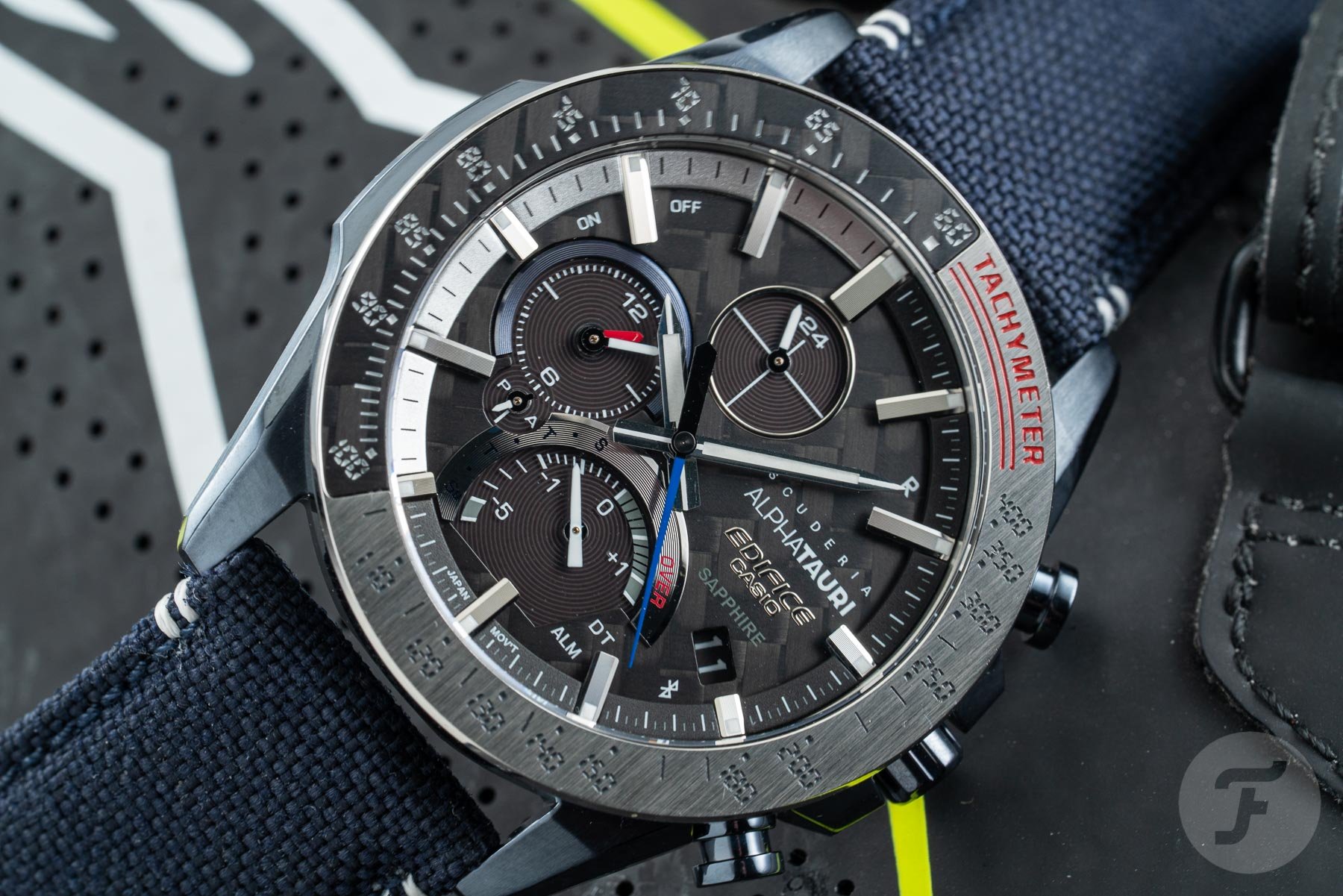 6K carbon dial and bezel
Casio made the dial and bezel of the EQB-1000AT out of 6K carbon. This material is produced with high-strength carbon fiber like the material used in racing car wings and floors. It is a woven pattern carbon fiber made of filaments consisting of over 6,000 carbon fibers. The Formula One team's navy-blue livery inspired the overall color scheme. You can also find and its logo engraved onto the dial, case back, and the Cordura strap's metal keeper. I love the look that carbon fiber brings to the watch — it especially looks cool here in blue, as opposed to the traditional black you usually see elsewhere. Capping things off is a solid sapphire crystal.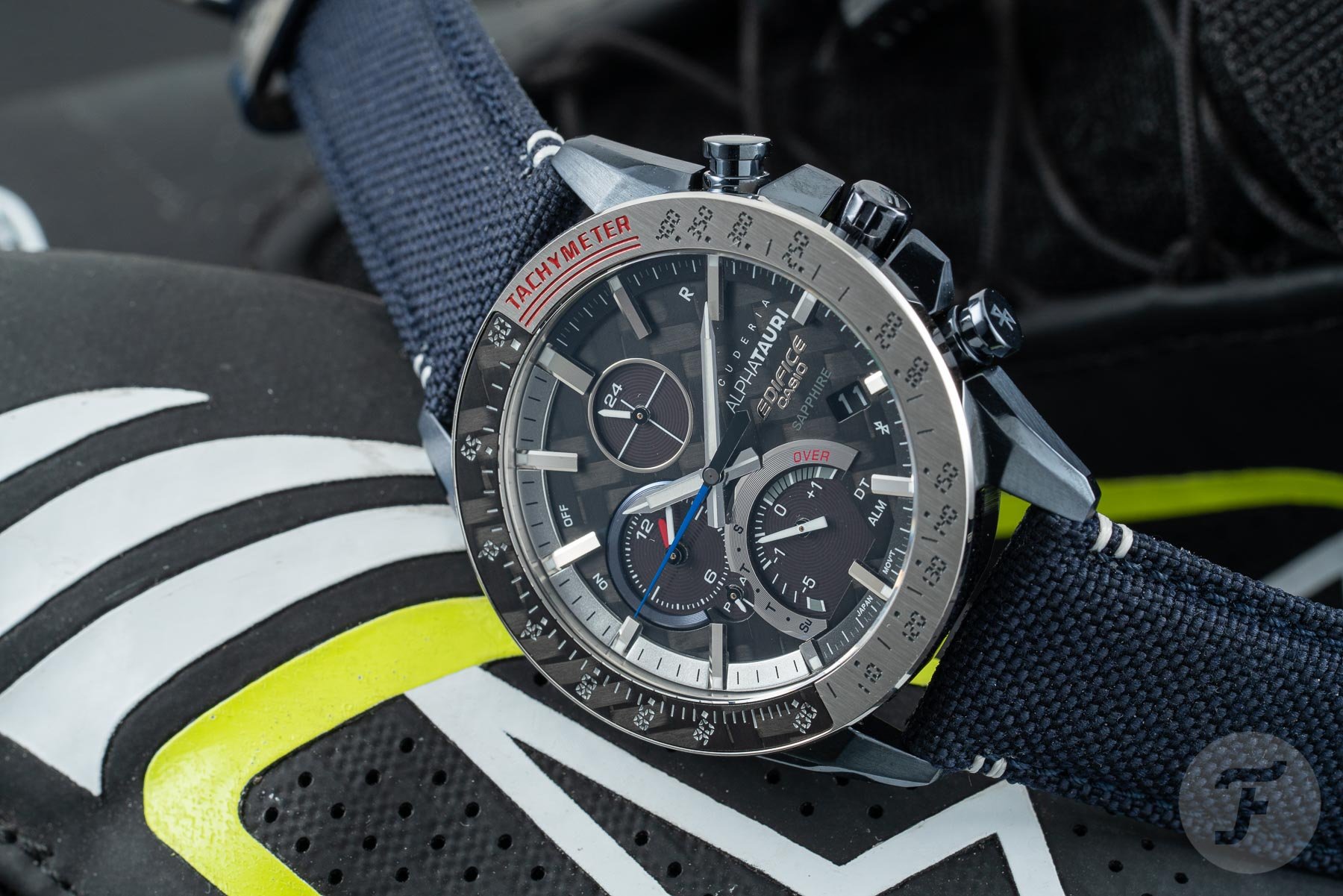 Bluetooth connectivity, in analog form
Where this watch really shines is its ability to connect to your mobile phone through a dedicated app using Bluetooth. If you decide not to link it up to your smartphone (I mean, why on Earth would you not, but hey — there are some odd people out there!), it should perform around ±15 seconds per month. The second you link up with a mobile device via Bluetooth, however, the watch picks up a radio signal and readjusts itself to the exact local time. An ideal feature for athletes who travel the world regularly. The app also allows the user to select from over 300 cities to set up a second time zone on the EQB-1000AT's 9 o'clock sub-dial.
In addition, the Casio Edifice EQB-1000AT also boasts a 1-second chronograph that can measure up to 23 hours, 59 minutes, and 59 seconds, a daily alarm, a power-saving mode (when the watch senses total darkness, it goes into a sleep mode before powering back into life when re-exposed to light), an automatic calendar that maintains accuracy up until 2099, a day/date display, three-handed time display, and a 24-hour indicator — phew. I mean, that's a lot of functionality for one watch.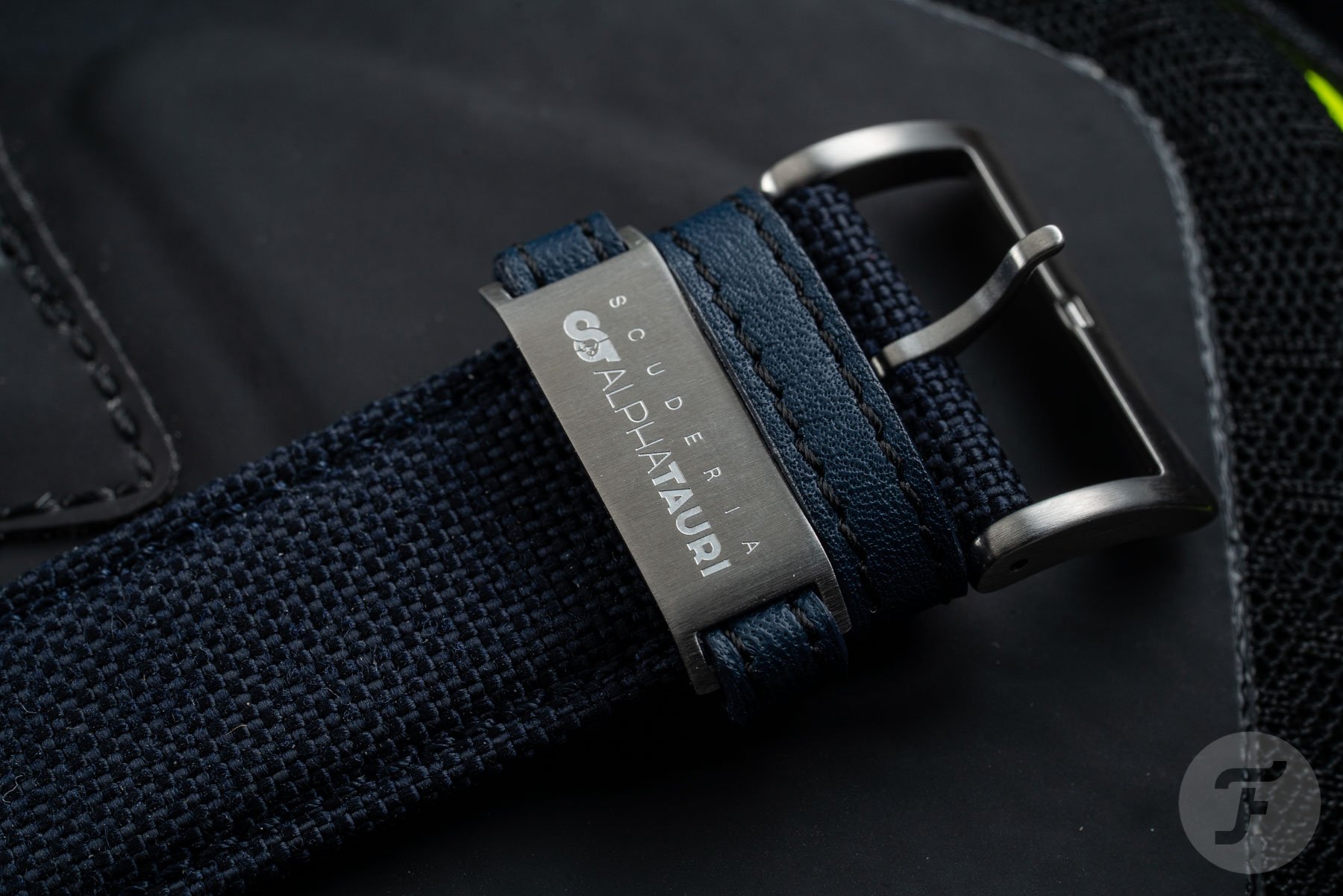 Plenty of power!
A constant Bluetooth connection to a mobile device and transfer of data is not a power-light operation. Still, if you're concerned about the watch's battery life, you'll be glad to hear that the watch is solar-powered. Once you fully charge the watch, the battery life is around 5 months. Still, the chances are you'll not have to worry about that, thanks to the solar-charging module. That means that just wearing the watch out and about will help keep the charge topped up. The really neat thing about Casio's Tough Solar power system is that you don't just need natural light to charge it. Even indoor fluorescent lights help keep things ticking along. If you put the watch into a draw and kept away from all light sources, the power-saving mode affords a whopping 19months of power.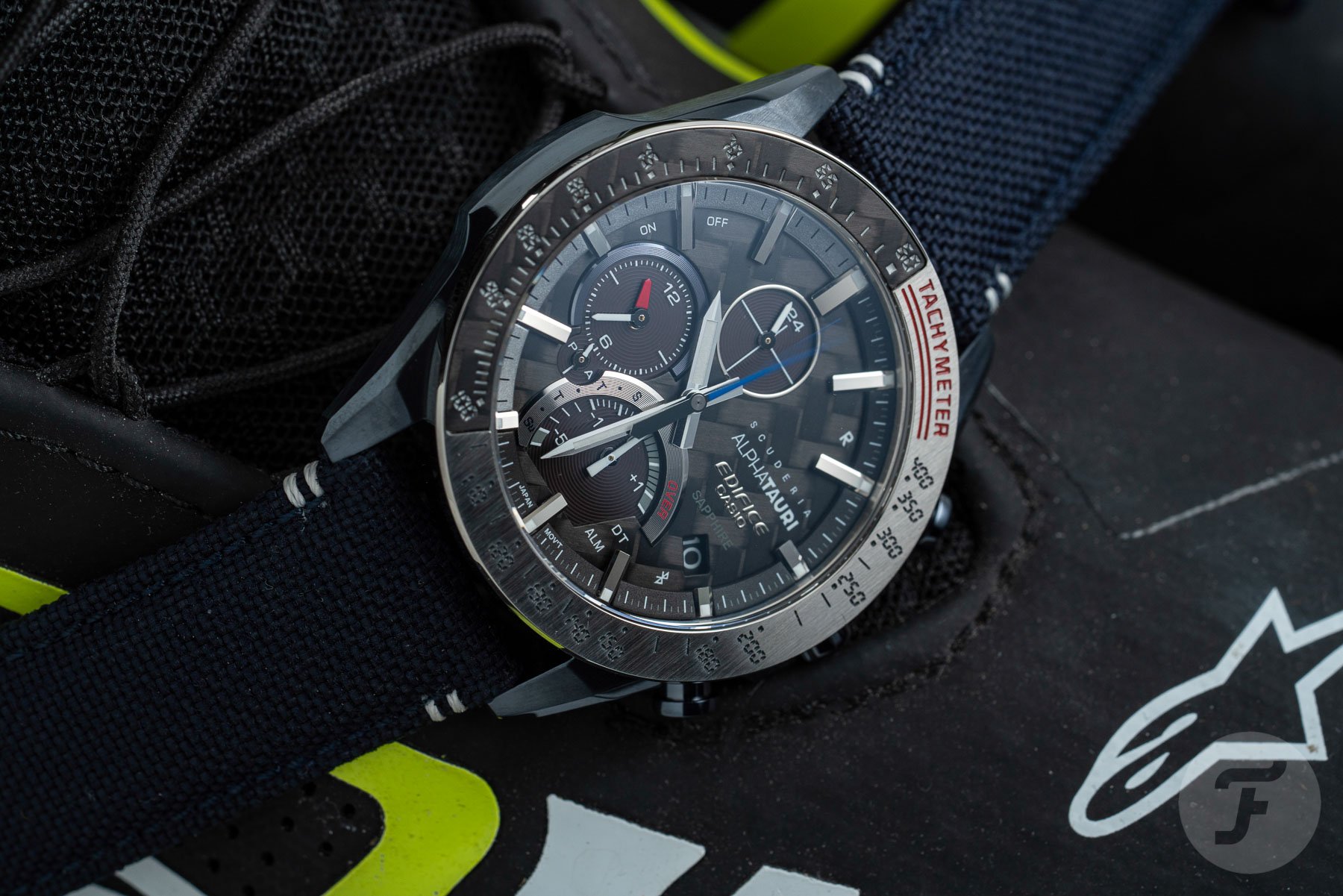 A welcome break from chunky automatic watches
As I previously mentioned earlier, all of my watches are chunky, automatic watches. I've never previously given much thought to quartz-powered watches. Still, the Casio Edifice EQB-1000AT has been quite a positive wearing experience. The thinness and lightweight on the wrist is a feeling that I'm not familiar with, but it was rather liberating. Even the larger diameter wasn't really an issue. But, what really makes this watch sing, is that all of this technical capability costs just €599. I mean, come on. That's an incredible bang for your buck.
Sure, the Edifice may not be for everyone, but give it half a chance, and Casio won't let you down. Suppose you're like me and like the idea of G-Shock watches but find them too chunky for your wrist? In that case, you may well find what you're looking for right here with the super-slim, solar-powered Casio Edifice EQB-1000AT.
You can find out more about the Casio Edifice EQB-1000AT Scuderia AlphaTauri on the official Casio Edifice website.