Hands-On: Zenith El Primero A386 Revival
Zenith Releases a Trio of A386's in Gold
Zenith kicked off the 50th anniversary of the El Primero with a trio of watches first shown during, but not at, SIHH in January.  At Baselworld 2019, the celebration continued with additional pieces the brand that the brand has named Zenith El Primero A386 Revival.
It was only a couple months ago that we first laid eyes upon Zenith's 50 Years of El Primero Anniversary Set.  It was a set offering three different expressions of the famous movement that first debuted in 1969.  A futuristic Defy, a modern Chronomaster, and a re-edition of the original A386 were included in this run of 50 sets for 50,000 CHF.  We liked the notion, but most of us vintage grouches were really hoping for either a limited or unlimited run of the steel A386.  Unfortunately – or perhaps rightly so for those who shelled out the 50K – Zenith won't be making any additional steel A386's.  That being said, we do now have the Zenith El Primero A386 Revival.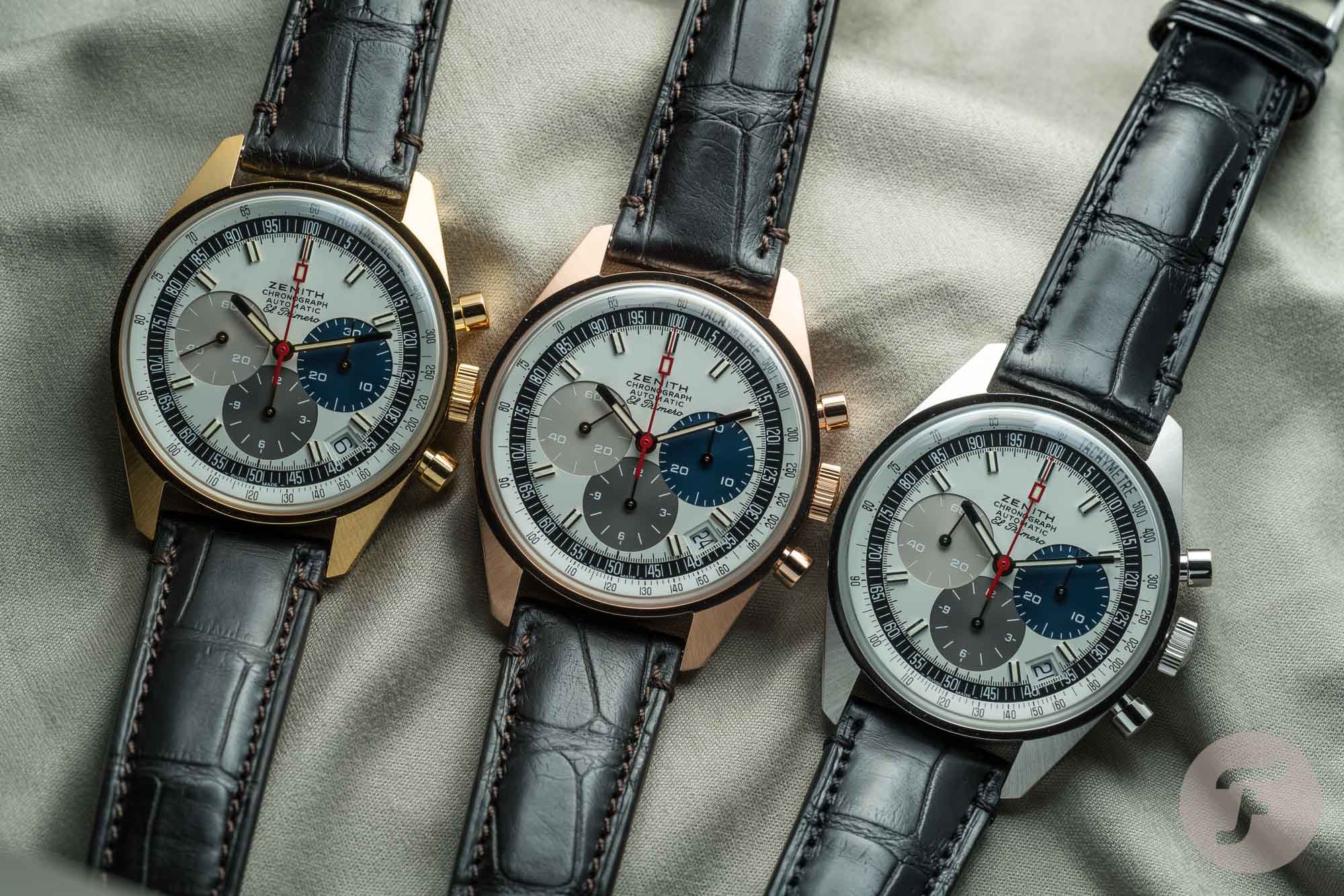 Zenith El Primero A386 Revival – 3 Colors
The Zenith El Primero A386 Revival lineup actually encompasses three different watches and, not surprisingly, they look exactly like the vintage A386 chronograph.  However, what's new here versus the steel piece in the aforementioned set is that these watches are only available in gold.  Specifically, the pieces will be offered in white, yellow, or rose gold.  50 of each hue will be produced and – thankfully – they can be purchased separately.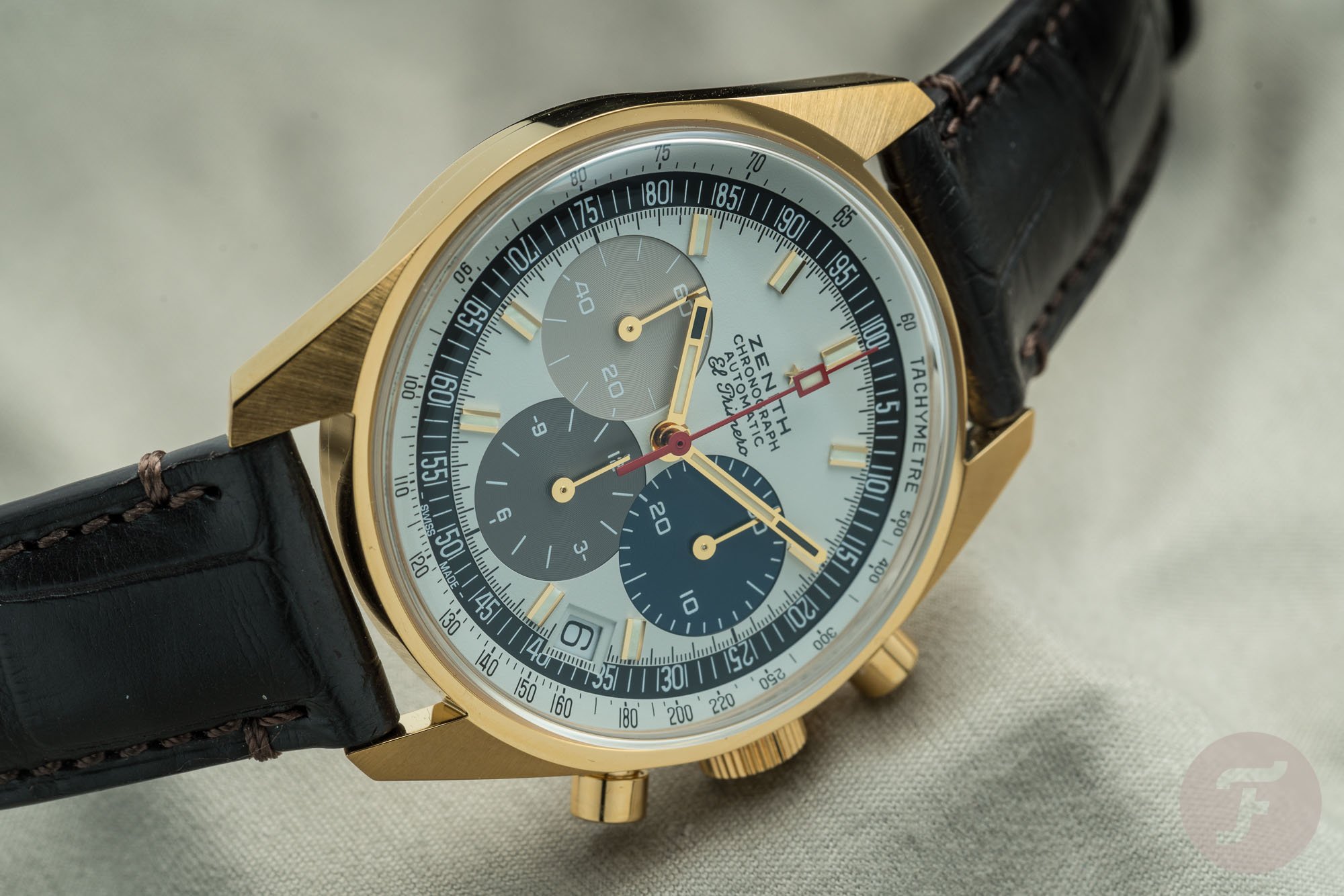 From what I can tell, the watches within the Zenith El Primero A386 Revival collection are identical aside from the case material and metal colored details.  The hands and applied indexes are also consistent with the metal used.  Zenith even chose to use the same exact sub register colors on each piece – so the familiar overlapping pattern of light grey, dark grey, and blue remains.  The ridging is there on the sub dials, although I wish it were a bit more pronounced like the original.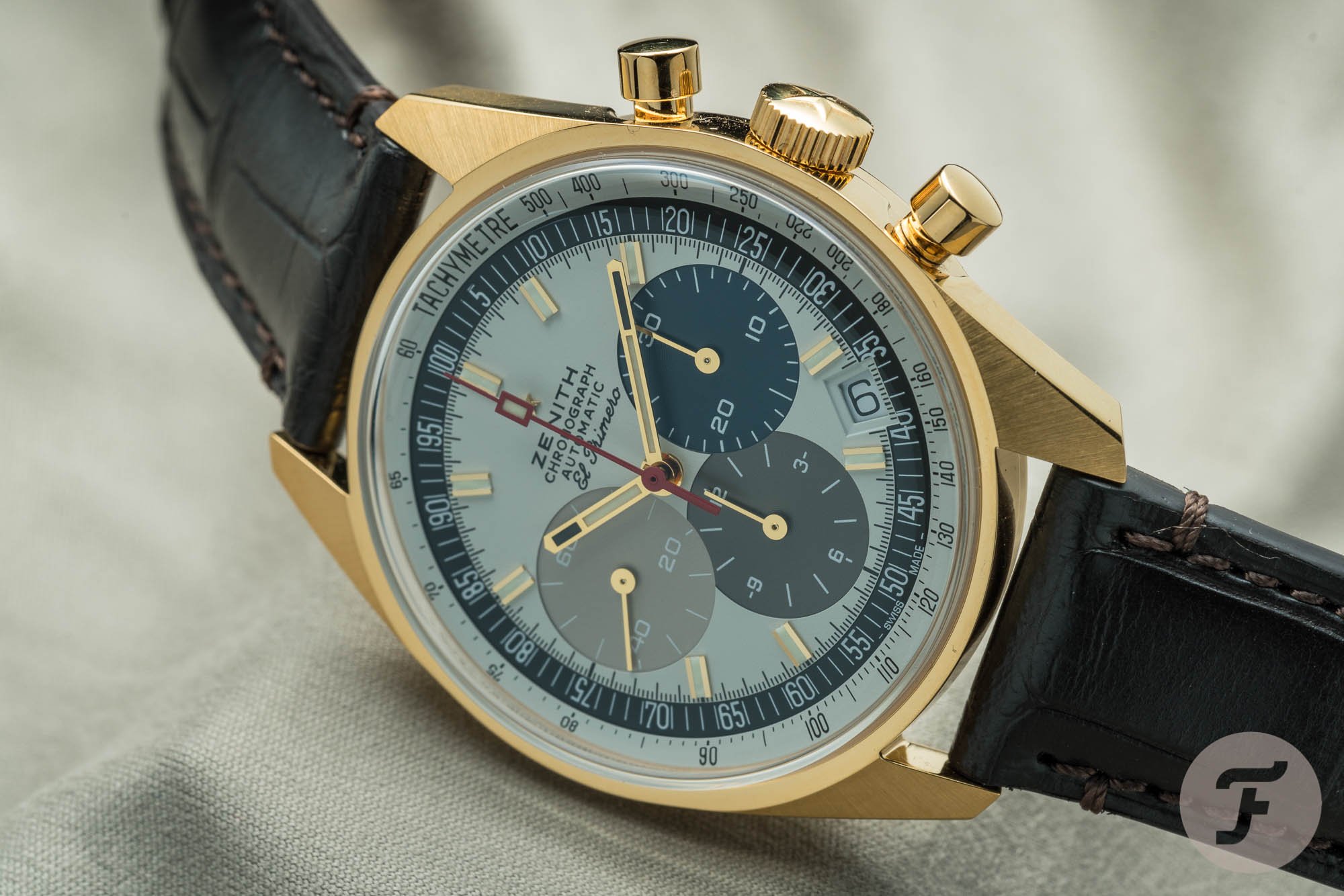 38mm Case Size
What's nice on the pieces within the Zenith El Primero A386 Revival that the original 38mm case was kept along with its 19mm lug width.  If you've never tried on an A386, the form factor is just about perfect – not too large and not too small – so it's commendable that Zenith didn't bow to the pressure of upsizing one of their masterpieces to, say, 40mm or greater.  All three will come with a black alligator strap lined in rubber and a corresponding gold pin buckle.  Water resistance is a practical 100M.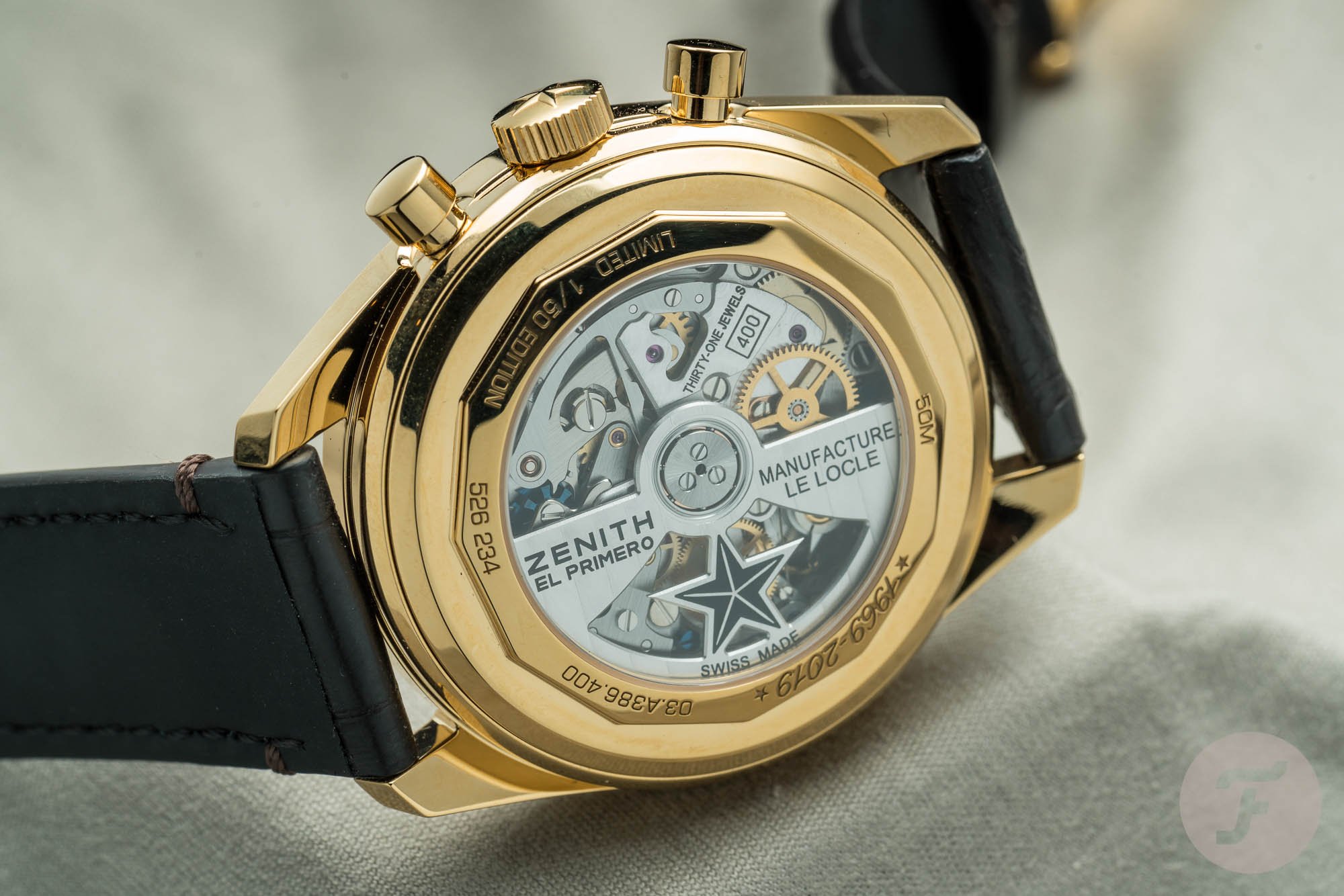 Inside the Zenith El Primero A386 Revival watches, we find the El Primero 400 automatic that cracks along at its well-known 36,000 bph and, as the brand's website claims, is comprised of 278 individual components.  Power reserve is 50 hours and it contains 12-hour, 30-minute, and running seconds sub registers.  The date, as is customary, shows itself at 4:30.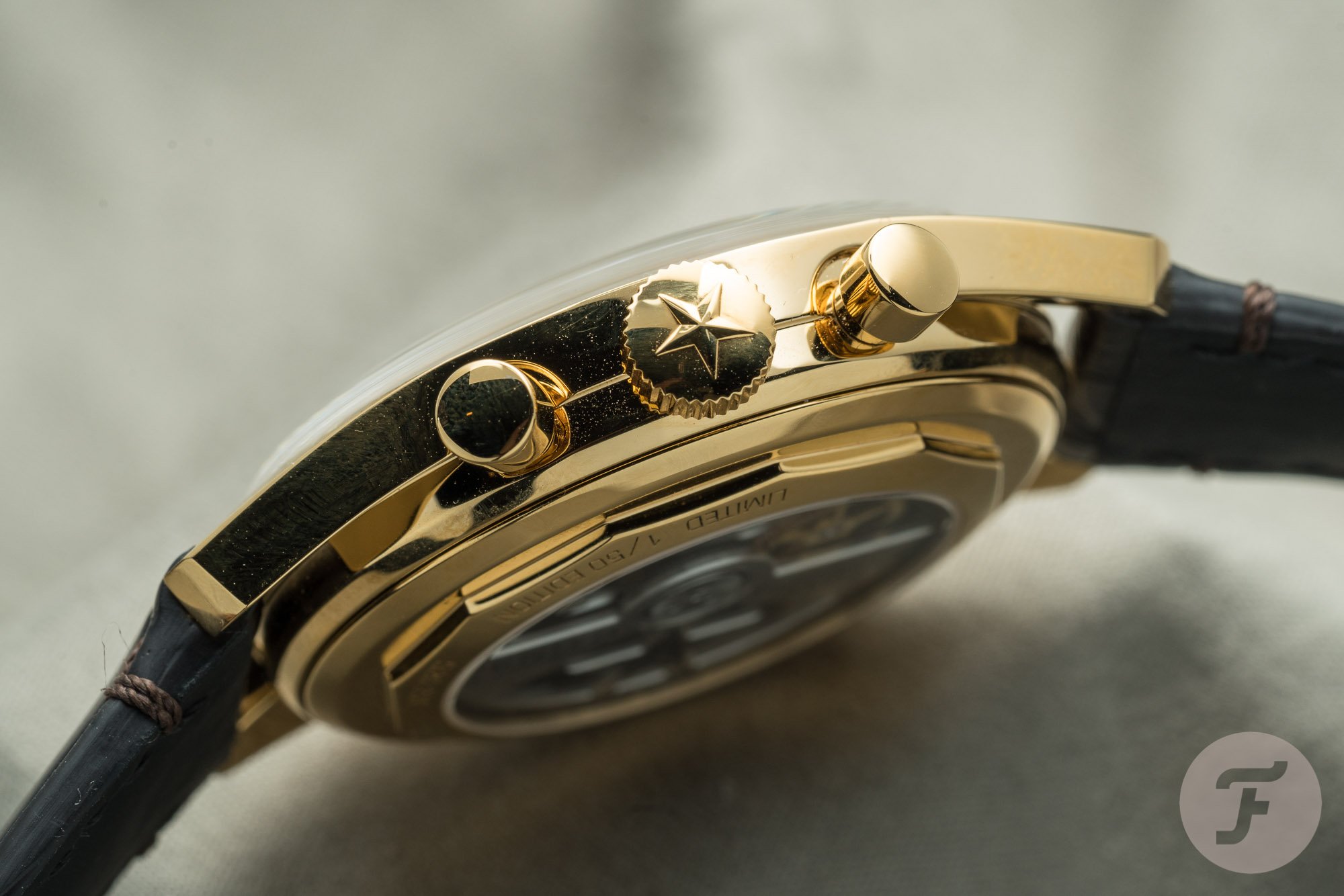 Nearly Identical to the Original
Zenith told us that the watches within the Zenith El Primero A386 Revival collection really are as identical as possible to the originals with only the current logo on the crown, use of a sapphire crystal and a display case back.  As an A386 owner, I'd agree and would say that the only thing "missing" is the original Gay Freres ladder bracelet, but I can appreciate that making 50 of each of those in different metals would have been far too costly.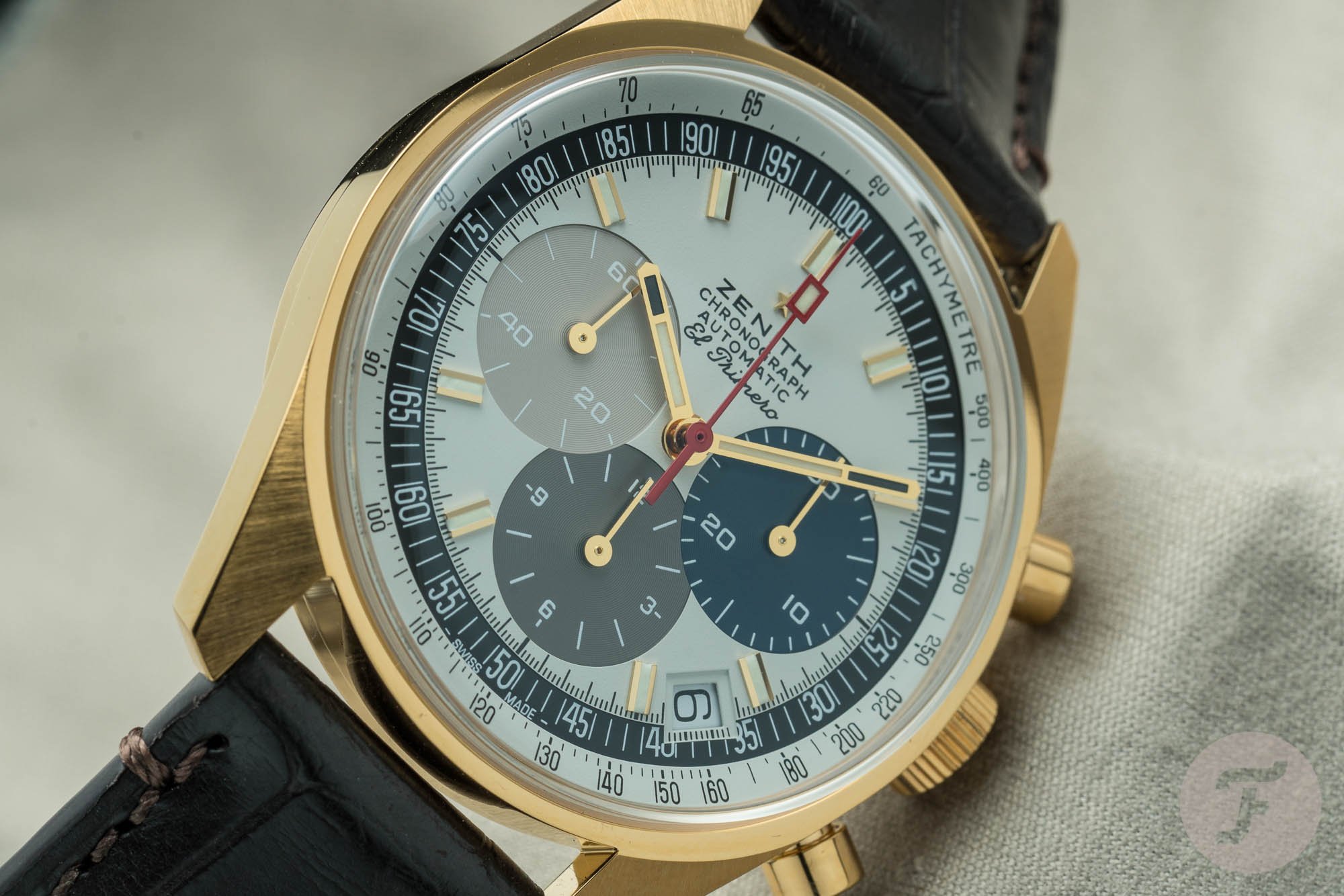 Pricing Near the Price of a Vintage A386
Speaking of costs, whichever metal you choose from the Zenith El Primero A386 Revival grouping will cost you 19,900 Euros.  Now, no matter what we're discussing, 20K isn't small money, but I think these are priced quite fairly.  Firstly, an original A386 is within spitting distance of this figure depending on condition and finding a decent one has become increasingly difficult.  Understandably, some people want steel, but the white gold should satisfy some who at least want to copy the colors of the original more exactly.  For me, though, either the yellow or rose gold models looked classy and I like that they're just a touch different than a straight-up re-edition.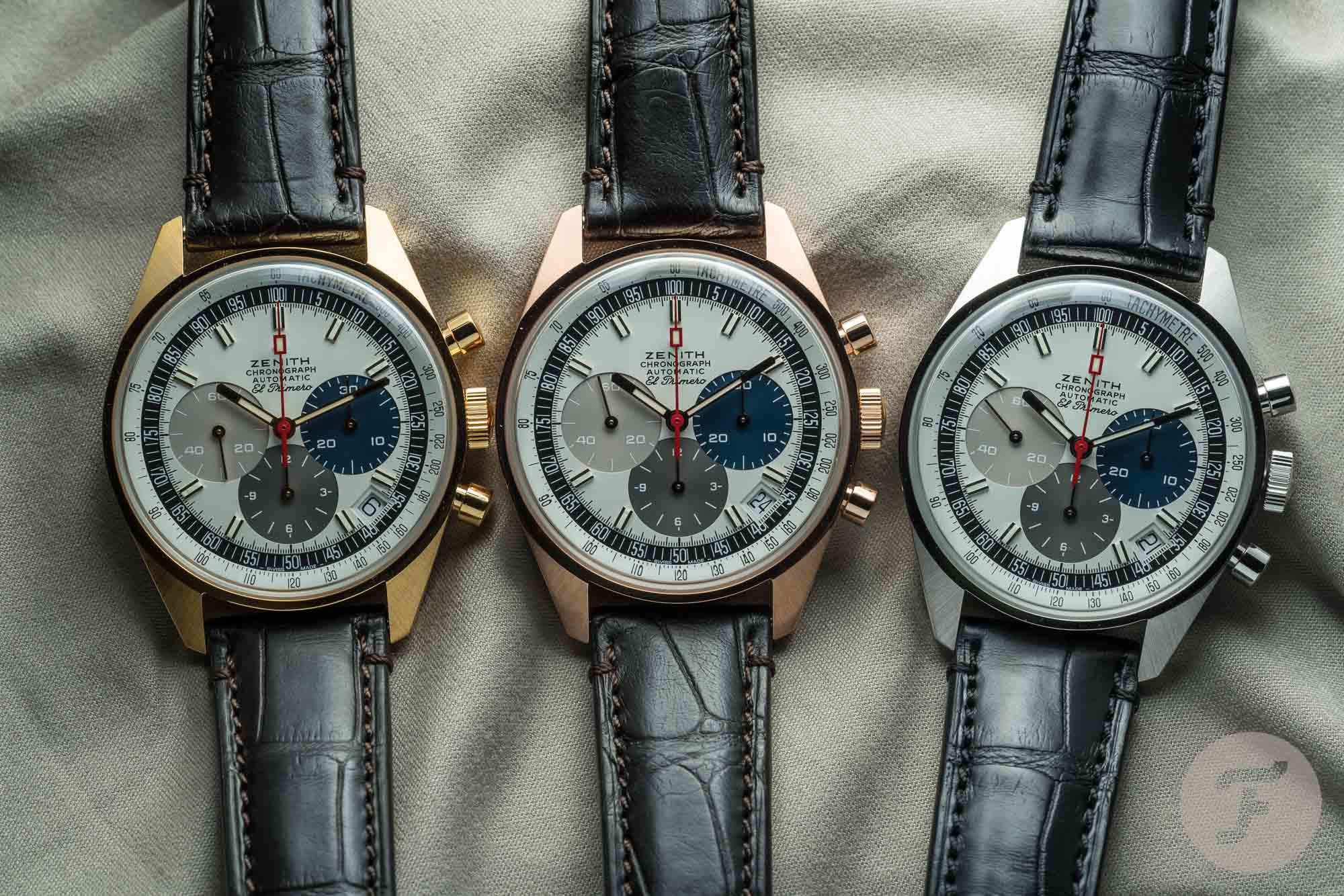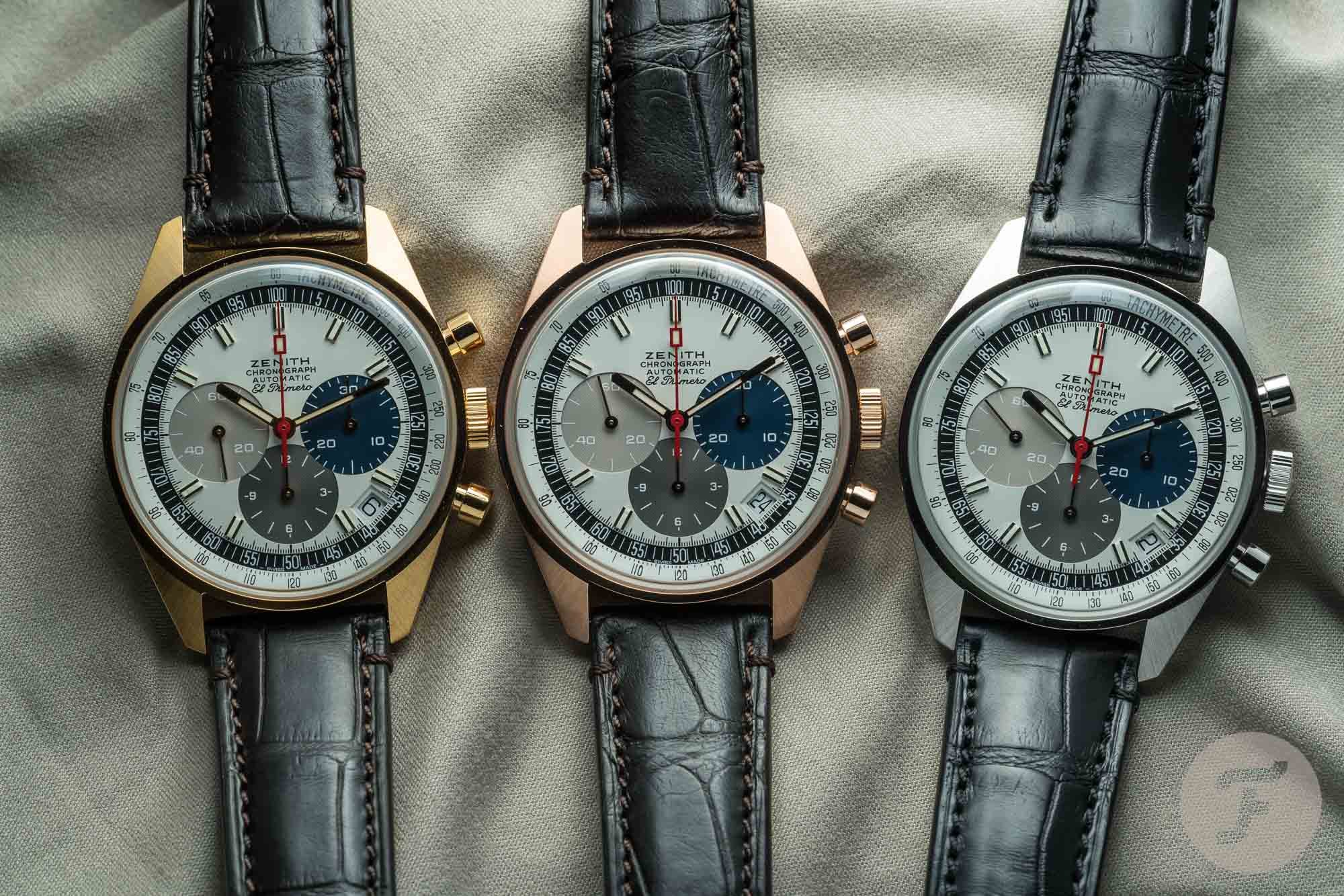 A Great Way to Celebrate the A386
Despite what was apparently a fast sell out, the 50th Anniversary of El Primero Set seemed to garner more ambivalence than interest on our site and in postings.  Whether it was the cost, the general dislike of Zenith's modern pieces by the vintage crowd, or concerns about not being able to buy the steel A386 separately, the release wasn't an overwhelming hit.  I think the Zenith El Primero A386 Revival collection answers the call of celebrating this innovative movement in its best case design in a far more appropriate manner.
For more information on the Zenith El Primero A386 Revival watches including pricing in your region, visit the official Zenith site.
Watch specifications