Zenith 50 Years of El Primero Anniversary Set and Live Pics!
This week, we've seen loads of new releases from brands that showcase their wares at SIHH in Geneva. However, and we've mentioned this, other brands that don't attend often show new pieces while the world has their eyes on watches in general. As an example, Breitling showed their new "Capsule Collection" focusing on the Golden Age of Aviation with Navitimers inspired by Swissair, Pan Am, and TWA. This was a digital release, but we also saw at least one brand set up shop at a local hotel in Geneva to take advantage of all the watch-related traffic in town. Zenith was there as part of their "Geneva Days" and they rolled out a number of new products, some of which we will cover at a later date. Today, though, we'll take a look at the Zenith 50 Years of El Primero Anniversary Set.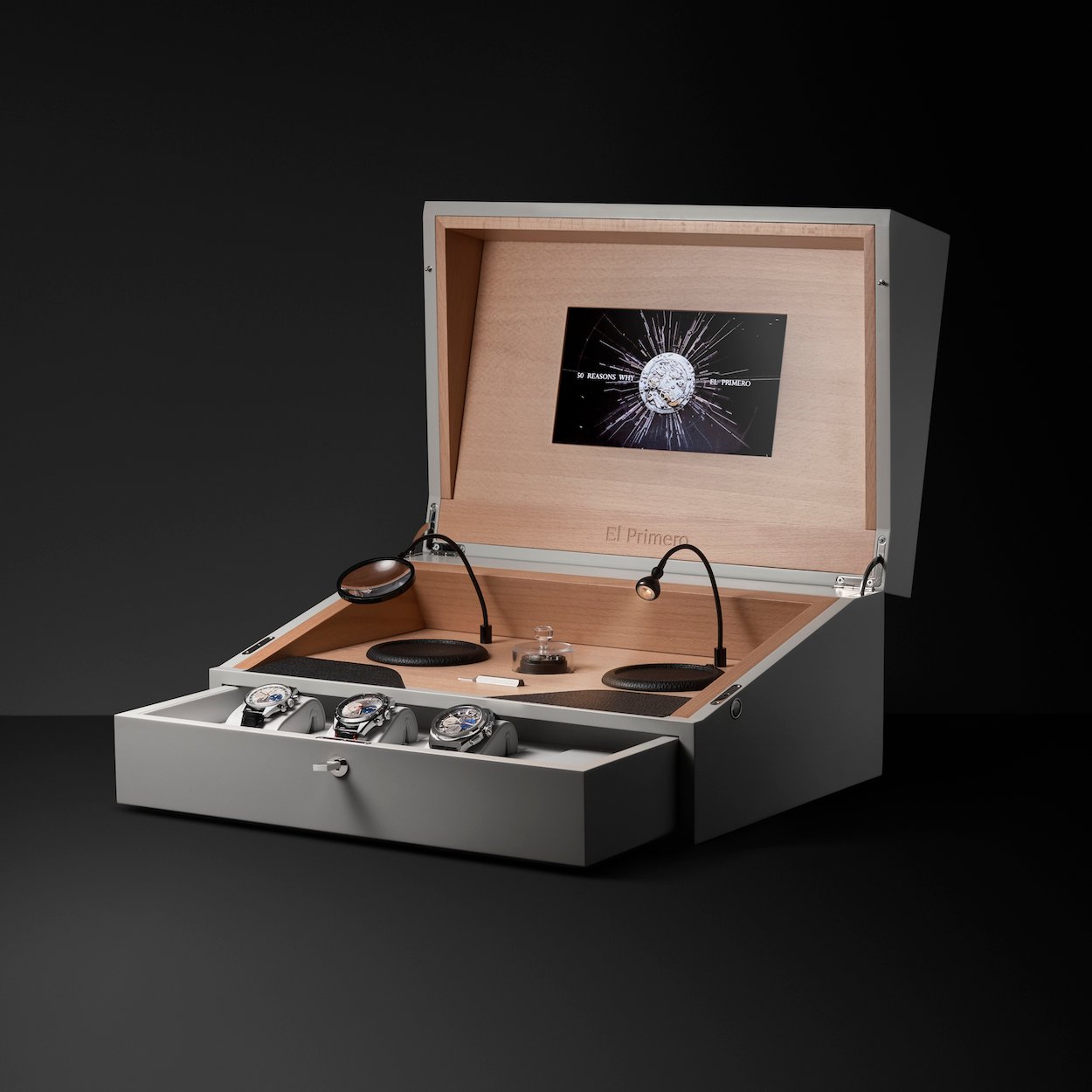 We've not published anything yet about our expectations for new releases to come in 2019, but suffice it to say, this is probably one of the biggest years on record if celebrating 50th anniversaries are taken into consideration. Of course, we have the moon landing that involved one of our favorites in the Omega Speedmaster. However, if you're a movement geek, 1969 was also the year that the first automatic chronographs debuted. Seiko, the cal. 11 contingent made up of several brands, and of course Zenith all came out with their take on a timer powered by the movement of your arm. We expect some cool pieces this year and in fact, yesterday we saw the first notion of this with the announcement of the Zenith 50 Years of El Primero Anniversary Set.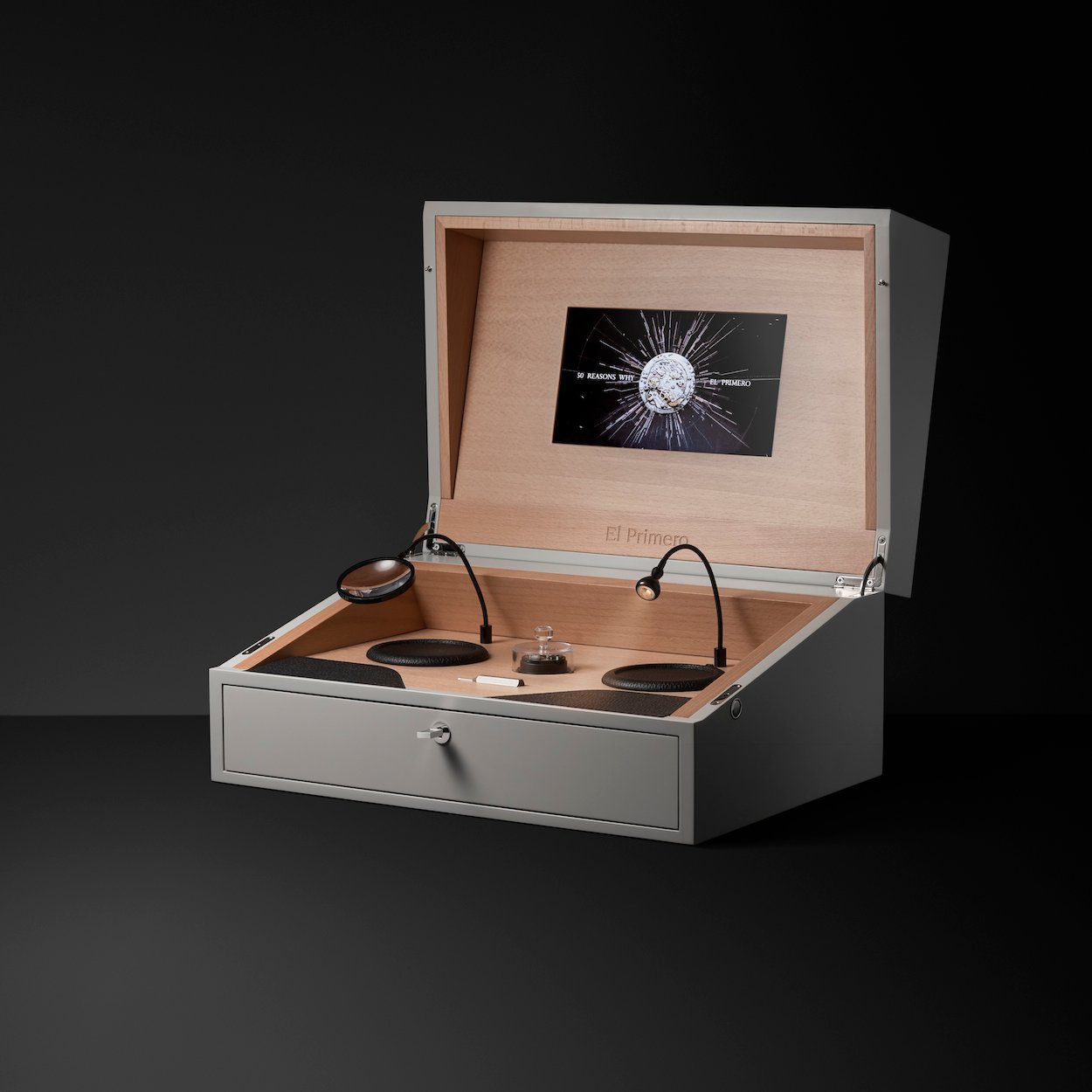 Let's give a rundown of what the Zenith 50 Years of El Primero Anniversary Set is and then briefly talk about the pieces inside. As a bonus, one of our friends, Frederic Bouvier (@frederic_gva on Instagram) happened to visit Zenith in Geneva this week and was good enough to take some pictures of at least one of the watches. Our header picture and the live pics are courtesy of him, so a big thanks to Fred! Back to the wood and leather boxed set, though, and it's an interesting idea. Zenith has come up with a trio of watches that present the past, present and future and offers them in a high quality case featuring a light and magnifying lens. A fourth slot is in the box to hold a yet-to-be developed chronograph that can measure to 1/1000 second, but you'll have to buy that one separately one day! 50 sets will be made at a price of 50,000 CHF. As a real bonus, an actual coupling-wheel bridge is included and is the buyer's invitation to visit the manufacture. Once there, the buyer will hand stamp two coupling-wheel bridges. One bridge will stay with the owner and one will be placed at the entrance of the attic where Zenith employee Charles Vermot squirreled away the original El Primero production elements during a purge in the 70's. You could liken this to a driving experience offered when buying an exclusive vehicle – sounds rather unique and special to me!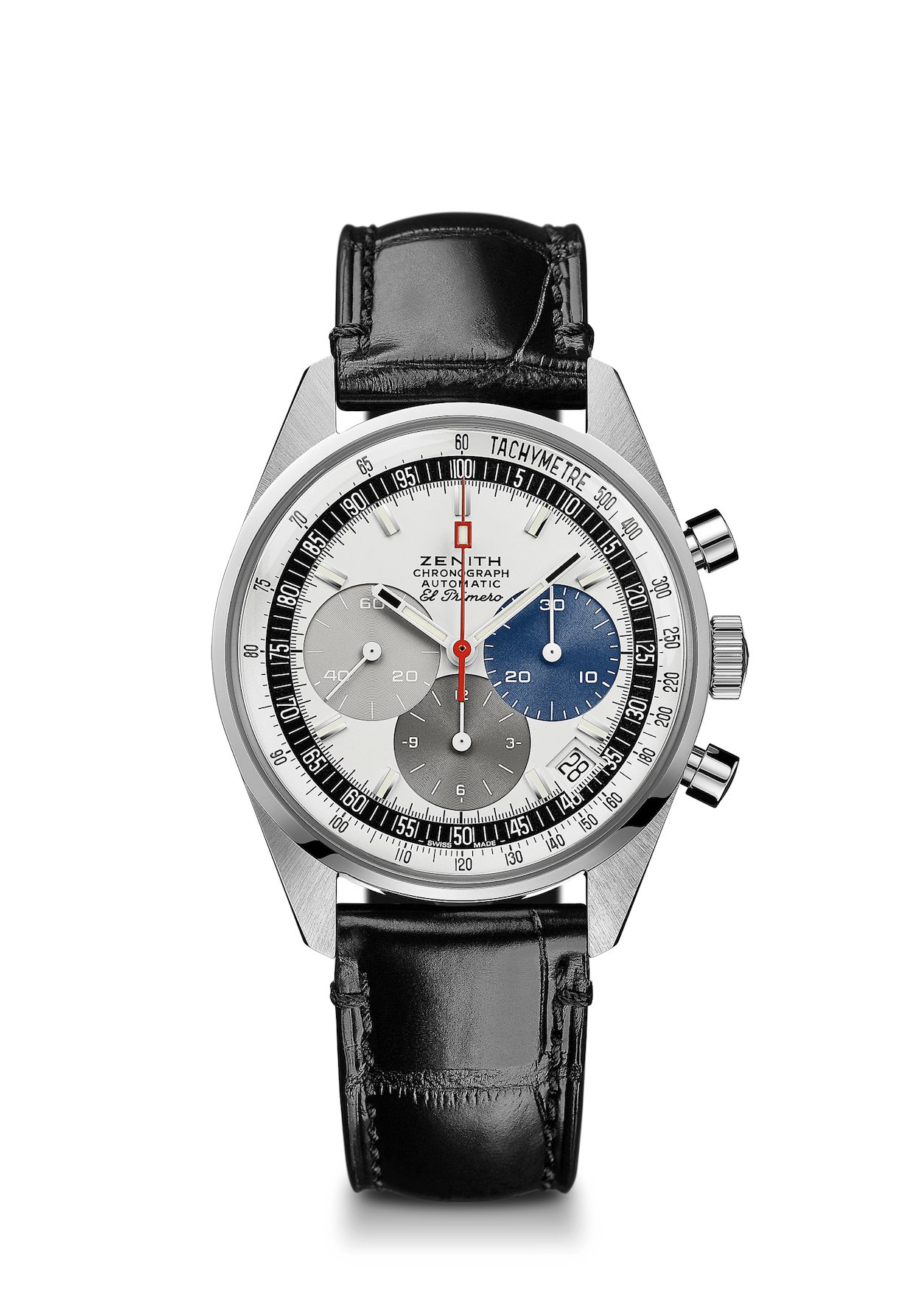 Zenith El Primero A386 Revival
As for what included within the Zenith 50 Years of El Primero Anniversary Set, we have the first, and probably most important for readers of our site, which is a reissue of the first El Primero: the legendary El Primero A386 Revival. Here, Zenith did what Omega did when they reissued their 60th Anniversary Speedmaster by laser measuring all of the visible parts on an original A386 and then creating an almost-exact replica. I say "almost" because Zenith chose a dimensionally similar, but materially different sapphire crystal instead of the original acrylic. Additionally, a see-through case back is present instead of the steel case back on the A386, the crown logo is newer, and the movement is the modern El Primero 400 in lieu of the 3019 PHC. The 38mm steel Revival comes on a black alligator strap with pin buckle. Visually, all the colors and features are there to look like the original. If you're looking for my thoughts on this one, hold on until we get through the next two watches!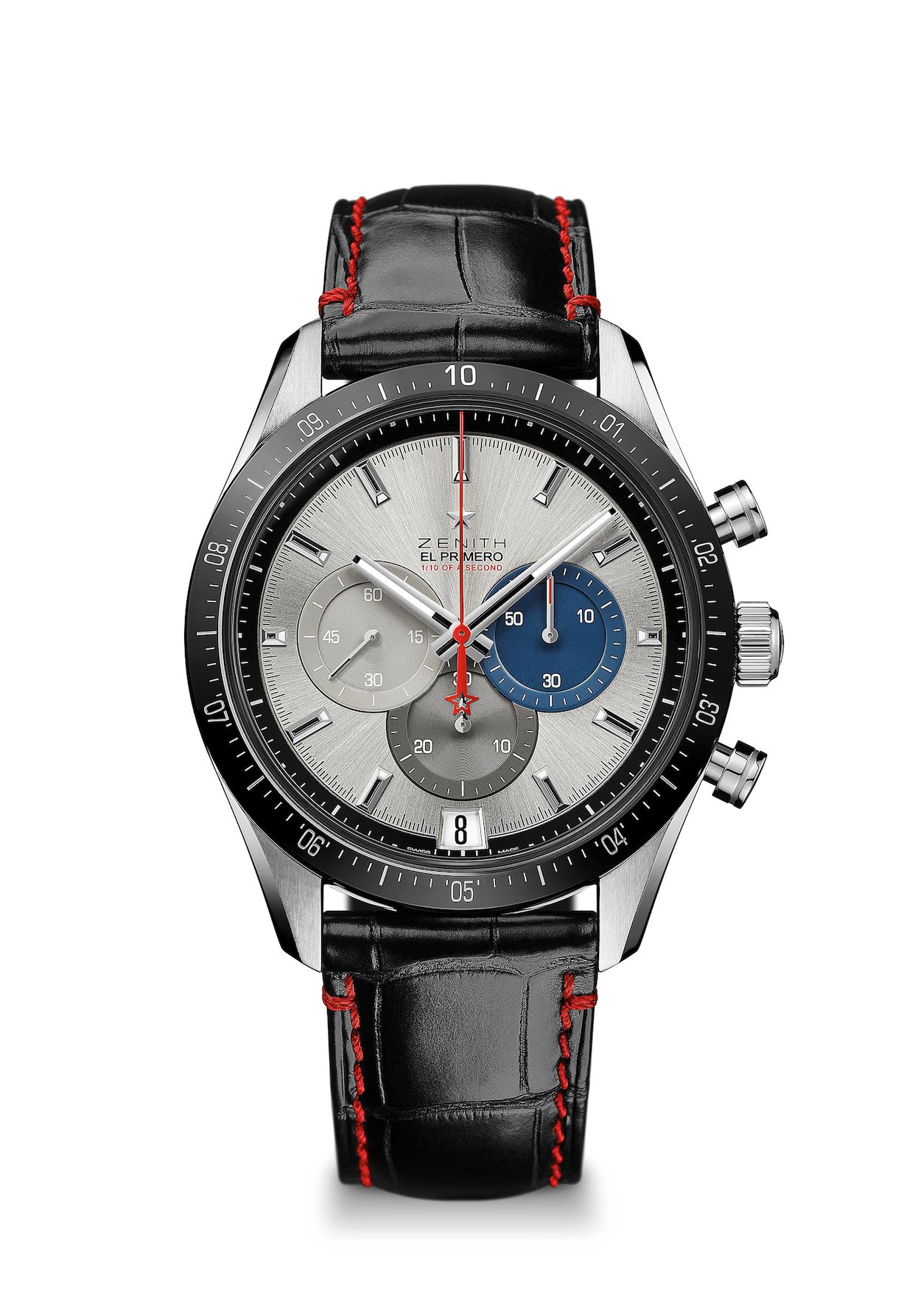 Chronomaster 2 El Primero
Next up in the Zenith 50 Years of El Primero Anniversary Set is the Chronomaster 2 El Primero. This is a new watch for Zenith and is meant to be a "direct descendant" of the A386. What's interesting here is that the 3600 caliber movement, which also runs at 36,000 bph, features a central chronograph hand that makes its way around the dial in 10 seconds. The external ceramic bezel contains a 1/10 second scale, so reading time measurements to that level of accuracy can be done with ease. At 42mm and with a stainless case, the Chronomaster 2 also features a display case back to see the lovely movement. My brief thoughts on this one are positive. It's hard not to like the familiar blue, dark grey, light grey sub registers, even on a grey dial background, that we expect on a classic El Primero and I find the case traditional enough to stoke my vintage fires. I'll look forward to seeing this one at Baselworld soon!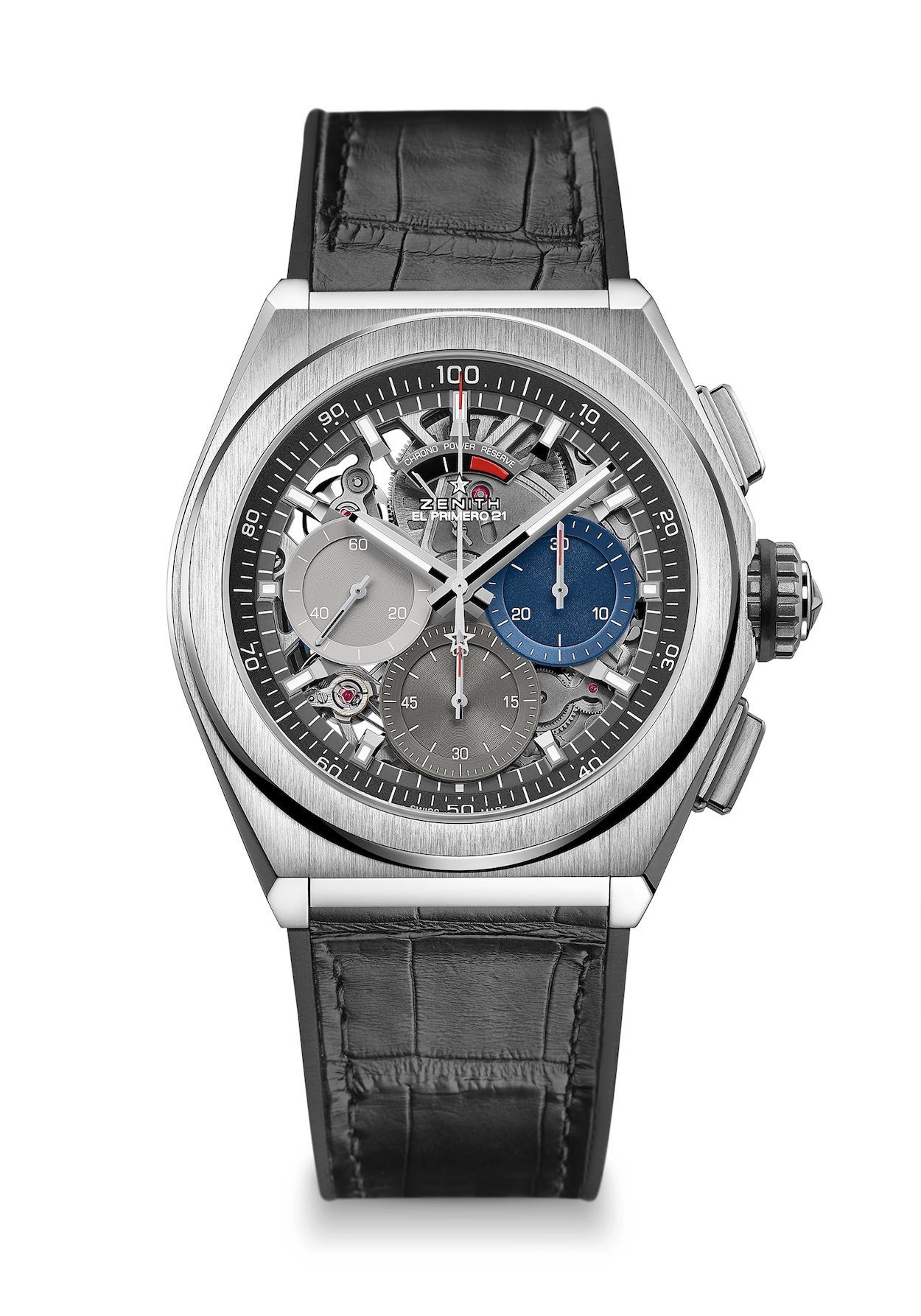 Defy El Primero 21 
The final piece within the Zenith 50 Years of El Primero Anniversary Set is the Defy El Primero 21. The mechanicals of the watch aren't new, but the color palette is and once again repeats the colors of the A386. This watch, with its open dial, may not be my cup of tea visually, but it is a technical marvel. The watch contains the El Primero 2004 caliber and features two escapements. The first drives the watch at 36,000 bph while the second runs the chronograph at an astounding 360,000 bph. The latter allows the watch to measure timing down to 1/100th of a second. An appropriate scale can be found as a chapter ring. At 44mm in diameter, 14.5mm thick, and in brushed titanium, the Defy is no shrinking violet, but it is mechanically impressive.
Getting Back to the A386 
It's no secret that I love the original A386, so it's truly fantastic that we get to see a faithful reproduction within the Zenith 50 Years of El Primero Anniversary Set. And while I love the original, our friend Fred is a true fanatic, as he owns two of the original rare beasts. He was good enough to take some great comparison photos of the two and it allows me to give some opinion on the Revival edition. First, hats off to Zenith for bringing back the original. The A386 was one of my first reviews for Fratellowatches and I'm still amazed (and frightened) by the watch. It's a technically challenging watch that can be maintenance intensive, but it's an absolute stunner that still looks so fresh today that it must have been positively groundbreaking back in 1969. I can even overlook the changes to the crystal and case back.
My quibbles on the Revival within the Zenith 50 Years of El Primero Anniversary Set? Well, there's one big one as Zenith is currently saying they have no plans to offer the Revival separately in another limited run. Frankly, that's heartbreaking, but I suppose it is somewhat in keeping with the original watch's limited run.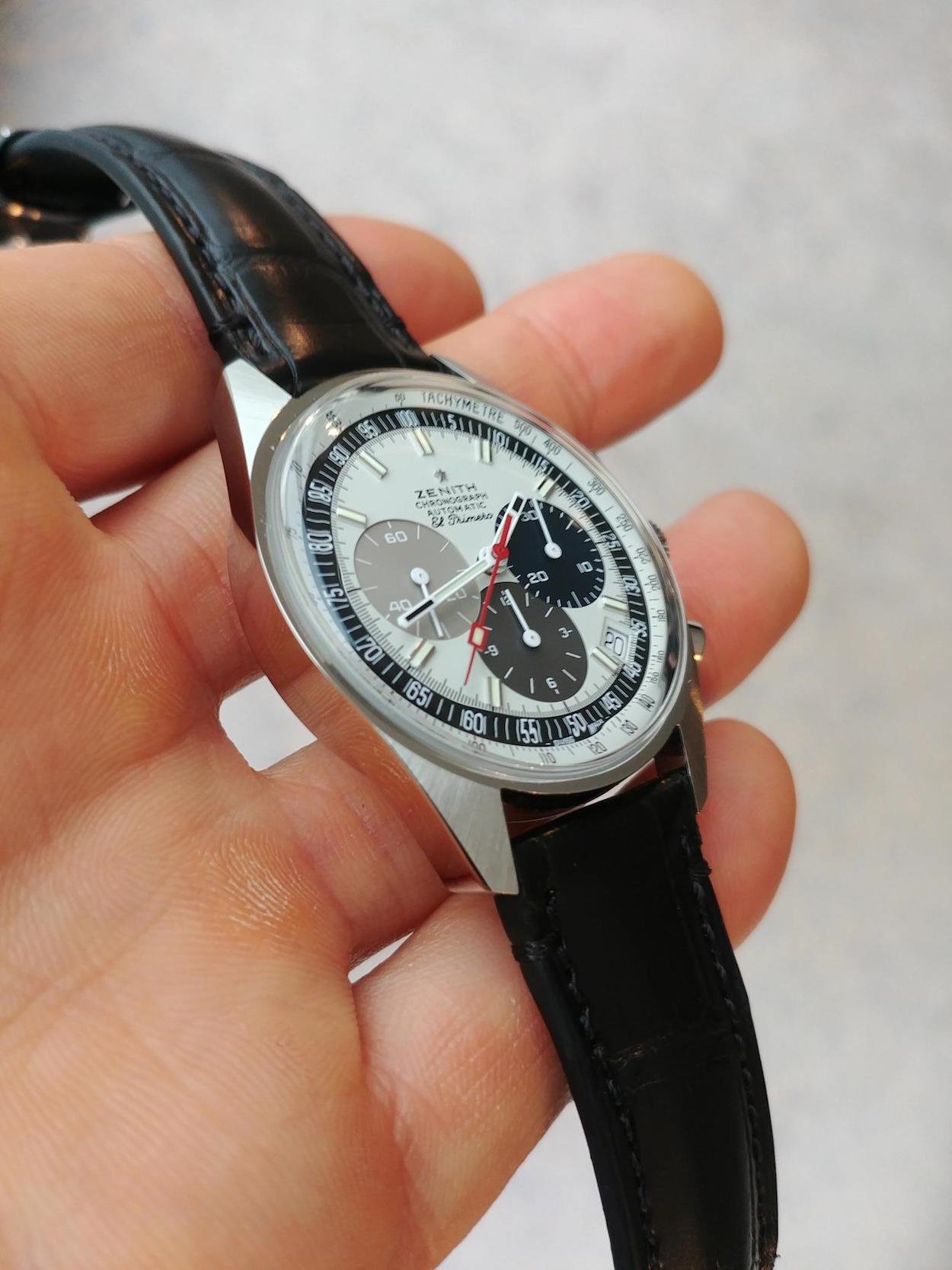 Secondly, I think it would have been an absolute jaw dropper had Zenith come back with a modern version of the famous Gay Freres ladder bracelet. Yes, these watches were offered on leather, albeit very plain calfskin, but the ladder is part of the lore. Finally, it's hard to tell if the sub registers contain the ridging that gives the originals an almost-metallic look.  Perhaps it was the lighting.  Aside from that, the watch looks amazing and I can't wait to see it in person!  Please hit the gallery for more photos of the Revival A386 and thanks again Fred!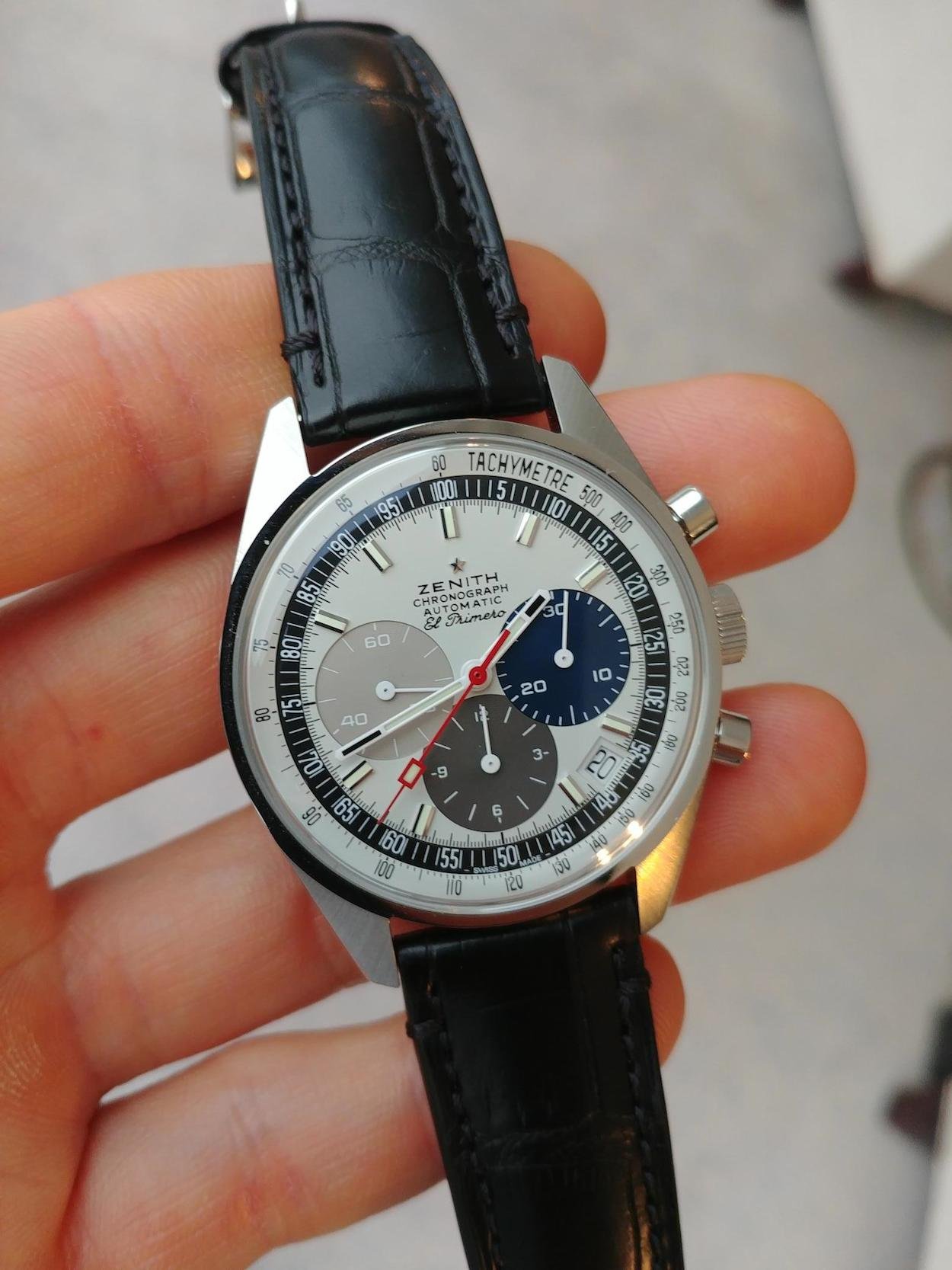 There's no doubt about it, of the three watches within the Zenith 50 Years of El Primero Anniversary Set, I find the A386 Revival to be the best, but this is a classy and highly limited offering to celebrate an amazing movement. We can only hope that the party for the original high-beat chronograph is just beginning and there's more in store in March at Baselworld. We look forward to getting our hands on these exciting and colorful chronographs soon.
Head to the Zenith site to keep up with the 50th Anniversary of the El Primero.