Happy Birthday Fratello!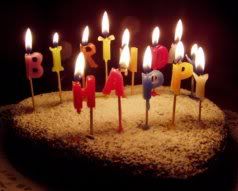 On the 22nd of July, FratelloWatches celebrated its 2nd birthday. It all started on 22 july 2004. Like WristWatchReview, who also celebrated its birthday on the 26th of June, I will post some statistics for the interested people:
229,400 unique hits measured since 3 October 2004,
491 posts since 22 july 2004,
736 comments since 22 july 2004,
Post with the most comments is "Another Scam" with 102 posts,
I bought and sold about 13 watches since 22 july 2004,
DutchWebHosting.nl did an excellent job hosting this site with almost no flaws,
I upgraded twice to a newer version of WordPress,
Since 22 July 2004, I have had 1 BMW 3-er Touring, 2 Alfa Romeo 147s, 1 Peugeot 206,
I wore my Panerai Ref.113, Rolex Sea-Dweller¬?or GMT-Master II most of the time,
Am busy with my 3rd job, 2nd time as an IT Auditor,
Earned absolutely nothing with this web site which is fine to stay 'free of speech',
Used only 1 PC since (a Dell Dimension),
Switched from being a Moderator at the Watch U Seek Omega Forum to the Rolex Forum,
Totally worn out a pair of Tod's loafers,
Travelled to 13 different countries for pleasure or business,
Watched tons of movies, downloaded tons of music while working on this site….
..the list continues, but for now..
Until the next (at least) two years!! Happy Summertime!
RJ
¬?