Horage Upgrades Its Supersede GMT — Pre-Orders Open Now!
A true GMT with in-house micro-rotor movement? There's a lot to like here!
The Horage journey first began back in 2009. While the brand's first watch didn't come for another six years, being a young, independent brand and designing your own in-house movements is no mean feat. Yet, in those years since its inception, Horage has created not one, not two, but three in-house movements, including the K-TOU — an in-house Swiss-made tourbillon costing less than CHF 10K. Madness! Fast forward to 2022. Horage first announced the Supersede GMT project nearly a year ago. Powered by the brand's in-house K2 micro-rotor movement, the Horage Supersede is an "all-terrain" sports watch, following the age-old journey from the corporate board room to hiking trails and scuba diving.
Horage hasn't featured too often before on the pages of Fratello. I think that's something that needs to change. I first came across Horage while writing for the fine chaps at Scottish Watches a few years ago. Rick posted a picture in the group WhatsApp, and that was that; I was in. The brand's unique design style mixed modern tool-watch sensibilities with a unique sporty/industrial vibe. It's tough to explain; kind of like how modern musical genres have all sorts of weird and wonderful mashed-up names. Alt Math Rock and Post-Indie Pop might be pretty self-explanatory, but how about CatStep, Ectofolk, or Kawaii Metal?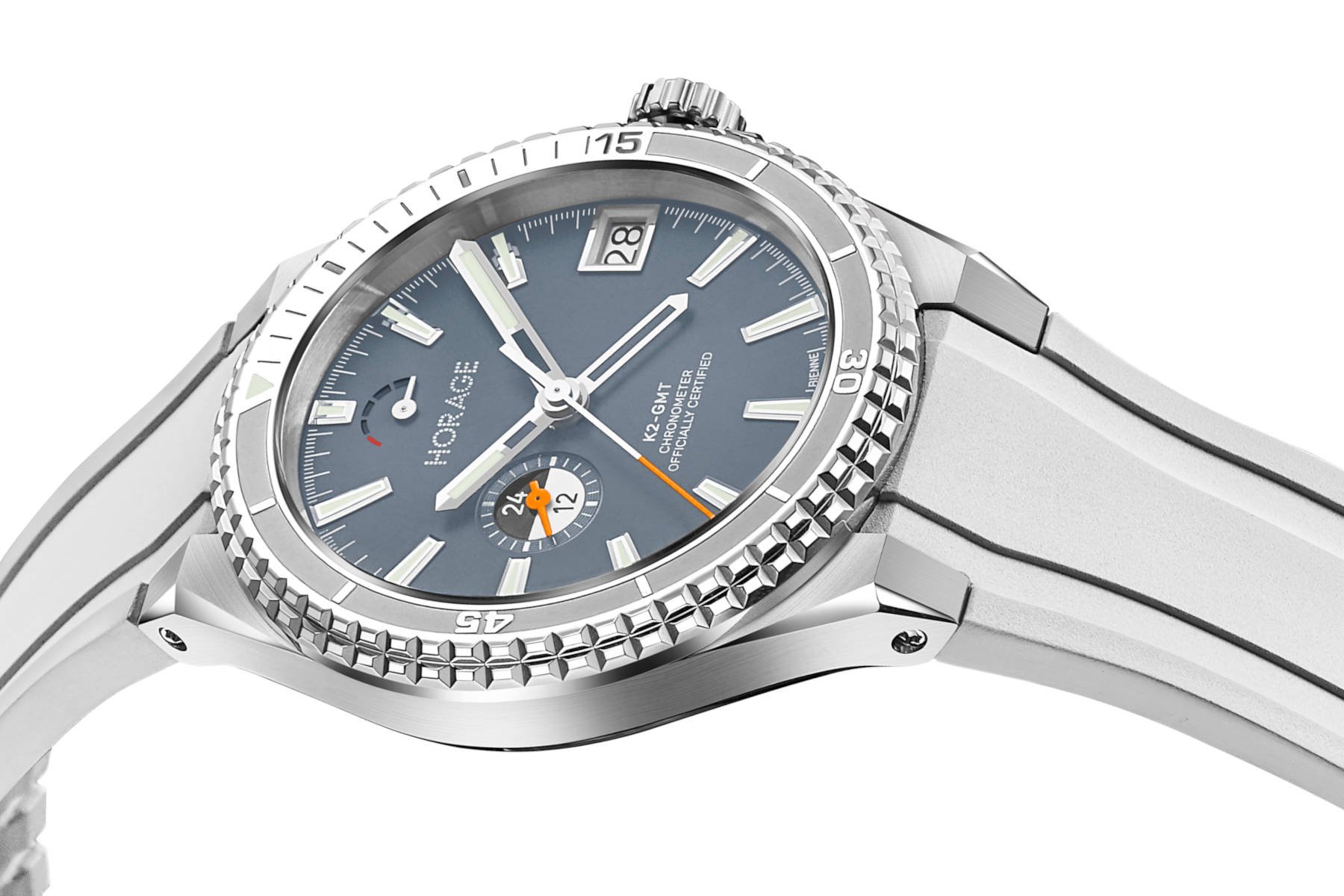 How to classify the Supersede GMT
If I had to mash up some genres for the Horage Supersede, it'd be Math-Sports Tool Watch. Why? It is a tool watch at heart with its dive bezel and 200m of water resistance. Don't forget the GMT and AM/PM indicators. So, where does the Math bit come from? Hear me out. The angled knurling of the bezel and the straight-edged shapes of the bracelet links have me thinking of graph paper. No, I wasn't stretching to think of something tenuous; it popped into my head immediately (I'm weird, I know). I instantly had visions of being back at school, with Mrs. Mackay barking instructions from the front of the classroom. Were the lessons interesting? Not especially, but is math ever really fun? Thankfully, the Horage Supersede is significantly more interesting than my Year 9 math lessons, and pre-orders have opened once again with some interesting technical and aesthetic improvements.
Let's start with the basics…
If you've not been following the Supersede project, you'll want to get up to speed, so let's start with the specs. The Horage Supersede GMT features a 39.5mm case machined from 904L stainless steel in an interesting angular form. The lugs extend straight out from the mid-case before dropping downward with a lovely, purposeful angle. A nice polished bevel highlights the shape, adding two eye-catching facets to each lug. At just 9.85mm thick and 46.29mm from lug to lug, the Horage Supersede is a slimline sports watch in a very wrist-friendly size.
The rotating dive bezel has an angled square knurling to provide extra grip, which gives the Supersede a unique look. The bezel features a graduated 15-minute count-up scale, with the final 45 minutes engraved in relief with five-minute intervals. A luminous triangle at 12 o'clock allows the wearer to track elapsed time. Full guards protect the crown, which is signed with Horage's dotted H logo. Finally, a sapphire crystal with an anti-reflective coating protects the dial, with another sapphire crystal displaying the K2 micro-rotor movement around the back.
An interesting but easy-to-overlook feature of the K2 movement is the GMT hand functionality. Where most GMT hands operate on a 24-hour rotation, the K2's GMT hand operates on a 12-hour rotation. It is linked to the am/pm indicator at nine o'clock so you call always tell the time relative to a 24-hour scale. That in itself is not groundbreaking — sure, it's uncommon, but why go to that effort? Well, the GMT hand is the exact same size and shape as the hour hand, but it's fully skeletonized with a matte finish. This allows the hand to hide under the local time hand when not in use, making for a discreet GMT complication. It allows the wearer to reduce the business of the dial. It's a neat trick and emphasizes Horage's attention to detail and thoughtfulness.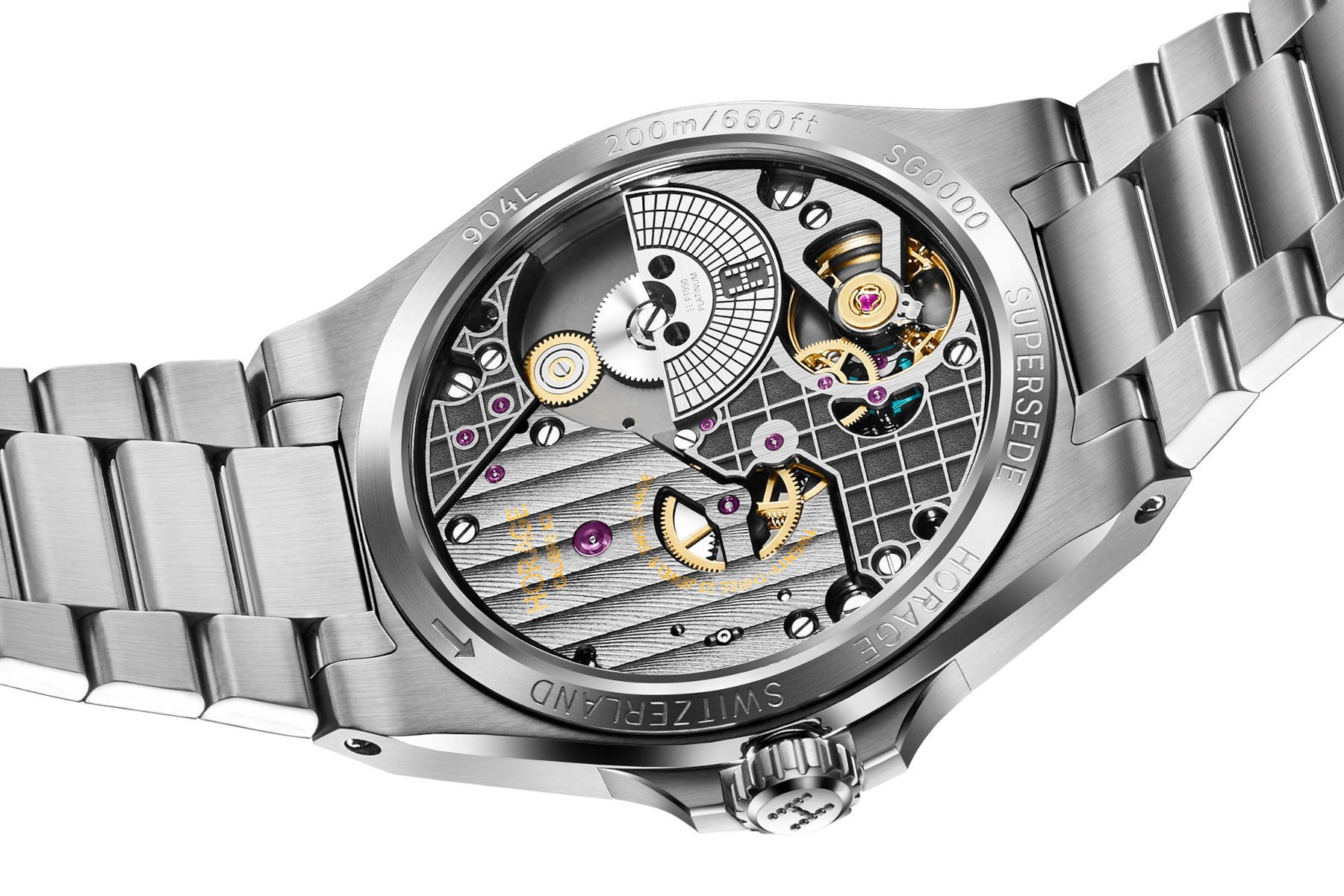 Horage's in-house K2 micro-rotor movement is a beauty
As mentioned, the Horage Supersede GMT uses the in-house-produced K2 micro-rotor movement. The micro-rotor winding assembly allows the Supersede to come in under 10mm in height. Horage achieved an impressive 72-hour power reserve by making the K2 run at 25,200vph (3.5Hz). As standard, it features a silicon escapement wheel and anchor and is driven by a gold-plated tungsten micro-rotor. The finishing is excellent, making it worthy of the sapphire display case back. Traditional elements like Geneva stripes mix with more contemporary styling like Horage's signature grid pattern (think graph paper?!), first seen on the Tourbillon 1 dial.
The K2's modular design allows for 38 different configurations, including this true GMT set-up. This means that the lumed hour hand indicates the local hours and can be set independently via the crown. The unlumed hour indicates the hours back home when traveling. This will likely delight many of the GMT fans out there, as there is a definite preference for these more "premium" GMT movements. With not too many alternatives to choose from in this price range, the Horage Supersede's K2 could likely interest indie fans seeking such a piece for their collections.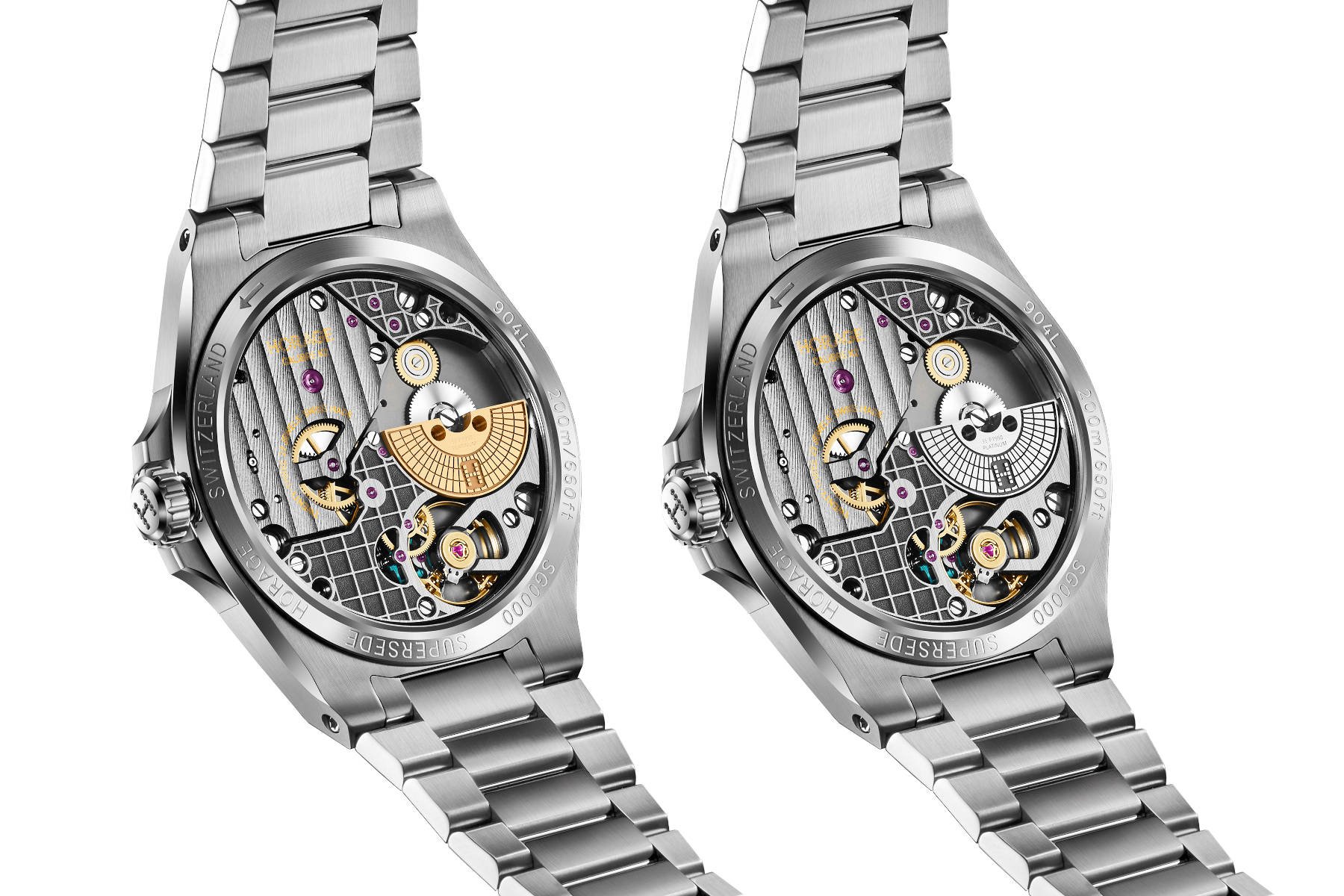 The Supersede upgrades
Horage has announced four significant upgrades for the Supersede, starting with the movement. The brand is now offering the choice to upgrade the gold-plated tungsten micro-rotor with a solid platinum rotor instead. Platinum micro-rotors look pretty darn nice, as evidenced by the Czapek SXH5 movement. This is quite a premium upgrade, usually only seen on watches much higher in price. As we know, platinum is heavier than tungsten, allowing for more-efficient winding of the mainspring. Platinum is not a cheap metal, and typically, such an upgrade costs a pretty penny. However, during the pre-order campaign, the upgrade costs just CHF 390. That's pretty good value for money in the grand scheme. The upgrade is by no means essential, but for the asking price, it's worth considering.
Next up is the water resistance. Horage initially launched the Supersede GMT with a 100m water-resistance rating. For a sports watch, this is ample and allows for the watch to go swimming or snorkeling, just not diving. Happily, Horage has increased this rating to 200m for production. This means the Supersede can follow you on pretty much any journey, above or below the waves, wherever in the world you might be.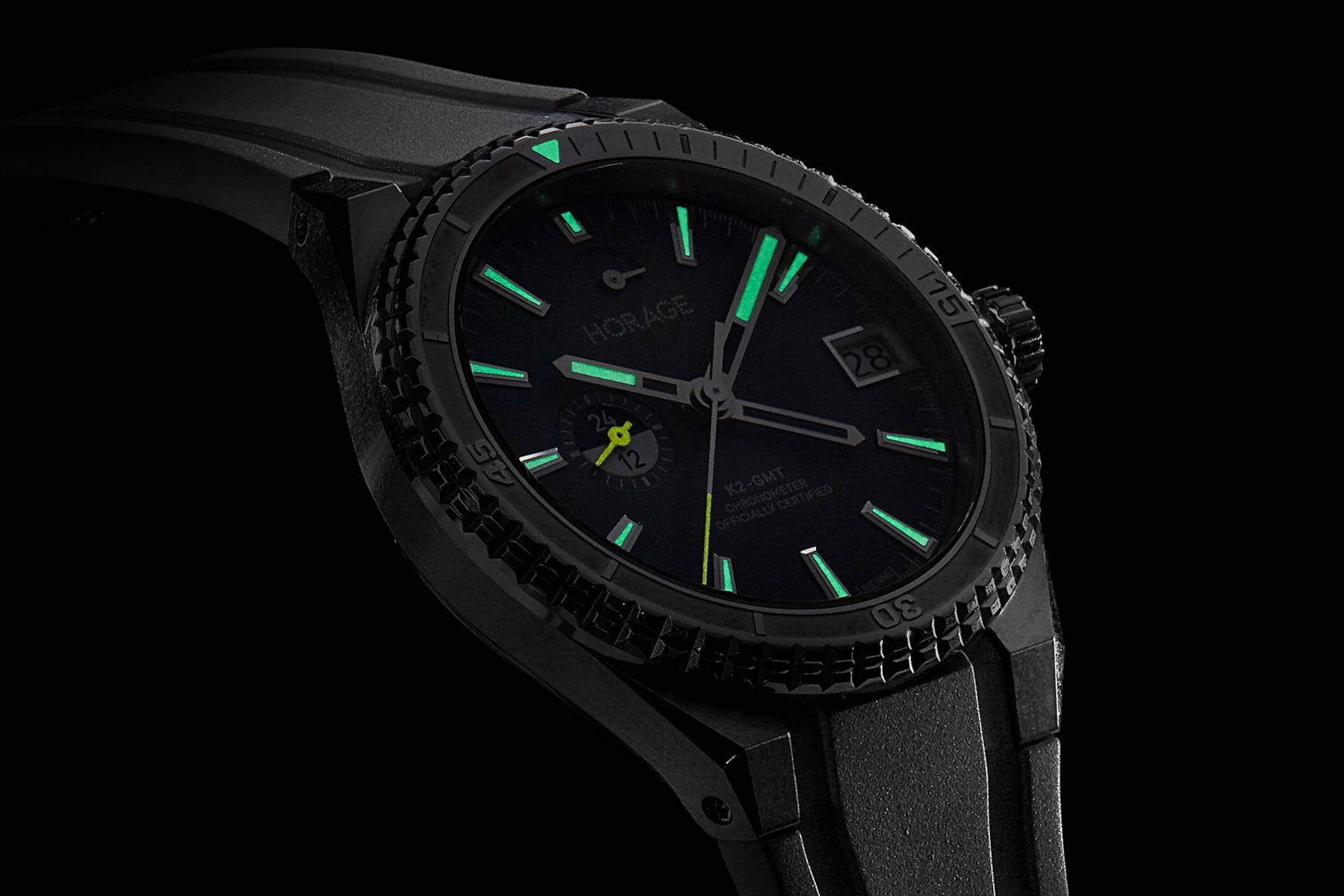 Gimme that "Magic Orange" secret sauce
When Horage first launched the Supersede pre-orders last year, the central seconds was available hand tip with a choice of a red or orange tip, but alas, they were not luminous. Some may argue that a lumed central seconds hand is critical as a going indicator for a tool watch, especially if one is going to use the watch for diving. Knowing your watch is functioning correctly is imperative if tracking dive times. Sadly, the needle-shaped design of the hand made luming it a challenge. Now, the brand has found a lume solution it dubs its "Magic Orange" secret sauce. Testing is still underway on this new formula, but if it meets quality standards, then we're laughing. As a member of the Netherlands-based Fratello team, orange accents are right in my wheelhouse.
Should the "Magic Orange" not live up to expectations, Horage will produce a lumed lollipop seconds hand as an alternative solution. Once testing is complete and we know how the new lume performs, all backers will be able to change their original selection to pick whichever hand they like. The AM/PM indicator hand will match whichever option you go for. Regardless of the final hand shape, the orange is categorically my choice. With the white dial, I think the watch sings!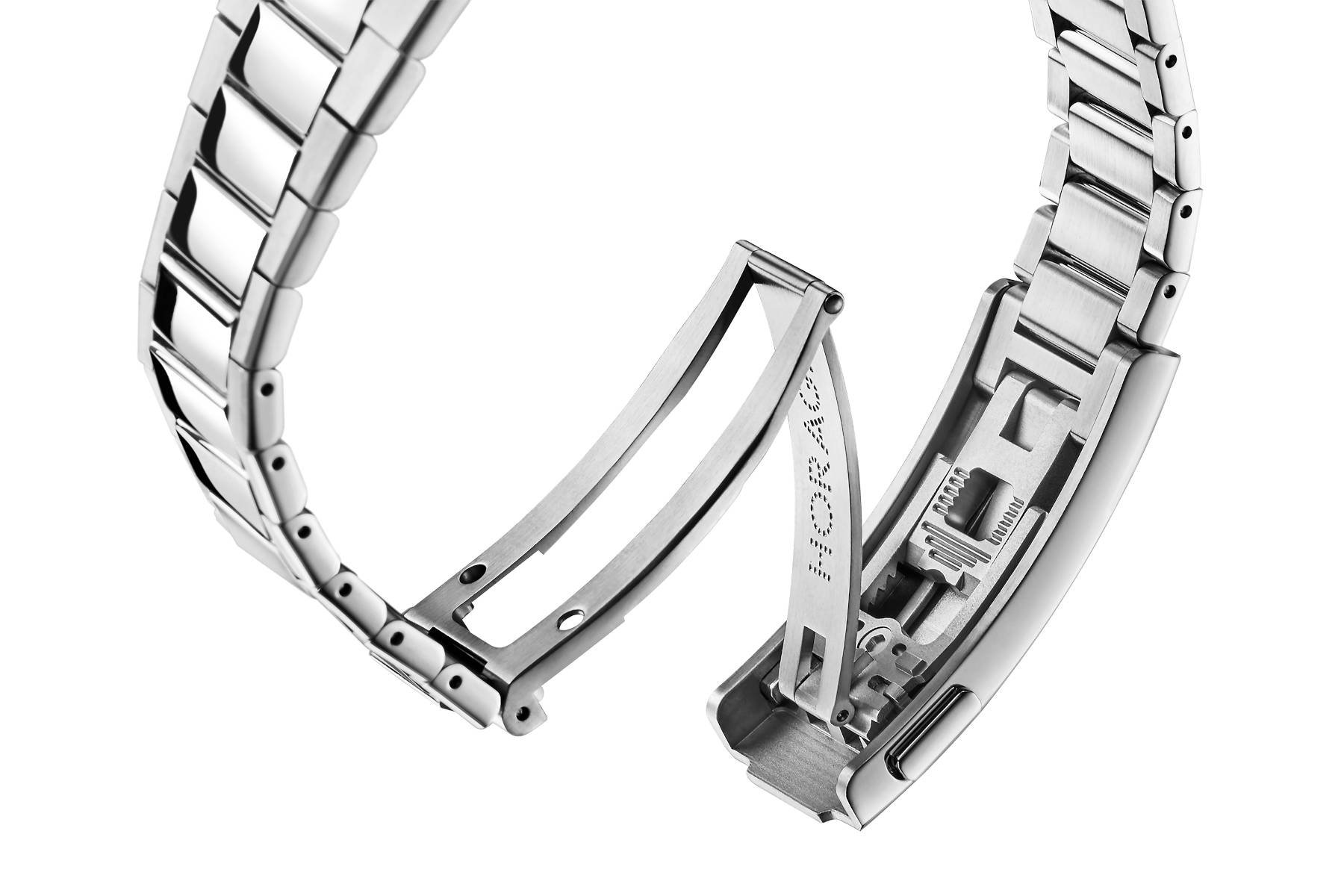 Adjusting the Supersede
The final update is less obvious, in as much as it is about function rather than form. Horage has developed a new micro-adjustable folding clasp for the Supersede stainless steel bracelet. Measuring 5.6mm thick, this new clasp is only marginally thicker than the bracelet (which comes with a choice of brushed or polished mid-links). It offers 1cm of adjustment in ten 1mm steps. I think you'll agree that this is more than enough to accommodate pretty much all wrist expansion/shrinkage. Additionally, Horage is throwing in an FKM rubber strap in the color of your choice. You can choose from five colors (black, gray, blue, red, and purple) with the option of purchasing more if you want.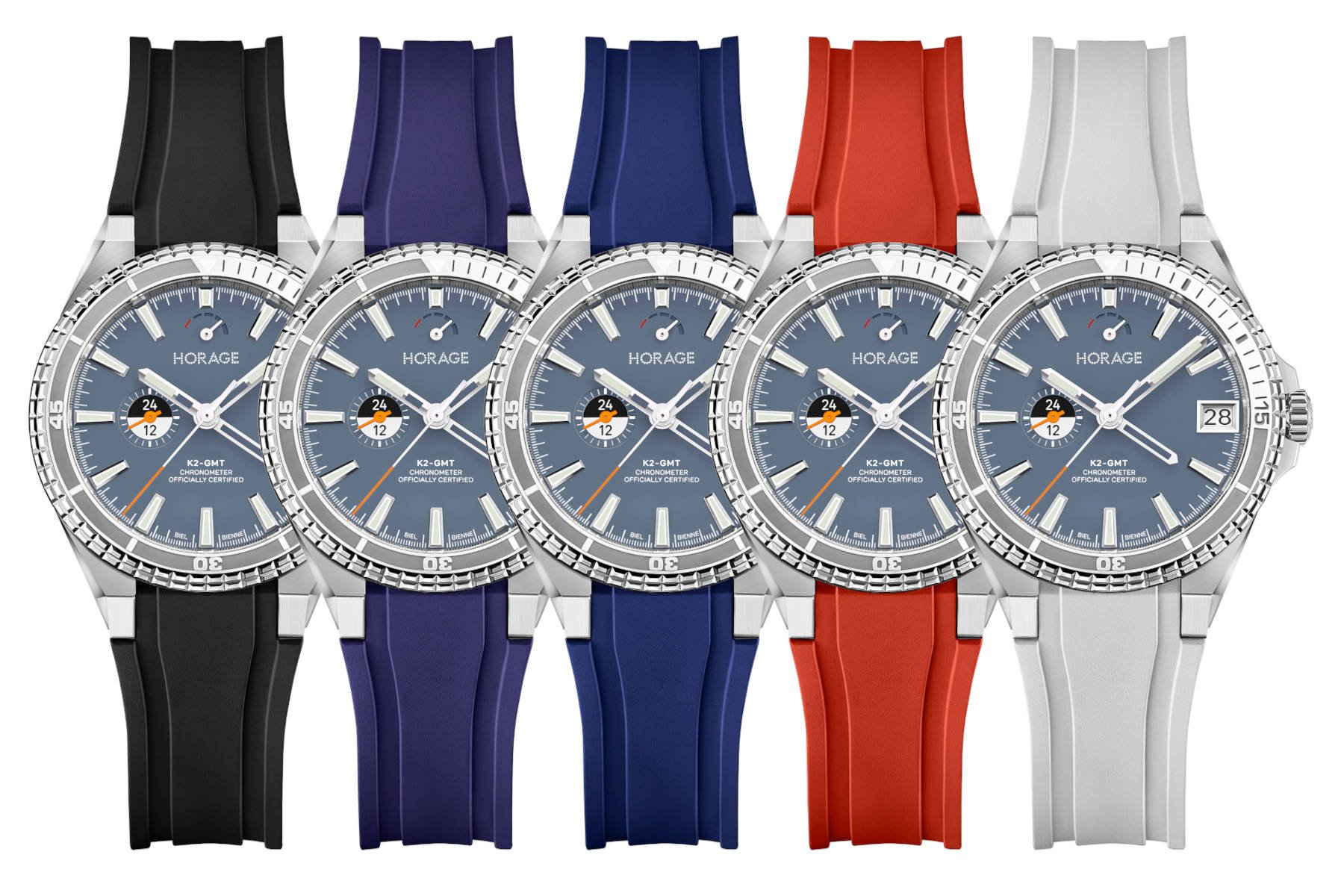 Pre-orders are open now!
In a world where pre-orders are becoming more and more common, it's nice to see Horage offering its customers something extra. Rather than taking their hard-earned cash and running away for 12 months or more, the brand has continuously made a conscious effort to improve the final product. While the Supersede GMT already offered some serious value for money, these upgrades only make the watch seem even more enticing.
The third of four rounds of pre-orders (titled "Sleepy Bird") begins today. You'll have to be fast, though, as orders close in three days on August 19th at 2:00 PM CEST. The pre-order price for the standard model with a gold-plated tungsten rotor is CHF 5,500. You can upgrade it to platinum for a total price of CHF 5,890. After the campaign, prices jump to CHF 6,500 for the standard model and CHF 7,700 for the platinum rotor upgrade. Horage expects to deliver all "Sleepy Bird" pre-orders in March 2023.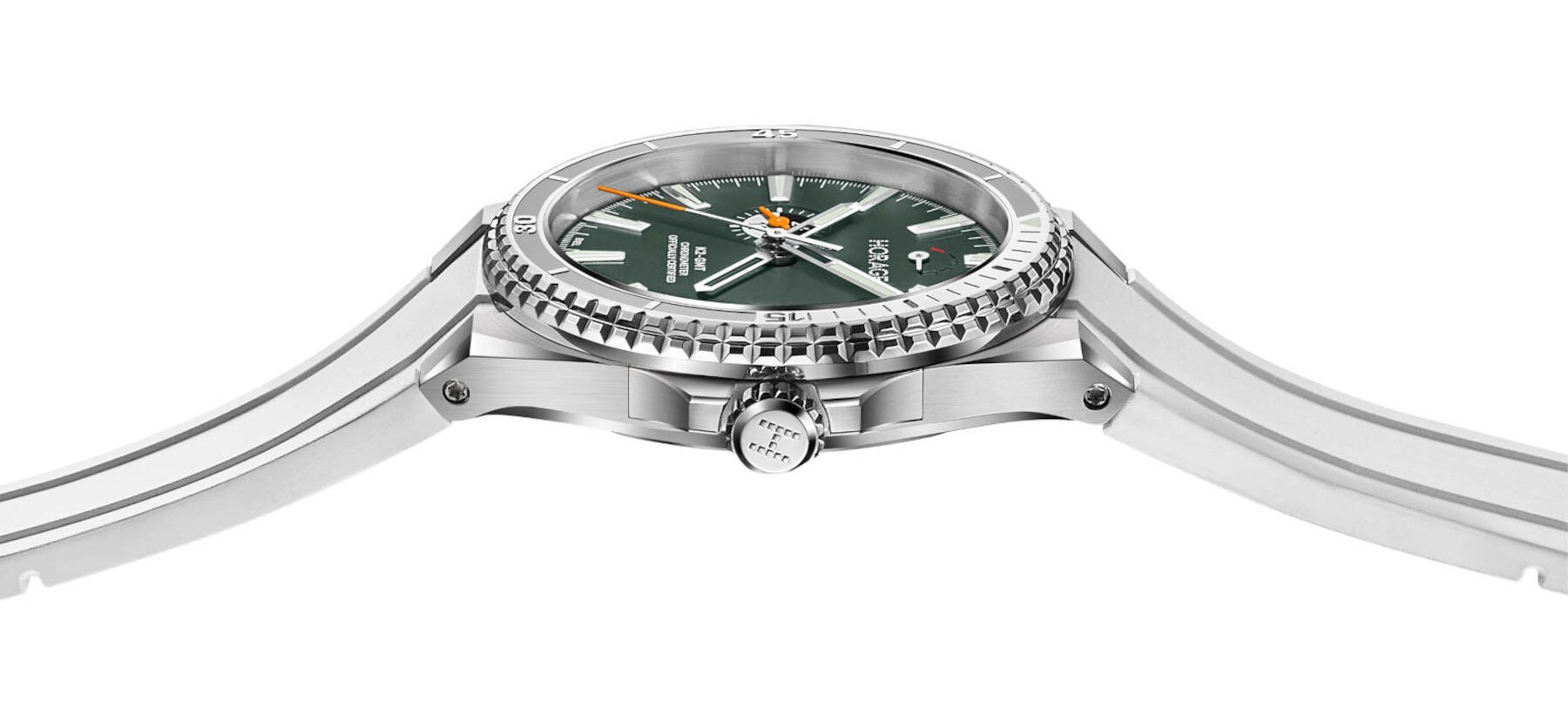 Final thoughts on the Horage Supersede GMT
With prices for simple, three-hand micro-rotor movements often far exceeding this price, the additional functionality of the true GMT makes CHF 5,500 seem like excellent value. If you like Horage's design style, there's much to like with the Supersede GMT. My choice? White dial, orange seconds and AM/PM hands, and the gray rubber strap. Time to dig out my wallet…
For more information, please visit Horage.com.
Follow me on Instagram: @davesergeant | @fratellowatches