How The Blancpain Fifty Fathoms X Fathoms Ended Up Calling A Peli Case Its Home
Splishy splashy in the deep
Not so long ago, I found myself sitting around a long table at Blancpain HQ, eating lunch and chatting with the top brass about the unfathomable success of the Fifty Fathoms family. The centerpiece to this enjoyable lunch was an imposing black Peli case that glared at me so hard from a few feet away, it damn near put me off my chicken. The conversation eventually fell away from my ears. The room that had, seconds earlier, been brimful with chatter became silent. Without warning, it was just me and the Peli case, eyeballing each other as if my life and its purpose depended on it. I was the first to crack. I turned and addressed Marc Hayek directly, cutting him off mid-sentence: "Yo, Marc. What's in this box, eh? It's looking at me funny."
Hayek laughed at me. I think he'd anticipated it. How long could you sit a bunch of watch guys down at a table and play nice before somebody piped up about the gargantuan container looming over proceedings? It turns out the answer is about 23 minutes if everyone is being on their best behavior (I really tried).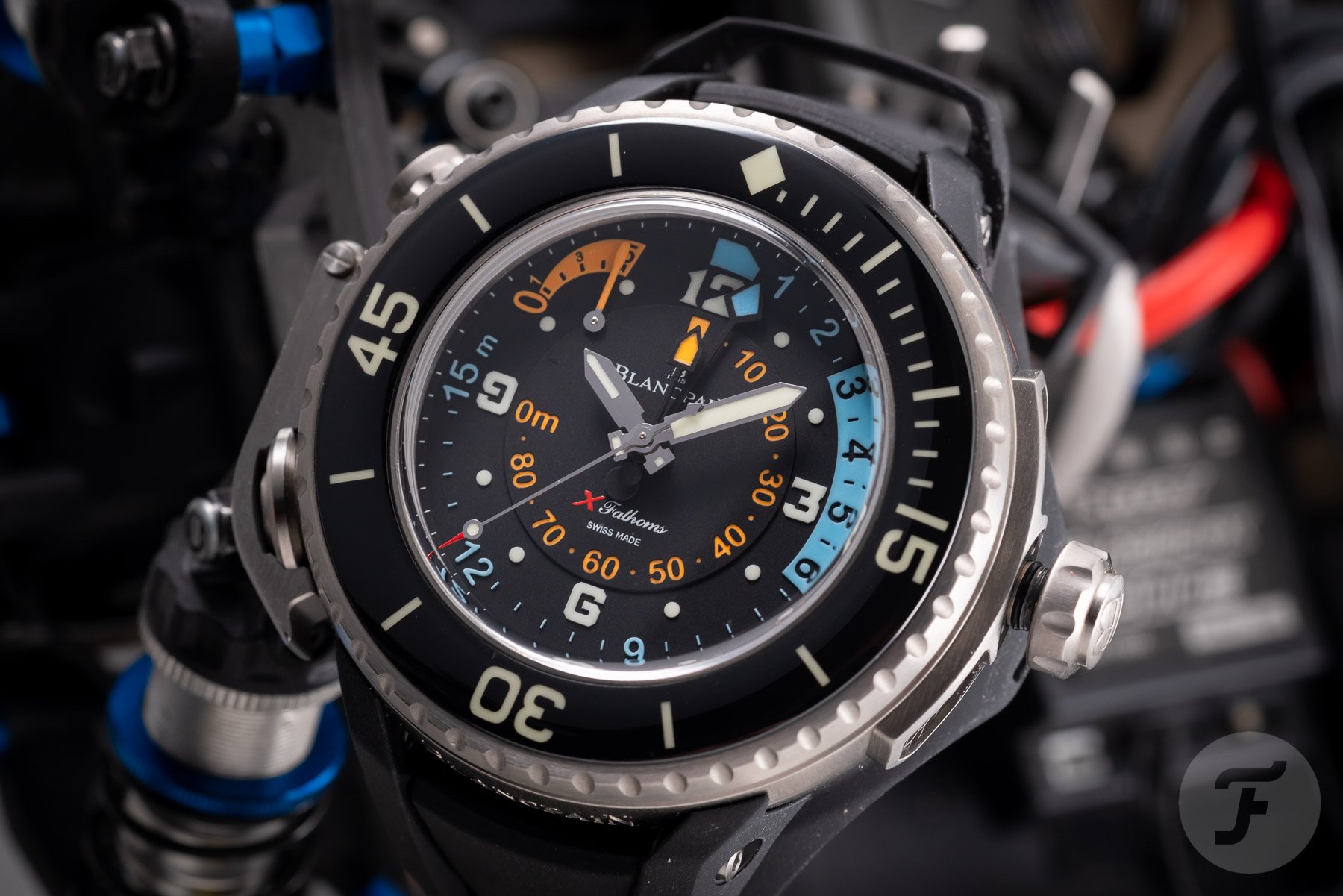 An obsession
In my defense, I don't just have an obsession with Blancpain. I'm not just enamored of the Fifty Fathoms line. I also happen to be an insatiable collector of Peli cases and Peli products in general. I once dreamed of owning enough Peli cases to store all of my belongings within. For some reason, I anticipated an impending zombie apocalypse might make that more than necessary at some point. Now, several years after being bitten by the Peli bug, I not only achieved my goal, but I also now have Peli cases for my smaller Peli cases. The next step is a dedicated room within the house I need to buy so I have a spare room for all my Peli cases. Talk about first-world problems, right?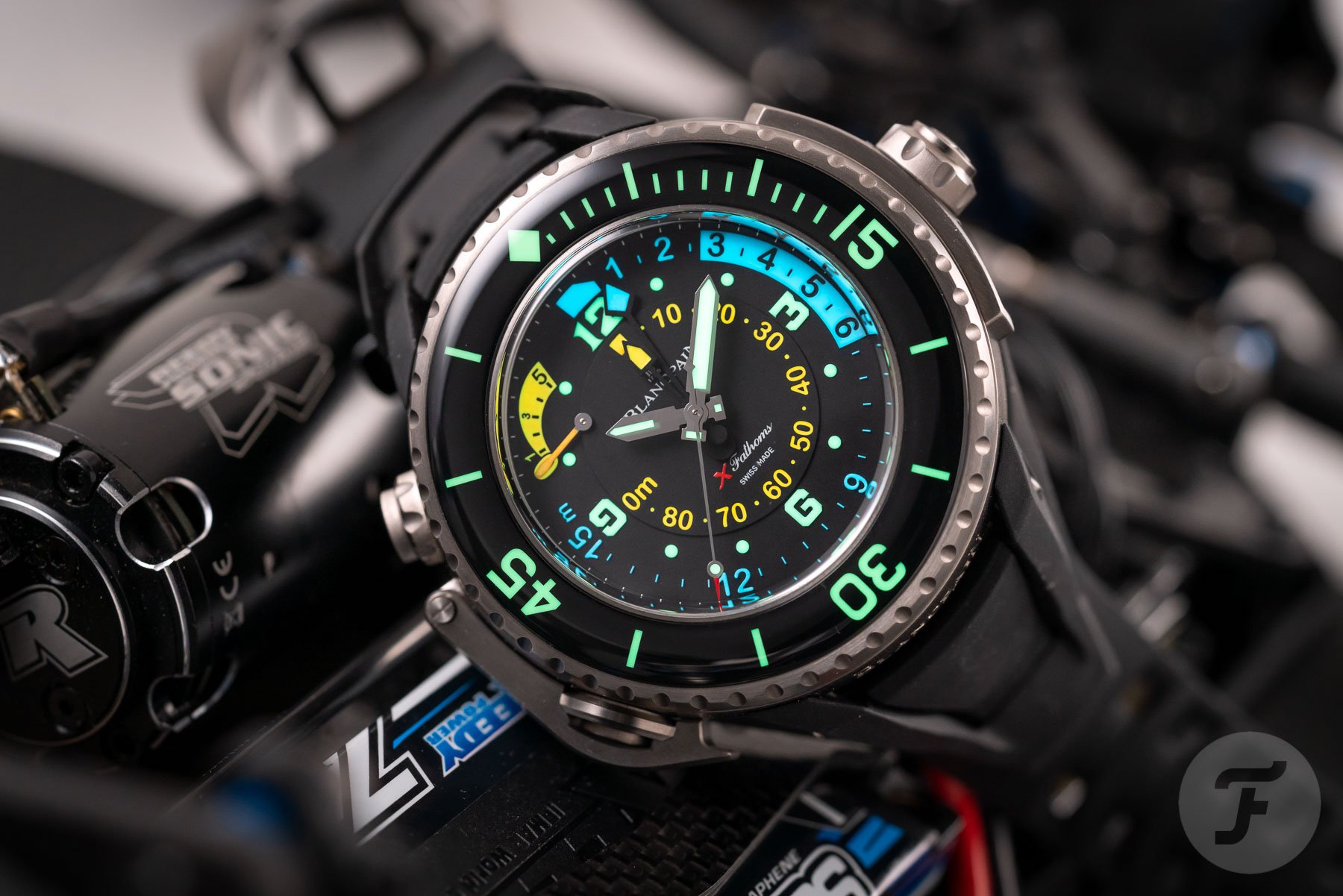 What's in the box?
Having seen the 1990s cult classic horror flick Seven (or Se7en, if you prefer), I'm always a tad reluctant to ask that question, on the off chance the answer is Gwyneth Paltrow's head (I like Gwyneth Paltrow a lot, you see). However, on this occasion, I shelved my trauma and blurted out what must have been on the minds of my colleagues.
"What's in the box?"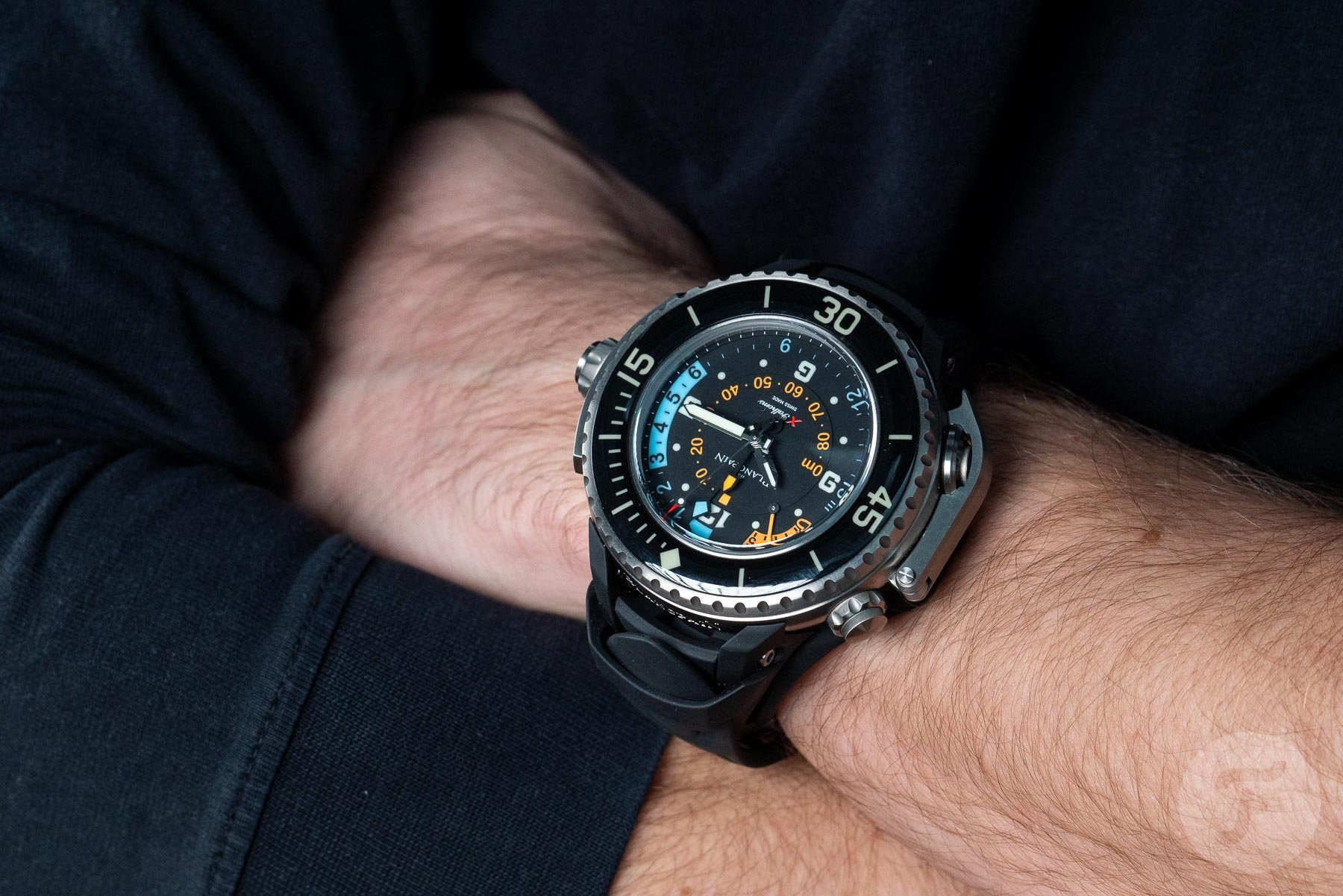 "I'm glad you asked," grinned Mr. Hayek. He stood up and unbuckled the massive Peli container. The latches made deep, almost animalistic thuds as they unwillingly relinquished their hold on their opposite number. They sprang back against the hard plastic exterior in a clatter of machine-gun fire that recalled the most common application of these military-styled boxes.
"This, my friends," beamed Hayek as he lifted the lid and swiveled the Peli case so it faced us, "is the next BIG thing…"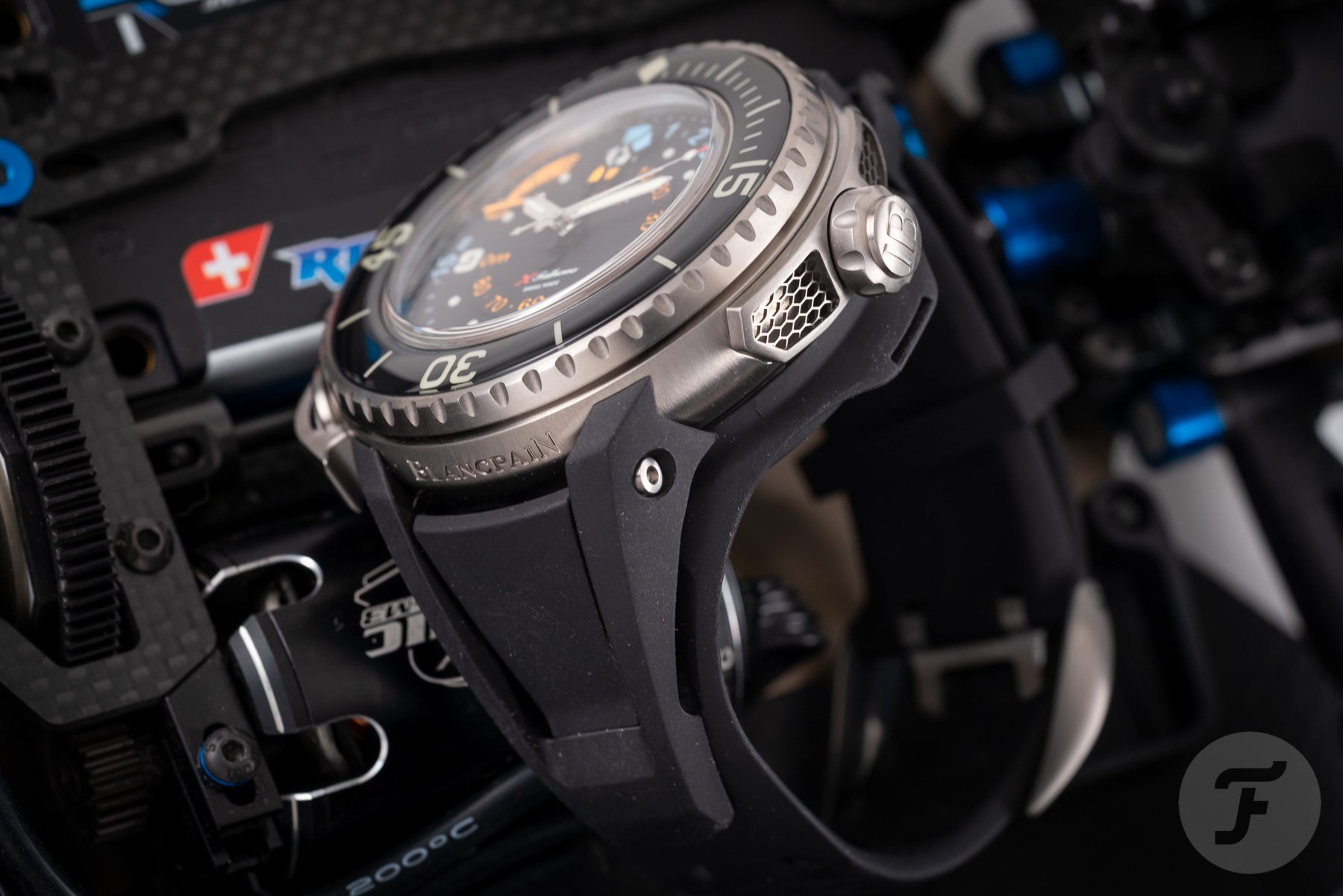 Bigger is ALWAYS better
Believe me, standing 170cm tall, it gives me no pleasure to say that, but in this context, I think it might be true. The Blancpain Fifty Fathoms X Fathoms that lives within the most impressively tricked-out Peli case I've ever seen (and I've seen more than a few), is something else. It's like a beast from another dimension. It's almost refreshing how its size transcends wrist diameter. I have a 16.5cm wrist so this thing is too big for me, right? Right. It's too big for me. How big's your wrist? Oh, 25cm? Yeah, it's too big for you too. And it's awesome because of it. It is everything a dive watch should be and more than that with sauce on it. Can I wear it? Hell no. Do I want one? Hell yes!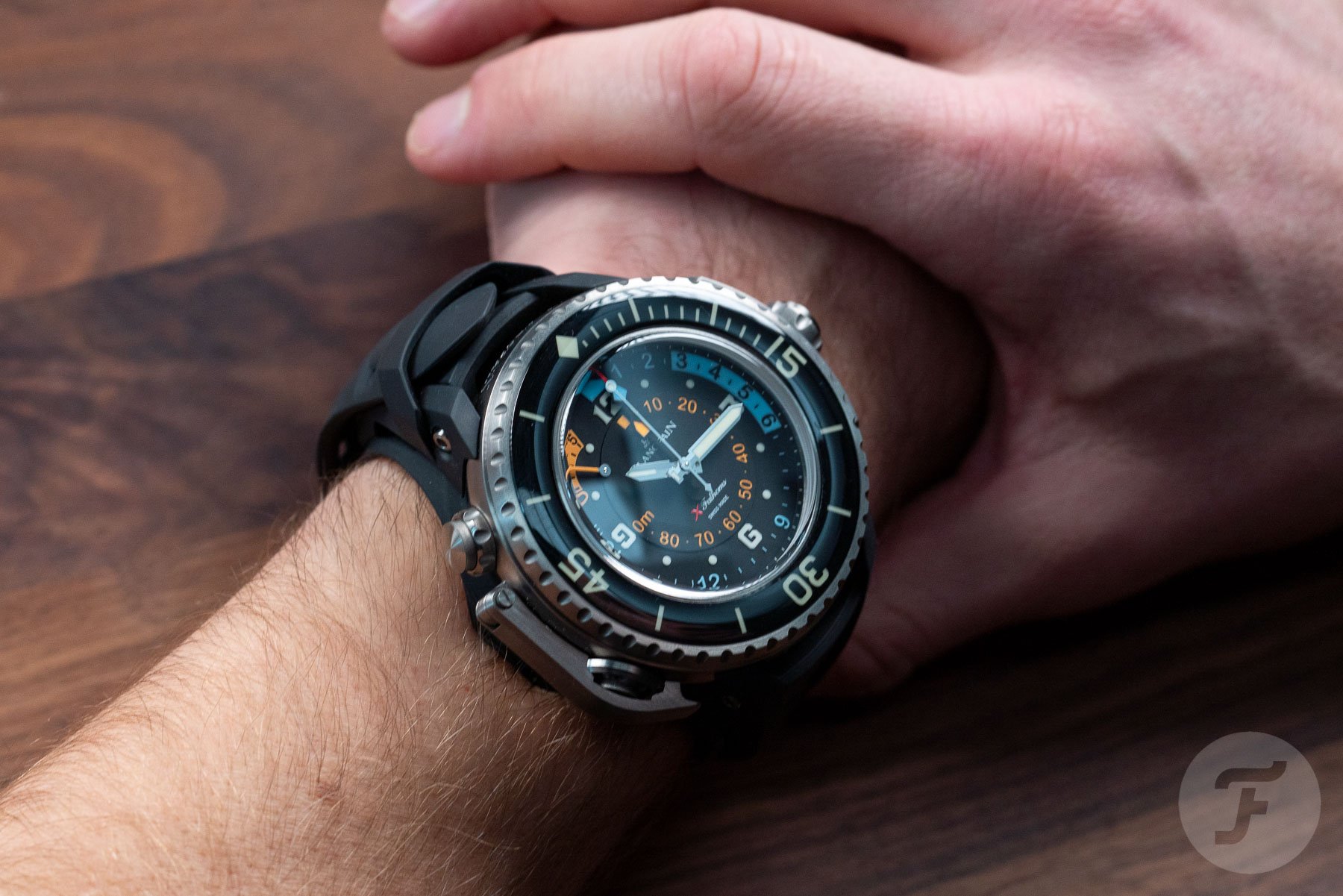 So what's the deal with the Peli case?
I was about to write a straight-up review of the Fifty Fathoms X Fathoms when Brian from Peli HQ contacted me with an interesting story about how the Peli case came to be paired with the Fifty Fathoms line. I thought it was too good an opportunity to pass up, so I merged the two together.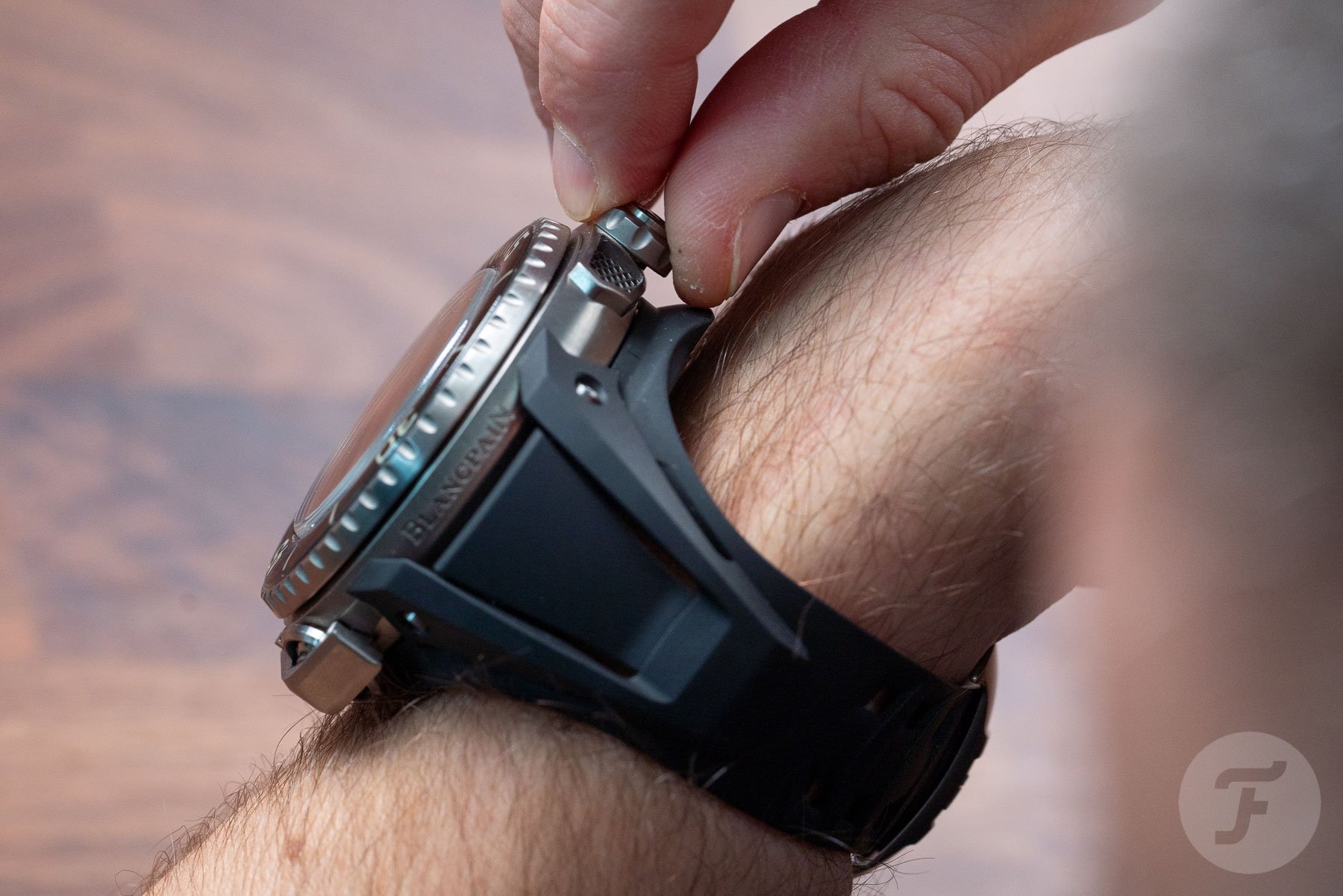 The Blancpain Fifty Fathoms has a pretty strong claim to being the world's first diving watch and, as such, it deserves nothing but the best housing for its delivery to and storage by each piece's lucky owner. Normally, brands make their own boxes for flagship models, but there is something so refreshingly "honest" about the Fifty Fathoms' status as a diving tool that it just feels right it should be buddied up with a box from a similarly prestigious maker in its field.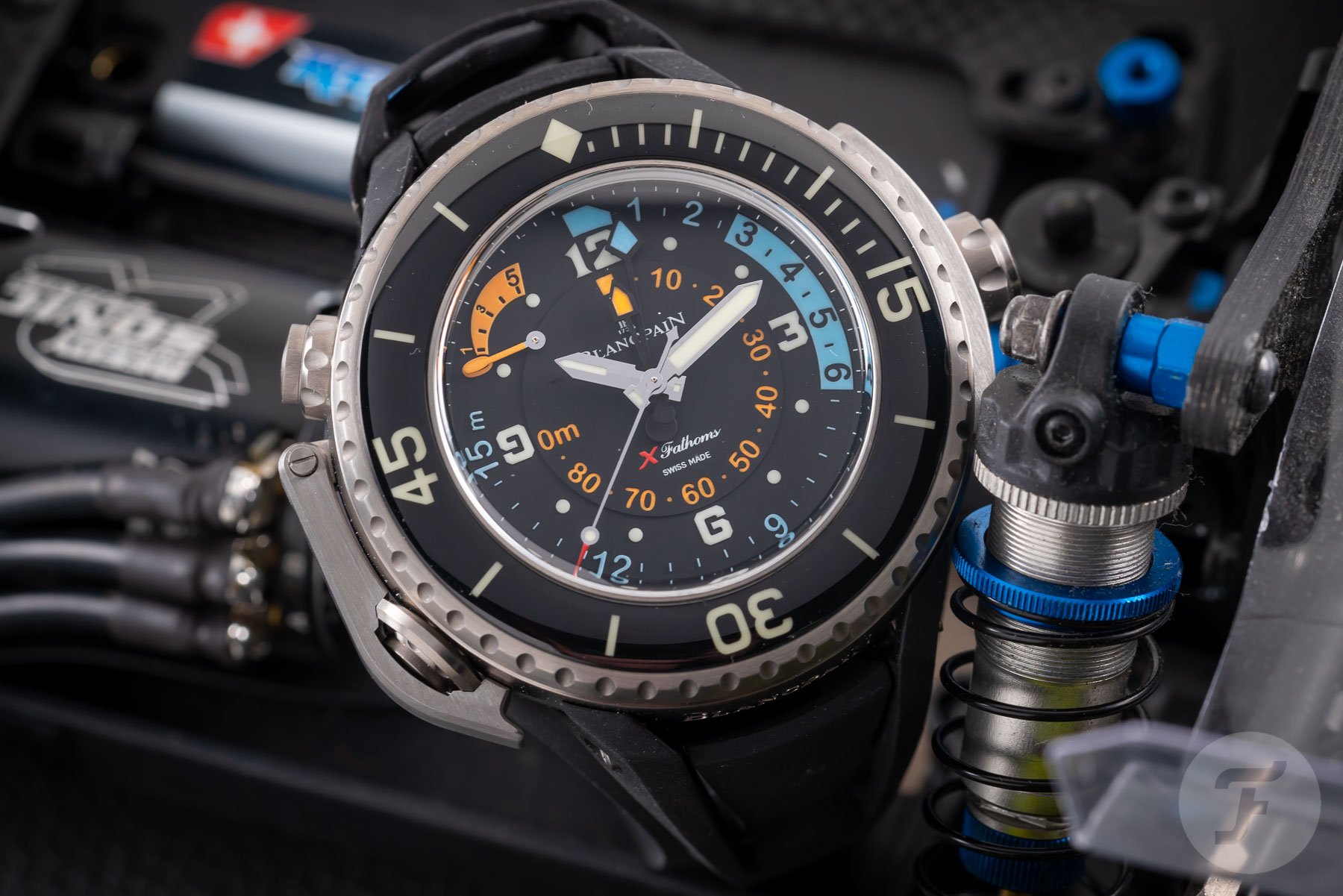 The humble beginnings of a classic
In 1950, Jean-Jacques Fiechter took control of Blancpain. An avid recreational diver, Fiechter viewed the problems early recreational divers like him had with the sub-par equipment available to them in those days. In fact, one particular incident that could easily have cost him his life (and us the Fifty Fathoms) inspired the watch's creation.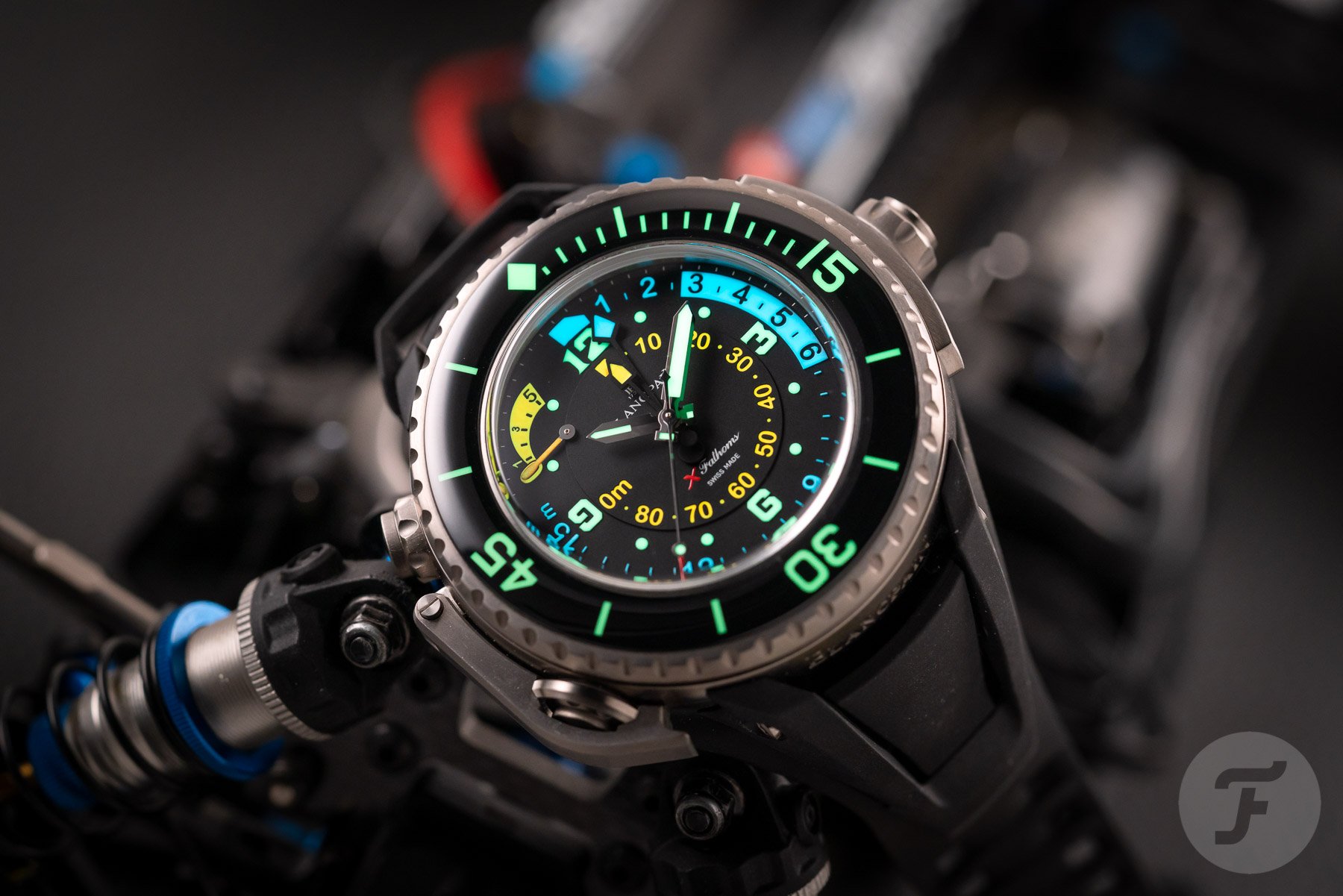 One day, while deep diving in Villefranche-sur-Mer, he realized he had lost track of time and was running low on oxygen. Despite the risk of decompression sickness, he had no choice but to surface quickly, lest he should pass out beneath the waves. The incident quickly convinced him that international timekeeping standards for divers needed to be established and, given his position as the head of the world's oldest watch company, he decided he should have something to do with it.
It didn't take long for Fiechter's criteria to manifest in a diving tool for timekeeping that took the world by storm. Before long, many military bodies around the world sought to acquire Fiechter's creation. The craze began in France (the spiritual home of the Fifty Fathoms) but quickly spread. Blancpain's influence was felt the world over when the militaries of Denmark, Germany, Israel, Norway, Pakistan, Spain, Sweden, and the United States of America followed the French and placed orders for this remarkable development in the field of watchmaking.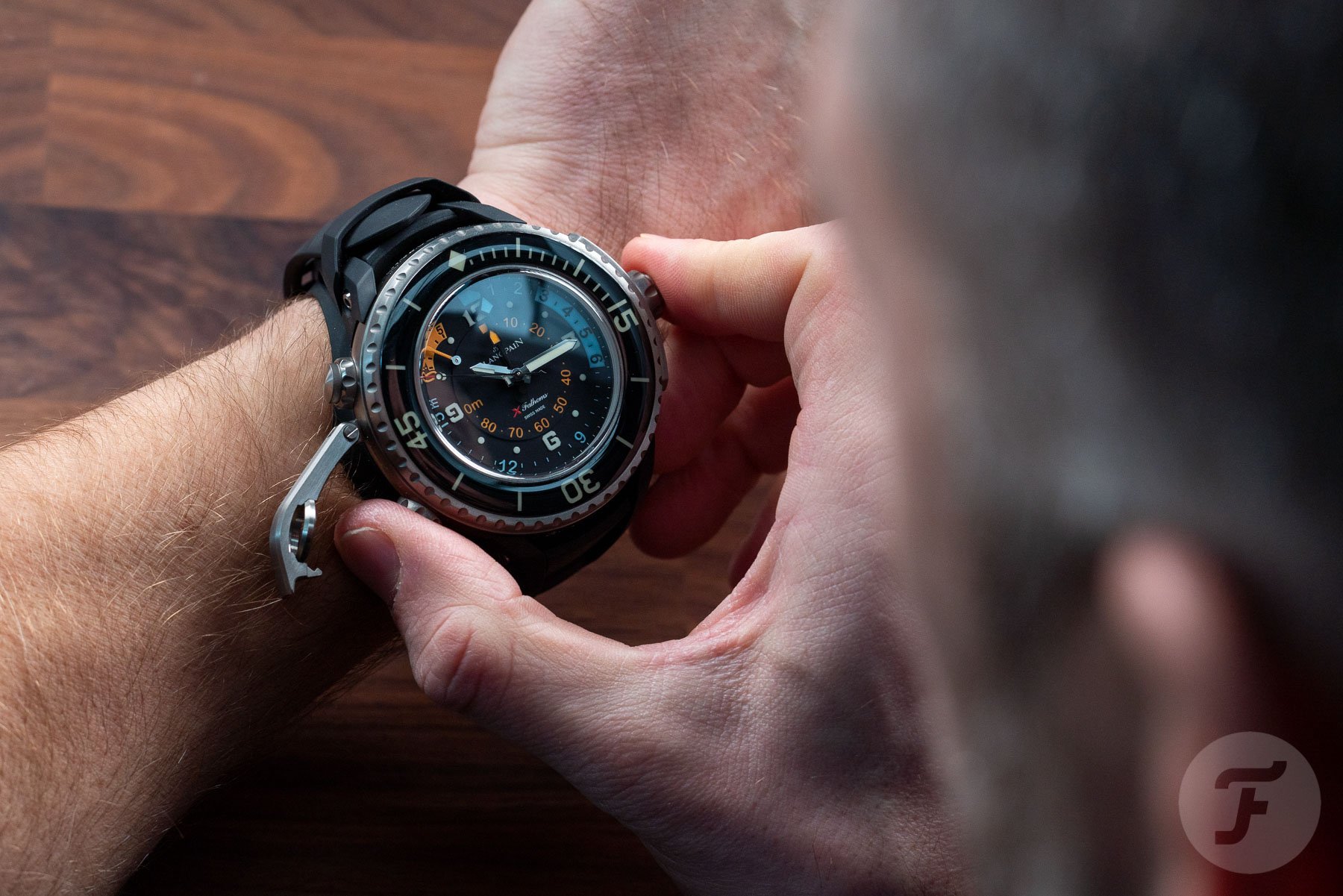 From the depths, it returns…
Although the demand for the Fifty Fathoms remained consistently high among serious recreational and professional divers, by the mid-'80s, Blancpain itself chose to move away from diving watches in favor of its ultrathin pieces. It wasn't until 2002 that the Fifty Fathoms was revived to its full potential.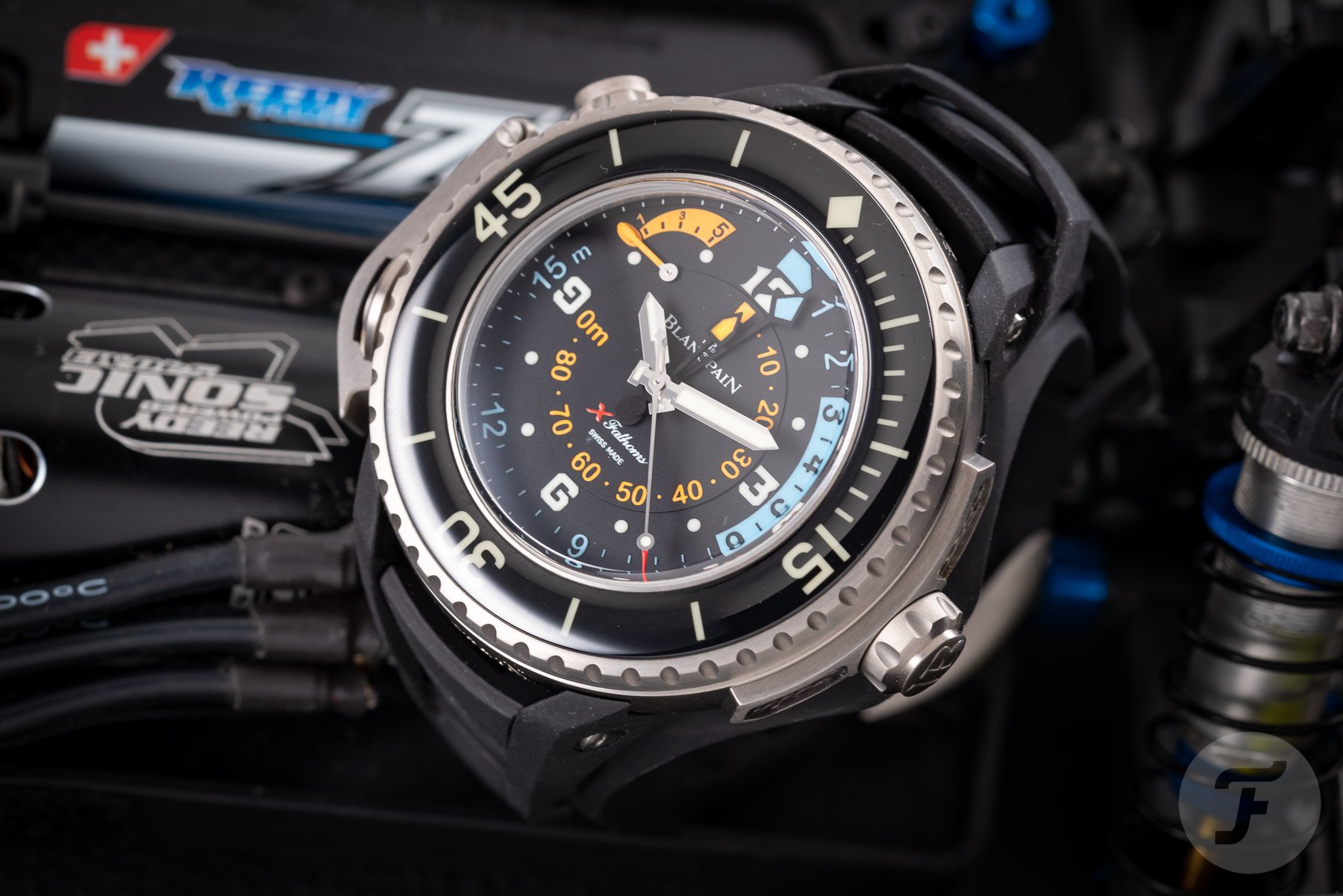 It is no coincidence that the man beaming at me with pride from across the table was the very same man that kickstarted the Fifty Fathoms' rebirth when he took the reins in 2002. Marc A. Hayek's personal passion for diving was the very injection of enthusiasm the brand needed to bring the old sea dog back from a watery grave and install it once more as the sporty flagship of the brand's other face.
It takes one to know one
The collaboration with Peli would begin soon after Hayek's appointment as CEO, propelled, of course, by his past experiences as a diver himself. Hayek knows quality when he sees it and he'd known of Peli for many years, using the brand's cases on plenty of diving expeditions as well as adventures on dry land.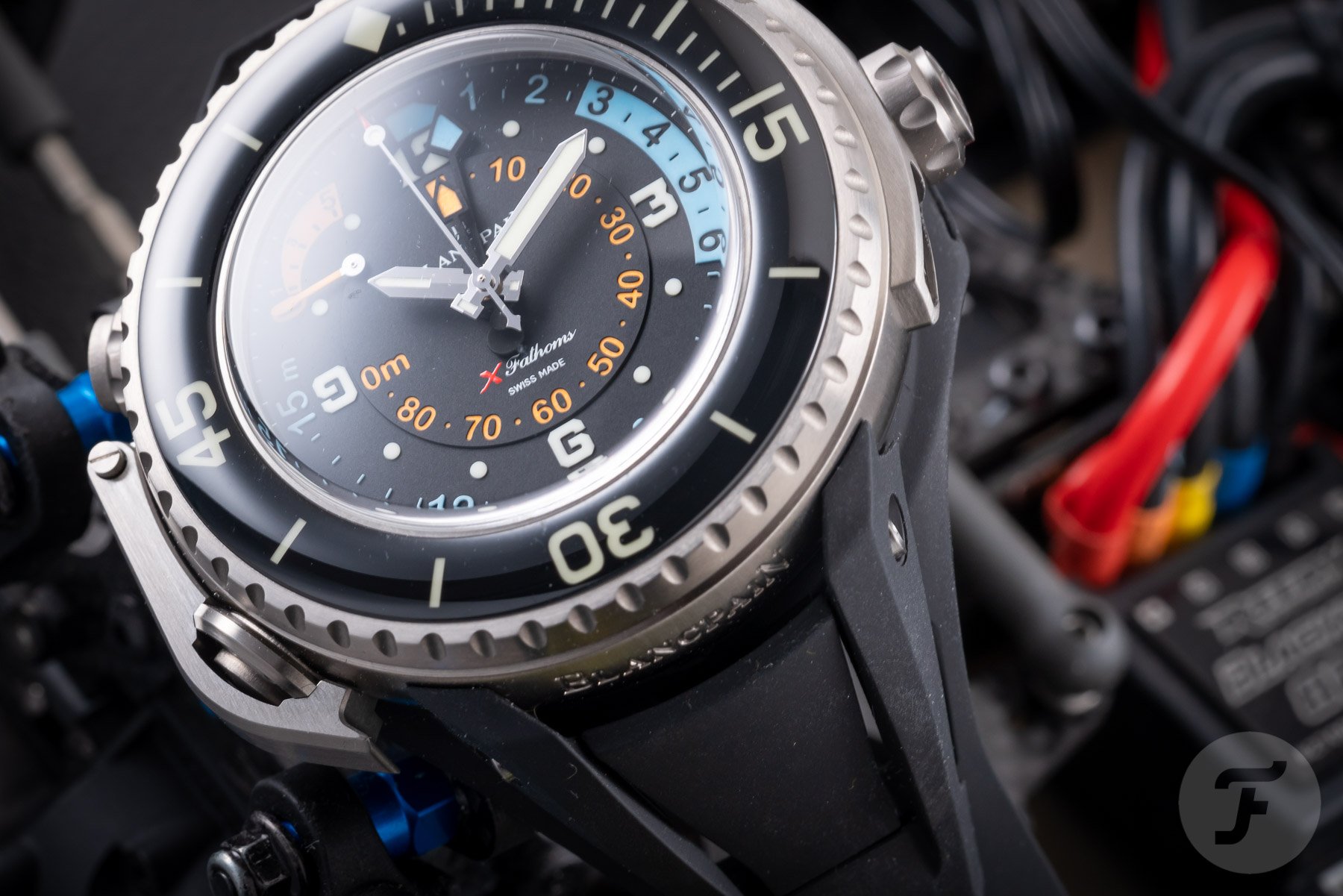 Hayek also saw symmetry in Blancpain and Peli's tradition of innovation. The company was founded in 1976 by Dave Parker, another passionate diver. Originally designed as a reliable first-aid kit for underwater adventurers, the potential for the cases to house many more items quickly became apparent. It helped that there wasn't really another product quite like the Peli case on the market. They were tough, water-resistant, dust-proof, and stylish in a truly utilitarian sense.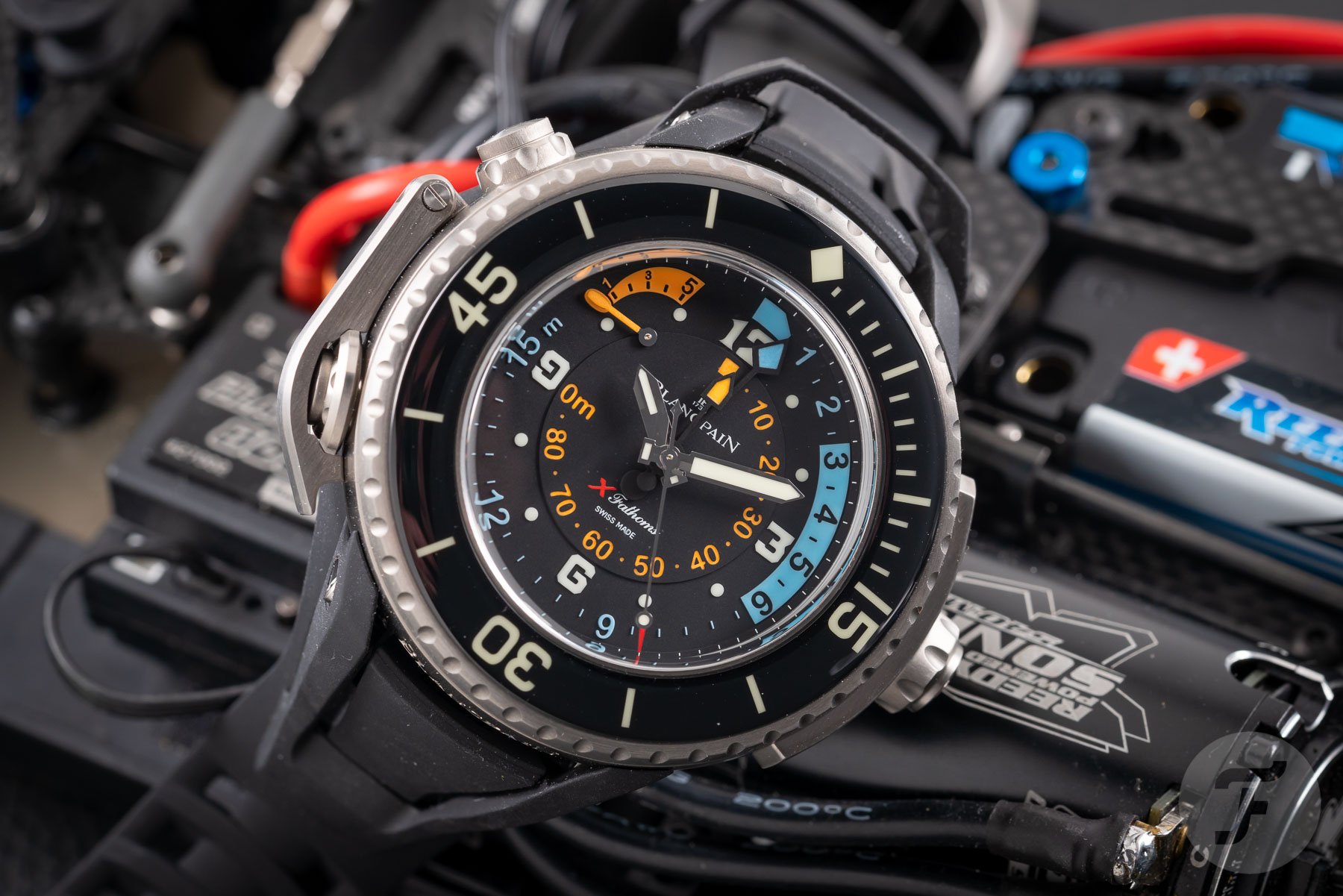 Sustainable quality
One thing I'm sure many watch collectors find irksome is housing all of the paperwork and boxes with which their beloved watches are delivered. Hayek, keen on pushing the sustainable aspects of Blancpain where possible, identified this also as another reason to package the Fifty Fathoms in a Peli Case: the case can, of course, be repurposed and used as a functional item for many years after purchase. In short, it is the perfect partner for a watch of this nature.
Interestingly, the cases used to house these Fifty Fathoms pieces are made with 25% recycled material, sourced in-house (from rejected cases, for example). Peli also chooses to donate to humanitarian aid organizations including those associated with wildlife and oceanic conservation, aligning its visions yet further with Blancpain. It is unsurprising, then, that the partnership between the two brands has lasted 15 years already, with no signs of ending soon.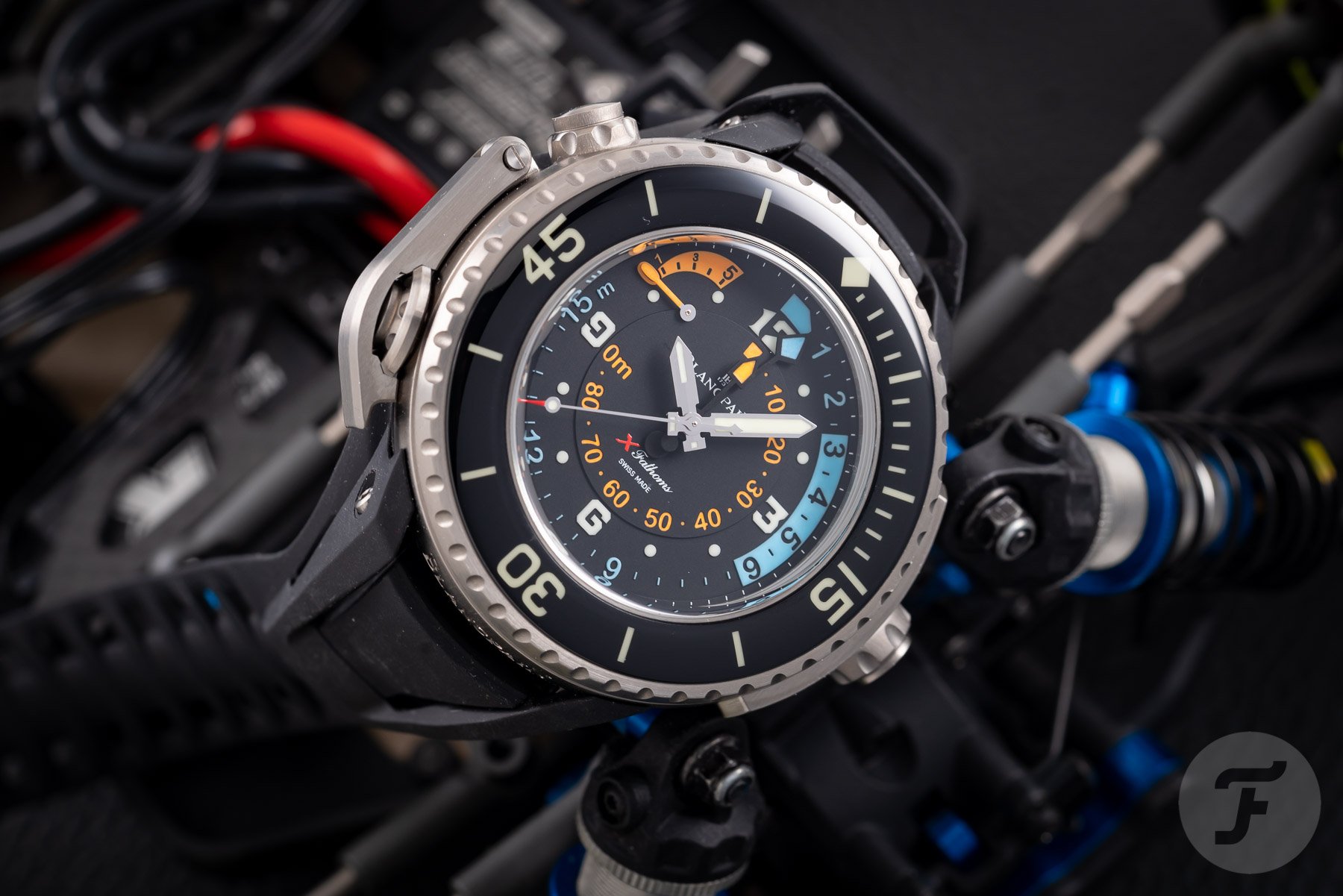 A true heavyweight
The watch here is pictured on Nacho's 18cm wrist. It's 55.6mm in diameter but wears slightly smaller than you'd expect because it has no lugs. The rubber strap simply swoops into the case, meaning this 24mm thick hockey puck sits right on top of your wrist as proudly as can be.
Actually, that's not strictly true. The way the rubber strap integrates with the case actually reduces its presence more than you'd imagine. The rubber strap itself has an almost organic look to it and seems to pull the otherwise cold and machine-like timing tool into the wrist, integrating it with its wearer. It's an odd sensation, to be honest. Wearing this watch, given its crazy proportions, should be uncomfortable. The watch should be unwieldy. And yet, it isn't. It stays put and is able to perform its job admirably as a result.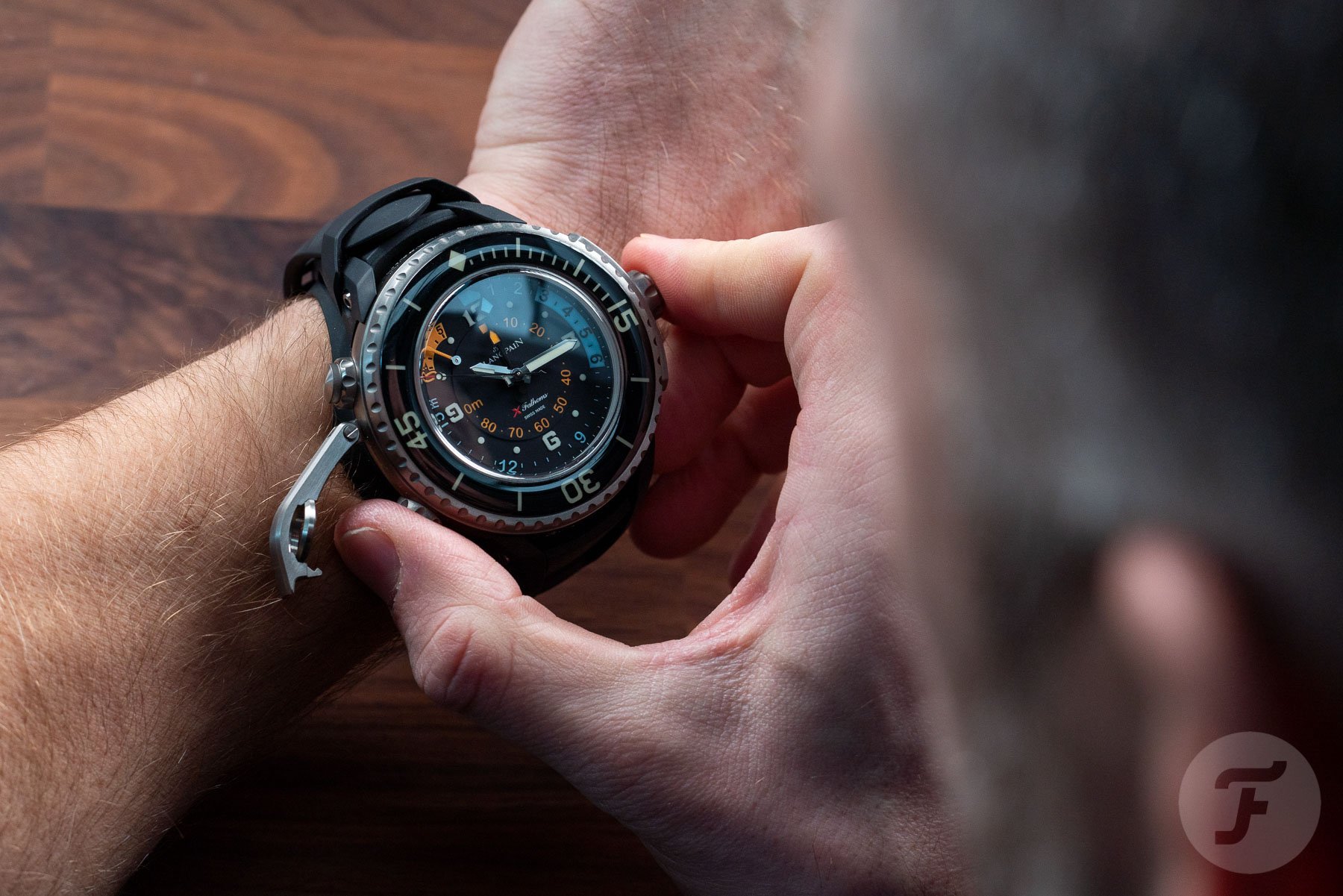 And what a job it does! This watch is packed with features. My favorite? A maximum depth memory function with a secured rest pusher. That's right: this watch, thanks to an amorphous metal membrane in the case back, can actually track your depth due to external pressure. That's cool. And while it's totally useless on land, it actually has a real-world application that could be incredibly useful for a diver. In addition to the depth being indicated on two scales, there is a retrograde five-minute counter, a decompression valve, and a uni-directional sapphire bezel (a quintessential feature of the classic Blancpain Fifty Fathoms pieces, in my opinion).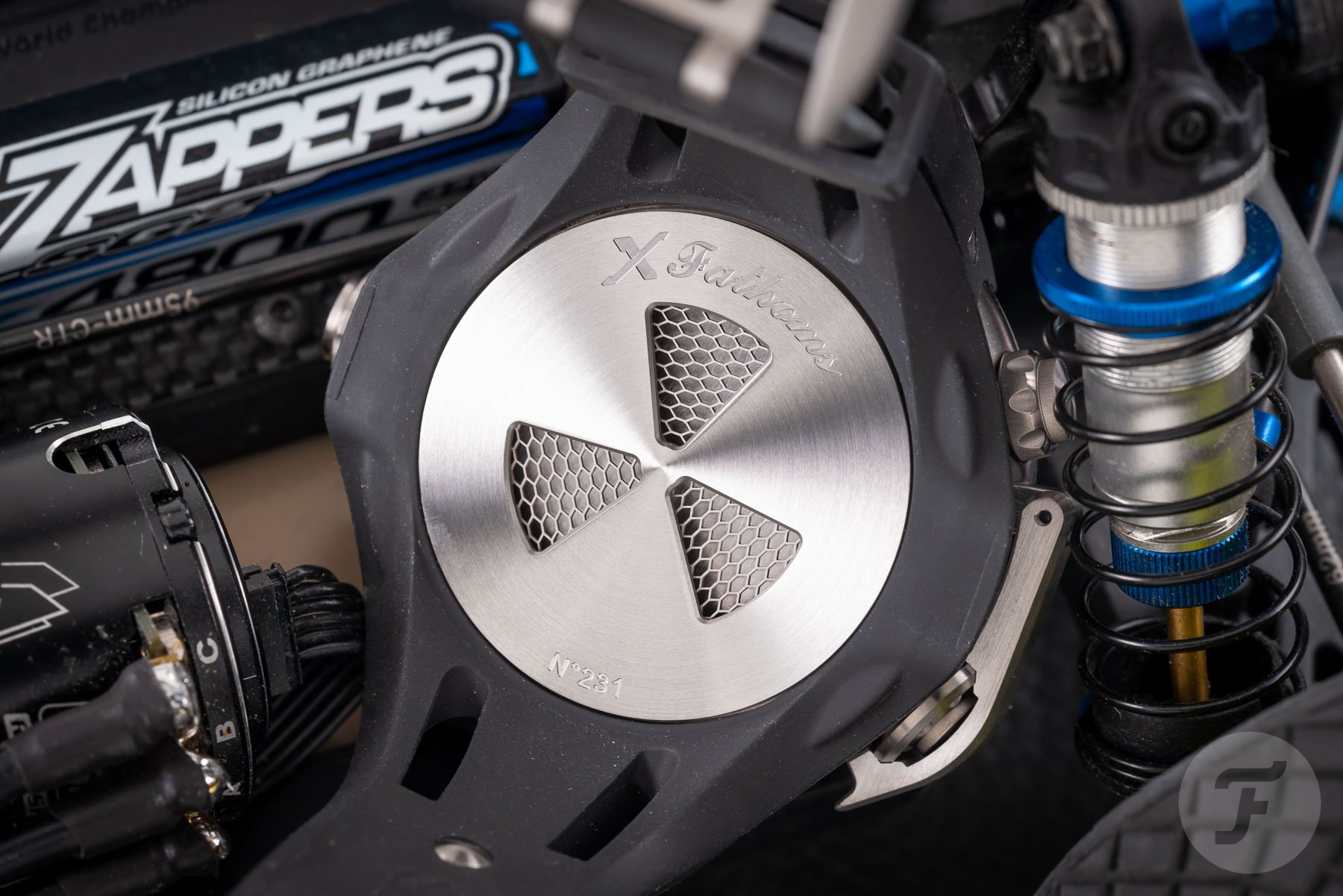 9918B
The watch is powered by the well-hidden 9918B caliber. It has a 28,800vph operating frequency, a strong power reserve of 120 hours, a whopping 411 components, and 48 jewels. It, like all of Blancpain's movements, is exceptionally well decorated. It's a beautiful thing to see, specifically because you can't see it. Movements in such a serious tool watch will never be seen by anyone but its assembler and repairer. That's attention to detail for you. That's the craft. Crucially, that's the essence of watchmaking. It's fair enough to expect it from the Villeret line. Those fancy dress pieces look like ambassadors for our industry. But this watch is the real deal. It's an uncompromisingly effective tool built for the trenches (the really deep ones).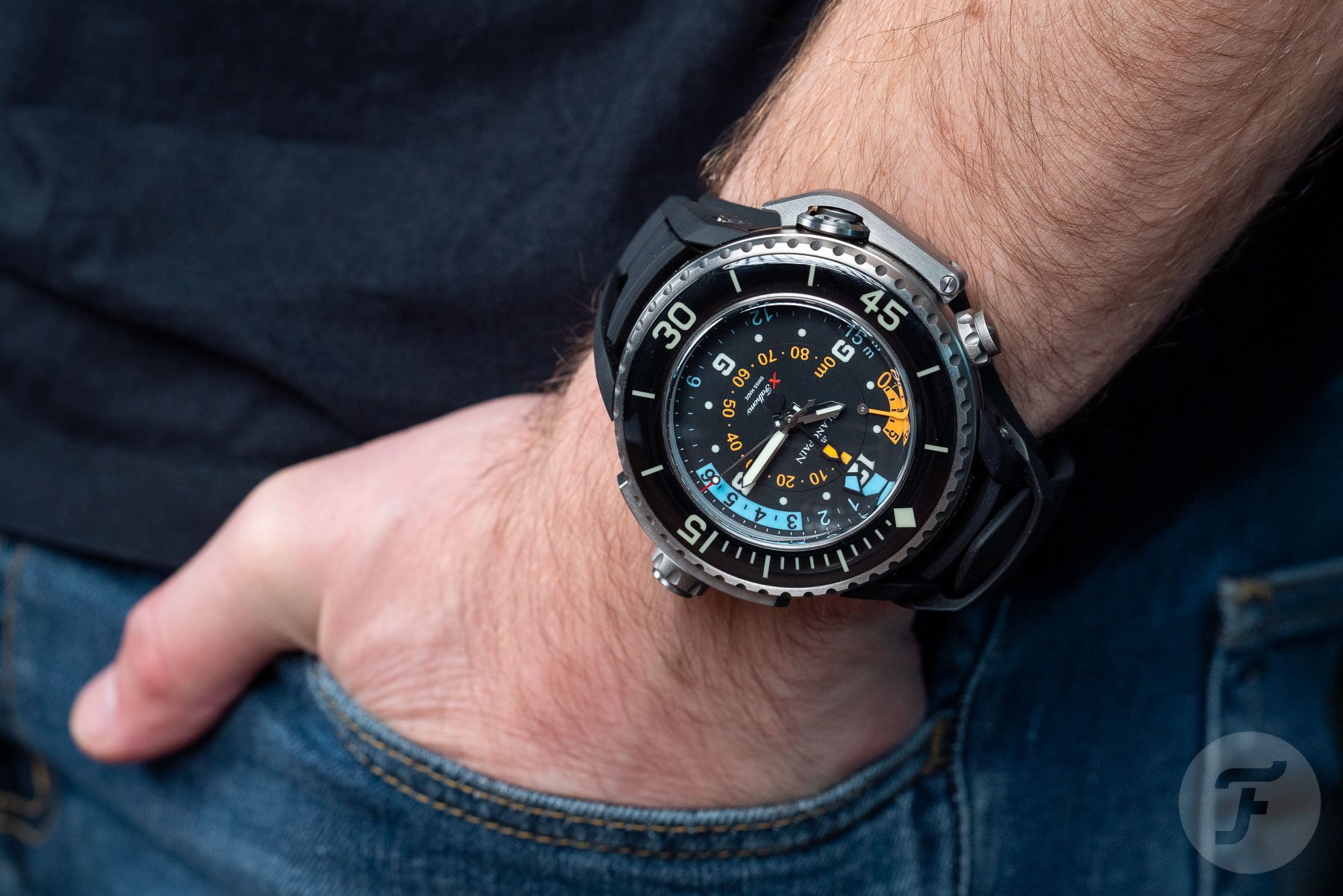 Would I buy it and wear it?
I would. I must admit that €39,490 is a lot of money (for pretty much anything except a house or a football team), and you'd expect me to say, "oh, at that price, it'll come in for a lot of stiff competition," blah, blah, blah. But honestly, in that price bracket, the only thing the Blancpain Fifty Fathoms X Fathoms would have to overcome is the Canopus Speedmaster. That's it. Those are probably my two favorite sub-€50K luxury watches from major brands. It's funny, too, how both Omega and Blancpain are Swatch Group brands. Looks like my former employers must be doing something right!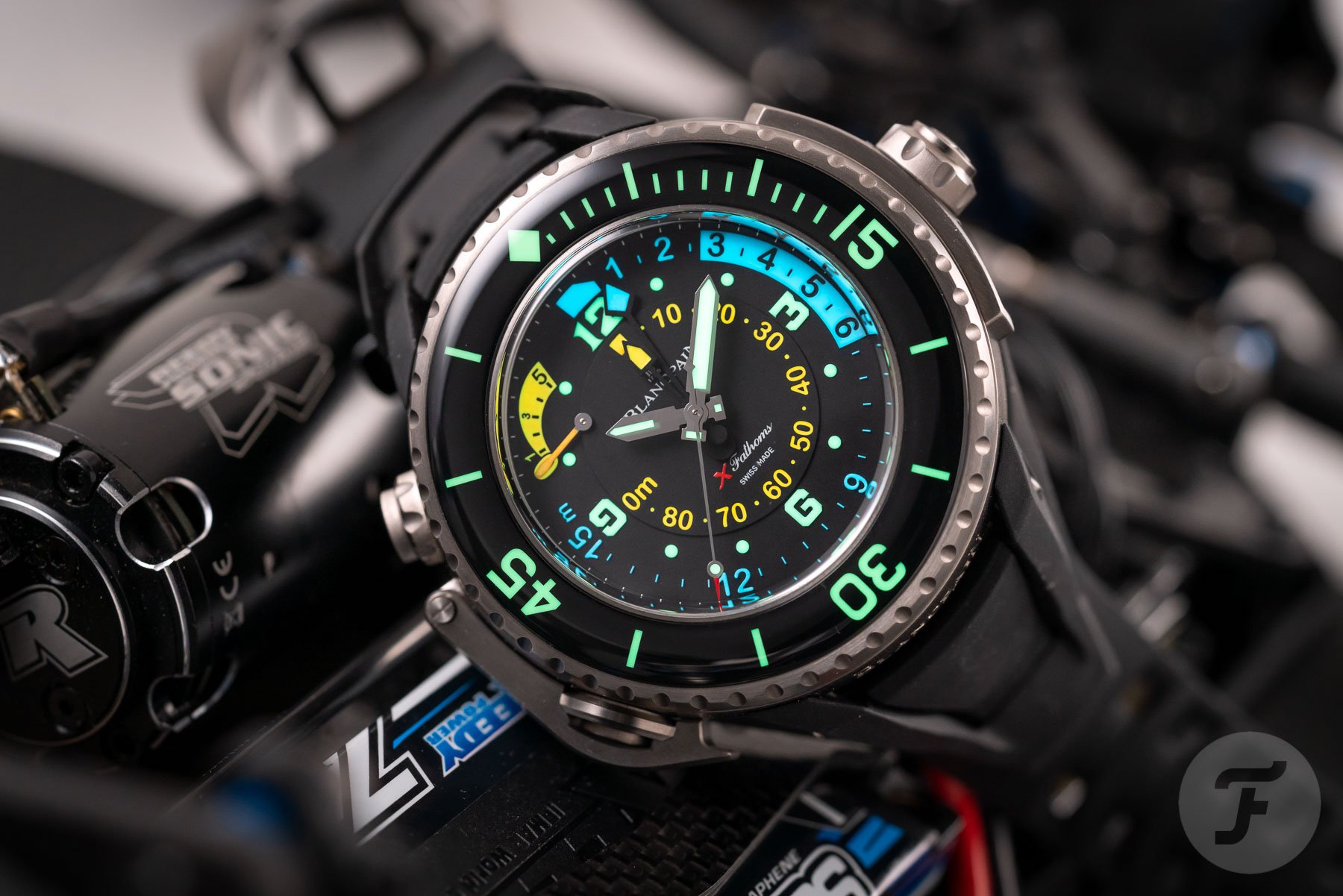 Look, for anyone not actively diving or interested in using quite such a tool for their subaqua hobby, it's bonkers. But so what? It's incredible however you look at it. This is the bulked-up custodian of the Fifty Fathoms' inimitable legacy. It also just happens to come in one of the coolest and most easily reusable boxes on the market. While that may seem like flimsy justification for parting with nigh-on €40K, it does speak to the top-to-bottom quality of not just this watch, but everything surrounding and associated with it.
This watch is one of the finest Blanpain watches ever made. It is the daddy of all Fifty Fathoms pieces. And its place in history is absolutely irrefutable. If you get the chance to try one on your wrist, do it. You'll never be the same again. Learn more about Blancpain here, and discover further Peli products here.
This is a preferred position post. Learn more.