How The New Porsche Design Chronograph 1 Utility Is Made
Paying a visit to the Solothurn-based watchmaking atelier to see the newest Chronograph 1
I recently had the chance to try the current Porsche Design Chronograph 1 in its classic guise. You may know that I am a total sucker for base models, so that would be my favorite version. But then the clever guys and gals at PD came up with something new — a Chronograph 1 that looks familiar enough but packs a little extra punch. Namely, the new Chronograph 1 Utility utilizes a high-tech titanium carbide case. This material promises the best that both titanium and ceramics have to offer.
Of course, I would have been more than happy to borrow another 911 and test the new watch on the road. But that would have been more of an indulgence by now than proper horological reporting. So I packed my bags, flew to Zürich, then shuttled to Solothurn. This picturesque Swiss town is home to Porsche Design's watchmaking atelier. Let's see how the Chronograph 1 Utility is made!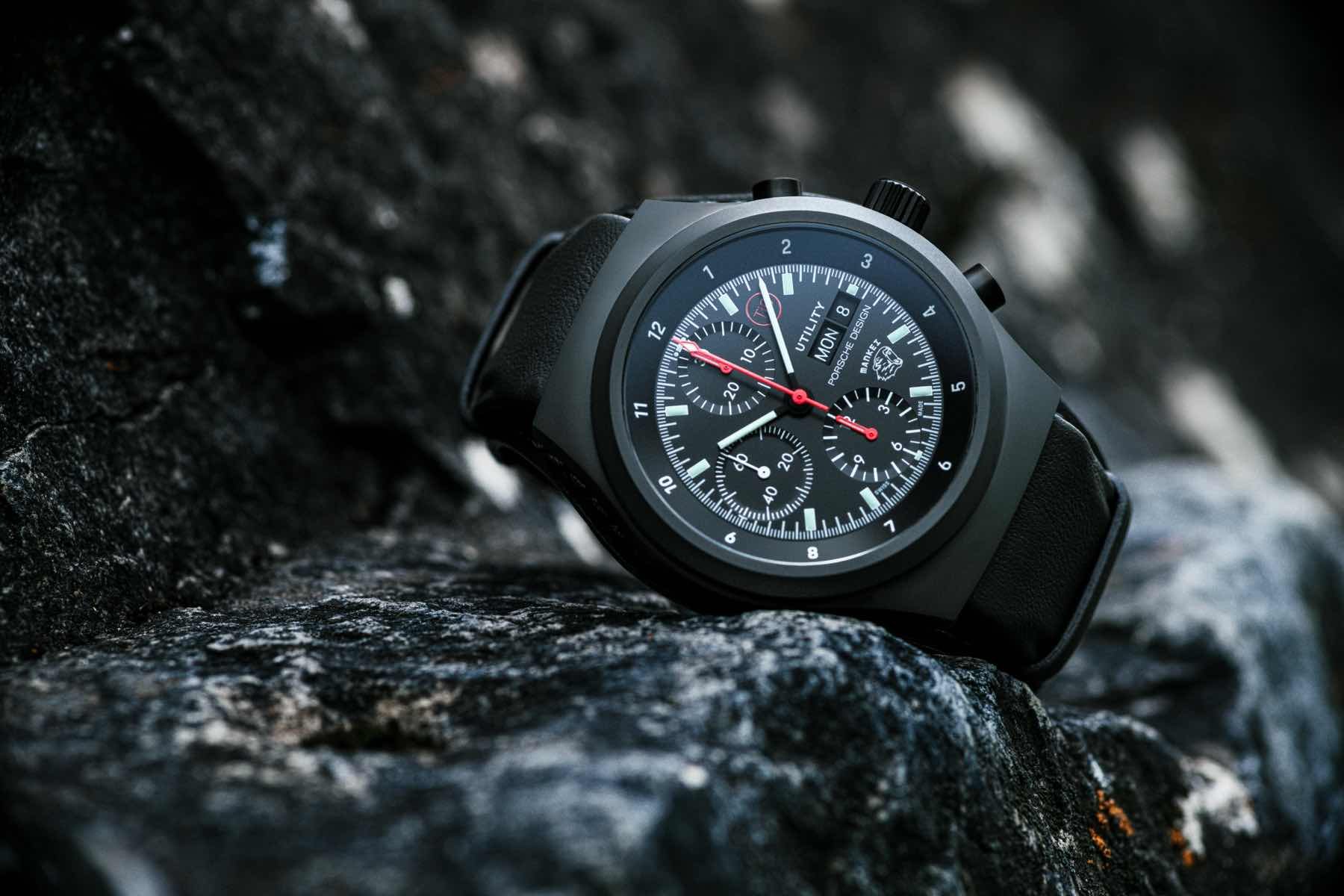 First things first: what is the Chronograph 1 Utility?
As you may know, the Porsche Design Chronograph 1 became the watch of choice for several armed forces throughout the decades, including the U.S. Air Force. Special versions were produced with certain details changed. For instance, the running seconds sub-dial would feature 60 full markings for more precise readings. Additionally, versions like this one would have the image of a tiger on the dial as well as a "3H" marking to denote the presence of tritium. These military versions of the Chronograph 1 have become quite collectible over time.
Porsche Design wanted to bring back a hardcore version of its Chronograph 1 sans the direct military connotations. Since the new version is aimed at civilians, labeling it "Military" would be insincere. So the new version takes inspiration from its military predecessors but goes by the name "Utility" instead.
So, what's new with this one? For starters, at 42.7mm across, it is 1.9mm bigger than the regular Chronograph 1. The Utility comes on a Bund strap made of the same gray leather you can spec for your Porsche car. A white textile strap is part of the full package as well. The dial features a "TiC" icon in place of the "3H" logo. This new marking denotes that the case material is titanium carbide (more on that later). The tiger has been replaced with a mankei — or marmot — inspired by Ferdi Porsche's Mankeiwirt hideout on the Grossglockner. Inside ticks the Werk 01.240, a flyback version of the heavily modified Valjoux 7750-based caliber.
The titanium carbide case of the Chronograph 1 Utility
You would be forgiven if, upon first glance, you said, "Fine, so they added some stuff to the dial. Who cares?" But it's the watch case itself where the true significance of this release resides. Although titanium carbide already made its debut in the 2022 Dakar limited edition, it is only now becoming available to the general public. If you wanted a TiC Chronograph 1 before, you had to purchase a certain rally-themed car to get access.
So, what is titanium carbide? Well, according to Porsche Design, it blends the best properties of titanium and ceramics. You get the lightness and toughness of titanium and the hardness and scratch resistance of ceramics. This may sound like IWC's Ceratanium, but the manufacturing process is entirely different and patented by Porsche Design.
The compressed powder is sintered and shrinks during this heating to precisely the right proportions.
A fine granulate is first compressed into the shape of the watch case but about 30% bigger than the intended final form. This rough shape is then machined into the precise, detailed case shape. Next, the material is heated to 2,000 degrees Celsius. The compressed powder is sintered and shrinks during this heating to precisely the right proportions. The resulting material is lighter than titanium and has a hardness of 1,900 Vickers. The process is similar to that of producing ceramic watch cases. IWC's Ceratanium, on the other hand, doesn't require shrinkage in the process. It is a heated titanium alloy that undergoes a phase transition instead.
Shared philosophy between Porsche and Porsche Design
The process requires huge kilns, which are located in Germany. So, unfortunately, I could not witness the case-making process in the Solothurn workshop. I did get access to the entire assembly process, though, which was more interesting than it sounds.
Having seen such watchmaking assembly lines before, I can say that this one is a little different. Porsche Design adopts many of the principles of car manufacturing in its watch assembly. Porsche cars are produced following the Toyota Production System. This highly fine-tuned process relies on a fixed production order, in which every component and sub-assembly is set to arrive "just in time." It is a highly efficient method that requires working by the Null-Fehler-Prinzip, leaving no room for mistakes.
Porsche Design makes watches in the same way. This is necessary because most PD watches are customized and matched to a car's spec. Using the online configurator, Porsche owners can get their watch's colors matched to their cars and have shared details, such as a rotor in the shape of their rims, in an almost infinite number of possibilities. The resulting design has to be delivered in tandem with the car. Standard production models like the Chronograph 1 Utility are mixed in with the custom watches. As you can imagine, this is a logistical nightmare, so the Toyota Production System is the most efficient way to do it. I have to admit, the level of attention to detail on the process level was equally as impressive as the watchmaking going on.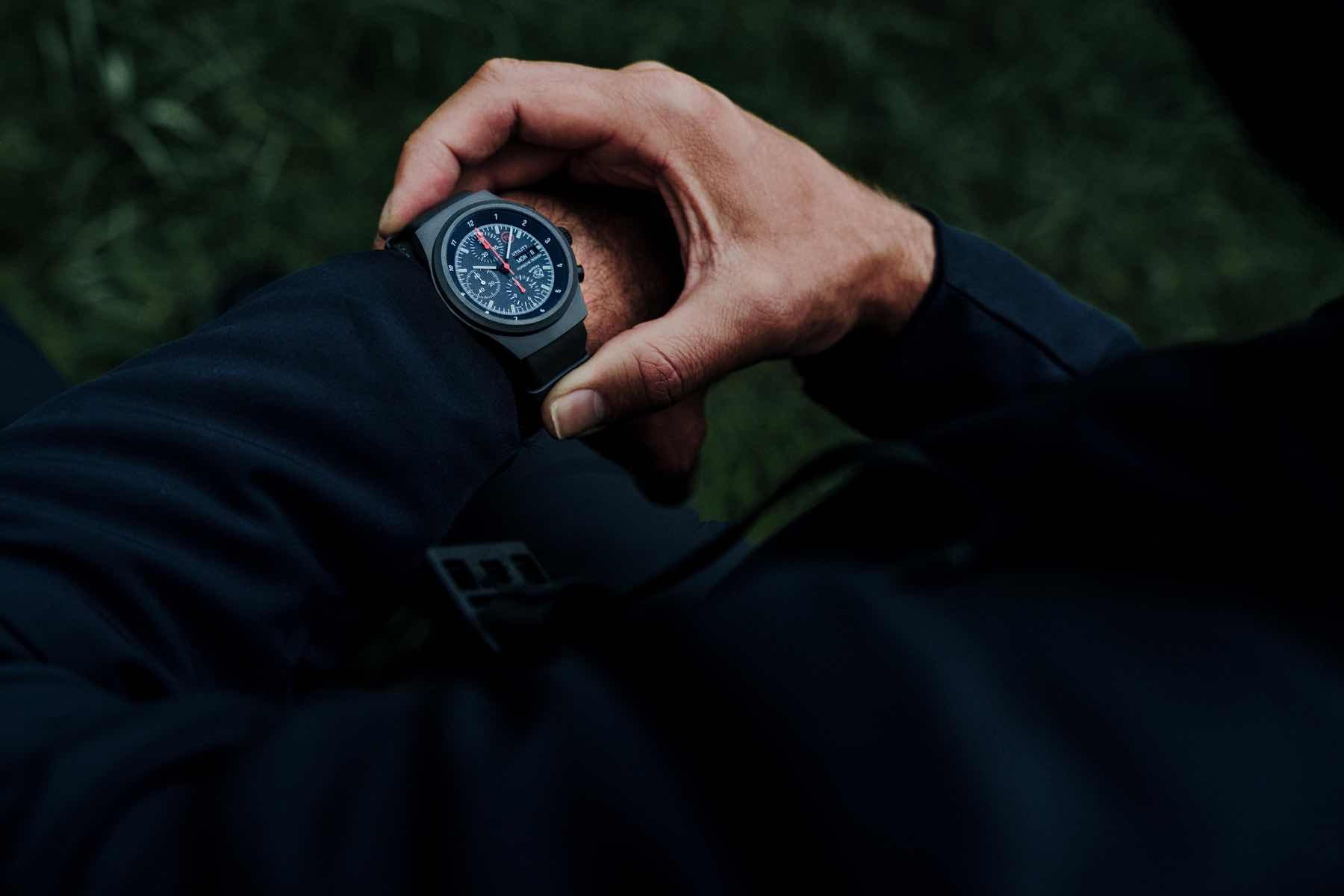 The Chronograph 1 Utility on the wrist
Logistics can be as impressive as you like, but if the resulting product isn't any good, they have little relevance. So, what is the Chronograph 1 Utility like in real life? Well, for starters, it is a little bit darker in color than bare titanium versions. It sits somewhere between the PVD and non-PVD versions in tone. It is a cool, slightly menacing look.
I was a bit worried about the larger size, but that worry turned out unfounded. The dark gray Bund strap works miracles for the Chronograph 1 Utility's fit on the wrist. In fact, it even solves the issues I had with the height of the regular model before. Of course, technically, the Bund makes it sit even higher. But it somehow just has a more natural and solid stance on the Bund. I never would have guessed it, but I would happily wear it on this strap.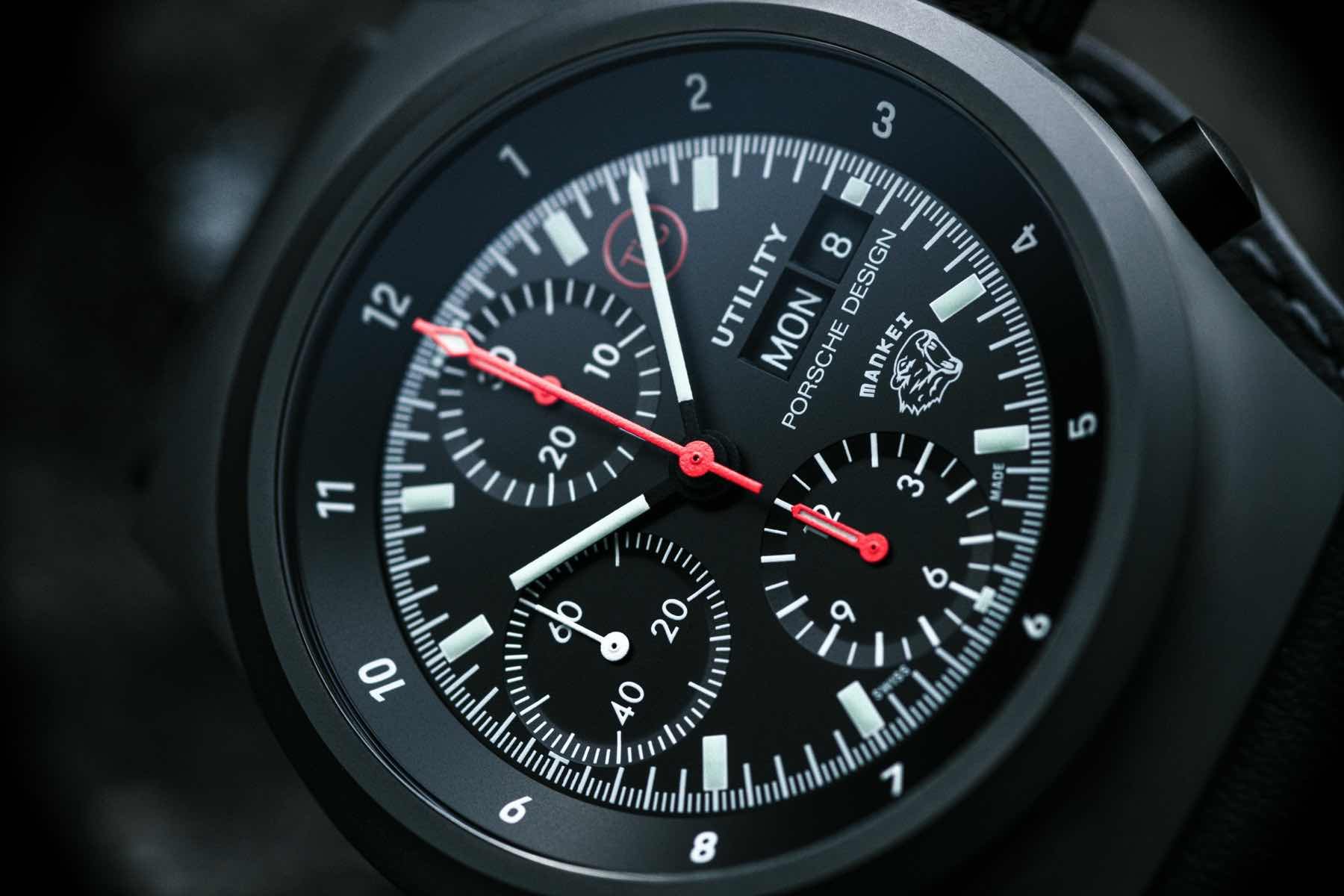 I could live without all the extra printing on the dial. But, again, that is just my love of simple, base-spec designs. The titanium carbide case is something I would fancy when shopping for a Chronograph 1. The material is almost as hard as the sapphire crystal, so it should look fresh forever. Unless you badly abuse your watch, that is. No material is indestructible. Porsche Design claims that TiC cases don't shatter due to impact like ceramic watches do. I haven't been able to test it, but assuming that's true, it is a comforting idea.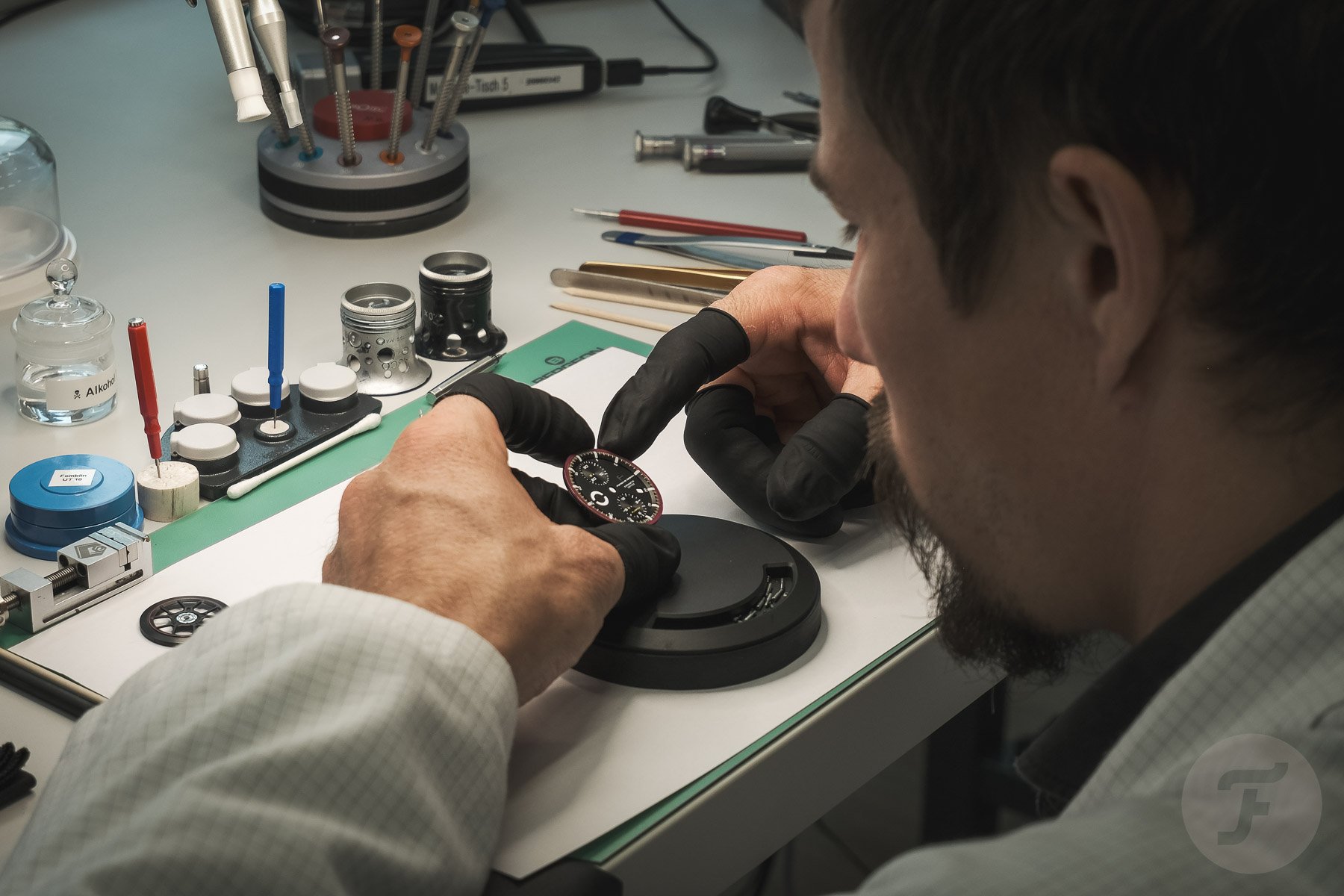 Closing thoughts
I think it is great that brands like Porsche Design strive for material innovations like this. Whether the resulting watch is to your liking or not, it advances the industry as a whole. We can expect to see more titanium carbide watches from Porsche Design in the near future. The long and costly process of developing and patenting the material means it is to become a staple for the brand. Unfortunately, it isn't currently possible to produce bracelets this way, so you will have to settle for a strap.
The Porsche Design Chronograph 1 Utility is available now. This version is limited to 250 pieces and priced at €11,950 / US$13,000. Deliveries will commence in January 2024.
What do you think of the new Porsche Design Chronograph 1 Utility? Let us know in the comments below!
Watch specifications
Model
Chronograph 1 Utility – Limited Edition
Dial
Matte black with white markings, painted Super-LumiNova indices, day/date windows, recessed sub-dials, and "Mankei" and "TiC" logos
Case Material
Titanium carbide with bead-blasted finish
Case Dimensions
42.7mm (diameter) × 15.5mm (thickness)
Case Back
Titanium, screw-in
Movement
Porsche Design Werk 01.240 — Valjoux 7750-based flyback chronograph, COSC-certified chronometer, automatic and hand winding, 28,800vph frequency, 48-hour power reserve, 25 jewels
Strap
Gray Bund strap made of Porsche vehicle leather with micro-adjustable titanium/stainless steel folding clasp and quick-release buttons. Additional white textile strap included.
Functions
Time (hours, minutes, small seconds), day, date, and flyback chronograph (12-hour and 30-minute counters, central seconds)
Price
€11,950 / US$13,000
Special Note(s)
Limited to 250 pieces