Testing A Porsche Design Chronograph 1 In Its Natural Environment
A Porsche Design watch in a Porsche 911 on the Grossglockner
I have probably given the Porsche Design Chronograph 1 the best possible chance of impressing me. I tested it in its natural environment, a Porsche 911. And then Porsche let me loose with that watch/car combination on the Grossglockner-Hochalpenstrasse, the natural environment of the 911. Admittedly, I am not the biggest fan of press trips. Some may look glamorous, but they often involve a ton of waiting and awkward conversations. But this one, I must say, could have been worse — a lot worse.
Join me on a pacy drive from the Porsche Design headquarters in Zell am See to the new Mankei drivers' hideout on the Grossglockner.
The Grossglockner-Hochalpenstrasse
Let me start by introducing the Grossglockner, in case you haven't heard of it. In short, it is one of the best driving roads in Europe. It is the highest mountain-pass road in Austria, connecting the towns of Bruck and Heiligenblut. It is almost 50 kilometers of spaghetti draped over the awe-inspiring Austrian mountains.
Now, Porsche may be German, but the Grossglockner is a second home for the car manufacturer. Historically, new Porsches were always tested here. The demanding road tests cars to their limits and provides great input during development. So that ultra-precise handling that Porsches are famous for is partly thanks to the Grossglockner-Hochalpenstrasse. Porsche Design is conveniently located right at the bottom of it in Zell am See.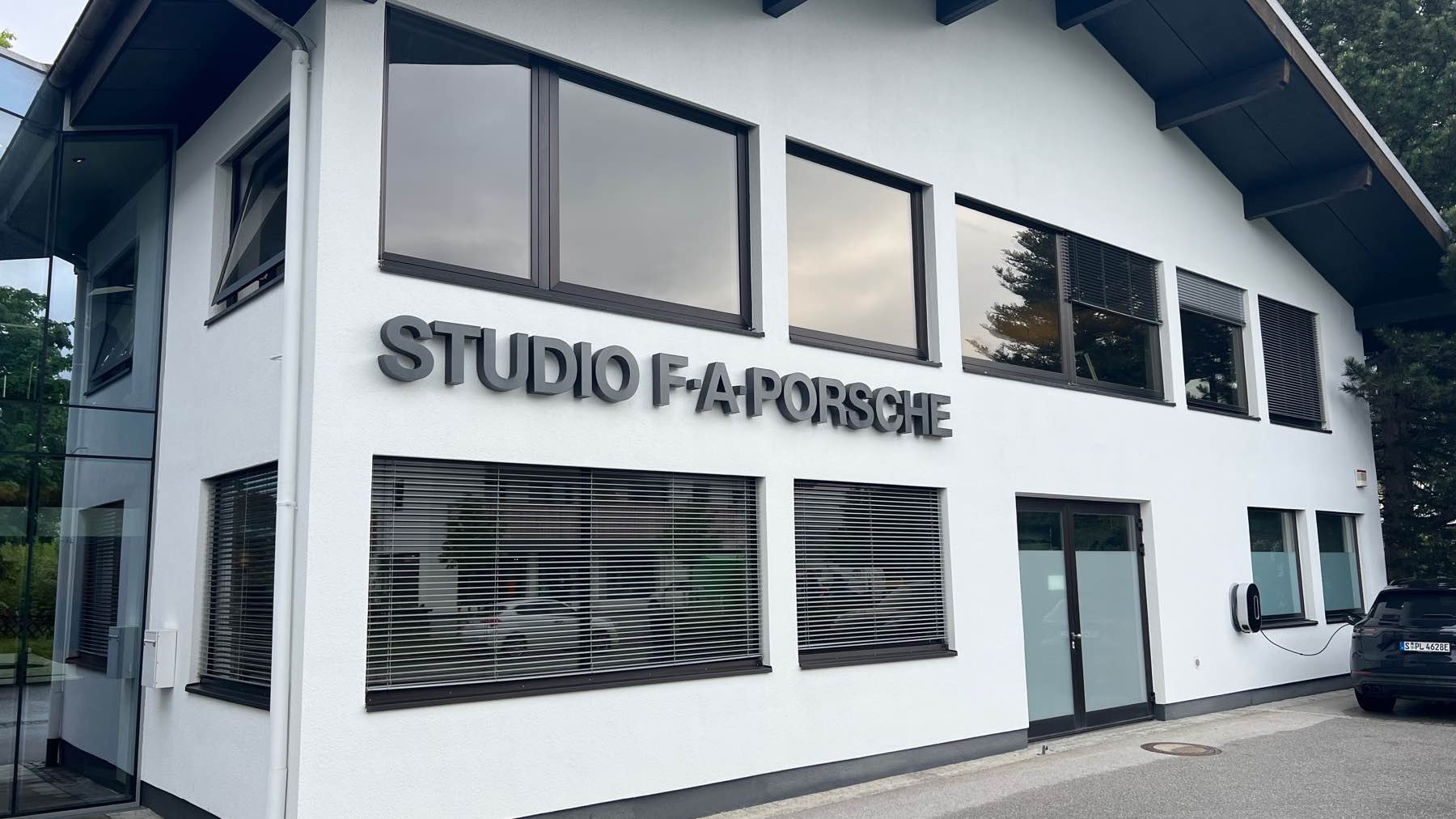 On our way up, we ran into several camouflaged cars from Porsche itself as well as what looked like BMW to me. It goes to show that the road is still serving its purpose as a testing ground for the automotive industry. A large number of sports cars and motorcycles confirms it is also still a haven for speed freaks in general.
Porsche Design & F.A.T. Mankei
So, what was the occasion? Well, Ferdi Porsche is opening a refuge for the many car fanatics on the road, called F.A.T. Mankei. F.A.T. is his brand, under which he also organizes the yearly GP Ice Race. Now he has a headquarters on the very road where his uncle once developed the original 911. It is a restaurant right there on the pass. So when you need a little break from drifting up and down the Grossglockner, you can enjoy a drink or a meal with a view of the stunning mountains or a historic car in the glass house next to the main hut.
To celebrate, Porsche Design made a special strap for its Chronograph 1 GP 2023 edition. This gets a little complicated: the watch is a special edition for the 2023 GP Ice Race, and then a version of that with a different strap celebrates the Mankei opening. Are you with me? Good! The strap is the same grayish color as the Mankei building. It is designed to be worn over a racing suit or jacket sleeve.
Now, don't get overly excited; all 250 pieces are already spoken for. So if you like the watch, you will have to look at the other versions on offer. Still, most of what I will say about the watch goes for any modern Porsche Design Chronograph 1.
Driving up the alp
Before I get to the watch, I just have to cover the drive. We were each handed a key. Mine had a tag reading "GTS 4 Cabrio Eisgrau metallic." That's a 992-generation 911 with 480 horses in the back. It sprints to 100 km/h in 3.5 seconds and tops out at 307 km/h. I have to admit, that is about 250 stallions more than I had ever driven before. So I was slightly nervous, especially since I would be in it alone, with no adults present.
First things first, I dropped the roof. I mean, if it were my money I would get the coupe, but when life gives you lemons, you have to make lemonade, right? We took off, and my first impression was one of comfort and reassurance. A modern 911 isn't intimidating at all. It feels civilized and refined, providing perfect visibility all around and a silky-smooth ride. To be completely frank, I was even a tad underwhelmed.
And then I found the magical combination of the sports exhaust valve button and the different drive modes. In "normal" mode with the exhaust set to "quiet," it is just like my VW Golf. But in "Sport Plus" and the exhaust in "yobbo mode," it is a different beast altogether. I pressed the pedal down and got catapulted. A fellow journalist in the car behind later told me that he could see nothing but a massive, dopey smile in my rearview mirror. Once on the alp, it all became quite magical. The car leaped from hairpin to hairpin, only to bite into those corners with a grip that I could feel in my eyeballs. Once we hit rain and snow high up, I was very happy to have four-wheel drive. The car didn't flinch, and my bravery maxed out long before the car did.
The Porsche Design Chronograph 1
On to the watch. I will come out and admit that I have always loved the Chronograph 1. The original from the early '70s is a design masterstroke that we don't talk about nearly enough. It was the first watch to be completely black-coated to minimize reflections. Several versions have been made with Valjoux and Lemania calibers. The coating, unfortunately, tended to wear off quite quickly. This makes vintage specimens in good condition hard to find now.
The modern version comes with the Werk 01.240 caliber developed in cooperation with Concepto. It is a flyback chronograph caliber that features some of the basic architecture of the Valjoux 7750. It is housed in a case that's a hair over 40mm, which is the same as the first version. Other brands, pay attention: you don't have to blow up your classics when doing reissues! Should I repeat that? You don't have to blow 'em up! Kudos, PD.
Porsche Design prides itself in taking an obsessive, perfectionist approach to the tech side. The sapphire crystal, for instance, is coated in no less than seven layers of antireflective coating on both sides. And then, to prevent scratching the coating, a scratch-resistant top coating is added. You also get a neat quick-release adapter for the nylon strap. Like the dial, crown, and pushers, it is black, which makes for a cool contrast with the bead-blasted titanium.
The Porsche Design Chronograph 1 in its natural habitat
So, what was it like to put all the above together? Well, impressive, I must say. I do prefer the fully blacked-out version of the Chronograph 1 on its titanium bracelet. The Mankei strap is great over a sleeve, but it adds too much height when worn on the naked wrist. Regardless, the watch goes with the car seamlessly. Clearly, there is some DNA shared between the dash clocks and the watch. The stark black and red seconds hand mirror the steering wheel and Porsche badge. I really do get why many Porsche car owners buy a matching Porsche Design watch.
What I particularly love is that the watch doesn't feel like merchandise. Porsche Design is a legit watch brand with its own production, design, and research facilities. There is material innovation going on, like with the brand's new titanium carbide cases, bridging the gap between metal and ceramic. So unlike any other car-branded watch, this does not feel gimmicky. I would proudly wear a Chronograph 1 even if I didn't own a car to match it. And, to be fair, PD may be part of Porsche today, but it was a completely separate company when it was founded, so a Porsche Design-branded item isn't technically a car-branded one.
But it would leave a giant 911-shaped hole in front of my house because the two go so well together. A Porsche 911 has that certain German understated, clinical vibe to it. The watch truly shares that character, and both came alive on the alp.
Closing thoughts
I always strive to keep a neutral, critical stance when on press trips. After all, they are designed to impress you and win you over. But credit where credit's due: this one was executed with surgical precision. Sometimes brands succeed in telling you their story. But then, there actually has to be a story worth telling. And, of course, it has to be told in just the right way. Porsche and Porsche Design succeeded here. The Grossglockner oozes motoring history, and so does the Mankei hut. It provided the perfect context for understanding the Chronograph 1.
I was really into cars in my early 20s, but I lost interest over the years. Priorities shifted, and the car became a practical utility rather than an object of desire. This setting — the alp, the watch, the car — really conspired to lure me back in. This was a crash course in car culture, and it left me aching for a 911 and a Chronograph 1.
Let's face it, Fratelli, we're all just oversized children, aren't we? If we stomp on the brake and hear the exhaust pop and bang as we point the front wheels toward the apex, there really isn't much else to desire, right? Let me speak for myself: this trip has only proved that I'm a bit of a simpleton.
You can also find and follow me on Instagram: @time_travelers_journal
Featured image: F.A.T. Mankei