I Want To Wear The Montblanc 1858 Geosphere Limited Edition 1858 Upside Down
And I mean that as a compliment!
Earlier this year, I had an online talk with Montblanc's new Managing Director Watch Division, Laurent Lecamp (43). Amongst other things, I asked him about his favorite new watch in the collection. "That must be the new, bronze 1858 Geosphere Limited Edition 1858," he answered. "This new Geopshere is inspired by a 2,000 kilometer solo journey by legendary mountaineer and adventurer Reinhold Messner in 2004 through the Gobi Desert. The watch reads like a logbook of that adventure thanks to the colors used, different details and the laser etching on the back." I had to find out more. And now I want to wear the Montblanc 1858 Geosphere Limited Edition 1858 upside down.
I didn't just talk about the latest version of the highly recognizable Geosphere with Laurent Lecamp. He's still quite new to the Montblanc team – he started January 1st of this year – so it was also a digital acquaintance. Lecamp is a trained gemologist who also studied at the Neoma Business School, a French grande école. He's also a versatile person with a very eclectic resume.
… I got more and more intrigued and had to try the watch for myself.
Lecamp appears to be at home in many (luxury) markets. Laurent Lecamp's journey to the Montblanc watch workshops in Villeret and Le Locle included a position as Brand Director Wines & Spirits at LVMH and as Executive Vice President of Sales at jeweler and watch manufacturer Carl F. Bucherer. Moreover, he was one of the founders of the exclusive niche watch brand Cyrus. When he talked about the latest bronze edition of the 1858 Geosphere, I became more and more intrigued and had to try the watch for myself.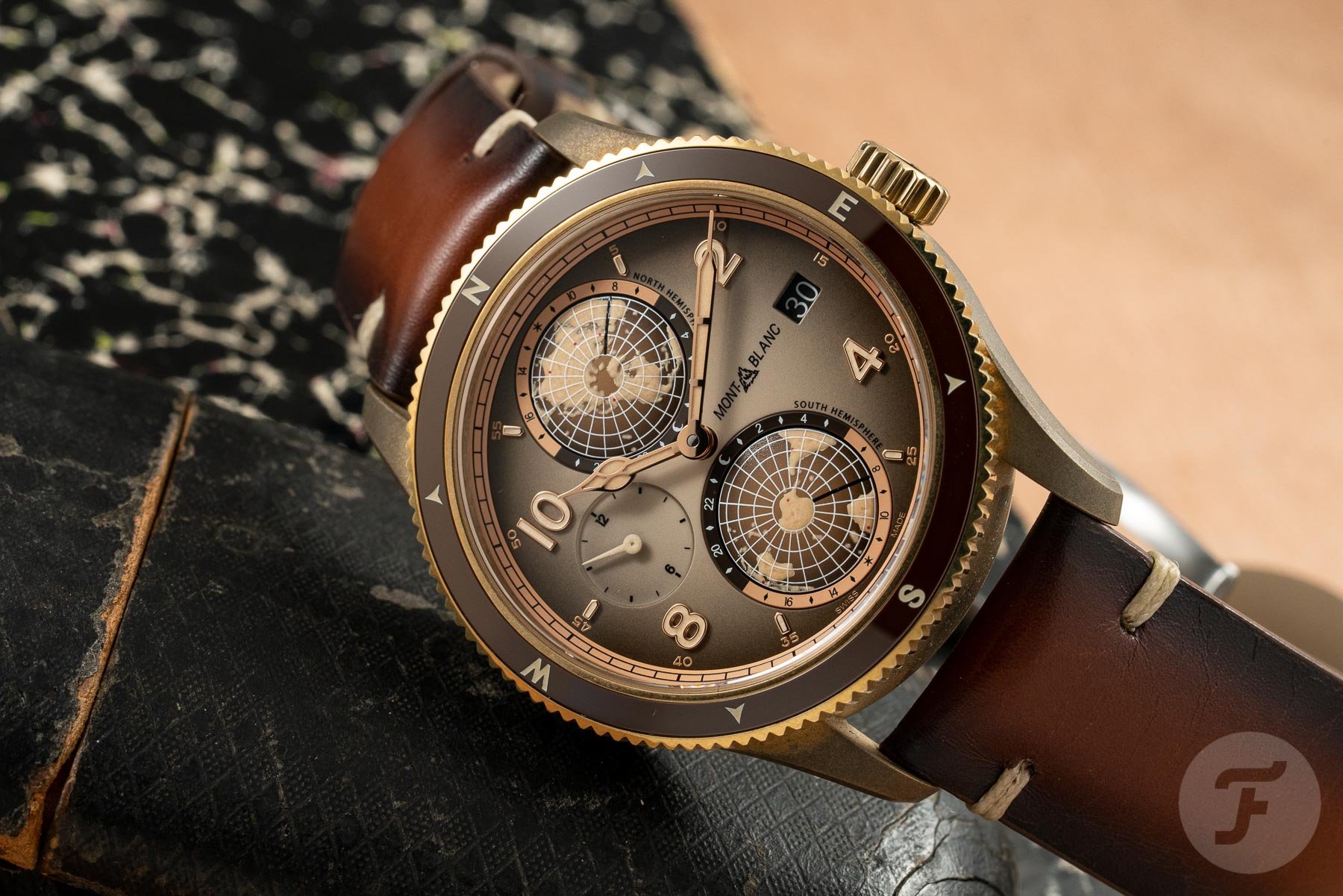 I want to wear the Montblanc 1858 Geosphere Limited Edition 1858 upside down
One of the most striking details of the watch is the case back. And yes, it does tell a tale of adventure, but most of all it's just incredibly pretty. Inspired by Reinhold Messner's 2004 trek, the case back unveils a laser-etched depiction of the Gobi Desert's famous Flaming Cliffs in Mongolia also known as Bayanzag. These cliffs are famous for the significant paleontological discoveries made there. American paleontologist Roy Chapman Andrews dug up fossilized dinosaur eggs and specimens of Velociraptors there back in 1920. He also gave the name to the location, referring to the red or orange colors of the sandstone cliffs that light up like fire at sunset. The case back also depicts a wind rose compass inspired by traditional Mongolian ornaments.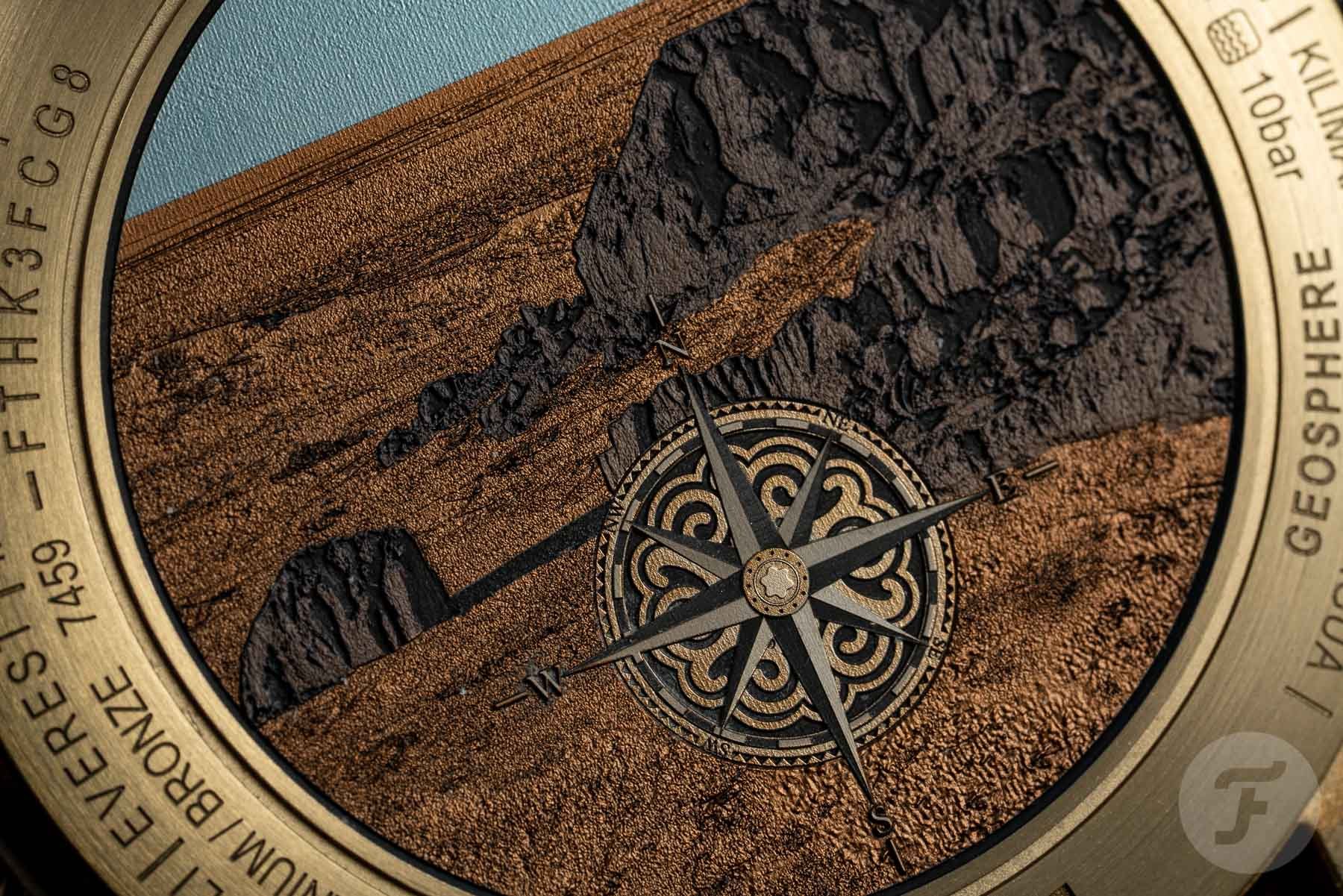 Just look at it! It's lifelike, it's vibrant, it's simply stunning! The engraving of the titanium case back is three-dimensional, colorful, and photo-like. To get to this result, the metal is laser engraved first. After that, another laser takes care of the matte and shiny bits, and the final coloring phase, done with laser-generated oxidation, paints the beautiful picture that will spend the majority of its functional life pressed against your wrist.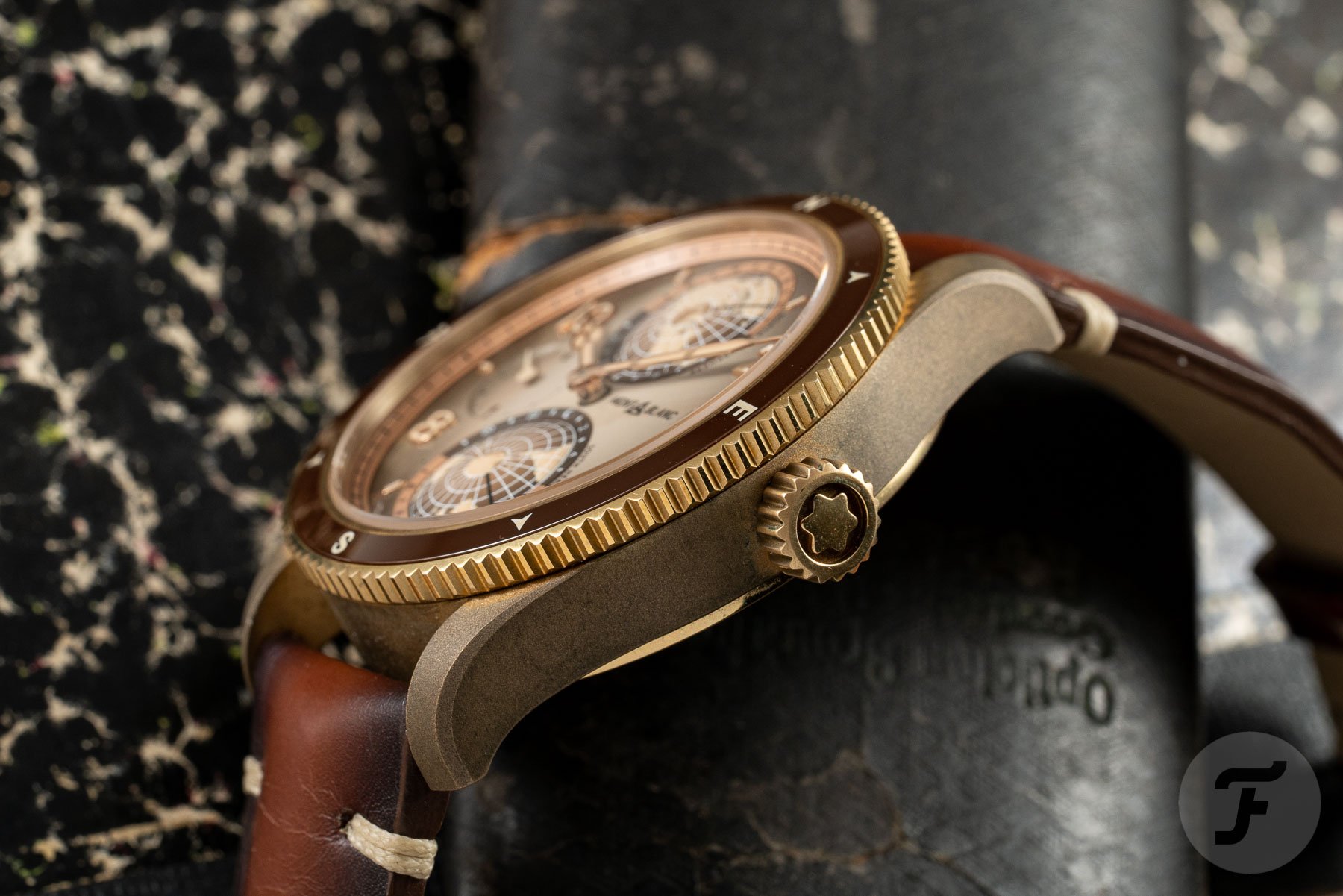 The Montblanc 1858 Geosphere: since 2018
During an online presentation with both Lecamp and Montblanc's CEO Nicolas Baretzki, I asked why they didn't opt to use the laser etching technique on the dial of the new 1858 Geosphere as well. The honest answer was that they didn't take that into consideration because they have been doing Geosphere dials the way they do, albeit in different color variations, since 2018. But they reacted enthusiastically and even promised to give me credit if they would ever produce a laser-etched dial. I can't wait for my moment de gloire!  But until then we'll have to make do with the more traditional dial. And that dial is highly recognizable and already more than striking enough.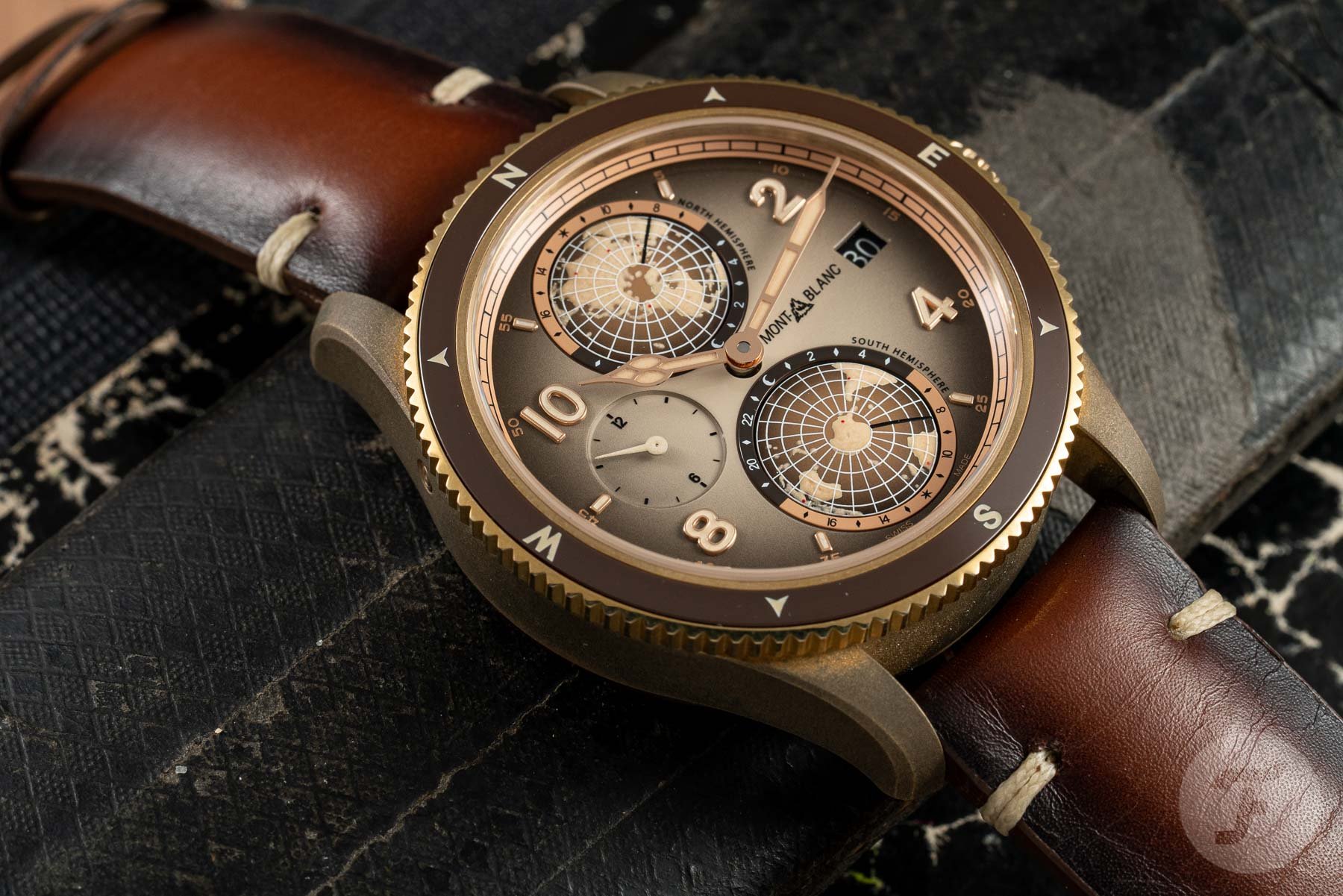 Smoked brown, beige, and warm rose gold colors
The latest version of the 1858 Geosphere Limited Edition 1858 shows a smoked brown and beige lacquered dial. The cathedral hands and applied indexes with warm rose gold-coated complete the design. To ensure good readability in the dark, the day/night indicator, the hands, the indexes, the compass indications, and the hemisphere globes are coated with beige-colored Super-LumiNova.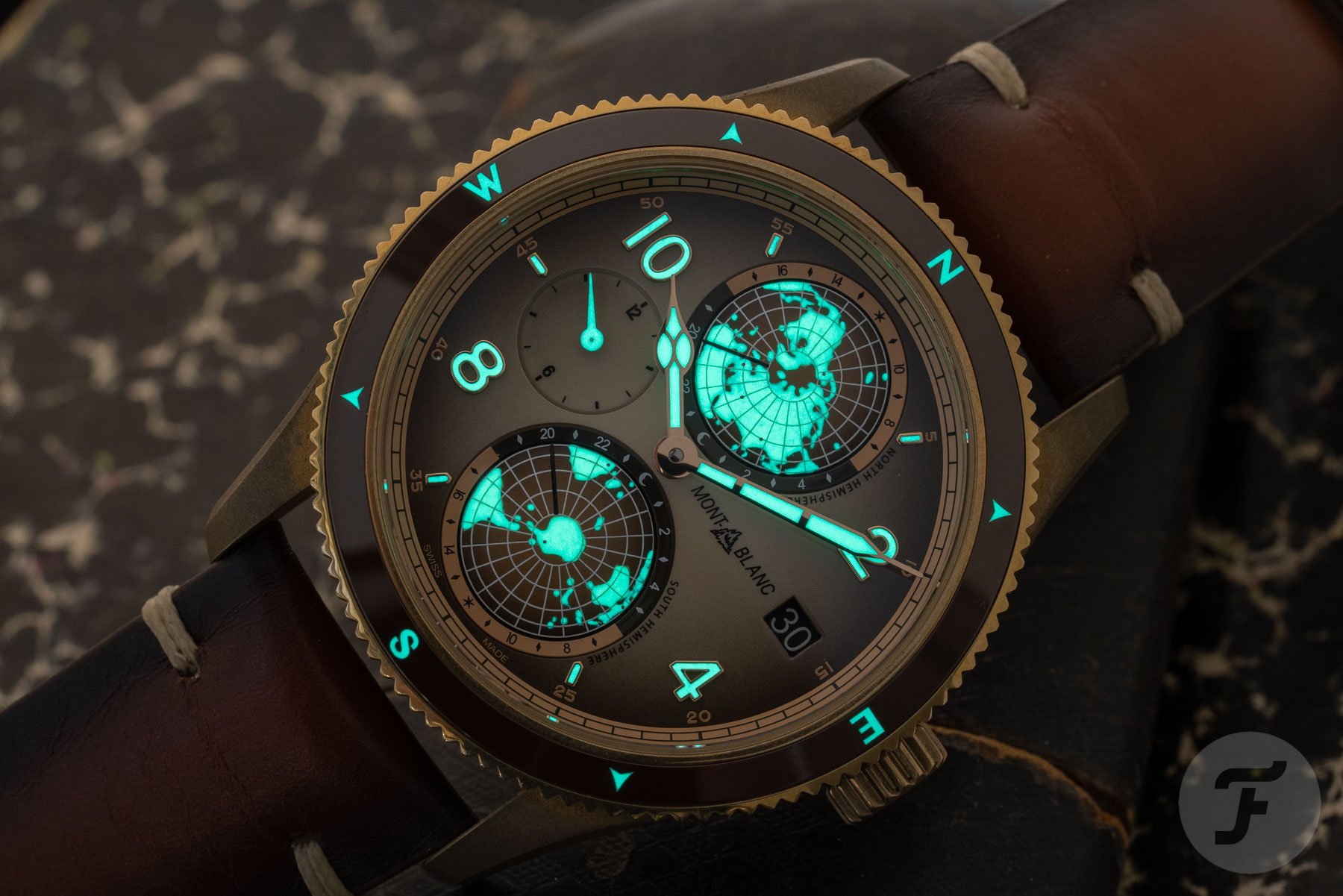 And that brings us to the most striking features on the dial, the Northern Hemisphere at 12 o'clock that turns anti-clockwise, and the Southern Hemisphere that slowly turns clockwise at 6 o'clock. The two domed hemisphere globes are surrounded by a fixed scale with 24 time zones. They also include a rose gold-coated and brown day/night indicator for both hemispheres.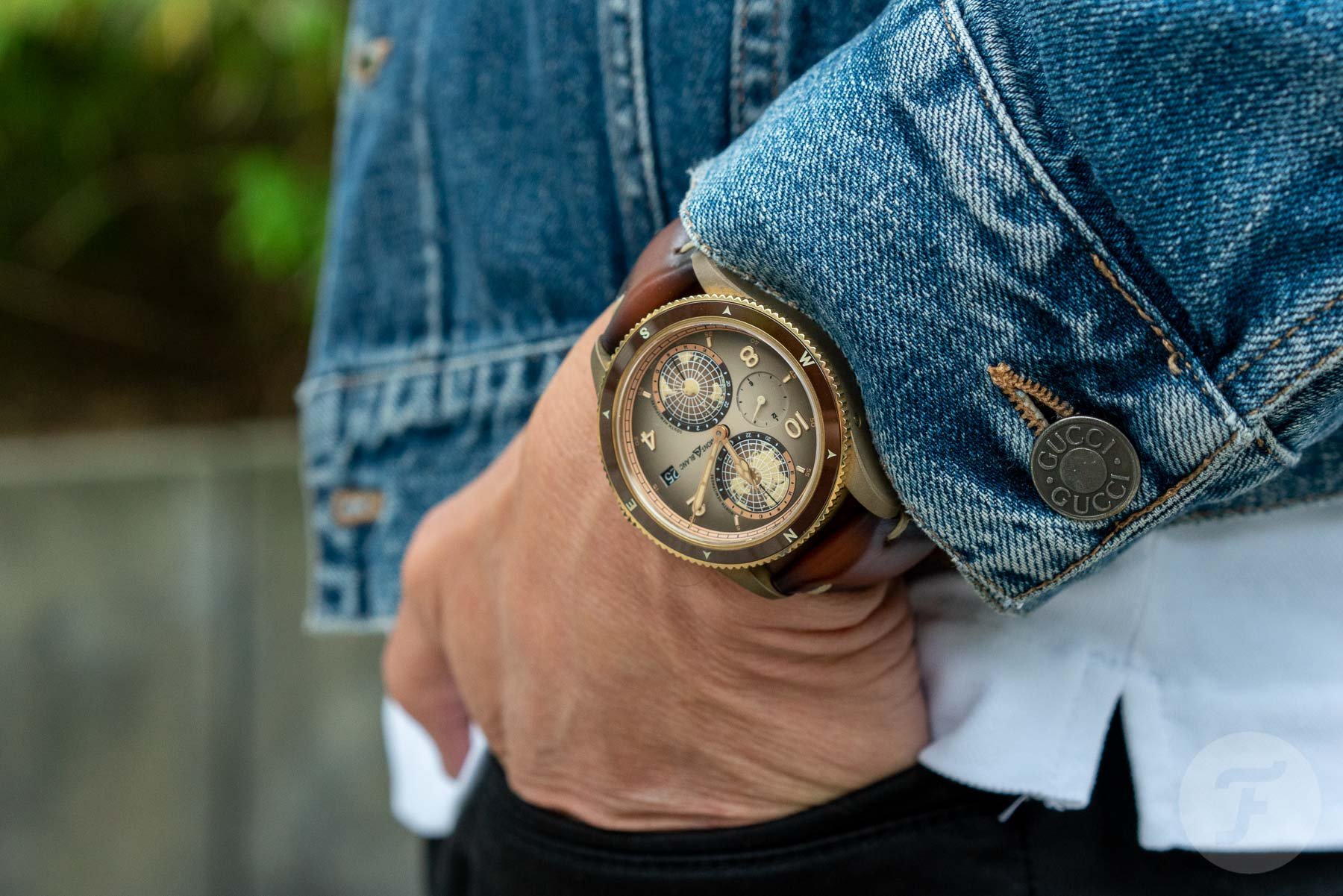 Two turning hemispheres
Sure, the two hemispheres make for a unique visual spectacle, but this watch does more than just look good. The 1858 Geosphere is surprisingly easy to operate and can function as a very practical travel watch. Everything starts by adjusting the turning hemispheres by aligning the GMT/UTC line to London time that is highlighted as a black line on the domes.
… written down it still looks a bit complicated, in practice it really is not.
After that, you set the minutes and then the hour hand that uses the quick hourly increment adjustment system — the two globes are not turning when you do this, but it does also adjust the date. The last step is setting the second time zone via the corrector at 10 o'clock. Now everything is ready for worldwide traveling. I know, written down it still looks a bit complicated — in practice, it really is not.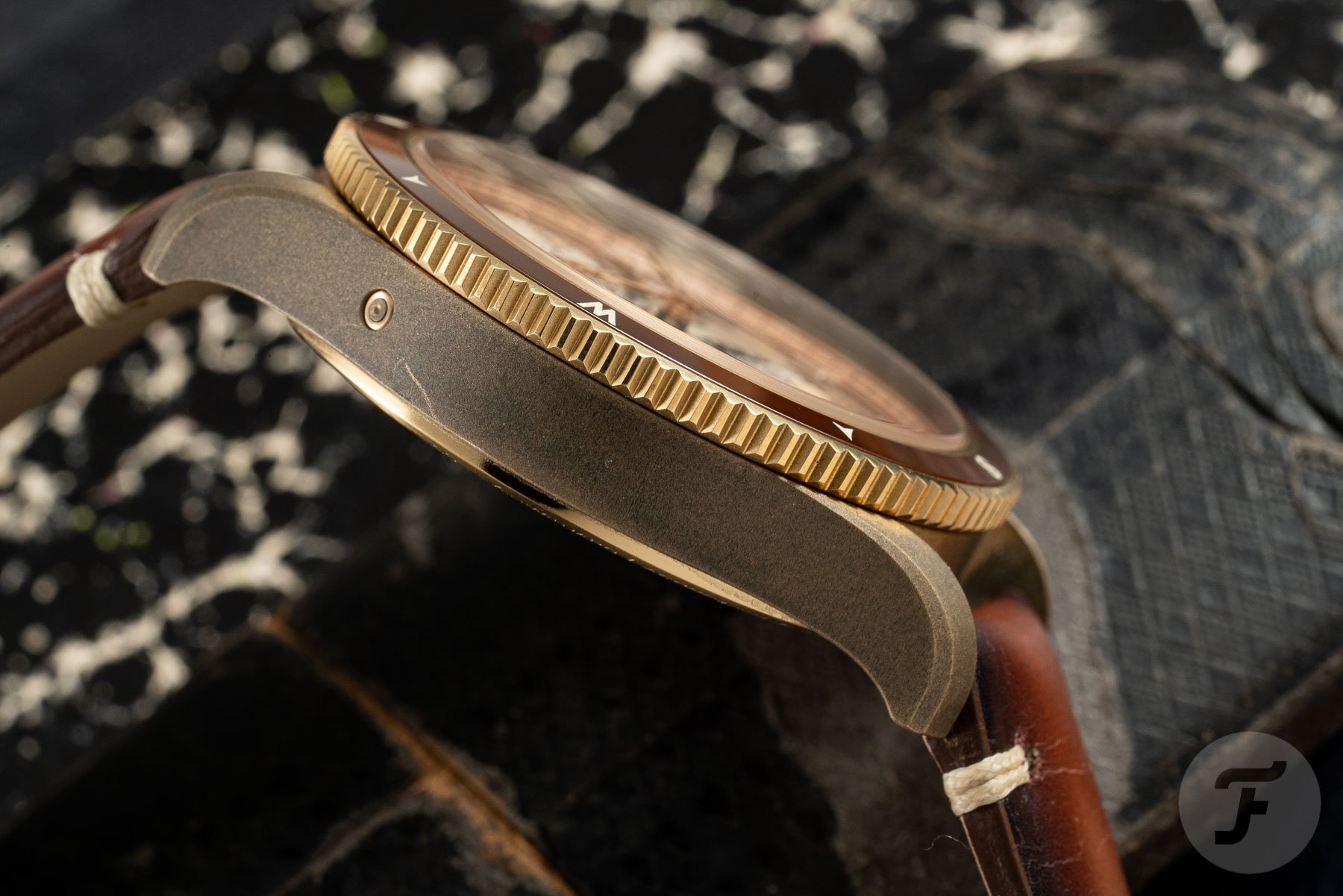 Patina made by many
What Montblanc did with the 1858 Geosphere is original, ingenious, and commendable. The automatic caliber MB 29.25 with approximately 42 hours of power reserve, inside the case is a Sellita SW300 base movement with an in-house world time complication module on top. By going down this road, Montblanc ended up with something unique. Something complicated too, but user-friendly, and relatively affordable.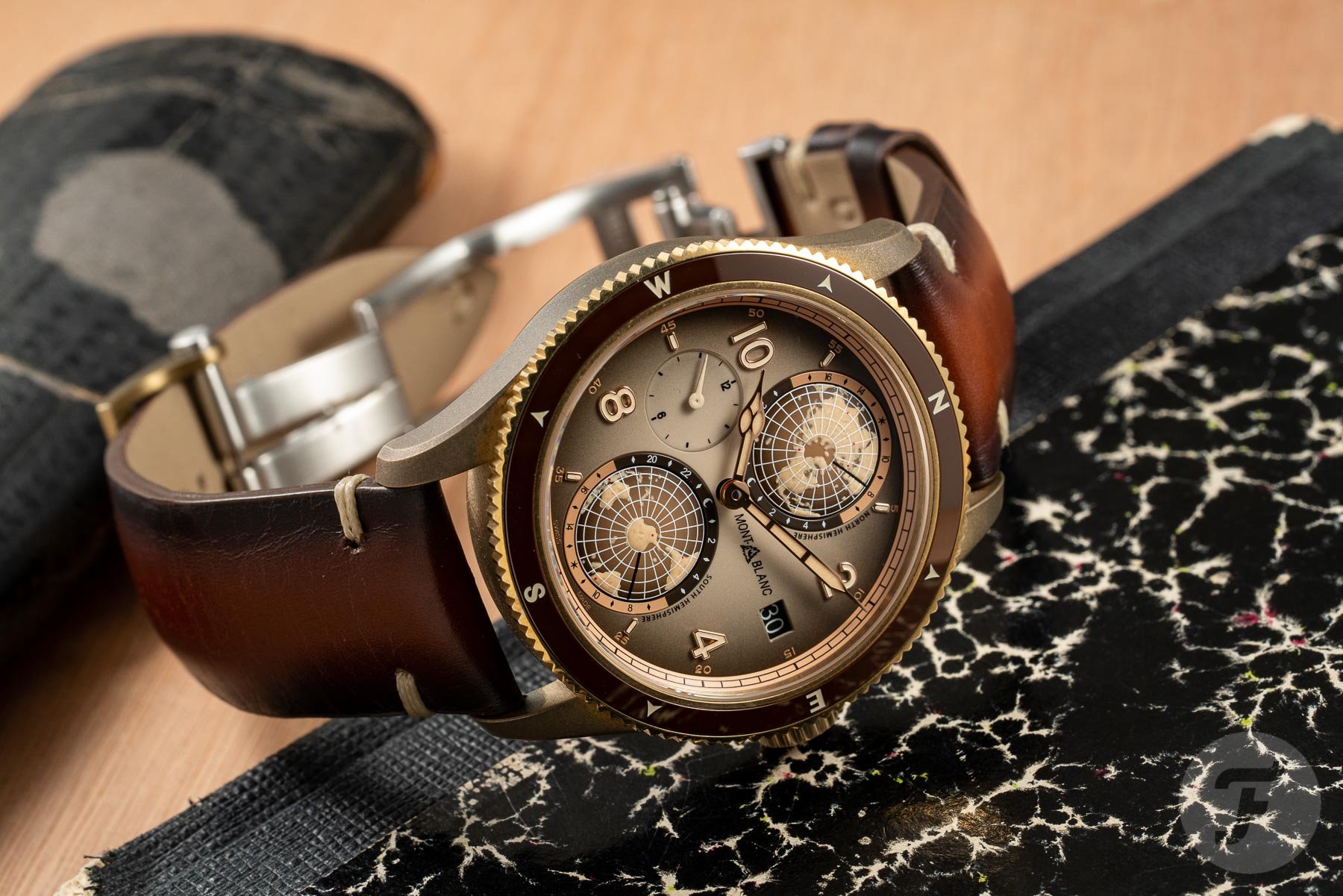 The 1858 Geosphere Limited Edition 1858 you're looking at has a list price of €6,100. That's because it is executed in bronze. A steel version will set you back €5,300. Anyway, the version I'm reviewing is a limited edition of 1,858 pieces and has a micro-blasted, water-resistant to 100 meters, 42×12.8mm bronze case. As you can see, the case has picked up quite a bit of patina already. And that creates a nice contrast with the bi-directional shiny brown ceramic bezel. But I don't want to know how many people touched and wore this particular Geosphere before me to create the almost brown bronze look…
Too clumsy or too complicated?
The final touch is the vintage-brown Sfumato calf strap. It makes for a very brown total look, but it also gives the watch a kind of steampunk appearance. The only thing I really struggled with is the bronze-coated, steel triple-folding clasp. I may be too clumsy for it, but I dealt with a lot of folding buckles, and this one is really all over the place in terms of setting it up and opening and closing it. I bet mountaineer Reinhold Messner — the man this watch is dedicated to, remember? — wouldn't be able to operate it with his cold fingers during a freezing night in the Gobi Desert. A bronze ardillon buckle would solve all my, and his, problems.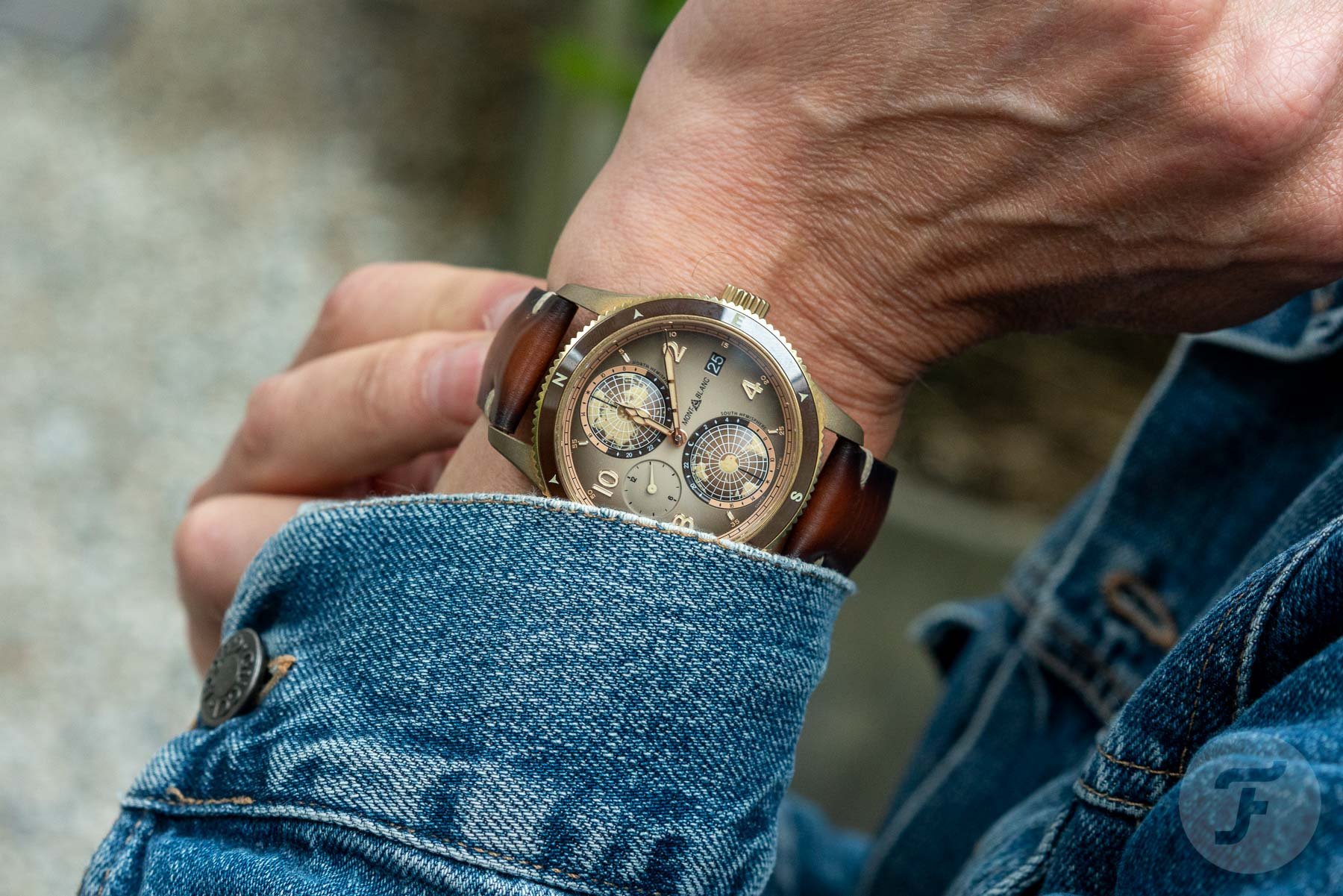 Final thoughts on the 1858 Geosphere Limited Edition 1858
This is not my favorite 1858 Geosphere. Not from the front, at least. There's also a bronze version with a black that comes on a brown Bund strap that beats the brown to beige dial of this 2021 version. But from the back, this limited edition, with its captivating laser-etched desert scene with shades of brown and a clear blue sky, wins hands down. Better yet, this is the best-looking closed case back I've ever seen. That's why I want to wear the 1858 Geosphere Limited Edition 1858 upside down. And now the waiting begins for a mesmerizing, laser-etched dial.
Find more details about the 1858 Geosphere Limited Edition 1858 on Montblanc's official website.
Please find and follow me at Lex Stolk • Instagram