A Speedmaster Collector's Vintage Omega Constellation Watch
A tale of a treasured family heirloom
I'm sharing a story from a passionate Omega Speedmaster collector and his connection to his late grandfather's Omega Constellation. You may know him on Instagram as @dan_occasionally_likes_things. For brevity, I will just refer to him as Dan.
But before we get into our discussion, I want to explain some backstory into my digital friendship with Dan.
When I began my professional career around seven years ago, my father gifted me his 2006 Breitling Aerospace Avantage. Breitling introduced the ref. E79362 in 2005 and changed the name to "Aerospace Avantage". The advantage this reference brought was the back-light on the LCD screens. In 2007, the name reverted to just "Aerospace" with the COSC text on the dial changing from "Chronometre Certifie" to "Chronometre Aerospace". This makes my 2006 version a relatively short-lived model in the Aerospace timeline.
How I got into watches
This was my father's second Breitling Aerospace and the final watch he wore in the cockpit as captain for a commercial airline. What I wasn't expecting was how obsessive I would become over this timepiece and watches in general. Proudly wearing this Breitling was the spark that ignited my passion for all things horological — despite it being quartz. I had been wearing a titanium Seiko quartz chronograph for 10+ years before receiving the Breitling.
By the time I was commuting to London, the Seiko bracelet, case, and glass were scratched beyond recognition. I wore the Seiko solely for convenience — and it was extremely reliable — but at the time, I had no interest in (or knowledge of) luxury watches. My father felt the time was right for me to wear something more elegant. From then on, I was hooked. And now find myself writing for one of the most prominent media outlets in horology.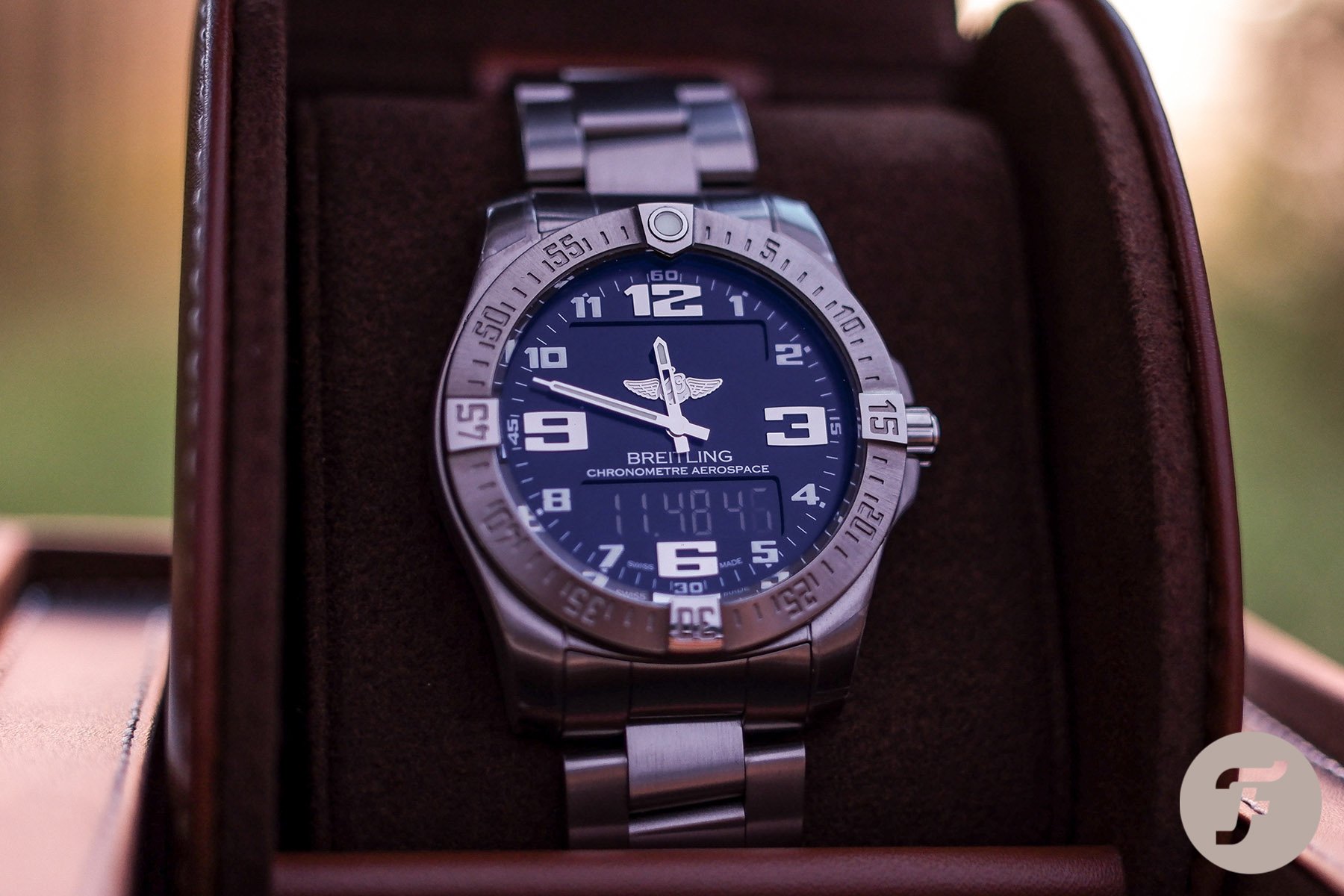 The elusive Aerospace
However, I always felt guilty that my father no longer had the benefit of having a multifunction and adaptable wristwatch. Not that he felt any need for me to reciprocate his gift. But earlier this year, I set about purchasing a brand-new Aerospace Evo for him. Unbeknown to me, the Aerospace had suddenly become scarce. My local retailers had no stock or prospects of receiving new inventory of Aerospace watches in any dial configuration.
A black dial Evo came upon a UK retailer's website, for which I promptly paid in full, only to be told three days later that the listing was an error and that they could not fulfill my order. To be fair to that retailer, they sent their sincerest apologies, and my refund came through reasonably quickly.
It just felt too coincidental to be true.
I phoned around but couldn't catch a break. I had not made my plight public but struck up a conversation with Dan on general goings-on. Casually, I mentioned the challenges I was facing in my hunt for the Evo. Dan happened to be in Prague and happy to swing by the Breitling boutique later that day. Crucially for me, Dan could have sworn he saw the very Aerospace Evo that I was seeking. Not letting my excitement get the better of me, I politely asked Dan to go back to double-check. It just felt too coincidental to be true.
The Breitling has landed
It was a big ask to get someone you've never met to go out of their way on their holiday to a place they visited once already. But Dan was a true gent. He gladly sent me pictures of the watch in the window. That was it! The very one! The watch that had eluded me for weeks! Even more importantly, Dan sent over the contact details for the boutique. I got in contact with the friendly staff at the Breitling Boutique in Prague to purchase and ship the watch to the UK. I was so happy that the transaction could take place before travel restrictions. A few days later, I hand-delivered the watch to my father.
This was a fantastic example of the support in our watch community
He was over the moon and has been wearing the watch non-stop since he got it. Dan even went back to the Breitling shop a third time, and as a gesture of his referral, the staff at the boutique gave Dan the elusive Breitling book. Dan has his own Breitling Navitimer 806 Re-Edition, but this book is typically reserved for repeat clients. Understandably, it became a great addition to his coffee table reading materials. This was a fantastic example of the support in our watch community and Dan and I have remained in contact — albeit digital-only, which we hope to change one day.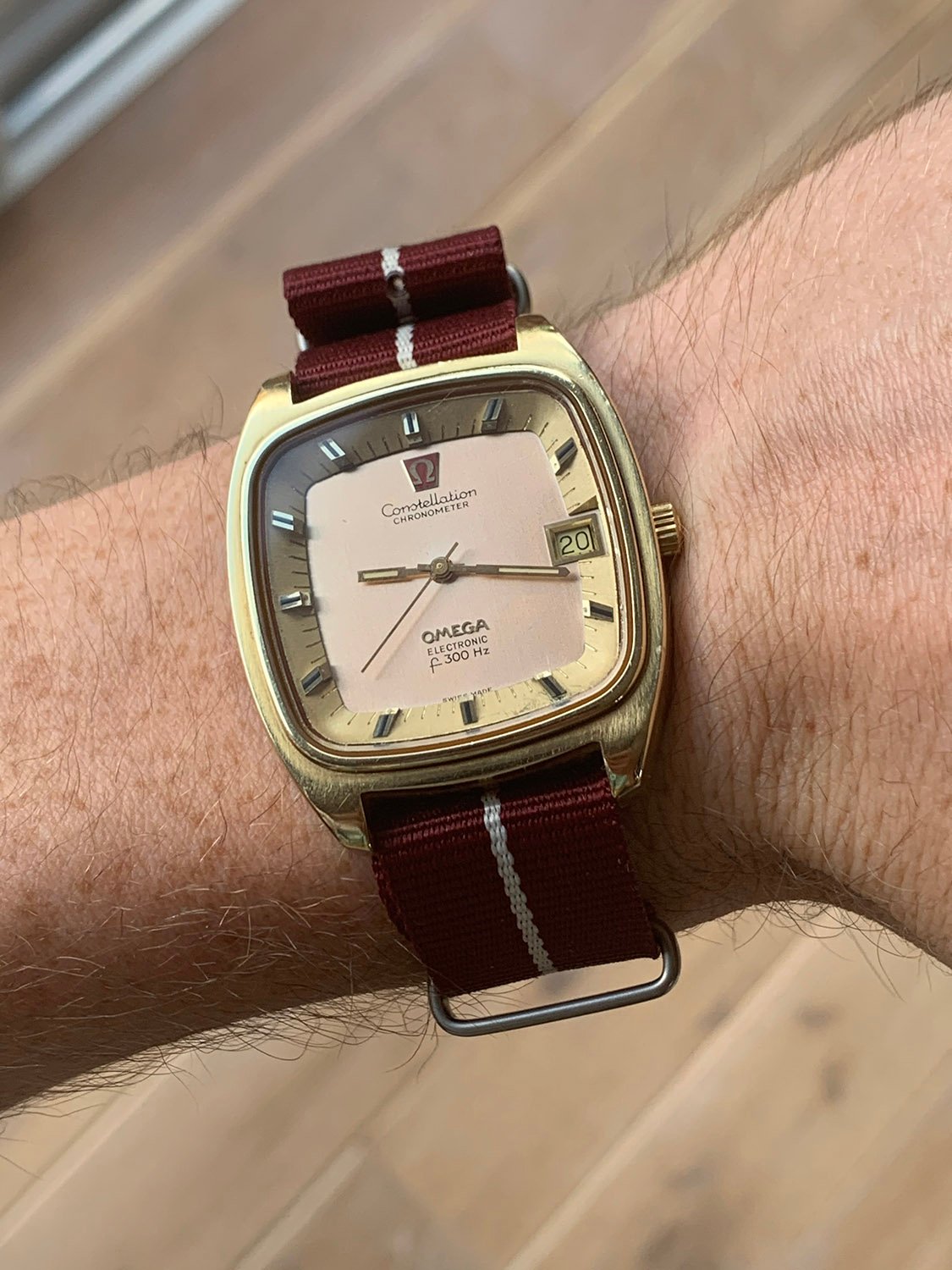 Interview with Dan
Stumbling across his Instagram feed some months later, I saw that Dan had posted an unusual square Omega Constellation. Reading the caption, I understood that Dan had acquired this piece following a family tragedy. Rather than retell his story, I reached out to Dan with my condolences and my interest in interviewing him for the Fratello site.
Ben Hodges: Welcome to the Fratello site, Dan. Before we move on to the main topic, I'd like to understand your passion for watches and how it began?
Dan: My passion for wristwatches awoke in 2011 during the first holiday with my wife. I say "awoke" because there was always an interest in watches, but the real passion was dormant. Our holiday was in Fuerteventura in the small town of Castillo Caleta de Fuste. It is a destination well-known for the sports bars and steakhouses. In the evenings, my wife and I would take long strolls, soaking up the town's atmosphere.
Situated in the town was a jeweler by the name of "Gold Touch", which had a variety of watches on display. Most prominent among brands was Omega. It was love at first sight with the Speedmaster. It was as if my passion for watches erupted there and then. And this is before my use of social media and the #SpeedyTuesday community. I knew that was it. I had to have a Speedmaster Professional. However, it took me a year to make up my mind, as spending that kind of money was not a straightforward decision. The Speedmaster just resonated with me. Partly because of the association with aircraft instrumentation, and with aviation being a massive part of my life. I eventually purchased my own Speedy Pro ref. 3570.50.00.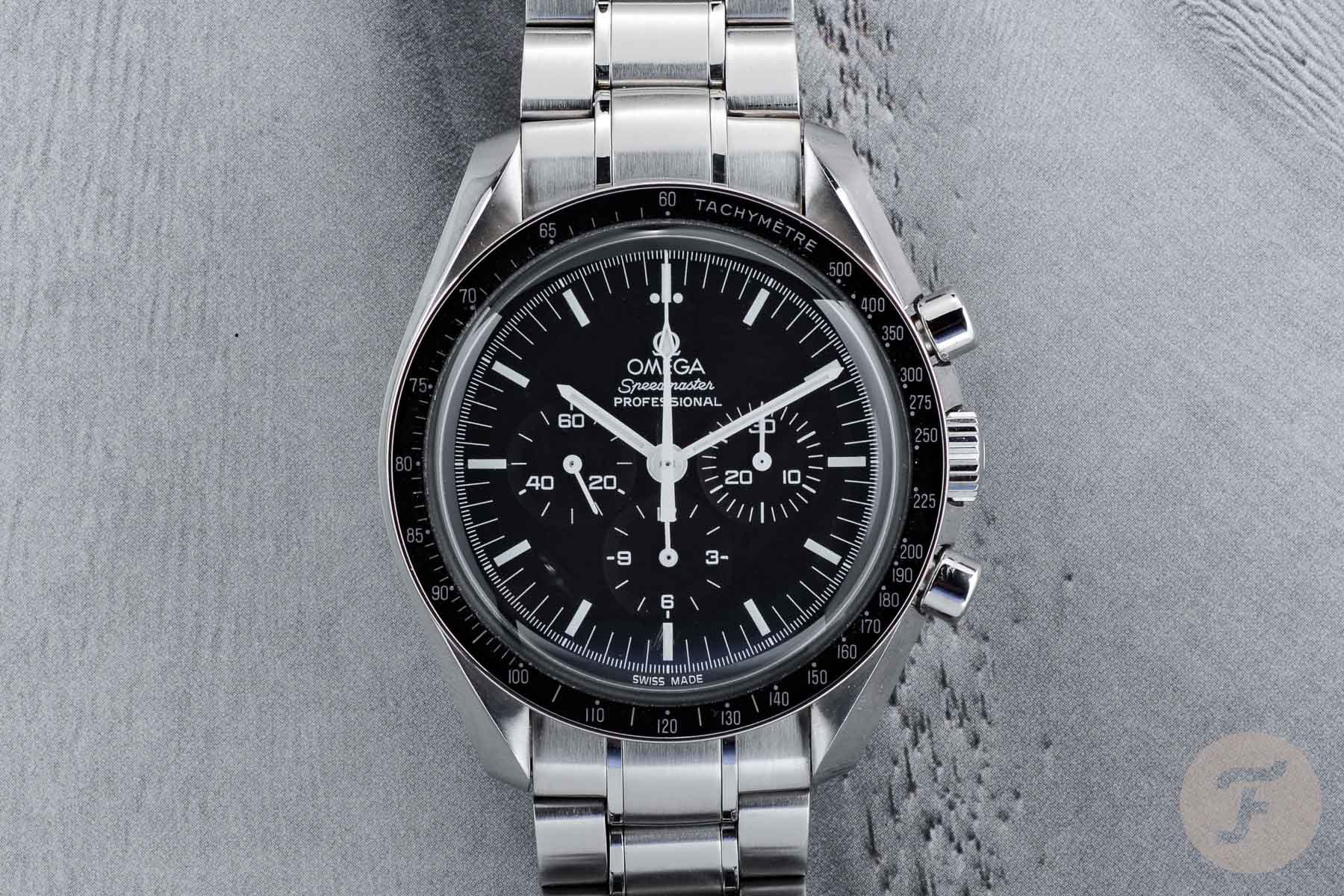 Ben: What line of work are you in?
Dan: I always wanted to be a pilot, or work within the aviation industry when I grew up. My grandfather and father used to take me to Heathrow Airport when I was a kid and watch the aircraft land. I could not get enough of it. Even now, it is something I love to behold. My grandfather used to take me to all the aviation museums, and I was always sad when it was time to leave.
I left school and started an apprenticeship, working on Lockheed Martin C-130 components. This experience paved the way to work for a significant civilian contractor on first-line maintenance on the C-130K/J and L-1011 Tristar. I regard myself as very lucky in always knowing what I wanted to do, my grandfather and parents saw this and only fuelled it, for this alone I thank them deeply.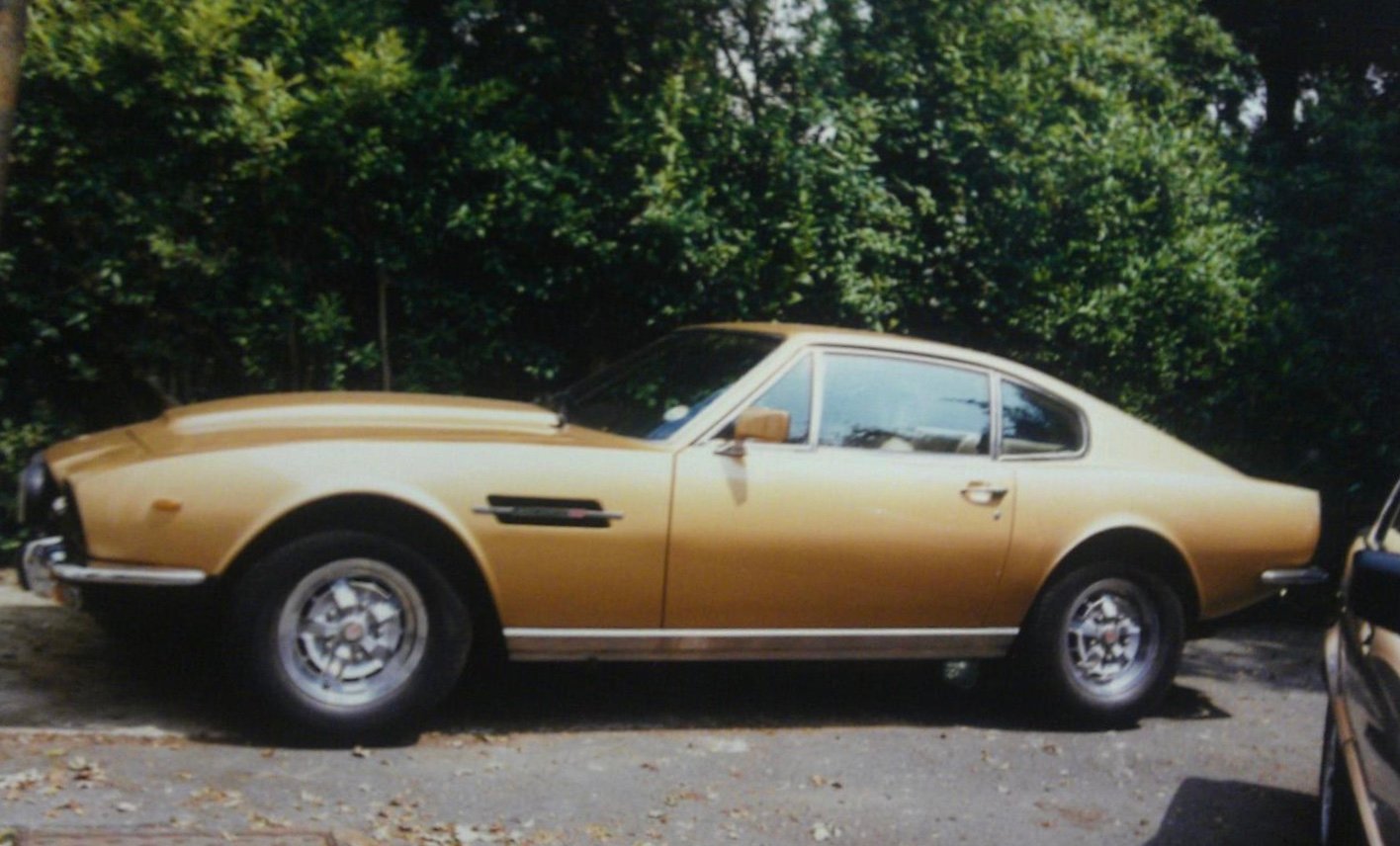 Ben: You had a close relationship with your grandfather, can you tell me more about him?
Dan: My grandfather was an amazing man. Full of morals and principles. He loved his possessions and his family. Even at the age of 92, you could easily have a coherent, humorous and intelligent conversation with him. He was born in London and spent his entire childhood there. Although, he spent some time on the south coast in Devon during the blitz as an evacuee. He nearly served during the war, but unfortunately developed tuberculosis and spent over a year in bed recovering, something for which he felt guilty.
He left school at the age of 14 and started a career in industrial combustion, eventually starting his own business. Building a successful business led to a comfortable retirement. He married in 1952 and had two sons, one of whom tragically died in a cycling accident at just 16. As you can imagine, this turned the family upside down for some time. One of my fondest memories, of which there are many, is of the beautiful Aztec Gold 1980 Aston Martin V8 he owned. He would let me sit on his lap and steer it down the drive. Memories like this were also responsible for my car passion, so in some way, I would say I am a true reflection of him.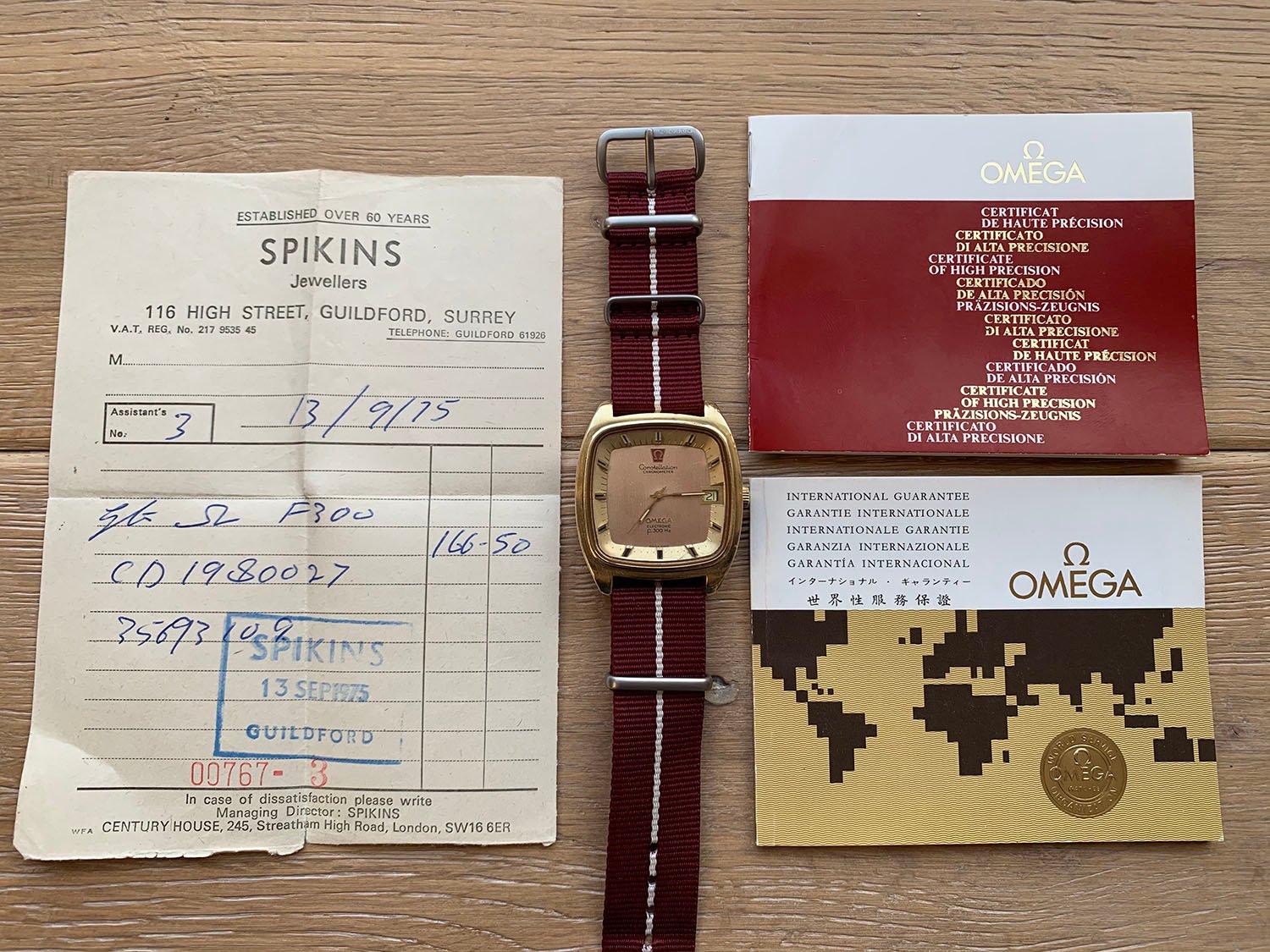 Ben: Was your grandfather into watches?
Dan: My grandfather had an interest in watches, but purely for the practical application rather than a luxury object. Just as he appreciated high-quality tools, he gravitated towards well-made timepieces. This is what drew him to the Omega Constellation ref. 198.0027. When I was young, my grandfather would hold the watch to my ear to let me listen to the tuning fork movement.
Ben: How did your grandfather purchase his watch?
Dan: In 1975, my grandfather was passing a jeweler in Guildford called Spikins and took notice of the solid-gold Omega Constellation with tuning fork movement. There were many different models available, but this one stood out to him. He went away to mull it over, but only had a short amount of time before the family holiday to Corfu. After pulling the trigger on the watch, the holiday felt extra special with his new acquisition. He even got a passing compliment on the Constellation while enjoying a coffee at the airport.
Other watches came and went, but his Omega Constellation was the mainstay that defined him. That's not to say the Omega was not put through its paces. He recently told me about moments where the Constellation was covered in diesel oil while at work — it was a tool watch after all. I actually recorded our conversation last year on the subject and I am so glad I did.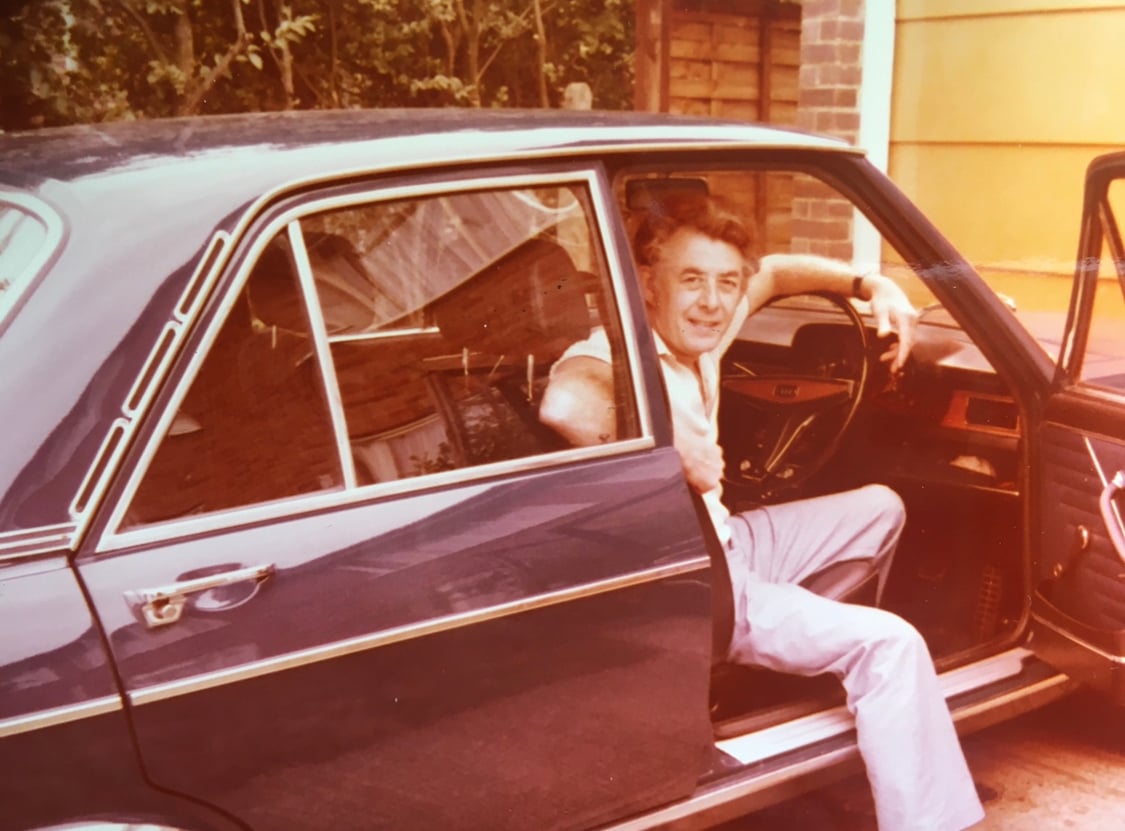 Ben: I understand your grandfather recently passed away. I am so sorry to hear this. May I ask the circumstances?
Dan: His health and mobility gradually declined in the past year. But he remained fiercely independent. Around the time travel restrictions were first imposed in March 2020, my grandfather was admitted to hospital. At the same time, we, unfortunately, discovered that he had contracted Covid-19.
Through the hard work of my family we did all get to say goodbye to him before the end, for that much we are all very thankful. In the end combined with his lack of mobility and declining mental health it may have been a fitting end. Even though that is very hard to fathom I'm sure if you were in the same position you may agree with me. It still doesn't make it easier that someone so heroic and inspirational has been taken by a situation that has affected us all, it never happens to you right?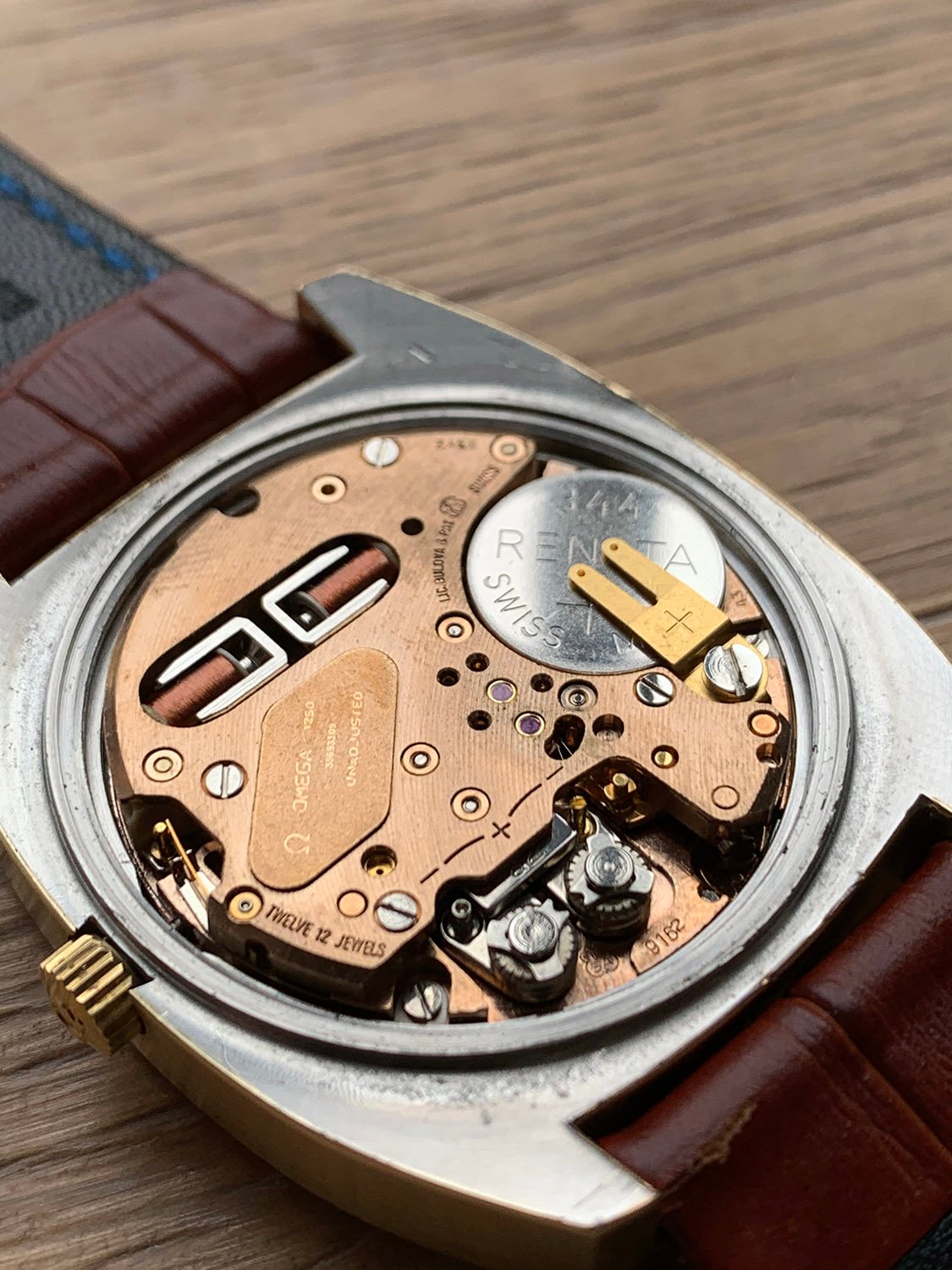 Ben: How did you receive his Omega watch?
Dan: He was very protective of his possessions, but he gave me the Constellation a year before his passing. I was asked to look after his watch. It was a tremendous honor, knowing how much he treasured it.
Ben: What have you since done with the watch?
Dan: The watch was not in working condition though. Naturally, I assumed it needed a service. I kept it in the safe for some time. After his passing, I wanted to get it back to working order. I opened the case-back and assumed it just needed a new battery. To my surprise, it did! Since swapping the battery, it is keeping excellent time.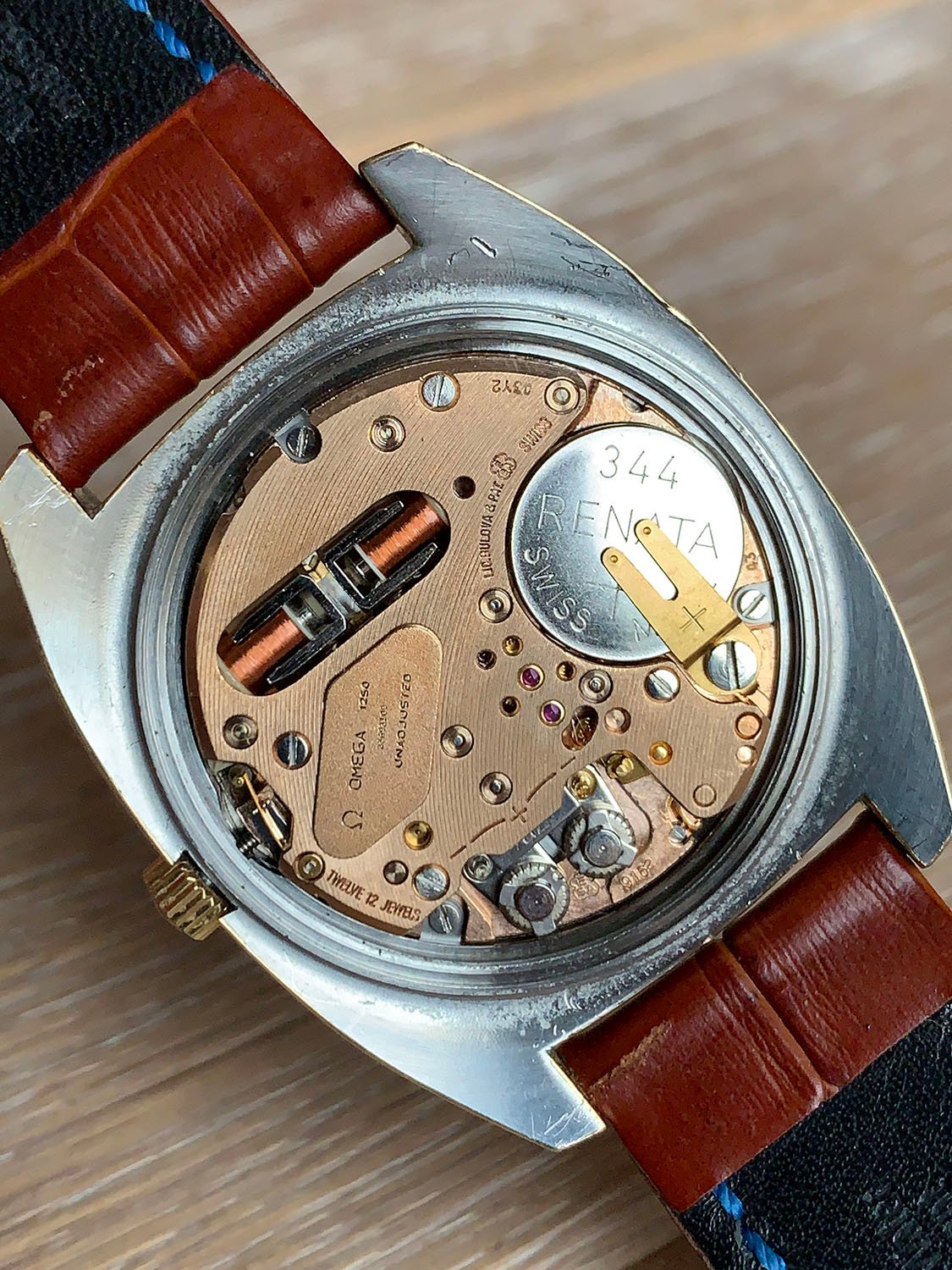 Ben: Is this now your favorite watch in the collection?
Dan: I would say the Constellation competes with my Speedmaster, but for different reasons. Holding and wearing the Omega Constellation is a different experience. It is what I appreciate most about this watch collecting hobby. Not just the visual attraction but the emotional attachment. From picturing him wearing the Constellation at work to seeing myself doing the same thing in some way continues his legacy. I owe a lot to my grandfather. To a great man that was loved by all and whose morals were strong, true and fair, I thank you.
Catch Dan on the 'Gram
Dan and fellow Speedmaster enthusiast Arthur, @tick_tick_vroom, host a weekly Instagram live show on Sundays at 6 pm CET (5 pm BST, 12 pm EST), featured on the Scottish Watches Live YouTube channel. Check here for the episode where Arthur and Dan discuss Fratello's own Sunday Morning Showdown where Jorg and I clashed on the Daytona and "Ed White".
Follow Dan on Instagram at @dan_occasionally_likes_things.