Hands-On: Breitling Navitimer 806 1959 Re-edition
Breitling's First True Reissue is a Gem!
Today, we're excited to bring you a hands-on look at something we've been anticipating: the Breitling Navitimer 806 1959 Reedition.
For many of us, we thought this day would never come, but lo and behold, we have finally arrived and Breitling has  delivered a watch that should please fans of its impressive back catalog.  With the announcement of the Breitling Navitimer 806 1959 Reedition, we are getting a no excuses watch that ticks every box (aside from it actually being from 1959); there's honestly so little to complain about that it should silence even the most persnickety critics.  We'll talk about why that is, what went into making this watch and what you'll be getting should you be lucky enough to pick up one of the 1,959 pieces that will begin arriving into authorized dealers this June.  Oh, and a huge thanks to our cameraman Bert, who got up very early to photograph this piece, we have live pics – something we love to provide here on Fratello if at all possible.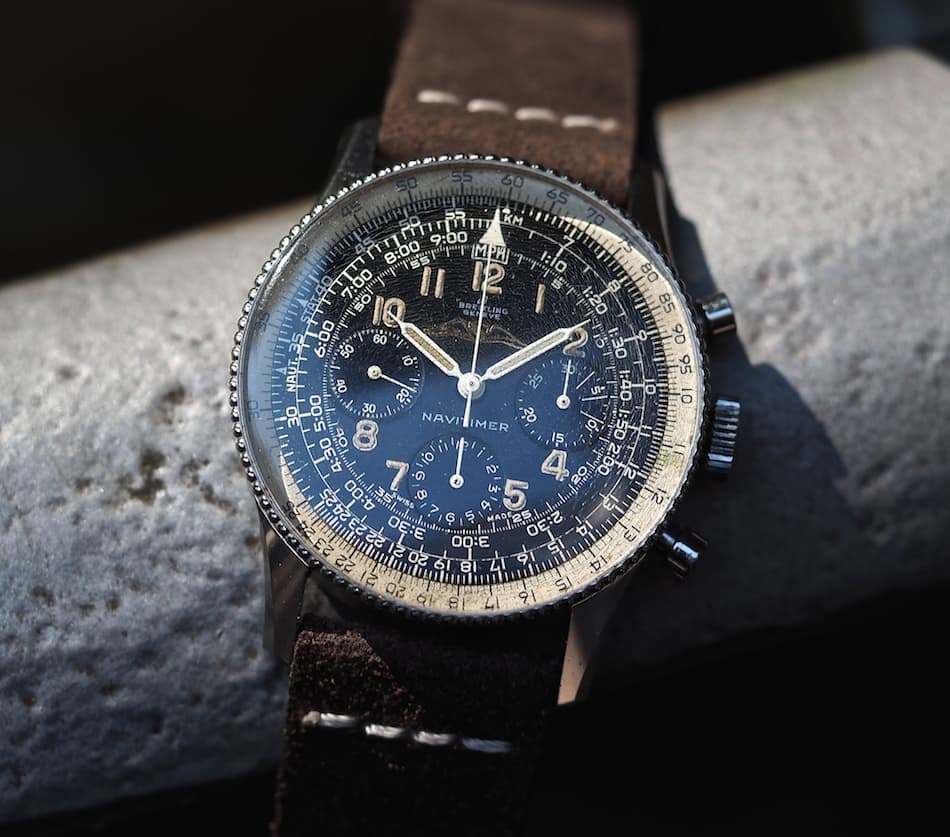 The Navitimer – A Brief History
Before getting into the Breitling Navitimer 806 1959 Reedition, let's recap a bit of history on the model line itself.  It was in 1954 that Breitling debuted the Navitimer ref. 806 as a deluxe aviator's watch.  It brought with it the slide rule – as seen on the primarily dual-register Chronomat – and combined it with a three-register chronograph.  To aid legibility in low light conditions, Navitimers have always contained lumed dials and hour/minute hands.  Also, in what must have been a real shock for the time, the watches were big at 40mm and looked larger due to their larger, slim bezels, and flattish acrylic crystals.  While this wasn't always the case during its roughly 20-year model run, the Navi was generally offered in steel, gold, and gold plate.  Initially, the Navitimers came in an "all black" (hence, the nickname – read about one here and a 1959 model is pictured above) dial configuration.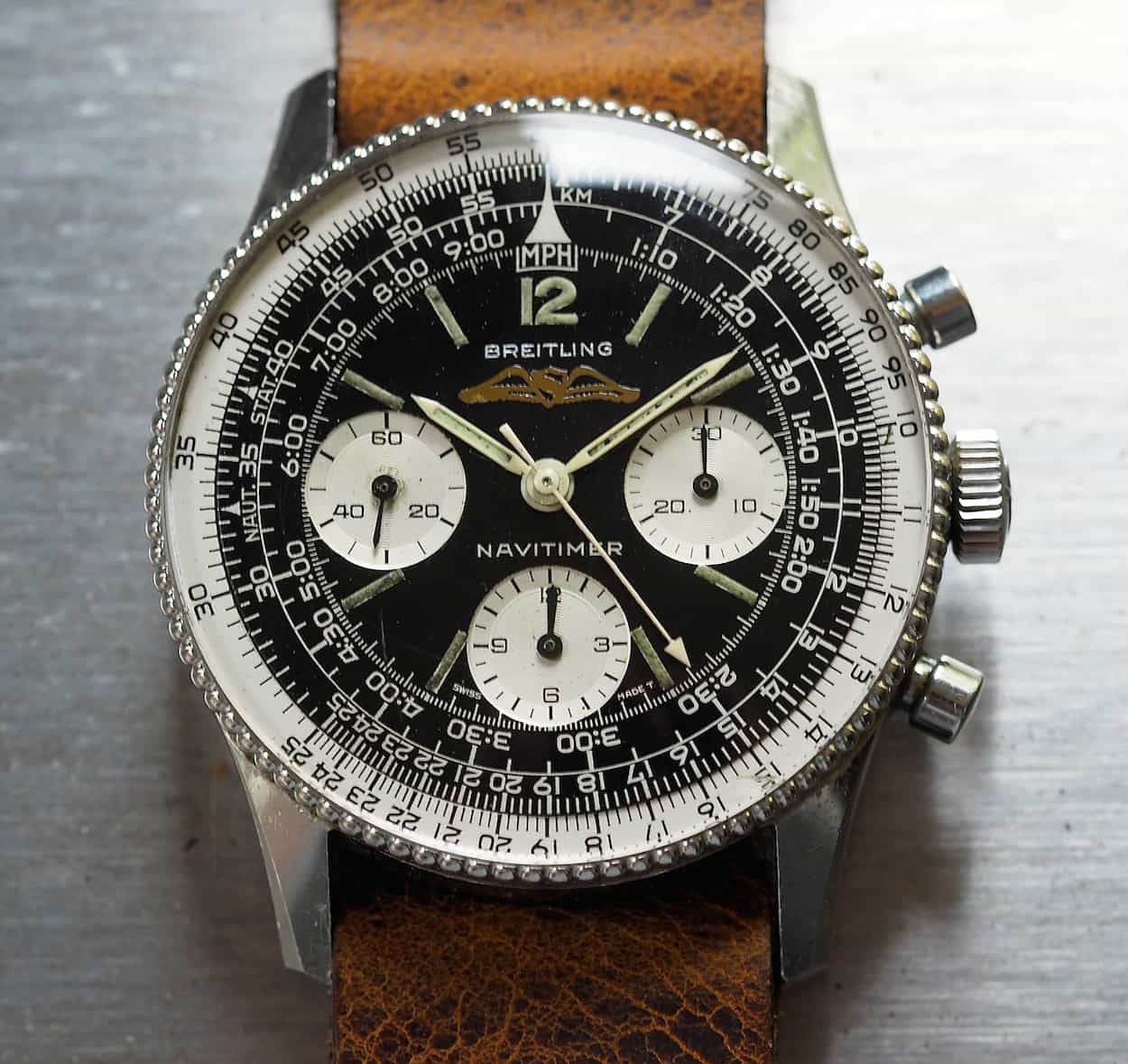 In 1963, though, theychanged to a reverse panda style (you can read about such a transitional model here and see a photo above).  In 1964 Breitling moved its bezel style from beaded to a more modern serrated version.  It's also interesting to note that the Navitimer kicked off using a Valjoux 72, but quickly switched to the familiar Breitling choice of the Venus 178.  These Valjoux models attract a real premium on the market today.  Sadly, the Venus 178-powered Navitimers were discontinued in 1974, although the name and basic configuration has carried on through the present.  There's no doubt about it, the Navitimer is one of the watch world's more significant watches and it was a no-brainer to put it in the list of our Top 5 Vintage Sports Chronographs.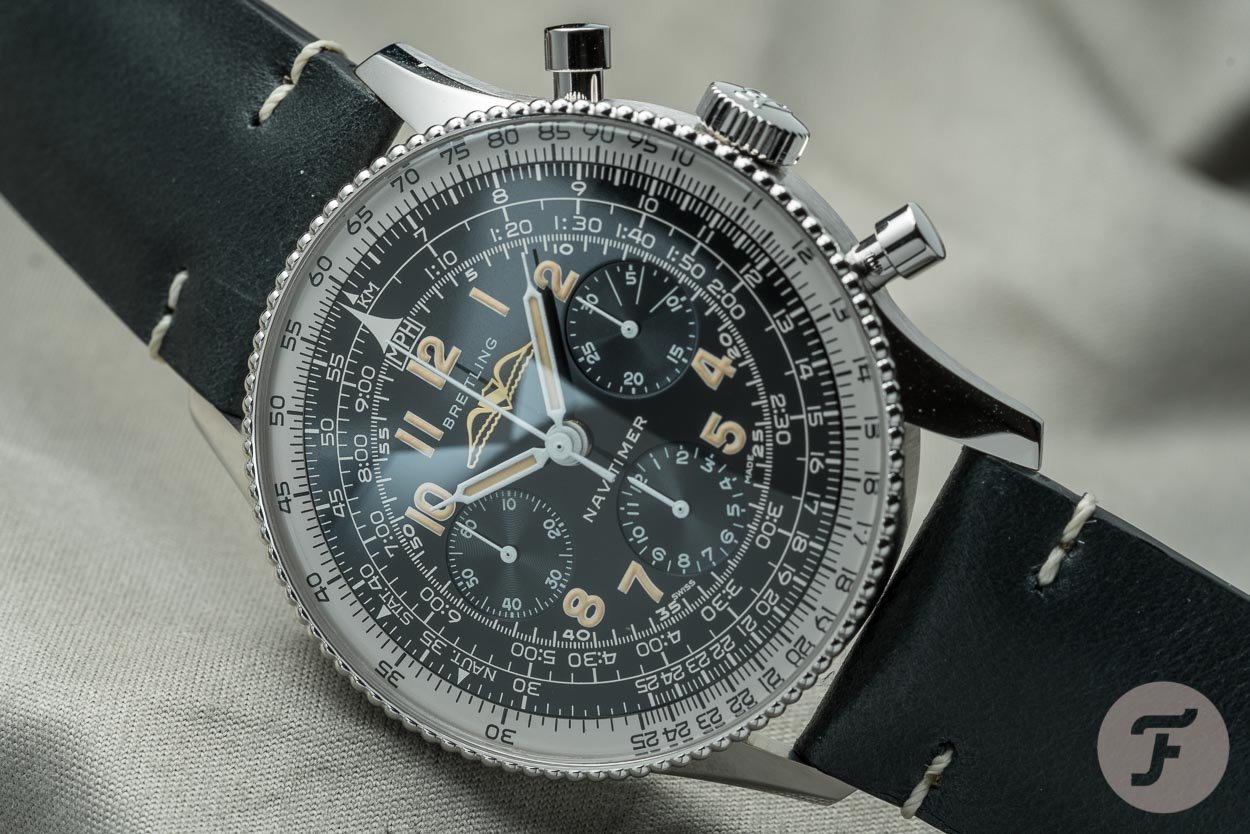 A Sign of Things to Come
When looking upon the new Breitling Navitimer 806 1959 Reedition, it's important to note a few things.  First, this was an absolutely new creation and it's one that began with the arrival of CEO Georges Kern.  Second, and I know we could likely be accused of beating a dead horse, Fred Mandelbaum was heavily involved in the development and ultimate execution of this watch (Rene Dracha was another key contributor as well).  Lastly, and we will discuss this, the release of this Navitimer, should it be successful, is likely the dawn of a new day in terms of forthcoming vintage-inspired releases.  In other words, it creates a real platform for the brand to use going forward.

Breitling Looking Into its Impressive Back Catalog
We've mentioned that things have changed rapidly since the arrival of Georges Kern and if new models such as the Navitimer 8 and Premier or the retirement of some large gaudy beasts weren't enough to convince you, hopefully the arrival of the Breitling Navitimer 806 1959 Reedition will.  This watch could be seen as an easy play because a lot of brands have hopped on the Partridge Family-esque retro bus, but as we'll discover, this wasn't simply a matter of dressing up a current model to look old.  And, I think that Georges must have looked at other brands known for chronographs and saw that they had hit upon something by offering credible vintage-inspired versions of their most famed models.  With that inference, I'm obviously referring to Omega and its Speedmaster Professional and, to a lesser degree, what TAG Heuer has done with some of its more famous names.  And so, the Nativimer feels like the perfect place to start.  No, the Navitimer may not have accompanied an astronaut to a walk on the moon, but a version of it in the Cosmonaute was somewhat famously worn by Scott Carpenter on Mercury Seven.  Plus, it was worn on the wrists of famous drivers such as Jim Clark and Jo Siffert.  Even miles Davis wore a Navitimer in the 60's.  And, by the way, it's not as if tribute models to the Navitimer haven't been done before; they simply weren't this good.

Impressive Effort in Creating This Watch
Now, I mentioned that Fred Mandelbaum has been involved from day one on the Breitling Navitimer 806 1959 Reedition and it's been a real passion project for him (I also want to ensure that you know that Fred wasn't working in a vacuum on this – there were many dedicated people on the project who deserve serious credit).  He's an absolute stickler for detail and that has helped make this piece a gem.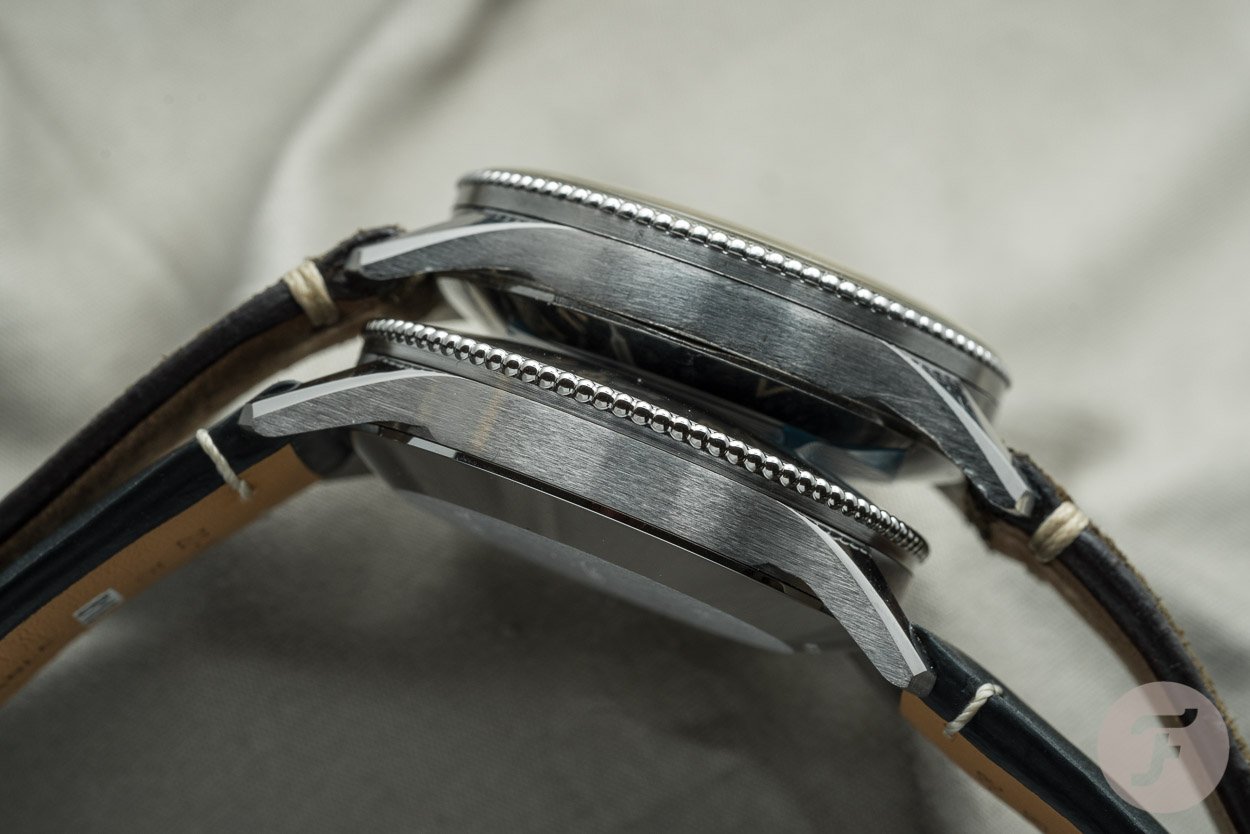 Whether it was the edges of the triangular chamfers on the lugs, the size of the chamfers themselves, the pusher sizes (they are in different locations versus the originals due to the movement), the crown size, the number of beads on the bezel, or even the goddamn lume to border ratio on the hands, ALL OF IT was checked, rejected, and ultimately ok'd by Fred after many renditions.  Whether he made or lost friends in the process is likely debatable, but he aided Breitling in making a seriously accurate reedition.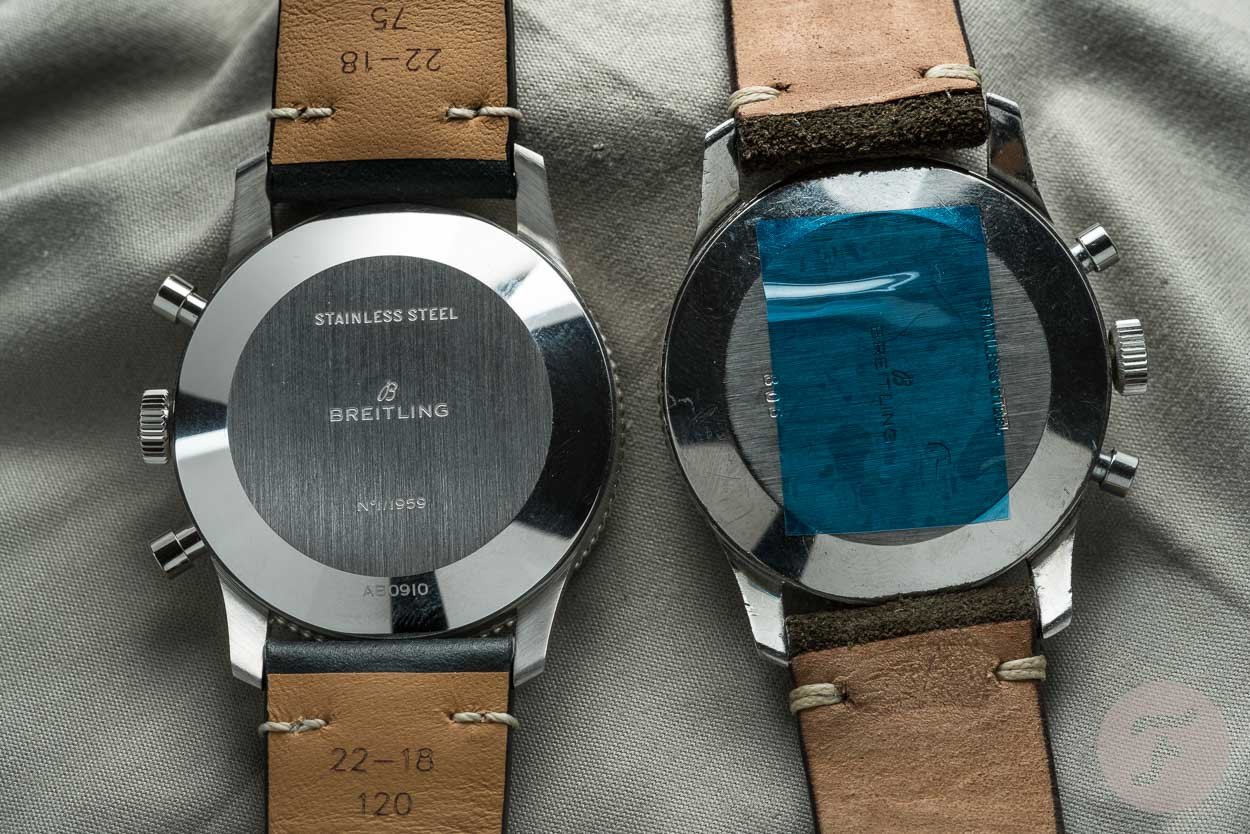 And you might say that Breitling, as a rather large maker, should have been able to pull this off with ease?  Well, pulling off something that would have please 90% of potential buyers would have been easy, but to please 99%+ wasn't easy.  Each and every part had to be designed and readied for manufacturing.  A dial was designed that includes hand applied lume!  And, perhaps the most significant and admirable hurdle that had to be overcome was the extensive transformation of the B01 in-house chronograph into a manual wind movement consistent with the heritage of the Navitimer.  All of things were done and in under two years.  And in the end, there were no concessions made.  No sapphire crystal, no extraneous date window, and no bloated "modernized" case sizing.  And, we'll see it at a price that's in line with chronographs from the aforementioned brands.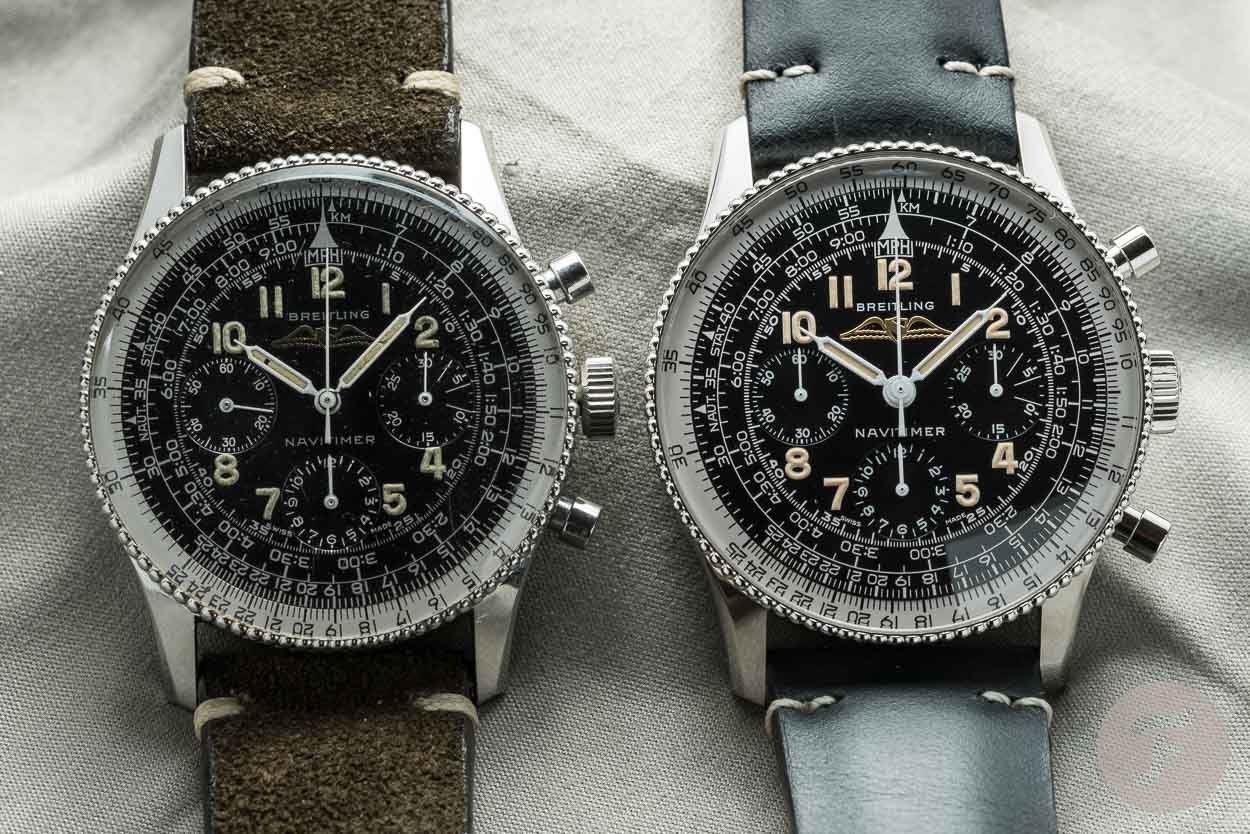 The Breitling Navitimer 806 1959 Reedition is Faithful
To get into specifics, the Breitling Navitimer 806 1959 Reedition keeps a 40mm stainless case (that's consistent with the vintage models) and 22mm lug width.  It comes in at 12.86mm thick (same as the original) and is water resistant to 30M.  It has the exact number of bezel beads on its bezel – 94 – as the 1959 model and they're the correct size.  This is significant, as Breitling changed the number of beads over time.  The bezel height to mid-case ratio is different, however, as the new B09 movement is thicker than the original Venus 178.  Therefore, the new bezel is shallower when viewed from the side, but it doesn't contribute to an overall thickness difference.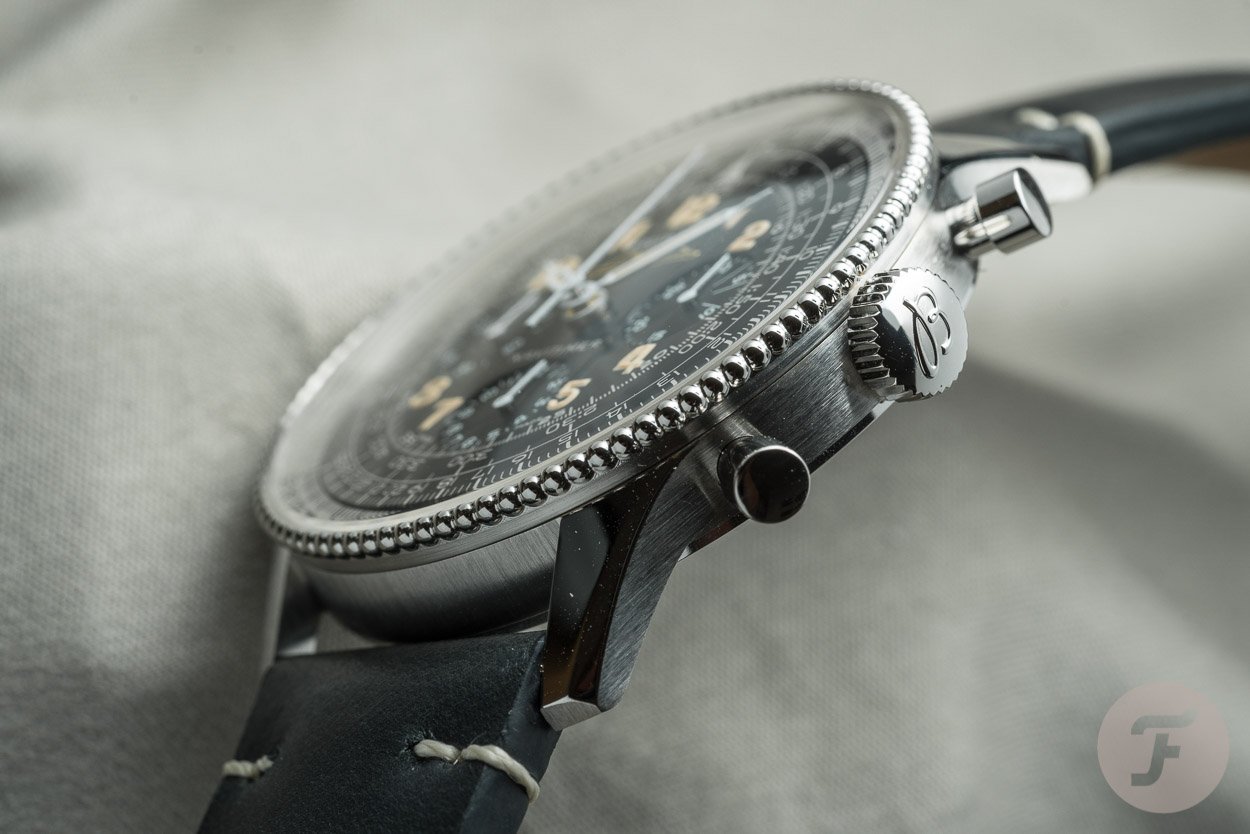 A New Manual Wind Movement
Inside the Breitling Navitimer 806 1959 Reedition, we have the first application of an all new B01 variant and it has been named as the B09.  It's a 39-jewel manual winding, chronometer certified movement that powers the 12 hour chronograph.  It also has a power reserve of 70 hours.  The B09 is an integrated chronograph movement and features a vertical clutch with a column wheel. I've seen pictures and while it isn't as "skeletally" beautiful as the older movements due to large plates, it's beautifully finished.  If you think about Breitling's voluminous back catalog that used the Venus 178, the advent of the new B09 tells me that they could literally reissue vintage designs with this movement inside for the next 30 years!  Let's hope and bravo to the brand for putting in the work and resisting what must have been the very tempting opportunity to use the B01 in automatic form.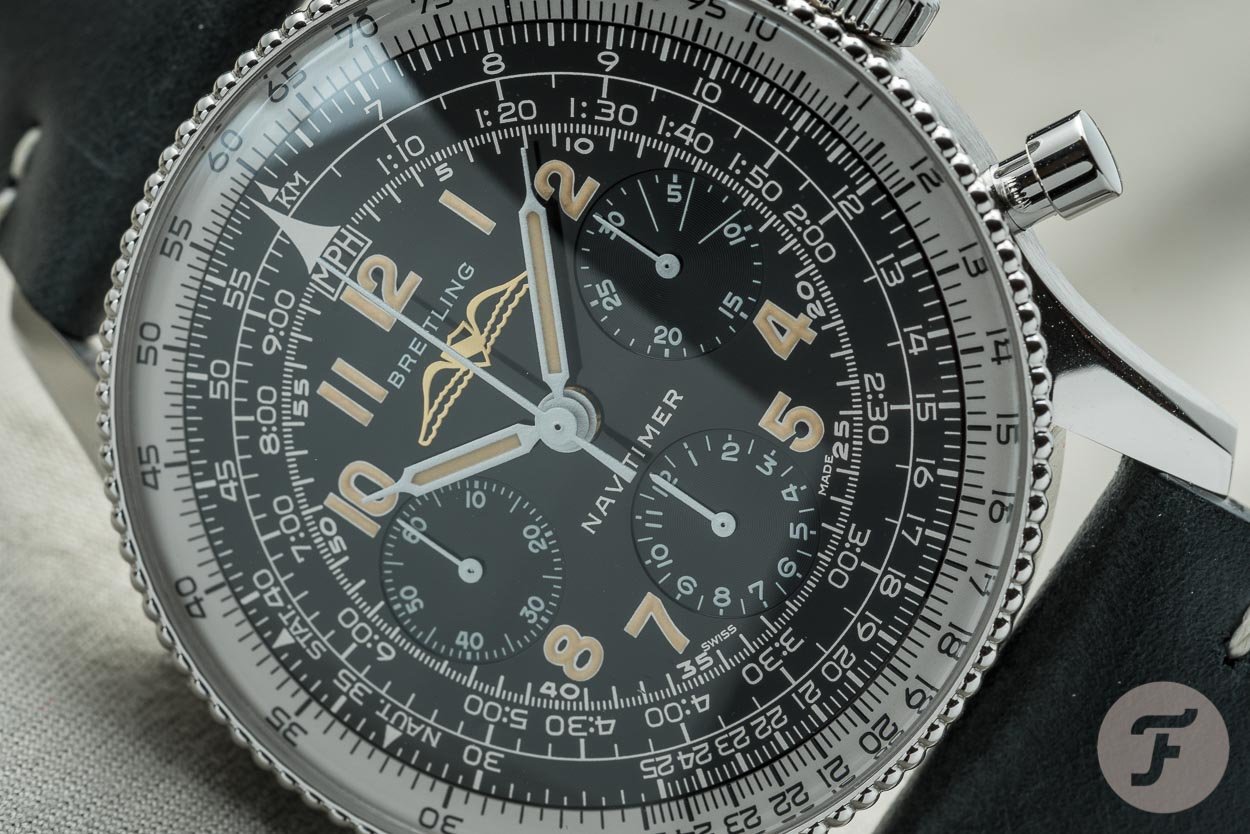 A Tremendous Dial
There's no getting around the fact that Navitimers contain dials with loads of information on them.  Some people love the geeky technical look, while others don't.  For me, I find a Navi to be wonderfully busy and filled with purposeful intent – even if I was born a generation too late for the slide rule.  Like it or not, you can imagine that getting all of the fonts and positioning correct on the new dial was a real chore.  And you'd be right!  The dials went through a lot of prototyping before Fred felt things were perfect.  I even happened to see some loose dials before all was sorted and they looked great to me – but not to Fred.  As an example, the development team literally got into discussions about realigning slide rule numbers and lengthening tick marks by hundredths of a millimeter!  Then, the hand-applied lume numerals needed to be perfectly weighted and this was eventually accomplished.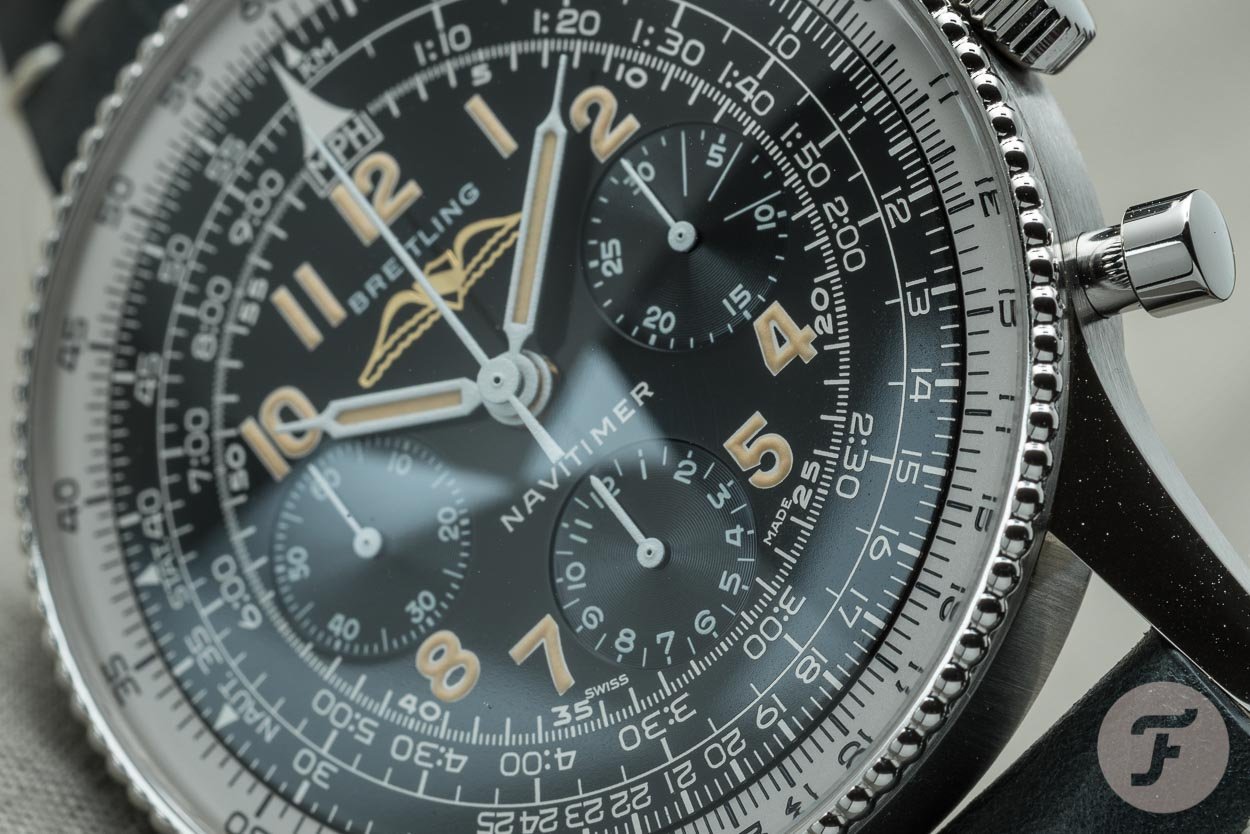 If you're a Navitimer fan, you'll note that there were several dial variants at any given time during most of the Navi's production run.  Mine shows a "script B", some had wings with the "AOPA" inside, and some just had an applied gold set of wings.  On the reedition, we have the Breitling script and the gold wings above the center.  "Navitimer" is just above the 6:00 sub register.  Oh, and just like the original, the real gold wings are applied to the dial, but they've been laser cut out of foil in 2019.  And then there are those details like the pesky lume-filled syringe hands, the unique sub register hands, and the counterbalance on the chronograph hand.  All of these little things were carefully designed to remain as faithful as possible to the original.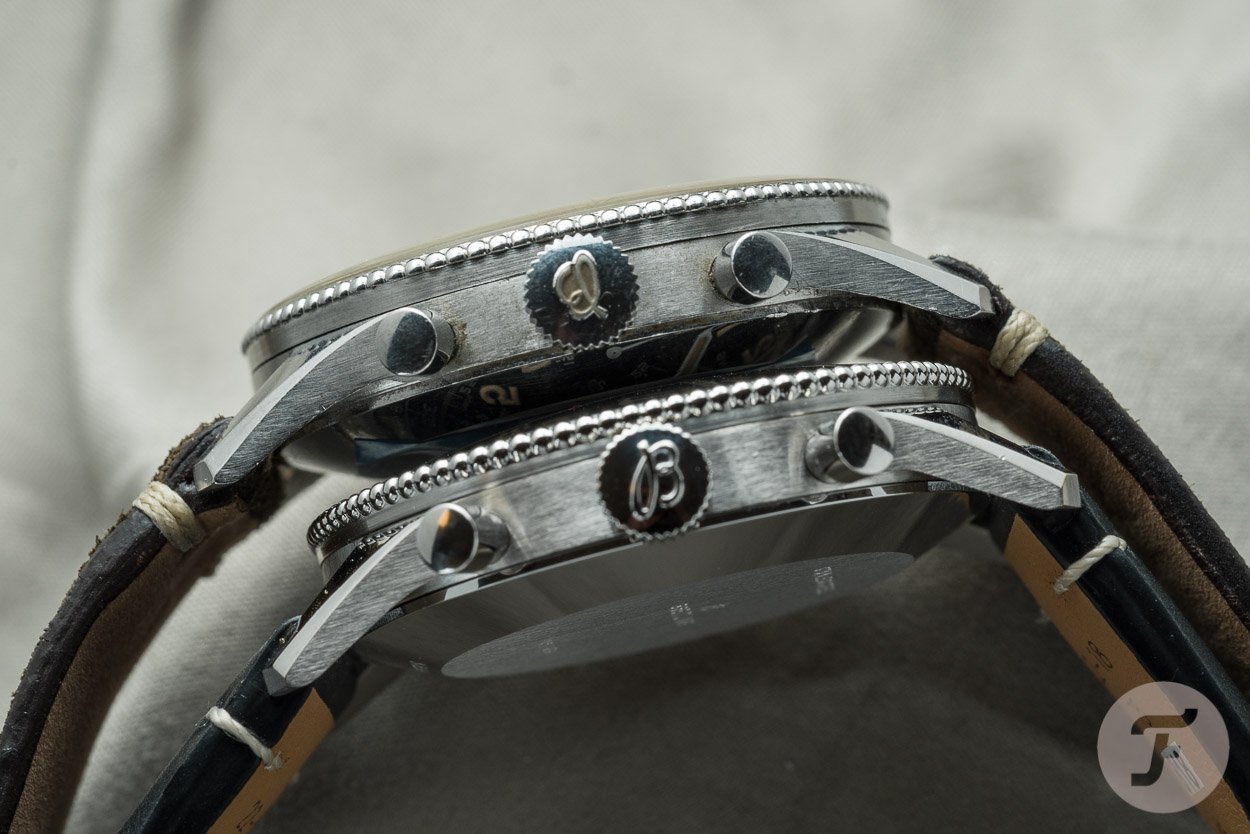 1,959 Pieces and Well-priced
Rounding out the particulars, the watch will come on a black Nubuck strap with pin buckle.  Apparently the pin buckle will contain the new Breitling script, so that's a very minor complaint.  We also don't have details yet on the packaging, so more to come on that.  And now we come to the topic of money.  I can imagine that most assume that this watch is well out of reach and truly expensive due to all the ground-up development that took place.  The price for the Breitling Navitimer 806 1959 Reedition will be 7,900 CHF.  You can do the conversions into your local currency and will likely be in the ballpark.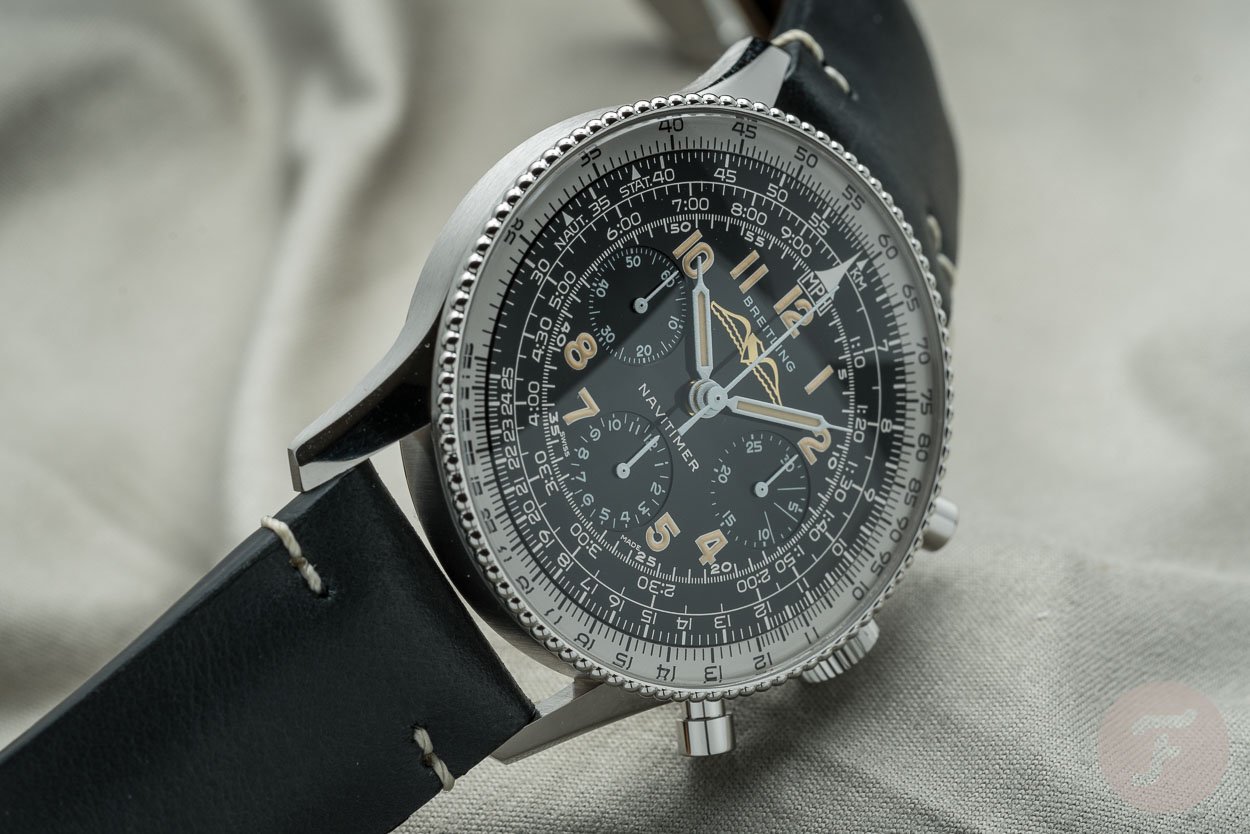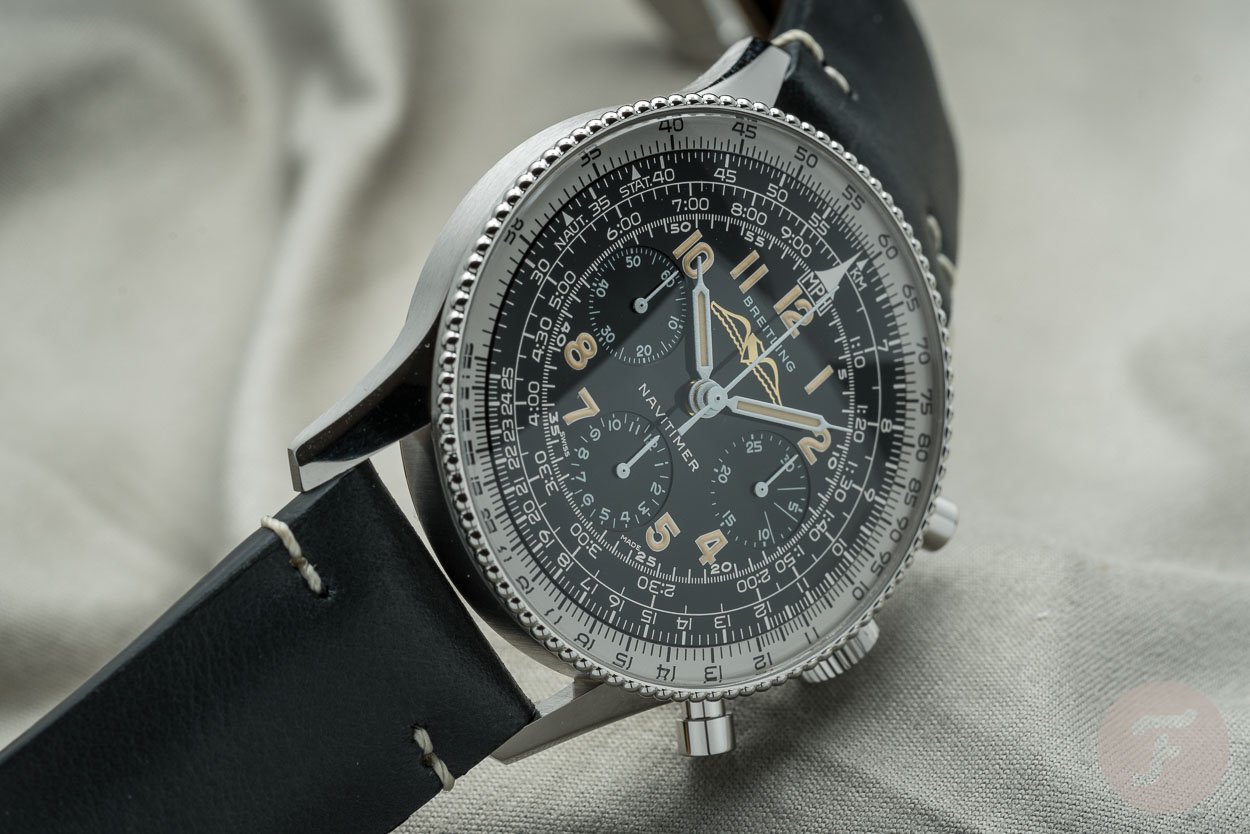 Now, I'm always uncomfortable when saying that anything above $1,000 is a "good deal", but the 1959 Reedition feels like it's priced correctly and is within the realm of most recent special edition Speedmasters that we've seen.  And, hey, don't forget that this has a newly designed case and an in-house movement – two things we hope will find their way into future models.  And for a final reference, this pricing undercuts the cost of finding a passable all-black Navitimer where life begins around $10,000.

Final Thoughts
Unless you're void of cognizance, you can tell that I'm a big fan of the new Breitling Navitimer 806 1959 Reedition.  And despite falling for another watch this week that borrows heavily from an earlier design in the new Omega Speedmaster Apollo 11 50th Anniversary, I wouldn't call any old reissued model a shoo-in as far as desirability.  With the Breitling, it's a watch that should make you sit up and take notice because we finally – finally – have a challenger to Omega and TAG Heuer who has decided to put its full weight into making desirable pieces inspired by the brand's own history.  One watch doesn't define a series, but yes, it seems a new horse has entered the race.  For someone like me, this means it's a very good time to be into watches.
For more information, visit the official Breitling site.
Watch specifications