Introducing The Jazzy New Zodiac × Worn & Wound Super Sea Wolf
A feast of colorful nostalgia
If you're getting a sudden nostalgic shiver down your spine and an overwhelming urge to don a brightly colored ski jacket, then you're not alone. I feel the same right now. Just don't tell RJ, or he may subject us to some terrible '90s "Schlage" music. If you don't know what that is, you're winning, so do not Google it. Honestly, don't do it.
Moving away from RJ's terrible taste in music, we're looking at a watch that channels the fun vibes of the '90s, with some excellent color combinations. I am, of course, talking about the Zodiac × Worn & Wound Super Sea Wolf. This a watch that we might expect to see The Fresh Prince of Bel-Air rocking on our screens way back when. I mean that as a compliment! As soon as I picked this thing up, I just loved it. I am definitely feeling a weird combination of ski jackets, wild sneakers, and the crazy-patterned material you'd find on seats on public transport. Jazzy! You'll have seen this collab already, no doubt, but we're one of the first media outlets to get our grubby mitts all over it. We decided to wait until we had our own photos to share with you, and I think they came out really nicely.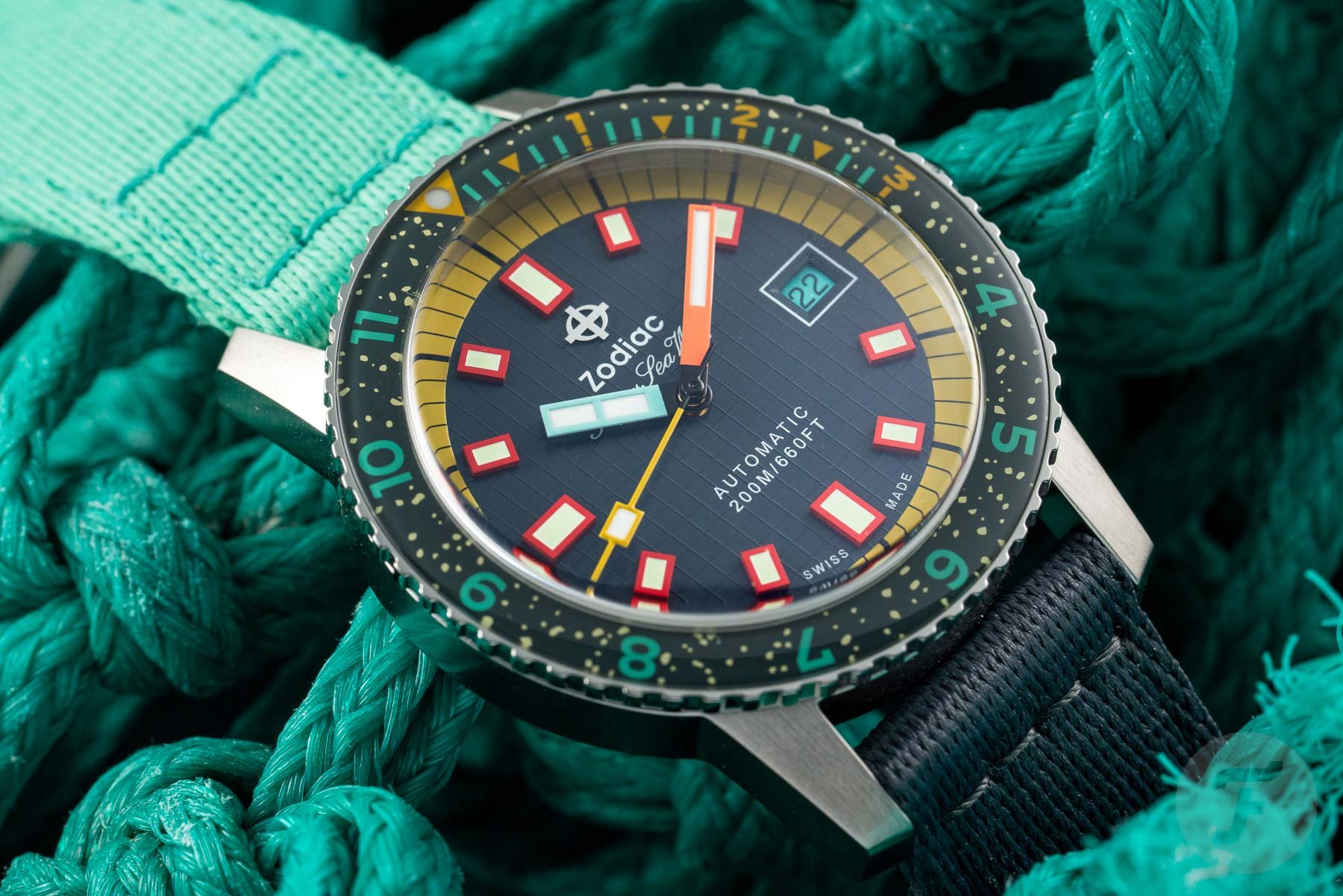 Crazy (Sea) Wolf
Despite the vibrant personality, underneath this watch follows the classic Zodiac Super Sea Wolf blueprint. The Super Sea Wolf's stainless steel case is 40mm wide and 13mm thick, making it very wearable. A domed sapphire crystal caps the dial, surrounded by a bezel with a mineral crystal insert. The widest point of the watch is at the bezel's edge, making it easy to grip and, most importantly, very comfortable on the wrist. Just looking at the silhouette, it's definitely got that classic "skin-diver" vibe about it. But that's where the classicism ends, and the fun begins.
Just take a moment to let it all sink in. So a lot is going on with different colors, patterns, and textures. It's chaos, but, of course, without a concept to act as the order and guiding light, then chaos is all it could ever be. Thankfully the guys over at Worn & Wound certainly did have a concept. They said, "one day, it just sort of hit us: sneakers."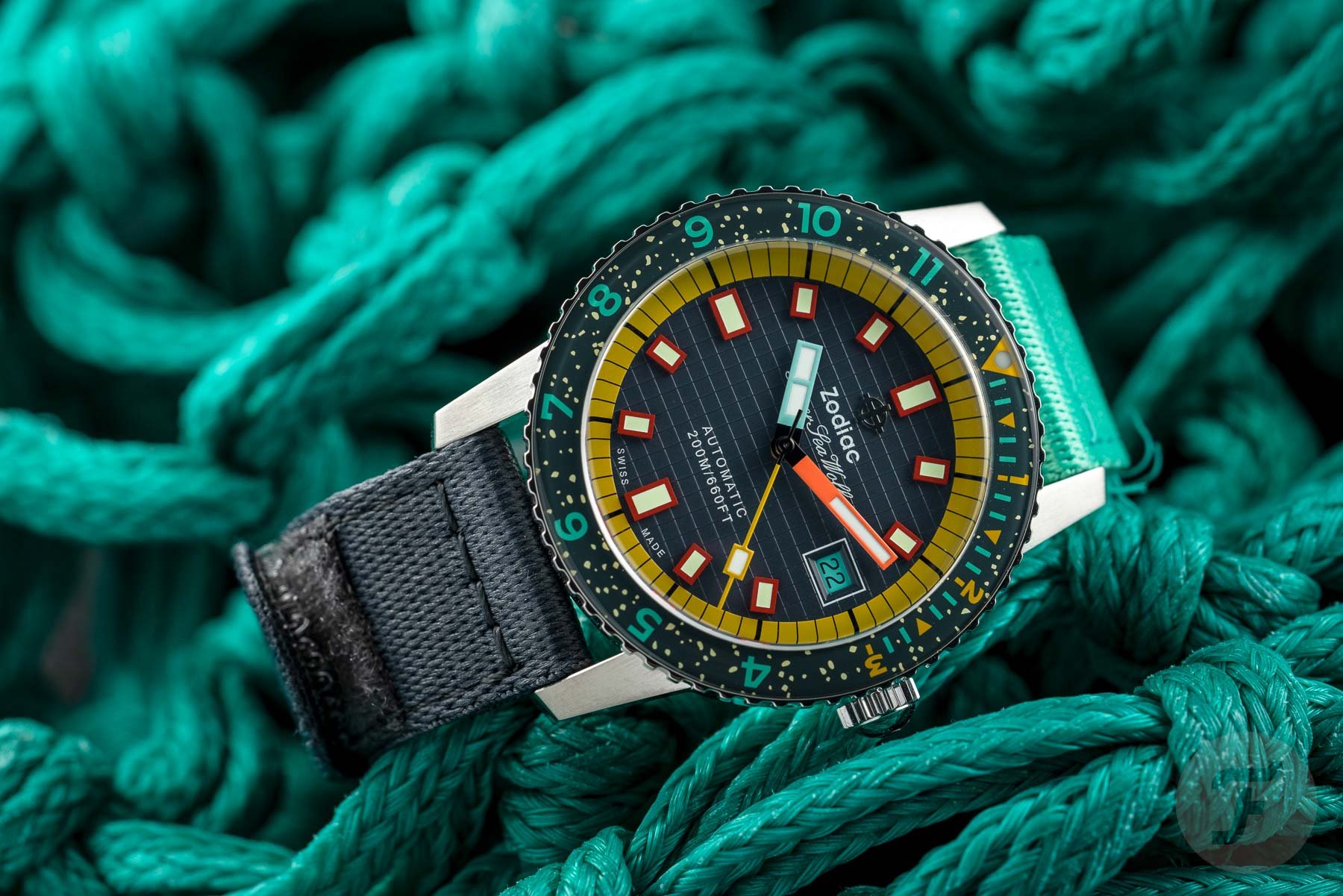 This watch speaks to the current popularity of '90s fashions and design. What typifies "'90s" design, exactly? A bold mixture of clashing colors, textures, and shapes. "Think splattered midsoles, layered high-contrast colors, fabrics, leathers, nylons, and more, all combined into surprisingly stylish and fun compositions." It's all starting to make sense now, right?!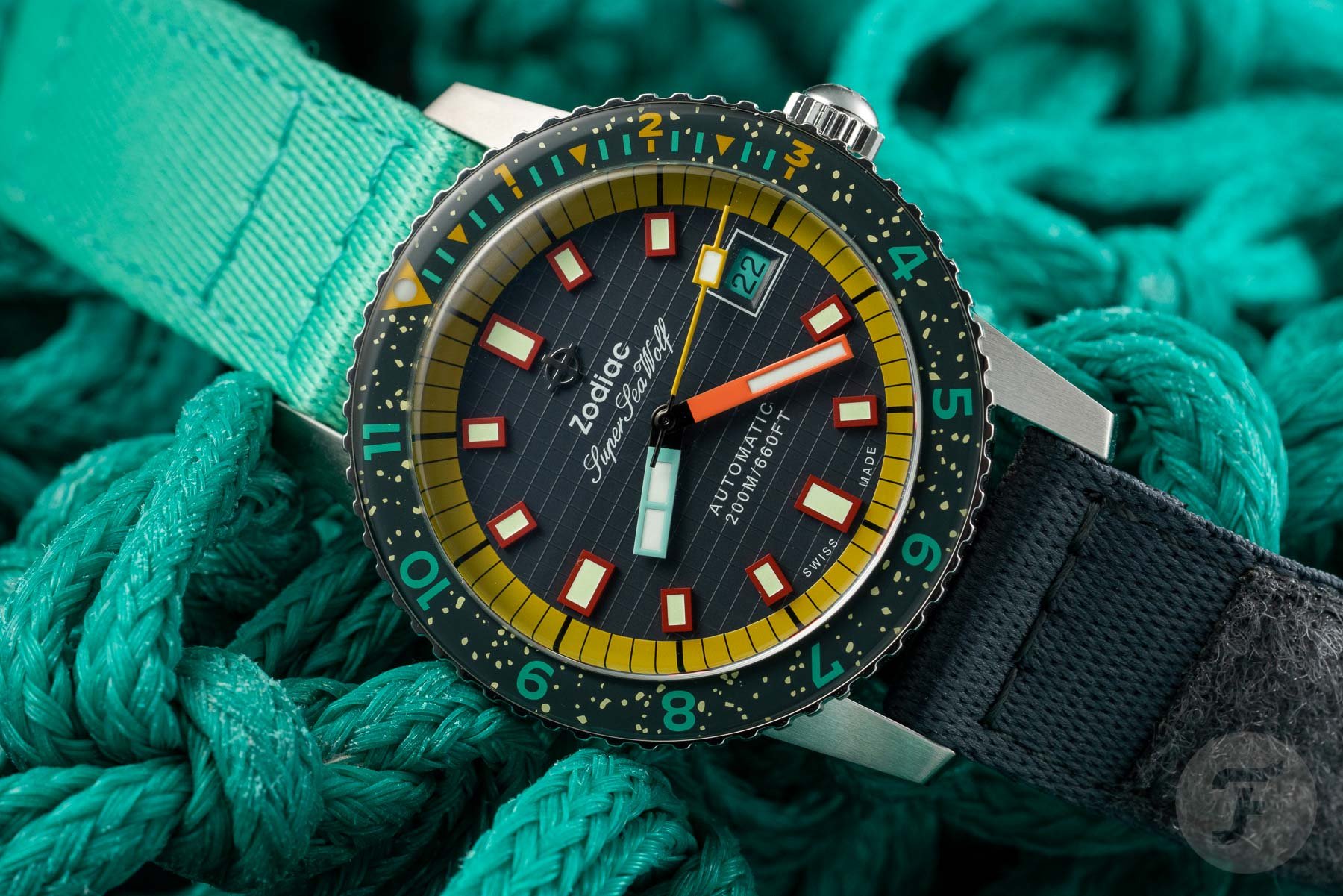 Worn & Wound nails the '90s
Having a concept is great, but having a canvas on which to express it can sometimes be just as challenging to find. However, I can't help but think the Zodiac Super Sea Wolf was the perfect choice. The watch has shown its versatility over the last couple of years in various guises — from the classic and simple to the bright and colorful "watermelon" that featured on the pages of Fratello just yesterday.
For the overall color palette, the team at Worn & Wound stuck with a gray base to allow for lots of contrast. Then they used bright yellows, teals, and more to add plenty of flashes of color. If there is a rule among graphic designers about the number of colors you can use on a dial, then let's just say (with confidence) it's been (ever so slightly) broken.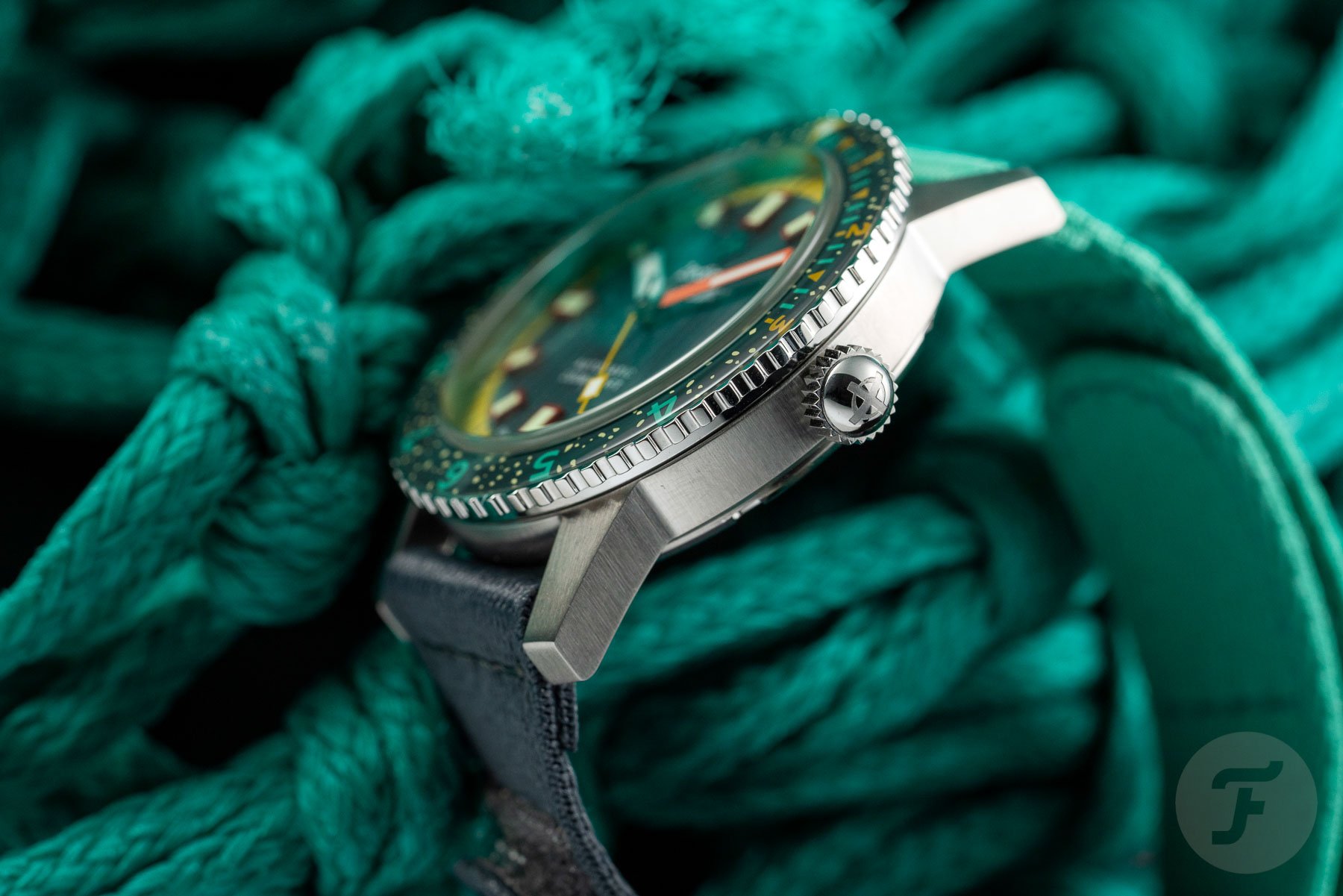 Retro Zodiac
Starting with the dial, we see a retro grid texture on a charcoal-gray background. The texture appears to play nicely with the light, vanishing and reappearing depending on the viewing angle. It's always nice to have added depth in a dial, so top marks right there. Surrounding the dial is the chapter ring in sunflower yellow with black minute markers. Anyone who knows me knows I have a passion for the color yellow on watches. Seeing the jarring contrast that the chapter ring provides is a visceral expression of why.
Burnt orange applied hour markers sit on top of the charcoal dial. Their metallic glint brings an unexpected element that speaks to the look of anodized carabiners, zipper pulls, and a subtle nod to skiwear chic. Zodiac's signature blocky hands are then coated in delicious glossy sky blue for the hours, fresh coral for the minutes, and rich mustard yellow for the seconds. More contrast! Lastly, you may notice that the date wheel stands out. Usually, I'm a big advocate for color-matched date wheels, but here we have almost the reverse. We see a teal background with gray numerals that really jump out from the dial. Reading all of this on paper sounds like a lot (and we haven't even mentioned the bezel yet!). Still, looking at the images, it all comes together very well!
Splattered!
As briefly alluded to above, the "splatter" bezel is inspired by sneakers. Our managing editor Rob (who is also a big fan of this watch, perhaps unsurprisingly given his addiction to '90s streetwear), is convinced this should have been called the "spatter" bezel, but he loves it nonetheless. He added, "I mean, when you do something this bold, you get to call the shots. Spatter, splatter, does it matter? It's an awesome limited because it will divide opinion, stick in memories, and yet somehow doesn't look out of place in the collection. And I really mean somehow. I have no idea how they achieved that because this should definitely, definitely not work…"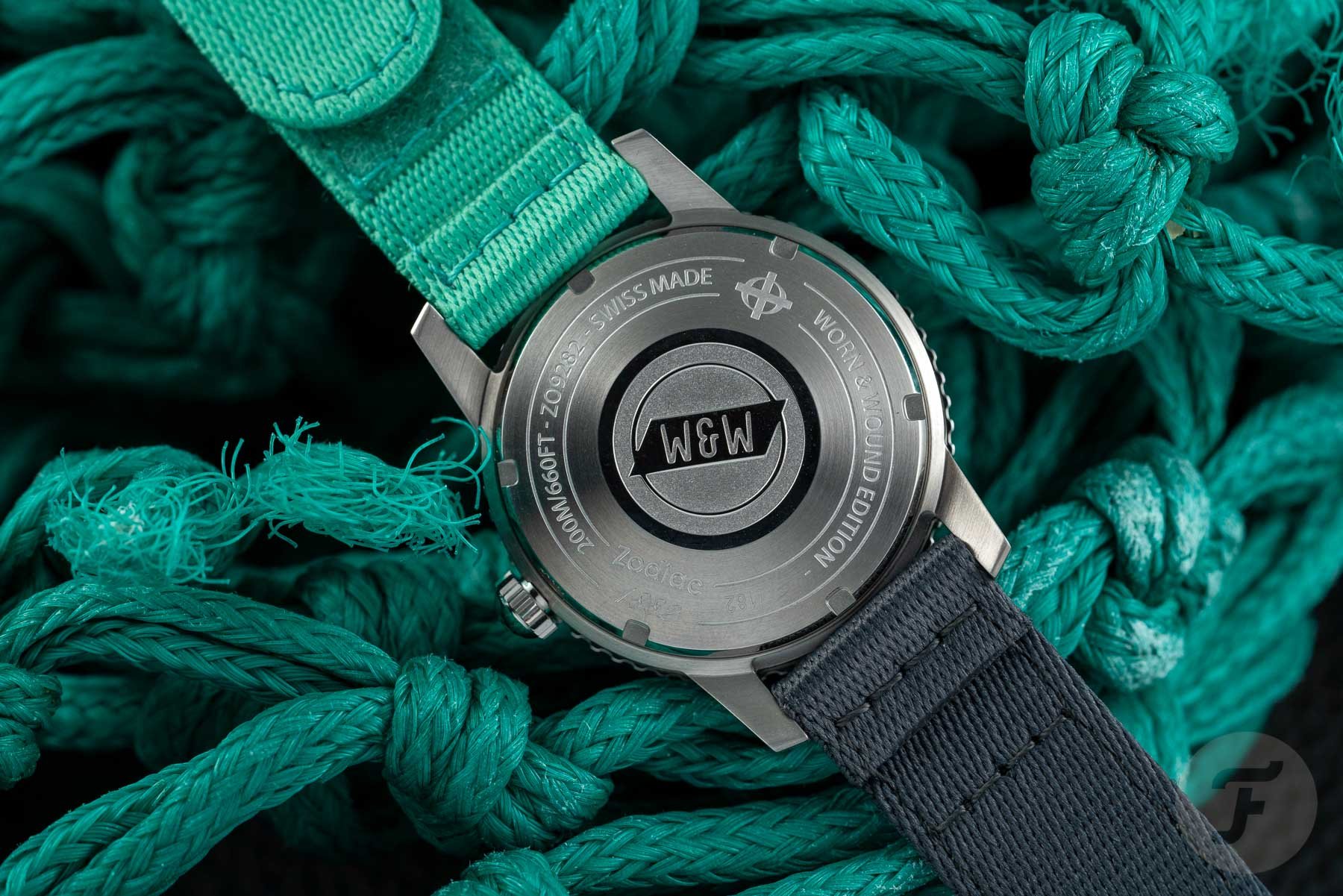 The bezel recalls the speckled midsoles which Nike has made popular again in recent years. The base color of the insert is gray to match the dial but features flecks of off-white shades in a seemingly random spray. To help foster a unique personality (as if it didn't already have one!) away from Zodiac's standard dive watches, the Worn & Wound guys opted for a 12-hour index. This is a first for a Sea Wolf and adds a second (12-hr) timezone function to an already versatile watch. Finally, the bezel numerals are a mix of mustard yellow and bright teal, tying it together with the dial.
Tying this all together and onto your wrist, Worn & Wound eschewed the steel bracelet and rubber straps usually found on the Super Sea Wolfs. Instead, they went for a two-piece nylon strap with velcro. This makes it easy and quick to take on and off and also allows for more precise fitting.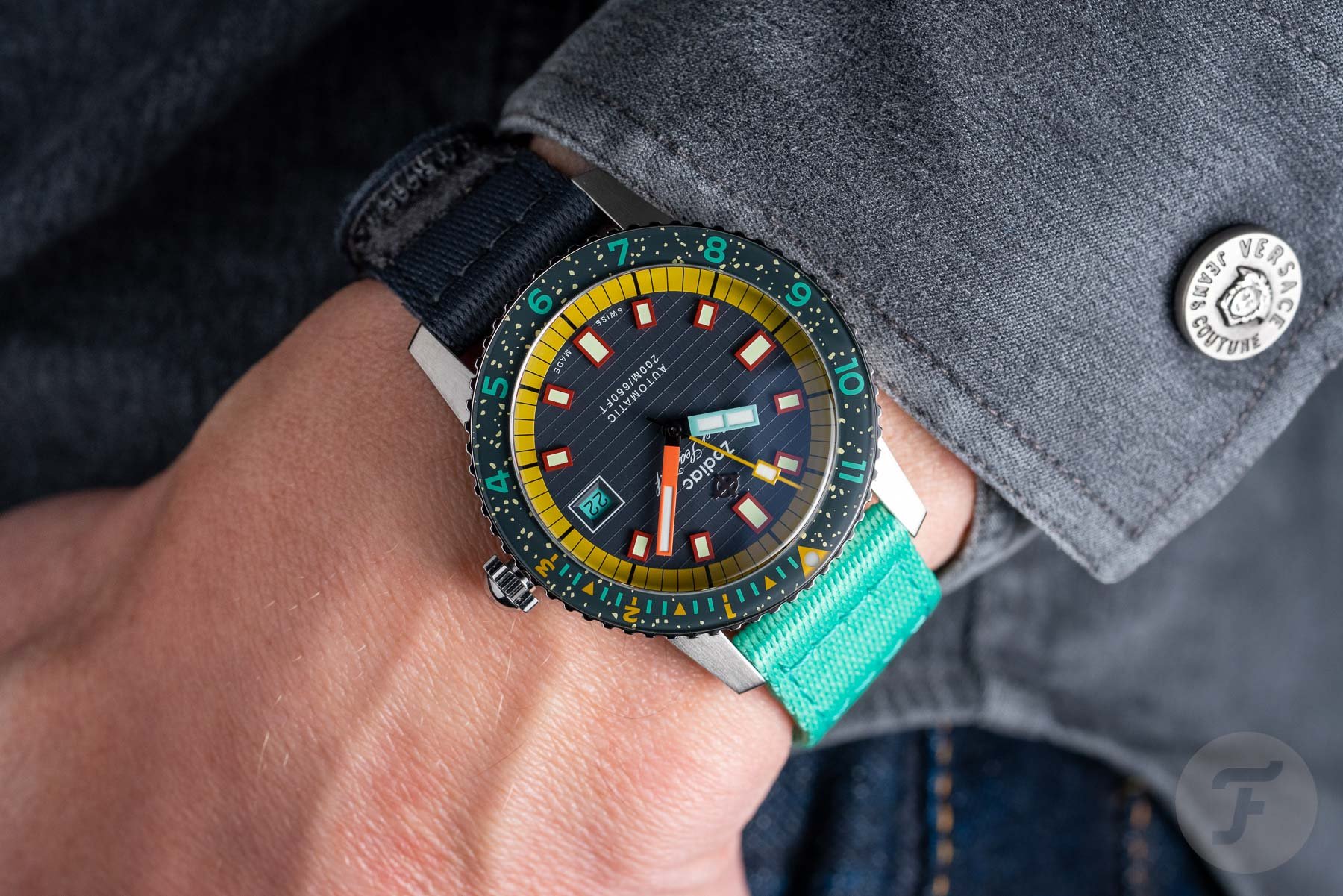 Not everyone's cup of tea!
As you can imagine, this watch caused quite a few conversations at Fratello HQ. Some of the team prefer their watches a little more reserved and classic. Me? I like cool and crazy. I like different. The Zodiac × Worn & Wound Super Sea Wolf has a real whimsical charm that I really like. It seems that I'm not the only person either, as when checking the Worn & Wound Windup Watch Shop, all 182 pieces are sold out. With a price of $1,095, I can see why. That's a fair price for a watch that offers a lot of substance as well as versatility. There is a waiting list, so if you're still keen, I'd get yourself signed up right away!
For more information about the Zodiac × Worn & Wound Super Sea Wolf, visit the Windup Shop right here.
Follow me on Instagram: @davesergeant